Fluent Forms 4.3.10 – What's Inside The Latest Update 
Shahjahan Jewel
. August 4, 2022
.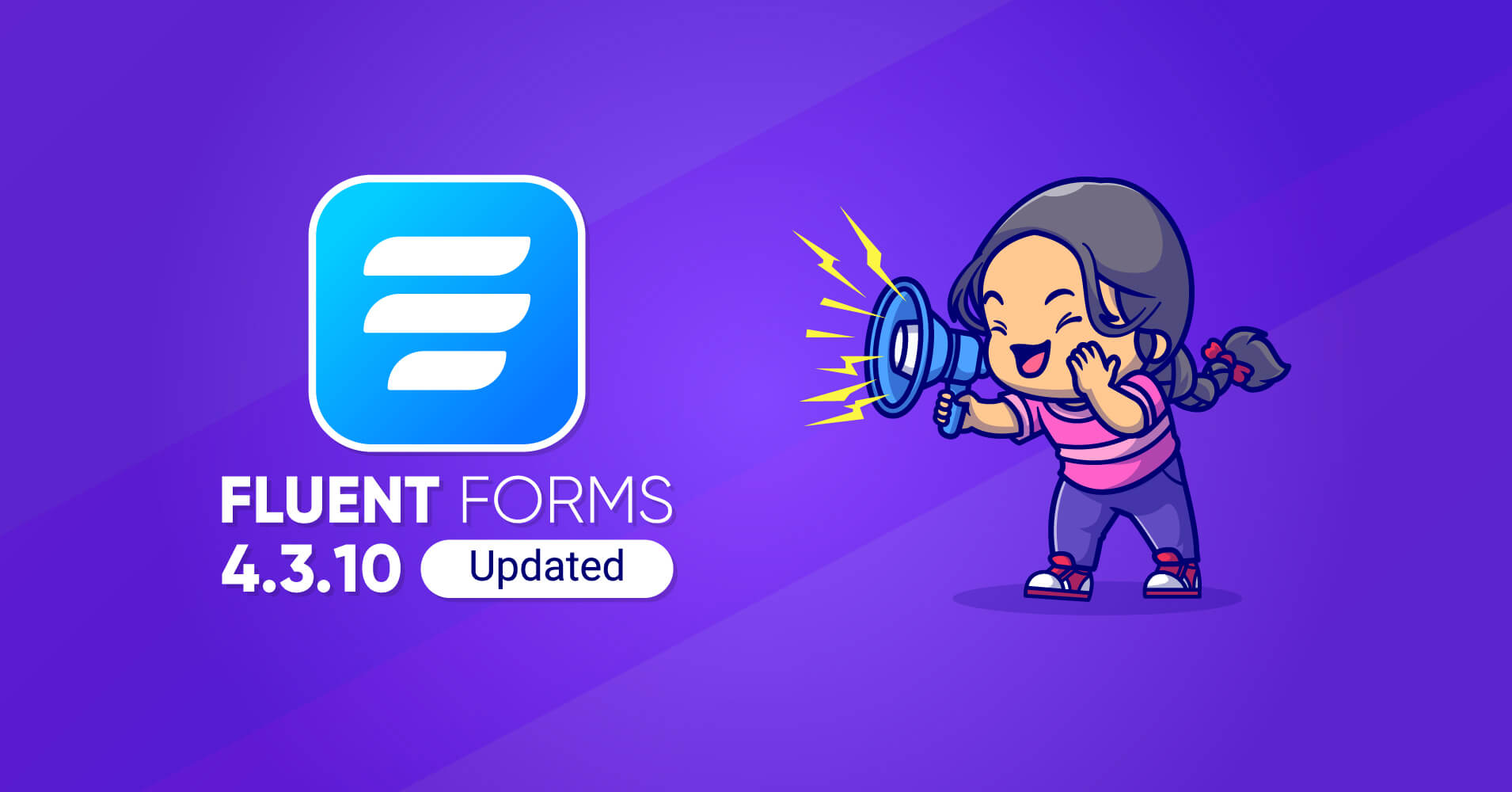 Hello good people. Welcome to the latest update of this month. No more waiting; we're thrilled to introduce you to the smoothest, fastest, more powerful, and bug-free Fluent Forms 4.3.10!
From integrations to new features, from better user experience to bug fixes, everything you want in an update is available in this one. Let's look at what's waiting in Fluent Forms for you without delay.
Fluent Forms is the most beginner-friendly form builder. Download now and start crafting beautiful forms FREE!!!
Mailster integration
Are you looking for a newsletter plugin integration with Fluent Forms? Mailster is the right answer for you. This WordPress newsletter plugin lets you run your email marketing campaigns from your WordPress dashboard.
Mailster aims to be a perfect alternative to MailChimp, Campaign Monitor, and services like that. With this, you don't need to use a separate dashboard (and pay a monthly fee); rather, you can do everything from your WordPress dashboard and, more importantly, pay only a one-time fee.
More than 26,000 people joined this email marketing tool, and the number is exponentially growing. Integrating Mailster with Fluent Forms can give you so much, from collecting leads to organizing & categorizing them, making an effective email list to creating beautiful emails using the intuitive drag-and-drop editor; you can do the whole 360 email marketing with the combination of these two. Mailster also lets you send autoresponders and set up other email automation rules.
How to integrate with Fluent Forms? With native integration, it's easier than ever.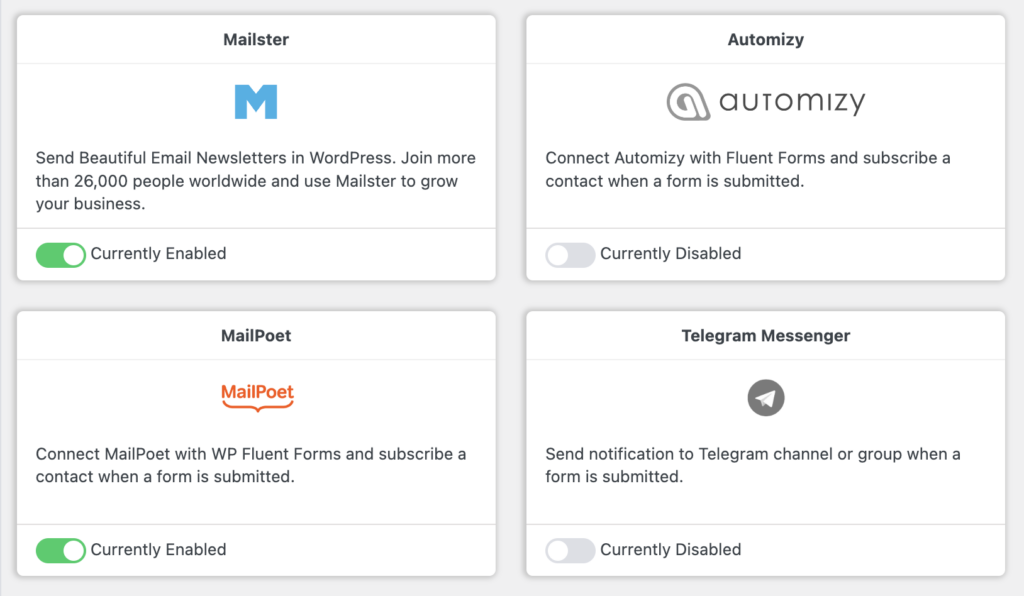 You just need to enable the Mailster integration from the Integration module from the Fluent Form dashboard and map accordingly. Click here to get the whole picture of integrating Mailster.
Another page will appear; just follow the instructions and map the field. That's as simple as integrating Mailster with Fluent Forms now.
Pending email notification
This is the issue bothering our users for some time. When a payment is pending, an email notification should be sent to the user so they can track their transaction. Setting up payment pending email notifications is a piece of cake now. From now on, no more confusion; update your users with email notifications every time making a payment with Fluent Forms.
Insightly integration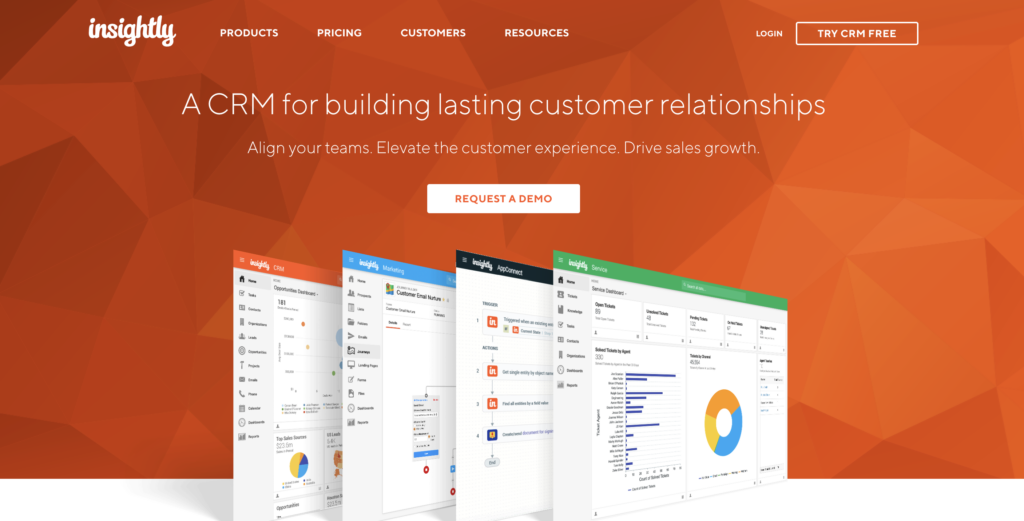 Insightly is a fine Customer Relation Management tool you're asking us to get the native integration for you. Finally, the wait is over; here it comes.
Customers today want good relationships, not transactions. And Insightly CRM is highly focused on building great relationships with the leads to make them loyal & lasting customers. From lead and opportunity management to dynamic page layouts, from tailoring the sales process of contact to building personalized marketing campaigns and project management automation, you can have a 360 CRM and automation tool in your dashboard with Insightly integrated with your favorite form builder.
To integrate it with Fluent Forms, go to the Integrations and enable Insightly. You need to connect via API, which can be found on their site.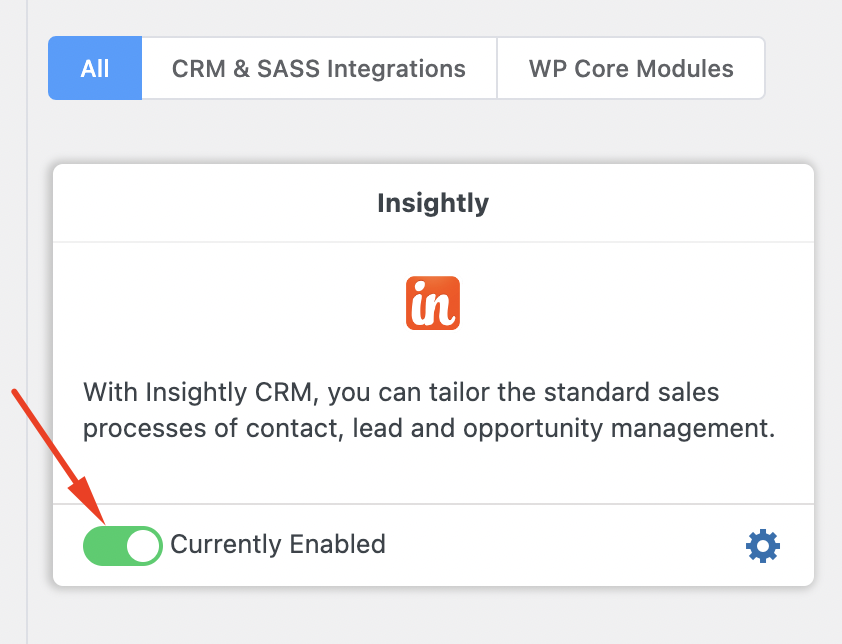 Now head to the settings option of the form, and select Marketing and CRM integration from the left side.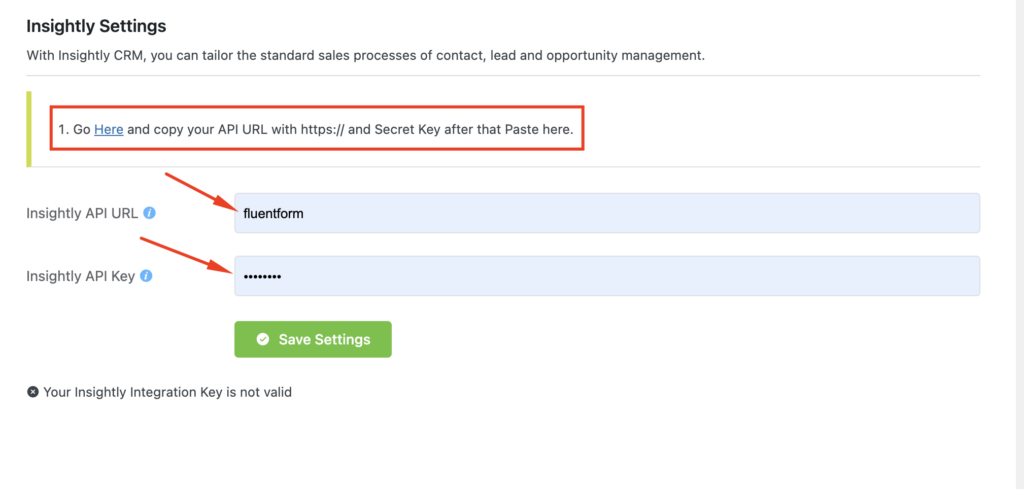 Click on the "Add New Integration" dropdown button and select Insightly CRM. A page will appear with fields to fill up. Map the fields according to your need, and that's how you make the CRM feed with Fluent Forms and Insightly CRM. Still confused? Read the doc if you want to learn in detail.
With Fluent Forms, you can get other popular CRM and email marketing tool integrations like Salesforce, Convertkit and learn how to grow your business with them.
Bulk filtering by category
Form filtering is a crucial part when you're getting a lot of submissions to your site. Wanna filter your forms by category? With Fluent Forms 4.3.10, form filtering is more sophisticated and super easy to initiate. This feature will help you to navigate forms, data scrapping, manipulate, and categorize your audience to run different campaigns.
Partial Entries updated
Who doesn't love the partial entries feature? With this update, you can avail the more polished and functional one. A "Save Progress Button" button will be available in the form attached with a link your users can open from any browser at any time.
Bugs & Improvements
Triggering email notification with the mollie bank transfer issue fixed
You can use the rich input text field in any form now
ACF image issue solved
Coupon Code Spelling issue fixed
HubSpot API update
Solved the Quiz field total point issue
"Step form doesn't save data when Checkable Grid's field type is set to Radio" error fixed
Improved User update
Added Airtable Multiple table connection
Fixed Constant Contact issue
"User registration integration feed sends a password reset email" issue solved
Improved data sanitization
​​FF Signature: Fixed signature field placement issue with conditional container
Refined column resize feature of the containers
Conversational Forms contradicting with Elementor Popup issue fixed
Airtable multiple bases and table integration
Root in calculation not working issue solved
Improved post update with ACF field supported
Wrap up
That's it. This release is more about compatibility and a smooth user experience. As we always try to give our best for our users. Have fun with the latest features, play with the fields and functionalities, and fluently make beautiful forms.
If you have any queries, comment below. Follow our social media platforms for more tips and updates!
---
Shahjahan Jewel
Hello, this is Jewel, CEO & Head of Ideas at WPManageNinja. I am obsessed with WordPress since 2009. My aim is to be a user-centric developer first, and a serial entrepreneur second. You will find me discussing various tech issues and trying to come up with scalable solutions on different forums when I am not busy coding.
If possible, add a timer for the quizes

We added that on our feature request list.

Great to know. I was looking for a way to connect it with an Automator, but the only one I've found that could do this can't connect it with other plugins I need it for my site.

Could you please describe your use case, so that we can identify the exact problem?