Best Caldera Forms Alternatives You Should Try Now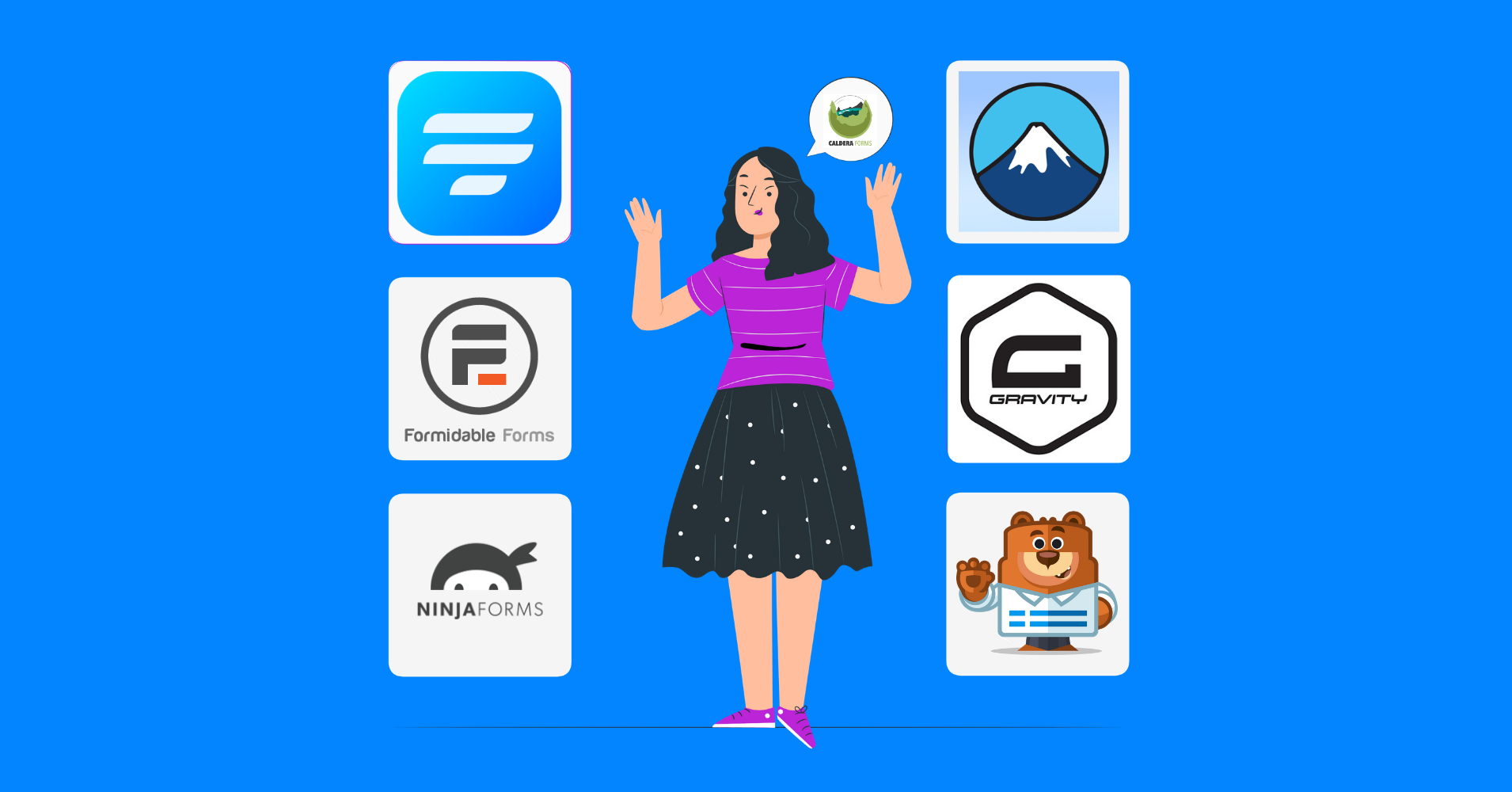 Contact Forms are one of the most used tools in digital marketing. That's because they are essential for versatile uses in your websites. So, selecting the most elegant plugin is vital for taking the business to the next level. But how would you know which one is the best among the hundreds of options?
Some plugins focus on non-programmers, while some come with a user-friendly interface. On one hand, some plugins will offer you substantial features like drag and drop, third-party integrations, etc., and on the other, others are boasting of GDPR compatible results.
A notable name in this list of plugins is Caldera Forms. Although it provided some straightforward features for free, the place it holds in the market shrank. And the tool finally retired. Gradually, people are moving towards other alternatives. To help with people's search for new options, in this post, we came with the ten best alternatives to Caldera Forms that can be used for any online business type. But before we get into that, let's discuss some facts about Caldera Forms.
A New Dawn For Caldera Forms Users
Why do people like Caldera Forms?
There's no way to talk about WordPress forms without mentioning Caldera Forms. From the very beginning, people have liked this tool. The incredible thing about Caldera Forms is that it is available on WordPress for free. Its user-friendly add-ons are popular among designers and developers.
Through the years of its journey, people have loved Caldera Forms for its simple nature. It had its golden time. But as time passes, many form builders are introduced to the industry with updated features and smoother interfaces. And Caldera Forms is slowly legged behind. Let's see the reasons behind why people are searching for Caldera Forms alternatives nowadays.
Why are people looking for Caldera Forms alternatives?
Despite being powerful, Caldera Forms caters to only a particular group of people. It quickly became inadequate to the modern world because there are tons of WordPress plugins that provide accessible, comfortable, and versatile features than Caldera Forms and in better price plans. With the changing tides, people now need faster and more straightforward plugins for their websites.
Moreover, when it comes to functionality, Caldera Forms is remarkably limited. For instance, many crucial features like global styler, form entry filtering, partial form entries, etc. are unavailable. It lacks many original features and integrations. Additionally, you have to buy extra add ons for updated functionalities like double opt-in, form restriction, post creation, and even customer support. Finally, the tool went off, and the users of the plugin need an alternative to this.
Now, you must know the parameters that should be available on the plugins to beat Caldera Forms. So, let's dive in.
What features should be available on Caldera Forms alternatives?
There are many form builder plugins available in WordPress. So, how to find the best Caldera Forms alternative? Well, the plugins must have some unique qualities to prove them as a worthy alternative to Caldera Forms. Let's find out the variables of confronting Caldera Forms.
Plenty of features
Enough integrations
Smooth user interface
Premium support
Cost-effective
Any form builder must hold these functionalities to prove them as an essential plugin for users. Additionally, people can comfortably replace Caldera Forms if they find these variables in better qualities to other form builders. Now, let's have a look at the ten best Caldera Forms alternatives.
10 best Caldera Forms alternatives you were looking for
Keeping in mind the things mentioned above, I have come up with ten best alternatives to Caldera Forms.
So, read the post to know the details about the plugins.
Fluent Forms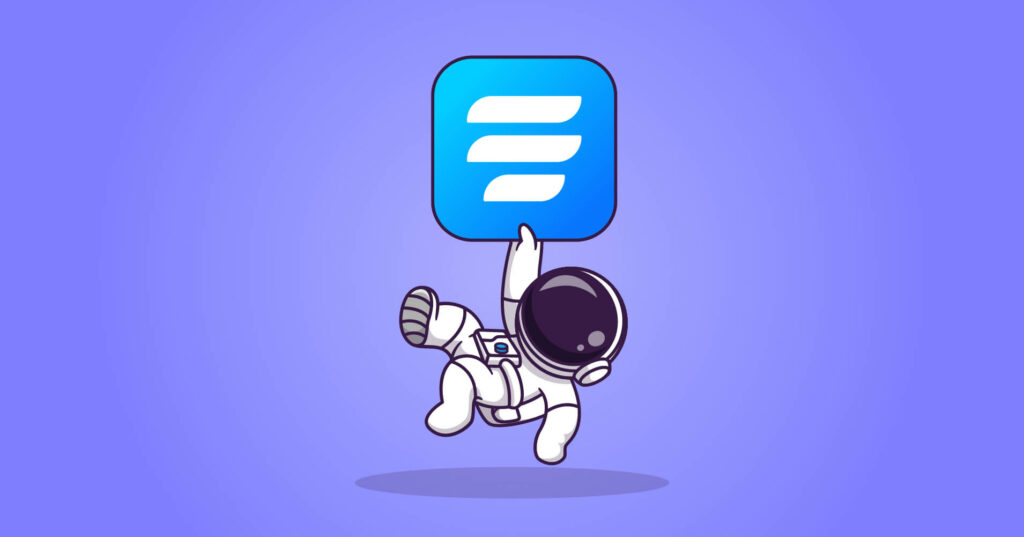 Fluent Forms is the fastest form builder plugins in WordPress. It is a comfortable and lightweight tool. The interface of the plugin is so smooth that anyone can create a form with Fluent Forms. You can design any kind of contact form with the plugin, such as registration form, payment form, customer feedback form, signup form, sales form, online order forms, and so on. Let's have a look at what functionalities made Fluent Forms a better Caldera Forms alternative.
Features
49+ input fields
65+ pre-built templates
35 third party integration
Smooth interface
Drag and drop editor
Advanced post creation
Stripe and PayPal integration
Email notification
Multi-column layout
PDF generation
Mailchimp integration
AJAX-based submission
Conditional logic
User registration
Honeypot, reCAPTCHA, Akismet
Import/export data
Radio button
GDPR compliance
File/image upload
URL Get Parameter
Moreover, Fluent Forms comes with 35 third-party integrations. Some of them are SendFox, Webhooks, Campaign Monitor, Moosend, Zapier, Slack, and many more. You can beautifully arrange your team tasks with a fantastic team management software named "Trello" with this form builder. You will get the real-time notification of each submission with its "Slack" integration. 
Furthermore, you can design beautiful forms with the Global Styler feature of WP Fluent Forms. It also allows you to custom CSS forms very easily. The signature module of the tool lets you create the digital signature for your forms smoothly. Additionally, WP Fluent Forms treats all users equally; it doesn't matter if you are a free or pro version user.
When you start using Fluent Forms' advanced features, you'll start experiencing some dynamic and efficient benefits soon. From user registration to advanced post creation – there are tons of exciting options to roll out for greater achievements. Payment integrations, PDF generation, and dynamic payment summaries are only the tip of the iceberg of this plugin's cutting-edge facilities.
Now you must be worried about the pricing of the tool, as it is providing all the crucial features in a bundle. Well, not to worry! Its pricing policy is to charge the minimum amount compared to other plugins in the market. So, let's have a look at that.
Price
The tool is already feature-rich in its free version. But if you want to use more advanced functionalities for single or multiple sites, you have to buy it from the respective website. For a single site license annually or lifetime basis, you need to pay $59, or $249. The annual cost of five site licenses is $129, and the lifetime value is $449. The ultimate offer comes in a $199 pack and $799 for yearly, lifetime payment.
Although Fluent Forms is still growing on the market, it updates its features every two or three months. So, the plugin can be the ideal one from the list of Caldera Forms alternatives.
Formidable Forms
If you are looking for a smart Caldera Forms alternative, then give Formidable Forms a try. It is also one of the fastest contact form builder plugins in WordPress. The main focus of the tool is problem-solving, especially in matters of online businesses. You can create any simple or complex form easily with the plugin. Additionally, Formidable Forms is an excellent choice for designing your form more skillfully. Creating polls, survey forms, lead generation forms, and many other complex forms is a cup of tea with Formidable Forms.
Features
Drag and drop option
Email notification
Import and export facility
reCAPTCHA
15+ third-party integrations
Radio field
GDPR compliant
Additionally, you can present your collected data with graphs and views for better illustration with Formidable Forms. The tool is rich in input fields like URL, dropdown field, HTML block, etc. More so, you will be able to export your leads into a CSV file with the plugin. So, this tool also can be added to the queue of Caldera Forms alternatives.
However, the free version of the form builder comes with only 13 input fields, but if you buy the pro version, you will get an additional 25 input fields. Furthermore, you can combine the extra add-ons to increase the functionality of the plugin. So, let's know about its pricing policy.
Price
Formidable Forms comes in three different packages named Basic, Business, and Ultimate. The basic version is available at $49 with unlimited forms and entries. The plus bundle is rich in flexible applications and costs $99 yearly. Then comes the business package. It is available at $199 yearly. For advanced integrations and elite support, you have to pay $299 per year.
Formidable Forms is an easy-to-fix form builder. But it is a bit difficult for beginners to face its interface at the first pace. So, there is a bit of a learning curve. Users may need to gain basic knowledge about HTML and CSS to use the form builder.
Form Maker by 10Web
Form Maker by 10Web is one of the compelling form builder plugins in WordPress. It is a user-friendly and highly customizable tool. So, you can smoothly create any kind of form, simple to complex with the plugin. You can even add different colors, themes, dimensions, and fonts on your form. Let's see some amazing features of the tool.
Features
Pre-installed sample forms
10+ input fields
7 field types
HTML editor
API integration
IP block
Page break
Multi add-ons
PayPal integration
Moreover, you can use Form Maker by 10Web as pop-ups, top bars, or scroll boxes. You can even track and export your form entries and set automatic replies for each form. Additionally, you can confirm the data security, and measure the blocking IPs as well. The UI of the form also supports fully customizable themes that can fit your web design. So, Form Maker by 10Web is also added to the list of Caldera Forms alternatives.
Although it is a great WordPress plugin, it also has had some restrictions. Some basic features like Calculator, Export/Import, Conditional Mailing, etc. are shown as integrations. So, if you want these features, you have to buy the plugins bundle, which is a hassle for users.
Price
Form Maker by 10Web comes with three different kinds of bundles, such as Basic, Standard, and Advanced. The basic plan is available at $45 for 6 months of validity. The standard and advanced packages are costing $70, and $90, respectively.
WPForms
WPForms is a highly rated form builder plugin in WordPress. Using this plugin, you can smartly design different types of forms. The user-friendly nature of WPForms makes it more sophisticated than other form builder plugins in WordPress. It has a vast number of trusted users. Once again, it is one of the fastest form builder plugins in WordPress because of its high optimization of the webserver. It creates 100% responsive forms for users. Let's have a look at some features of the tool.
Features
Pre-built templates
Conditional logic
Entry management
File upload
Plenty of input fields
HTML block
Custom CSS
Conditional logic
Moreover, you will get the multi-page option, popular add-ons like Mailchimp, Aweber, Campaign Monitor, and Constant Contact are available in the paid version. You can track your potential client's location with WPForms. More so, it allows you to track the conversion rate of your website.
However, the lite version of the tool imposes some heavy restrictions on essential features. You have to buy the pro version to get the maximum features. Sometimes users face problems with the entry management and file upload options as well.
Price
WPForms provides four different bundles to its users namely Basic, Plus, Pro, and Elite. The basic package costs $79 yearly with an unlimited number of forms. To unlock the payment gateways, you need to buy the Plus version, and it will take $199 per year. For popular integrations, buy the Pro version at $399 yearly. Finally, the Elite one is available at $599 per year. Well, that's quite a lot to pay for a single plugin with very few features.
Ninja Forms
Ninja Forms is one of the user-friendly tools in WordPress, and it can prove itself worthy to be in the list of Caldera Forms alternatives. You can smoothly create different kinds of contact forms with this plugin. The form builder's interface is very straightforward and easily compatible with its drag and drop fields, row and column layouts, multi-page forms, etc. Let's find out some core features of the plugin.
Features
27+ input fields
16+ languages
30+ integrations
File upload
Spam protection
Unlimited form submission
Multi-segment forms
Smart layout
GDPR compliance
Additionally, Ninja Forms supports the file upload option as PDF, Excel Files, Google Sheets, etc. Collecting payments is also secure with this tool through PayPal, Stripe, Elavon, and Recurly. You can use its pre-built templates, hooks, and built-in filters with the tool-making option. Furthermore, the form fields are versatile to use, and you can save them as a favorite to use later.
Moreover, its drag and drop feature permits adding fields very swiftly. Any user can design necessary contact forms for their websites with this plugin. More so, the tool has a custom input mask. You can use this for configuring data and reinforcing the required fields. So, Ninja Forms is also one of the Caldera Forms alternatives.
However, by default, Ninja Forms doesn't provide conditional logic, but you can add essential fields by buying add-ons. At first glance, it seems like an affordable plugin. But a lot of basic features are added to the add -ons list of the tool. So, to the end of the month or year, you will be holding a hefty bill on your hand. Even, they sell their add-ons separately.
Price
For 40+ add ons, pricing is ranging from $29-$129. Committed bundles are starting from $99-$499.
So, Ninja Forms seems quite an expensive tool. But in comparison to Caldera Forms, it is coming with more advanced features. So, it also can be considered among Caldera Forms alternatives.
A New Dawn For Caldera Forms Users
Contact Form 7
Contact Form 7 was one of the conquerors among the modern form builders. It is also one of the first form builder plugins in the market. Even if you are new to the form building venture, you will hear about Contact Form 7. It is entirely a free plugin. Though it is a slowly improving plugin, the form builder list is incomplete without Contact Form 7. The form builder provides add-ons facility to its users. So, you will find a dedicated add-on for every time you need one.
Features
Multiple contact forms
Customizable forms and emails
AJAX powered
reCAPTCHA
Akismet
Constant Contact
You can create necessary contact forms with the plugin, but there are many notable drawbacks. For example, it doesn't offer many input fields. If you need more advanced input fields, you have to buy additional add ons to the plugin. Moreover, you have to utilize external add-ons for keeping track of the submissions. Contact Form 7 has no conditional logic option, and it provides only one integration.
However, Contact Form 7 was prominent in its time, as it seems free at first glance. But slowly, it is losing its base because of its limited functionalities. There are more free form builder plugins in WordPress, which are coming with better services than Contact Form 7. The plugin somehow stopped in its route and resisted the improvement with time. Consequently, today people consider that a shortfall of the plugin.
Price
Contact Form 7 is a free form builder itself. But it comes with extra add-ons. You have to buy those as per your requirements.
weForms
weForms came to the industry in the latter part of 2017. Being new in the market, it has gained popularity among people because of its fast and straightforward approach. Users tend to like this plugin as it provides its maximum features in the free version. So, you can happily use the free version with its massive range of features. It comes with a vast number of customizable form templates for various purposes.
Features
Drag and drop
Import and export option
Email notification
reCAPTCHA
Multi-step forms
SMS notification
Restricting entries
Synchronize emails
Moreover, its easily manageable user interface lets users create any kind of form smoothly. weForms is becoming popular day by day because of its amazing features. Its custom URL option allows users to design the form URLs in a fun way. You can even schedule your form entries with weForms. So, weForms also proves itself as a member of Caldera Forms alternatives.
Price
weForms comes with four different bundles, such as Personal, Professional, Business, and Developer. Their prices start from $9-$399 yearly. Among them, the Business packet is popular among users which costs $149 yearly.
Visual Form Builder
Visual Form Builder is one of the most potent plugins in WordPress. It allows users to create and control all kinds of forms for websites. The form builder is also very flexible to use. By adding some add-ons, it has become a more extended tool. The core features of the plugin are:
Features
Drag and drop
HTML code
File upload option
Spam protection
Export file
Multiple layouts
Furthermore, you can design the confirmation message and get notified for each submission with the form editor. The advanced filtering option is included in the entries, and you can even make your GDPR compliance. Additionally, you can use the shortcodes for creating any post.
Moreover, the drag and drop feature of the plugin is very sleek to use. So, the Visual Form Builder plugin is also in the list of Caldera Forms alternatives.
Price
The pro version of the tool gets you a single site license at $29. If you want some extra add ons, you can purchase it at $69 for a single site license. For an unlimited site license, it is available at $199.
Gravity Forms
Gravity Forms is loved by people worldwide because of its different from creating and designing features. The tool is very user-friendly and easy to use. Gravity Forms also comes with highly customizable facilities than other form builders in WordPress. You can create a multi-page form smoothly with its drag and drop facility. Let's have a look at its features.
Features
File uploads
Stock data
Unlimited conditional logic
Language translation
Email notification
Besides, the file upload option in a multi-step form is the best feature of the plugin. It also provides a ticketing system, data transportation facility, email responder, restricting forms, and many more subsidiary resources. Also, it is a Zaprier integrated form builder.
Moreover, Gravity Forms supports an intuitive form editor, and any novice user can use different input fields. There is also Gravity Forms documentation, but they could be in more detail for easy understanding. So, Gravity Forms definitely counts as a better Caldera Forms alternative.
Nevertheless, Gravity Forms is a high-cost plugin, unsuitable for many users as it doesn't provide any free version.
Price
The Basic License bundle starts at $59 only for one site for a year. In this version, advanced features like only file uploads, conditional logic are available. The pro package asks for $159, and the Elite one charges $259 yearly.
123 Form Builder
123 Form Builder is a great tool to create contact forms, polls, or quizzes for your website. The tool is very developer-friendly as it allows to make professional forms using shortcodes. You can check the live reports of your forms with this plugin. Here are some main features of 123 Form Builder.
Features
File upload
Conditional logic
CAPTCHA and reCAPTCHA
Real-time WYSIWYG
Custom CSS
Mobile-responsive
Advanced calculation
Moreover, you will get a sufficient storage management system for the form submissions and file uploads in the tool. You can also design the thank you page for each form submission. The plugin is integrated with JavaScript, PayPal, Stripe, Authorize, iDEAL, etc. Furthermore, some third-party apps are also available here. For example SalesForce, MailChimp, Google Drive, WebHooks, Zendesk, etc.
More so, you can arrange the custom post submission with 123 Form Builder. For quizzes, you can add automatic-grading, partial answers, and a countdown timer. So, 123 Form Builder is a worthy addition to the list of Caldera alternatives.
Price
123 Form Builder comes with three different plans. Let's have a look.
| | |
| --- | --- |
| Plans | Price(Monthly) |
| Basic | Free |
| Gold | $24 |
| Platinum | $44 |
Choose the convenient one for your website
We have tried to list the best Caldera Forms alternatives from the hundreds of options. Still, if all these options are overwhelming you, no worries, I am also going to help you with that. Let's see which would be the best choice.
Fluent Forms: For creating beautiful forms with amazing features at an affordable price, it is the best choice for users. Its easy drag and drop option and sleek interface make it unique among other form builders. It comes as a complete solution for websites.
Formidable Forms: For the fastest form-making solution, add this to your WordPress website.
Ninja Forms: If you want to pay for a plugin for an abundance of functionalities, select Ninja Forms.
WPForms: It is also the right solution for getting advanced features at an affordable price.
Well, every form builder is doing their job differently. All the plugins mentioned above are the best Caldera Forms alternatives for your website. Choose wisely, according to your need.
A New Dawn For Caldera Forms Users
Bottom Line
In truth, a form builder is not only a way to communicate with your users, it also maintains the quality of websites. In this article, we have amassed the best Caldera Forms alternatives that will help you to design your forms effectively. We hope you get the one suitable for your online business.  Besides, we also have posted about WPForms alternatives and JotForm alternatives for your need.
If you are new to the business, and price matters to you, you can go for the free version of Fluent Forms.