WPForms vs Fluent Forms: Which One Is The Better Form Builder?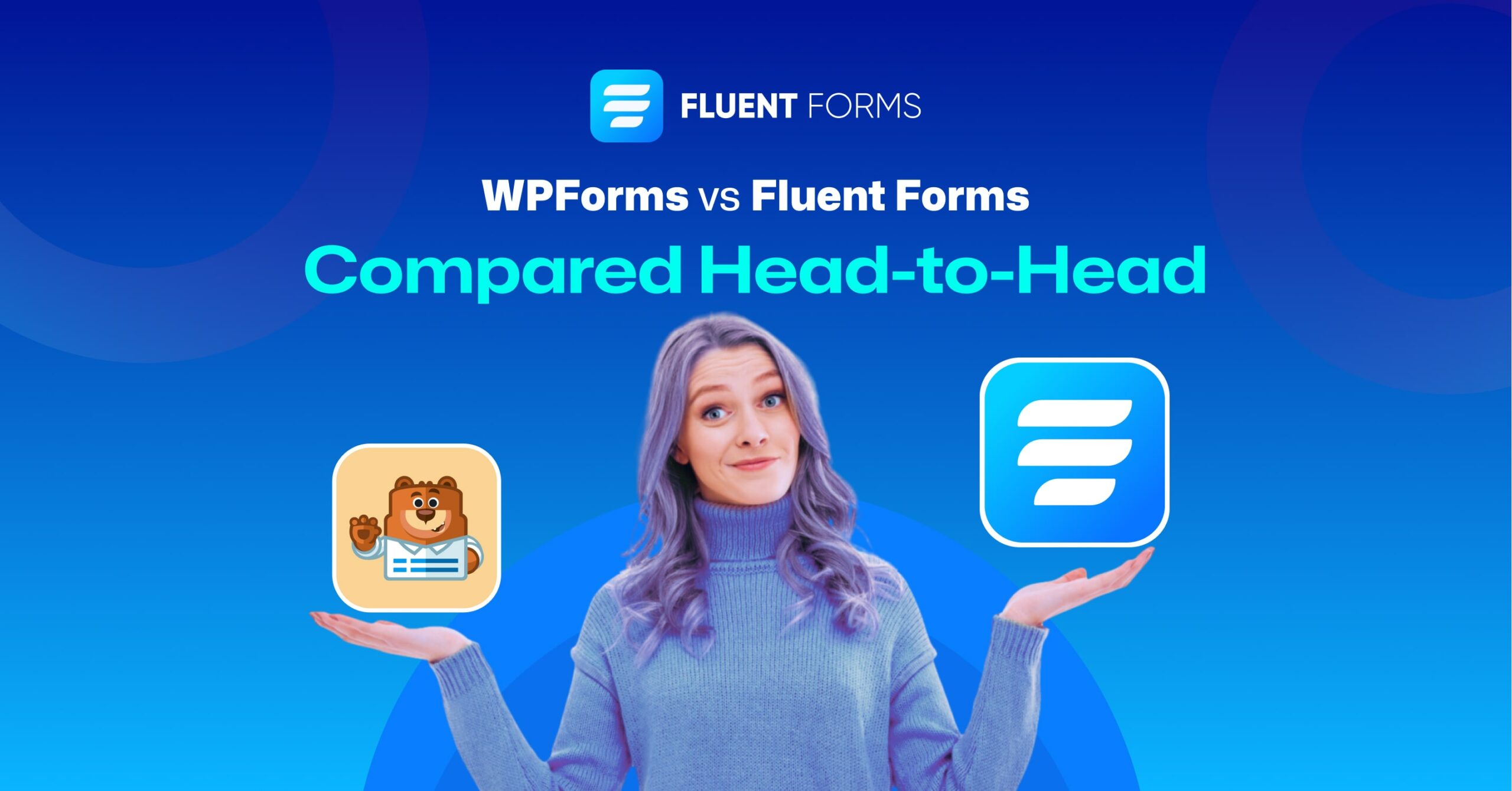 Contact forms are an essential part of websites. With the evolution of modern trends, people use forms for different purposes. From conducting a survey to collecting customer information, getting complaints to receiving feedback – a form can do a lot of things for your business.
Talking about building a form, now you may think about how to do that. Well, you can consider WordPress form plugins as the most convenient solution if you are using the WordPress CMS. Most of these WordPress form plugins don't need any particular skills, no extra development setup, and sometimes not even any price.
As there are tons of options available, we come up only with the comparison of two excellent plugins. When you're looking for the best options, you'll find more products other than WPForms and Fluent Forms.
Fluent Forms is the most beginner-friendly form builder. Download now and start crafting beautiful forms FREE!!!
Why do we choose WPForms vs Fluent Forms?
Because these are the ones that come up with the handiest features for users and easy-to-use. And an in-depth analysis of them would help you better while you are looking for the possible best form builder for WordPress.
WPForms has already established itself as a brand while Fluent Forms is on the rise. It's gaining traction mainly because of its user-friendly layout and blazing-fast loading speed. I wrote this article to help you in selecting the best one from these two form builder plugins. You will see the differences between the features of both plugins to compare those.
But, before moving to the comparison, let's see a table of some common traits of WordPress form builder plugins. Then, you can understand what qualities are available in our comparison alliances.
Standard features in both contact form builder plugins
| Features | Fluent Forms | WPForms |
| --- | --- | --- |
| Drag & drop | Free | Free |
| Free input fields | 30+ | 15+ |
| Advanced input fields | 25 | 20 |
| Pre-built templates | 70+ | 700+ |
| Third-party integrations | 40+ | 18 |
| Address field | Free | Pro |
| Radio field | Free | Pro |
| Time & Date field | Free | Pro |
| Conditional logic | Yes (Free) | No |
| Multi-step form | Yes | No |
| Conversational Forms | Yes (Free) | Yes (Pro) |
| Export-import form | Yes | No |
| PDF add-on | Yes | No |
WPForms vs Fluent Forms: Comparison features
Contact forms help you to collect valuable information about your clients. So, you need to understand which factors make a form builder plugin the best. To help you better understand the differences, I have chosen ten essential aspects to write in detail for comparing WPForms vs Fluent Forms. Go through each point described below to select the best one for your business.
Pre-built templates
Building contact forms in WordPress every time can be a time-consuming process. Both plugins have pre-built form templates to save time. You can see the varieties of setups in both plugins, starting from simple contact forms to complicated product order forms.

In its frequent updates, Fluent Forms comes up with new features, and currently, it provides 70+ pre-built templates, which are easy to deploy. In terms of ready-made figures, WPForms wins the race because they are providing 700+ template demos in WordPress.
User interface
An excellent interface is important for the admins to build and design contact forms in a convenient environment and ensure the best output.
The UI for the plugins in question (WPForms and Fluent Forms) are different. Fluent Forms follows the fundamentals of WordPress UI, where the editor dashboard of the form mixes smoothly with the WordPress dashboard area. Contrarily, WPForms designed the interface as a full-screen one. As a result, you can't see the rest of the WordPress dashboard menus.
Entry management
The "Entries" page allows you to go through all the entries accumulated by form submission. You can easily browse, sort, or modify your selection with this page. Both plugins provide this significant feature but in different ways.
Fluent Forms gives a simple way to organize thousands of entries. Admins can comfortably view entries without reloading the page with this form builder plugin. Additionally, Fluent Forms also shows other metadata, such as the user's IP address, browser information, submission time, and embedded page URL. Admins can export new JSON data and use it in other systems deliberately. Furthermore, you can also export the data as CSV and use it in another system.
On the contrary, WPForms does not offer entry management in the free version of the plugin. You need to buy the premium version to manage the entries. Though the premium version of WPForms is similar to the premium version of Fluent Forms, WPForms is not entirely AJAX-based, and features are also limited. So, here, in the battle between WPForms vs Fluent Forms of entry management, we can clearly see that Fluent Forms is the winner.
Third-party integrations
Both plugins recommend third-party integrations and work correctly. Here is the parallel comparison of both plugins' third-party integrations.
| Integrations | Fluent Forms | WPForms |
| --- | --- | --- |
| MailChimp | check | check |
| Slack | check | remove |
| Payment integration | check | check |
| PDF export | check | remove |
| Form Locker | remove | check |
| ConvertKit | check | remove |
| Drip | check | check |
| Twilio | check | remove |
| Zapier | check | check |
| Offline Forms | remove | check |
| HubSpot | check | remove |
| User registration | check | check |
| ActiveCampaign | check | remove |
| Post submission | check | check |
| iContact | check | remove |
| Webhook | check | remove |
| Trello | check | remove |
Conditional logic
Conditional logic allows you to hide or show sections in your form based on the user's selection. As an example, you are arranging a program, and you want your users to come through with a registration process. So, you need information like the user's name, email, and number. But you also need to know your user's company details. So, if you use conditional logic, you can collect that information based on the user's input. That means when they will submit their name or email, an additional field will open for their company detail.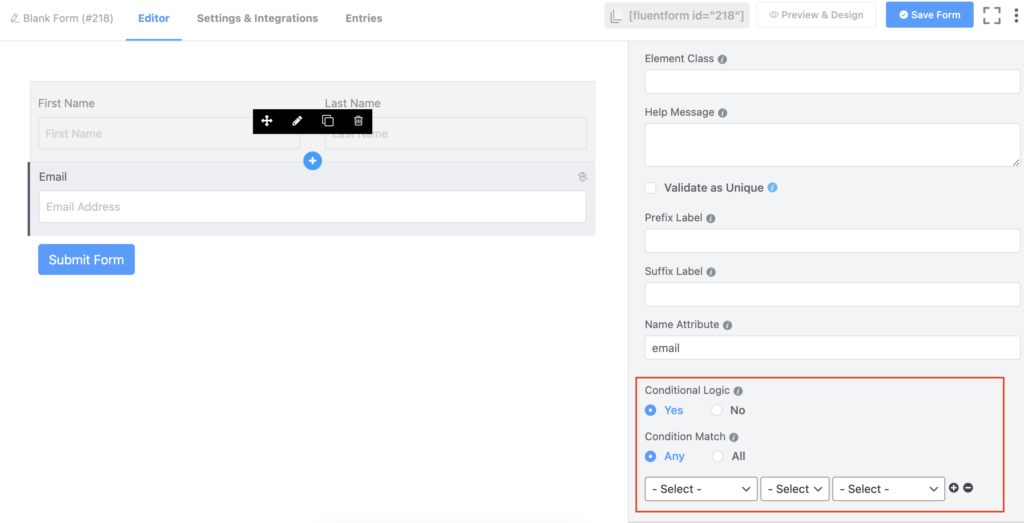 Fluent Forms permits its users to set conditional logic for reducing user hassle in both free and pro versions. You can ask for extra information needed for specific fields with Fluent Forms. But WPForms is giving this feature only to the pro version. So, again in the comparison combat among WPForms vs Fluent Forms, the second one is the conqueror.
Input fields
Both plugins come up with drag-and-drop options for the fields to help build beautiful forms. Fluent Forms arrives with 30+ fields for free. Including the advanced fields and containers, the plugin has 40+ fields. On the other side, WPForms only has 15+ fields in the free package, and even if you buy the premium version, you will get 38 fields in total.
Fluent Forms is rich in advanced input fields compared to WPForms. You can easily upload an image or make a page break in both plugins. But when it is about some other advanced fields like the checkable grid, action hooks, repeat field, password, shortcode field, etc. Fluent Forms wins the race.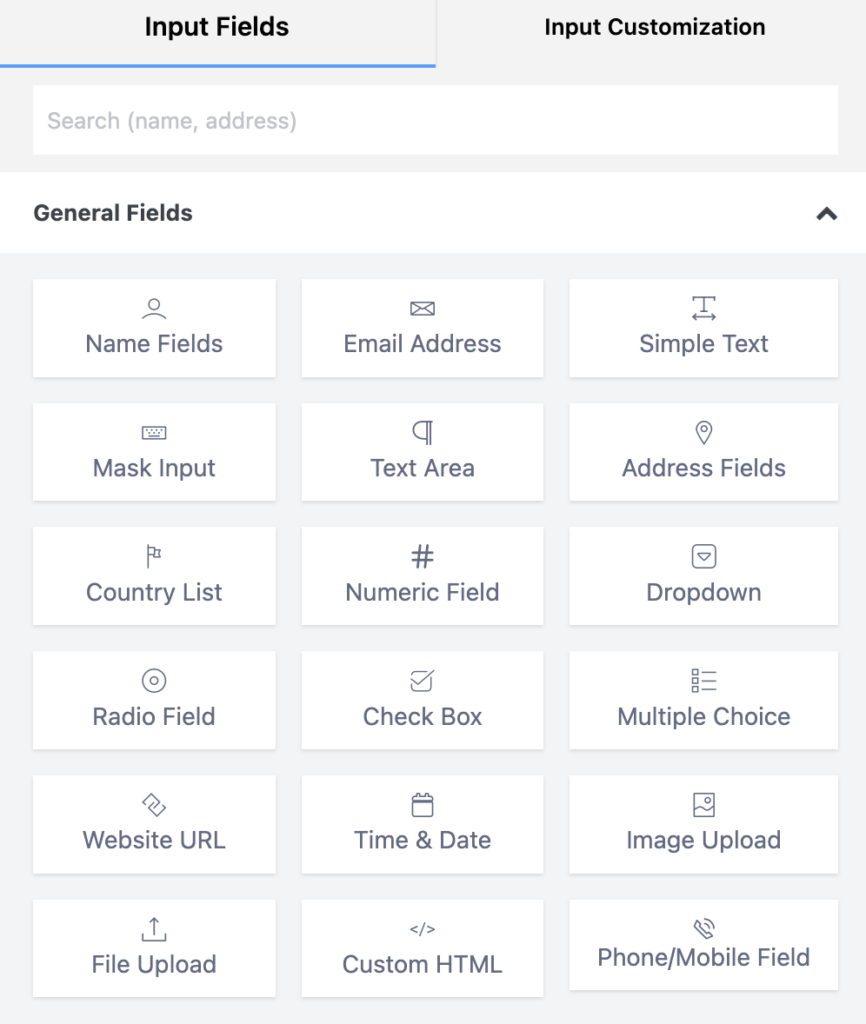 Layout features
Fluent Forms provides outstanding layout features. You can create an engaging form with a handy and user-friendly layout system of the plugin. "Label Alignment" of the form can be set in three portions, such as "Top", "Left" and "Right". Moreover, users can set up the help message place as they want. If you need it, you can also configure and adjust the asterisk position for the required fields.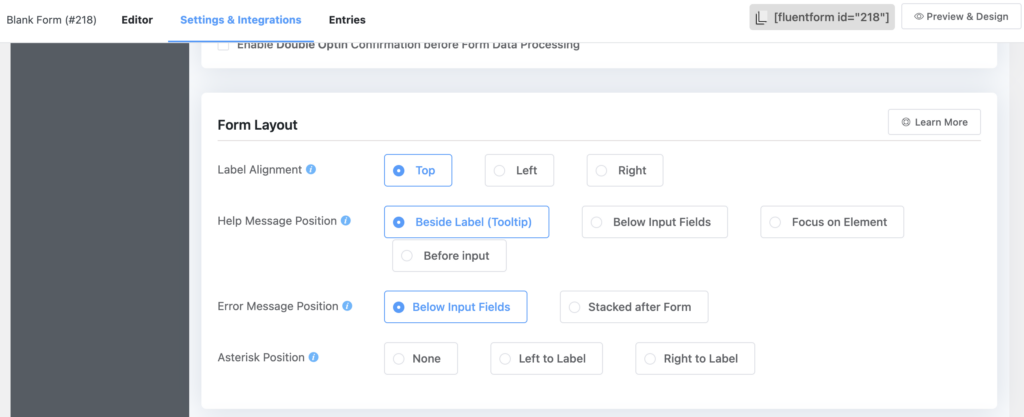 Form layout arrangement in WPForms is much different than Fluent Forms. Entry-level users would find it difficult in setting out the layouts. You can not do so many modifications to the designs without coding with WPForms. Therefore between WPForms vs Fluent Forms, Fluent Forms took the layout crown.
Conversational forms
Fluent Forms is now considered the best alternative for Typeform. Because it has all the features that conversational forms need even in the free version of the tool.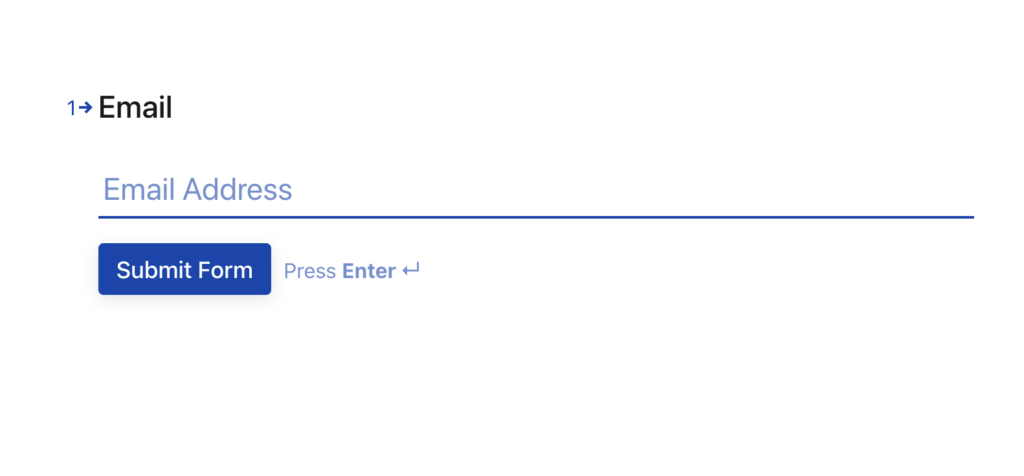 On the other hand, WPForms has locked the conversational forms feature in their pro version. Not only the pro version, they're actually giving it on their Pro, and Elite packages only. This means you are not even getting the function in all pro packages entirely.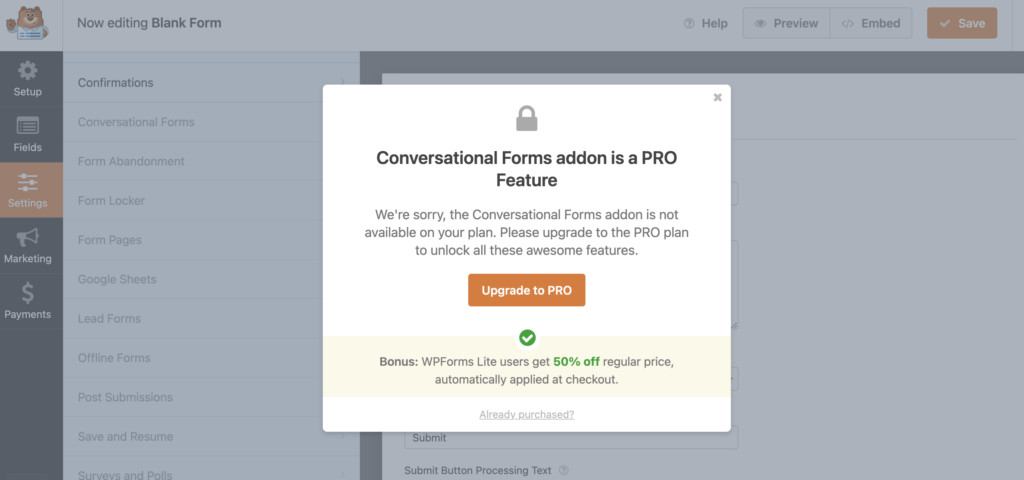 Spam Protection
Spam protection is a must needed defense for any contact forms. And both plugins have spam security facilities. With WPForms, you can stop spam consent, as they have utilized smart CAPTCHA and Honeypot methods on their system. WP Fluent Forms also provides these spam control facilities along with reCAPTCHA v1, and reCAPTCHA v2, hCapthca, Akismet, Honeypot, advanced form validation, form scheduling & restrictions features.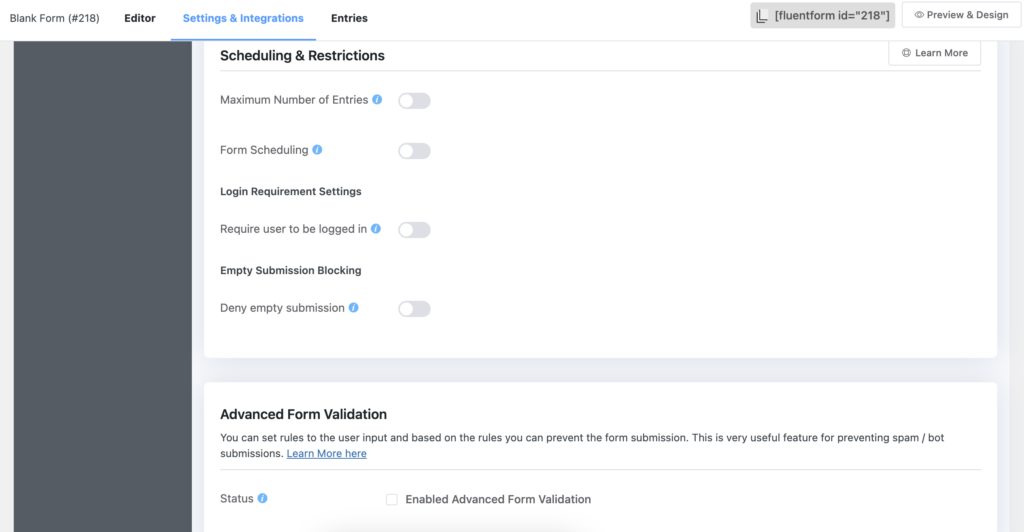 Though both plugins help you by allowing amazing spam-detecting facilities, Fluent Forms wins the race because of its additional tools.

Support and pricing
Among WPForms vs Fluent Forms, Fluent Forms offers the best pricing facilities. You can see four pricing policies here. Users can install their free version and use it without any time restriction. But for the really advanced tools and functionalities, you'll have to go for the pro addon. Even so, you can find yearly license plans with Fluent Forms, such as "Single license" for $59, "Agency license" (for 5 domains) for $129, and "Unlimited license" for $199. Furthermore, documentation pages will give you instructions in a simple way for all the support you may need, along with a super-fast team of support engineers to help you along whenever you are stuck.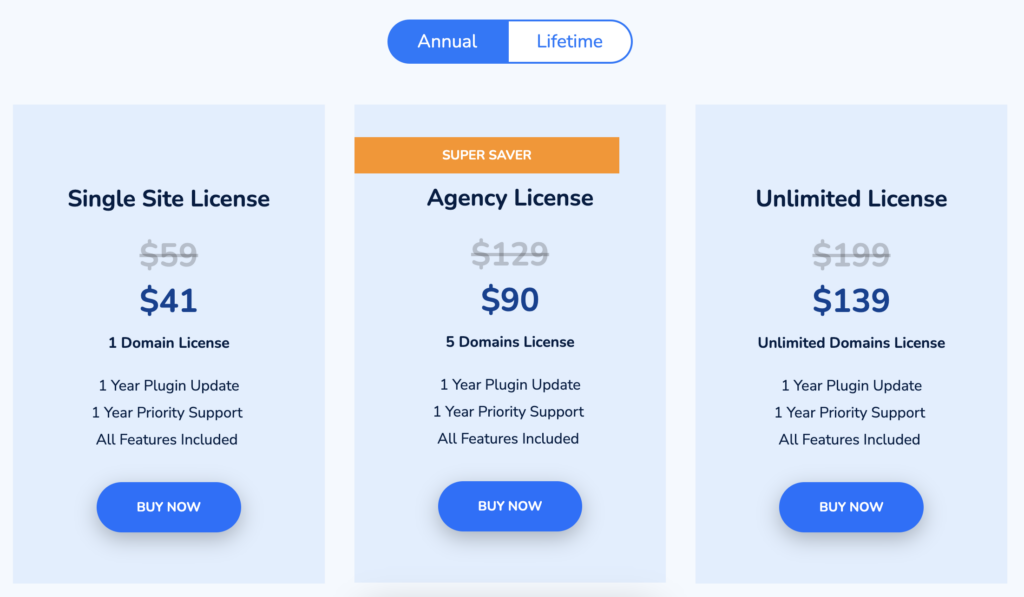 WPForms also offers you four different licenses in the free version. But users can only see and use eight fields in the free form. In the premium version, you can get "Basic" at $99, "Plus" at $199, "Pro" at $399, and "Elite" at $599 on yearly plans. You also can get support from this plugin's documentation.
Enjoying this article?
We regularly publish helpful content on our blog. Subscribe to get them delivered straight to your inbox.
We won't spam you. You can unsubscribe whenever you want.
Final words
WPForms and Fluent Forms, both web forms are highly practical and outstanding form builder plugins, differences in some functions make them different from each other. So, in the battle of WPForms vs Fluent Forms, we can easily say that Fluent Forms has a few more prominent characters than WPForms. Because:
-Fluent Forms offer more input fields in the free version than WPForms.
– More integrations and options are available in Fluent Forms.
– Fluent Forms is providing better layout customization and flexibility than WPForms.
– More so, the overall usability and feature list are better in Fluent Forms than WPForms.

But in the end, the choice is yours. Choose the best WordPress plugin that suits your requirements most and doesn't leak your pocket. All the best!
If you want to compare among more best plugins, you can check out the comparisons between Fluent Forms with Formidable Forms, the other best premium plugins in the market, etc.