Forminator vs. Fluent Forms: A Comparative Analysis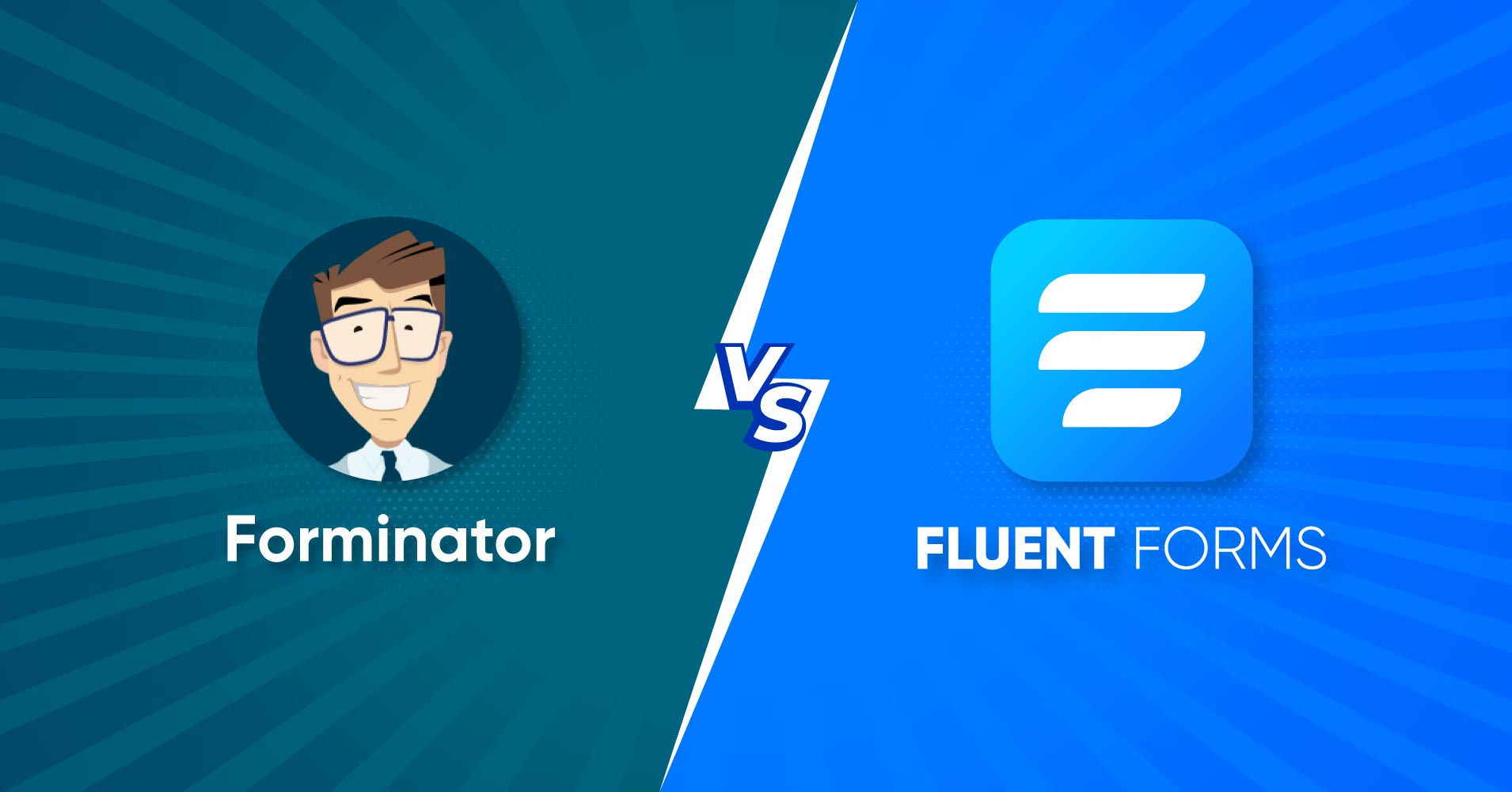 Nowadays, while surfing the web, coming across online forms is the most common thing to happen. Websites are no longer limited to being only informational portals for business firms. There are many dimensions of websites that contribute to the overall user experience. As web form is the best way to get input from prospective clients, it becomes the most integral part of any website.
But the struggle is real when you're shopping around for an online form builder. A zillion questions pop up in your head, like which will be the best fit for my site? How can I choose the best form builder? What are the features & functionalities to look into before choosing a form builder plugin?
Fluent Forms is the most beginner-friendly form builder. Download now and start crafting beautiful forms FREE!!!
Don't stress yourself out. After reading this article, you'll have a good grasp of the features and functionalities of two of the leading form builders in the market: Forminator vs. Fluent Forms. Before jumping into an in-depth Forminator vs. Fluent Forms comparison, let's check what to expect from a good WordPress form builder plugin.
Fundamental features of a quality form builder plugin
To consider a form builder a quality plugin, it should've some standard features and functionalities. Here, we're listing some essential features that every form builder should have to make it a practical and complete product.
Before digging deeper into the comparison, let's learn a bit about these form builders.
What is Fluent Forms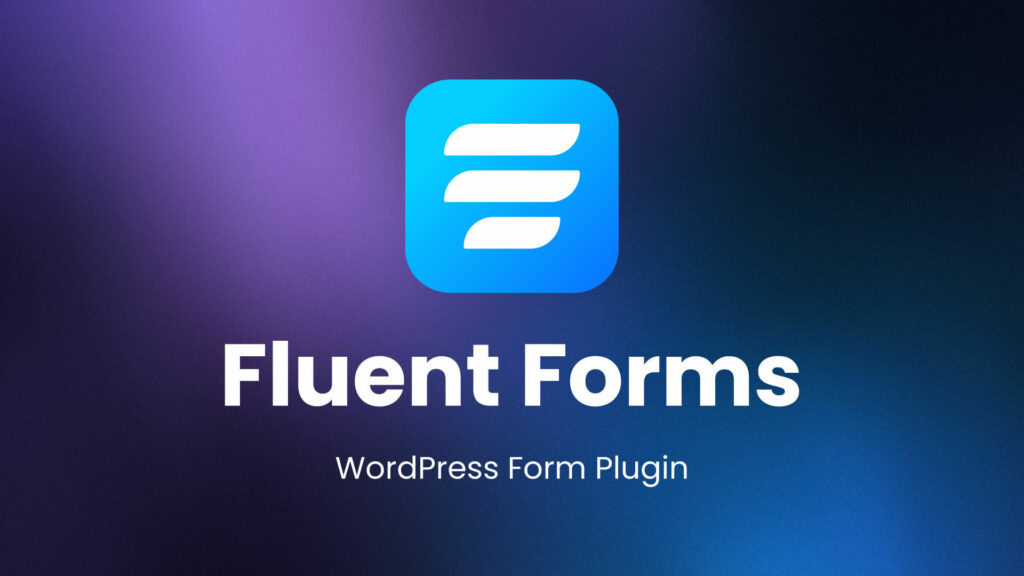 Fluent Forms is simple, easy-to-use, and the most lightweight form builder in the market with a slick UI (user interface). This drag-and-drop WordPress form builder is packed with unique features and integrations. 200,000+ people are currently enjoying it, and the community is growing exponentially. The team is adaptive and doesn't like to sit around, constantly introducing new features and updates. The most recent feature, Conversational Forms, is already a hit!
The Fluent Forms' public roadmap is proof that a plugin can do well by respecting users' opinions.
What is Forminator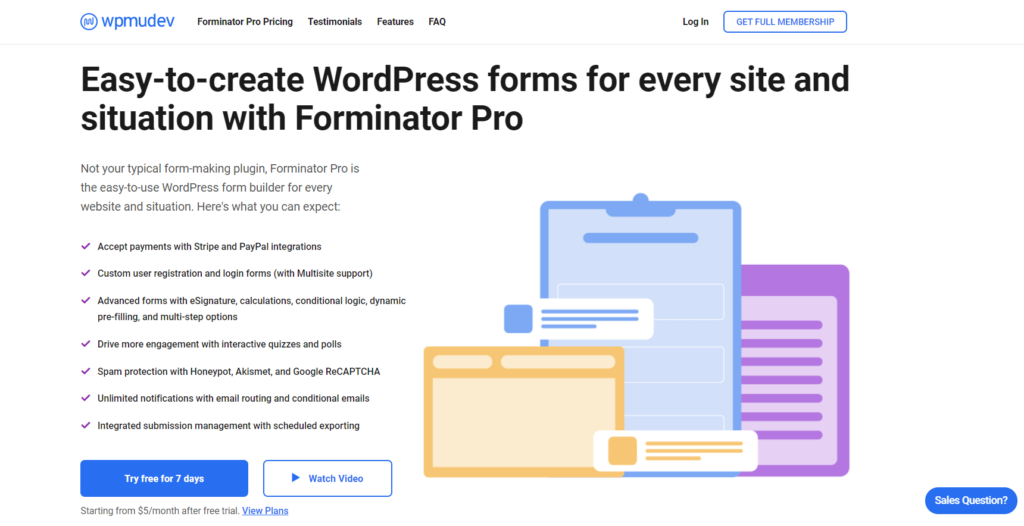 On the other hand, Forminator is another famous form builder that offers an ample amount of features. This WPMUDEV product comes with features like Interactive Quizzes & Polls, eSignature, Easy Form Calculation, and many more. This is also a drag-and-drop form builder, no coding required, and offers a bunch of integrations.
Forminator vs. Fluent Forms: features in details
Though both plugins are efficient for building online forms in WordPress, their offerings still have many key differences. Let's get a closer look at the features of a quality form builder in terms of Forminator vs. Fluent Forms.
Ease of use
Fluent Forms is one of the user-friendly form builders currently available in the market. The interface is pretty much straightforward and well-polished in design—no need to hire a developer or consult anyone to build beautiful forms. No coding, no hassle, the simple drag-and-drop facility allows you to add, remove, or customize input fields whenever and however you want.
Before publishing, you can peek through the Preview option to look at your forms and track the changes you've made. This option will help you see how your forms will look to the visitors and edit as you please.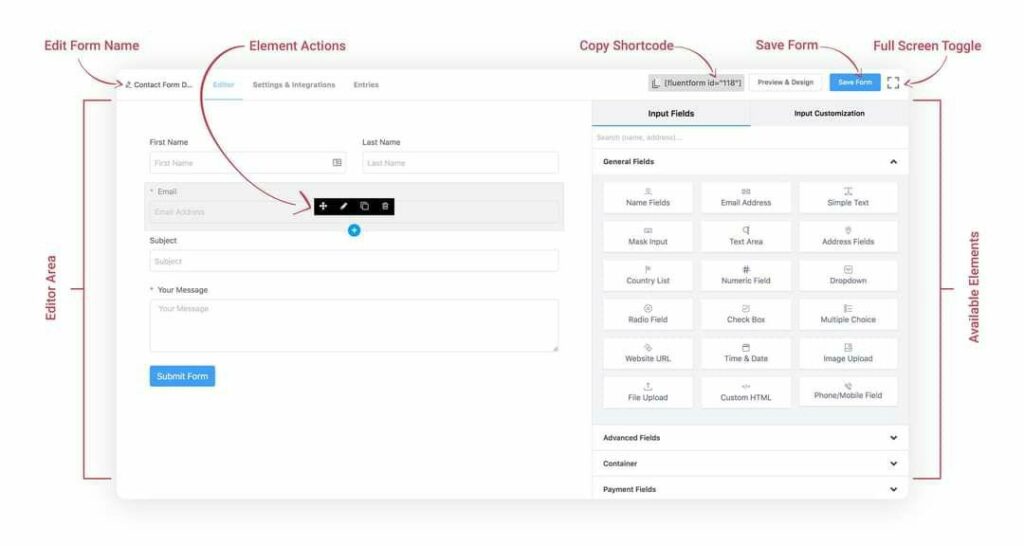 Furthermore, precise documentation and step-by-step tutorials will make the experience a lot smoother. Again if you've any further queries, Fluent Forms' support team is available 24/7 and just a text away.
Forminator also has a bunch of drag-and-drop blocks that make it easier to build forms quickly. You need to go to the Quick Access panel from the Dashboard to create and modify forms. Another panel named Overview provides a snapshot of the site's active forms and submissions. However, sometimes it gets a bit tricky to find the features, which can be annoying. They've got a guide that helps to create interactive forms, quizzes, and polls.
Winner: Clearly, Fluent Forms beats Forminator in terms of user-friendliness!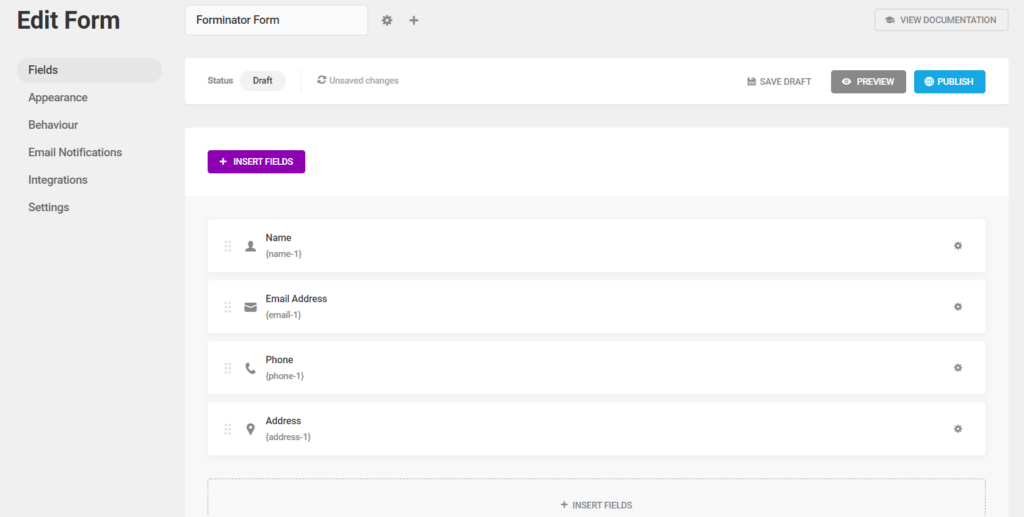 Input fields
Fluent Forms has 50+ input fields in four different categories to help you build your desired forms. Some are general, such as Name Fields, Email Address, Mask Input, and some are advanced fields, like Action Hook, Color Picker, GDPR, Hidden Field, etc. And the best part is that you're getting more every day with new updates. Fluent Forms also offers 25+ fields to their free users, which is pretty generous and can come in quite handy to make versatile forms.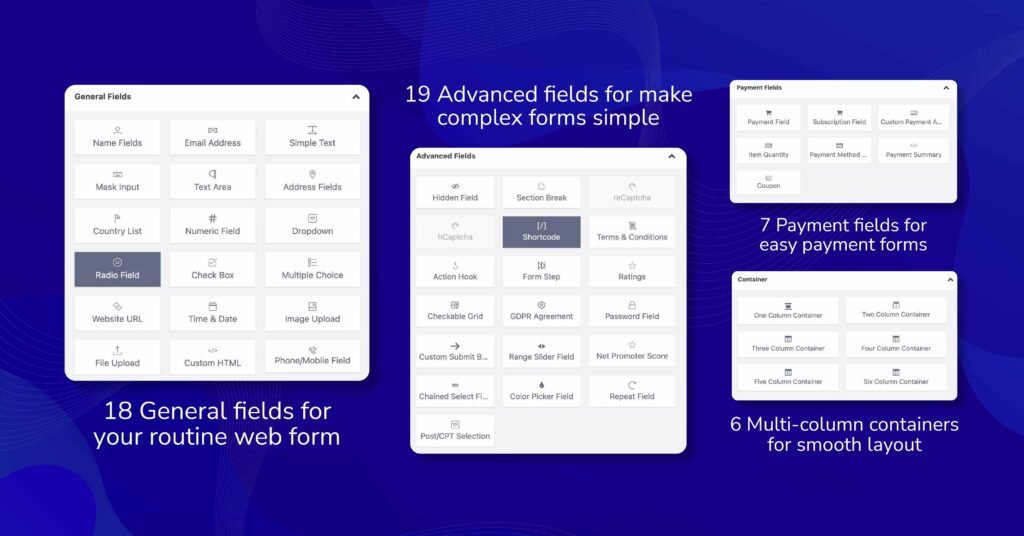 Forminator doesn't have a large number of input fields. Having only 24+ input fields is a setback and can limit your forms' functionalities. You can edit, duplicate, and arrange fields like any other form builder. But you've to be rich in input fields to be a great form builder plugin.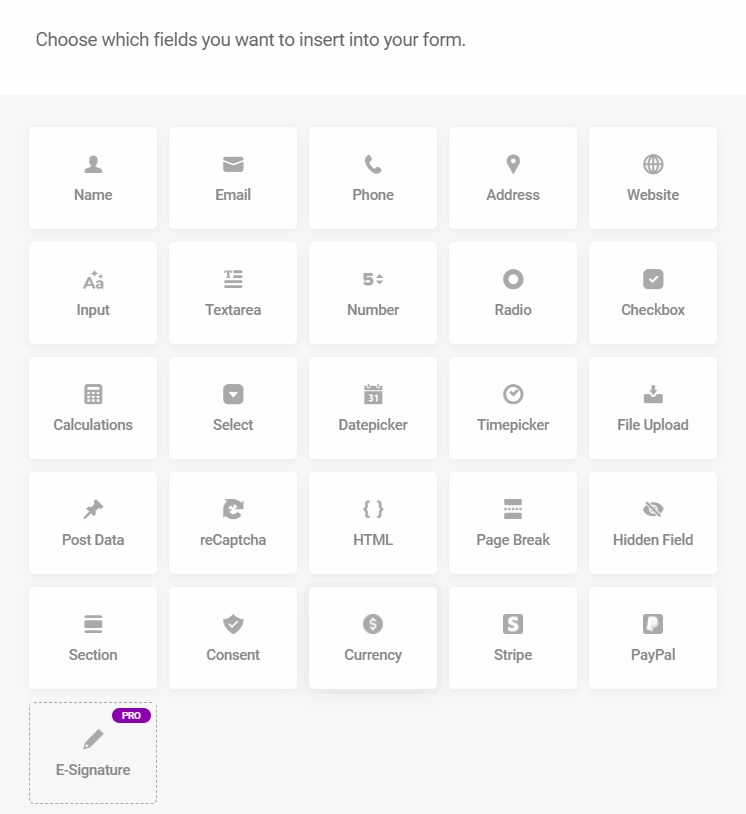 Winner: So, in terms of input fields, Fluent Forms wins by miles as they're offering more options and have 25+ fields for free.
Pre-built form templates
Pre-built form templates save up some valuable time to spend on other productive work for your marketing. Fluent Forms is bound to provide you with loads of templates but also doesn't compromise with quality. You'll get 70+ pre-built templates; 25+ of them are entirely free. These are beginner-friendly. So, whether you need a Product Order Form, a Simple Contact Form, or even a Conversational Form, you can get them from the templates.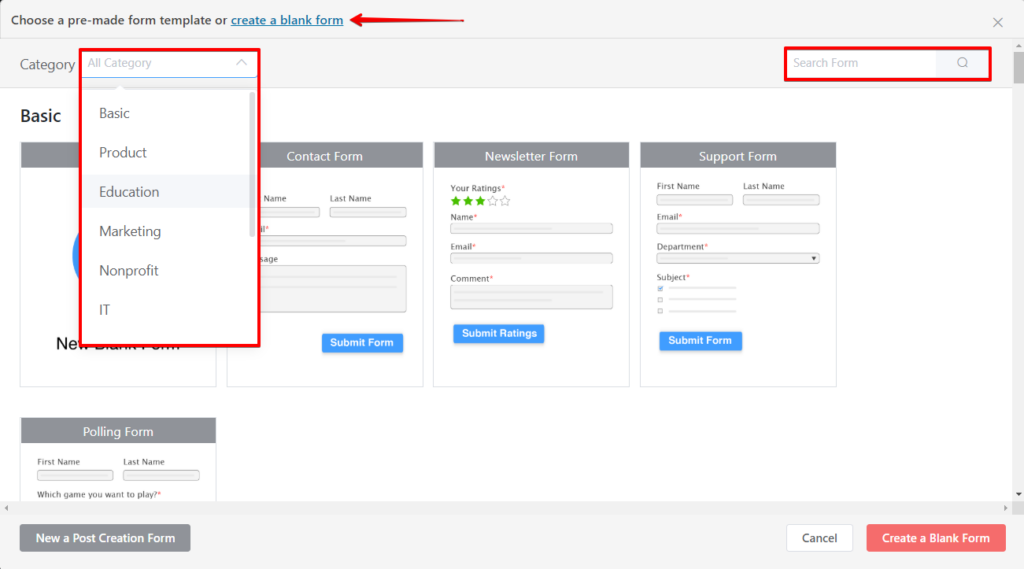 Forminator doesn't provide that many pre-built templates for its users. You need to create from scratch most of the time, even if it's just a simple order form.
Winner: Not much argument left here. Surely Fluent Forms outshines Forminator in pre-built form templates too.
Conditional Logic
When you want to give your forms a dynamic dimension, Conditional Logic is the best option. This feature helps to create intelligent forms and gains confidence from the users. You can create survey forms and change questions based on feedback provided by your users. Both plugins provide this amazing feature.
However, with Fluent Forms, you can deploy Conditional Logic on email routing, input field containers, conditional email forwarding, and so on. These are the kind of functionalities that make a big difference in lead generation.
Forminator too allows different functionalities with Conditional Logic. You can also hide/show the fields based on user input and have Conditional Email notifications, Confirmation Messages.
Winner: In terms of Conditional Logic, both plugins serve the desired purpose. It's a tie here.
Layout features
Fluent Forms' layout features are so smooth that you'll love to play with them. Its user-friendly layout features and effortless navigation will give you some extra fun for sure. Align your labels– left, right, or top as you like. No coding is required; set up the help message position or asterisk positions as per your need.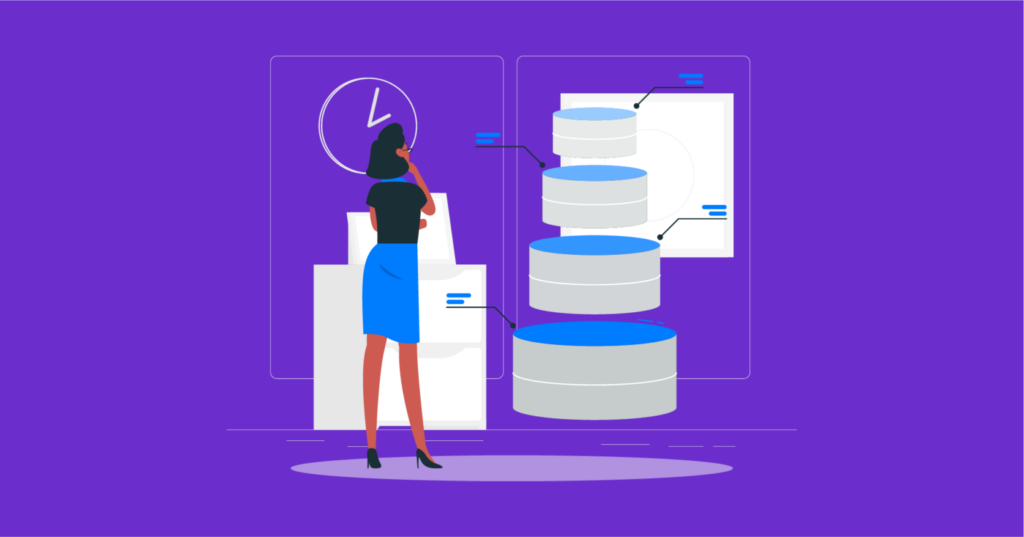 With Forminator, you don't get that much flexibility. However, you do have the option of naming your labels and adding Custom CSS but so does Fluent Forms.
Winner: The custom layout feature of Fluent Forms adds a new dimension to your forms which help to attract more visitors.
Spam filtering and form security
Spammers can give nightmares to any website owner. So, when it comes to online forms, spam protection is an absolute must! Both plugins provide you with enough spam filtering facilities that can make your web form more secure. Fluent Forms gives you options like reCAPTCHA (you can use both V2 and V3), hCaptcha Honeypot, and Akismet for free. Moreover, you can take it one step further by restricting blank form submission with just a mouse click. A hidden input field can help distinguish the bots from the human users and secure your forms.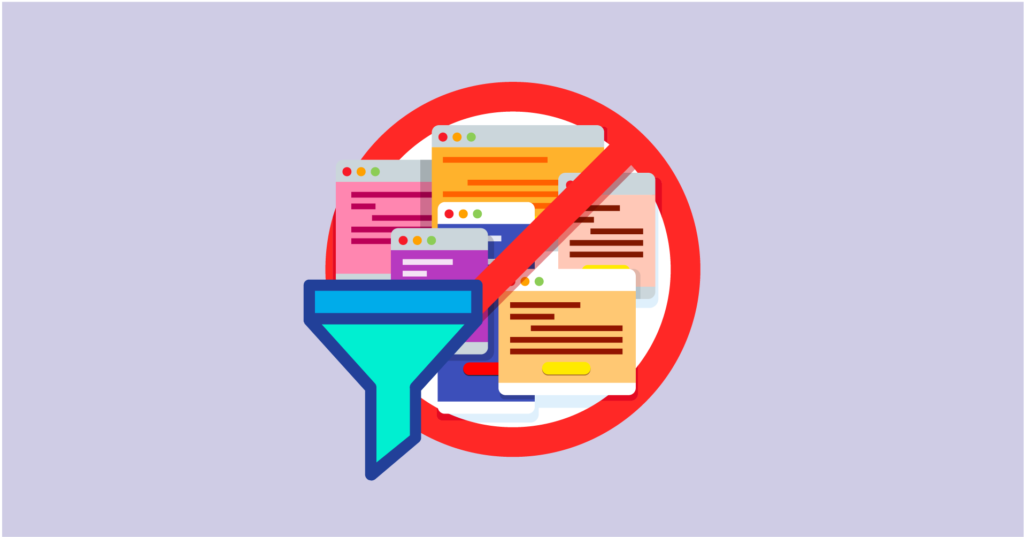 Forminator also provides its users with reCAPTCHA, Honeypot, Akismet, and so on. So it's a tight race here, but features like form restrictions, rejecting empty submissions, and integration with Turnstile to give a Captcha-free experience surely give Fluent Forms an edge.
Winner: Fluent Forms is the number one choice here for compatibility with the modern internet and both Captcha and Captcha-free experience!
Multi-column layouts
If you want to give your form a more organized and compact look, you can use the multi-column features of Fluent Forms. The container option facilitates its users to add up to six columns. Moreover, you can use conditional logic to make them more versatile.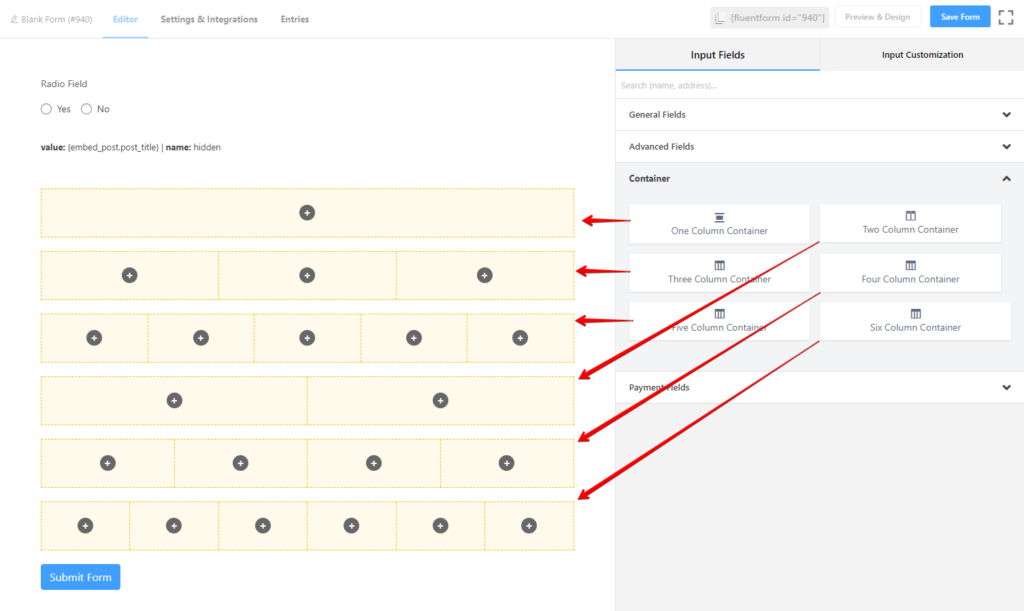 On the other hand, Forminator doesn't provide you with such a feature by default. You can add two fields next to one another, but no dedicated container feature is available in Forminator.
Winner: Fluent Forms!

Entry management
Entry management is one of the most essential features of a form builder. Fluent Forms allows you to manage tons of submissions without any complexity. Without reloading the page, admins can easily view entries with the VueJS-powered backend. Furthermore, Fluent Forms shows you other metadata like the browser information, submission time, embedded page URL, users' IP address, and so on. From this single page, you can browse, sort, mark, adjust, and export the entries with various options.
After viewing the entries, you need to export them for further investigation. Fluent Forms allows you to export entries in four types of file formats: CSV, Excel, ODS, and JSON. You can also generate PDF files with Fluent Forms PDF Addon for free. Isn't it great to have so many options in your hand?
Moreover, you can get creative with your entries and exhibit them in the form of a bar chart, pie chart, column chart, and many more. These visual representations of form entries can make it easier to take proper steps.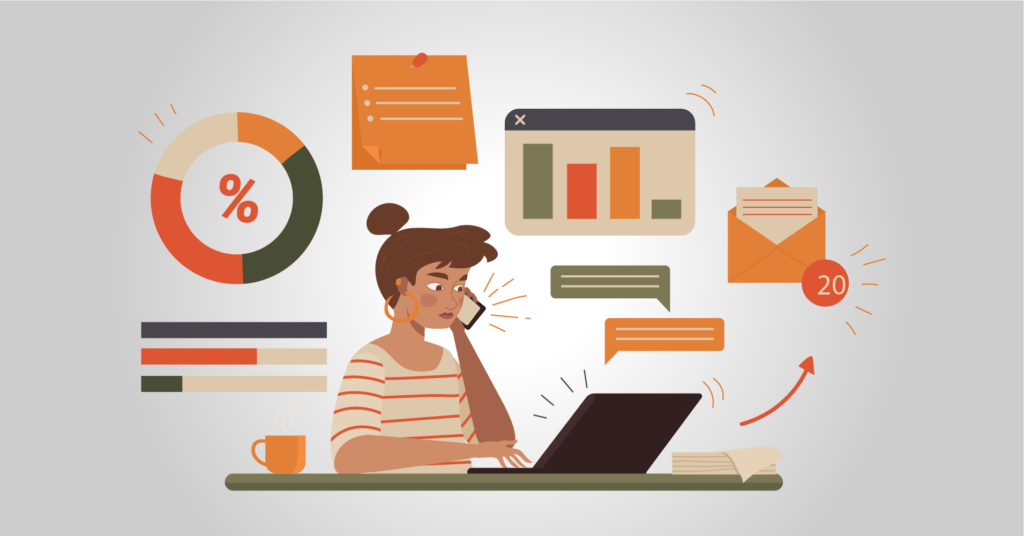 From the Submission Tab of Forminator, admins can manage the data contained in all submitted forms. You can sort, display, and filter data as per your need. Visual representation of data is also available in Forminator. Polls and Quizzes submissions are displayed using a pie, bar, or expandable list depending on how each respective form was configured. There aren't many export options available as Fluent Forms, but you can export data in a CSV file and schedule your export time and date. Advanced filter and visual representation are also available in Fluent Forms.
Winner: Is it really necessary to point out who wins the race of Entry Management features? A word to the wise is sufficient!
File uploads
The file uploads option of Fluent Forms allows users to attach any file with their form submission. You can restrict the file type or the number of files users may attach in the pro version. You need to set the parameters in the Customization Input tab. Interestingly Fluent Forms offers a dedicated image upload field too. If you only need to deal with images, this field may come in handy for you.
Forminator also gives the same liberty with its free version. You can limit the type and number of files with Forminator as well. File upload is a demanding field in the form builder plugin, and both the plugin let you have this feature.
Winner: Forminator wins the race here.
Conversational forms
Though classic forms are the comfort zone of any form builder plugin, sometimes they can be boring. So, what can you do to spice things up? Conversational forms: they are fun, interactive, and super-efficient. One-by-one questions and replying after answering gives users a human feel for your brand. It's just like making a conversation with your potential client, which gives you a lesser abandonment rate. You can make eye-catching conversational forms using Fluent Forms for free, and an upgrade will offer more functionalities.
Forminator has no such features. Though they have quiz forms, some of their features can give a conversation-like vibe. Also, they offer a lead generation quiz type that can help you in lead generation. But it's nothing like a dedicated feature like conversational forms.
Winner: With Fluent Forms, there is so much to explore, so much to take advantage of.
Third-party integration
Fluent Forms and Forminator are both packed with some crowd-favorite third-party integrations like email services, CRM, project managers, and data storage. Some integrations are entirely free in Fluent Forms and Forminator. For instance, you'll get major integrations, Mailchimp and Slack, integrated with the free version. You also can have an opportunity to integrate your form with the Campaign Monitor, ActiveCampaign, GetResponse, Moosend, ConstantContact, and so on using the Fluent Forms pro-add-on. Moreover, you can extend that to over 5000 apps through the Zapier integration for as low as $59. Learn more about third-party integration of Fluent Forms.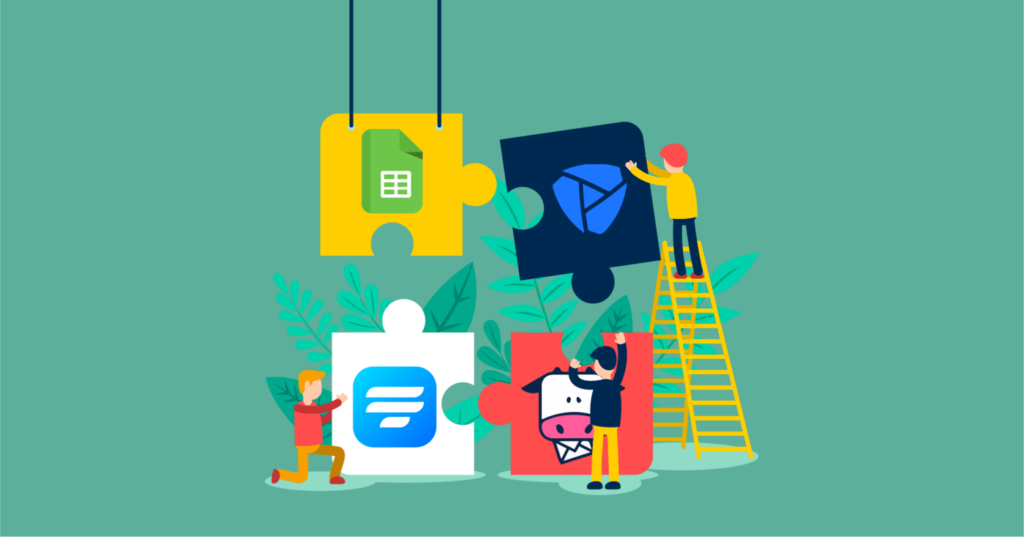 Forminator doesn't offer any integration for free. However, they also come with a whopping number of third-party integrations like CRM, email campaigns, storage, and project management. They also offer Zapier integration which allows them to connect with 2000+ apps with Forminator. If you're interested, read more about Forminator's third-party integration.
Winner: In this segment, integrating different services natively with Fluent Forms is easier and more cost-efficient. You can use some amazing Fluent Products for free with the form plugin. Both plugins offer some amazing free and pro integrations that help you grow your business. So, it's a tie here as well.
Partial entries
Sometimes people get interrupted or simply lose interest in filling out forms; with the partial entries option available in your plugin, you won't lose all the information. In Fluent Forms, you can enable it by checking Enable Per Step data save. Additionally, if you check the Resume Stem from the last session, users can come back and complete the webform anytime they want.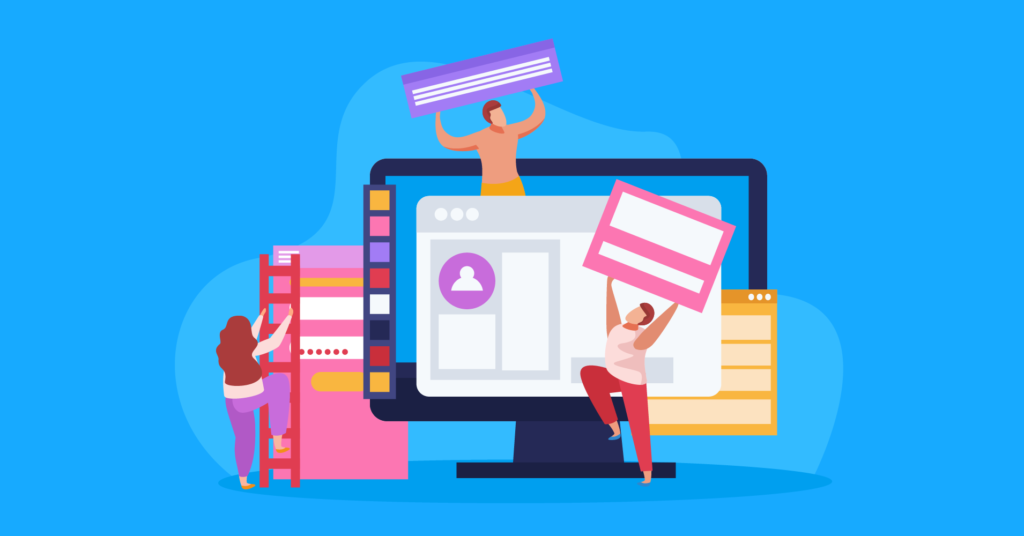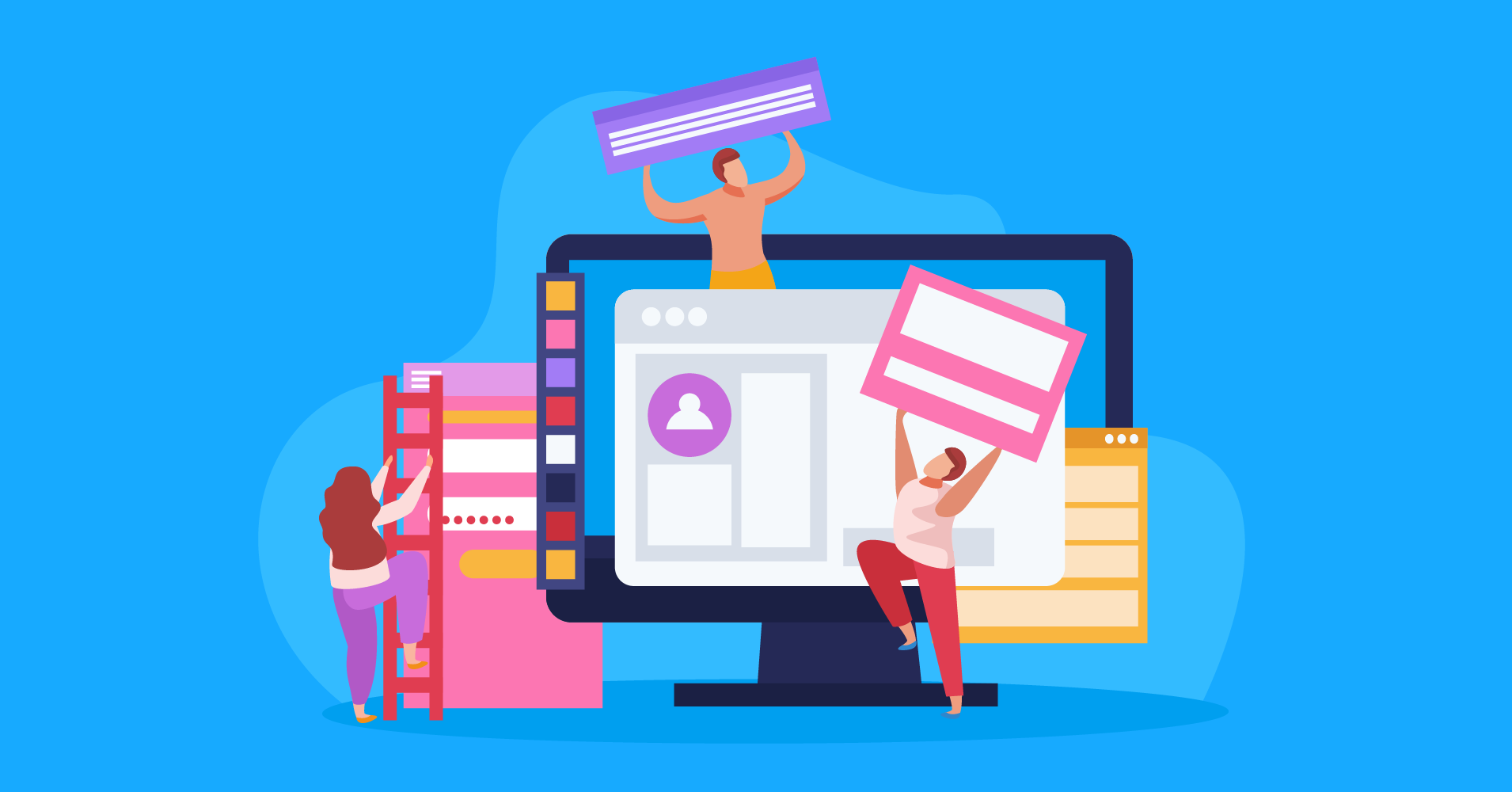 This can be a game-changer as you can always retrieve data even if they are left incomplete. You won't be losing any potential customers. But Forminator doesn't have this feature available which is a major drawback for them. It's an on-demand feature, and you can have it in Fluent Forms.
Winner: Guess what, Fluent Forms again!
Documentation & support
Fluent Forms is well-trusted among customers for its detailed documentation and top-notch support team. In fact, Fluent Forms has one of the best support teams in the market, available to answer your every question. You'll get explicit descriptions of every feature and precise instructions on using them properly in the Fluent Forms documentation segment.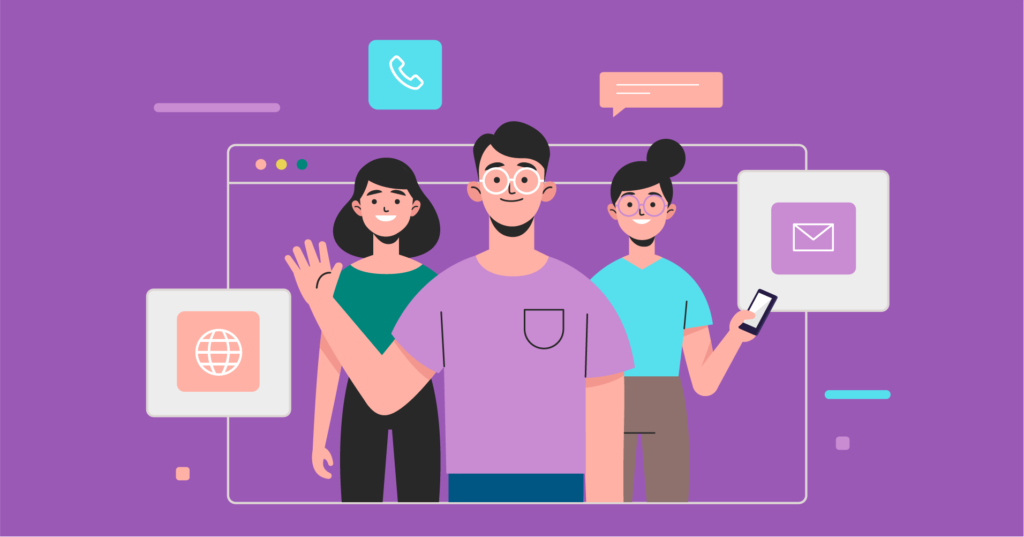 Forminator also provides extensive documentation on their features, but the support won't be as good as Fluent Forms. Though it's a great form builder at a price, they could have done better with its features and customer service.
As we can see, none of the plugins shy away from ensuring high customer satisfaction. However, with ample detailed documentation, video tutorials, and customer support for all users, Fluent Forms races ahead irrespective of the license they own.
Again, technicalities can sometimes be confusing, and mere documentations are often not enough. The Fluent Forms support team is just a few clicks away.
Winner: Fluent Forms undoubtedly wins this round thanks to its unfaltering devotion to customer satisfaction.
Pricing & licensing
Here comes the most awaited question – what's the price difference between Fluent Forms and Forminator? It may come as a shocker that with all the extra features and functionalities, Fluent Forms is still a cheaper choice than Forminator. With Fluent Forms, a Single Site License is available at $59, a 5 Sites License at $129, and an Unlimited Sites License at $199.
On the other hand, Forminator has options available- $60 for a Single Site License, $140 for up to 10 Sites Licence (no 5 Sites License available), and they are asking a whopping $290 for Unlimited Sites License. Almost a $100 difference in annual licensing, which is a major drawback. 
Another good thing is that the Fluent Forms plugin comes with a freemium version that also provides free features and functionalities. And what Fluent Forms offers for free, most form builders don't even include in their premium plans. You can learn more about Fluent Forms' free vs. pro here. 
Single Site License
$59
$47
1 Domain License
1 Year Plugin Update
1 Year Priority Support
All Features Included
Agency License
$129
$103
5 Domains License
1 Year Plugin Update
1 Year Priority Support
All Features Included
Unlimited License
$199
$159
Unlimited Domains License
1 Year Plugin Update
1 Year Priority Support
All Features Included
*The discount is applicable for the first-year license only
Single Site License
$299
$239
1 Domain License
Unlimited Plugin Update
Unlimited Priority Support
All Features Included
Agency License
$499
$399
5 Domains License
Unlimited Plugin Update
Unlimited Priority Support
All Features Included
Unlimited License
$899
$719
Unlimited Domains License
Unlimited Plugin Update
Unlimited Priority Support
All Features Included
A pocket-friendly plugin with a pretty straightforward UI, tons of features & functionalities, a strong, loyal community, and a dedicated, hardworking support team. What more can you ask from a WordPress form builder plugin?
Winner: Yet again, Fluent Forms wins the Forminator vs. Fluent Forms race!
Final verdict: Forminator vs. Fluent Forms
After considering all the options, the verdict is clear as daylight. Both Fluent Forms and Forminator are highly functional and fantastic form builders in their own scope. But some fundamental differences make them stand out from one another. Before making your final decision, let's recap the crucial aspects of both plugins.
Some key points from our Fluent Forms vs. Forminator analysis:
Firstly, Fluent Forms offers a free version with a plethora of amazing features, whereas Forminator has so many limitations.
Secondly, Fluent Forms provides you with more flexibility with features like 45+ input fields, various payment gateways, conditional logic, 70+ pre-built templates, multi-column layouts, etc. Forminator offers only the bare minimum.
Thirdly, You'll get more options for entry management, spam filtering, file export in different formats, etc., with Fluent Forms than with Formninator.
Fourthly, Conversational Forms and Partial Entries are available in Fluent Forms but not in Forminator.
Some crucial features like advanced post creation, surveys, quizzes, chained select, etc., come with all Fluent Forms licenses but are reserved for only Pro License holders in Forminator.
Lastly, you'll get a better and more responsive eSignature addon with Fluent Forms at a lower price than Forminator.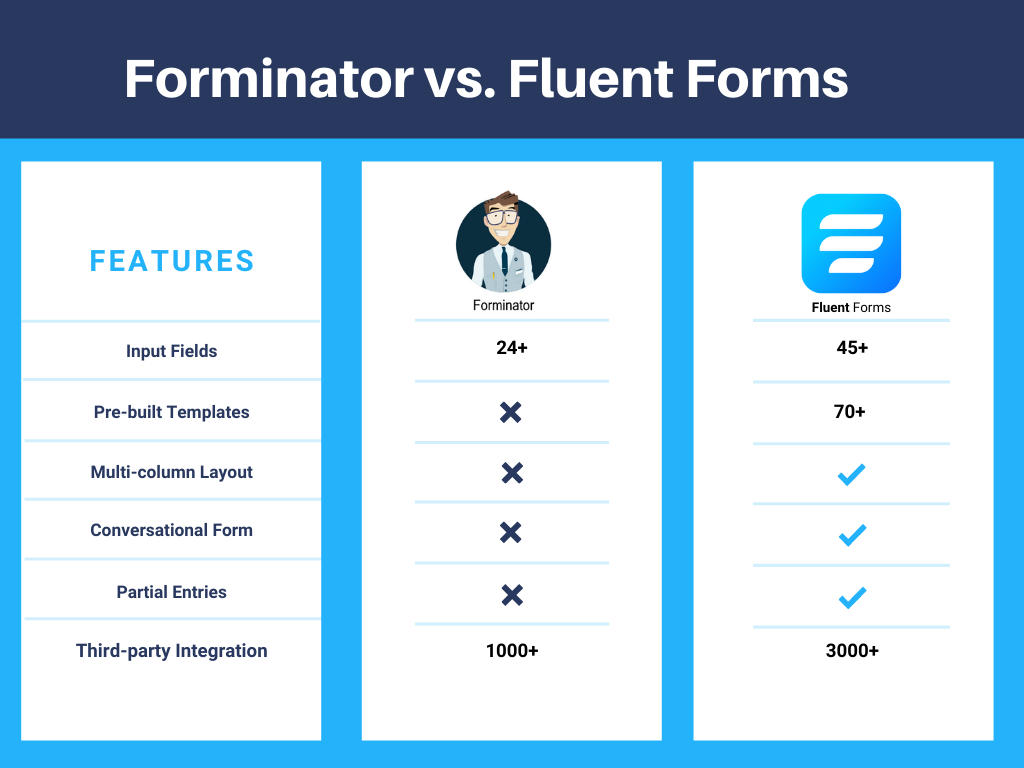 Fluent Forms can play different roles in your marketing plan; from researching & growing your audience to ultimately generating leads, this amazing WordPress plugin can do all. You don't have to stop there; add various tools to your tech stack through Zapier. Additionally, the integration of FluentCRM (an amazing Self Hosted Email Marketing Automation Plugin) can significantly affect Fluent Forms' strength. 
Forminator is a well-known form builder in the WordPress market. But a multi-purpose form builder like Fluent Forms is a real bang for the buck. As we've pointed out the must-have features and functionalities of both forms, it's up to you to make the final decision.
We hope this write-up will help you to choose between Forminator and Fluent Forms. Do you think we miss anything? Or would you like to add something? Let us know in the comment section. You can also follow us on our Facebook page, Twitter, or Instagram for tutorials and updates.
Read more:
Fluent Forms Free vs. Pro
Cognito Forms vs. Fluent Forms
JotForm vs. Fluent Forms
Typeform vs. Fluent Forms
WPForms vs. Fluent Forms