Google Forms Alternatives to Maximize Business Growth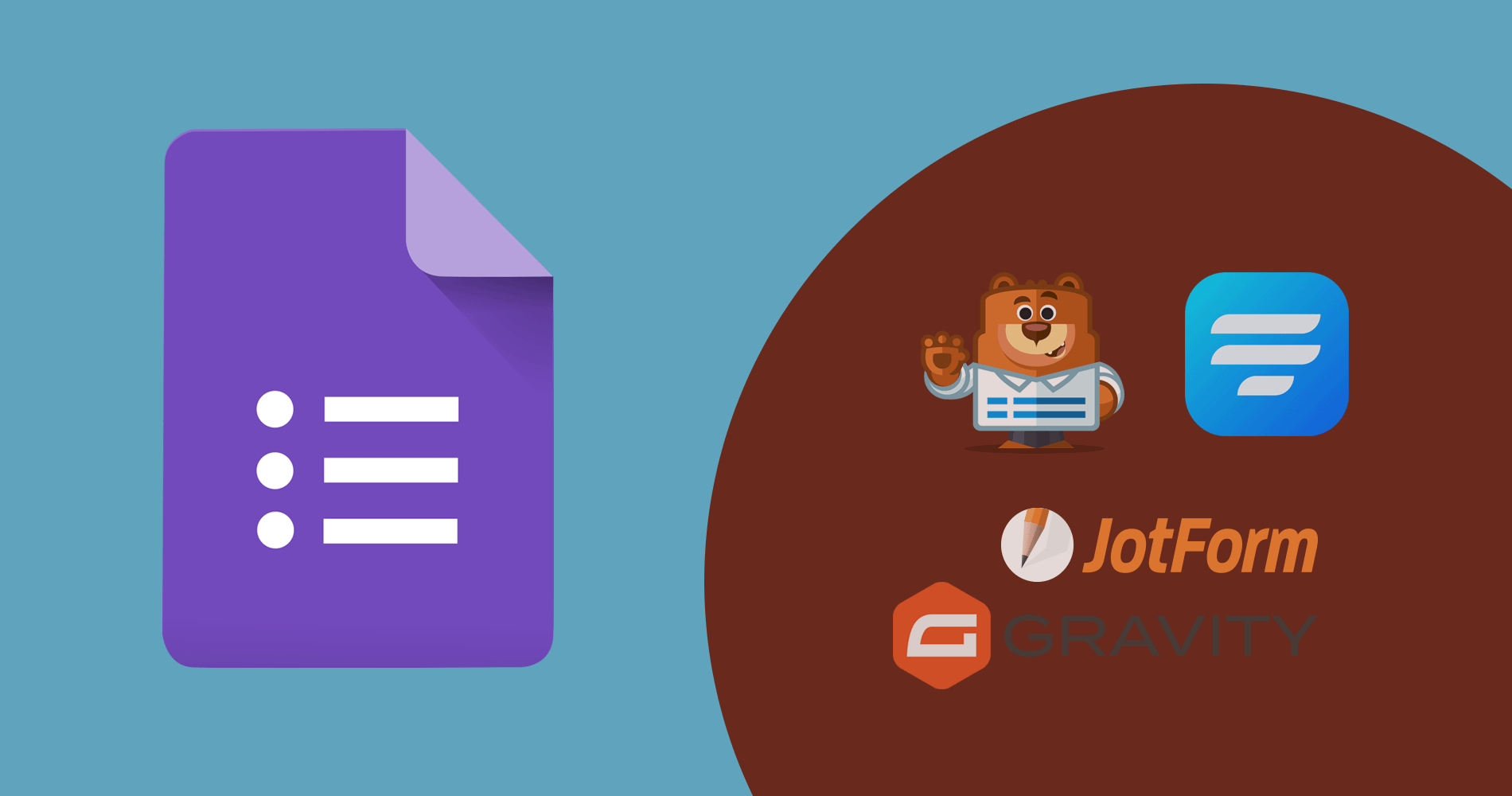 Google Forms is probably the most popular and easy-to-use online form builder tool. Widely used by the students and research community, this tool has a spectacular acceptance in the education sector. Without a domain or a website, database, or monthly subscription, anyone can utilize it to collect data, do surveys, and event registration.
Because Google Forms takes no charges and allows people to integrate into their business smoothly, the popularity is totally expected. But, the question remains whether this excellent tool is the right for your venture or not. In this article, I'll try to explain the good and the bad, and some suggestions, so things get easier for you.
What's Google Forms
Features to consider
Pros and cons
Google Forms alternatives

WP Fluent Forms
Gravity Forms
WP Forms
Ninja Forms
JotForm

Key takeaway
What's Google Forms?
Google Forms is a highly functional and user-centric data collection tool made by Google. Like most of the other programs of Google, this is also available free.
With some groundbreaking features and some severe disadvantages, Google Forms has its best use for students and non-profit, general use. It requires no coding skills and can be maintained by a guy with average technical knoledge.
It offers two different versions and you can choose the correct one for your project.
Personal: For collecting information and organize them, Personal option is the best.
Business: The business version will come up with additional security and connectivity with other Google programs.
Features to consider
Unlike other WordPress form plugins, Google Forms lacks some mind-boggling facilities. Still, it can be an excellent choice for short-term projects, especially where there's no need for recurring databases.
Getting some quick information
I think Google Forms is mostly used in event registration. It's because whenever I got any invitations on Facebook for an event, the form was built with Google. Moreover, you can use these forms for instant data collection – be it email subscription or online poll.
Gathering data with survey
You can design a good survey form with Google Forms to convince more people to express their opinion. By attaching your company logo or a selected photo, you can make the form more personalized. Apart from that, you have options to choose your preferred color or select a prebuilt theme.
Make an effective questionnaire
What about creating a set of questions and get answers from your participants. This way, the form will be well-organized with a set of questions. People can answer through MCQ or dropdown options. Even you can include a linear scale alongside integrating photos and YouTube videos.
Connect mobile users
It's very significant to connect people who are on the go as this number is incredibly big. Google Forms offers all of its forms responsive so that they can stretch themselves no matter the device types. As people can respond comfortably from their phones so you can edit them efficiently.
Analyzing the data
Data analysis is equally essential to gathering data. Your data will show you the right way when you want to understand about making the right decision. However, you can see the instant response as well as a visualization with charts. Transfer the info to Sheets for further analysis.
Integration and collaboration
If you use Google Forms for business, you can leverage Google Suites for tweaking the forms to a new height. The business portion will guide you with better opportunities and elaborate analytics. Adding collaborators is another brilliant feature where you can include your friends or workmates to help you with maintenance.
Advantages of Google forms
Google Forms is completely free, so you don't have to pay any price, no matter you're using this tool at what level.
Getting started with this tool is easy because you only need a Google account.
You can create surveys easily for your business or research in order to get particular information.
There are options for colors and images, but above all, the interface is user-friendly, which can be handled by anybody.
Further analysis for data is possible via the stored feedback and connecting Google Sheets.
Where it falls behind
The limitation in customization is the first and foremost disadvantage of Google Forms.
Security is another big concern as you have no control over the database.
Google Forms has a limit of 500 KB text and 2 MB images, which might be a big concern if you have a large project.
You can't set smart conditions on your forms to display the right options for the right participants.
The advanced calculation, automatic pdf generation, developer's option – a lot of prolific features are missing out here.
It's not possible to add payment options with Google Forms.
For third-party integrations, only products from Google Suites are allowed, which definitely can't satisfy your needs.
Why we're looking for alternatives
I can give you tons of more reasons why you should look for Google Forms substitutes. But, you have to understand your industry and necessity first. Google Forms may suffice if you need a form to create an online event registration for your university.
Or, you might need it for once; maybe it's just a campaign to collect everyone's email address of your organization. However, you think big, and your demand gets more extensive, you surely need to have a form that has some advanced functionalities.
In this post, we'll discuss some WordPress form plugins. Why are we considering WordPress plugins as an alternative for Google Forms?
If you're planning to establish yourself as an online entrepreneur, you must need a website, and WordPress is best for that particular case.
For quality, WordPress form plugins are proved to be the most reliable. As the market is highly competitive, developers tend to give their best.
Most of the plugins have a lite version which is available in the WordPress directory.
Every plugin provider offers robust support. Besides that, the community is humongous and very helpful.
Best Google Forms alternatives
Here's a list of the most qualified Google Forms alternatives and I'm keeping it short to give you a sneak peek of what a first-grade form looks like.
WP Fluent Forms
The drag and drop form builder and 60+ ready-to-apply templates are the two big reasons you should consider it as a Google Forms alternatives. Where it stands out is the regularly updating advanced features that are making the tool stronger every day. From payment collection to automatic PDF generation, conditional logic to file attachment – you must try the Fluent Forms once. The free Fluent Forms isn't having all the essential features, but still, it's worth checking out whether it fits as a replacement for Google Forms.
Price: The free version is available on wp.org. For the pro, you need to pay $59/1-site, $99/5-site, and $199/unlimited – all these prices are for annual plans. For the lifetime option, there are other plans.
Gravity Forms
Gravity Forms comes equipped with advanced features that will help you build the right form for your business. A wealthy list of add-ons can make your form building experience better and faster. PayPal, Stripe, Slack, Mailchimp – all the top-class products are ready to get included in your forms. By giving your name and email address, you can test drive the pro version free. 30+ input fields, conditional logic, save and continue, limit and schedule, WordPress post creation – Gravity Forms can be your ultimate choice for replacement of Google Forms.
Price: $59/1-site, $159/3-sites, and $259/unlimited. All these plans are for per year. Besides that, there are variations on add-ons based on packages: basic add-ons, pro add-ons, and elite add-ons.
WP Forms
You can trust the reputation of WP Forms to build professional online forms. Packed with a bunch of classy tools, this easy and top-notch form builder can provide you way better output than Google Forms. Moreover, you can create subscription forms for email marketing and collect payments with rigorous settings. Fighting spam with smart captcha and honeypot is another strong suit of WP Forms. Not to mention that the forms are comfortable to embed anywhere on your website.
Price: $39.50/1-site, $99.50/3-sites, $199.50/5-sites, and $299.50/unlimited sites. The features attached to every plan vary, and you can enjoy 14 days moneyback guarantee.
Ninja Forms
Create and publish your forms in a few steps with Ninja Forms. This WordPress form builder shows the coolest way of designing forms and implementing them in your professional needs. Ninja Forms is the best companion for taking off your business with easy configuring options and smooth embedding. Users can submit PDF forms and upload files with forms. You'll get extended freedom with layouts and styles that include resizing fields and adjusting borders. On top of PayPal and Stripe, Ninja Forms has other tools integrated for payment and subscriptions.
Price: $49.50/1-site, $99.50/20-sites, $249.50/unlimited. All the prices are for one year that renews automatically. There's a special pricing option at $29-$129, and you can select only what you need.
JotForm
Like Google Forms, JotForm is not for WordPress but very popular for building intuitive forms. All the tools come out with the package are for the growth of your business. If you don't want to take all the hassle, assign your forms to your employees. They can collect data and manage the forms, even offline. Form management has seen a new era with JotForm's Assign forms. They divided their forms according to PDF, HIPAA, payment, and more. Every type of form has appealing features and is ready to tackle your needs.
Price: $24/25-forms, $29/100-forms, $79/Unlimited forms. These are the monthly price that's billed annually. A free plan also comes with five forms and some other limited features.
Key takeaway
After looking at the Google Forms alternatives I have accumulated, you can now understand where Google Forms truly stands. Here are a few takeaways.
Google Forms is okay for students and researchers who need the tool for events and short-term projects.
For businesses and advanced data collecting, you need to go for a tool that's built for handling a lot of pressure.
WordPress form builder plugins are indeed some formidable alternatives for Google Forms.
Be it WordPress or SAAS; you should look out primely for the features the tool is offering.
Payments, PDF submission, post creation, calculation, and data transfer – Google Forms- are severely weak at many points.
Conclusion
WP Fluent Forms is the right choice when you're looking for an alternative to Google Forms. Not only can you get a lot of cutting-edge features, but the free version is far more advanced than many premium tools. However, you must think about switching from Google Forms seriously for less security, lack of features, and a little freedom.