6 Best WordPress Geolocation Plugins
Inqiat Ahsan Reza
. May 27, 2022
. 10 minutes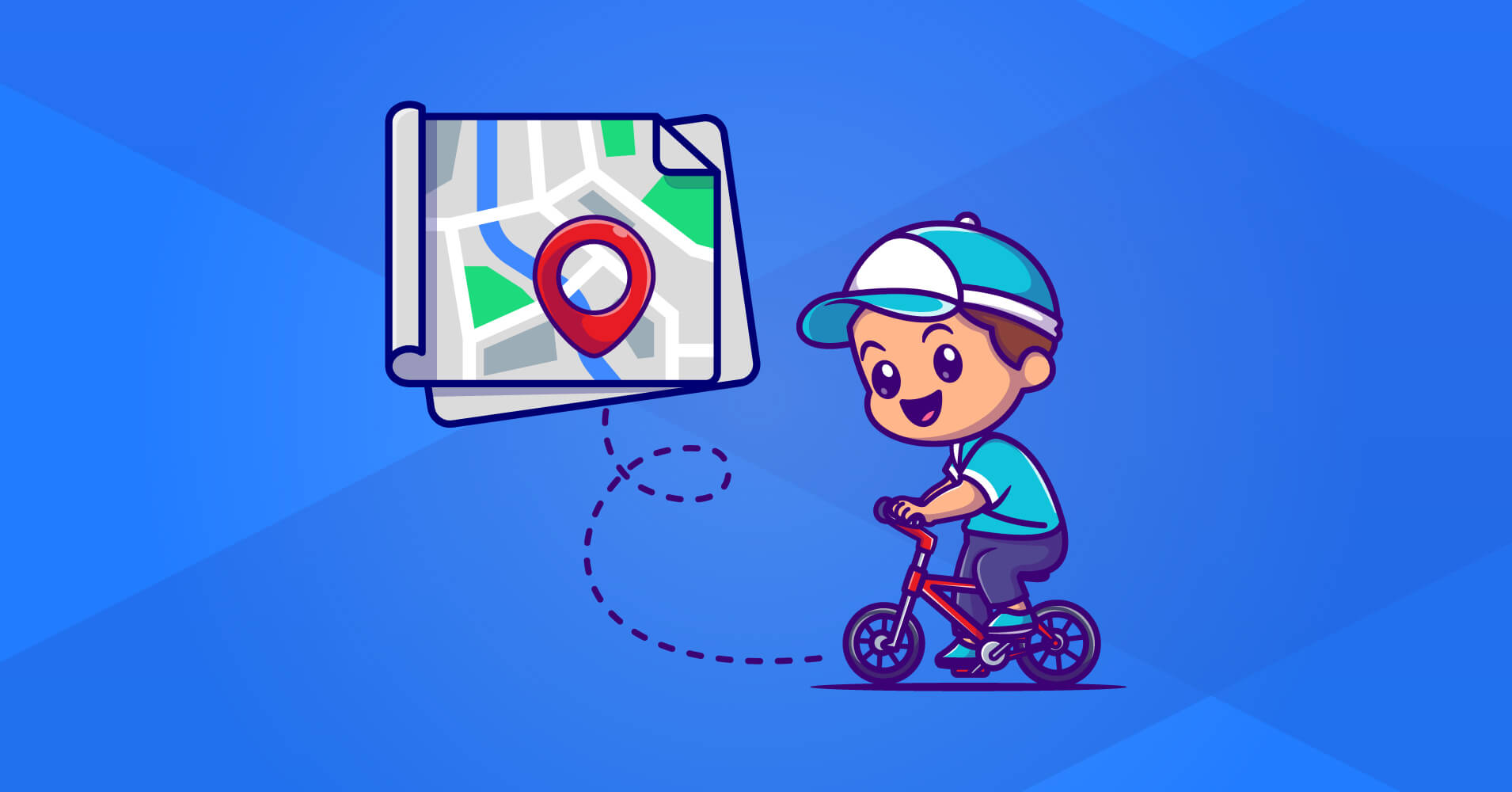 It's awe-inspiring how much the user experience on a website has changed over the past decade or so. We went from static websites that only show content to interacting with users and providing services according to their locations and needs. Geolocation plugins can help you trace your visitors by their location and help you learn more about them. Are you looking for the best WordPress Geolocation Plugins?
You have come to the right place. This article will show you a list of the best WordPress geolocation plugins that can help you get the correct information about your visitors and give your users a smooth user experience.
Fluent Forms is the most beginner-friendly form builder. Download now and Start creating beautiful forms FREE!!!
Why add a geolocation plugin to your site
Using geolocation plugins in your WordPress site could help you target your visitors precisely.
Not only this, you could do a lot more with a WordPress geolocation plugin. Before rushing into adding one to your site, let's learn why do you need to add a geolocation plugin in the first place.
Tracking your visitors' locations – Geolocation plugins help you track your visitors' locations and save the data on your site. If you are thinking of scaling up, you must learn a bit more about your visitors. For targeting your customers and making marketing moves accordingly, these plugins are life-savers.
Targeting your clients – If you want to provide specific products or services to your customers according to their location, you should not think twice about adding a WordPress geolocation plugin to your site. With Fluent Forms, you can Conditionally set some fields that will only work when the conditions are met. If you want to provide some items only to Australian customers, you can set conditions for that field.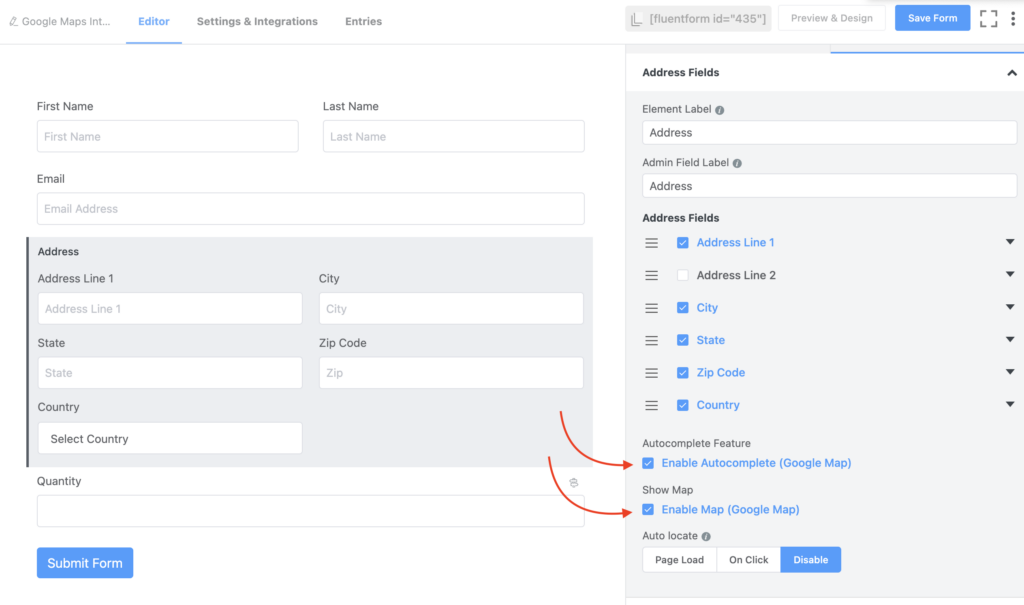 If the Country is equal to Australia, the quantity field will show up, and the predefined value will be 5. So, when a customer types his address, the field will autocomplete, and the country will be filled as Australia, quantity field will appear immediately.
Display local information – You can show local information with these plugins to make the users feel at home. The more comfortable your users are, the more your company grows. Showing local events promotions, prices in local currency, and weather updates, you can do these things effortlessly with your geolocation plugins.
Moreover, you can also do content blocking, display local language, customize offers and coupons, give directions to a nearby store, restrict displaying products for certain regions, and so on.
How WordPress geolocation plugins work
Geolocation and geotargeting plugins are generally used to get more information about your visitors' locations. These plugins also show local information like directions, weather updates, local prices, and offers according to the visitors' regions and help business owners to get more authority over the sale funnel. You can convert prospects to loyal customers when you know them well, and knowing the location gives you so much information about their consumer behavior, preferences, trends, etc. The Autocomplete address feature saves valuable time and decreases form abandonment, which helps get more information.
You can show the Google Map, weather widgets, and directions anywhere you want on your website. You can add a Google Map interface to help users navigate their location in your form.

Now let's move to our list of the best WordPress Geolocation Plugins (free and paid ones) you can get your hands on –
6 Best WordPress geolocation plugins
With the benefits of Google Maps integration in mind, let's learn about some of the best WordPress geolocation plugins in the market.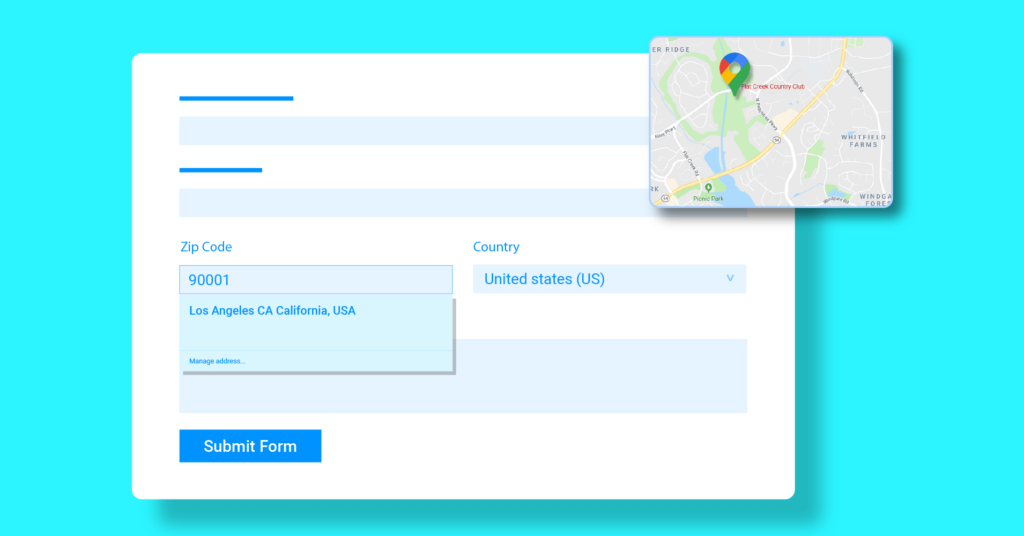 Fluent Forms is the most lightweight and user-friendly drag-and-drop form builder that empowers more than 100K businesses. You need to create a form for your business or survey or donation collection; just name it – with Fluent Forms, you can build any form you want.
The geolocation feature or Google Map integration with your form can increase your conversion significantly as you can target your audience precisely and execute your plan accordingly. Fluent Forms offers Google Map integration with its regular feature, no addon, and no extra cost.
The geolocation feat to This makes it one of the best WordPress geolocation plugins in the market.
Enable the geolocation feature in the form to help your users autocomplete their address and reduce the hassle of filling up the form. Users can also drag and drop the location icon on the map to fill up their address fields. This is ridiculous how one feature can decrease form abandonment so effectively. This is so easy in Fluent Forms, and you just need to integrate your form with Google Maps, go to the Global Settings and copy the API key you got from Google Cloud Platform. If you don't have the API key, learn how to integrate Google Maps with Fluent Forms here.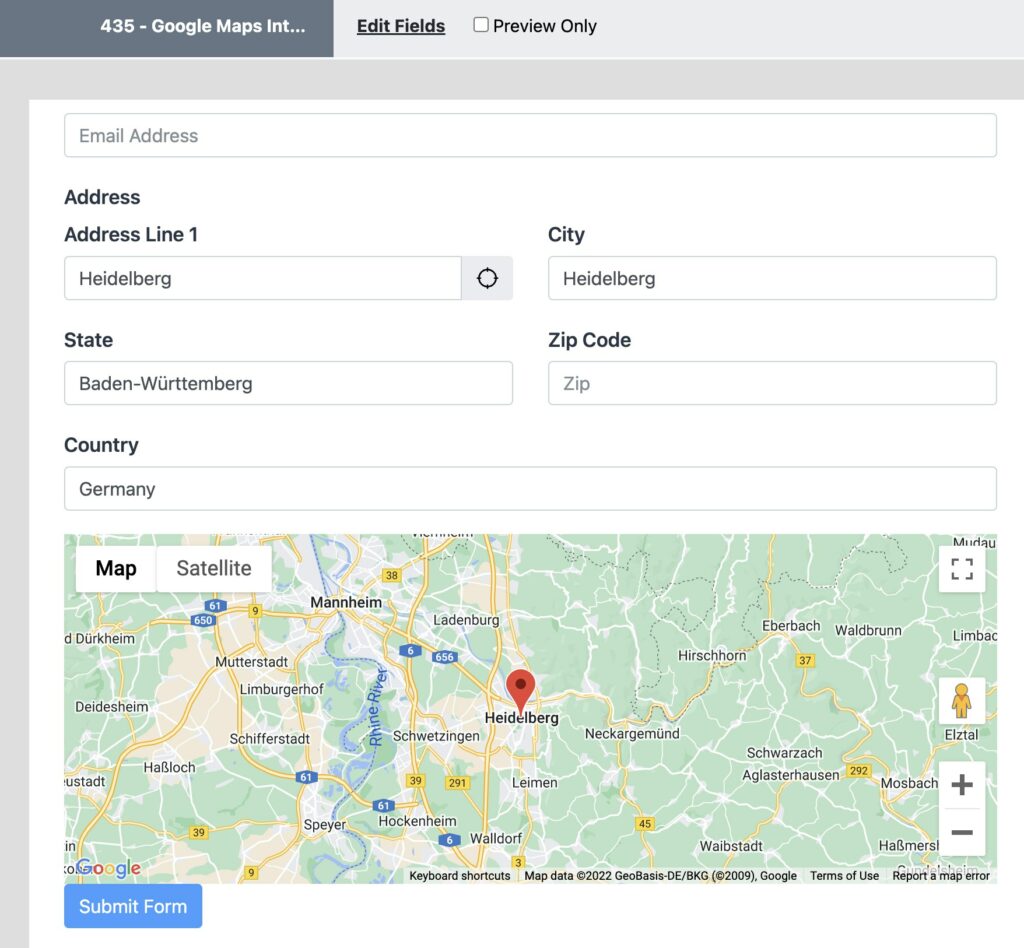 Features:
User-friendly interface and easy to integrate Google Maps
Address autocomplete and drag-and-drop autocomplete
You can conditionally set up fields according to users' locations
Data collection and location-based filtering are available
Data visualization and analysis as per need
Conversational Forms
Multilayer spam protection
Landing page feature
File upload
50+ input fields to play with
70+ pre-built templates
Pricing:
Fluent Forms pricing is reasonable when you see what you can do with this amazing plugin. You can access tons of features and integrations, including the geolocation feature only for $59/per year in Fluent Forms, whereas you have to pay $199.50 yearly to avail of this feature in WPForms!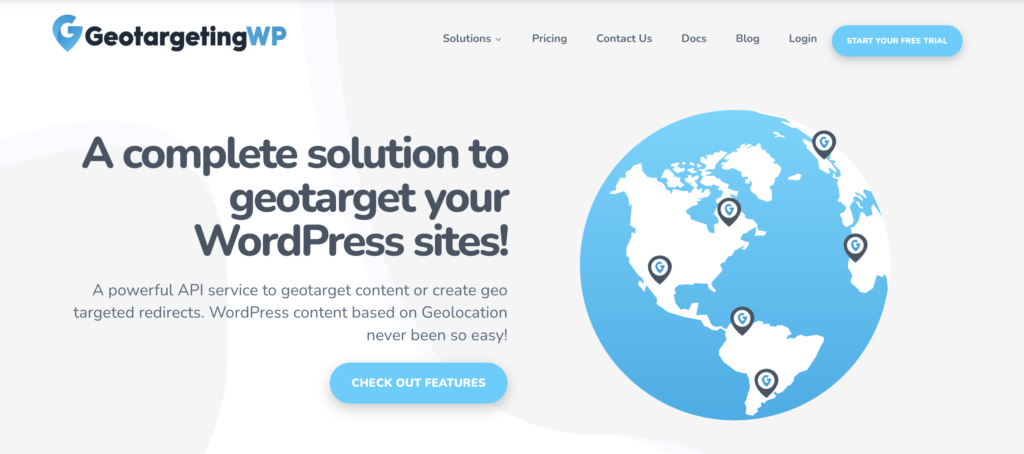 Do you want to show different content to different regions' users? Geotargeting is the tool for your affiliate sites and stores to show customized content to your users.

If you use the Pro version, you can show/hide products in WooCommerce and Easy Digital Downloads based on the visitor's location.

Features:
Location-based shortcodes available
Content blocks and geolocation redirections
IP detection via Sucuri and Cloudflare
Compatible with caching plugins and local databases
IP and GPS location detection
Region-sensitive links
Pricing:
Though a 14-day free trial is available, you have to pay $9 per month for 10,000 requests on unlimited sites to get GeotargetingWP Pro.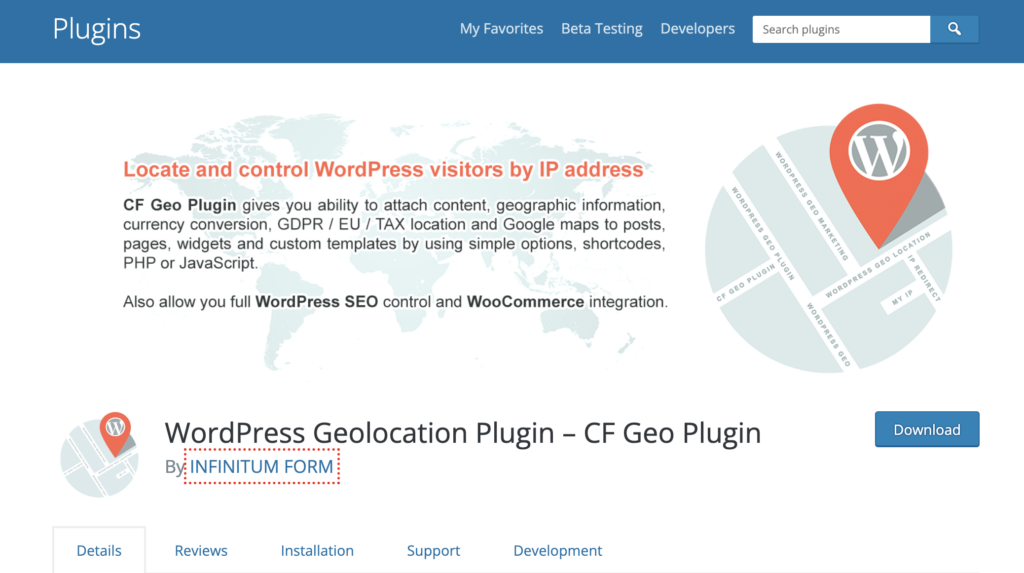 CF Geo is another WordPress geolocation plugin with a bunch of amazing features. You can use PHP code or JavaScript to fully utilize the geolocation of your WordPress website. Shortcodes are also available if you want to post Google Maps on your website pages.
Setting a default location to your site or attaching geotags to specific pages can help your customers know about your site more precisely. Moreover, this plugin adds great dimension to the e-commerce sites as you can convert pricing based on your customer's location.
Features:
WooCommerce integration available
Price conversion according to the users' locations
Content redirection based on geographic information
Spam protection
Pricing:
The core WordPress plugin is free, but it is limited to 1,000 API lookups per day. The premium version starts at $10 per month to access unlimited lookups.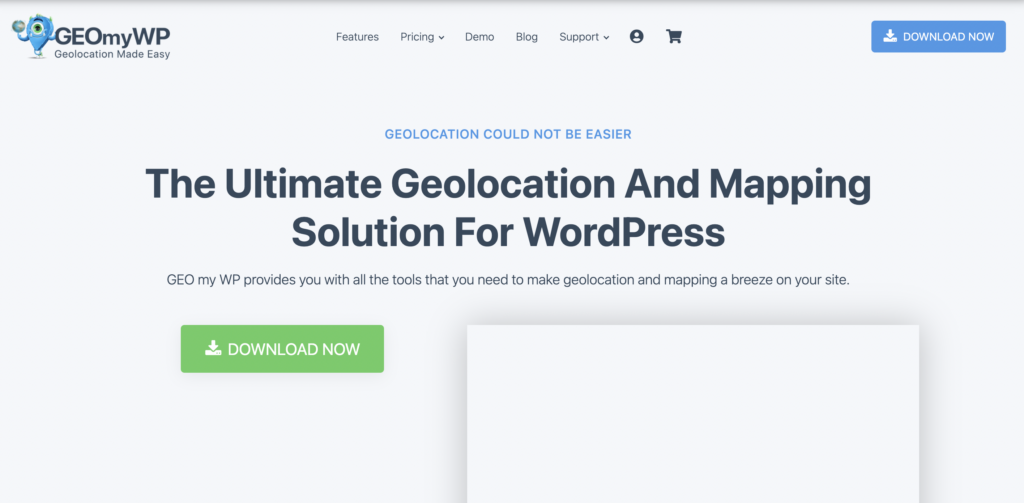 GEOmyWP gives authority to show your website a handful of geolocation-based features and services. This WordPress geolocation plugin can help you grow your location-based websites like real estate, websites that feature events, and directories.
With different widgets and shortcodes, you can easily display Google Maps on any page of your website. With this WordPress geolocation plugin, members can add their location to their profile, and if enabled, one user can view the distance of another user with proximity search forms.
Features:
Easy and simple to navigate
It can display maps, addresses, and directions
Includes a form builder
Pricing:
There is a free version of GEOmyWP, but you'll need to purchase a premium plan if you want to include an IP address locator or exclude specific locations. These plans start at $49 per year.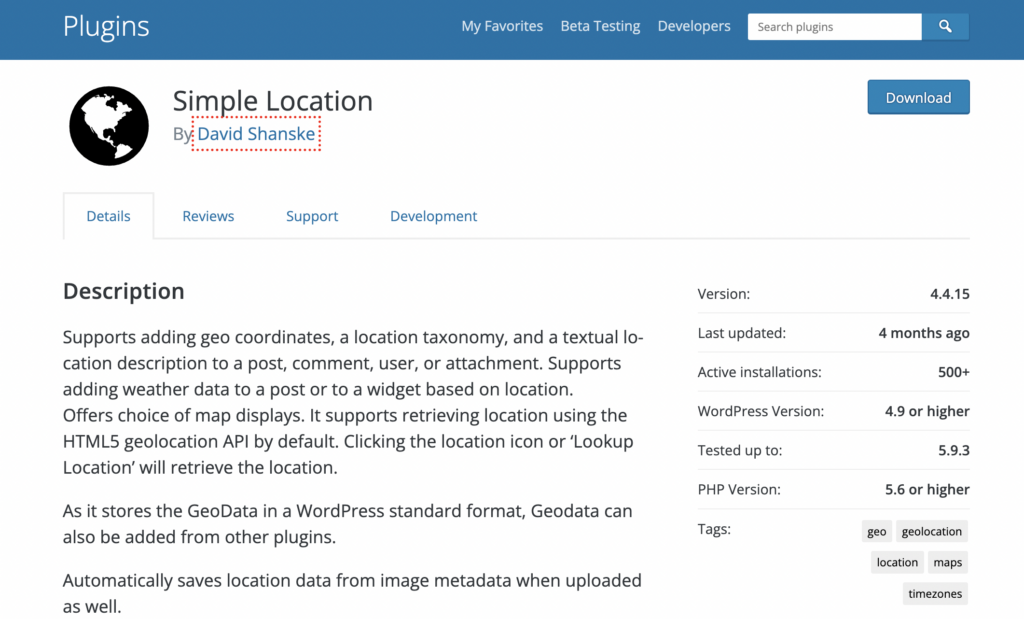 As you are looking for a geolocation plugin for WordPress websites, we have to mention this Simple Location plugin in our list of the best WordPress geolocation plugins. This plugin allows you to collaborate with any post, comment, user, or attachment. WordPress geodata also allows storing geolocation information and helps you make marketing strategies accordingly.
Additionally, it can display local weather on your WordPress website and set weather widgets to a specific location or user. It helps users see the temperature, wind speed, or other climate updates in their area.
Features:
Displays weather data
Retrieves location with HTML5 geolocation API
Saves location information from image metadata
Pricing:
The best thing about this plugin is it's a totally free WordPress geolocation plugin.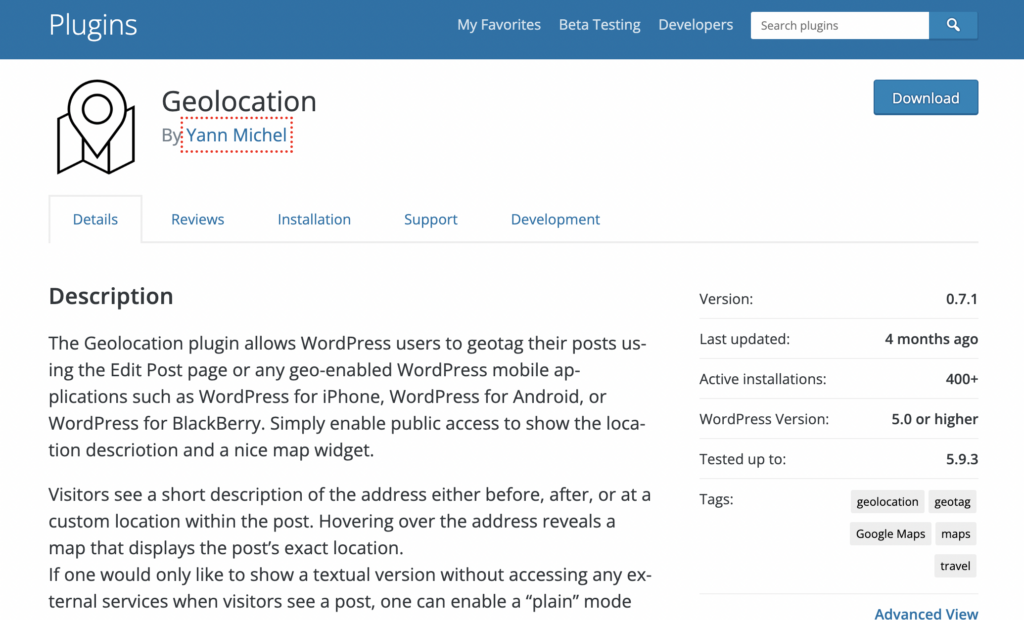 This Geolocation plugin lets you geotag pages and posts in WordPress. You can simply use it or add a location or address to any content to show the map. This is a free plugin with different features like a popup map for users living in different locations.
Features:
Shortcodes to show maps on any page or post
Multiple locations available for one page or post
Show locations for multiple posts on one map
Easy integration with Google Maps
Pricing:
The Geolocation plugin is free.
Final Verdict
There are a handful of WordPress geolocation plugins in the market but finding the right one for your site and optimizing it according to your plan is not an easy task. That's why you need to get a clear idea about the best WordPress geolocation plugins to make a prompt decision. We covered some of them in this article; let's recap in a nutshell:
Fluent Forms: Fluent Forms has a geolocation feature that helps display locations on a map and has the autocomplete address field to reduce the hassle.
GeoMyWP: An easy-to-use plugin with geotagging assigned post types and location-based member adding features.
GeoTargetingWp: GeoTargetingWp is a renowned geotargeting plugin with some unique features like IP and GPS location detection, geolocation redirections, region-based content block, and location-based shortcodes, and compatibility with caching plugins and local databases.
CF Geo: Covert product or service pricing according to your users' locations with the CF Geo WordPress plugin.
Simple Location: Like its name, a simple geolocation plugin allows you to add coordinates and weather information to any post, comment, or page.
Geo Location: Another free WordPress geolocation plugin that allows geotagging posts.
If you use Fluent Forms, you can add geolocation to any form without adding extra plugins to your website. Running too many plugins can hamper your site's speed optimization and expose it to other vulnerabilities. That's why we recommend Fluent Forms if you want Google Maps integration to your forms rather than any other third-party tool.
Hopefully, this will help you to choose the perfect geolocation plugin for your WordPress site. If you still have any doubts in mind, you can ask in the comment section.
---
Inqiat Ahsan Reza
He loves to play in the arena of WordPress and learn new things every day. Whenever he's not writing, he's playing billiard or spending quality time with his family.