11 Best Mailchimp Alternatives Marketers will Love in 2023
Sadiq Ahmad
. January 22, 2020
.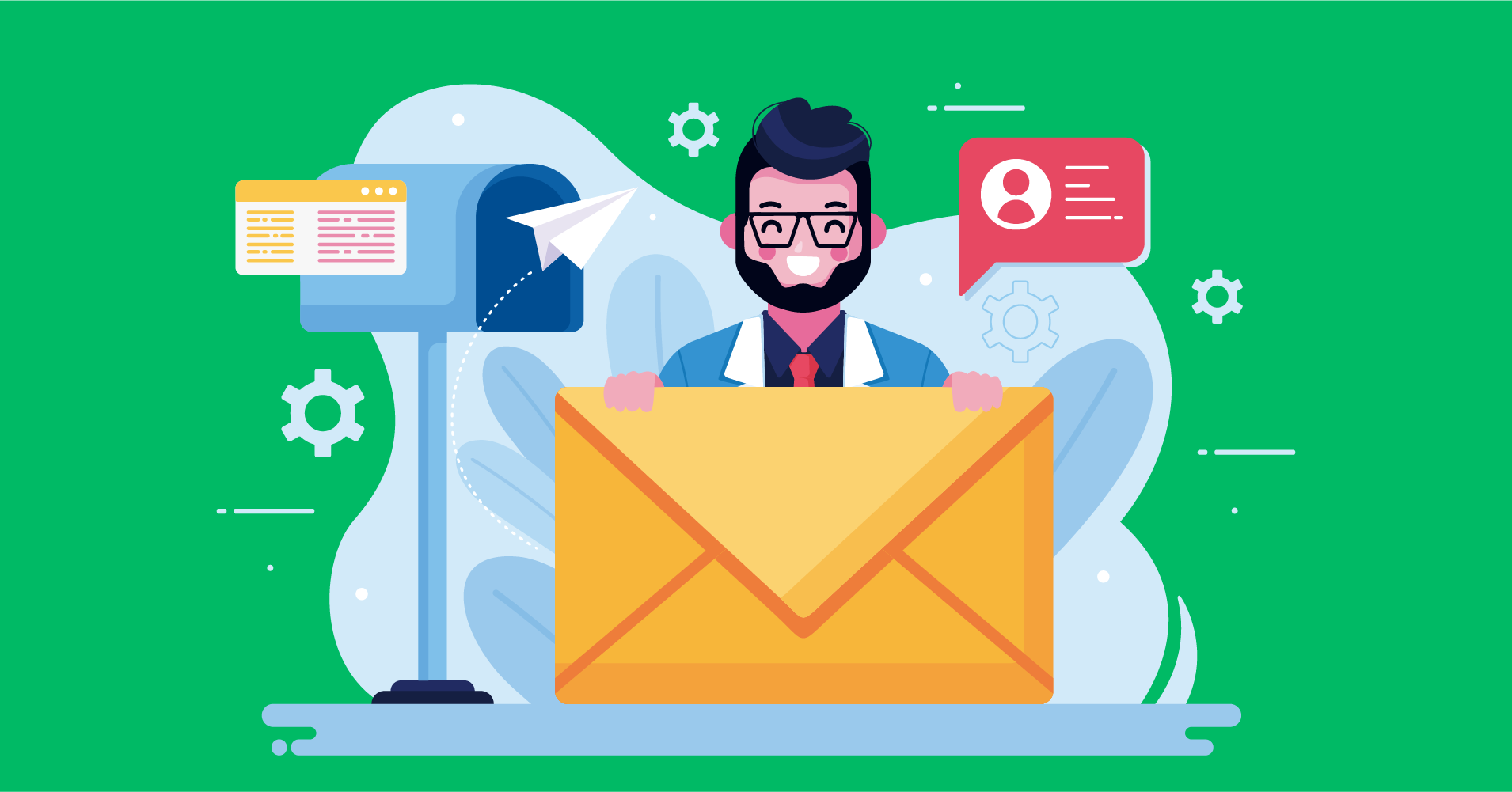 While you're looking for Mailchimp alternatives, we want to let you know that we can feel your pain. Despite being the most popular email marketing platform, Mailchimp is on the verge of losing its credits for some reason.
However, we're not the antithesis of Mailchimp. It's because Mailchimp is continuously failing to outshine, and people have to divert toward a more efficient option. And that's where we come up with the right choice.
If you're one of those who want to go with a new product that's not Mailchimp, this post is for you. We may mention a little bit about why people are switching from Mailchimp, but we'll mostly discuss all the other fantastic options.
Fluent Forms is the most beginner-friendly form builder. Download now and start crafting beautiful forms FREE!!!
What made Mailchimp so popular?
Even with the free plan, you can do almost everything because most of the tools are free to use. That brings us to the next big thing, which is sending 10000 emails to 2000 subscribers.
Mailchimp is also considered the most beginner-friendly email marketing tool. The interface, documentation, low cost, and tons of tutorials made it easy to understand and uncomplicated to get started with.
Businesses can't move forward without exclusive data. Mailchimp's thorough reporting lets you know how your campaigns are performing. Not to mention that people also love the ready-to-use templates with a brilliant editor.
Among a bunch of exciting features, segmentation and A/B testing are also two notable options from Mailchimp. New users find the drag and drop email editor very useful, and it gives them more freedom.
Now, hear the bitter part: Mailchimp is not for all. After years of excellent service, Mailchimp can't be holding up with the current tech trend. On top of that, new email marketing tools are doing pretty awesome.
Why do people switch from Mailchimp?
Mailchimp was one of the best email marketing services, and it was so popular that sometimes people refer to email marketing with Mailchimp. Due to the "Free Forever" plan with 2k subscribers, Mailchimp used to beat all its contenders easily.
In the recent changes in the email marketing industry, Mailchimp failed to adapt to all the new things that others applied successfully. Be it innovative ideas or fantastic options like automation; users weren't getting satisfied with Mailchimp.
Another feature that makes people leave this giant soon is the new changes in the pricing plan. While you're not receiving any benefit from unsubscribed users, Mailchimp wants to charge for them as well.
Another feature that makes this platform worse is its support. It's becoming more unsupportive and frustrating. Users complained in other places that they're not getting the answers to their problems.
Best Mailchimp alternatives people love
Whether you want to switch from Mailchimp or start your new journey with a robust platform that is not Mailchimp, this post can guide you. A ton of email marketing services are available out there with better functionalities and more user-friendly services, be it pricing or interface.
We're going to share some of the best Mailchimp alternatives to start right away your email marketing campaigns.
MailerLite
MailerLite is supremely built for smooth and efficient email marketing. It's one of the superb Mailchimp alternatives with many options that activate the brilliant environment for beginners.
Besides the pre-built email templates, the editor will help you to bring changes to your emails. To make every single campaign stand out, you need no more to hire a front-end developer.
Moving from there, you can get help from other options such as popups and email segmentation. Also, you can capture more leads with the embedded signup forms. Use the landing pages to attract new viewers.
The advanced reporting tool is another fabulous feature of MailerLite. Analyze all the data you achieve from there and design the next strategy. Running A/B tests can improve the quality of campaigns.
Constant Contact
Constant Contact is one of the most helpful email marketing services available out there. For small businesses, this tool is a convenient choice for several positive reasons.
Are you a beginner with no hands-on to tech-savvy platforms? The drag and drop editor is for you to take your email template to the next level. By next level, I mean, creating an excellent design.
Without analyzing the performance, you can't meet your business goal. The eye-catchy and well-organized reporting of Constant Contact will help you understand your campaigns. Then, you can decide where to go next.
All the basic features are also available without any deficit. From managing lists to tracking opening rates, you can get all under one single dashboard. To connect your leads more thoroughly, send welcome messages to the new subscribers.
The email automation feature of Constant Contact will allow you to send emails as you want. Place your instruction in the setting, and everything will be taken care of. Similarly, you can connect with your existing customers with built-in tools.
Another top reason we love Constant Contact is its compatibility with famous WordPress plugins such as NinjaTables and WPFluentForms. Moreover, you can create a survey, sign up forms, and more since it's an all-in-one platform.
ConvertKit
ConvertKit is another favorite tool of ours because of its one-of-a-kind user interface and standalone features. Out of all the professionals, bloggers love this tool and praise it a lot about it.
It's the perfect Mailchimp alternative with its ease of use and fast-moving services. Since its launch, it successfully attracted the attention of authors and marketers due to its flexibility.
Automating emails is an excellent feature of any email marketing tool these days. But, this single feature gets smarter with the implementation of AI. ConvertKit helps you get segmented emails based on user interaction.
By integrating a bunch of third-party software, ConvertKit proves itself to be the most appropriate tool to be chosen. It can easily connect CRM, lead generation, and eCommerce platforms and help you make your business grow.
Why don't you collect more leads with the beautiful landing pages they offer? Customize the opt-in forms at your will and make the email list bigger. Combining all together, ConvertKit is an astounding Mailchimp alternative to get started now.
GetResponse
Here comes another great Mailchimp alternative for your business to grow at a rapid pace. GetResponse is ideal for small businesses and non-profits. Without giving you anything less than other email marketing services, this tool stands out from its competitors.
If you're looking for an all-in-one solution, then GetResponse is here with email automation and landing page creation. This tool was built for dedicated email marketing, so utilize it that way to achieve a higher result.
One of the main goals of GetResponse is to create an environment for all-level users, and they successfully did it. With a few clicks, you can create and customize engaging emails without investing too much time.
Don't want to leave WordPress and Slack behind? GetResponse assists you to get connected with your favorite tools from their third-party integrations list.
Moosend
Looking for the right alternative for Mailchimp? Moosend can be a perfect choice. If you want to leave Mailchimp for its price, then it's time to break into Moosend's world of innovative services.
Moosend comes with a free plan which is free forever. And, that plan contains 1000 subscribers with unlimited emails per month. The best part, I think, Moosend offers is the features available for free users.
There's a robust automation builder that helps all users to customize their campaigns. The pricing is also cheaper than Mailchimp, that's why customers consider Moosend when they're switching from Mailchimp.
Moosend can also be an excellent choice for bloggers who need an affordable option. While it saves you money, you are also getting all other enticing features: free email templates, email segmentation, and more.
Sendinblue
Sendinblue is another top-class email marketing tool on our list. Email marketing itself is a powerful option for promoting business and Sendinblue simply boosts the entire process. It also has an integrated SMS service for marketing.
It comes up with all the cutting-edge tools you need to flip your business promotion into a successful journey. From email newsletters to automated emails, and Facebook ads to SMS marketing, you can do a plethora of activities here.
Do you want to customize the automated emails in your way? The good news is Sendinblue allows you to create emails for different users based on various parameters.
Moreover, the template builder will help you to design the emails as exactly as you want. At some point, they outrun other contenders with additional features like live chat, a forever free plan, and lucrative pricing.
EngageBay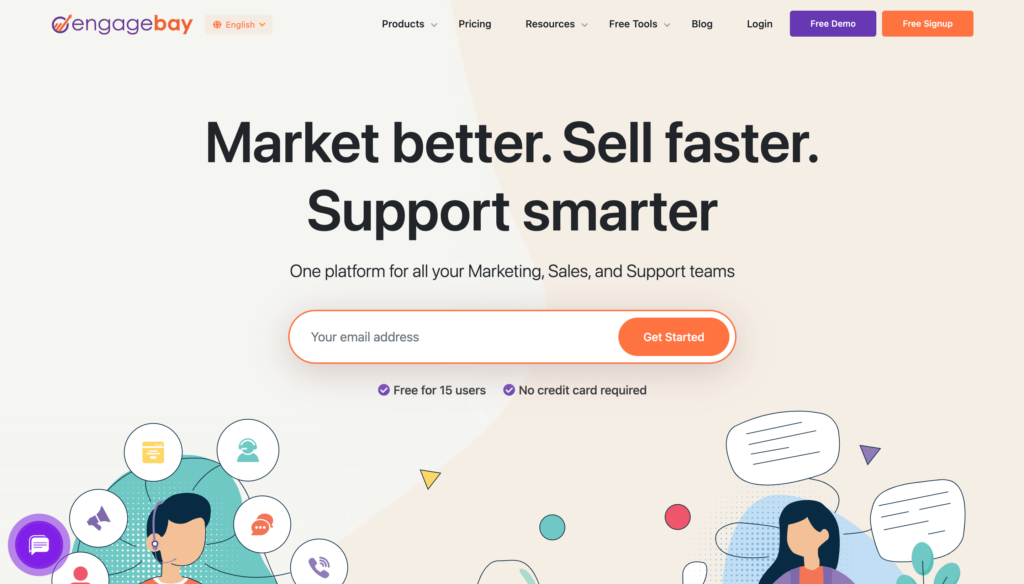 EngageBay is a comprehensive all-in-one marketing automation software that offers a wide range of tools and features to help small businesses grow their customer base and boost their revenue.
Whether you are a startup, solopreneur, or SMB, EngageBay has everything you need to take your email marketing campaigns to the next level.
One of the standout features of EngageBay is its user-friendly drag-and-drop email editor. With this tool, you can easily create stunning email templates without any coding skills.
You can choose from a variety of pre-designed templates or start from scratch and customize your design to fit your brand and style.
EngageBay's reporting and analytics tools are also exceptional. You can track the performance of your email campaigns in real-time and get insights into how your subscribers are engaging with your content. This information will help you make data-driven decisions and optimize your future campaigns for better results.
Managing your email list is also a breeze with EngageBay. You can segment your subscribers based on their behavior and preferences and send personalized emails to each group.
The platform also offers a range of lead generation tools, including pop-ups, landing pages, and forms, to help you attract more subscribers to your list.
EngageBay's email automation feature is another reason why it's a top choice for small businesses. You can set up automated email sequences that will be triggered based on your subscribers' actions, such as opening an email or clicking a link. This feature saves you time and ensures that your subscribers receive relevant content at the right time.
Finally, EngageBay has an extensive library of integrations, such as Zapier, Mailgun, Trello, Asana, BigCommerce, Shopify, and CallHippo.
AWeber
AWeber is packed with all the innovative features to take your marketing one step further. A great solution for email marketing as well as Mailchimp alternatives. Get more people connected with your business and grow big with email communication.
If you're looking for an engaging set of top-notch features in your email marketing tool, AWeber is here for you. Create a blog newsletter email with auto-fetch articles.
Alongside the beautiful ready-to-deploy templates, you can also get super benefits from analytics and email segmentation. The automation tools will help you run everything without any obstruction or delay.
Send emails when it's supposed to be sent. Send emails to the right person. Besides automation, you can also get help from split testing to see which emails work better.
List management and autoresponders are also some other useful options I can't ignore. With all these first-grade features and a comparatively fair pricing plan, AWeber could be the best Mailchimp alternative.
Drip
Drip is another email marketing service that is gaining traction in recent times. For eCommerce and online businesses, this tool is a perfect solution to take the current status to a new height.
Furthermore, it boosts businesses with many out-of-the-box features. Especially, you can collect leads from various places and engage more people with your vision. Manage users based on the way they behave with your website.
After collecting the data, Drip will help you organize them with tags and other options such as custom fields, events, and more. At the peak time of the customer's buying journey, you can send the right email because Drip will tell you when it's time.
As mentioned earlier, Drip is the most eCommerce-friendly tool. So, you can connect WooCommerc, Shopify, and eCommerce tools without any complication. Lastly, it has an advanced customization option where you can do a lot of things for business growth.
DotDigital
We've found DotDigital while we're also looking for Mailchimp alternatives. It's one of the most advanced email marketing tools which is so powerful yet user-friendly. With this tool, you can market your products and make some increment in sales.
Building automated emails is super easy with this platform. Furthermore, creating and saving templates can be highly beneficial for future campaigns without going through the same process again and again.
Don't miss your people from social media as you can connect them easily via mailing lists. Don't stop there. Collect leads from various social platforms and enhance your reach across all social profiles.
The cross-device preview option will allow you to check the emails work fine on all devices. Similarly, DotDigital has other options to create the right content for the right audience with intuitive tools.
While you're short in time, EasyEditor brings everything to your fingertips – building blocks or prebuilt templates. Color themes, social links, and a lot of tools are available to save you time and give you the ultimate satisfaction with a robust communication facility.
Mailjet
Mailjet can also be an enchanting Mailchimp alternative and beneficial for your business. Users can use this innovative tool and ensure glorious success with automation and building connection.
For starters, Mailjet can help you create emails at your freedom. The email editor is so brilliant that anyone can build a powerful email without any technical knowledge. Drag and drop sections to give the initial structure and customize it with all the necessary elements.
Choose what you need from the left sidebar. You'll find a text box for writing your message, buttons for the call to action, and an image section to insert product images or any other graphics you want to integrate.
There are more blocks to give your email the perfect look and make it your way. Add social links beneath the email body and let people connect across all your channels. Use the divider to separate sections in the smartest way.
The HTML block is the most fascinating part of the editor. If you know how to write markups, use the HTML editor and create what you imagine.
What could be more interesting is every single element comes with a myriad of additional settings. You can customize further all the elements with their color, fonts, background, and a lot of possibilities.
Bottom line
The key takeaway of this post is, Mailchimp alternatives perform very well. If you want to start now without Mailchimp, the other options are lucrative and user-friendly.
Don't ask the question which one is the best? All of them can serve what you want without breaking your bank account. Pick anyone and build your email list. You can update the packages later.
Even if you want to switch to a new platform, you can easily do that without hampering your business. So, what are you waiting for?
In a nutshell:
Mailchimp is not the only tool you need to build email lists
Mailchimp alternatives are also powerful that can help improve your business
You can find free options with these substitutes
Other tools come with affordable pricing plans
If you have any other favorite tool which is not on the list, please let us know in the comment section. Also, if you face any problem with the abovementioned tools, tell us that too.
---
Sadiq Ahmad
I am a fan of 'WordPress' and 'Haevn.' After spending one-third of my life with WordPress, I can advocate, this CMS lets you create anything you could imagine. Build. Expand. Grow. Hi, my name is Sadiq. I write about WordPress while listening to Haevn.