Customer Satisfaction Score. Is That Really Important?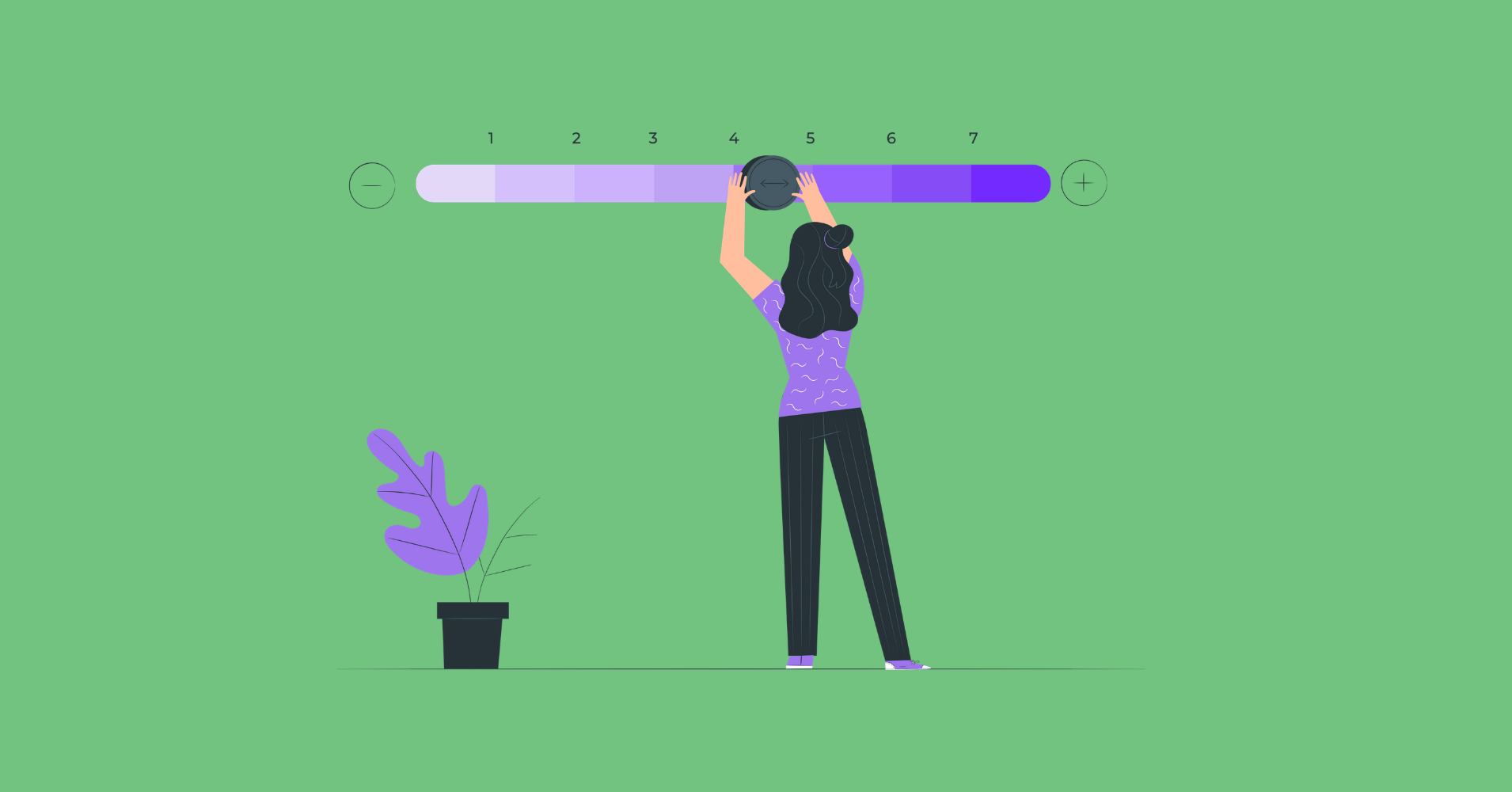 Customer satisfaction score is a loyalty metric used by businesses to measure a customer's satisfaction with a particular intention. It is an important measurement for a great customer experience. But the biggest criticism of CSAT is that happy customers don't result in revenue growth automatically. This means having satisfied customers doesn't always ensure steady revenue generation. If a company entirely relies on the CSAT score, it can't get real customers.
But, when satisfaction is measured correctly, it can bring a bigger return, leading to long-run customer retention. The only component of a successful CX program is satisfaction, and it is a crucial one. If the CSAT follows the right goals and strategies, it will be an indispensable customer loyalty metric. So, let's get started.
What is a good customer satisfaction score?
Customer satisfaction score is the simplest method of deriving a clear picture of how the service is being received. It measures the satisfaction level of a customer with a specific product, business, or service. It is calculated by asking some standard questions, such as "How did you like our products?". To ease the process of answering, give a corresponding scale to measure the content. For example, the scale can be 1-3, 1-5, or 1-10.
Though CSAT scores vary by company, generally, a good score lies between 75% to 85%. Since it only measures your promoter scores, it is hard to find the perfect score. Having a 75% score on average means that every three customers out of four gave you a positive score for your survey.
CSAT (Customer satisfaction score) calculation
Though, there is no universally fixed approach to measuring the CSAT score. The lack of a specific definition of this process means that organizations can evaluate the CSAT measurements according to their needs. Here are four different methods followed by users to measure the customer satisfaction score.
Average score
This process is done by calculating the mean average of all the scores on a scale between 1 and 10.
In this method, surveyors ask questions like, "How do you like to rate our product today?" The outcome of the result is that the type of data can be easily presented as a percentage.
Happy vs unhappy
The easiest way to calculate customer satisfaction score data is with simple questions, such as only mentioning happy/unhappy/neutral options on your query. One doesn't need a massive amount of data to conduct the desired analysis, and the assessor has the choice of following up with clients by asking what could make the score better.
Moreover, the procedure conducts to manage cultural differences better. Research in psychological science has demonstrated that individualistic cultures score in the extreme, while the other ways score on average. Though this method can't calculate the data, it can mainly determine people's feelings towards the products, services, or brands. Because it is very easy to show the choices in a graphical presentation. 
Star rating
Star rating is used by some well-known services like Netflix, Amazon, etc. It is very familiar to people. Providing a popular customer satisfaction score method helps businesses show their feedback from customers who gave them a five-star rating. Besides, this method creates simple visual feedback that is very easy to produce.
Net promoter score
Net promoter score is another metric for measuring customer satisfaction scores. Most companies calculate both NPS and CSAT by using different scales for both. Yet, the standard method of NPS can also be used for CSAT for a detailed understanding. The procedure is completed on a scale of 0-10 points with detractors, passives, or promoters' responses.
Once the feedback is collected, the number of critics is subtracted from the number of promoters. Then the total number is averaged from the total respondents.
This type of calculation generates a whole number in the middle of -100 and +100. Moreover, it raises the bar of satisfaction by only accepting the highest scores. Additionally, it covers more than the binary idea of satisfaction and dissatisfaction.
CSAT vs NPS
CSAT calculates customer happiness with a product or service, whereas Net Promoter Score finds customer loyalty to the brand or business.
CSAT looks for a "here and now" response to a particular product, event, or interaction. However, it is limited when it comes to measuring a customer's ongoing relationship with the company. CSAT also applies multiple questions to ascertain a particular part of customer involvement.
On the contrary, NPS asks single questions to measure the broader view of customers' loyalty to a specific brand, product, or service. More so, it focuses on people's intention rather than their feelings of satisfaction.
Add customer satisfaction score fields in your WordPress forms with Fluent Forms
Before moving on to the main part, let's get some idea about Fluent Forms. You might already be familiar with the plugin. But in the case of calculating customer satisfaction scores, some in-depth knowledge can help you. So, let's dive in.
Fluent Forms is one of the most robust form builders in WordPress. Its drag and drops interface is very smooth to use. The tool comes with a minimal pricing strategy with maximum features. It is also a lightweight tool. So, anyone can create any form with it, such as signup forms, registration forms, survey forms, etc. 
Moreover, it comes with 60+ pre-built templates and 30+ input fields. Consequently, you don't need to worry about making a form with it as the plugin gives you the full flexibility of making a form quickly. Fluent Forms also provides PDF entry, conditional logic, file upload option, radio button, multi-column layout, signature add-on, email notification of each submission, and so on. 
Furthermore, Fluent Forms comes with 35+ third-party integrations like Zapier, Moosend, Slack, SendFox, Webhooks, Campaign Monitor, Trello, and many more. Doing email marketing is also very easy with this form builder. 
In other words, Fluent Forms is full of unique features, and it updates its functionalities every two or three months. The most important fact about the tool is that it is super cost-effective. Now, let's see how you can find out your customer satisfaction score with Fluent Forms. 
Well, it can be done in two ways with the plugin as it provides both Rating Input Fields and Net Promoter Score fields to take the feedback from customers. First, let's talk about its Ratings Input Field.
Rating Input field
The Rating Input Field is designed in five ranking orders, Nice, Good, Very Good, Awesome, Amazing, etc. If you want to add some extra options, you can do that too.
To add this field, go to your WordPress dashboard. Select Fluent Forms pro. Create a form and fields as your requirement. Now, click on the advanced fields. From there, drag and drop the Rating field.
By hovering over the Edit icon, you can edit the field as you want. You can take a look at the given screenshot for a better understanding.
The input customization can be edited in two ways, one is General sections, and the other is Advanced sections. In the general section, the following fields can be found.
Element Label: This field is for editing the text of the field name.
Label placement: Set the input field name with this section, such as left, right, top, middle, default global settings, etc.
Admin field label: If you want to use the different labels for administrative purposes, you can use this part.
Options: Add or remove the rating options with section.
Now, let's find out how the Net Promoter Score field works.
Net Promoter Score
At first, drag and drop the Net Promoter Score field from the advanced fields section.
Again, click on the edit icon of the field and set the fields as you want.
Now name and place the fields as you need from your form. The "Promoter Start Text" and "Promoter End Text" set the satisfaction level hierarchy.
How easy was that? Fluent Forms gives you full flexibility in finding out your CSAT. So, why not give it a try now? Before you do let's look at some advantages and disadvantages of using customer satisfaction scores for any company.
Pros and cons of CSAT
Every survey method has some advantages and some disadvantages. Customer Satisfaction Score is no exception to that. Let's see the advantages first.
Simple, short, and intuitive
The rating scale varies depending on the context and gives you the flexibility to use what works for your audience, such as emojis, stars, etc.
High response rates from people because the number of questions is usually very few.
Now, let's look at the possible disadvantages of CSAT.
Create cultural bias: For instance, people in America are likely to rate products or services as "amazing" or "terrible." But individuals in Japan will give the rating as "fine" or "not satisfactory."
Ambiguity occurs in selecting a good or bad review because of the wide-ranging benchmark of data in industries or companies.
Reflects short time ideas and works fundamentally.
Sometimes faulty opinions are given by people. Because they feel uncomfortable giving negative reviews on products or services.
Last words
The customer satisfaction score is considered the most simple and straightforward approach to predicting the customer's happiness. But measuring customer satisfaction is only useful when you will work according to the feedback. Because when people invest their time in your survey, of course, they expect something in return.
So, respond to them and show them that you are listening to them. In that way, they will be assured that you care about them. You can read our article about creating an employee satisfaction survey for a better output.