9 Email Marketing Best and Worst Practices for Content Creators
Mahiyath C
. August 2, 2020
. 14 minutes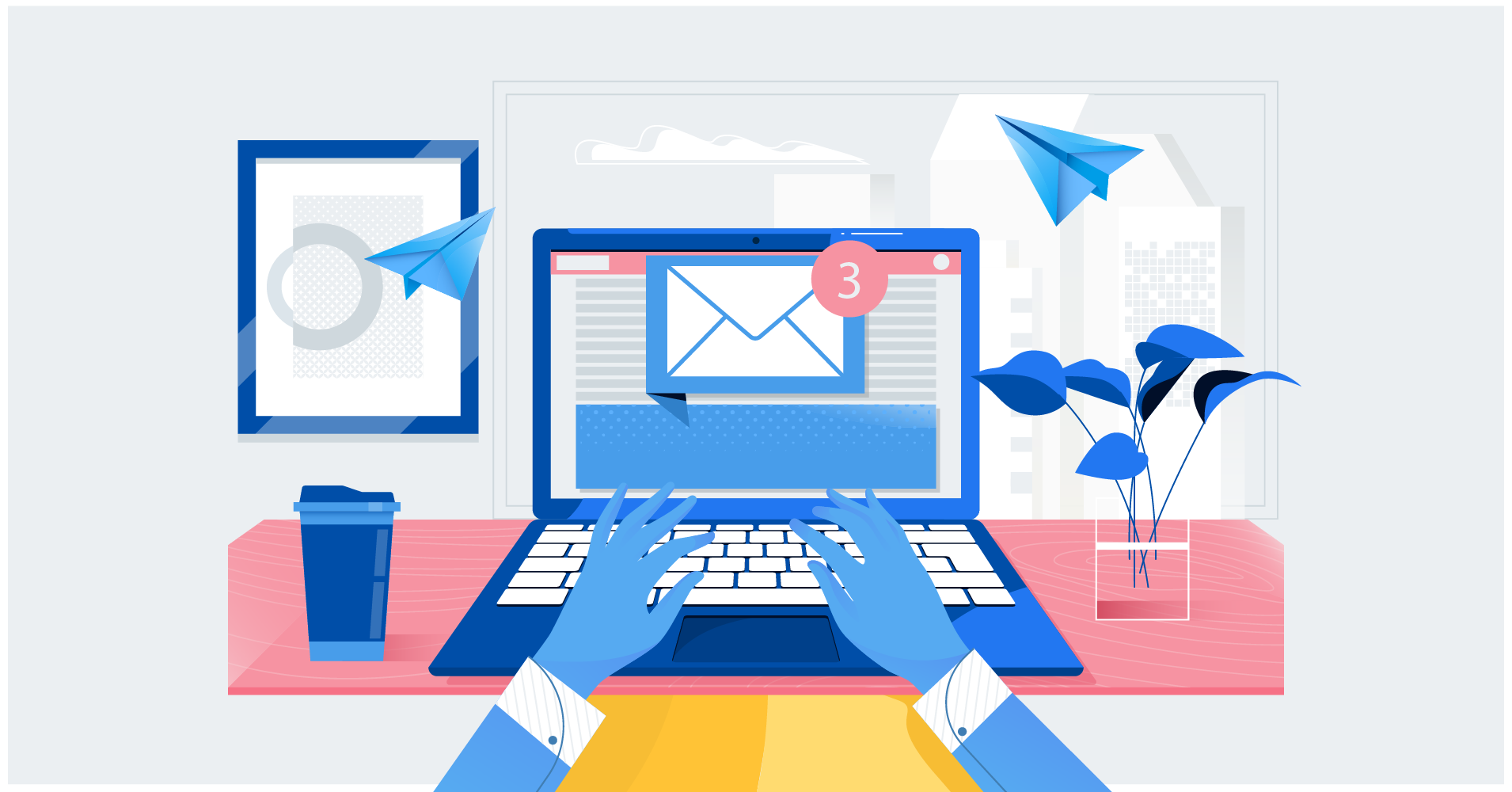 Email marketing is an essential part of brand awareness and promotion strategy. It has the potential for a high ROI, but only if you do it rightly. You have to attract the readers' attention and get your message through a short and simple email. This is a tricky feat.
If you are looking for a reliable platform to market your products to, then email is the way to go. This is affordable and gives you personal access to your client's psyche. Email marketing is one of the earliest forms of digital marketing, and experts say it's not going anywhere in the foreseeable future.
However, if you want your email marketing campaign to be effective, you have to follow some tips and tricks. Your content might be splendid, but if you don't promote it well, the content won't reach its maximum potential. This is why, as a content creator, it is absolutely necessary to know how to do email marketing.
Why email marketing is necessary
The very purpose of marketing is to reach a target audience. And you'll have to do extensive research on who your target audience consists of and where they hang out. Luckily, one platform you can safely market to is email. Almost everyone uses emails.
Email marketing is one of the most affordable and effective forms of marketing there is. You can connect with your audience in real-time while promoting our brand. Moreover, you can send targeted messages to your audience with the help of email marketing software.
However, like every other strategy, you'll have to grasp some basic knowledge on how to do email marketing before diving into it. So, we have listed down some best practices for email marketing that will help you engage with your users. But before we talk about the best practices, let's get some ideas about some of the worst practices that you should steer clear of.
If you would like to head straight to the best practices, you can do that too.
What are some worst practices in email marketing?
There are plenty of email marketing tips that can generate a better ROI and even help you scale. But it is essential to know that just like best practices, there are some worst practices in how to do email marketing as well. Even if you incorporate all the fine details, one misstep can bring a big blow to your brand. So, first, we will talk about some of the absolute worst practices email marketing practices that you should avoid.
Using an unprofessional email address
We all have our own unique personas. But when it comes to email content marketing, it is best if we adopt a more reserved appearance. So ditch your funkyunicorn@yolo.com email address and use a professional one to send emails to the clients.
Emailing subscribers from a formal email address will help you gain confidence among your subscribers. They will take you as experienced and skilled personnel who is dedicated to their customers.
Spelling and grammar mistakes
When you are writing a professional email, you are building an image in front of your prospective client. So naturally, every detail counts – even the smallest ones.
Spelling and grammar mistakes are some of the most pesky errors. They may even skip the eye of a reader. But in the events that they don't, the client loses attention, and you lose your credibility.
Casual language
Understandably, you don't want to come off as stiff and patronizing to your client. But some etiquette should be maintained for email marketing strategy.
You should treat professional emails as formal letters. Hence, it is better to avoid all unnecessary acronyms and emoticons. And always use appropriate salutations. This increases acceptability. And sign off with a signature that includes your name and contact information.
Overwhelming email body
Lengthy emails can be harmful to your email marketing strategy. An overwhelming email body intimidates clients. So they frequently get skipped. And when readers do decide to go through them, the lengthy email body tires out the reader.
To make sure your message gets through, opt for short and concise email bodies. Bulleted lists can help you highlight important parts of your message. This way, you'll grab your reader's attention and pass on your message.
Crazy sales pitch
Another dreadful email marketing practice is excessive publicity. When people sign up for a newsletter, they expect to get something of value.
Yes, subtle promotions are welcome. But nobody likes to be drilled with advertising content repeatedly. Going over the board with promotional emails will only annoy your clients, which may ultimately lead to you being unsubscribed, or in the spam folder.
Not acquiring consent
Acquiring consent should become your second nature. Not only is it respectable, but also necessary to gain permission before adding people to your email list.
If you send an email without consent, it will be counted as spam. And not to mention, there's also a risk of crossing the GDPR threshold, which is why you should be well acquainted with the GDPR consent form and how to comply with GDPR.
Irregular replies
Clients may reach out to you or respond to one of your emails. For some occasions, for instance, if you get a "Thank you" email, it's alright for you not to reply. But on other events, like when someone has a query or a request, you should always respond.
And it should always be in a timely manner. The response time can be anything from a few hours to a couple of days. It will vary depending on the urgency of the email. When you don't reply, or take an unreasonable amount of time to answer, you come off as insincere. This is harmful to your email marketing strategy.
Concealing the unsubscribe link
This particular email marketing practice is very fraudulent. You are not helping anyone by hiding the unsubscribe link. If users can't find the unsubscribe button, they will simply mark your emails as spam.
Having unresponsive people on the subscribers' list is counterproductive. You have a large number of people to email to, but the response won't be up to the mark. This leads to huge margins of errors in reports, and you don't get your predicted ROI.
Buying email lists
At first, buying an email list may seem like an operative email marketing shortcut. You are getting several email addresses without having to break a sweat. But these people don't know you or your brand.
Mailing to people that don't know you is counterproductive. And chances are, a significant number of them aren't even your target audience, which is why this often results in angry responses and spam complaints.
Some best practices in email marketing
Now, we know what not to do in email marketing campaigns. You must be a little worried because it's a little bit more complicated than you thought. You may feel you don't know how to do email marketing. But rest assured, there are plenty of email best practices that can change the game completely. We have explained some of the best email marketing practices that can enhance the reader experience.
Choosing a suitable email marketing platform
While formulating your email marketing strategy, it is vital to choose a suitable software that best fits your purpose. A proficient email marketing software will ease up a lot of your pressure and deliver quality work.
There's a bunch of email marketing platforms that you can choose from. And most of them offer a somewhat similar deal – free trials, integrations, email marketing templates, etc. However, there are tiny details that put one above the other, and this is where you have to make your call.
Whoever thinks of email marketing MailChimp is bound to be one of the first names to come up in their minds. But there are more. Constant Contact, SendInBlue, GetResponse, HubSpot, ConvertKit, Drip, ActiveCampaign, CampaignMonitor, etc. are some of the big names in the email marketing software world that you can choose from.
Using contact forms
You can collect email addresses in a number of ways, but not all of them will be effective. One of the most skillful and ethical approaches to collect email addresses is by having a contact form on your site.
This will cover a lot of grounds. You can use an opt-in form. This will ensure that you have the users' explicit consent and will be safeguarded from future complications. And with proper optimization, an opt-in form will garner better results.
Moreover, a lot of form builder plugins are well equipped with third-party integrations like MailChimp, SendInBlue, GetResponse, HubSpot, Drip, etc. This makes email marketing a breeze.
Did you know Fluent Forms has all of the abovementioned email marketing software integrated?
Using email marketing templates
When it comes to email marketing strategies, a significant portion of time and resources is spent on making the email compelling to the reader. From a powerful subject line to compelling images, a lot of thoughts go behind an email.
And one of the email design best practices includes email marketing templates. These are necessarily HTML files that establish the structure and content of an email marketing campaign. These templates are highly reusable, which makes them even more suitable for the job.
Email marketing templates allow you to add interactive elements like images, links, etc. You can also use CSS to stylize them. Moreover, you can repurpose them as many times as you want. Most of the powerful email marketing tools come with email marketing templates. Hence, you won't have to worry about how to get them.
Personalizing emails
Let's face it; we all like a little extra attention. Whether it's a friend remembering what kind of gadgets we want, or our favorite pizza joint offering an extra bag of fries for a special occasion – these kind gestures always leave a mark.
Hence, by personalizing emails, you are giving each of your clients a particular treatment unique to that user. This puts your email apart from the heaps of automated ones. A user is more likely to open an email if you can connect to them.
This personalization can be done in many ways. Greeting users by their names is always a good email marketing practice. Moreover, you can capitalize on the data you have on the users. Show them content based on their likings, send an email to celebrate a special occasion like birthdays, anniversaries, etc.
Having a commanding subject line
We can't stress this enough. The subject line is the make or breaks for a successful email marketing strategy. A subject line carries a lot of weight for an email marketing campaign. This is the first impression your audience gets of you. Hence, you have to make it count!
A subject line should clearly state what your email is about. And it should be catchy enough to incite a reader's interest. If your reader understands the purpose of the email clearly, they are more likely to open the email.
This is why the subject line should be relevant to the email body. If the email body and the subject don't see eye to eye, you lose plausibility. Hence, to uphold your reputation, you must deliver what you promised. Every email marketing tip listicles always state the effect of a great subject line.
Focus on the benefits
If the emails don't deliver any substance of value, they will get sent to the spam folder because nobody likes unnecessary emails in their inbox. One skillful way of adding value is by expressing the many benefits of a product or service, instead of just naming the features.
Take WPManageNinja, for example. Fluent Forms recently launched a Fluent Forms PDF addon. But instead of only mentioning a few features, a more fruitful approach will be to tell the users that they will be able to generate PDF files based on user-submitted entries.
When the email focuses on the benefits, users realize that they'll be able to customize their own PDF templates, have their company logo engraved as a watermark, etc. This makes the email less about the product and more about what the user can do with it.
Using images
Visuals can engage an audience relatively more effectively than any other medium. Colors and illustrations help to increase a reader's attention span. So, naturally, images are an integral part of any content strategy.
Captivating images are often used to help an audience visualize your message. Whether you send an infographic with persuasive data regarding your software or attach a photo from the recent travel blog you just published, an image will add context to your email.
Email marketing strategies emphasize visual content because they can encourage a reader to learn more about what you have to say. However, unrelated images can have a damaging effect. Therefore, you should be sure to add pictures that add, if not increase, the value of your message.
Double-checking email addresses
There are several ways in which we can collect email addresses. Sadly, a lot of times, the addresses can be wrong. Some people intentionally leave invalid email addresses to avoid unnecessary emails, while other times, it can be an honest mistake.
Regardless of the causes, an invalid email is just a waste of time and resources. You could be spending hours behind an email that doesn't even exist. Consequently, there's no benefit to be obtained from them; there's no ROI.
This is why it's always a healthy email marketing practice to check up the validity of the email addresses. This takes only a few minutes. And the advantages are many.
Scheduling emails
Emails are an ordeal to most people. And if you don't send them smartly, most people won't even open the email. So, finding out the right time to send an email is a crucial part of any email marketing campaign. 
Anybody who has ever lived a day in the digital world knows there's a perfect time for everything, whether it's a blog, an email, or even a social media post. There's always one time of the day that garners more engagement, and one day of the week with the most activity.
It is your job to find out what works best for you. You can do your own research using various analytics tools for your particular client base. Or else, you can also go through multiple studies online for the best time to send an email.
Email marketing in a nutshell
When it comes to email marketing, there are steps you can follow to get your desired ROIs. However, one must also keep in check their practices. As emails are much more personal, a simple mistake can cost you a high price. So be sure to avoid the following.
Unprofessional language or email address
Untimely replies
Not acquiring explicit consent
Again, done rightly, email marketing can help you reach your target audience and connect with them on a more personal level. This helps to increase sales and get better ROI. By following the right steps, you can even get a somewhat predicted outcome. We have summed up some key points to keep in mind while setting up your email marketing campaign.
Scheduling personalized emails
Email marketing templates and other graphic content
Strong subject line
A suitable email marketing software
Using contact forms
We hope this article has been of help to you. You can try out these practices and increase your conversion rates with the help of efficient email marketing tools. Furthermore, you can also optimize your opt-in forms for a better outcome. Opt-in forms can work wonders in email marketing. Try them out and tell us about your experiences in the comments below.
---
Mahiyath C
Mahiyath is a digital marketer for Fluent Forms. She likes to explore through the alleys of WordPress and learn about the themes and plugins, currently specializing in WordPress forms. When she's not doing that, she's planning her next adventure.