Formidable Forms vs Fluent Forms: Two Powerful Tools of WordPress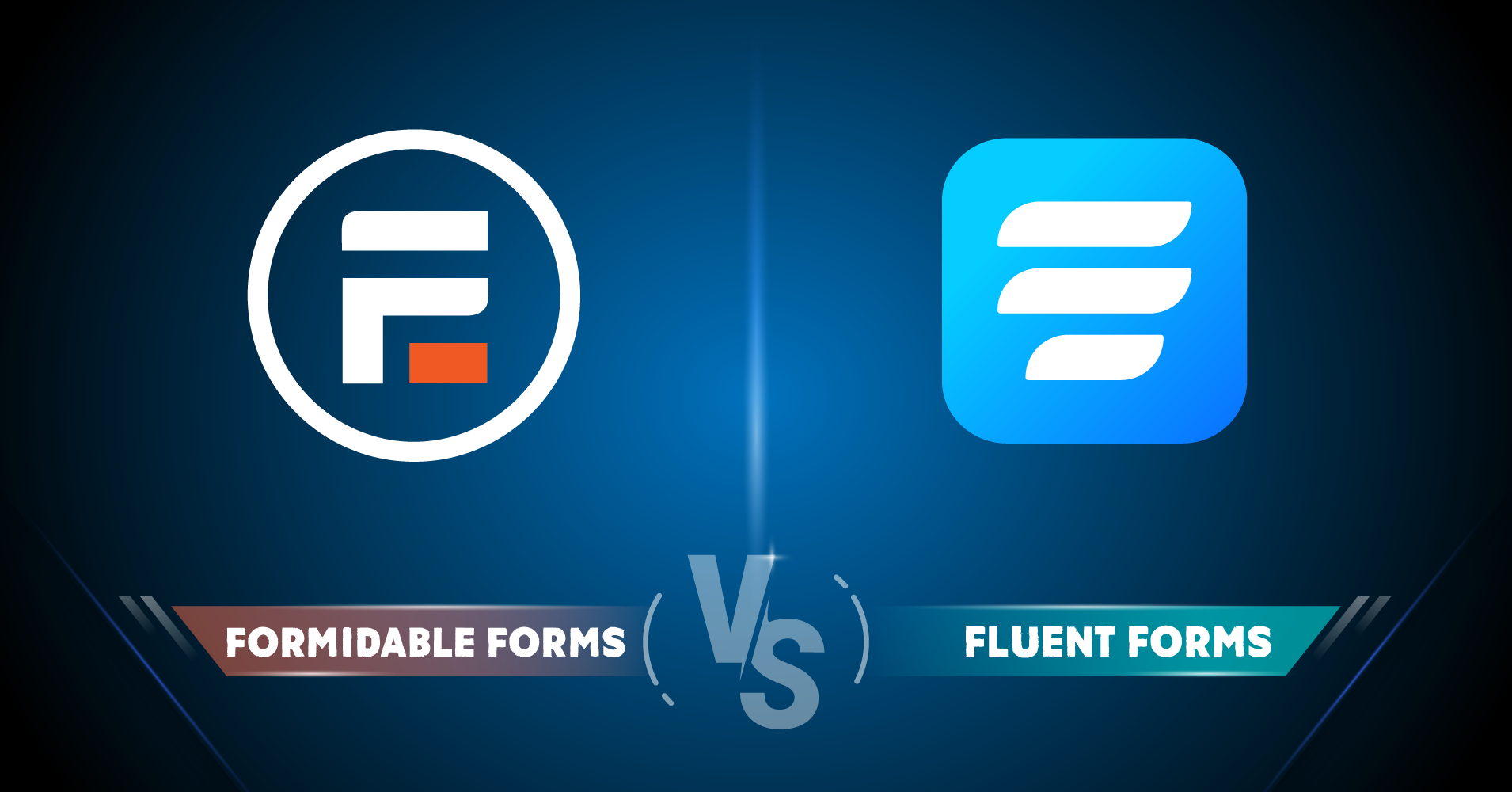 When users look for a WordPress form plugin, they often go through a phase of pondering and confusion as there are numerous tools available in the WordPress industry. Though there are so many free-form plugins, their features are always different from the premium tools. And that's why you have to compare plugins before you pick up one.
If you have already searched for WordPress tools for your website, you must have come across some names, such as Fluent Forms, WPForms, Formidable Forms, Gravity Forms, Ninja Forms, etc. These tools are popular because they incorporate tons of advanced features and layouts to create multi-type forms.
Here, in this article, we will compare Fluent Forms vs Formidable Forms to find the best one for your WordPress website. This post will help you to know about their features, pros, cons, and pricing. So, let's get into that.
Fluent Forms is the most beginner-friendly form builder. Download now and start crafting beautiful forms FREE!!!
Fluent Forms
Fluent Forms is one of the fastest tools in the WordPress community. You can create any type of form with the plugin's drag-and-drop function and smooth interface within a minute. Besides, its fantastic form templates make the form-building task a whole lot easier for you. The tool comes with all the essential features that users may need for their websites, such as email marketing, custom CSS, advanced form, double opt-in, and many more. 
Moreover, Fluent Forms provides some advanced features in its free version, whereas the other tools in the market lock up even some of the basic functionalities behind paywalls. All these have made Fluent Forms popular among WordPress users.
Formidable Forms
Formidable Forms is one of the lightweight WordPress plugins. You can easily create any contact form with the plugin smoothly, especially survey and polls, using its drag-and-drop functionality. Besides, it comes with a unique feature that lets you add the form data on the front end of the WordPress site. 
Moreover, you can get the various email marketing services for the opt-in forms in the plugin. Your form entries also can be checked from your WordPress dashboard and display on the front end.
What are the features of a good form builder?
When it's about form-building competition, plugins learn from one another too. This is a plus point for users. They get many updated features for their websites. However, some standard functionalities prove that a form builder is powerful. Let's have a look at some.
Pre-built form templates
Input fields
Ease of use
Third-party integrations
Conditional logic
Mobile responsiveness
Spam protection
File upload
Support & documentation
Pricing & licensing
These key facts should be considered by users when they purchase plugins. In this post, we have compared Formidable Forms vs Fluent Forms for these features. Read on to find out which one is worthy.
Pre-built form templates
Whether you run a WordPress website or an eCommerce store, you need different contact forms for your online store. The design and nature of these forms vary depending on their purposes. So, sometimes it might get tricky for you to create some complex or advanced forms. Maybe the plugin you are using is complicated, or you are not experts at this.
Many leading form builders in WordPress offer the flexibility of using their pre-built templates to solve the problem. Alike, Fluent Forms comes with a plethora of pre-designed form templates that make the process smooth. There are over 65 templates of different types, such as contact forms, newsletter forms, loan application forms, financial aid forms, and so on. All you have to do is select your desired template and embed it on your website. More so, if you want to make any customization to the template, you can swiftly do that too.
On the other side, Formidable Forms provides 80+ pre-built templates, but you only get 22 in the free version. In this case, Fluent Forms is the better option because you get all the 65 templates in our free version. So we can safely say that between Formidable Forms vs Fluent Forms, Fluent Forms took the crown in this part.
Input Fields
Input fields are the core elements of a form builder. If a form builder fails to provide enough functional input fields, it gets difficult for users to create forms. Well, Fluent Forms has got you covered. The WordPress tool has around 40+ input fields, and all of them are unique with their traits. They are classified into different sections for the different form-making requirements. Note that a maximum of them are available in the free version of the tool.
Alternatively, Formidable Forms offers only 35+ input fields, and among those, you will get access to only 13 fields in the free account. Besides, some essential functions are only available in the pro version.
So, Formidable Forms vs Fluent Forms- who wins the round? It's quite obvious, isn't it?
Ease of use
WP Fluent Forms has the most user-friendly interface, which is very easy to navigate. It is beginner-friendly, and its' drag and drop facility making it easy for people to make any form smoothly. The built-in preview option helps users to oversee their progress while working on their forms. The pre-built templates and input fields let users design a perfect form from scratch. Adding and rearranging the input fields is very easy because of its' drag and drop nature.
On the contrary, Formidable Forms is also simple to use with its drag-and-drop form building solution. You can start adding fields to a blank form or use their templates. But as we've said before, most of their pre-made templates are locked in the pro version. More so, some primary fields are also restricted in the free tool. 
So, comparing the flexibility of the use case, Fluent Forms is the winner again.
Third-party integrations
It doesn't matter how powerful a plugin is. It always lacks something. That's why most of the powerful WordPress plugins incorporate third-party integrations to enhance their performance. A good form builder includes pre-built form templates, easy navigation, robust drag, and drop, etc. But are these enough for a contact form? 
Sometimes users want to enlist people who submit their web forms or collect payment by payment gateways. Even some users look for connecting their forms with Google Sheets. Keeping these things in mind, Fluent Forms pro offers 35+ third-party integrations. The tool even offers Slack, MailChimp, in its free version. Besides, it has some essential tools, such as Trello, GetResponse, webhooks, etc. Users can also integrate with 2000+ webs through its Zapier integration.
In comparison, Formidable Forms offers 22 third-party integrations. But some essential tools like Zapier, Aweber, MailChimp are locked into costly plans. Stripe and PayPal are also not available in their Basic or Plus pricing plans.
In short, you can go for Fluent Forms if you want to enjoy other integrations at a reasonable price.
Conditional logic
Another elegant feature that makes your form builder exce[tional is conditional logic. With this functionality, you can turn your long and tedious form into a smart one. This engages users more and avoids unnecessary data. Besides, it makes your form dynamic and adds more value to users because it responds depending on the users' behavior.
Chris Lema, a famous personality in the WordPress industry, recently scrutinized conditional logic forms. And, he found Fluent Forms pretty handy and super powerful. You can use this field when you are about to collect only some specific data. And it's available in the free version. Formidable Forms also has this feature, but you have to buy at least the Basic pricing plan of the tool to enjoy this functionality.
So, Fluent Forms is the winner again.
Mobile responsiveness
Over the past couple of decades, there has been a drastic change among people using the mobile phone. Nowadays, around 58.8% of the total population is online through several devices. The mobile phone took a large portion of this percentage for easy compatibility, and it's growing rapidly.
So, it doesn't matter if you are deploying a table or a contact form to your website, you have to make sure that your users can quickly get through those with their mobile devices. If you don't focus on this matter, you will lose a significant portion of your potential users.
Considering this, the team of WP Fluent Forms has worked to make the tool mobile responsive. As a result, the form doesn't break when you view it from any mobile. Not only that, many users of Fluent Forms asked to pair their form with different tables. So, we integrated our plugin with Ninja Tables, a sister concern of Fluent Forms.
Similarly, Formidable Forms is also mobile responsive to get a steady look on all the devices. So, this is a tie between Formidable Forms vs Fluent Forms.
Spam protection
Security is a must for any digital service. Swarms of spambots are crawling through the internet frequently. So, you must maintain the security of your forms, especially when you are collecting people's personal information.
WP Fluent Forms gives enough opportunities for data security. You can use the GDPR field to ensure your users about their data safety. There's also an invisible honeypot function in place. This rejects any data that are filled by bots. In the Advanced field section, there is a hidden field that can only be seen by crawlers that works like a trap. Besides, you will get the reCAPTCHA field in the Advanced field section. The plugin is also integrated with Akismet.
With Formidable Forms, you can use reCAPTCHA, Honeypot protection, Akismet integration to protect your web forms. So, it's quite a win-win situation for both the tools.
File upload
If your contact form builder does not provide the file upload feature, then your form is significantly limited, and it will also hamper your overall performance. Costumes frequently need to collect various files, such as PDF, Zip, jpeg, etc., from their users.
So, Fluent Forms lets you collect various files from your clients, and you can customize them as you want. You will even get an option where you can put the type of data you want to collect. The more interesting fact about the tool is that we give this excellent functionality to the plugin's free version.
One can also collect files with Formidable Forms. But again, they have stowed away this fantastic function in their pro bundles.
While both the plugins give the opportunity, Among the combat of Formidable Forms vs Fluent Forms, Fluent Forms holds a bit of an edge over Formidable Forms because of the free hospitality in this part.
Support and documentation
Every customer-centric software tries to ensure the best customer satisfaction. A company that works for its customers' satisfaction gets a reward manifold. This enthusiasm makes the company go far.
Fluent Forms earned a vast loyal customer base because of its demonstrative customer support. And this is why the plugin provides extensive documentation of its every feature. The documentation is super easy to follow through. You will also get a dedicated YouTube channel for a detailed tutorial of each function. It comes with a firm team of support engineers to answer all the customer queries, no matter which plans the customer is in.
On the other hand, Formidable Forms doesn't have any detailed documentation on its website. They only gave some basic ideas about the features. But they have an outstanding support facility. However, the support is only available for premium users and varies according to the pro packages.
So, again it is no surprise that Fluent Forms wins the crown as far as support and documentation are concerned.
Pricing and licensing
There are plenty of form builder plugins in the market, who offer various price ranges. Some are free tools but offer fewer functionalities too. Then some tools provide premium features but at quite a higher payoff.
Today we are discussing both freemium tools, Formidable Forms vs Fluent Forms. So, it is confirmed that they provide plenty of functional features free of cost. Yet, there is a striking difference in the pricing of Fluent Forms and Formidable Forms.
You can easily get the free Fluent Forms free from the WordPress directory. And the pro versions are very reasonable. The bundles start from $59 and go up to$799. You can pay $59 annually or $199 for the lifetime license for a single site license. Fluent Forms' most popular package is the 5 sites license, which comes at $129 only. This package is desired for all the functionalities. Moreover, you have to pay only $799 for the unlimited sites for lifetime use.
In contrast, Formidable Forms is quite expensive. They don't have any lifetime packages included in their list. You have to pay yearly for each bundle. The pricing ranges from $49 to $299. This means you have to pay a high price, and it will be valid only for a year. Besides, the first two bundles do not cover all the essential features you will need for your website.
Now, we can see that Formidable Forms charges a hefty price for its limited functionalities. On the other hand, Fluent Forms is giving all the features at a minimal price. So, here the winner is undebatable.
Formidable Forms vs Fluent Forms in a nutshell
Formidable Forms vs Fluent Forms, both are user-friendly and impressive form builder plugins. But differences in some functions made them distinct from each other. So, in the battle of Formidable Forms vs Fluent Forms, we can undoubtedly say that Fluent Forms has more prominent characters than Formidable Forms. Why? Let's see in brief:
Fluent Forms offers more input fields in the free version than Formidable Forms.
Essential features like conditional logic, and file upload options are available in the free version of Fluent Forms.
Fluent Forms is easy to use in comparison to Formidable Forms. Because sometimes, in the case of Formidable Forms, you might need some coding experience to embed the form.
Fluent Forms' pricing is also reasonable compared to Formidable Forms.
Fluent Forms has free advanced integrations, like Mailchimp and Fluent PDF.
But Formidable is also great with:
– WooCommerce
– Authorize.net
– Some 3rd party integrations
In the end, the choice is yours. Select the best out of Formidable Forms vs Fluent Forms that suits your WordPress website's requirements and asks you to pay a minimal amount.
If you like this post, you can follow us on YouTube, Twitter, and Instagram for more updates on WordPress tools. To compare more tools in WordPress, you can check out Fluent Forms basics vs other freemium plugins.