How to Accept Donations in WordPress Websites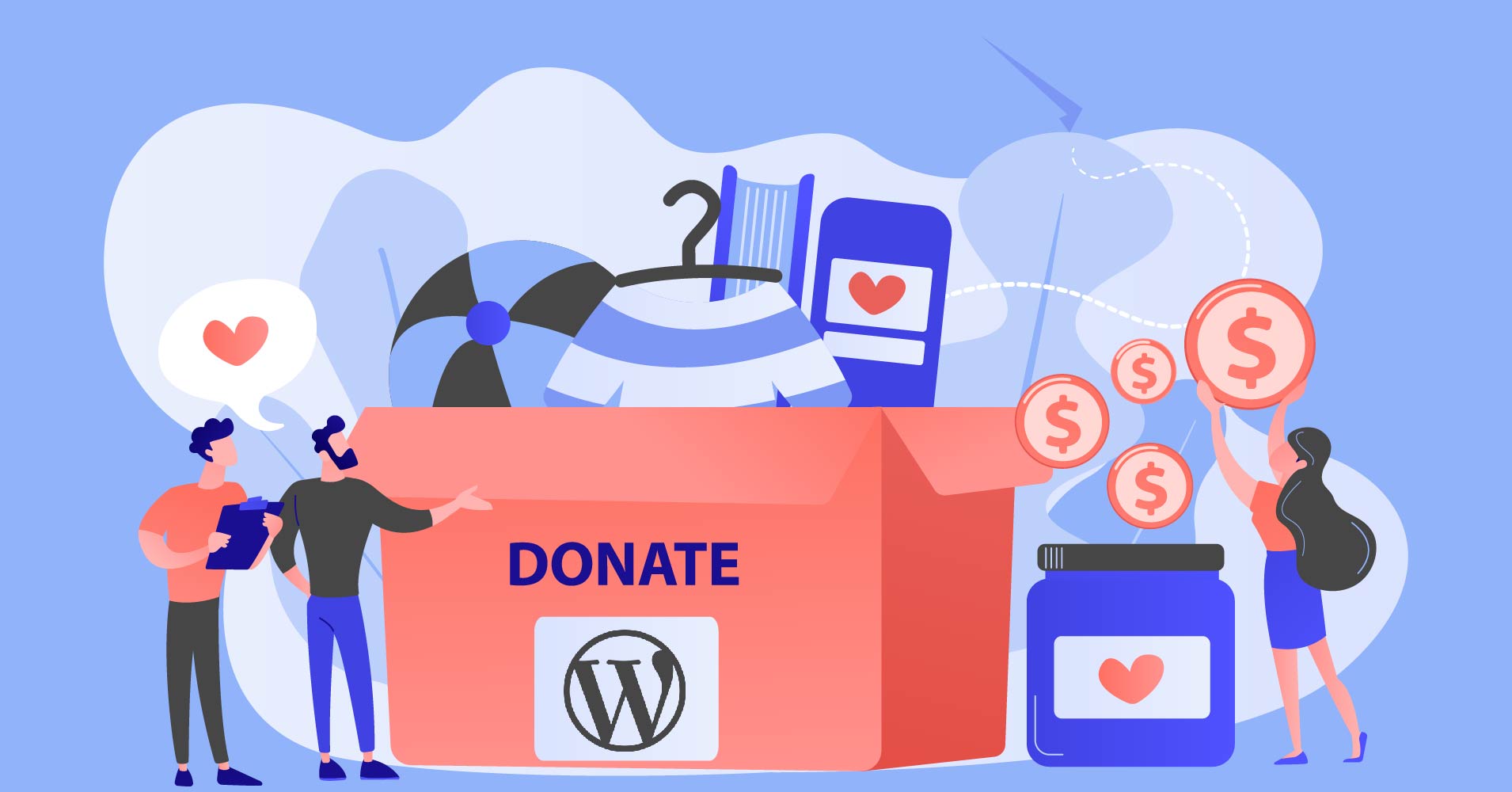 Non-profit organizations need donations to keep up the good work to make the world a better place. Not only NPOs, but many professionals also seek donations by providing free goods in return. Whatever your cause, offering art or software, you need to activate the option on your website to receive donations.
On a short note, a donation is not begging, and you don't need to go door to door. All you have to do is establish a system in your WordPress website with a plugin. Why WordPress?
WordPress is the most popular website building platform in the world. Currently, four out of ten websites are built with WordPress. Why I recommend WordPress is mostly because of the plugins. You can do almost everything with the right plugin. That's what we're going to do to accept donations.
I'll also talk about a lot of other important things. Keep going on.
Why WordPress? How does it fit in as a donation platform?
WordPress is a popular website management tool to build and run websites in multiple niches efficiently. The popularity of this CMS has grown to 4 of 10 websites in the world. I'll tell you what the other reasons to choose this powerful platform for choosing for creating a charity website are.
It's been a decade of amusement
You'll not always be as small as you're today. Will you? That's another power of WordPress since you can scale your website at the same pace as your business growth. WordPress celebrated its 10th birthday recently, and it's got into that position to support you for hundreds of years to come. The past decade was full of success, prosperity, enhancement, and exponential growth.
WordPress is free
The most significant part of WordPress is open-source and doesn't cost you to use it for your website building platform. Over time, you'll start using premium products such as plugins and themes, but that doesn't limit your capabilities. A big reason for that is you'll get tons of themes and plugins without any cost. The strength of WordPress lies in open-source values, which will help you grow without worrying about one-time or recurring charges.
Themes and plugins
No matter how unique your niche is, you'll find a theme to cover that. And the same goes for functionality. You'll find solutions for any needs with plugins. As you're interested in charity, you may look for free options. That's where WordPress is the best player with thousands of themes and plugins offering on its directory. Free themes and plugins are not low in quality, but you can extend the strength with premium options. I know many businesses that run totally on free products. WordPress is that great.
An ever-growing enthusiastic community
The community is the powerhouse of WordPress being such a strong platform. It's impressive how the user base has reached a massive size. You can get help for any difficulties regarding themes, plugins, setup, customization, and whatever you think of. Hundreds of companies are dedicated to developing products in different niches. In addition, you can hire experts to build a custom for you or build a website from scratch. Not to mention the countless blogs out there that cover various topics in WordPress.
Personalization at its best
WordPress is the most flexible CMS that enables you to customize your whole website. Colors, fonts, logos, layout – you can optimize everything to reflect your brand. Even if you don't want to hire a developer, you can give your website a fresh and engaging look by yourself using themes and plugins. And there are easy page builders like Elementor, Beaver Builder, and Kadence Blocks on top of Gutenberg, a default page builder of WordPress.
Easy to build your community from the ground up
If your answer is yes, I'll tell you a great way to build a community inside your donation website. WordPress has many plugins for an interactive discussion where people participate with their opinion. A free plugin called BuddyPress will let you create your community in a hassle-free manner. You can even implement the possibilities of BuddyPress within your team as well to organize various projects with separate entities.
Get started with Fluent Forms now. It's FREE!!!
Things you need to accept donations in your WordPress site
Domain name: Your website address. Find a domain name that's related to your cause or organization name.
Hosting: You need storage where your files will be stored and served for users. Choose a quality hosting service to improve your site's performance.
WordPress: It's obvious. Right? To make a WordPress website, you need WordPress to be installed.
A WordPress theme: You need a WordPress theme to give your site a professional look. Opt-out for a charity theme that already has donation-specific elements.
Donation plugin: It will activate the most crucial feature you'll need – donation.
Payment gateway: To receive donations via a plugin, you're required to have the right payment gateway. There are multiple options available, such as Stripe, PayPal, Authorize.net, and Mollie.
Do the things mentioned above make you overwhelmed? It might seem like a lot of tasks, but it's not. Usually, you can register your domain name with a hosting company. You'll get the WordPress installation from the same path. Three crucial actions could be done from one place. Think about the payment gateways. It's typically based on your region or the choice of your target audience. Stripe is used for accepting credit cards, and PayPal is for online payment. Besides these two, examine what others can offer.
You may choose a charity WordPress theme or go for a basic theme and customize it with Gutenberg. One thing that's due is the WordPress donation plugin. Well, I'm going to discuss that below.
How to receive donations with a form plugin
At this point, I strongly advocate Fluent Forms, as it offers the best user experience with its clean layout and top-notch features. Creating any sort of form is a breeze with Fluent Forms. You can find a rich set of pre-built form templates to get started. Moreover, you can connect a bunch of tools that cover email marketing, communication, payment, and so on. For payments, Fluent Forms has integrations with PayPal, Stripe, Mollie, and Razorpay.
1. Use a customizable, ready template
Fluent Forms comes with a rich collection of customizable templates, and donations forms are not exceptions. Click New Form from the left side of your WordPress dashboard under Fluent Forms. All the ready templates will appear. You can scroll down or use the search box to find a donation form. Now click the one you want to use.
I've chosen the Donation Form. You can see what it holds from the following screenshot.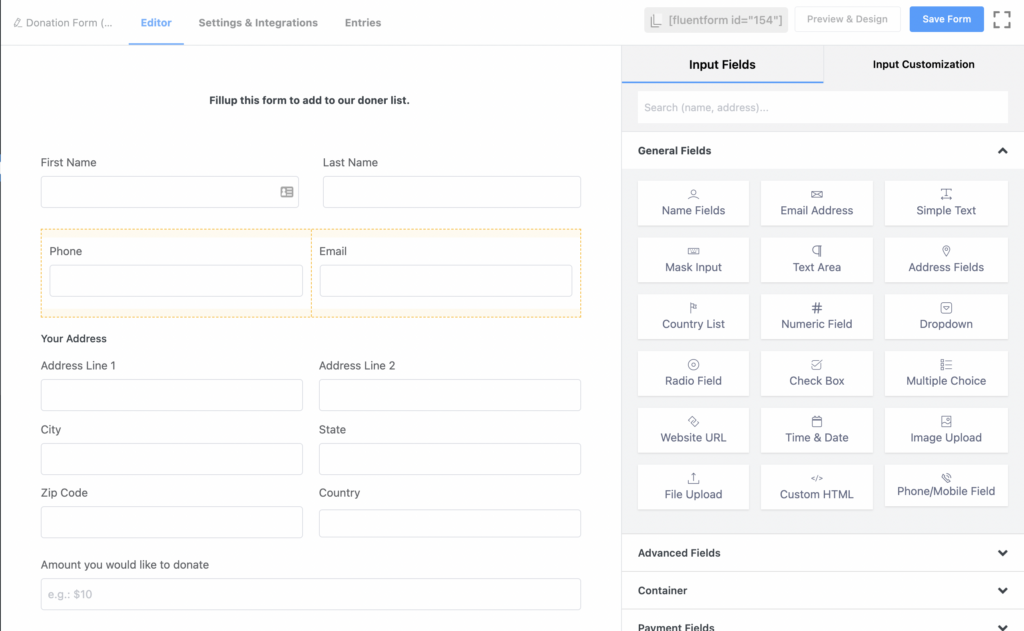 Well, it's a complete form with many details such as name and address. You can remove some if you don't need them. Also, you can add more fields from the fields available on the right side of the form editor.
At the bottom, you can see payment options. Customize it with your preferences. After doing all that, hit Save Form button.
2. Create a form and add payment
This is a step by step process and you need to get started from scratch. Follow the steps I've stated above. But instead of choosing a pre-built template, you have to hit the button that says Create a Blank Form. You can see the following interface: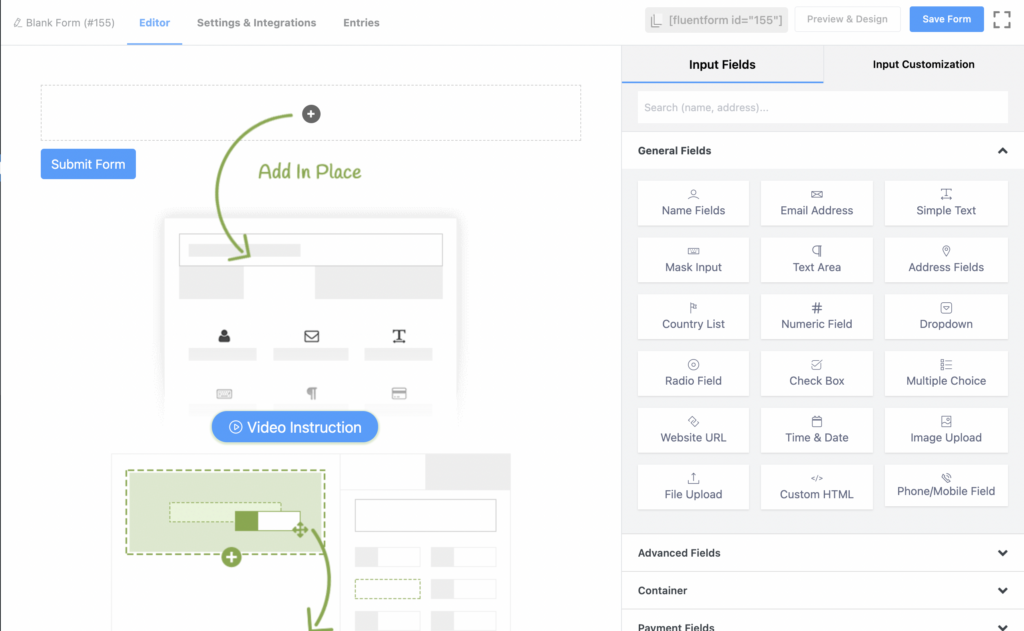 Next, add fields to collect basic information. I am adding fields for name and email address. You can check out what other fields you need in your form. But make sure to add payment fields. There are multiple fields available for that although we need only two. One for the amount and the other for the payment method. To set an amount, you can either add a fixed amount or let users decide with a custom payment amount.
With payment methods, you know where your users are coming from. Based on their regions and availability, select the ones that are appropriate. Stripe and PayPal usually cover most of the areas. However, you can choose all the methods if you want. Finally, save the form like before.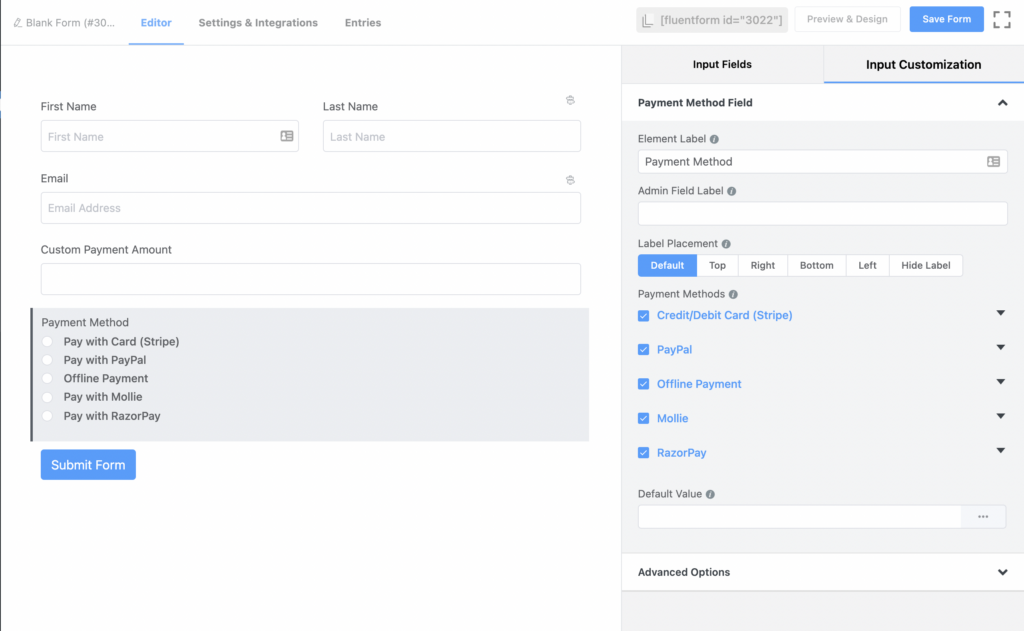 3. Create inline forms
You can use an inline donation form when you want to add the donation option within your blog post or similar in-content places. However Fluent Forms allows you to create inline forms easily. To do that, follow the earlier steps: add a new form and go to the dashboard.
First, choose a three or four-column container from the right side of the form editor. Now click the '+' icon and search for the field you want to add. Or click any fields and drag them to the respective containers. Here's an example of how it may look. I am not good at CSS, so forgive the look of it (😒). You can improve the overall appearance by some tweaking with custom CSS and other design options available with Fluent Forms.

How to set a default value to inspire donors
When you display a form to collect donations, it should not necessarily be empty with the amount section. If you think users may leave the form without paying if it's blank at the beginning. How about set a default amount so that people can donate the least amount? Or, they see that amount and typing their desired amount? It's possible with a function available in Fluent Forms and known as 'get param.' But no worries. We have detailed documentation on this matter, along with a video explanation. I hope you check them out and set the value you like.
Set up donations with a payment plugin
Fluent Forms has a sister dedicated to payment. Paymattic is a WordPress payment plugin with tons of out-of-the-box features to receive payments on the WordPress website. I suggest you check it out. It has a free version, but the most crucial features are available on the premium pack. One thing that makes this plugin stand out from Fluent Forms is the recurring payment which is very important for donations. Who doesn't love to get earning recursively? Besides that, you can connect multiple payment gateways, including PayPal and Stripe.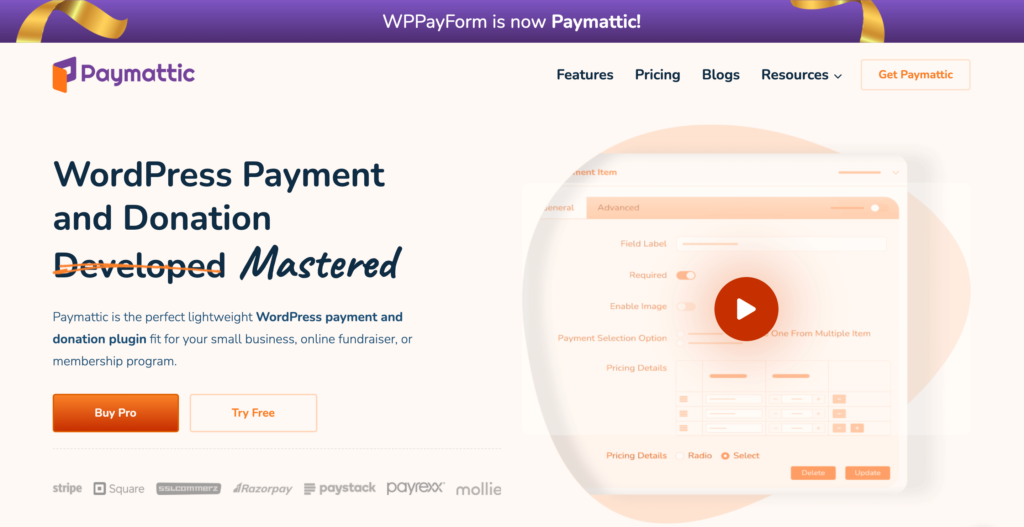 If you get confused between Fluent Forms and WPPayForm, I'll make that easy. With Fluent Forms, you can take a lot of actions beyond collecting money. On the opposite, if you only need a payment solution for WordPress, go for WPPayForm.
WordPress donation plugins
Here are the top-picked WordPress donation plugins that are dedicated to collecting donations. You will find many options related to donation. They are available free, although you can find premium variations.
GiveWP

GiveWP is the most widely used donation plugin for WordPress. It lets create a donation platform to make the donation process easy and successful. With the power of its fundraising solution, you can receive charity via forms, allow donors to pay easily, integrate additional tools, and view donation reports.
You can customize the donation forms and create multi-step forms using templates. GiveWP totally aligns with your themes without creating any conflict. Inside the dashboard, you can set goals, custom donation amounts, conditions, and more in a few easy steps.
On top of that, you can get a bird' eye view of your donation activity and filter data by different metrics. While you can see the performance via reports, you can export the data for further analysis. If you have more than campaigns, you can measure the performance for all.
A complete donor management option will allow you to view the donation history. Let your donors make worry-free with the tax-deductible receipts. Above all, you can connect with any third-party services with the integrations GiveWP provides. By upgrading pro, you can unlock many advanced features, such as multiple payment gateways and Zapier integration.
PayPal Donation

This plugin does a straightforward job – adding a PayPal Donate Me button to your website. First, you need to enter your PayPal email address and then create a button with a name and an amount. Now display this button all over the website or on a specific location you want to show. You can like this plugin for its simplicity. It requires no complicated settings or hour-long configuration.
Although you can see the total donations on your WordPress dashboard, the major parts of the setting are regarded to the button. There's a button manager and a shortcode inserter for pages and posts. Translate the button to your language or add your currency, as PayPal support 18 languages and 25 currencies.
Buttons don't need to be flat; you can add image separate images to each button. One of the best solutions I like is you can receive recurring donations via this simple button. Further, you can decide how the PayPal window appears and set a dropdown with the selected amount to force people to choose from there.
Charitable – Donation Plugin

Charitable lets you create fundraising campaigns with various needs. You can create time-sensitive campaigns that will automatically close after the time is finished. If you choose a goal-oriented campaign, the campaign will be going on until it reaches the goal. Charitable also has donation forms to set some default amounts or allow people to give as much they want.
You can keep the donation form on the campaign page or load it on a modal or separate page. By adding your PayPal address, you can easily connect PayPal for donors to pay. There are other ways to collect donations, such as bank transfers, cheques, and offline payments. With paid add-ons, you can get more payment gateways like Stripe, Braintree, Mollie, and more.
Charitable is a GDPR-compatible plugin, so you can add Terms & Conditions and the option for erasing personal data. Emails are available to send donation receipts and admin notifications. You can customize email subject lines and content while adding custom email tags and for personalized emails.
Seamless Donations

Seamless Donations is a free WordPress donation plugin that doesn't charge any transaction fees like most other tools listed here. They sell premium add-ons for feature extension on top of the free application. You can set up your donation environment in five minutes. That's what the developers claim.
Likewise, you can allow your donors to pay recursively by adding a checkbox with the payment form. Configuring the recurring donations is seamless with both PayPal and Stripe. And this feature is available with the free option. If you want to add Tribute or Gift Aid, you need to buy premium extensions.
Multiple languages and currencies are available out of the box. Some of the paid add-ons cover enhanced thank you, colorful forms, delete funds, anti-spam, export data, and Donorbox integration. Finally, the plugin treats donors and funds as custom post types, so you can easily track the activities within your WordPress dashboard.
PayPal Donations

PayPal Donations is not a feature-rich plugin, yet it has the right option to collect donations via PayPal. The most significant part of this plugin is simplicity. It's beginner-friendly, simple to use, and free to get started. You have to enter your PayPal email to connect with your PayPal account.
After configuring correctly, you can see a donation shortcode on your dashboard. Now you can insert the shortcode wherever you like – page, post, sidebar, and footer. With the 15 translations available with this plugin, you can set the donate button for the target user's language.
As I said, this is one simple way to start getting donations with PayPal Donations. It won't take you hours to set up and give you the power to change currency and the localization of buttons. You can choose a button from their collection or add your own if needed.
Donorbox
Donorbox is a popular online donation management platform for all websites. Previously, you had to embed forms on your website. Now they have a WordPress plugin to create and share donation forms directly from your WordPress website. However, this tool has many exclusive features to make your donations successful.
You'll get customizable donation forms to set up with your logo and color scheme. Collect the necessary information with custom form fields, and set a default amount if you want. Donorbox made fundraising easy in multiple currencies using popular payment gateways like Stripe, PayPal, or Apple Pay.
While Donorbox forms are optimized for multiple devices, you can share your form by embedding it into your website or placing a Donate button on various pages. That's not all. You're also getting other vital options like recurring donations, receipt emails, export as CSV file, Mailchimp integration, and PCI-compliance.
One thing I like to mention is Donorbox will charge you a transaction fee, although in a small amount.
YITH Donations for WooCommerce

This is not like the other donation plugins on the list. It treats donation as a WooCommerce product. If you want to use the donation form inside your WooCommerce shop, YITH Donations for WooCommerce will help. You can set a donation form attached to each donation product, while you can separate each project by name.
Adding a donation widget to your sidebars can also be helpful, and you can do that from the dashboard. By the way, the free plugin doesn't offer too much except adding the form widget and insert the donation option in a single product. If you upgrade to the premium plugin, you will unlock a lot of other advanced features.
On the pro version, you can change the form button style and donation form on the cart page. You can also decide the minimum and maximum amount of donation. A summary widget will show you the total donations received. Other features in the paid version are mandatory donations, customizable emails, shortcodes for donation forms.
WP Fundraising

WP Fundraising offers a lot of dedicated features for crowdfunding and donation management. Take user registration for an example. You can create registration and login for front-end users alongside having a campaign submit form. You can keep your funding as goal-specific or time-sensitive with start/end date.
Make your donation form visually interesting with a featured image. Let's get creative with the donation amount: set a recommended value or specify the minimum and maximum amount. You can let your users know your target amount and the amount you have achieved with a campaign status tab.
Also, decide how you want to end your campaigns because there are several ending methods. Campaigns may end after touching the goal of ending the date, or you can select both. However, you can also run a never-ending campaign. Leverage the sharing options via social media to broadcast the news.
My takeaways
If you want a comprehensive tool that goes beyond donation collection, consider Fluent Forms. On the other hand, if you need a tool dedicated to donation, GiveWP is a perfect choice. When you want to show a simple donate button, go for PayPal Donation. Finally, if you want a donation inside WooCommerce, the plugin made by YITH will take care of that. Other plugins are good. Just take a look before making one for your donation partner. Another plugin that can help you create a donation form is Paymattic.
Wrapping up
I hope you've already learned how to accept donations to your WordPress website. In WordPress, adding donation is an easy task with the help of a WordPress donation plugin. If you want to create a dedicated donation website or add the donation to an existing website, you can do both.