Microsoft Forms vs. Google Forms: Which One is Right For You?
Inqiat Ahsan Reza
. July 14, 2022
. 10 minutes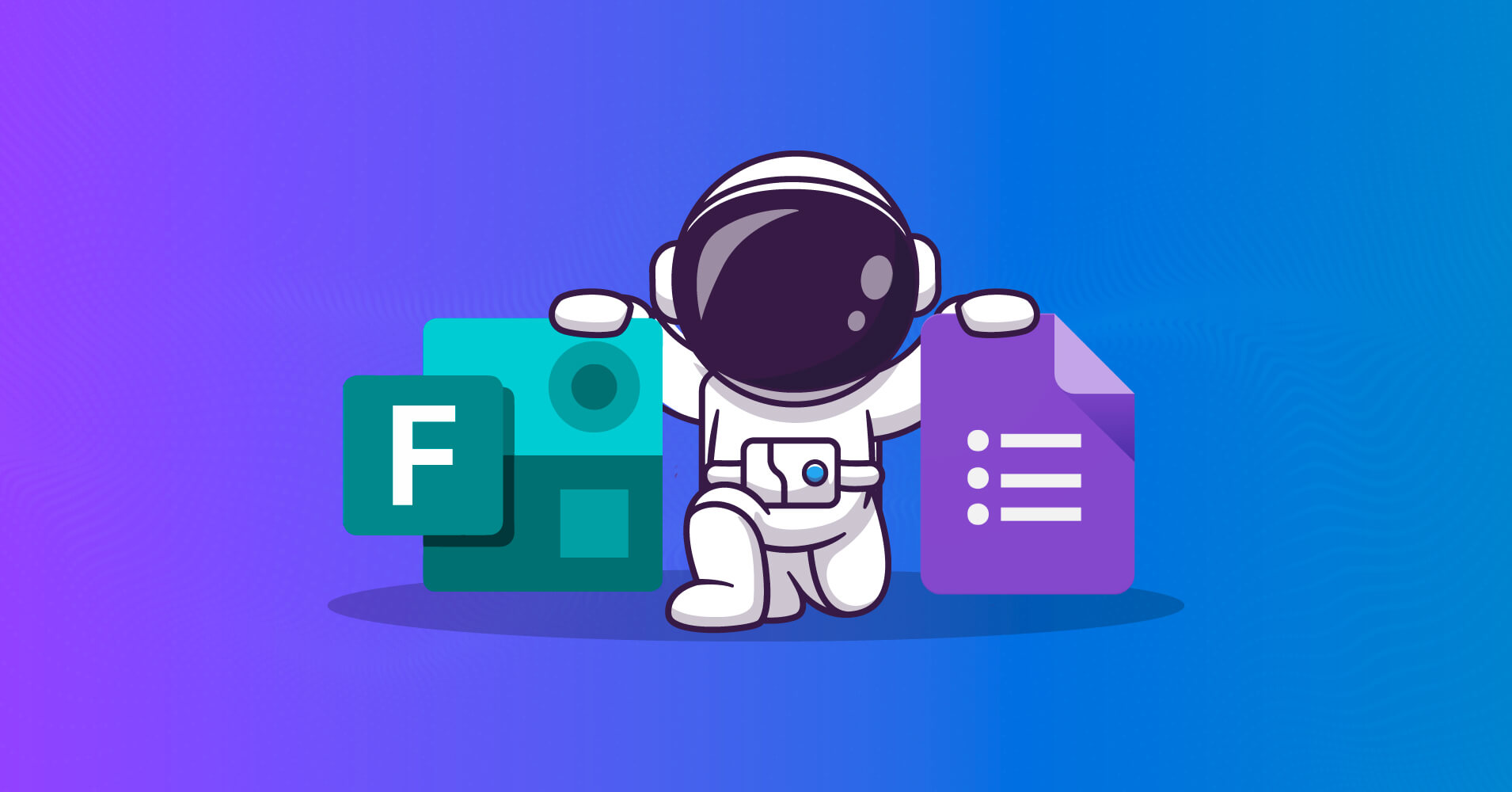 Keeping data well organized is never an easy task. As there are plenty of form-making tools, you might be in a dilemma about which tool would suit you most. 
Both Microsoft Forms and Google Forms help you create online forms, quizzes, and surveys with ease. You can also use a form builder solution for creating customer satisfaction polls, market survey forms, online registration forms, etc. Google Forms can give you a great experience of working with data through easy collaborative work, whereas MS Forms have limitations in this function. 
Today, we will craft a comparison between Microsoft Forms vs. Google Forms. In addition, there will be instructions to help you get started with these forms. At last, we have expert recommendations about creating online forms and using WordPress plugins for better support.
Before entering the main point, let's know some essential features you should get in a form builder solution.
Fluent Forms is the most beginner-friendly form builder. Download now and start crafting beautiful forms FREE!!!
What to Look for in a Good Form Builder?
While choosing a form builder solution, you must remember some important aspects. There are some must-have features that every form builder should include. Whether Google Forms or Microsoft Forms, or any WordPress plugins, there are some common functionalities. To note some:
Easy to use
Pre-built templates
Powerful drag-and-drop function
Third-party integrations
Spam protection
Responsive to all devices
File upload
Conversational forms
Conditional logic
Multi-Page Form Builders
Helpful Email auto-responses
Allows payments
Reasonable price and licensing
Before we dive deep, let's see a quick overview of Google Forms and Microsoft Forms.
Google Forms Overview (Free Online Form Builder Solution)
Google Forms is a free online form builder that helps you create simple forms.
It offers an easy way to make and use subscription forms, providing a nice form editor. With Google Forms, one can customize the various templates within a few clicks.
You can also use images or customize the color or font of the questions. This form builder will let you choose between the response types like checkboxes, dropdown menus, or short texts.
Google Form is widely popular for its data validation and data visualization functions. Plus, you can evaluate the results instantly and share them on Google Sheets. Thus, it will be a handy tool for your data collection process.
Google Forms Features
Drag-and-drop builder
Easy form creation
Basic conditional logic
Response analysis with automatic summaries
Multi-part forms
Google Sheets and other Google software integration
Google Forms Pricing:
Free
Paid: The premium option begins at $12/month
Microsoft Forms Overview (Online Form-building Software Solution)
Form building has been made even easier by Microsoft Forms. This online form builder software was created by Microsoft Office 365 Suite in June 2016.
If you want to create surveys or online pools easily, MS forms can be a quick and simple option to get started. You can make it just using a mobile device or browser. Microsoft Forms also lets you customize several templates just with a few clicks.
Most importantly, there are a few features such as viewing real-time form submissions, analyzing answers with a built-in analytics feature, and classifying the results to MS Excel. 
Overall, Microsoft Form is a very useful form-building software to help you in your survey operations.
Microsoft Forms Features:
Shareable with external users
Real-time submission with Microsoft Excel
Multilingual forms
Email notification
Anonymous user options
Microsoft Forms Pricing:
Google Forms vs. Microsoft Forms Comparison
If you want to collect data online, online form makers like Google or Microsoft Forms will do the job for you. Which one should you pick? Does Google Forms vs. Microsoft Forms? 
Choosing one among these form builders is a tough task. Go through the analytical comparison between Microsoft Forms and Google Forms to understand which one to choose.
Ease of Use
Google Forms gives you the option to use particular sections with specific instructions. All essential options are kept right on. So to say, It's easy to use. 
Although Microsoft Forms offers a modern interface, it can still be slightly tricky for one user to work with the cluttered interface. That is to say, Google Forms wins here. 
Shareability
If you want your form to get more reach, it's a must to share more and more. Both of the form makers let you share the forms with ease. 
However, Microsoft Forms provides an extra advantage of sharing straight on social media and generating QR codes. 
Questions and Answers
Creating forms is nothing but the collaboration of questions and answers. Google Forms lets you select options like multiple choices, checkboxes, a dropdown menu, or a short answer option.
Microsoft Forms doesn't provide so many options. That is, you can use multiple choice or text answers.
Pre-built Templates
In this digital era, we lack enough time to do things manually. You want the form builder to come with nice pre-built templates.
Google Forms offers you to use ready out of the box just by adding some questions. Besides, you can also make a fascinating invitation card. Preset questions are also available on this platform. The other one, Microsoft Forms, comes with a form, quiz, and party invitation templates. However, it might take longer to customize the templates than Google Forms.
Multimedia Files Upload
Both Google Forms and Microsoft Forms let you use images and videos. You can use images from storage and videos from YouTube or anywhere else in Google Forms. 
MS forms also allow you to add images or videos to your survey question. You can search on Bing, OneDrive, or upload photos from device storage.
Collaborative Tasks
As people need to collect and compile information, it's necessary to work in collaboration. You can add co-workers by their mail and let them edit for free. Yet MS forms have the same option, but one has to subscribe to add others.
Validation of Responses
Response validation is needed before the submission of the form. Google Forms reviews the answers containing numbers or texts. Plus, it'll ensure that a surveyed person gives the URL or mail. Contrarily, MS forms only assess the number of answers. Plus, you can select conditions like less than or greater than.
By finishing the comparative analysis, we hope you can distinguish between them and pick your precious form builder. 
How to Create a Form with Microsoft Forms
There are a few simple steps to get started with Microsoft Forms. Follow the below step-by-step guidelines to start: 
1. Sign in to Microsoft Forms. You can sign in with Microsoft 365 or work credentials. Besides you can also use Outlook, Hotmail, and Live accounts.
2. Then add a New Form.
3. After that, you have to give a title to your form. Plus, there's an option to add a Description. (up to 1,000 characters)
4. Push on Add New option to add any question.
5. Choose the question type. If you want more question types, click the down pointer and submit questions.
6. Select the convenient Theme from several theme options according to your requirements.
7. After finishing all the steps, click on the Share option. Your form will be shared by a link or QR code or by mail address.
Get Started with Microsoft Forms
How to Create a Form with Google Forms
Creating a form with Google Forms requires some steps to be followed. Let's get started with it with a few clicks.  
1. Go to the Google Forms website. Click on the link: forms.google.com and sign in if required.
2. Push the Blank form (or select any templates).
3. Add new questions by clicking on the plus sign. You can also edit questions by tapping the edit option.
4. Use images and videos. In doing so, you must choose the question you need to use images. Then select the image icon/ video icon in the right side menu.
5. Give titles and add sections. Select the Title "Tt" option to give a title. Besides, you will get the Add Section button in the sidebar.
6. Customize form settings. Click on the Settings option. Receive the mail id of the surveyed persons. Keep the option to change their answers after submission.
7. Share your form. Click on the Send bar. You can also add collaborators. At last, you will have the form link, and you can share it on social media as well.
Well, now you know the comparison between Google Forms vs. Microsoft Forms. If you need some more features that these two do not come with, you can go for form-maker plugins like Fluent Forms. 
Why Fluent Forms?
Fluent Forms is a powerful form builder plugin to help you create a form within minutes. It comes with a simple and nice interface, easy-to-use dashboard, drag, and drop form builder, etc.
Let's now focus on some missing aspects of Microsoft and Google forms but live on Fluent forms. 
Microsoft Forms vs. Google Forms vs. Fluent Forms
A quick overview:
| | | | |
| --- | --- | --- | --- |
| Form Builder | Microsoft Forms | Google Forms | Fluent Forms |
| Rating | Basic form builder | Basic form builder | Fastest form builder for WordPress |
| Functionality | All basic form features | More feature-rich than MS forms | Extensive features which are better for businesses |
| Support | – | Online Support | 24/7 Live Support |
| Audience | Who wants an easy option to take surveys, quizzes, and polls | Who wants a free solution for online forms | Companies using WordPress websites that want a forms builder |
| WordPress Plugin | No | No | Yes |
| Price | Free with Microsoft 365 | Free and premium (Begins at $12/month) | Free and premium (Starting from $59/year) |
Fluent Forms: Is It Better Than Both Form Builders?
Fluent Forms is the fastest WordPress plugin to create online forms with few clicks. On the other hand, MS Forms and Google Forms are just basic form builders.
Fluent Forms offers many features that the other two form builder software don't include. For example, this plugin has tons of 3rd party integrations like PayPal, Stripe, ConvertKit, Slack, etc. But the other two software don't have these.
Yet, Google Forms provides basic conditional logic; Fluent Forms works with better conditional logic. Besides, it has better spam protection. More importantly, this WordPress form builder has 60+ pre-built form templates. So, you don't have to design your template manually like Google or Microsoft Forms. You can get started with the plugin ready out of the box. In addition, Fluent Forms offers payment integrations, design customization, and mobile responsive features that the other two software do not. 
In other words, if you need more functionality and extensive use while making a form, Google Forms or Microsoft Forms may not be enough to do your job. A powerful tool like Fluent Forms will be the best solution to scale up your business or surveys.  
Conclusion: Which One Should You Use?
After crafting all the comparisons, we see Google Forms have better overall support than Microsoft Forms in terms of ease of use. Shareability, collaborative work, etc. Both Microsoft Forms and Google Forms are very useful form-making solutions if you want to focus only on making online forms. But if you want to scale your business, or need advanced use, go for WordPress plugins like Fluent Forms. 
Fluent Forms is one of the best tools to make online forms providing a lot of advanced features that basic form builders don't have.
---
Inqiat Ahsan Reza
He loves to play in the arena of WordPress and learn new things every day. Whenever he's not writing, he's playing billiard or spending quality time with his family.