Opinion Stage vs Fluent Forms: The Truth and the Takeaways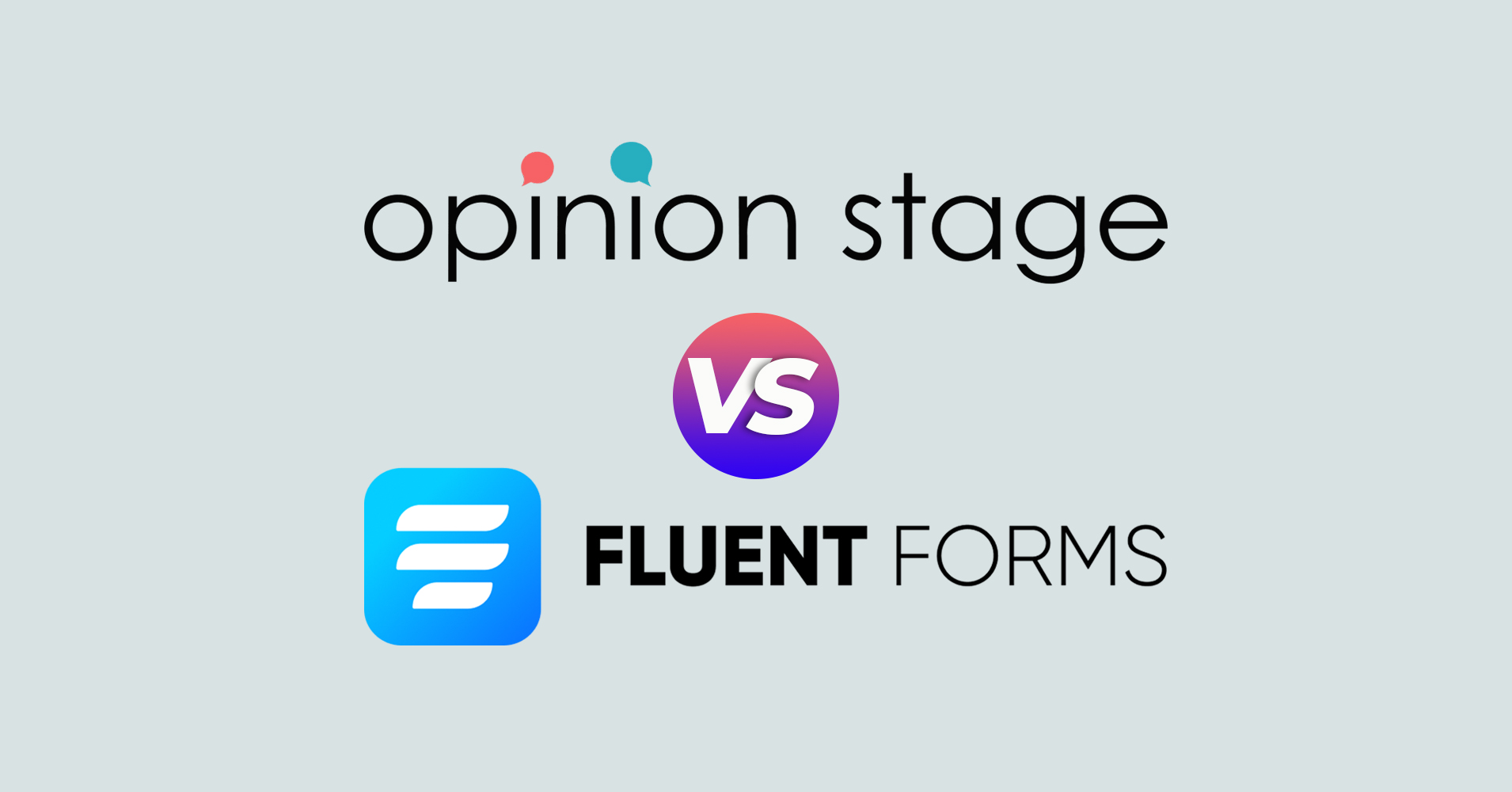 Today we're going to make a comparison between Fluent Forms and OpinionStage. Both products are made for business growth and customer engagement.
Not only are the platforms different, but both have pros and cons, functionality-wise. You may ask why are we going to compare them? Two reasons:
They offer similar benefits
Both are available in WordPress
Before diving into Opinion Stage vs Fluent Forms discussion, let's check out some facts to understand the subject matter.
OpinionStage can help you create quizzes, polls, surveys, and contact forms. You can do all that with Fluent Forms
For interactive content, OpinionStage is a great platform
Want to collect orders with a payment option? Increase subscribers? Evaluation with ratings? Fluent Forms brings the best solution.
Why the comparison seems unreal?
Because OpinionStage is a SAAS product that can be integrated with WordPress. But Fluent Forms is by default a WordPress plugin. The journey, goal, process, and everything else are different between the two platforms.
I was mainly interested in this product because it offers form creation service. I wanted to examine how different the form-building experience could be with the Opinion Stage. Also, Fluent Forms offers survey, poll, and quiz-making features.
What I've learned from Opinion Stage's website
First of all, I couldn't get an option to know about the feature details from their website. They described a lot of benefits that simply let me know what I'm going to get, but they forgot to mention how I'm getting this.
The information is hard to find from their website. I decided to sign up for it. By the way, there's no mention of the WordPress plugin on their website. I know because I live in the WordPress world. If someone needs help and goes to the docs, they will bump with a topic that addresses how to use the WordPress plugin.
Let's move on to know about both products.
Opinion Stage vs Fluent Forms – an honest comparison
I have to admit that Opinion Stage is a fantastic tool for making polls, quizzes, and surveys. Since it's an interactive content maker, we shouldn't compare it with Fluent Forms. Because Fluent Forms also has the options for those functions and you Opinion Stage has form-building functionality.
Opinion Stage
Opinion Stage is a tool for creating interactive content such as quizzes, polls, surveys, and forms. The visual presentation of the content makes them stand out and engages more audience with your business.
Where Opinion Stage is better
For interactive and visual content, Opinion Stage is truly remarkable. People are likely to engage with appealing stuff. For surveys and polls, you may use a tool like Opinion Stage. When you want to collect information before launching
Fluent Forms
Fluent Forms is a WordPress form builder with tons of mesmerizing features to tweak your business from bottom to top. This tool includes contact form, order form, surveys, quizzes, polls, and many more. On top of that, you can access all the advanced features from your WordPress dashboard.
Where Fluent Forms is better
When it comes to overall business growth – especially if you're online – Fluent Forms is the most prolific solution. Think about email marketing or accepting payment. Only an advanced tool like Fluent Forms can offer you multiple ways to expand your business.
How to get started
Let's have a quick intro on how to get started with these two products.
You can install the Opinion Stage plugin from your WordPress dashboard. Then you have to connect it using your email address. Hint: you have to sign up from the website first and put the same email address here.
After the successful connection, you will see a page like this:
On the other hand, Fluent Forms is also available on the WordPress dashboard. You have to install the plugin and activate it. For advanced functionalities like payment and more event integrations, you can easily upgrade to pro.
It's a pure WordPress plugin, so you don't need to sign up on another website to make the plugin work.
However, when you activate Fluent Forms, you can start creating various forms according to your need.
How good is managing surveys
I wouldn't focus on this topic because Fluent Forms is not a survey-making tool. Although you can create surveys with Fluent Forms, Opinion Stage is the tool built for surveys.
We can take a look at what the duo offers.
Opinion Stage comes up with a lot of powerful options regarding survey appearance, content, and logic. After creating surveys, you can embed add them to any website. You can also add restrictions and apply logic according to your need.
Ready survey templates
Custom logo/branding
Multimedia content
Multiple question types
Translation capability
Response validation
Skip logic and randomization
Survey Reporting & Analytics
Embed surveys
Custom survey URLs
Fluent Forms has many beautiful ways to create and manage surveys. There's no extra learning curve. With your regular form-building experience, you can optimize the survey and achieve your expected result.
Multi-page forms
All the 45 input fields
Radio and checkbox
Signature field
Randomized option
Conditional logic
Make fields required
Net Promoter Score
Range Slider
Rating
Checkable grid
Form building experience
It's possible to make forms with Opinion Stage, but the features are limited. You can't build advanced forms. With a few basic form fields, you can't make what you wanted. What about dynamic calculation? Or, PDF submission? Or, donation collection?
I want to show you first two templates from Opinion Stage.
This is an example of an event registration form in Opinion Stage. You can't apply too many advanced functionalities here. The limitation firstly comes with the form fields, and then others, including third-party integrations.
See below the order request template from Opinion Stage.
After the event registration form of Opinion Stage, you can now compare it to Fluent Forms.
You can add as many fields as you want from a set of 45. Furthermore, you can add payment option if the event is a paid one.
Now see the order form in Fluent Forms. This is the tip of the iceberg. The actual benefits are limitless. There are multiple payment methods and payment features. Except for this one, you can perform a lot of tasks across other forms.
Features
There's a massive difference between Opinion Stage and Fluent Forms when we'll compare them based on features. Fluent Forms is a magnificent plugin that allows you to go beyond creating simple contact forms.
Anyways, it's hard to find what are the features that Opinion Stage offers. And it's harder to list out all of them. You have to put some effort and figure out yourself what are the hidden gems. They have some brilliant features, but forgot to mention them. :p
In a nutshell, here are some of the best features you're going to get with Opinion Stage:
Multiple layouts: image, thumbnail, etc.
Results in pie and bar graphs
Lead generation
Export poll responses
Embed on any website
Social network integrations
Email marketing tools
WordPress plugin
Pre-configured fonts and color themes
Block repeat voting by IP
And there are more. If you want to get some amazing benefits with your polls and surveys, you can pick Opinion Stage.
Multi-page forms
Smart conditional logic
Managing form entries
Digital signature with forms
Uploading files and images option
Many CRM integrations
Robust anti-spam solution
Dozens of ready form templates
Payment with PayPal and Stripe
Partial entries
Front-end post submission
Tons of third-party applications
Landing page creation
User registration forms
Intensive customer support
Useful docs and YouTube
Third-party integrations they offer
I have already mentioned, Opinion Stage doesn't have a clear guideline about the product on their website. I don't know precisely how many integrations they offer.
With my marketing sense, I figured out they have Google Analytics, Mailchimp, HubSpot, Zapier, Google Sheets, Salesforce, and Webhooks in their integration list.
On the other side, Fluent Forms does come with tons of marketing and other powerful integrations. Popular email marketing tools like Mailchimp, AWeber, Discord, Salesflare, GetResponse, and ActiveCampaign are available with Fluent Forms.
Additionally, you can send notifications via SMS, Telegram, and Slack notifications. There are
Altogether, Fluent Forms has 33 integrations, including some free addons.
Content placement options
You can publish the content created with Opinion Stage in three places. You can switch on all three options or a specific one from popup, article, and sidebar widget.
When you're done creating a form with Fluent Forms, you can embed it across your whole website. The easiest way is to copy the shortcode and place it wherever you want – a page, a blog post, or the sidebar.
How much?
Opinion Stage has a free option that allows 250 views per month.
With yearly plans, you can get 7 days free trial and cancel within this period. However, the trial option is not available with the monthly plans.
You can't remove the branding that reads "Powered by Opinion Stage" with the free plan.
Besides the Basic option, they have three other pricing modules: Starter, Small Business, and Performance. They will cost $19/mo, $65/mo, and $199/mo if you pay annually.
The price will be different if you go for the monthly plan: $29, $99, and $249.
Now come to Fluent Forms pricing. Before all else, Fluent Forms free version offers so much more than all of its formidable competitors.
When you start to grow, you can upgrade to premium at any time. With every pro plan, you can enjoy a 14-day trial that can be canceled before the period ends.
Fluent Forms has a very convenient pricing plan that's divided into annual and lifetime periods. The cost for an annual plan varies between $59, $129, and $199. By the way, the variations are based on how many sites you're going to install the plugin into.
What are the cons?
Every product is its limitations. If one is bad at some point it performs well at other parameters. I'm going to mention some bottlenecks both product hold.
Keep in mind that, Opinion Stage is built for survey and polls, but Fluent Forms is a form builder tool that holds the options for creating surveys. Similarly, Fluent Forms is a pure WordPress plugin, and Opinion Stage has a WordPress plugin to connect to the SAAS platform.
The level of support
Opinion Stage has basic support for free users. Then comes the premium support, which is available for paying customers. They have a help center with nice and clear documentation of how to use the product. Not only that, they assign an account manager for customers who purchased Enterprise and Publisher plans.
Fluent Forms comes up with rigorous support for both free and premium plugins. You can check out the docs to know in detail about a specific problem. You can also join our Fluent Forms Community to get help from our family of developers, customers, wellwishers, and support engineers.
So, what do you think?
Let's figure out the key takeaways from Opinion Stage vs Fluent Forms.
When you want to solely focus on engagement, Opinion Stage could be a brilliant solution. Especially for interactive polls and surveys, you can try this content creation service. For lead generation, assessments, traffic increment, Opinion Stage will help you big time.
In terms of scaling business, you need a more robust tool like Fluent Forms. If you look at where Opinion Stage falls, you can understand where Fluent Forms shines. Let's say you want to create a multi-page form. You can't do that with Opinion Stage.
Besides, every business doesn't require visual content. Interactive content can be helpful for the entertainment and travel industry. So, if you're in one of those industries, you may check out the tool to test the engagement and adjust it as an additional tool alongside Fluent Forms.