10 Best Typeform Alternatives You Should Try in 2023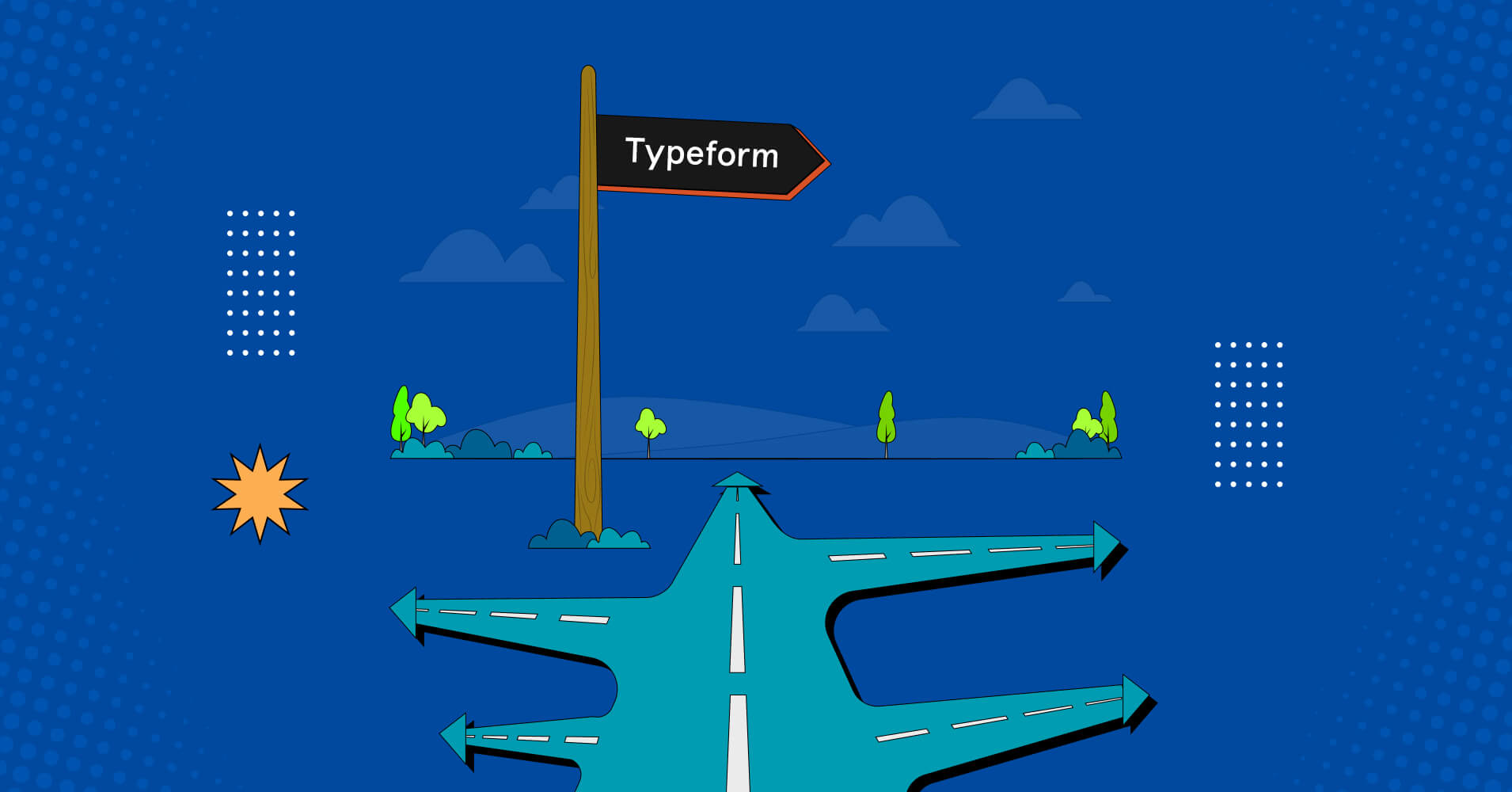 We all know the importance of databases and the necessity of form builders in collecting data for any online business. Among the hundreds of form-building tools, Typeform is a well-known name that is trusted by millions of users, including big brands. But nowadays, some users are finding it highly expensive, and not meeting their purposes. So, people are switching from it, and looking for Typeform alternatives.
If you're one of them, then, your search ends here. Because in this post, I'll show you the top ten Typeform alternatives in recent days. But before that, let's check out why you might need a Typeform alternative.
Fluent Forms is the most beginner-friendly form builder. Download now and start crafting beautiful forms FREE!!!
Why look for a Typeform alternative?
Though Typeform is highly capable of capturing feedback and taking surveys, still there're some factors that are driving people from it. What are those? Let's checkout.
High price.
Limited features in the free version.
Limited customization option, and data export functions.
Compatibility issues with other WordPress themes.
Poor customer support.
Slow down the website's performance.
So, which one is the best Typeform alternative? Well, we'll find out the answer to this after knowing about the features of a perfect form builder.
What to look for in a form builder?
If you're about to select a form builder for your website, then you must be aware of the criteria that fit your website. Most of the form builders offer similar functionalities, but some tiny differences in the details can make a huge difference in the end.
Hence, when choosing a form-building plugin, you should consider a few key factors. That being said, let's have a look at those.
Easy to use.
No coding is needed.
Pre-built templates.
Third-party integrations.
Mobile-friendly.
Customizable fields.
Better customer support.
Secure.
Conditional logic.
Support conversational forms.
Give quiz form features.
Asks minimal price.
Moreover, a well-performed contact form builder gives settings options to send email notifications, set form layout, download form data, advanced customization, and security options, and more.
Keeping these things in mind, we've made a list of the 10 best Typeform alternatives. So, without any further ado, let's move on to the main topic.
Best Typeform alternatives
Here are the plugins you can use for your website.
Fluent Forms
Fluent Forms is the robust yet fastest form builder in the WordPress community. You can make any online form with the plugin, such as registration forms, survey forms, quiz forms, payment forms, conversational forms, checkout forms, employment application forms, gym application forms, and what not.
Besides, it gives a smooth user interface with tons of advanced features, and functionalities. Here're some fantastic features of the plugin.
Drag and drop
70+ pre-built templates
Conditional logic
50+ integrations
Multiple choice field
Checkbox
Dropdown
Address field
File upload
Image upload
Import/export
Email notifications
Form scheduling
Double opt-in
Moreover, Fluent Forms has some amazing advanced fields including Form Step, Ratings, Range Slider, Net Promoter Score, Custom Submit Button, Color Picker, Quiz Score, reCapthca, hCaptcha, Turnstile, Terms & Conditions, GDPR Agreement, Geolocation, Global Styler, Signature add-on, PDF add-on, and more.
Furthermore, the plugin has dedicated sections for containers, and payment fields separately. You can collect subscription payments, and apply coupons with Fluent Forms' payment feature. To collect payments, Fluent Forms supports Stripe, PayPal, Mollie, RazorPay, and Paystack.
On top of that, the tool is integrated with Zapier, Mailchimp, Campaign Monitor, ActiveCampaign, Drip, Platformly, Trello, ZohoCRM, Moosend, Convertkit, SendFox, Twilio, ClickSend, HubSpot, Constant Contact, CleverReach, MailerLite, amoCRM, Slack, Discord, Telegram, Airtable, and more.
Price
Fluent Forms asks for a very little amount according to its features and functionalities. It comes with three different packages in two categories, and prices are ranging from $59 to $899 only.
Formidable Forms
Formidable Forms is one of the easiest, and most powerful form builders in WordPress. It gives the drag and drop form-building options with tons of form templates. You can make registration forms, surrey forms, payment forms, and many more forms with the tool. Let's have a look at the amazing features of the plugin.
Quiz forms
Conditional logic
Import/export
Conversational forms
Multi-page forms
Checkboxes
Dropdown
More so, Formidable Forms has some advanced fields like File Upload, Signature field, Star Rating field, Repeater field, Likert Scale, and Pricing fields. Additionally, the popular functionalities of the plugin are Calculated Fields, Display Form Data, and Polls & Surveys.
Besides, Formidable Forms is integrated with many integrations that include MailChimp, API Webhooks, Google Sheets, Zapier, MailPoet, Constant Contact, AWeber, GetResponse, HubSpot, ActiveCampaign, Campaign Monitor, Slack, Trello, Agile CRM, Zoho CRM, LifterLMS, AffiliateWP, MailOptin, WeGlot, and so on.
Price
Formidable Forms has four different bundles in a yearly policy, and the prices are ranging from $79 to $599.
Cognito Forms
Cognito Forms is one of the easiest solutions for creating online forms. From creating simple contact forms to complex survey forms is just a matter of a few minutes with the plugin. You can use the tool for data collection, accept payment, and workflow automation. Some core features of the plugin are:
Pre-built templates
Multi-page forms
Electronic Signatures
File Uploads
Rating Scales
Import/Export
Calculations
Style customization
Furthermore, for collecting payments it supports Stripe, PayPal, Square, and Card on File features. Besides, it is integrated with Google Analytics, Zapier, JSON Webhooks, Microsoft Power Automate.
Moreover, for data management, it supports Entry Sharing, Saved Entry Views, Import/Export features, and Bulk Actions.
Price
Cognito Forms has four monthly packages, one is free, and the other three prices are starting from $15 to $99.
Google Forms
Google Forms is a free tool of Google Workspace. It's easy to use, and one of the trouble-free applications to design a form. This tool is widely used by students and research communities. You can use it to collect data, take surveys, and make event registrations without any domain or website, database, or monthly subscription. Some main features of the plugin are:
Pre-built templates
Multiple choice
Dropbox
Checkboxes
Linear scale
File Upload
Checkbox Grid
Date field
Time field
Moreover, Google Forms is seamlessly integrated with all other Google products, such as Google Sheets. Getting started with Google Forms is so easy because you only need a Google account to log in.
Furthermore, you can customize your form as you want it, convert a simple into a quiz form, show the progress bar, shuffle questions, etc. from the settings option of the form. Besides, you can share the form anywhere with just a single click from the Send button.
Price
Google Forms is completely a free tool.
Jotform
Jotform is a popular SAAS-based form builder plugin, and an easy-to-use solution to create secure online forms. It offers more than 10,000 form templates to help you make almost any type of form. You don't need to install anything to use the plugin. You can directly login from your Google account, or create one on its website. Its popular features are:
Email field
Multiple choice
File upload option
Dropdown field
Spam protection
Signature field
Payment options
Appointment field
Apart from these, there are 300+ widgets, and 150+ third-party integrations in Jotform, like Hubspot, Trello, Dropbox, Google Drive, Slack, Google Calendar, Zoom, and more.
Price
Jotform has both monthly and yearly payment options in four different bundles, and the prices are starting from $34 to $129. In the yearly packages, you've to pay the amount in a monthly bundle policy.
Forminator
Forminator Forms is one of the easy-to-use form builder tools in the WordPress community. This WPMUDEV product provides interactive quizzes and polls, easy form calculation, eSignature, and many more. Let's have a look at its notable functions.
Drag and drop
Radio field
Checkbox field
Captcha
Date and time picker
Address field
On top of that, it has payment options with PayPal and Stripe. Besides, Forminator has a whopping number of integrations in its paid version. For example, it offers tools for project management, CRM, email campaigns, storage, etc.
Price
Forminator has both monthly, and yearly payment policies, and in the yearly policies, you've to pay monthly. Pricing are ranging from $7.50. Besides, you've to pay for the hosting cost differently.
JetFormBuilder
JetFormBuilder is another functional yet easy-to-use form-making solution in WordPress by Crocoblock. This is a Gutenberg block editor that helps you to make form easily without any drag-and-drop. You can use a one-stop interface to create fully operative custom forms. Some noteworthy features of the plugin are:
24+ JetFormBuilder blocks
12 post-submit actions
Multi-page forms
Call webhook
Pre-built form templates
Payment forms
Conditional logic
Calculated content
File uploads
Furthermore, it has some pro-add-ons to make advanced forms with some third parties, such as Mailchimp, GetResponse, Active Campaign, MailerLite, ConvertKit, Hubspot, etc. Moreso, JetFormBuilder's pro-add-on packages also support Front-end post submission, Address Autocomplete, Schedule Forms, Save Form Progress, AJAX submission, and more.
Price
JetFormBuilder comes in a package of Crocoblock. Where the package price starts from $199 to $999 in a year. Other than that, if you want to buy the pro-add-ons of JetFormBuilder, you have to pay $39 for 1 site, and $79 for unlimited sites per year.
Gravity Forms
Gravity Forms is another popular WordPress form builder among online business owners and developers to create contact forms easily. You can create any type of form with the plugin, such as survey forms, registration forms, contact forms, order forms, etc. Key features of the tool are:
Drag-and-drop
Conditional logic
Form confirmations
Form scheduling
Entry management
Multi-page forms
Spam protection
Conversational forms
Besides, Gravity Forms has some powerful add-ons like PayPal, Stripe, Salesforce, Mailchimp, and many more. More so, it has MailChimp, Constant Contact, Aweber, and Campaign Monitor for email marketing. For CRM and project management activities, it has Zoho CRM, Agile CRM, Hubspot, Trello, Asana, and more.
Gravity Forms are widely used by people who look for a reliable and flexible solution.
Price
Gravity Forms has three different yearly bundles for its users, and the prices go from $59 to $259.
Paperform
Paperform is an online form builder, and survey tool that helps users to create, and customize survey forms easily. It collects, and stores individual information, data, and feedback smoothly in an organized way. Mainly, the tool is built for small business owners with no coding experience. Which means any beginner can use the Paperform plugin. The main features of the Paperform include:
Responsive design
Field customization
Conditional logic
Payment integration
File uploads
Embedding a sharing
Automation
Besides, it is integrated with Mailchimp, ActiveCampaign, Slack, Trello, MailerLite, Google Sheets, ConverKit, Zoho CRM, Asana, Dropbox, Hubspot, Drip, Notion, Airtable, Moosend, Freshdesk, and so on.
Price
Paperform has two types of pricing policies one is monthly, and another one is yearly. But both of the bundles are billed monthly. The prices are starting from $20 to $159.
Formstack
Formstack is all-in-one automation software that has a form-building solution too. Formstack Forms provides a user-friendly interface for users to create any form within a couple of minutes. It collects data and automates workflows for individuals or businesses. Some crucial features of the plugin are:
Drag and drop
Import/Export
Payment processors
Calculating fields
HIPPA compliance
Analytics and Reporting
Conditional logic
Moreover, Formstack Forms is integrated with many third parties to give you smooth workflow automation. For example, it is integrated with AgileCRM, Airtable, autopilot, Campaign Monitor, Dropbox, Emma, OnePageCRM, SurveyMonkey, and more. Apart from that, the plugin is integrated with some payment options to collect online payments.
Price
Formstack Forms is asked for $50 monthly.
Which one you would go for?
If you're still confused about which one to choose from these ten plugins, I'll help you out again.
If you're looking for an all-in-one solution plugin at a minimal price, go for Fluent Forms.
Formidable Forms is also a good option to go for creating forms, and other solutions.
You can choose Google Forms, for an easy, and free form-building solution.
Cognito Forms is also a better option but it has some user registrations in different packages.
It's important that plugins and tools evolve over time, and their new updates and improvements make them best than another. So, it's a tough task to select anyone. So, it's much needed to understand your necessity first, and then go for the solution.
We hope you found this article helpful. If you've any queries, let us know in the comment section below.