10 Ways a CRM System Can Improve Your Business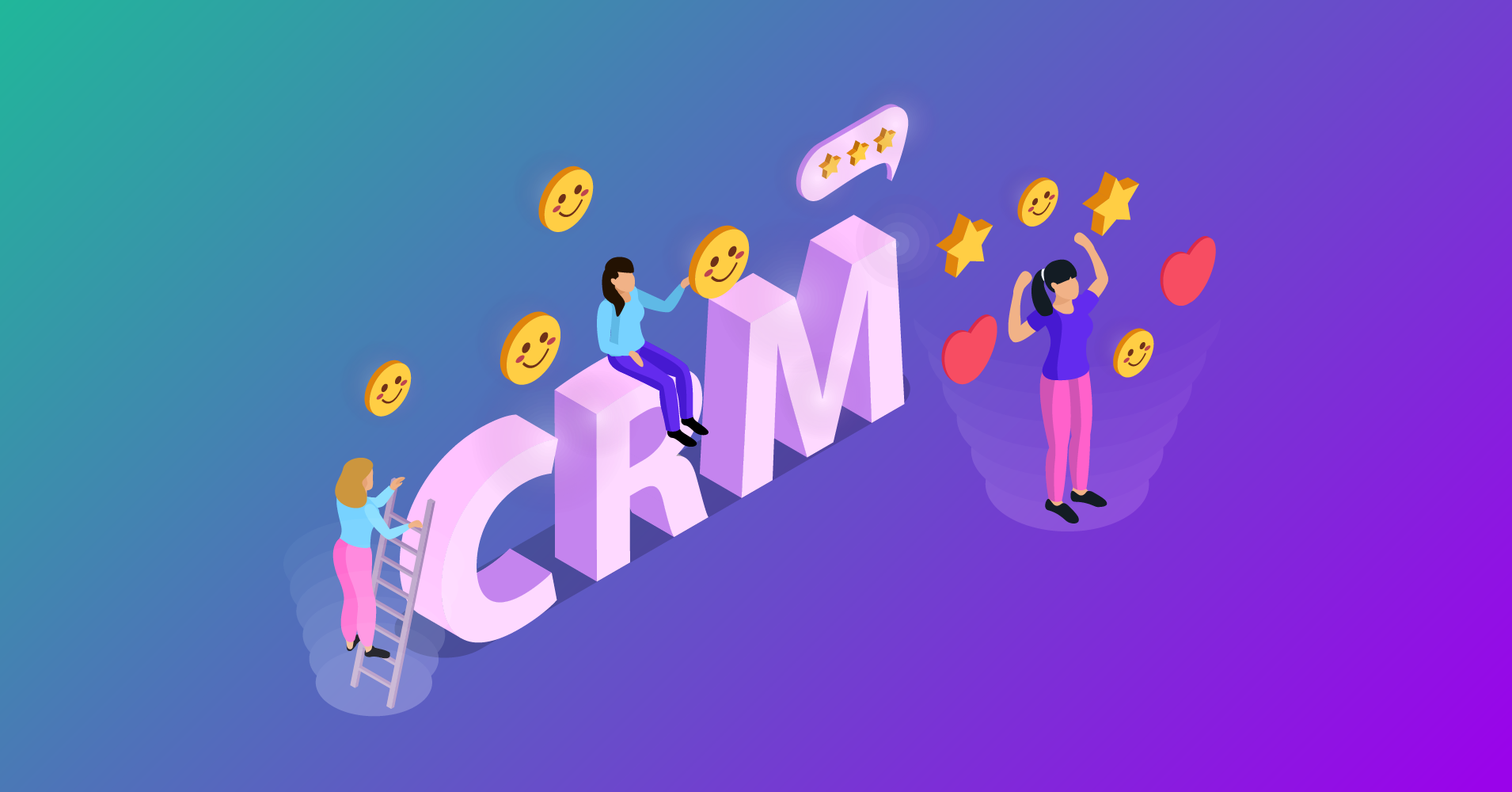 Maintaining a good customer relationship is essential for business growth. So, you have to manage it as efficiently and effectively as possible. But when you are listing all the precise tasks of your company manually, sometimes it becomes challenging to control all the aspects together. The cost of the organization also increases while managing all the activities through paper, pen, or other manual kinds of stuff. As reported by a recent study, 58% of offices in Europe store paper records on office sites rather than choosing a digital method, and 2% of businesses have no set-up for storing clients' reporting.
It is said in many businesses that the "customer is king". And Customer Relationship Management (CRM) is a robust and efficient way to create and maintain good relationships with clients. CRM not only focuses on pure business but also projects a strong personal connection with people. The process targets to maintain all of the activities, strategies, and technologies that businesses use to manage their negotiations with current and potential customers.
Well, a Customer Relationship Software (CRM) software can help you to continue a better customer relationship digitally with a cost-effective way in the office. CRM is a program designed to gather all the details of your customer information in one place. CRM software collects data regarding your current and future clients so that your team may remain on top of their tasks. This software enables smooth cooperation, boosts efficiency, and expands customer satisfaction. Let's see how CRM can help you in growing your business.
This self hosted CRM system is an effortless solution to all your troubles related to marketing automation. You can use it for lead generation and customer management, and also effectively segment your audience using a number of different lists and tags.
FluentCRM's 360 degree contact view allows you to have a comprehensive insight into each contact's details, email history, purchase history, form/support ticket submissions, etc. This paves way for personalized automation funnels targeted specifically against certain groups of people.
Moreover, with automatic email sequencing, you can drip feed contents to your subscribers. This can help you convert leads into paying customers and also upsell your high-end products to existing customers.
Give FluentCRM a free run and see for yourself.
10 ways CRM helps you to grow your business
Sustaining a good customer relationship is one of the main factors for your business. So, you need to nurture them soundly and precisely. Here is how CRM technology can help you be more connected to your clients, improve your business growth, and expand your company more prominent than ever.
Target the right people
You already spent time and resources for generating leads and customers. But what is the next step? Now, are your customers getting involved on your sales list? If so, do they know which opportunities are the best? When you are running a small business, and you have to grow fast, time is of the essence. You can use most of the marketing tools like email, social, marketing automation to reach your people easily. And a more effective result will occur when you connect your marketing tools with the CRM platform. In that way, both the sales and marketing teams will experience the same view of leads and prospects. As a result, you can easily create engaging communications with critical decision-makers and turn your clients into your leads.
Avoid managing your data manually
Always try to update and manage the data of your leads and customers. With the help of the CRM system, you can capture and enter leads into the system. So actively, you can avoid manual data entry. A big chunk of your employees' daily work hours will be saved by maintaining a CRM system for data entry. Even the risk of duplication and loss of data are also minimized by using CRM, and it also ensures the accuracy of the data. The system reduces repetitive tasks for employees, which is frustrating for them. You also get the options for scheduling and sending bulk messages to your customers.
Create more sustainable relationships
Develop a better understanding of your customers. Start with knowing their stories and match those with your company. Then it will be easier to create a healthy relationship founded in trust and mutual success. A CRM system can help you in finding:

Customers' challenges: Get an idea of what matters to your customers. According to their needs, goals, and challenges, make sure you have a follow-up action. Record these notes on your CRM system, so next time you can correctly start from the point where you left the previous time.

Engagement of relevancy: Once you understand the challenges of your customers, you can recommend appropriate products for them. With CRM, you will also know what your customers have purchased and how they are using your products. This way, you can provide people the most relevant information.

Maintain a personal relationship: A small business owner needs to maintain an excellent personal relationship with his clients. But it is quite challenging to know each client's details and follow up on them regularly. So, when you use CRM, you can store your client's emails, host email templates, set up task reminders, and enable phone calls to connect with your customers.
Focus on a smooth sales process
To get a better output and higher productivity, a company must boost the efficiency level among the team members. Especially a thorough communication among the sales team can bring you the most outstanding benefits. Using a CRM can guide you with the process of continuing better coordination with every member of your team.

A CRM system gives a complete view of what tasks each member is implementing and how effectively they are executing their goal.

Additionally, effectively managing the internal communication to keeping track of your team tasks is also easy to maintain with the CRM system. Even when your team is facing a bottleneck situation, you can quickly come up with a solution as you will step in smoothly and estimate the case by using the CRM software.
Expand employee productivity
Accepting the right technology, spare your teams from process-heavy tasks, and give them more time to attach with customers. Manual operations like pursuing client's information or entering data can be automated to the CRM system to reduce employee's hassles. As a result, they can spend more time managing valuable clients and building a strong relationship with existing ones. In sum, employees can make a big difference in your business.
Provide better customer service
Your best product will be only good at that time when you are providing the best service with it – at any time- either before sale or after-sale. But don't hit up your prospects with multiple marketing promotions that will frighten them away. A common mistake is done by everyone that they mess up after the sale and wasted their time and effort into getting a valuable customer.

CRM software can help you to give access to a customer's complete history to the entire team. As a result, everyone can quickly come up with personalized messages and solutions with the right resources. Smoother relationships with customers build trust and encourage them to buy again from your business.
Increase customer retention
Visibility over all your relationships can help your teams find all risk accounts easily and offer new opportunities to your existing satisfied customers. Transparency into customer histories, active campaigns, or open cases, you can confirm more satisfying purchases to your clients that make them come back again. Invest your time wisely, and strong customer relationships will support your back for years. By capturing your client details into the CRM system makes it more comfortable to create clarity into your business.
Give preference to your lead calls
Among hundreds of thousands of leads in your system, prioritizing who to call first can be a problem. Especially when you don't have enough data about your clients. The big hassle is that you may end up spending a lot of time on leads that contain a minimal value and forget the big fish.

As a solution, you can use CRM software to enable yourself to prioritize the most relevant leads. This can be done by either setting a lead score or grouping them in a list to track their activities. With such activities, you can easily be interconnected with your leads.
Try to get detailed analytics on your sales process
To improve your business performance, you have to know what is working and what is not. A CRM system offers powerful analytics features, and that helps you to identify the results of your sales tasks.

These analytical attributes guide you to find the best sales leads. You will also see how your email and drip campaigns are resulting in the performance of your employees. You can even know which customer is giving you more revenue.

Some of the essential reports a CRM system is supplying you are: lead status report, initial response time report, total sales report, call log report and most helpful service report. You can make effective decisions with these types of data.
Keep track of ongoing tasks and campaigns
Apart from generating detailed analytics on your sales process, the CRM system also will guide you to monitor the progress of current tasks and campaigns. You can easily monitor each task from beginning to end. Moreover, it is also easy to find out when a job was assigned and when it was started with the CRM. Assign a team for each task and keep track of every unit with CRM.

Monitoring your employees' interactions with your clients is needed for going a long way for increasing accountability. Furthermore, it reduces the chances of essential things getting redirected. If anything goes wrong, you can smoothly recognize the issue and swing into action before it turns into a severe problem.
Benefits of using CRM
CRM software helps to improve the relationship with existing customers and find new prospective clients. This system facilitates collecting, organizing, and managing customer information. CRM is not only for large organizations with a massive database of customers but also for small and medium-size organizations. Even a CRM system can be one of the most robust management tools in your business. Here are the benefits of using CRM in your company:

Increase customer satisfaction: The most beneficial aspect of using a CRM system is that it helps you increase customer satisfaction. All dealings of the business, including marketing, selling, and servicing of your products or services, can be managed in an organized way. You can also offer better services to your customers through a better understanding of your client's issues.

Better internal communication: Following a CRM-centered strategy helps to construct better communication within the company. Sharing customer data between the different departments of the company helps to work as a team, and all the employees (or the assigned ones in specific cases)also come to know about customer's issues. As a result, everyone can give their opinions on the solution to a specific problem.

Enhance your marketing: CRM also helps you to have a more cost-efficient marketing program. By understanding your customer demands and actions, you can also identify the correct time to promote your product. Additionally, CRM helps you to segment your customers from less profitable groups to more profitable ones. Using the software allows you to set up relevant promotions for your specific group and execute them at the right time. By managing your marketing resources in this way, you permit yourself the best possible chance to increase your revenue.

Obtain valuable insights: CRM stores all the information in one centralized place, and this makes it easier for you to examine your performance as a whole. By marking important information such as revenue, leads, marketing campaigns, you can quickly produce reports. Better report data means you can make effective business decisions and increase revenue in the long run.
Final words
In today's digitally-operated business environment, business owners must accept well-organized structures, such as a CRM system, to produce tangible benefits for their companies. From automating your business functions, smoothening your sales process to strengthen customer relations, and many more facilities, a CRM system can offer to your business.

In this article, we tried to cover the primary advantages of CRM and give you a complete overview of ways of CRM to help you in growing your business. Now, you know how CRM brings value to your company, and it's your decision if you want to try one for your business. I hope this article helps you to make the right decision.