Best Lead Generation Tips and Tricks to Get Conversion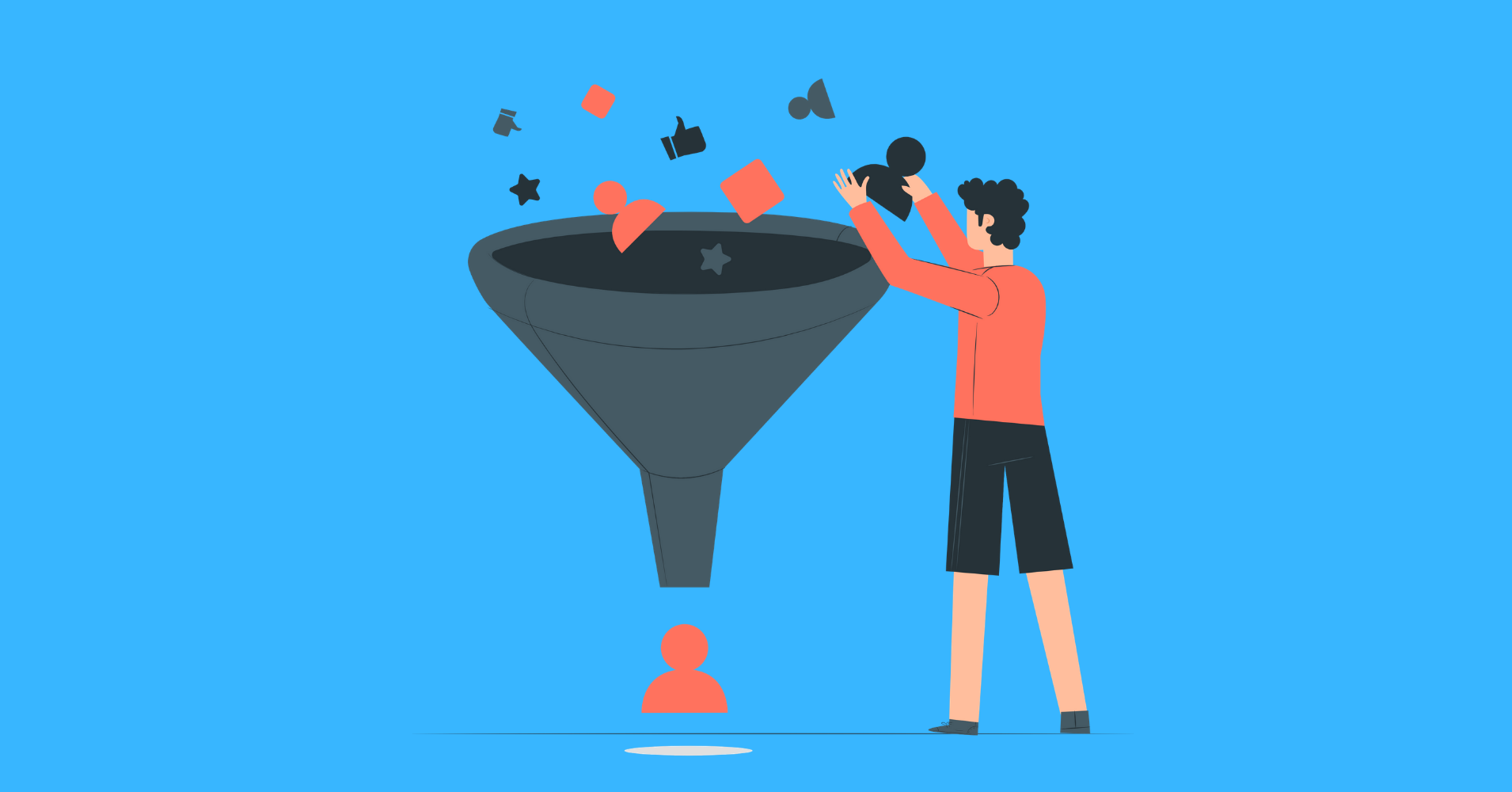 Lead generation is undoubtedly vital for the life and future of any business. You are trying to improve your stagnating conversion rate but can't figure out how to do that. To grow your venture, you need new clients. To do that, you either need to improve the conversion rates or increase the leads initially. So, if you are looking for the lead generation tips for your small business or B2B or just some general ideas, the lead generation strategies below will help you to take your business to the next level.
Having a set of helpful tips and tricks will make the most of your marketing channels work better to increase your leads. Once you have set your mind and approach, implement these 15 lead generation tips and tricks for your online business.
What is lead generation?
Before learning the tricks of lead generation, it is essential to know what is lead generation itself. Well, lead generation is the process of converting visitors into customers who have shown some interest in your company's products or services.
There is a massive array of lead generation methods available, from specific tactics to social media platforms and paid-per-click (PPC) ads. Usually, people get attracted by some gated content offers like a guide, webinar, ebook, template, or tool. So, maintaining a lead generation strategy is crucial for any online business. Now, let's find out why it is necessary to continue with lead generation.
Why is lead generation important?
You have to generate leads to bring an increase in the sales of your company. Though your current customers are buying from you, being satisfied with that will not help you grow your organization. You should always aim to gain new customers. Lead generation works for you to get that potential. So, implementing lead generation is crucial for your business. Some more significance of lead generation is given below.
It generates traffic for your website, where you convert leads into customers.
Google has made the process of connecting with targeted people easier. Through lead generation strategies, you can target people who are actively looking for your type of products or services through a search engine. That way, the chance of purchasing from your website increases.
If you have an engaging website, it grabs more potential buyers who are looking for specific products. Lead generation ensures that your online store or business stands out from the competition and grows the conversion. People are more likely to trust and give their personal information to a more attractive website.
When sales and marketing departments work together to implement an effective lead gen strategy, they will build a robust and productive relationship. Therefore, you will get qualified leads.
There are many other reasons for choosing the b2b lead generation tips for marketers and business owners.
Though sound lead generation costs money, it's more reasonable than other marketing efforts, like billboards, TV, and print advertisements. It's also a time-effective effort compared to the other promotions.
Targeting audiences based on all sorts of criteria, such as location, gender, interests, pain points, shopping behavior, etc. is much more comfortable in this way.
The ROI (Return On Investment) also increases with the lead generation, which is valuable for companies.
Now, let's move on to our main topic: lead generation tips and tricks for the improvement of any business.
15 Lead generation tips for business growth
Today we come with the 15 best lead generation tips to get more potential buyers for your website. Let's dive in.
Create buyer personas
The buyer persona works better than just differentiating your audience by demographic characteristics. It creates the image of individuals rather than group them into a bucket. In that way, the process improves the customer's desire by solving the issues of what they want, including their values. So, try to figure out your buyer's persona every quarter or every month to ensure that you are maintaining a fresh and appropriate approach to communicate with your audience every time.
Starting the buyer persona from a marketing standpoint means that the team will be able to create and deliver engaging content and better marketing strategies that produce the right leads for the business.
Educate your audience with contents
If you have used the inbound procedure, you already know how important a blog is for your company. It can give an idea about the critical things surrounding your business to your potential customers. Thus, you can find out your customers' pain points and challenges by educating them with your articles. Besides, a blog helps you attract visitors to your website. By writing about complicated topics that people were looking for, you can drag them from search engines to your website. So, your blog posts are compelled to update for search.
If you focus on a post around a keyword and link your content, it will bring some external links to your posts. Besides, if you maintain the SEO best practices with your article, you can also get quality traffic.
In general, developing blog posts and optimizing content for search engines is the first step in attracting visitors. Once you convert your visitors into leads, you can present other segments and offers to proceed with these interactions.
Focus on quality over quantity
You can have hundreds of marketing content for your website, which are enough to attract customers. But if one of them is not appealing or irrelevant to your website, people will abandon your page rather than get engaged. So, it is vital to keep the focus on the convenient content that connects with your audience. And this is one of the most fundamental lead generation tips.
Add a proper call to action
Getting people to your site is not going to convert them into leads automatically. Once visitors are attracted to your blog, you should give them an incentive or opportunity to convert. That incentive can be the form of call-to-action (CTA). A CTA should help a visitor to embark on the journey of becoming a buyer. Your CTA should directly align with the article that you have decided to post and place the offer as the logical next step.
Besides, it should use a powerful language, draw users' attention to move forward, and point them towards the value they will receive in doing so. Moreover, make your CTA's easy to find, eye-catching, but not messy with words or colors. Don't use two or three CTA's on the same page. It would be much better if you use some buttons or clickable images to your CTA rather than just some random words. You can read our article about do's and don'ts on contact forms to know more about designing forms.
Social media marketing
Nowadays, social media platforms are used by a massive number of people. So if you are looking for ways to reach potential buyers, social media would be a great place to search. For starters, Instagram and Facebook are two great social media platforms for marketing your products. Utilize social media to share your content, which can help make targeted traffics for your website. It will also help you to capture some loyal and engaged leads. So, please get to know your audience. It will help you to share information according to their need.
Once you have set up the authority in your space, you will see your social media is growing regularly. Try to post every day or thrice a week on every platform like Twitter, Linkedin, Instagram, etc.
Apply automated email marketing
At present, email marketing is still one of the most used and valuable lead generation tactics. If you use them correctly, they can be a highly cost-effective way to produce leads. When you are sending emails, it is essential to customize those so your customers feel special. But, if you send a massive number of emails within a short period it may overwhelm your customers, they are likely to unsubscribe.
So, nowadays most marketers follow automated email marketing to organize the emails properly. There are plenty of software like MailChimp, and MailerLite that will help you to design your emails and send them sequentially within a time frame. it is better to not send more than one email every week. It would be more feasible if you sent an email in two weeks of the span.
Always monitor the competition
Another way of successful lead generation is to always monitor your competitors. Keep a close eye on your competition all the time to track what they are doing. You can collect that information to devise effective and additional lead generation strategies for your business. Find out the size of the competition for your products. Because it is crucial to implement the necessary lead generation ideas.
Moreover, identify the growth opportunities among the market for your commodity. It is essential to find out how you can apply your strategies to the market.
Make your forms short
Contact forms are one of the best lead generation hacks for gaining leads. However, it's also necessary to present your forms perfectly. When people find your form attractive, they will take out their time to fill it in. Keep it short and professional. Asking too many questions will bore your customers while getting too personal might scare them off. In both instances, your form will be left unfilled. So before designing any form, you need to sit for a while and think about its structure and the kind of questions you will add to your form.
Avoid messy forms
By default, people look for the easy things to do that will cost them little time and effort. So, when you are crafting your form, you also need to keep in mind that you need to make it easy for people. Keep it simple so that people understand the content and figure out the benefit of filling up the form. Some tips for creating easy forms are:
Make the text brief and short
Use bullets to show the highlighted benefits
Try images rather than texts to make the form more attractive
Besides, always try to use a smart color scheme on your forms to match the color of the text and background. Don't make your forms too dark – always pay attention to readability.
Create structures for commission scheme
It would help if you made a structure of your commission scheme to illustrate the skills and efforts. It is needed to help in managing and balancing the existing accounts and new businesses. There are various types of commission schemes for companies. You can offer some discounts or sales two or three times a year for your regular consumers. Besides, you can divide your sales team into the salesperson who will focus on selling to new customers. Managers need to focus on building strong customer relationships and growth in the accounts of the company.
Reply to clients queries as soon as possible
Social media is a very unified platform and offers two-way communication. So, if you react quickly to your clients or visitors' comments or queries, it will prove that as a brand, you are responsive to the people. You have to value your clients authentically. That will strengthen your position in the market. People will trust you more and would like to give your products a try. Additionally, when you respond to anyone's comment in public and write some positive note about your product, others will also see it. What a great way to increase your brand value!
Maintain consistency about lead generation
Maintaining consistency is another important aspect of lead generation. It is not about bringing brand new leads but refers to the actions needed to convert the captured clients into loyal buyers. Try to nurture them with regularly updated content that will engage them until they become your regular consumer.
Getting leads is essential, but it is also necessary to utilize the steps after you have captured them. Gradually take care of them until they become sales-ready.
Start multichannel marketing
Different leads obtain information distinctively. Some like social media, others prefer reading emails or watching videos. So, you have to make sure that you are covering the whole spectrum by distributing your content into diverse channels. Consequently, it will increase brand awareness by expanding reach.
One key to multichannel marketing is choosing the right content and maintaining consistency about that content on different channels. Additionally, increase the engagement of the prospects to achieve long-term success.
Start managing your engaging leads
This is one of the most effective lead generation tips. The more your leads will engage with you; the higher the chance of them converting. So, focus on engaging them first. You can send them regular emails about your products' updates, regular greetings, thank you messages, etc. to place your brand in their mind. It might be a tough job. But nowadays, it is easy with some handy plugins in the market, like WP Fluent Forms.
We have recently launched a product named FluentCRM to manage the database of your clients. You can give it a try to maintain a proper communication chain with your clients.
Track, test, measure, and continue
Finally, you need to test, track, and measure your lead generation strategies to know if they are going well. You have to ensure that you can track the return on investment and allocate your budgets by applying trackable strategies. Never assume that you have reached your desired goals and don't need to continue with that effort anymore.
Trends change, and so does the need for people. So, always evaluate your products, emails, landing pages, and other channels regularly to confirm you are on the right track. Ultimately, continue with your hard work.
Bottom line
You want to ensure your contacts are increasing through every stage of your funnel. There are various ways to build lead generation strategies. In this article, we have mentioned some lead generation tips you can start right away. These strategies will maximize your quality of audience, attract leads that are fit for your company.
Hopefully, you can grow your customers and smoothen your lead generation process. If you are looking for a plugin that can work as a whole solution for your website, you can check out WP Fluent Forms.