11 Best WordPress Payment Plugins You Might Need for Your Website
Prema Anjum
. August 13, 2020
. 13 minutes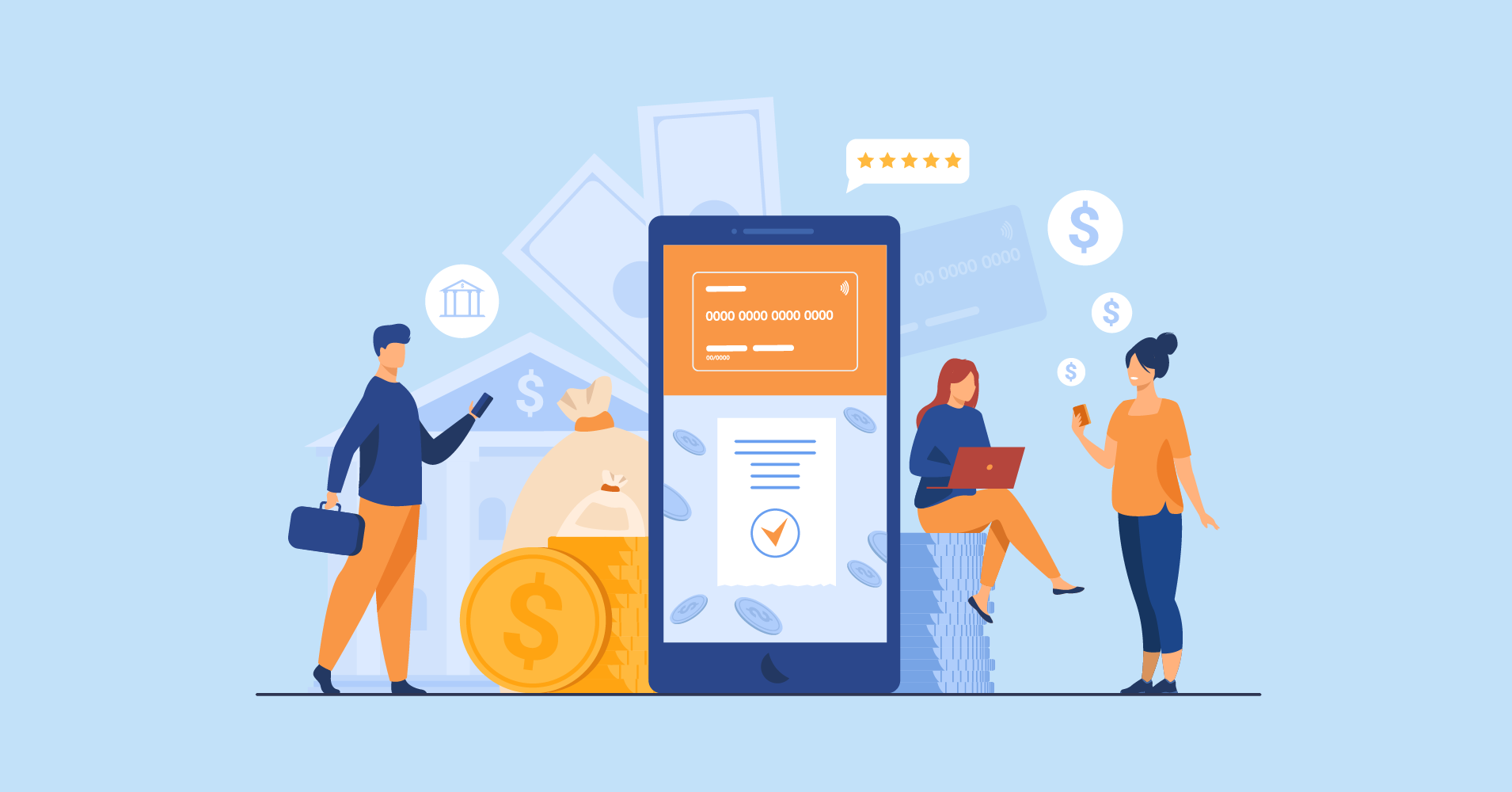 Earning revenue by selling products or services is the common goal of every business. So, nowadays, companies are following the modern trend. They are moving online, and the business models also vary from the traditional ones. But while handling businesses online, everyone has a common question: "how to collect money?". WordPress developers introduce WordPress payment plugins as a solution to that problem.
A robust payment plugin is essential for your WooCommerce store. But sometimes, selecting the best plugin among so many options is a hassle for users. Today, this article will discuss the eleven best WordPress payment plugins that can be considered for any online store. But before we jump into that, you should know why you need WordPress payment plugins. Because unless anyone knows the importance of it to their business, they won't use it.
Fluent Forms is the most beginner-friendly form builder. Download now and start crafting beautiful forms FREE!!!
What are the benefits of using WordPress payment plugins?
The best payment gateway helps any business to make the payment procedure smoother and run the cash flows efficiently. Let's see some core benefits of using WordPress payment plugins.
It makes an easy way of shopping for customers
Business owners can choose their favorite one from the various payment methods
Ensures the security of payments
Customers feel safe giving their details
Increase international transactions
Easy to maintain
Sometimes hold backups in case of system crashing
There are many more advantages to using a payment plugin for online stores. You will gradually see those as we give detailed information about the plugins later in this article. Before knowing about different kinds of plugin options, you need to know the features of a quality payment plugin.
What makes a payment plugin best?
Choosing the best WordPress payment plugin among the hundreds of options is always hard for users. If some provide an easy and smooth user interface, the others give the legitimacy of using multiple payment options. Keeping all these things in mind, we have sorted out some critical functionalities of WordPress payment plugins. Let's have a look at those.
User-friendly interface
Support multiple payments gateways
Create responsive forms
Mobile-friendly interface
Various custom fields
Low cost
Shortcode facility
Active sandbox mode
Provide high security for transactions
Support multiple languages, currencies, and countries
Accept any type of cards
Now, let's move on to our main topic, which is the detailed list of the best WordPress payment plugins.
Top 11 WordPress payment plugins
Selecting the eleven best payment plugins among the various options was tough for us. Still, keeping the above-mentioned features in mind, we came up with the eleven best WordPress payment plugins. Here is the list.
Fluent Forms
WPPay Form
Stripe Payments
Contact Form 7- PayPal & Stripe Add-on
PayPal Plus for WooCommerce
Mollie Payments For WooCommerce
WooCommerce Stripe Payment Gateway
WP Simple Pay
PayPal Donation
Authorize.Net Payment Gateway For WooCommerce
WooCommerce PayU EU Payment Gateway
Let's have a detailed discussion on each plugin.
Fluent Forms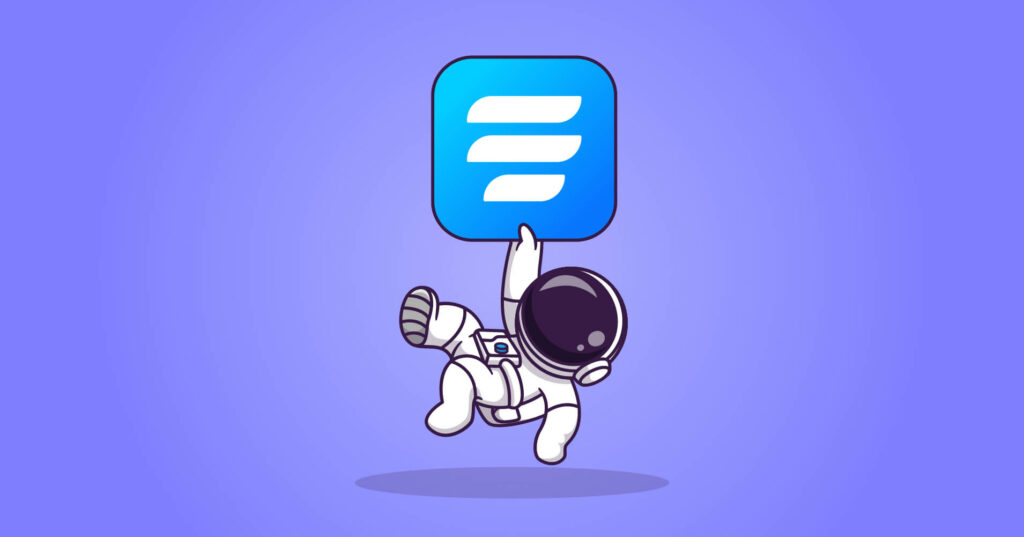 Fluent Forms is one of WordPress's most robust contact form builder plugins. Using this tool, you can create any form on your website. For example, contact forms, subscription forms, sign-in forms, registration forms, survey forms, survey forms, etc. Fluent Forms also works as a powerful payment plugin for WordPress websites. It collects payments from any WooCommerce stores and donations as well.
The remarkable fact about the tool is once you purchase it, you don't need to pay for any extra add-ons or integrations for your website. Its premium version comes with all the facilities of payment and marketing integrations required for a website. Some fantastic features of the plugin are:
Features
User-friendly interface
Drag and drop
Pre-built templates
Input fields
Email notification
Radio buttons
Checkboxes
Advanced calculation
Mobile-friendly
Translation
Stripe and PayPal integrated
Fluent Forms integrated with PayPal and Stripe to collect payments online. It supports more than twelve fields for payment processing. You can easily use your credit card with Fluent Forms to make your payment.
Moreover, Fluent Forms is connected with Zapier, Mailchimp, Active Campaign, Hubspot, ConstantContact, Trello, iContact, CampaignMonitor, etc. It is also a GDPR-friendly tool. So, you consider it the best choice among WordPress payment plugins.
Price
WP Fluent Forms asks for a minimal amount from its users. The premium version starts from $59-$799 yearly. You can check the details pricing about Fluent Forms.
Paymattic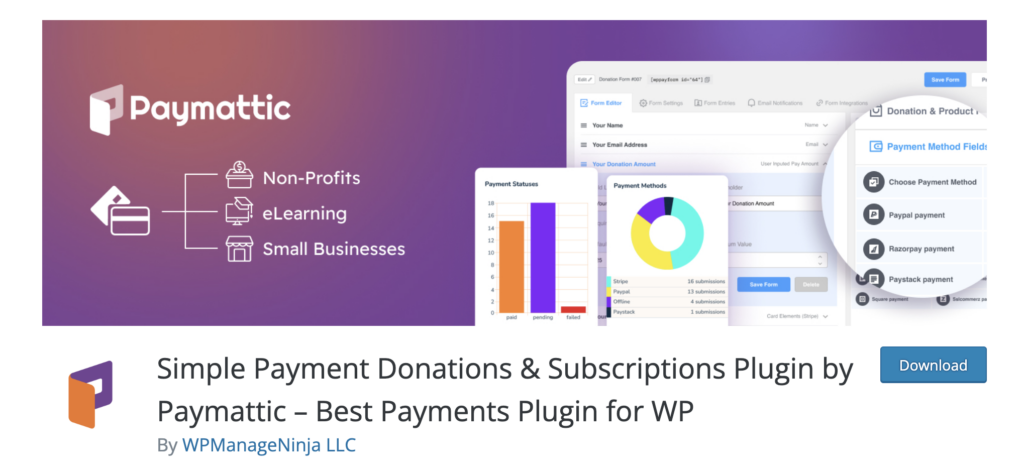 Paymattic is the most user-friendly payment gateway for WordPress. The tool is perfect for users who want to accept payments with user inputs. Designing single payment forms into multiple payment forms is much more comfortable with WPPay Form. Moreover, you can allow users to pay custom amounts if needed. Let's see some amazing features of the tool.
Features
22 input fields
Easy user interface
Offers multiple products in a single page
Provides 14 languages, 30+ countries, and 135+ currencies
PCI, DSS, and SCA support for security
Radio button
Custom HTML
Instant reporting
WPPay Form also accepts donations for websites. You will get the Stripe payment gateway in the free version. To get PayPal integration, you have to purchase the pro tool. Furthermore, WPPay Form has a dedicated landing page on its parent website. Let's have a look at the pricing policy of the WPPay Form.
Price
The plugin has two payment options. One is for an annual payment, and the other one is for a lifetime license. For the yearly amount, prices start from $59 to $199 for single sites to unlimited sites. In the lifetime license, you must buy the tool for between $199 and $699, starting from single to unlimited sites.
Stripe Payments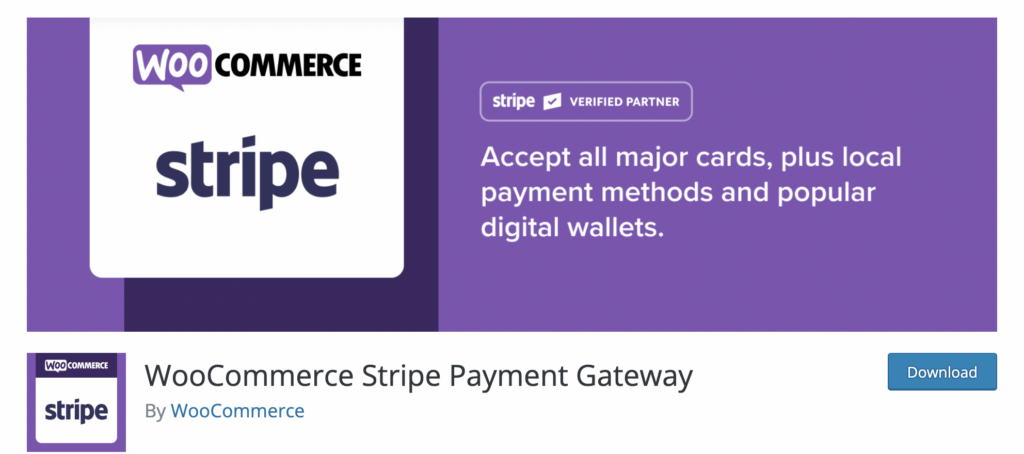 Stripe Payments is one of the wonderful WordPress payment plugins that comes with many powerful features for accepting payments on your website. It enables you to place a "Buy Now" button anywhere on your website for any products or services. The plugin also accepts donations alongside other payments. Let's have a look at the fantastic features of Stripe Payments.
Features
User-friendly interface
Configure notification emails
Custom "Thank you" page
Option for stock control
Enable Alipay account
Supports Strong Customer Authentication (SCA)
Shortcodes for buy now or pay now buttons
One of the best user experiences with Stripe payments is that it remembers the card details for quick payments in the future. Additionally, your customers will be redirected to the "Checkout Result" page after making the credit card payment. There they will see the details of their transactions. The tool records the transaction information in the orders menu. From the WordPress admin dashboard, you can view all the payments you have received from your clients.
Price
This tool has no paid option yet. But it maintains a long list of add-ons to manage the plugin. With Stripe Payments, you can make your credit card payments via the Stripe payment gateway on your WordPress website.
Contact Form 7- PayPal & Stripe Add-on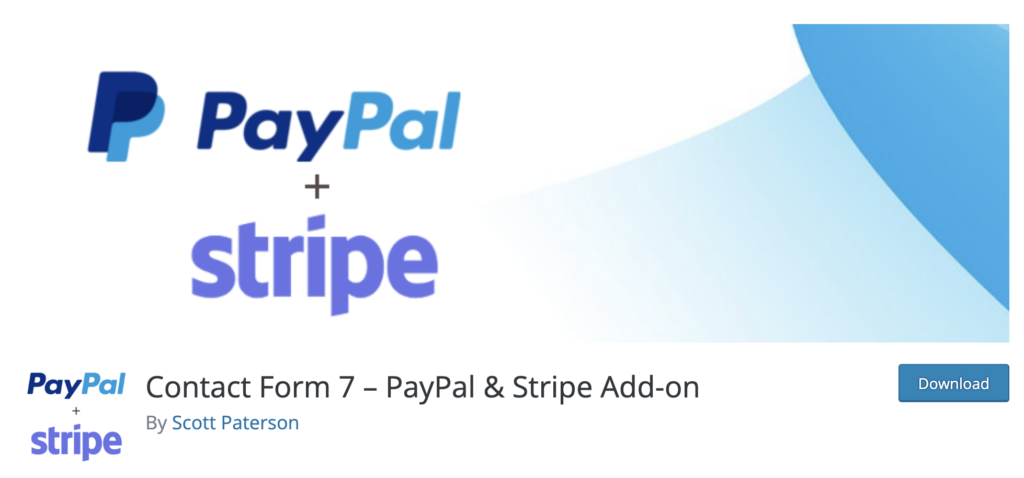 If you are a WordPress lover, chances are you already know about Contact Form 7. It's been widely used by people to make contact forms on their websites easily. As this engaging tool remains open-source, many plugins have been built upon this plugin. The PayPal & Stripe add-on is a spectacular addition to the list. The pro version of CF7 comes with more attractive features than the basic version. You can use multiple items, send emails once payment is made, ask for shipping charges, etc., all in the pro version. You can use the primary tool if your business is at the starting point.
Features
SKU/ID for each Form
Supports 18 languages
Built for 25 currencies
PayPal testing via Sandbox
Select cancel or successful payment URL
The plugin seamlessly integrates with PayPal & Stripe with Contact Form 7. Using the tool, each Form can have its own PayPal & Stripe settings. You can enable both Stripe & PayPal accounts at once or one at a time. This PayPal & Stripe add-on works for both the old and new Contact Form 7 interface.
Price
The yearly price for a single site is $59.95. If you want to get a lifetime license, purchase it at $139.95 for a single site. Additionally, a 30 days money-back option is also available on their official website.
PayPal Plus for WooCommerce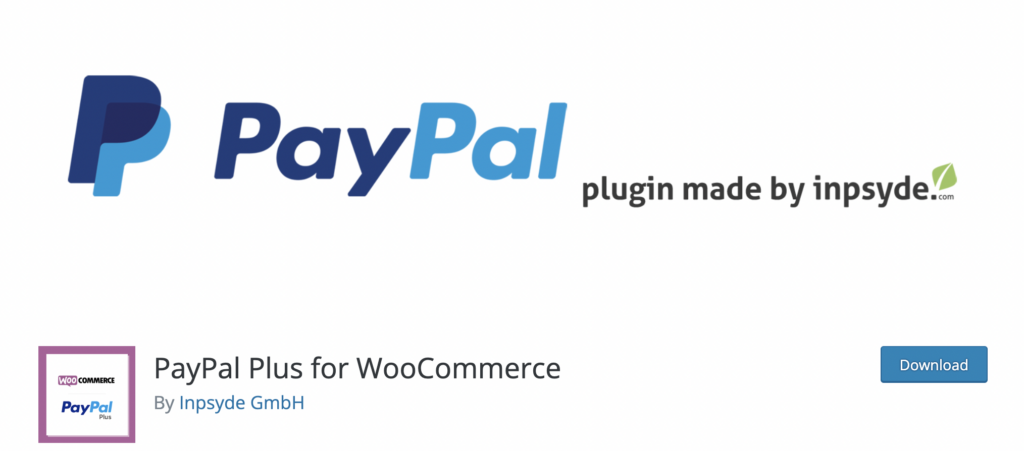 Before providing detailed information about PayPal plus for WooCommerce, we would like to mention to you that a German Company built this plugin for the German PayPal plus clients. Users who have their registered office in Germany can use the tool seamlessly. For international transactions, you have to choose from PayPal or credit card-paying options.
PayPal Plus is one of the free WordPress payment plugins yet a beneficial tool for your website. This plugin offers a bunch of payment services to its users. Such as PayPal, Direct debit, Credit card, and Pay upon invoice. Furthermore, it loads an inFrame on the checkout page, which PayPal supports. Let's have a look at the features of PayPal Plus for WooCommerce.
Features
Multiple payment methods
Easy integration
Strong security
User-friendly and responsive checkout
PCI consent
One more thing, PayPal Plus for WooCommerce only supports the German language. And there is not much information about the plugin that is included in WordPress.
Price
The tool is free of cost.
Mollie Payments for WooCommerce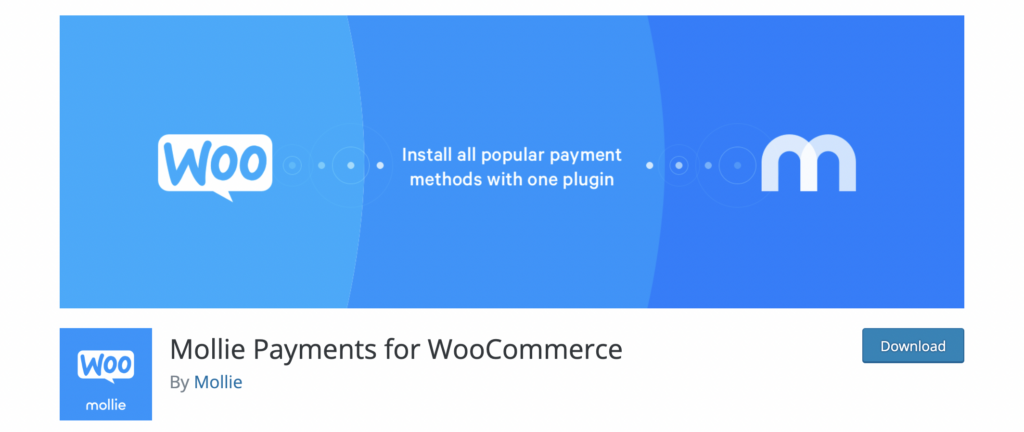 Mollie Payments for WooCommerce is one of the fantastic WordPress payment plugins in the WooCommerce business. This is a dedicated tool for making payments better for WooCommerce. It is made for both users and their customers to secure their payments. They support credit cards, debit cards, European and local payment methods, International payment methods, pay after delivery payment methods, etc.
Features
Compatible with WooCommerce subscriptions
Customize the order and description of every payment on checkout
Supports full and partial refunds
Editable payouts
Keep track of payments
Supports WPML
Furthermore, you can make multiple transactions by using the plugin. The pricing of Mollie's payments is very transparent. There are no startup, monthly, or gateway fees to apply to the alliance.
Price
Mollie Payments for WooCommerce asks for a minimum amount per transaction for individual payment methods.
WooCommerce Stripe Payment Gateway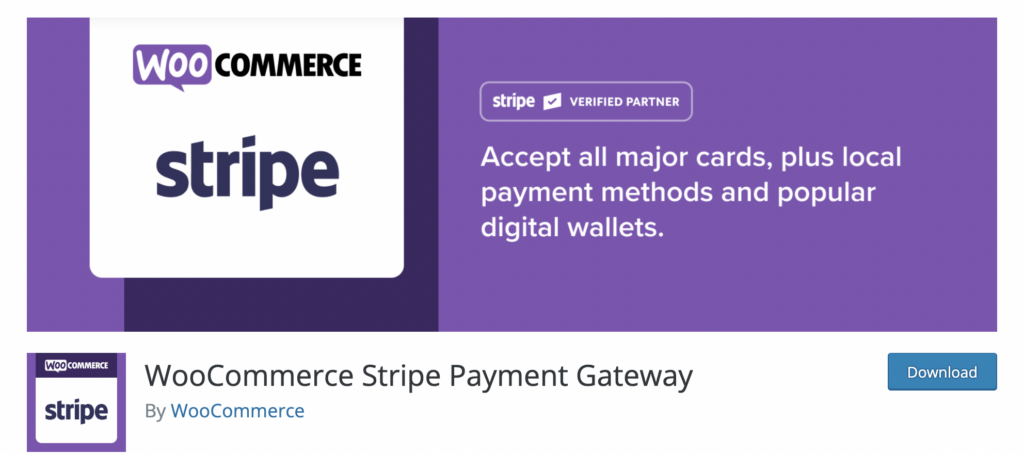 If you want to accept Credit Cards, Alipay & Apple Pay, the WooCommerce Stripe Payment Gateway tool is the best solution. You can directly collect card payments with this plugin. Novice users will love this tool because of its easy setup.
Features
Supports SCA (Strong Customer Authentication)
3D secure
Represents authorized payments
Partial and sometimes full refunds
Automated email receipt
Restricts payments
Moreover, in the paid version, you will find the refund facility, convert currency, and saving card options. You can read their documentation to understand the plugin more deeply.
Price
For a single site license, they will ask for $59 yearly. If you need up to 5 site licenses, pay them $89 annually. You must lose $189 from your wallet to get a yearly license for 25 sites.
WP Simple Pay

WP Simple Pay is an amazing  WordPress payment plugin available in the current market. It comes with an excellent solution to make the payment system more user-friendly. You can integrate the plugin smoothly into your website to collect payments. As it's not an add-on, no other plugins are required to connect it with your website. Let's see some features of the plugin.
Features
Supports 14 languages, 30+countries, and 135+ currencies
PCI, DSS compliant, and supports strong SCA
Translation
Drag and drop form fields
Unlimited custom fields
reCAPTCHA
In the free version of the tool, you can toggle between the test and live modes and customize the pages of payment failure and success. Coupon codes, subscription integration, Apple Pay, and Google Pay support are available in the paid version.
Price
WP Simple Pay is a brilliant tool that starts pricing from $99 for one site license per year. You can get the three-site license at $149 yearly. Professionals are given a package of $249 annually with unlimited site licenses. Make a one-time payment and get the Ultimate package at $499. Also, a no-risk money-back option within 30 days is available with the purchase.
PayPal Donation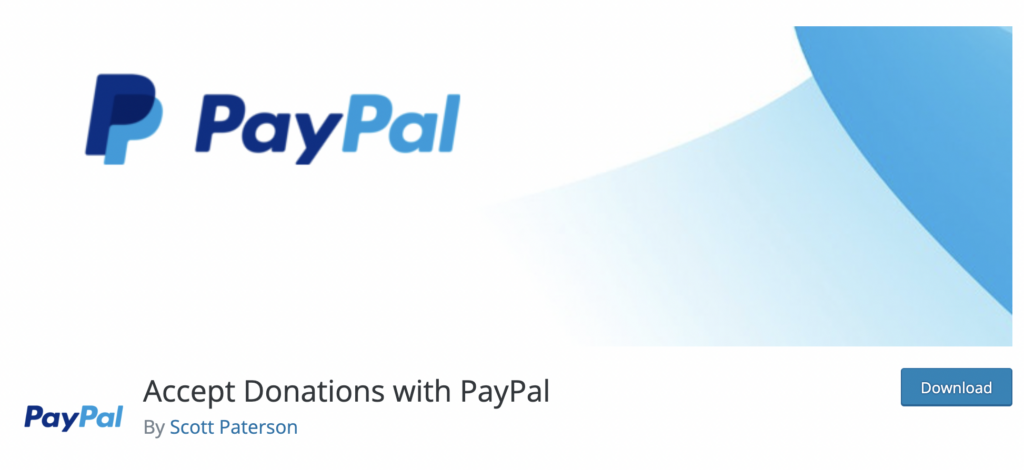 As the name implies, this plugin will help you gather PayPal donations on your website. You just need to put a PayPal donation button on our website. Users can use both Credit cards or PayPal to donate their amount. The tool's simplicity has made it unique among WordPress payment plugins. Just install PayPal donation, and get clear instructions on creating an account from the demo page.
Features
Insert page/post button
Widget of donations
It supports 18 languages and 25 currencies
Sandbox mode
Seven different donation buttons
Supports dropdown menu for specific amounts
Furthermore, PayPal Donation provides the facility to create a fake buyer and seller account to test the tool before selling it to the public. You can use the tool smoothly with any WordPress theme.
Price
WPPlugin made their add-ons based on Contact Form 7. The pro version of PayPal donation is available on its official website with a money-back guarantee. You can go to WPPlugin to check all the add-ons there. For a single site license of PayPal Donation, you need to pay $59.95 yearly. Pay $129.95 for the lifetime license of a single site.
Authorize.Net Payment Gateway for WooCommerce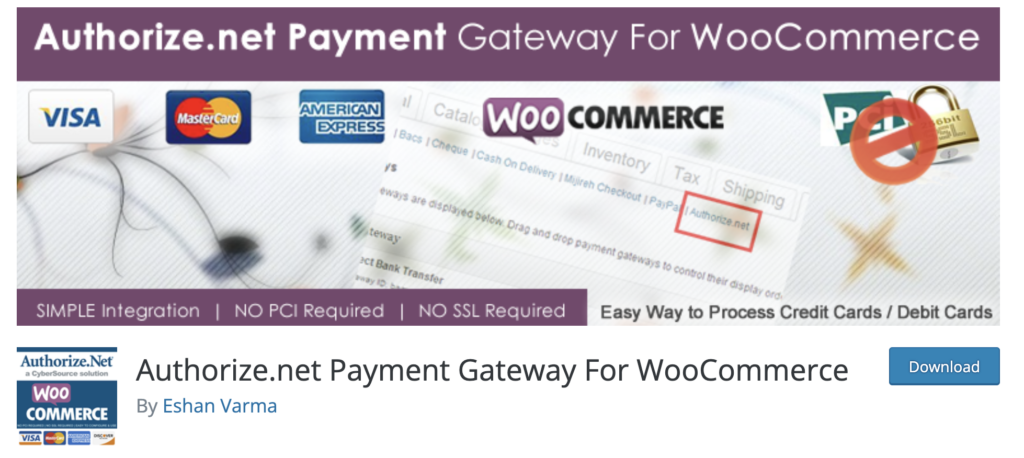 Authorize.Net is a widely used payment gateway for processing payments online. It accepts Visa, MasterCard, Discover, and many other different cards. You can use Authorize.Net Payment Gateway for WooCommerce to receive your payments safely. This is one of the more secure WordPress payment plugins for online stores.
Features
Smooth user interface
Can configure success and failure messages
Provides authorize.net SIM to process the safe payment
Additionally, it doesn't need any SSL or PCI configuration to make the payments. The plugin is hosted through the secured server of authorize.net. So there is no chance of erroneous payment.
Price
This extension costs $25. You can get that from Authorize. Net website. They don't charge any setup fee or monthly gateway.
WooCommerce PayU EU Payment Gateway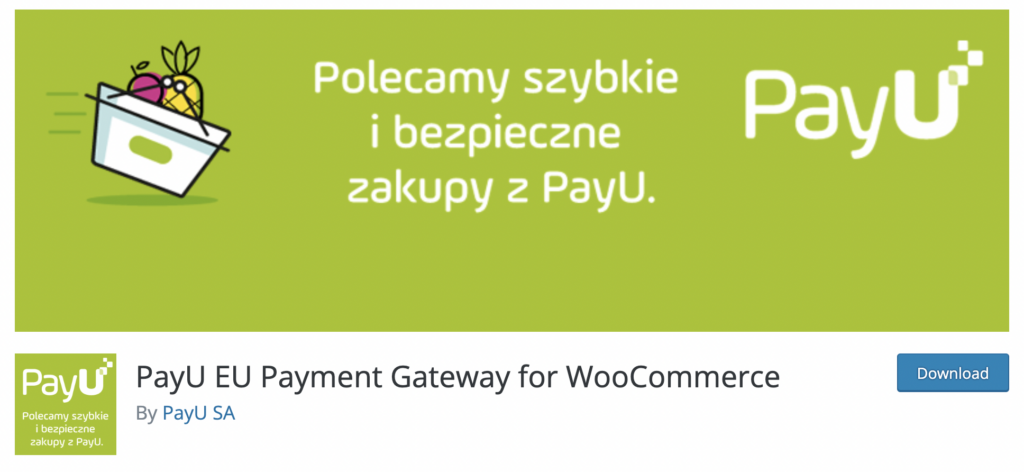 WooCommerce PayU EU Payment Gateway is one of the open-source software in the WordPress payment plugins list. Using this tool, you can set a single "Buy and Pay" button on your webpage for checkout. After clicking on the button, your customers will be redirected to a page. There they need to select the payment method, and after the successful payment, they will again be converted to your shop. Let's see the features of the tool.
Features
Supports card payments in different currencies
Better online transfers and installments
Czech online transfers
Updates order status regularly
Provides refunds
Price
The tool is almost free for everyone. They will only charge 2% of each transaction. No setup fee or maintenance charge is asked.
Select the WordPress payment plugins suitable for your need
All the WordPress payment plugins discussed above maintain a standard in case of quality. Yet, if you are struggling with choosing one, here is our suggestion.
If you want all the solutions for your website at a minimum cost, then select Fluent Forms.
In terms of low-cost pricing with a maximum amount of features, you can choose WPPay Form. It is one of the best payment plugins in the market nowadays.
If you want to optimize the button to process payments on your website, then Stripe Payments is the best.
Select Contact Form- 7 Stripe & PayPal Add-on for minimal cost.
Choose WP Simple Pay to make the payment process smoother.
For collecting donations, pick PayPal Donation.
Wrapping Up
A quality payment plugin gateway is crucial for every online business owner. All the tools discussed in this article are the best in quality. We hope this article helps you select the right plugin for your venture. If you have any queries regarding this article, let us know in the comment section below. We would love to discuss this with you. Besides, you can check out the article about collecting payments on the WordPress website.
---
Prema Anjum
Hello, This is Prema. I work as a digital marketer for Fluent Forms at WPManageNinja. When I am not playing with words, I go to explore nature.