11 Best WPForms Alternatives You Were Looking For
Prema Anjum
. January 4, 2021
. 20 minutes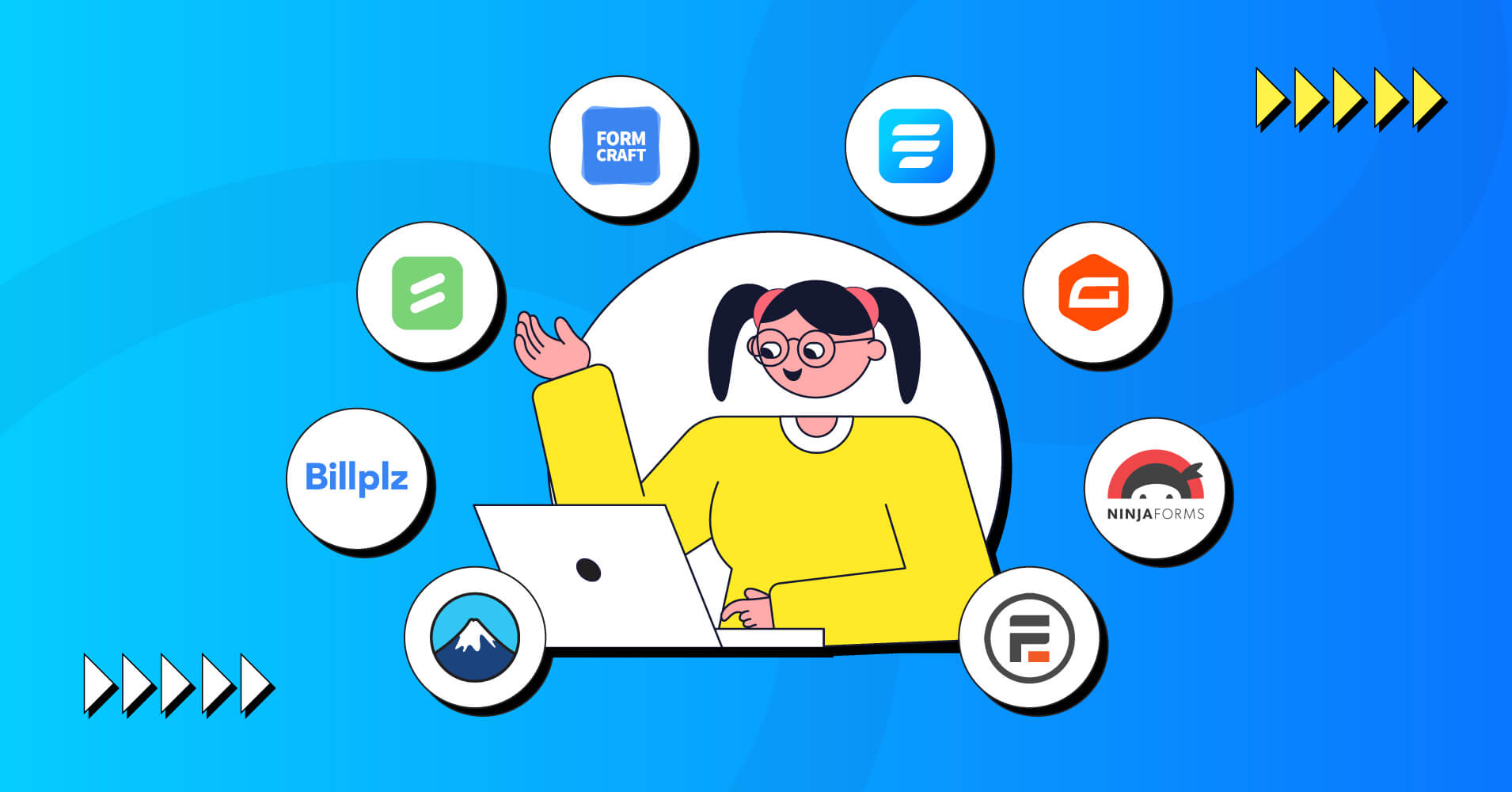 Nowadays, contact forms are an essential part of an online business. So, choosing the best plugin is necessary to take the business to the next level. But here is where the challenging part begins. From hundreds of options, how would you know which one is perfect for your website? If some plugins come with a user-friendly interface, then the others are only built for programmers.
A significant name among the list of plugins is WPForms. Though it provides some notable features, people often look for WPForms alternatives. Our aim with this article is to help you find the right form builder for your website. So, let's dive in.
Fluent Forms is the most beginner-friendly form builder. Download now and start crafting beautiful forms FREE!!!
What makes a good form builder?
Before we get into the central part, let's take a moment to find out what makes for a useful form-builder tool. When you search by "best form builders," you will get thousands of options with many varieties in features, quality, and prices, which can confuse you about selecting the right one for your needs. So, we choose some must-have and quality features of a form builder according to website requirements. Let's see what those are.
Easy to use: The plugin's interface must be smooth so that any novice user can deploy it quickly. Nowadays, almost every form builder plugin provides a drag-and-drop facility for form fields to make things easy.
Security: Protecting users' and users' data must be the top priority of every plugin builder. It must do so in case of sensitive data, such as payment or login details. To secure forms, you can arrange for reCAPTCHA, hCaptcha, anti-spam, Honeypot, Akismet, or many other robust services on your form builder.
GDPR-friendly: We all know about GDPR. Every form builder should provide the GDPR facility to their forms. As a result, its users can collect data with their customer's permission.
Pre-built templates: A perfect form tool comes with various form templates for user convenience.
Customization: A good form builder comes with all the options for customizing the pre-built form templates and form fields according to the user's requirements, such as global styler, CSS, etc.
Email notification: To see who has filled in your form instantly, you can look for a form builder providing the setup for multiple, customizable, and automatic email notifications.
Payment options: People look for an integrated tool with payment options, such as Stripe or PayPal. Otherwise, buying another tool for collecting payments or donations online is a big hassle.
Conditional logic: Conditional logic feature lets your form look professional and keeps your users engaged in your forms.
Support: People want a solution that offers personalized, helpful, friendly, and readily support.
Integrations: A form builder will become a smart and powerful plugin for any business if it comes with integrations like email marketing service, CRM, and many more options.
Minimal Price: Fix the price as minimum as possible so that users come to you for your fantastic product.
So, now you know the characteristics of a perfect online form builder. Now, let's see why people are great fans of WPForms.
Why do people love WPForms?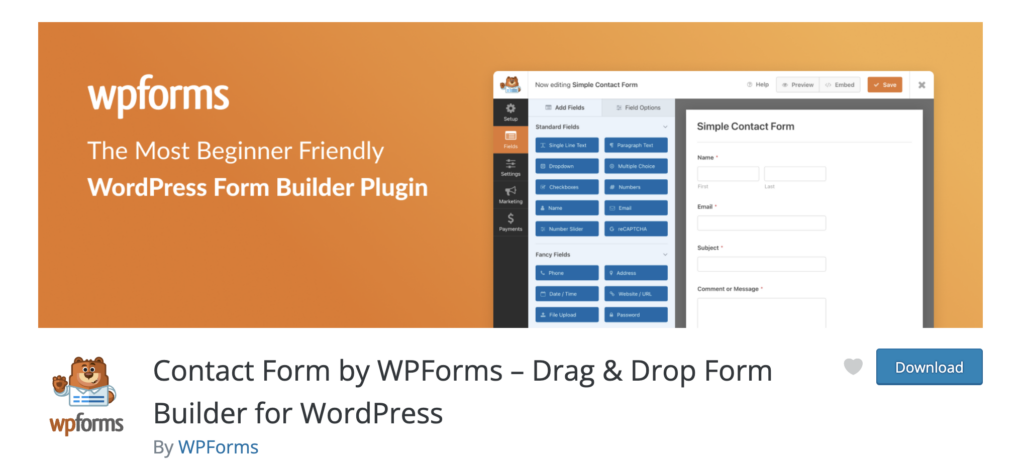 WPForms is one of the fastest tools in the WordPress community. The plugin is packed with significant features and dynamic tools that let you create online forms easily. It is a drag and drops form builder in WordPress, which allows for designing various forms like beautiful contact forms, feedback forms, subscription forms, payment forms, and many others in minutes. It's pre-built templates and user-friendly interface made it the best plugin in the market. WPForms is also developed for web and server performance to boost the performance of SEO, marketing, and conversion. Some notable features of the plugin are:
100% mobile responsive
Drag and drop form builder
Pre-built templates
Spam Protection
Form notification
Form submission confirmation
File uploads
Conditional logic
Moreover, people love WPForms for the available functionalities. Using this form builder, you can also create multi-page forms for your website. Easily split the long forms into multiple pages and enhance your user experience. Besides, you can gather customer feedback with its survey and polls option, which removes the hassle of paying third parties.
Additionally, WPForms is integrated with Constant Contact, Aweber, MailChimp, GetResponse, Campaign Monitor, ActiveCampaign, and Drip for mailing services. You can also get the payment integrations, such as PayPal, Stripe, and Authorize.Net, to collect payments, donations, etc.
One fantastic fact about WPForms is that you can make conversational forms using this tool. These types of forms are exclusively designed for WordPress. They boost the completion rates and the overall conversion of forms. This method shows only one question to approach instead of displaying all the questions at once.
Furthermore, WPForms is rich in other functionalities like creating a digital signature, submitting guest posts, designing user registration forms, etc. So, it is clear why people love WPForms. But for some reason, individuals are now looking for alternatives to it. Let's find out what the causes are.
Why are people looking for WPForms alternatives?
People have loved WPForms for years. Its smooth and fast interface made some real buyers of it in the market. It was the swift one compared to the other plugins in its time. But in recent years, there have been many other better plugins on the market. Conversely, WPForms lacks many features and binds its users to the existing functionalities too.
They have organized their tool so that the main service is locked in the paid version if one function is available in a feature to the free version. As a result, clients are bound to buy the pro version. Many other reasons for looking for WPForms alternatives are given below.
The trial version of WPForms is not available for testing purposes.
WPForms doesn't allow entry management in the free version of the tool. You need to buy the pro version to manage the entries.
The tool is not entirely AJAX-based.
Advanced options like CAPTCHA, Signature, Likert Scale, and payment options are not accessible in the first two plans.
Password protection, user registration, guest post, conversational forms, and advanced templates are only feasible for the last two plans.
So, these are the reasons people impulsively look for WPForms alternatives. So, let's see what the best replacements for WPForms are.
Best WPForms alternatives
Choosing a limited number of WPForms alternatives among the hundreds of options was difficult. Yet, we came up with some of the most effective tools in the market that can be a perfect solution for you if you are searching for a replacement for WPForms.
So, keep going to know the details about the plugins.
Fluent Forms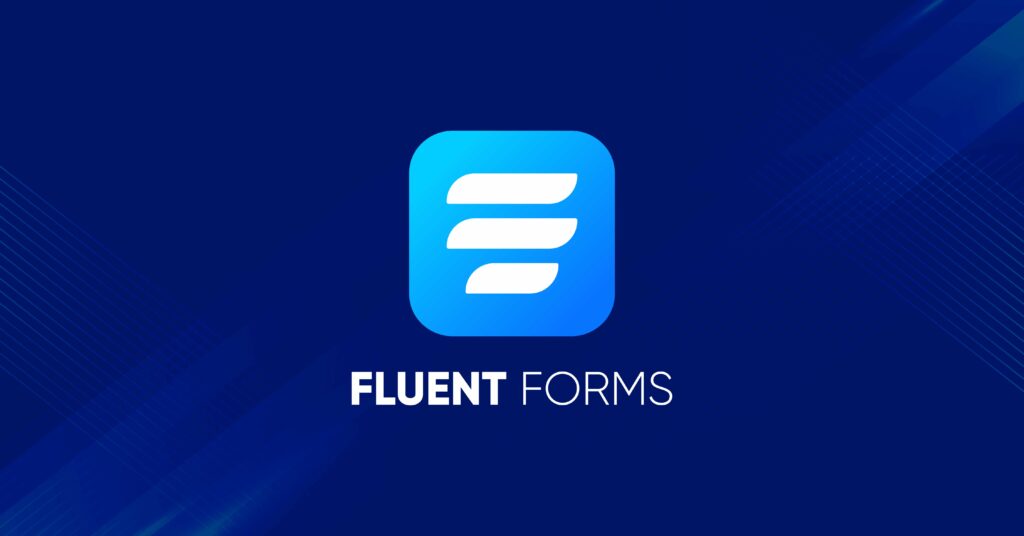 Fluent Forms is one of the market's fastest and most lightweight tools that is loved by 300,000K+ users. It has a very smooth interface that anyone can use to create a form quickly. Designing any form, such as registration, payment, customer feedback, signup, contact form, online order forms, etc., with Fluent Forms is very easy. Let's look at the fantastic features of the plugin that made it a perfect WPForms alternative.
Features
70+ pre-built templates
45+ input fields
Drag and drop
Sleek interface
Advanced post creation
Email notification
PDF entry
AJAX-based
Mailchimp integrated
Conditional logic
User Registration
Data export
GDPR Compliance
File upload
Multi-column layout
Integrated with Stripe and PayPal
reCAPTCHA, hCaptcha, Akismet, Honeypot
Radio button
Furthermore, Fluent Forms is integrated with 40+ third parties. Some of them are Moosend, Zapier, Slack, Campaign Monitor, Webhooks, SendFox, Discord, Salesflare, etc. With the fantastic team management software named "Trello", you can arrange your tasks properly. Real-time notification of each submission will be sent to you if you use its "Slack" integration.
Moreover, designing beautiful forms is very easy with the Global Styler function of Fluent Forms. It also permits you to create CSS forms smoothly. You can add the digital signature option on your form with the signature module of the plugin. Besides, Fluent Forms treats all its users equally. They don't prioritize their customers differently.
Besides, when you start using Fluent Forms' advanced features, you will get some fruitful and dynamic benefits. There are hundreds of exciting options, from user registration to advanced post creation, to achieve success in the form-building phase. PDF generation and payment integrations are only a few things of the plugin's innovative features.
Now, you must be thinking that the price of Fluent Forms may be in a very high range as it gives all the solutions of a website as a package. But do not worry at all! Keeping users' convenience in mind, Fluent Forms asks for a minimal amount from its users. So, let's have a look at that.
Price
The plugin is already feature-rich in its free version. But if you are looking for advanced functions for your contact form, buy the pro version. Here is the list of the pro packages.
| | | |
| --- | --- | --- |
| Licenses | Price (Annual) | Price (Lifetime) |
| Single site | $59 | $249 |
| Five sites | $129 | $449 |
| Unlimited sites | $199 | $799 |
Though Fluent Forms is still developing, it updates its features every two or three months. So, the tool can be the perfect one from the list of WPForms alternatives.
Gravity Forms
Worldwide, people love Gravity Forms for its various form-making and design features. The plugin is very user-friendly and easy to use. It also comes with highly custom functions. The drag-and-drop facility of the tool will let you make multi-page forms fluently. Some basic features of the plugin are given below.
Features
File uploads
Store data
Conditional logic
Translator
Email notification
Additionally, the tool provides a ticketing system, data transportation facility, restricting forms, email responders, and many more advanced facilities. Among other things, the file upload option in a multi-page form made Gravity Forms popular. The tool is also Zapier integrated.
Also, Gravity Forms brings an excellent form editor that any beginner can use. But the documentation of Gravity Forms is not in detail. So, sometimes users face difficulties in finding solutions for complicated fields.
However, Gravity Forms is a costly plugin, inadequate for many users as it doesn't grant any free version.
Price
| | |
| --- | --- |
| Bundles | Price (Yearly) |
| Basic | $59 |
| Pro | $159 |
| Elite | $259 |
Ninja Forms
Ninja Forms is one of the more convenient tools in WordPress. You will find it worthy of being on the list of WPForms alternatives. Creating different contact forms with this tool is easy and smooth. The interface of Ninja Forms is straightforward and compatible with feature drag and drop fields, multi-page forms, row and column layouts, etc. Let's see some main features of the plugin.
Features
27+ input fields
40+ add ons
More than 16 languages
Spam protection
File upload
Multi-step forms
GDPR Compliance
Smart design
Unlimited form submission
Additionally, the file upload option of Ninja Forms supports PDF, Google Sheets, Excel Files, etc. You can collect payments comfortably with its Stripe, PayPal, Elavon, and Reculry options. You will also get some pre-built templates, hooks, and built-in filters with the tool-maker function. More so, the form fields are very flexible to use, and they can also be saved to use later.
Furthermore, the drag-and-drop feature of the form builder lets you add fields evenly. Any novice user can design any kind of contact form with this plugin. Moreover, Ninja Forms comes with a fantastic option named custom input mask. You can try this for configuring data and adding required fields. So, Ninja Forms is also a good WPForms alternative.
Nevertheless, Ninja Forms doesn't give the conditional logic option by default. But you can try different add-ons to add necessary fields. It seems an affordable tool. But for many essential features, you must purchase the add-ons every time. So, you will be holding a massive bill in your hand at the end of the year. Surprisingly, they also sell their add-ons.
Price
| | |
| --- | --- |
| Add-ons | Price range |
| 40+ | $29-$129 |
| Committed bundles | $99-$499 |
So, it seems that Ninja Forms is quite an expensive tool.
Formidable Forms
If you are looking for a smart alternative to WPForms, then give Formidable Forms a try. It is one of the speedy form builders in WordPress. Using the plugin, you can make any simple or complex forms easily. Besides, Formidable Forms is a perfect choice if you want to design your form in a more useful way. Making polls, lead generation forms, survey forms, and many other complicated forms is a cup of tea for Formidable Forms.
Features
Import and export
Email notification
Drag and drop
reCAPTCHA
15+ third-party integrations
Radio section
GDPR Compliance
You can also show your collected data with graphs with Formidable Forms. The plugin is rich in input fields like the dropdown field, HTML block, URL, etc. Moreover, you can export your data into a CSV file with the tool. So, Formidable Forms also can be added to the list of WPForms alternatives.
Yet, the free version of the plugin comes with only seven input fields. But when you buy the pro version, you will get 27 more input fields. Besides, you can merge the extra add-ons to expand the plugin's functionality. Now, let's look at the form builder's pricing section.
Price
Formidable Forms comes in three packages: Basic, Business, and Ultimate. The price for the bundles are:
| | | |
| --- | --- | --- |
| Packages | Price (Annually) | Available features |
| Basic | $49 | Unlimited forms |
| Plus | $99 | Rich in flexible applications |
| Business | $199 | Rich in integrations |
| Elite | $299 | Elite support and features |
Formidable Forms is elementary to manage form builders. But it might be a bit difficult for beginners to use its interface in the first place. So, at first, they need to learn how to use it. Sometimes users have to acquire knowledge about HTML and CSS to use the plugin.
Contact Form 7
Contact Form 7 was one of the modern form builders. It is also one of the first plugins on the market. Even if you are new to the form-building business, you must have heard about Contact Form 7. The plugin is free to use. Although it is improving slowly, a form builder list will be incomplete without Contact Form 7. You will also get the add-ons facility in the tool. So, you will find a dedicated add-on for whenever you need those.
Features
Different types of contact forms
Personalized forms and emails
AJAX-based
reCAPTCHA
Akismet
Constant Contact
Though you can create much-needed contact forms with the form builder, there are many notable drawbacks. For example, there are not many input fields in the tool. In the case of advanced input fields, you have to use additional add-ons every time. Besides, you need to use the external add-ons for tracing the submissions. Contact Form 7 doesn't have a conditional logic option, giving only one integration.
Though Contact Form 7 was well known in its time. But nowadays, it is losing its base because of its limited performance. Many form builders in WordPress give more features than Contact Form 7. The tool somehow discontinued its updates after a while. Therefore, people consider it a shortfall plugin.
Price
Contact Form 7 is a free form builder. But it comes with some extra add-ons. You could purchase from those if you needed.
123 Form Builder
123 Form Builder is a fantastic tool for creating contact forms, quizzes, or polls for your WordPress website. The tool is very developer-friendly as it permits to design of professional forms using codes. You can get live reports of your forms with this tool. Here are some core features of 123 Form Builder.
Features
Real-time WYSIWYG editor
File upload
Conditional logic
Smart CAPTCHA and reCAPTCHA
Advance calculation
Custom CSS
Mobile-responsive
Furthermore, you will get efficient storage management for the form submissions and file uploads in 123 Form Builder. You can also customize the thank you page for each form submission. The tool integrates JavaScript, PayPal, Stripe, Authorize, iDEAL, etc. Besides, some third-party apps are also available here, such as SalesForce, MailChimp, Google Drive, WebHooks, Zendesk, etc.
More so, you can manage the custom post submission with this plugin. You can set automatic grading, partial answers, and a countdown timer for quizzes. So, 123 Form Builder is a worthy addition to the list of WPForms alternatives.
Price
123 Form Builder comes with three plans. Let's have a look at those.
| | |
| --- | --- |
| Plans | Price(Monthly) |
| Basic | Free |
| Gold | $24 |
| Platinum | $44 |
Caldera Forms
There is no way to talk about WordPress plugins and not bring up Caldera Forms. It was one of the first form builders in WordPress. Many plugins of recent days have taken the idea from this tool. So, people liked the tool from the beginning. The amazing thing about Caldera Forms is that it was available in WordPress for free. The tool was very user-friendly and popular among developers and designers. Let's see some features of the plugin.
Inbuilt interface
Drag and drop
Conditional logic
Unlimited form fields and submissions
Auto-responder
Anti-spam
Front-end post submission
Caldera Forms also let you export your form entries into a CSV file. Moreover, the plugin has a dropdown button, radio button, and file upload option. You could use the free CDN provided by Caldera Forms to improve the site speed. By default, the tool was very responsive and easily accessible.
Throughout the journey, people loved it for many years for its simple nature. But as time passed, many more updated form builders were introduced to the market. So, Caldera Forms got left behind. And it has to leave the industry.
Price
The tool was entirely free.
Visual Form Builder
Visual Form Builder is one of the most powerful form builders in WordPress. You can create and control all kinds of forms with this plugin. The tool is also very smooth to use. It becomes a more extendable tool when you will add some extra add-ons to it. Let's have a look at the main functions of Visual Form Builder.
Features
Drag and drop
File upload
HTML code
File export
Spam protection
Multi-page option
You can also design the confirmation message for each submission. Besides, the advanced filtering option is also included in the form entries, and you can even make your form follow GDPR compliance with this plugin. More so, you can use the shortcodes to create any post.
Notably, the drag-and-drop feature of the tool is very smooth to use. So, the Visual Form Builder plugin is also added to the list of WPForms alternatives.
Price
| | |
| --- | --- |
| Licenses | Price |
| Single site | $29 |
| Single site with extra add-ons | $69 |
| Unlimited site license | $199 |
Form Craft
Form Craft is a fantastic form builder to create and embed forms. It is one of the fastest form builders in WordPress and very easy to use. Building any type of form with this form builder doesn't matter if it is complicated or straightforward. Form Craft provides its users with extensive customization facilities. Some fantastic features of the tool are:
Features
Drag and drop
Custom HTML
Email notification
Export/import from templates
Translation
Export CSV
Furthermore, in the plugin's premium version, you will get the math logic option for making order forms. In the paid tool, you can also create quizzes, pop-up forms, fly-in forms, and sticky-button forms. Moreover, all the integrations like Mailchimp, Campaign Monitor, Aweber, and Stripe are in the premium category. So, Form Craft can also go to the list of WPForms alternatives.
Though Form Craft is a great tool, all of its essential functions are locked in the paid version. And it also seems to be quite expensive tool for users. Let's see the pricing.
Price
Form Craft comes in four different packages.
| | |
| --- | --- |
| Bundles | Price (Monthly) |
| Startup | $15 |
| Growth | $30 |
| Business | $75 |
| Enterprise | $195 |
Form Maker by 10Web
Form Maker by 10Web is one of the compelling plugins in WordPress. It is a highly customizable tool. So, creating simple to complex forms is very easy with this form builder. You can also add various themes, dimensions, colors, and fonts to your form. Some amazing features of the tool are:
Features
10+ input fields
7 types of fields
Pre-built templates
HTML editor
IP block
Multi-step forms
API
PayPal integration
Add ons
Furthermore, you can use Form Maker by 10Web as top bars, pop-ups, or scroll packs. You can also track your form submissions and send automatic replies to them. Not only that, but you can also confirm the data security and find out the blocking IPs as well. The UI of the form can fit your web design easily as it supports fully customizable themes. So, Form Maker by 10Web is also considered one of the alternatives to WPForms.
Being a great WordPress plugin, Form Maker by 10Web also brings some limitations to its users. Some primary features like export/import, Conditional Mails, Calculator, etc. are added as integrations to the plugin. So, if you want to use these functionalities, you will have to buy the bundles that give some extra hassle to users.
Price
Form Maker by 10Web comes with three different types of bundles. Let's see their name and pricing below.
| | |
| --- | --- |
| Bundles | Price (Half-yearly) |
| Basic | $45 |
| Standard | $70 |
| Advanced | $90 |
weForms
Though weForms is new to the market, it has earned popularity among people because of its fast and simple prospect. Users like this plugin because it provides the maximum number of features in its free version. So, you can use the free version of the tool contentedly. Besides, its vast number of customizable form templates made it worthy of being on the list of WPForms alternatives.
Features
Drag and drop
Email notification
reCAPTCHA
Export and import
Multi-column layout
SMS notification
Entry restriction
Email synchronization
weForms comes with an interface that is very easy to manage. Consequently, it is becoming popular daily because of its fantastic features. Its custom URL function lets users arrange the form URLs in a fun way. Scheduling form entries is also straightforward with weForms. So, weForms proved itself to be on the list of WPforms alternatives.
Price
weForms comes in four different packages. The bundles' names and prices are given below.
| | |
| --- | --- |
| Bundles | Price (Yearly) |
| Personal | $39 |
| Professional | $79 |
| Business | $149 |
| Developer | $399 |
Among the packages, the business one is more popular.
Now, as we have discussed 12 different and best WPForms alternatives from WordPress, you are still confused about which one to choose. So, let's see which one is best for what purpose.
Go for the best form builder
We have tried to list the best WPForms alternatives. Yet, to make it easier for you, we came up with the shortest comparison of the best plugins mentioned above.
Fluent Forms: If you use this plugin, you will get unique features at an affordable price. Its free version is also giving maximum features for users' convenience. And it is a complete solution for websites.
Formidable Forms: If you want the fastest solution for your WordPress website, choose Formidable Forms.
Ninja Forms: If you are interested in paying for a plugin to get the highest features, select Ninja Forms.
Visual Form Builder: To get some advanced and powerful features, use Visual Form Builder.
Every form builder is performing in a unique way. So, you should choose wisely from the above-mentioned WPForms alternatives.
Bottom line
Well, it is kind of an impossible matter to select one from the hundreds of better options of form builders in WordPress. So we tried to come up with some choices. But, plugins are not only a way to communicate with users. They also maintain the quality of your website. So, always select them properly. We hope you found the worthy one from the options mentioned earlier for your website as a WPForms alternative.
If you are new to the market, we would like to suggest you go for the free tool Fluent Forms.
---
Prema Anjum
Hello, This is Prema. I work as a digital marketer for Fluent Forms at WPManageNinja. When I am not playing with words, I go to explore nature.