BetterDocs WordPress Knowledge Base Plugin. Is it the Best?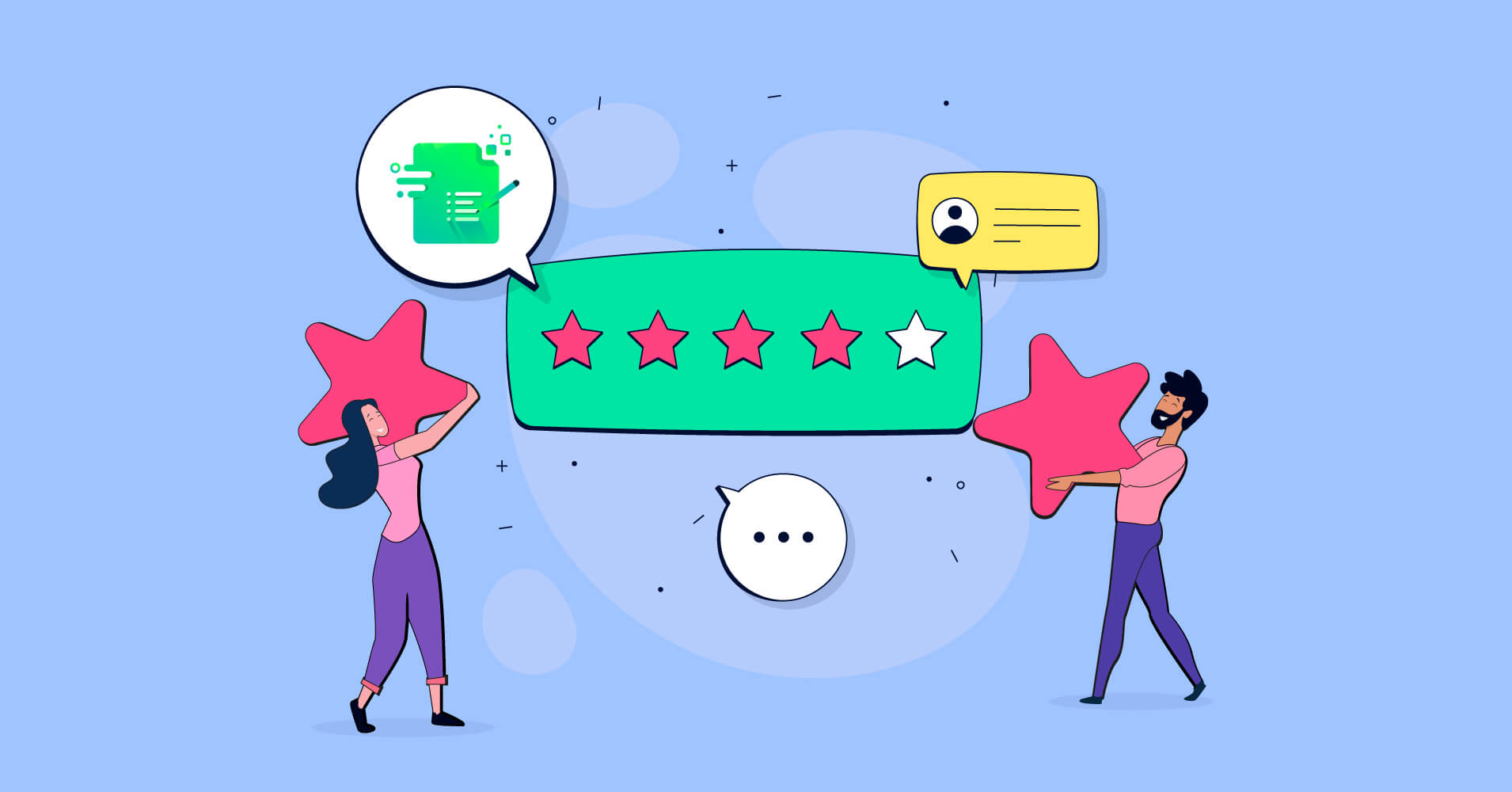 The knowledge base is integral to any product in WordPress or SAAS. No matter whether the product is easy to understand or complicated for beginners.
Even experts can feel overwhelmed sometime while using your products since there's no one-solution-for-all. Every product is built with its own style.
Besides, the richer your knowledge base is, the better your customer care. Thre's no right time to start creating the documentation. You should be starting from ground zero, so customers will understand that you care for them along with your product.
70% customers use self-servicing channels to resolve their issues. So yeah, you should be working on your knowledge base.
In this article, I'll talk about the BetterDocs WordPress knowledge base plugin. What it offers and why you have to choose this one.
Hold tight!
Fluent Forms is the most beginner-friendly form builder. Download now and start crafting beautiful forms FREE!!!
Why a knowledgebase solution?
If you want to bring your product to a world-class level, there's no alternative to creating a high-end knowledge base. 61% customers switched brands because of poor customer support.
Every user needs help. Maybe they're experts in their own sphere, but when using your product, they surely need help.
You know what people love more than a sophisticated product? After-sales support.
Customers hate it when you forget them after they make a purchase. You promote. They buy. And you continue caring.
That's the cycle that keeps you on the winning side, always.
You're looking for more customer engagement. I mean, who isn't?
When customers do their initial research, they must check out what you offer for them to go in the long run.
So a well-organized knowledge base helps you stay on the frontline. Not only that, customers will come back again and again whenever they feel stuck.
Besides customer engagement, your perfectly created docs ensure fewer support tickets. One company decreased support calls by 5% only by improving their help section.
If customers get the answers they're looking through the documentation; they tend not to go for a support ticket.
In a nutshell, you need knowledgebase for:
Now that I've told you the importance of a knowledge base let's discuss BetterDocs.
BetterDocs WordPress knowledge base plugin
BetterDocs is a WordPress knowledgebase plugin with all the functionalities you need to create a fantastic docs segmentation for your products.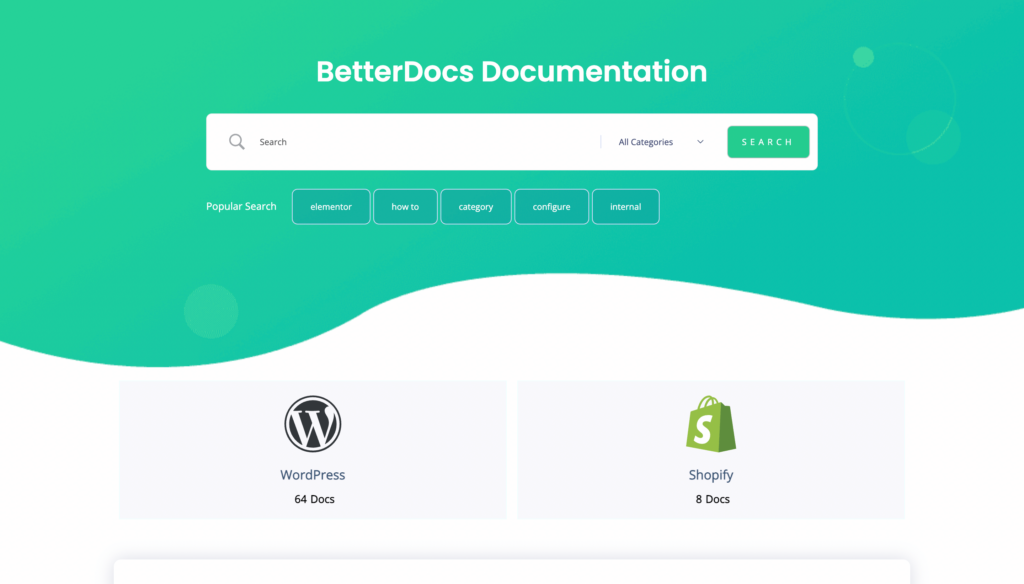 We've been using BetterDocs for our products for years. That's why we know how easy it is to create the right documentation without facing technical difficulties.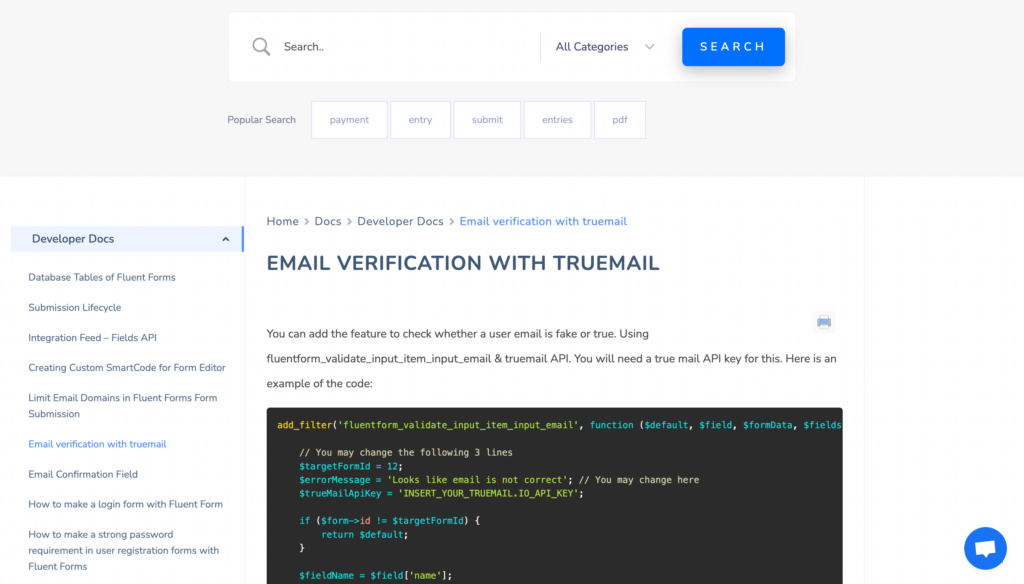 You don't need to be a designer! (There are ready templates)
Creating documentation for your products and services is work for developers. That's what you think, right?
Well, you can create your own docs without being a coding wizard. BetterDocs has tons of ready templates. Choose the right one and start publishing your docs.
Customizing options will let you feel amazed
The customizing options of BetterDocs will make your journey easier and smoother when you're on your way to developing the knowledge base.
The index or table of content is where you organize all the doc titles in a table. You can make the table scrollable as well as responsive.
Moving forward, you can work with the layout and color style to give your knowledgebase a distinct look matching your brand.
Keep instant answers ready to satisfy customer's queries
Think about helping your users with instant answers. Doesn't it seem like talking face to face?
But it's not. BetterDocs has an instant answers chatbot that does the exact thing I've just told.
Customers will hold them from creating a new ticket when they get their answers instantly.
Analyze performance and make your knowledgebase better again
It's a good idea to understand how your knowledge base performs in terms of various metrics. Then, you can decide on what type of doc you need to create and which articles to improve.
With the analytics provided by BetterDocs, you can find traffic, views, and CTR. Further, there are filtering options to make your search more appropriate.
Once you got the right point of view, you can create and polish your knowledge base to exactly what your users want.
Advanced Live Search Bar. Is it helpful? YES
A live search bar is a feature that makes your users' lives easier by suggesting the right doc.
The idea is they will search for something, and the results will start appearing while they're typing their queries.
On the Customizer panel, you'll see an option as Live Search. Go there and optimize the settings according to your needs.
Instead of scrambling through tons of docs, users can search on the bar. And they will get immediate suggestions based on their query.
Make your docs more appealing with the Elementor page builder
Essential Addons is a popular addon made by the same company that built BetterDocs. So you can guess, they made BetterDocs compatible with Elementor page builder.
There are options to enjoy freedom while designing your knowledge base inside Elementor.
Ready Elementor Widgets for BetterDocs is the first step where you can begin your doc styling journey. But it's not limited there.
You can design doc categories and archive pages using Elementor. Furthermore, managing multiple docs is a breeze.
Free vs. Pro: which version of BetterDocs do you need?
It's a good thing that BetterDocs offers a free version. You can use the free version in the following situations:
You don't need too many features since you're starting out, or your knowledge base requires a little effort
Before purchasing a license, you want a sneak peek of the product and check the ins out
The free version of BetterDocs lets you create docs and customize them. You can also enjoy other features such as archive pages, live search, sidebar, and table of contents.
Moreover, you can use the two templates to display your docs. There are a total of six templates, and four of them are restricted to the pro version.
Similarly, six templates are available for single docs; you can use three for free.
You'll get six layouts for the category archive to organize your docs. Three of them are free, and three can be accessed with the pro version.
BetterDocs pros and cons: the bright side and the dark side
Every product has its good sides and bottlenecks. Let's have a look at how BetterDocs stands on these metrics.
Pros:
Multiple templates to try out
Offers a free version
Floating table of content
Integrated with Elementor
No coding knowledge is required
Internal documentation
Live search bar chatbot
Create multiple documentations
Analytics to understand performance
Easy to customize
Access controls based on user roles
Cons:
The free version has limited functionalities
Limited integrations
BetterDocs pricing: how does it go with your money?
BetterDocs comes with three pricing plans. If you choose the single license, it will cost you $69, and you can use it on one website and receive one-year support plus updates. With $149, you can use it on unlimited websites, but the support and update will be limited to one year. If you want unlimited sites, support, and updates, you must buy an agency license for $299.
How to create a doc with BetterDocs
Let's try out the plugin to create your knowledge base. I'll show you the step by step process although it's self-explaining and easy for beginners.
Go to Plugins > Add New and search for BetterDocs on the search bar.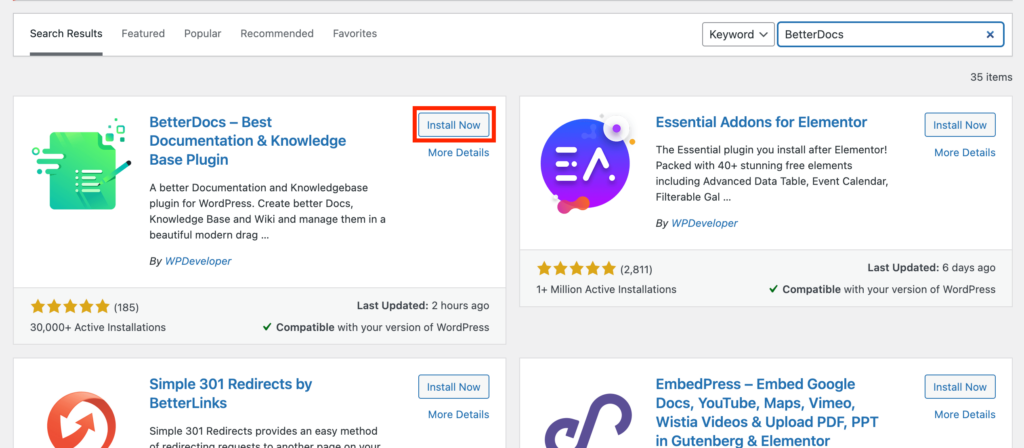 Now, install the plugin and activate it. After activation, you'll be taken to the setup wizard. Click the Next button to move forward.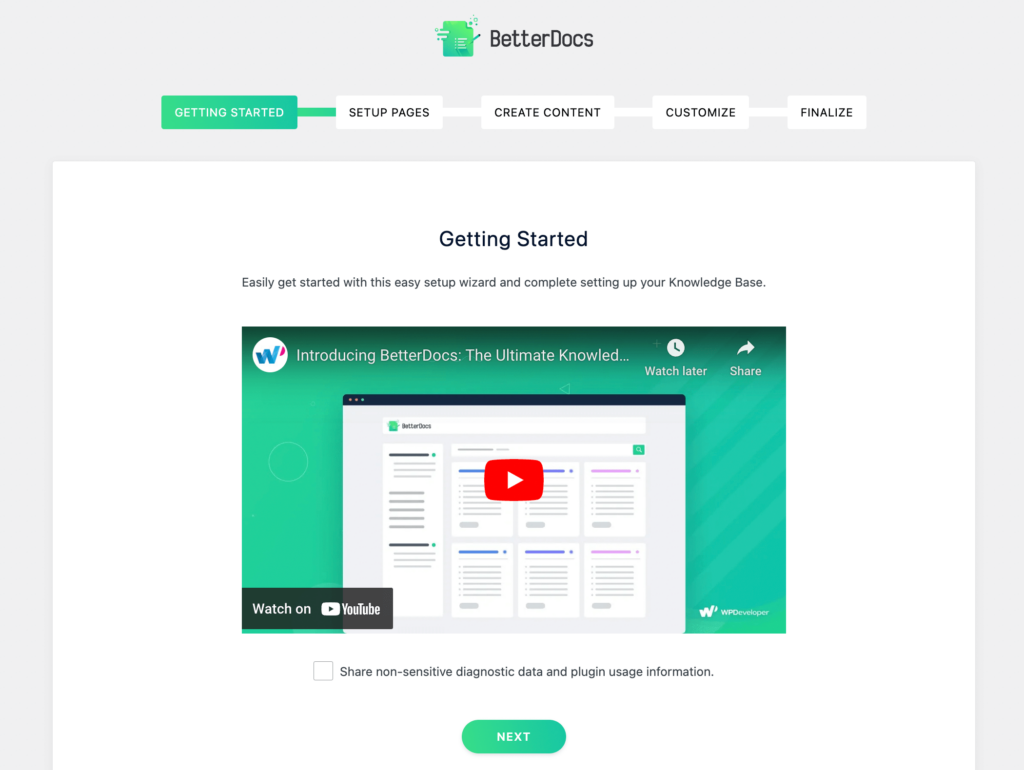 Decide you page slug here and enable built-in documentation page if you don't have any other page. The Instant Answer is a pro feature. If you have a license you can enable it. Now click Next.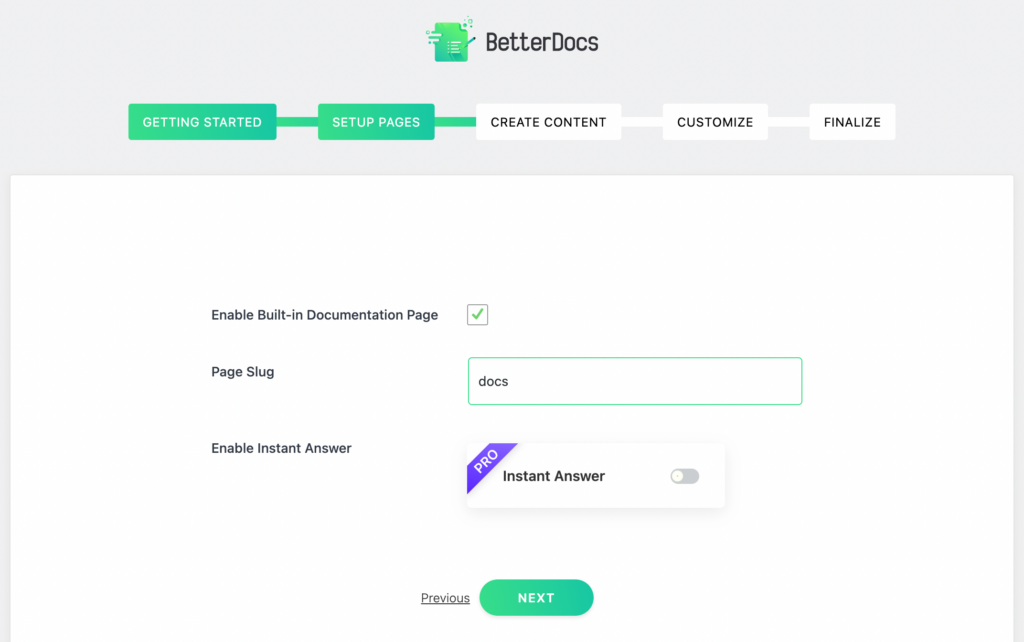 The next part is regarding content creation. Here, you can work with two part. The first one is about categories, and the second one is regarding doc creation.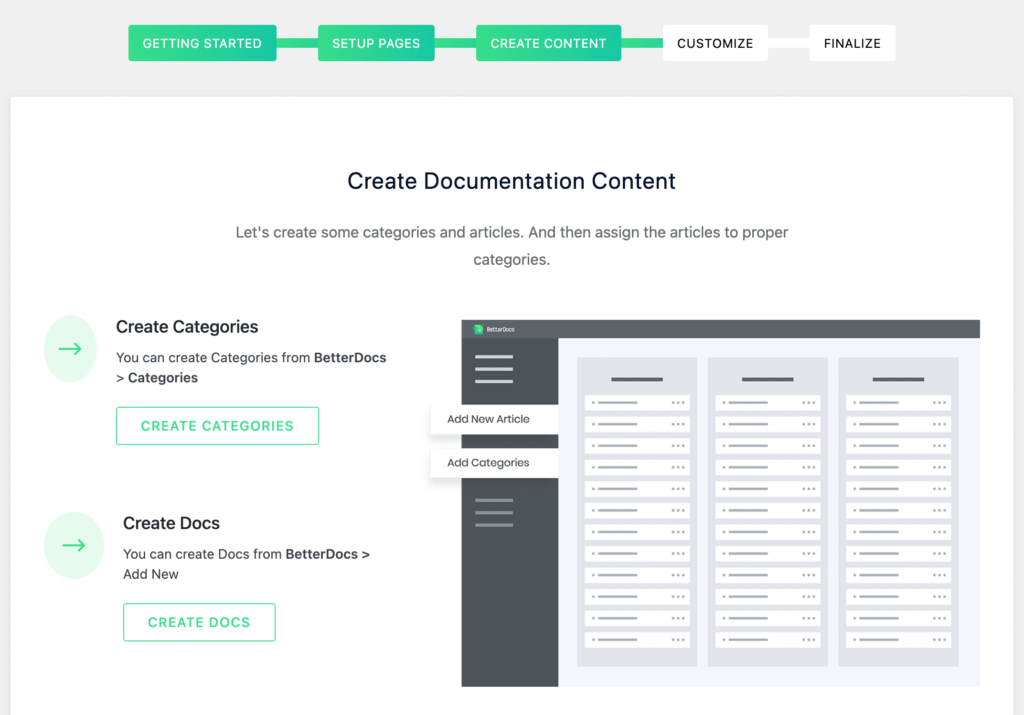 If I click the Create Categories button, it will bring me to the category section under WordPress dashboard. It will be similar like the one shown below.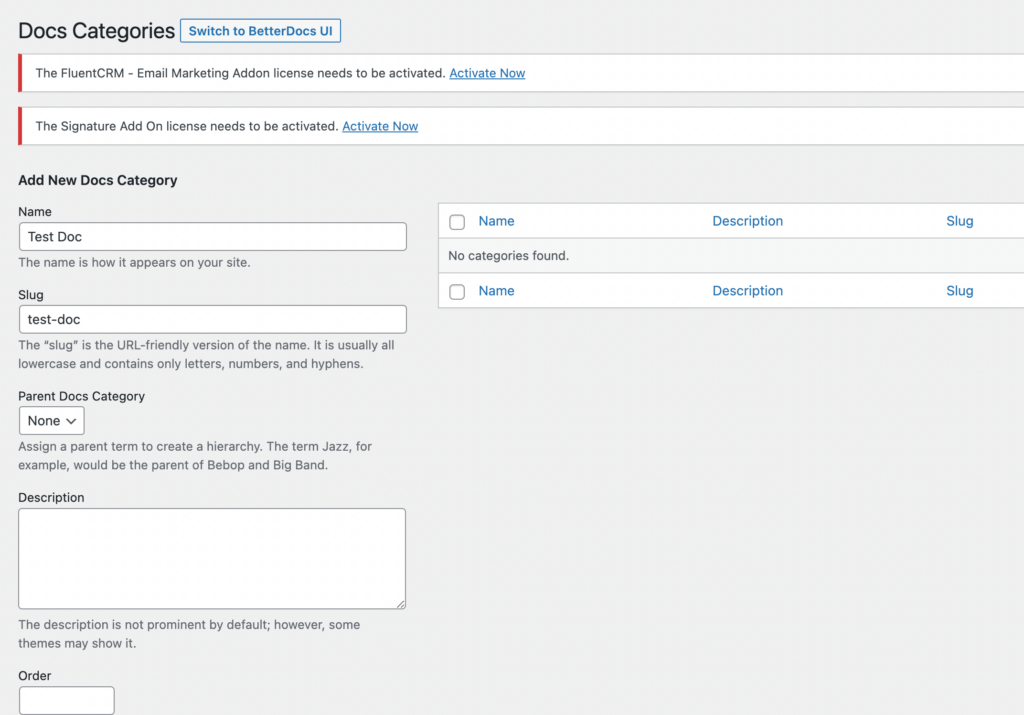 Next, I'm going to create a doc under the category I've just created. Here, you can go with as much detail as possible.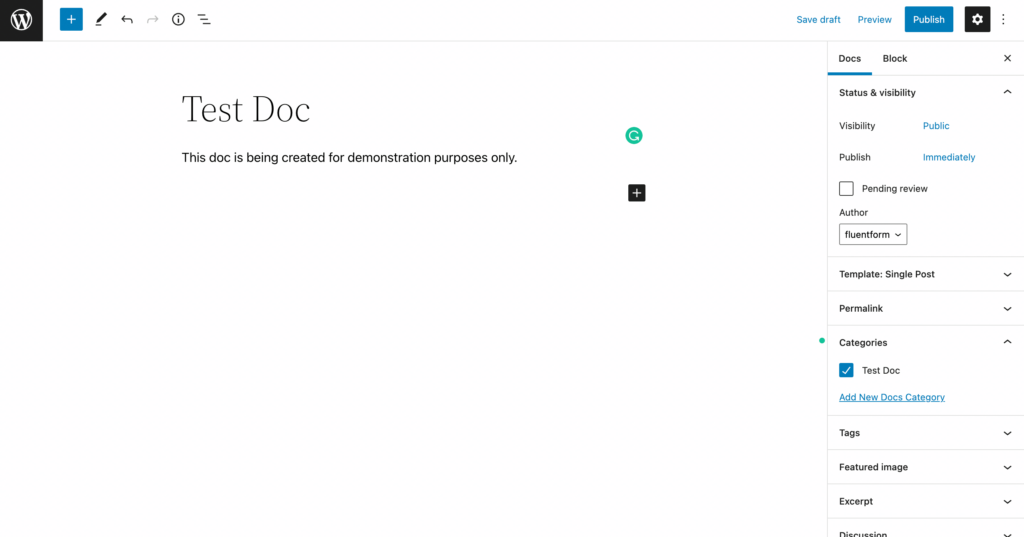 On the final step, you'll find two options: one for customization and other for various options.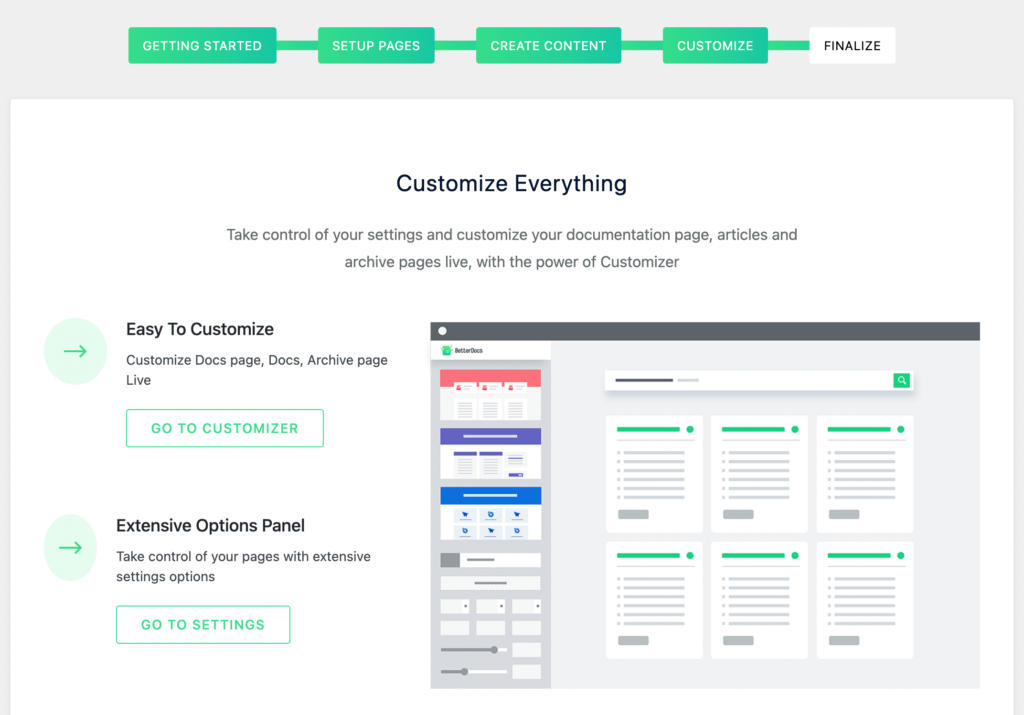 By the way, BetterDocs also offers a dark mode which is easily possible with a small button stays on the upper-right corner.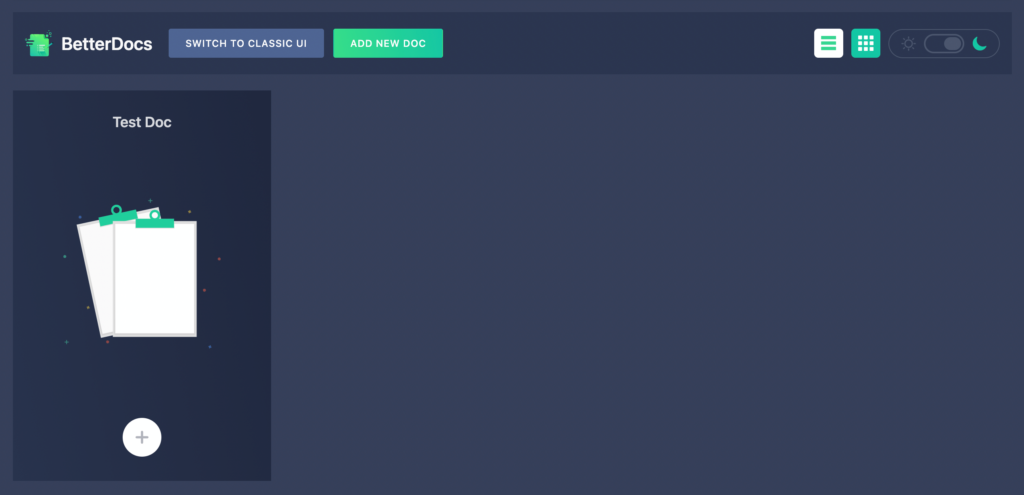 Congratulations! You're done with the settings. Now add docs whenever you need them and optimize based on the customer's desire. Click the Finish button and go.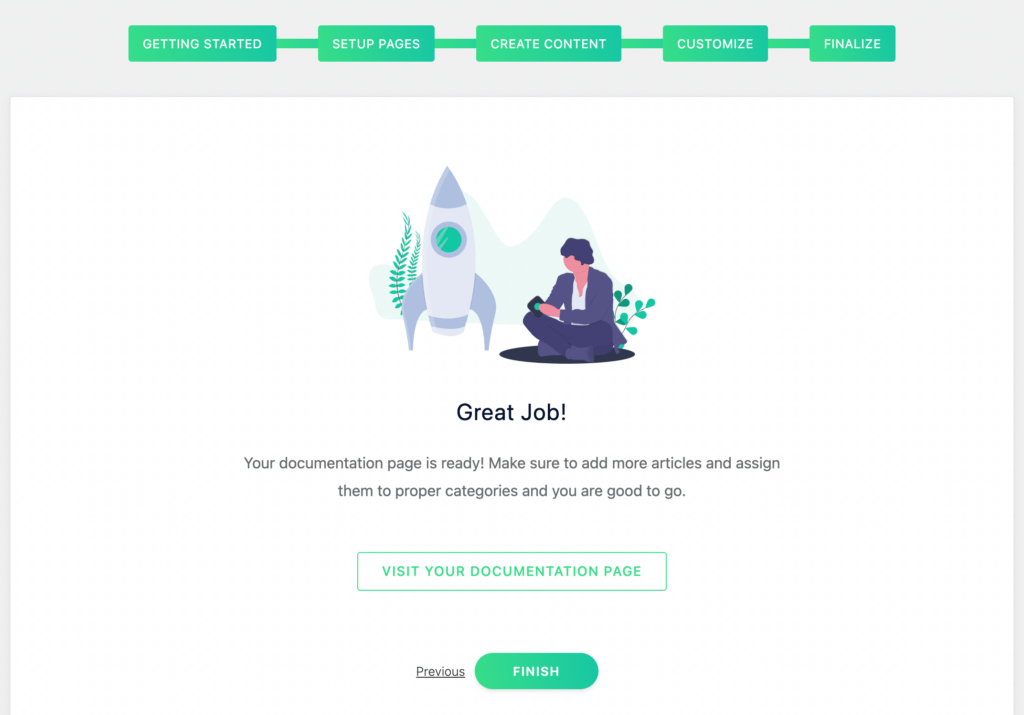 Now, I'll tell you why you need a WordPress form builder like Fluent Forms for customer engagement.
Use Fluent Forms to connect your customers
Well, you can allow your customers to talk to you when they need help. Fluent Forms has an easy option to create a customer support form. This form plugin allows customers to send feedback, write a complaint, suggest a feature, or connect with your customer support team. Not only that, the other features of Fluent Forms will help you run your business smoothly. Some of the noteworthy features of Fluent Forms you can consider before purchasing a license:
Conversational forms
Email marketing tools integrations
Dedicated quiz builder
PDF invoicing
Payment forms with Stripe, PayPal, and other gateways
Reports and analytics
SMS and email notifications
..and tons more
Wrapping up
After reading this article, I hope you will not face any troubles regarding your knowledge base.
If I recap the whole post, now you know why a knowledge base is important. The following reasons need to be mentioned again:
Helping customers with detailed information about your products
Better customer engagement with self-help problem solving
Reduced support tickets by delivering instant answers to your customer's queries
After that, I discussed how you could use the BetterDocs WordPress knowledge base plugin to create documentation inside WordPress. Without getting help from a developer. And the highlighted features are:
Built-in templates to present your knowledgebase
Advanced Live Search Bar
Instant Answers chatbot
Ready Elementor Widgets
Analytics to understand the performance of your docs
When in doubt, create a customer satisfaction survey to understand how your customers are receiving your efforts.
Follow us on social media to get regular updates on our awesome activities.