Contact Form Plugins for Multisite | Which One's the Best
Mahiyath C
. November 22, 2021
. 6 minutes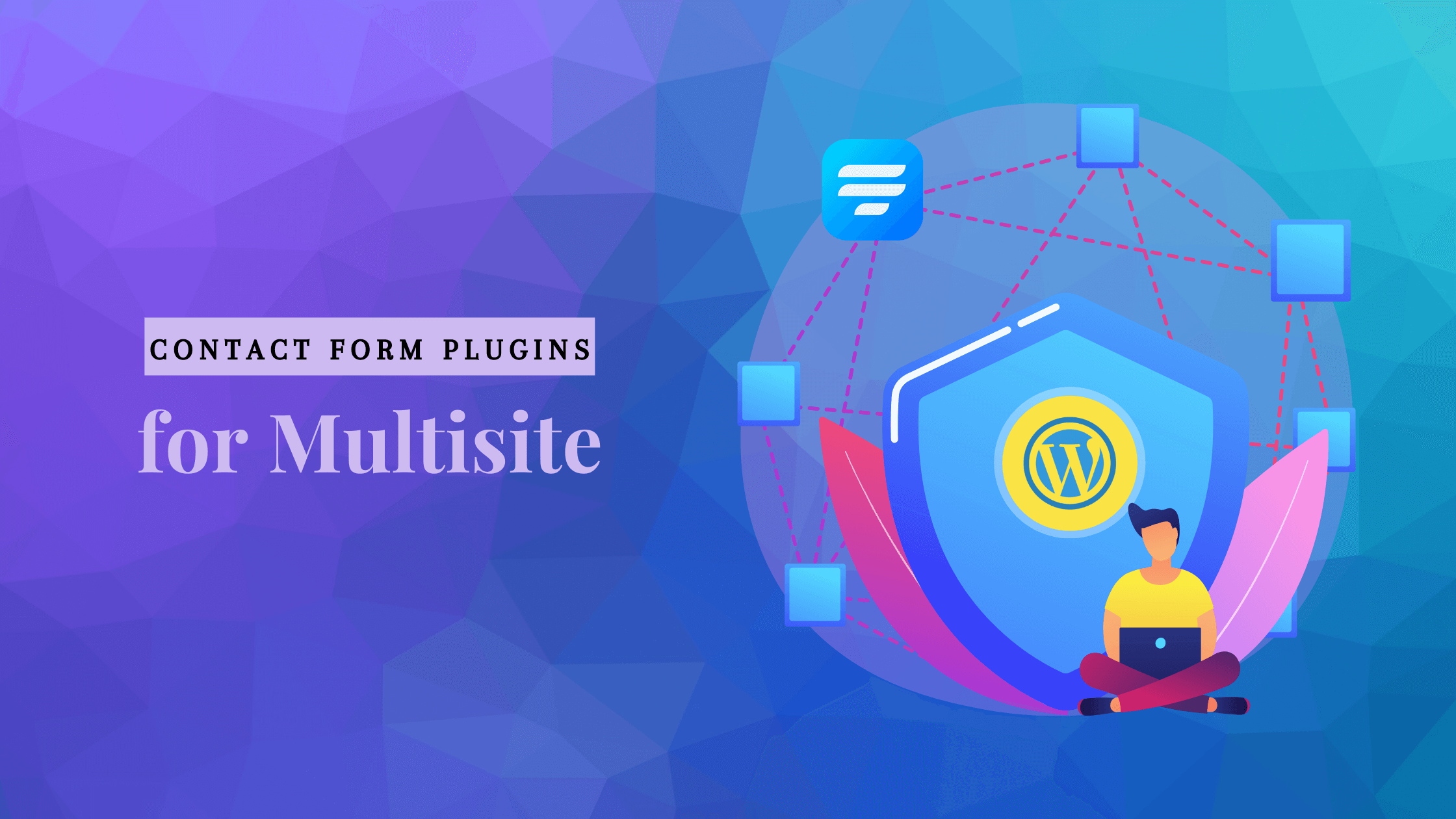 Contact forms are a must for any website. And if you have more than one running, then they are absolutely crucial. But how to create them? Which form builder will provide the best service?
Don't worry. We've got things covered. Read this blog to find out everything you need to know.
What is multisite?
A comprehensive system where you can share file systems, databases, and even variations of the same domain within a network. Multisites defer either by subdomains (domain1.com, domain2.com, etc.) or by subdirectory (domain.com/site1, domain.com/site2, etc.)
All the sites in the network share can share the same WordPress installation core files. They can even share the same plugins and themes. However, admin access to these is restricted. However, they have separate media directories. So when you upload a media file to one site, it will not automatically sync with another site in the same network.
How to configure multisite?
Although simple theoretically, setting up a multisite can be quite a challenge. However, to put things briefly, here are the steps you need to take to configure multisite.
Prepare your WordPress by backing up your database and files. You can additionally deactivate your active plugins.
Define multisite in the wp-config.php file.
Refresh your browser to continue.
Go to Administration >Tools > Network Setup and start installing a network.
When you've fixed up the addresses of sites and defined the network details, it's then time to enable the network.
Next, to configure network options, go to the settings screen, and manage your sites from the Sites Screen.
5 best contact form plugins for multisite
You've set up your multisite, and you need contact forms. But which will be the best form builder for your penny? Better yet, which form builder will provide more features for free? To put these questions to rest, we have listed down the 5 best contact form plugins for multisite for you to choose from.
What are some of the most crucial factors you check while setting up your multisite? Reliability, lightweight, superfast – right? Well Fluent Forms ticks all these boxes and then some. Its easy-to-navigate interface and friendly features help users to create any form they need in a matter of minutes.
Moreover, one of the most impressive feats that puts Fluent Forms apart from other WordPress form builders is that Fluent Forms is fast evolving. The team molds the core structure around user reviews and feedback. The features and integrations that are added are based on the client's demands and not what other form builders are doing.
Hence, you'll notice a lot of unique features in Fluent Forms and a lot more free features that will otherwise put a hole in your pocket if you go with other form builders. Some of the most appreciated features of Fluent Forms are:
Conditional logic
Conversational forms
Searchable smart options
Multi-column layout
Payment
Conversational forms
File upload
Spam protection
WP user registration
Form restriction
Double opt-in
Survey results
Fluent Forms is the most beginner-friendly form builder. Download now and start crafting beautiful forms FREE!!!
Gravity Forms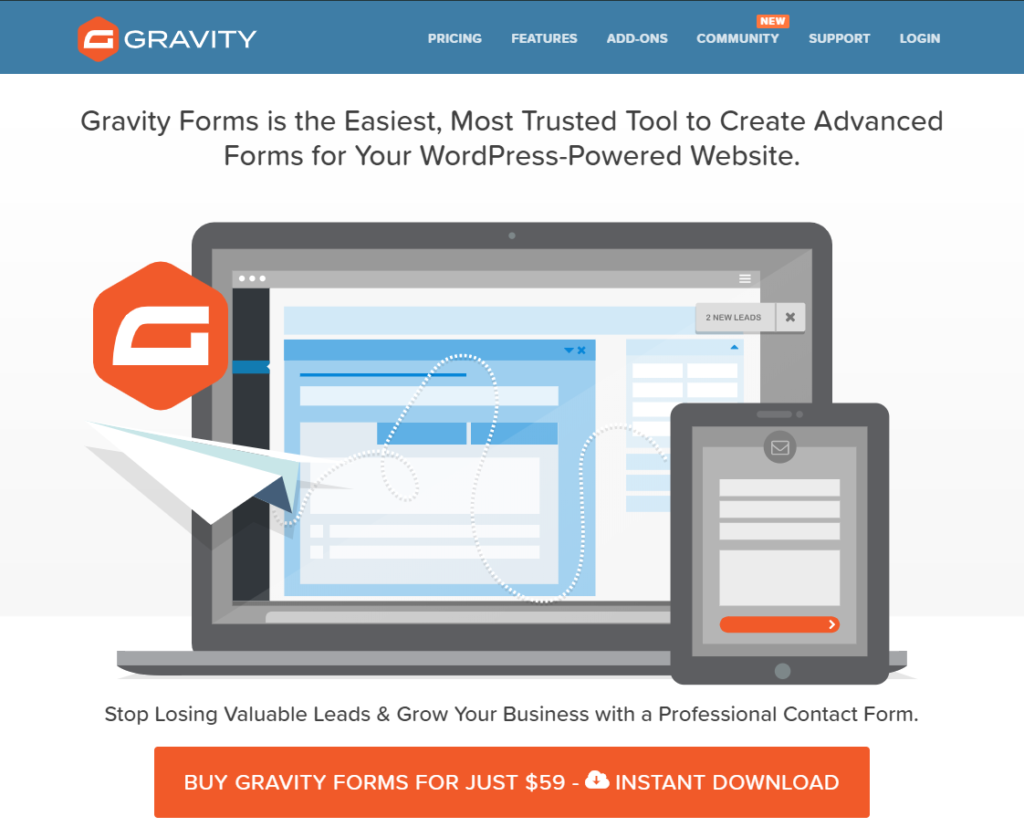 Like it or not, Gravity Forms is one of the leading names in the WordPress form building industry. And rightfully so! Gravity Forms has one of the most refined interfaces you'll ever find in the market.
Besides, accessible functionalities are spread across multiple pricing plans. Some of the most amazing features Gravity Forms offers are:
Conditional logic
Email notifications
File uploads
Calculations
WordPress post creation
However, the features are dispersedly placed, and although you can avail them by purchasing them separately, often all the functionalities needed can add up to a hefty sum. Moreover, the team seems to have reached a pause, for recent development shows almost zero evolution, and newer features are rare treats. Also, no free version.
Ninja Forms

If we are talking about the best contact form plugins for multisite, then Ninja Forms definitely needs to be in the top 5. User-friendly, intuitive, and equipped with a free version – Ninja Forms has everything you need to create a form in peace.
Some of the most valuable features that Ninja Forms includes for free are:
Customizable form templates
Google ReCAPTCHA
Customizable email notification
GDPR compliance, etc.
As you can clearly see, the features are quite basic, and they aren't unique. Any decent form builder will have these features. Moreover, some of the most demanding features of the present era, like conditional logic, pdf form submissions, layouts, etc., are paid features here. When form builders like Fluent Forms offers them for free, why would anyone pay to have them?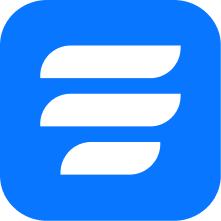 A New Dawn For Caldera Forms Users
Contact Form 7

You couldn't possibly put together a list of form builders without including the very obvious Contact Form 7. It is simple, easy, and will give you the good old-fashioned feel of home.
Some of the features you should know about Contact Form 7 multisite are:
100% free
Akismet anti-spam
Ajax-powered form submitting
CAPTCHA
Unlimited website usage, etc.
As amazing and familiar as Contact Form 7 may be, its syntax-based form creation method is embarrassingly backdated. Whereas almost all modern form builders have quickly switched to drag and drop form editor, these syntaxes are issues nobody wants to fix anymore.
Forminator

Did you say fun and dynamic? Don't worry. We've got something for you too. Forminator form builder offers some of the most innovative form-building functionalities you'll find in the WordPress industry.
Whether you want to create an interactive poll or exciting quizzes for your market research, Forminator has cool features to offer you. Some of these features are:
Real-time results
Calculations
Drag and drop
Visual builder
Gutenberg block, etc.
However, this WordPress form builder loads a lot of additional CSS that you could do without. Hence, this increases the load time and slows things down. This often results in negative output. So you'd want to stay clear of it.
Best form builder for multisite
Multisite may be a tad bit more critical than your average website. But they will also lessen a lot of unnecessary hassle in the long run. And if you have the best plugins by your side, then you will have even a more relaxed trip.
Fluent Forms can help you a great deal. Presumably, you will need a lot of plugins and themes to fit your different purposes. So you will need something lightweight, fast, and a plugin that won't burn a hole in your pocket. Fluent Forms is all this and more. Could you give it a whirl and see for yourself?
---
Mahiyath C
Mahiyath is a digital marketer for Fluent Forms. She likes to explore through the alleys of WordPress and learn about the themes and plugins, currently specializing in WordPress forms. When she's not doing that, she's planning her next adventure.