Best Practices For The Employee Satisfaction Survey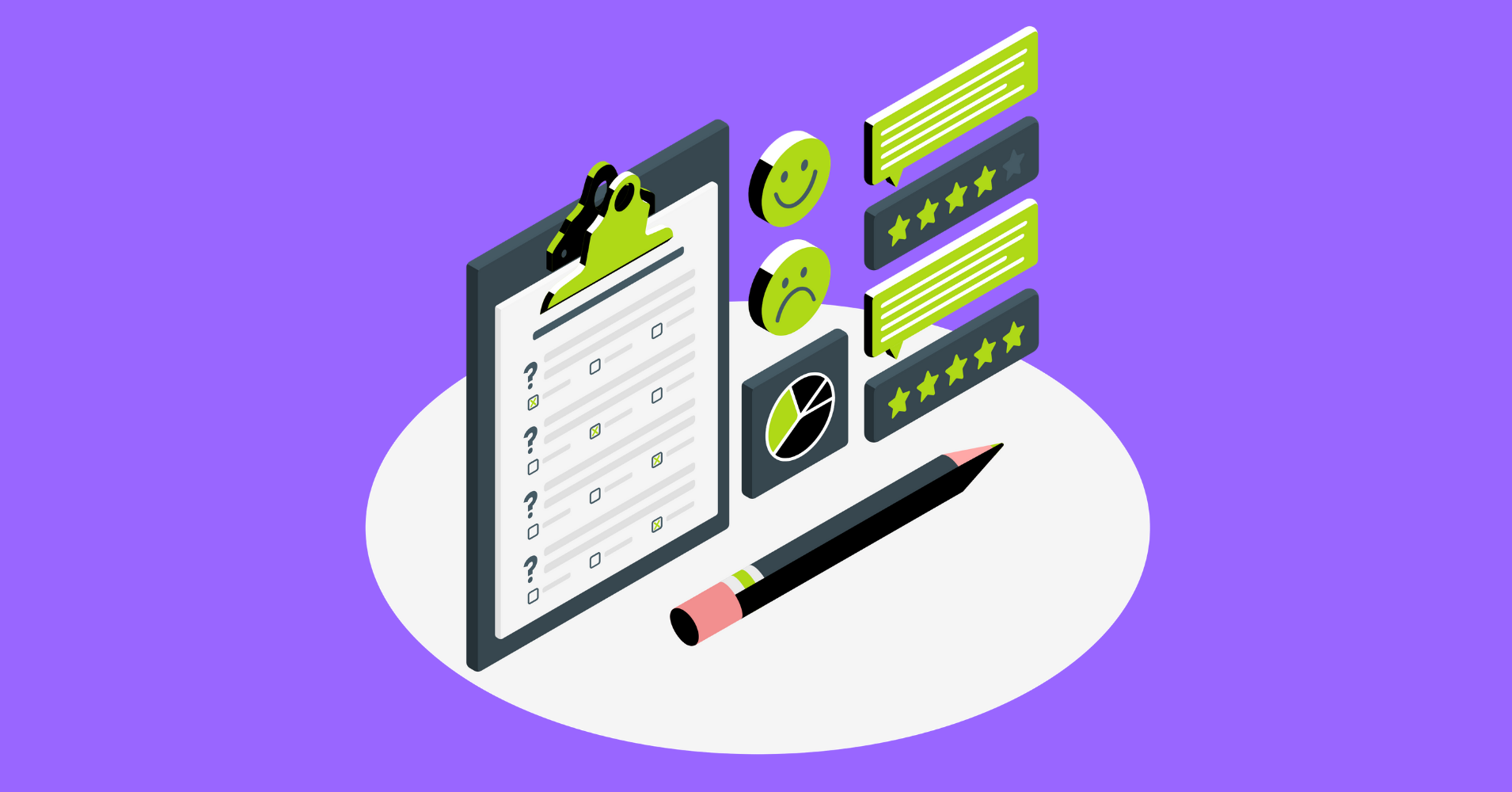 Employee satisfaction can significantly impact the growth of the company. When employees are satisfied with their work, they are more likely to be happy, productive, engaged, and motivated. On the other hand, many people hate their jobs, and there are several reasons behind this picture. Do you want to know whether your employees are satisfied with your company or not? Well, figuring that out is quite easy. It can be done directly with an employee satisfaction survey.
This type of survey will help you find out the strengths and weaknesses of your organization so that you can remove the pitfalls and strengthen your company's strong points. In this article, we came up with the ten best questions for your employee survey that can bring you a perfect picture of your employees' situation. So, let's discuss the subject and the factors around it.
What is an employee satisfaction survey?
The employee satisfaction survey is an essential element for a company that can be used by the Human Resource Managers to identify employees' satisfaction level. This kind of audit helps the company find out how comfortable the company's employees are in their workplace and what can be done to mitigate the problems the survey uncovers.
Moreover, if the company owners want to grow their business with a winning culture, they can't just consider the workplace as a square where the workers just come, work, and leave. Indeed, all of the great/successful companies know that a workplace is an area that makes out the mood, morale, and motivation of the employees inside it. The best way of analyzing, measuring, and gaining the company's health is by conducting an employee satisfaction survey. Why is it needed to satisfy your employees? Let's find out.
Why is the employee satisfaction survey important?
Everybody wants to love their job. Above all, people spend the majority of their waking hours at the workplace. So, they should feel happy there. Employee satisfaction focuses on understanding how many workers are enjoying their work at your organization. On the other hand, low job satisfaction levels can affect the company's core in various ways. Here is a list of reason you may consider:
It is a fact that unsatisfied employees don't enjoy their work, and it is impossible for them to give their 100% to the job.
Unsatisfied workers become destructive sometimes. It could hurt the morale of other employees, contaminate the work environment, and increase turnover.
As every unsatisfied worker shows up to do a job they don't like, it only takes a little time to strike their retention level.
Sooner or later, workers may take their bad attitudes over to the customers. That negatively affects your brand's reputation and eventually, the business.
When the company has many ungratified team workers inside it, it's almost impossible to get new talented employees.
To become a more reliable company and improve employee engagement, you should regularly arrange an employee satisfaction survey. Depending on your organization, it can be taken once a quarter or once in a month. Besides, these surveys can be managed electronically and anonymously to make sure that employees are sharing their thoughts without any fear of consequences.
Question types that can be added to employee surveys
When designing the employee satisfaction survey, it is better to avoid any business jargon or corporate talks into the questions. Communicate with your workers as directly or honestly as possible. That's the way to bring out the correct answers from your company's employees. So, now you might be wondering – what questions should be added to the survey list? To make things easier for you, we came up with the ten best questions for your employee satisfaction survey. Let's see and discuss those.
Do you find your work significant?
A survey found one reason people stick to companies is that if they realize their work is meaningful for them, they would love to continue the job. Most of the employees in that survey chose this reason as their first option. There are many other factors like surpassing compensation, the company's culture, coworkers, and support from management.
But in the end, employees need to feel that their work adds value to the organization's growth. For example, you can offer them different allowances to make them stick around when they don't find their work to be significant. But to create a lasting impact on your turnover rate, hire people who love to work for you, and inspire others.
How would you like to rate the workplace between 1-10?
Many companies give recommendation incentives when an employee refers to a perfect candidate for a job post. It reduces time, cost, effort to find desired people for the position. Additionally, current employees in the company already know better who would be a suitable candidate for the company and fit well with the company culture.
In sum, your employees will recommend that your company is an excellent place to work with other candidates if they find it suitable for them. If not, you will lose some exceptional applicants. Also, there is a chance of losing the existing ones. In your employee satisfaction survey, you can add this question and find out what your employees are thinking about your company. If the result is negative, try to fix the problematic areas.
Are you encouraged by the ambition of the company?
This section is similar to the first part. If your employees don't trust the company's ambition, mission, and purpose, they won't feel motivated or engaged with their work. If there is no clear mission statement, it could be challenging to deploy strong leadership and unity within the organization. So, design a clear mission statement that delivers a powerful motivation to your employees.
Ask your workers if they feel encouraged by the purpose of your company. If not, you can ask them how you can improve the mission statement and principles to ensure that your employees appreciate the higher purpose of their work.
Do you like the company culture?
Creating a beautiful company culture is crucial for employees to enjoy their work. It also includes workplace environment, company goals, and values of the employees. Keep your staff members happy; for long term productivity and growth of the company. Additionally, a quality workplace environment is necessary for stimulating better relationships between coworkers and empowering greater collaboration and planning. Keep your employees happy to get some positive output of this question in the employee satisfaction survey form.
Do you feel valued at work?
For the low turnover rates and high employee satisfaction, it is vital that your employees feel valued and appreciated. The maximum number of workers quit their job because of a lack of appreciation for their work. If your company members feel valued at work, sometimes they will go the extra mile for the company. For example, employees will do things like staying late, helping the other team members, and giving the maximum effort to their work, if they feel appreciated. On the other hand, if they don't get respect, they will feel distressed to even complete their regular task.
So, it is essential for everyone at your company to feel valued and respected for their works and contributions. Otherwise, they would look for alternative opportunities. Appreciate your workers to get an effective result on the satisfaction survey.
Does your teamwork inspire you?
Employees spend a significant portion of time with their team workers in the company. So, their productivity and happiness are mostly motivated by their coworkers in the organization. Sometimes it's not possible to have a healthy relationship with everyone in the company. But everyone should respect and appreciate each other's tasks to ensure team-wide success.
Moreover, if the teams and their members inspire one another, it will increase creativity and collaboration among them. Besides, it will make your job more comfortable if the company staff members find inspiration and motivate each other. If the teams are not in an expected queue, consider implementing team-building practices to foster a better environment. After all, your employee satisfaction survey relies on these facts.
Do you feel your work responsibilities are clearly defined?
In an Employee engagement report of 2019, when they were asked if their career path and promotion is clear to them, 54% of them replied no. When workers don't know what is expected from them, there is no way to get success in the company mission. If the employee roles are not clearly defined, there is a lot of confusion that can discourage employees from working.
It is difficult for employees to be satisfied when they see that their employers are not utilizing their work skills. If your employee satisfaction survey discloses that your company members don't know how works are fully leveraged, start encouraging your workers to follow goals and work with other departments.
Does your company give you enough opportunities for career development?
The more you nurture your company's growth, the longer your employees will remain close to the company. Besides, it is affordable for you to train and grow your recent employees rather than hire and instruct new ones. Professional training and career development are the main instigators of employee retention. Try to find out if your employees are satisfied with their current growth and opportunities in your company.
How transparent do you think the management is?
One research showed that 39% of managers agree that the management of their company is transparent. But only 22% of employees agree with the statement. Companies must make their management process or system transparent to the workers to get effective results in their roles. Otherwise, it can create dissatisfaction among the employees. Besides, you can get a negative outcome from your employee satisfaction survey.
Do you think works are evenly distributed throughout the teams?
According to a research of tinypulse.com, almost 70% of workers have said there is not enough time to complete the tasks. It can create an imbalance of work between the organization. There might be a situation where if a particular member is doing a lot of work, the other has no work to do. Usually, this situation occurs when there is no strong leadership, and the employee survey can help identify and get rid of this flaw.
All the questions mentioned above are just a glimpse of the idea of how you can organize your employee satisfaction survey form. If you want, you can add more questions according to you or your company requirements. Now, let's focus on how you can get the best result from your employee feedback form.
How to get the best result with an employee satisfaction survey?
There is more to an employee satisfaction survey than just asking questions to your employees. Sometimes it is also about how you should request them to answer. First of all, you have to maintain a happy and healthy environment for your organization if you want a better result from the survey. This environment is related to the questions discussed above. Now let's see a few things that you should keep in mind while creating your employee satisfaction survey template.
Allow your employees answer fearlessly
The most important fact about the employee survey is to permit your workers to answer anonymously. If there is any inhibition or fear in them, they might avoid answering honestly. So, keep a friendly environment with your employees. Sometimes have a chat with them apart from the company tasks or formal conversations. It will help to remove the backlash from the members of your business.
Avoid confusing questions on the questionnaire
Always try to ignore confusing words or languages in your employee survey questionnaire. Do not add the industry terms and complicated questions to your survey. You have to make sure that these questions are easy to understand and can access the maximum participation of employees.
Keep your surveys rational
It might look tempting to change the questions and style of the survey every time. But it is better to avoid this. Try to keep things consistent every year. That way, you can keep track of your data more efficiently. Also, try to maintain a rational survey for employees. Don't bother them by organizing an irrelevant survey.
Ask only important questions
You can overload employees with too many questions in the employee satisfaction survey. But that would be the worst thing to do. Employees are less likely to complete a survey form that is too time consuming. They might avoid most of the crucial questions to fill the form as soon as possible. So, ask only essential questions in the employee satisfaction survey. Don't bother your workers by asking irrational questions.
Use technologies for your employees' comfort
If your company is so large that it can arrange employee satisfaction surveys in a regular time interval, you may consider investing in employee satisfaction. For example, you can maintain an employee engagement software to lighten up the workload and smoothen the process. Try to invest in softwares or technologies for your employee's comfort and better output at work.
We hope now you will be able to maintain a proper balance among the company and the employees with the terms described above. However, sometimes people mix up employee satisfaction and employee engagement. Let's clear the confusion for the sake of carrying out a better employee satisfaction survey.
Differences between employee satisfaction and employee engagement
Employee engagement has become a hot topic among professionals of human resources. But that doesn't mean that there is no critical significance of employee satisfaction. In general, you can think about employee engagement as a multidimensional concept that includes other measures, where employee satisfaction is also a part. Employee satisfaction depends on various factors, such as the physical condition of the office, benefits from the company, and the compensation employees are getting in return for their work.
There are so many ways to make your employees love their job. If you want a highly motivated team, you have to start implementing from now.
Now, creating an employee satisfaction survey must be a serious concern for you. No worries; we have come up with solutions to that too. Let's see how you can make an employee survey form easily by using a form builder plugin from WordPress.
How to create an employee satisfaction survey form in WordPress
From hundreds of form builder plugins in WordPress, we choose WP Fluent Forms for creating an employee survey form. Because it is one of the most robust form builder plugins nowadays. Its drag and drop facility and smooth interface makes it easy for any beginner to create a form within a couple of minutes. The tool is rich in features in both free and pro versions.
Furthermore, it also generates GDPR friendly forms if you want. You don't need to worry about your form or website's security at all with this form builder. You will get the payment integration, PDF submission, email marketing integration, global styler, signature integration, i.e. a whole solution for your website. Moreover, it is updating its features every two or three months.
You can design any kind of form with WP Fluent Forms, such as registration form, payment form, contact form, survey forms, polls, subscription forms, and many more. Making an Employee Satisfaction Survey is very easy with this plugin. So, let's see how you can create an employee survey form with WP Fluent Forms.
Well, there are two ways you can make your Employee Satisfaction Form with WP Fluent Forms. Let's find out and discuss the ways.
Do the audit with pre-built survey templates of Fluent Forms
There are 60+ pre-built templates on WP Fluent Forms. The survey form is also included in the list. If you need to customize the template, you can also do that with WP Fluent Forms' form editor.
Go to your dashboard, and select WP Fluent Forms. Click on All Forms from there. Choose the Survey Form template from there and click on it.
When you open the form, you will see some pre-built fields given there. On the right side, there are form fields. If you need any change, drag and drop those on the page. If you want to delete anything, hover over on the file and a delete icon will appear there. Just click on that. Change the form name on the top left side, where the form's current name appears. After all the settings are done, click on the save form button.
Build a custom form with Fluent Forms' drag and drop fields
In this way, you can create some fantastic forms however you want. Go to the dashboard again, select WP Fluent Forms, and click on add a new form button.
A pop-up section will open like the screenshot below. It is for selecting the templates. I am choosing the New Blank Form one for my convenience.
Here is a preview of the form editor.
I have drag and dropped the Name, Email, Number, and Checkbox field from the general fields section. I have chosen the checkbox field to arrange my questions. Just click on the edit icon of the field, and a customize section will open on the right sidebar. Name your field as you want. Besides, select your options for the questions.
I have put all the required questions for my survey. Finally, don't forget to save the form and change the name of the form from the top left bar. Here is the preview of the form.
Moreover, you can customize the Submit button also. If you want to make your form colorful, you can do it on the form editor's preview and design mode.
You can even add the signature field on your form from the advanced field option.
As you can see, creating or customizing an employee satisfaction survey with WP Fluent Forms is very easy. You can also make your beautiful with the global styler of WP Fluent Forms. If you have any questions on building forms with WP Fluent Forms, let us know in the comment section below.
Final thoughts
Employees are the core of any company. So, it is crucial to keep them happy. If you follow the practices mentioned earlier, I hope you can get a good result on your employee satisfaction survey. For the survey, choose your questions wisely. Design your survey in a fun, loving way so that people don't feel bored while going through it.
To do so, WP Fluent Forms is the best option. The moment you start using this form builder, you will realize the worth of it. This plugin is a complete solution package for your website. So, try it today. If you have any queries, let us know in the comment section below.