Fluent Email Marketing: Complete Email Marketing in WordPress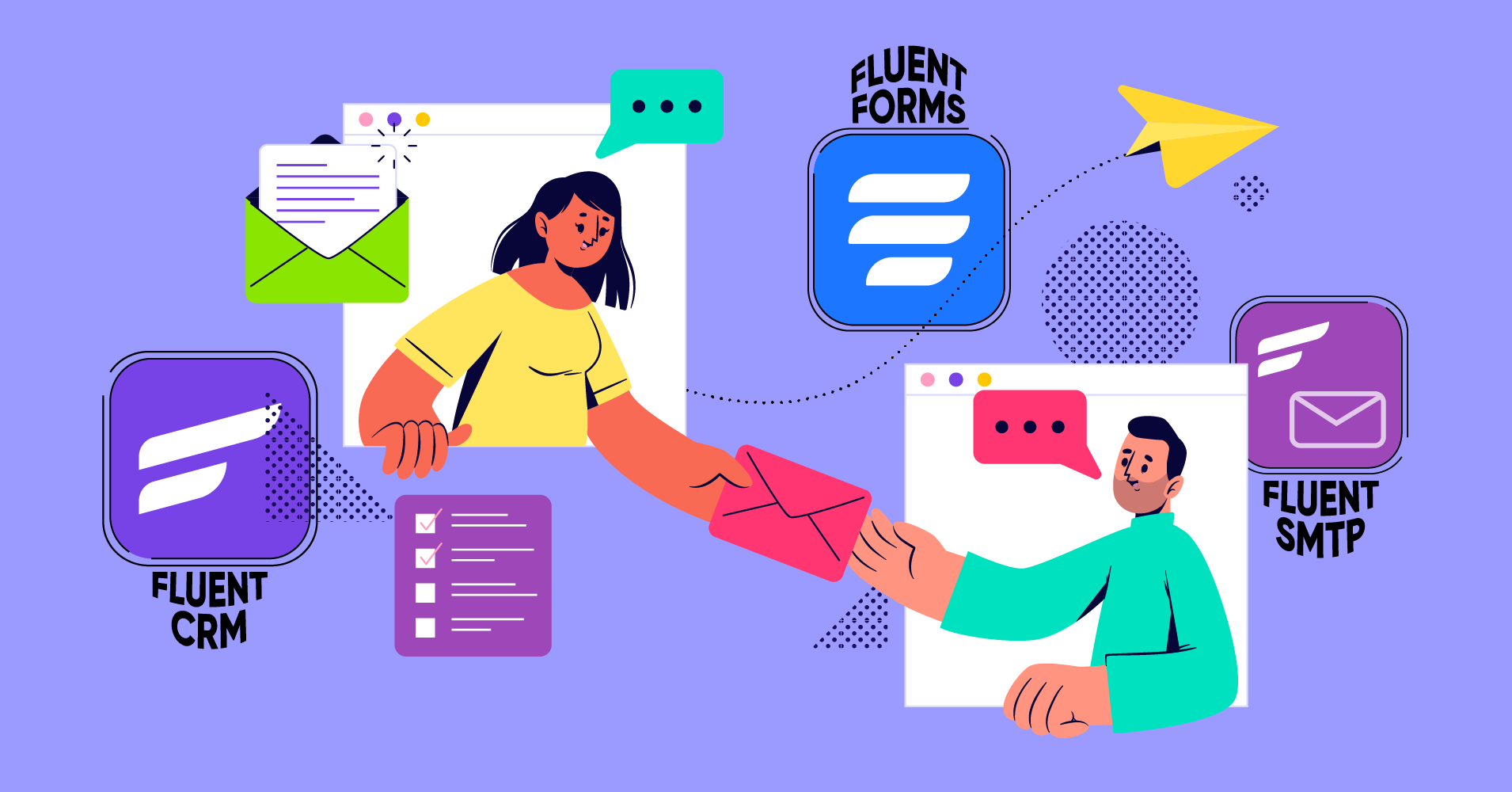 Email marketing is one of the top 3 marketing platforms for online businesses. 77% of B2B marketers use email newsletters for content marketing. Let's take a look at the stats below, and tell me what you think about email marketing.
I can say the best alternative to email marketing is email marketing.
That line may sound cheesy, but it's the TRUTH!
Now I know that you know how beneficial and powerful email marketing is for growth and success. At this point, I'm eager to know what's your reason for not getting started?
Fear: You don't know what to do, where to begin, and what technical knowledge to acquire?
Cost: Do you think email marketing is costly? You don't have enough money to invest right away?
Time: You don't have enough time to figure out everything? Once you got succeeded with other fields, you may think about email marketing?
Whatever your reason, I'd like to sort them out with a step-by-step free email marketing guide, and that is for WordPress users. Cheers!
Anyway, growing email subscribers directly impact your b2b marketing. From building an email list to defining email marketing strategy, there are many things to do. Your email marketing efforts can shape your future of business, only if you do things right.
You may look for a drag and drop email editor, profitable email tools, high-end email deliverability, easy way to generate sign-up forms or newsletter templates. But in this post, I'll care for the details that guide you through the step one to the last step – skipping all the theories.
#Save tons of money with your email marketing
We developed a method and named it Fluent Email Marketing. Do we have a tagline that reflects our goal? Yes, we do. Read the subheading again.☝️
The goal of this method is to provide you with a fully-fledged WordPress email marketing solution.
Now you can collect leads, insert them into email lists, and automate emails – all within your WordPress dashboard.
We already built the tools required for an email marketing campaign. In this guide, I will show you where to start and how to do everything without spending a dime.
Yes, that's true!
I know email marketing is costly. But when you're using WordPress combined with this very method, you don't have to spend initially.
Often, it becomes hard for small businesses to afford the right tools. That's where Fluent Email Marketing is a savior.
What's Fluent Email Marketing
Two solid pieces of information: it's a method, and I coined the term.
Fluent Email Marketing is a method that aims to provide a complete email marketing solution for WordPress users. One low-cost WordPress email marketing solution.
A little about us: we're in the WordPress industry for some three years. You know, when you bring the things that ease people's lives, it doesn't matter if you're new or old. It matters what you offer.
That's how people made new products like Fluent Forms and FluentCRM so popular in the industry. From day one, our goal was to offer something that will only benefit people.
No extra hassle.
No performance down.
No breaking bank.
Anyway, we have built all the necessary tools, and people use them for their own needs. I thought it would be beneficial to create a guide that shows the exact way people need to follow it.
Especially the beginners might wrestle with what tools are needed and how to proceed.
With this method, you will:
– Collect subscribers and build email lists with Fluent Forms
– Use FluentSMTP to connect email service providers
– Integrate FluentCRM for email marketing from the WP dashboard
I just mentioned the three tools we need in this method. Although we're going to use the free versions for all of them, you can upgrade to pro when you need the advanced features.
Why Fluent Email Marketing?
I'm glad you've asked that question. There are plenty of email marketing services available. Then why do we start another service? Is it another junk in the clutter?
NOT REALLY!!!
I'll give you five reasons to choose Fluent Email Marketing for your business.
WordPress-friendly: Every email marketing tool out there is for everyone. I mean, nothing is focused on WordPress users. You may have used some email marketing plugins, but there is no complete solution available. The main goal of Fluent Email Marketing is to make your email marketing smoother within WordPress. If you're using WordPress to build your website and run your most profitable business, then nothing can be better than our solution. No bragging!
For beginners: Not everyone running an online business is a developer. Most people come from a non-coding background and aspiring to jump into a startup with brilliant ideas. Your dang good ideas can be a nip in the buds without getting support from the right set of tools. We realized that and made our plugins for everyone who knows how to play on the internet.
Cost-effective: Shout it out loud. Your email provider isn't kind enough to leverage you with low cost and premium service. Whatever tool you're using, calculate yourself the dimes you're spending. Even I can write a whole article on how costly your tools are how ours are affordable. Let's cut to the chase. I'll add a comparison table somewhere to clarify my point.
All tools in one place: For complete email marketing, one tool is not enough because the various steps happen separately. Considering the situation, we built all the tools needed for your next biggest campaign. You buy one tool from us and depend on another; well, that's not gonna happen. Build email list, connect SMTP, and send emails – all from your WP dashboard because we arranged them in order.
Free to get started: Yes! That's a prolific one. People are shifting from traditional businesses to online ventures. Many became jobless during the global pandemic and are striving to step into the digital marketplace. For a fresh start, you might not have the right amount of money to invest. But listen, the best things are available free. You must need to have the motivation because that's not what we're going to provide. Jokes apart, once you cracked the nuts, I mean you got that idea, follow this guide and get your WordPress email marketing done right.
Added benefits
Besides the good things I mentioned above, let's have a look at three more additional benefits.
1. With Fluent Forms, your possibilities are just endless! In this guide, I'm mentioning the tool for collecting leads. But in the real world, you can accomplish way more than that. Beyond your regular contact form builder, Fluent Forms has the capabilities to inspire you to build your small business. Want to allow post submission to your WordPress website? Get notifications instantly through email and SMS? Get event registration done with payment? Set conditions to gain more control? Collect donations for the righteous cause? Fluent Forms comes with all the answers and then some.
2. Only WordPress CRM, and it's free! FluentCRM is the only WordPress email marketing automation tool that can replace all your familiar email marketing software. What's more amazing is you can enjoy the basic version of this tool to get started immediately. Also, get unlimited subscribers and put them into your email lists. The premium plans are available for advanced functionalities. So if you want to begin right away, FluentCRM requires no upfront payment or credit card details.
3. Not losing a dime in SMTP. You solely depend on an SMTP tool to connect an email marketing service provider. But it's expensive. We understand the need, and we built one. FluentSMTP, the most powerful email connecting tool, is 100% free. It's our gratitude to the WordPress community. It's us sending love to the aspiring entrepreneurs. In addition, you can use many transactional email services with FluentSMTP. Soon, it's become a popular email marketing service after its initial release.
How to get started with WordPress email marketing free
Let's jump into the process.
Enough of the explanation! "Show me how to get started" – you might be uttering that to yourself.
I'm in that phase now. I want to lead you with a step-by-step process. But first, hear out what tools we'll be using in this Fluent Email Marketing.
Fluent Forms for lead generation
Fluent SMTP to ensure sending emails properly
FluentCRM for list building, email campaigns, and all that
An email sending service (I'll explain it soon)
Step 1 – Install and activate Fluent Forms
There are two ways to install Fluent Forms. The first one I will describe below, which is getting the plugin from the WordPress directory. And the other one is kind of an automated one. When you're going to set up FluentCRM, it will ask you at one step to install Fluent Forms where you have to do nothing.
If you think the second way is easier, jump right into the next step. Otherwise, follow along.
Go to Plugins > Add New from the left panel of your WordPress dashboard.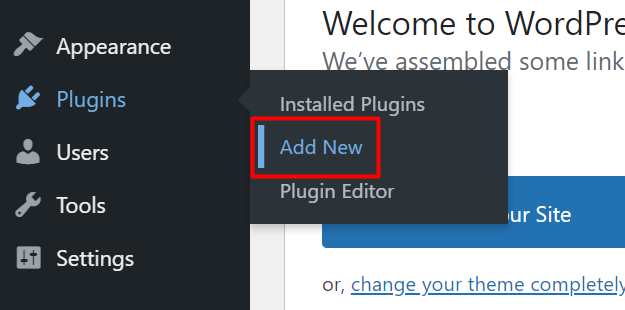 Search for Fluent Forms. Click Install Now.

Now click Activate.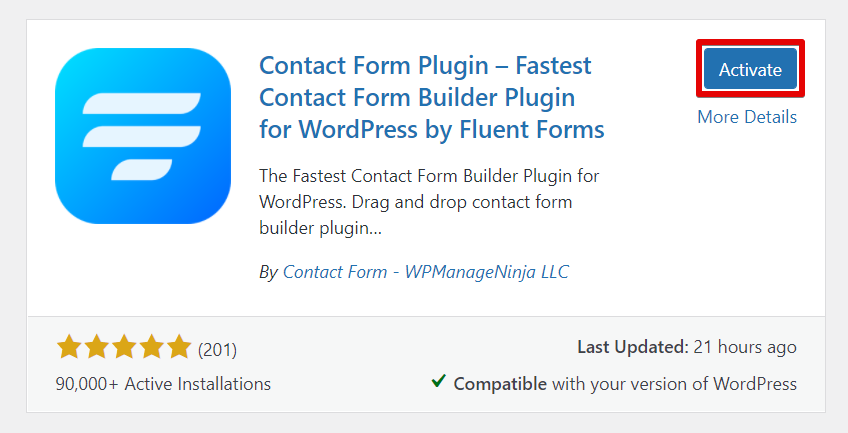 Keep in mind that we're using the free version of Fluent Forms. So, it might seem that some functions are locked. But no worries, you can upgrade to pro anytime you want. For now, the free version is enough for this purpose.
Click Add a New Form, and all the prebuilt templates will arrive. You can use 25 of them in the free license. However, you can choose one from the templates or create a blank one. If you want to use conversational forms, click the dropdown attached to Add a New Form button, or you can find it on top of form templates.
Since we're here to do some email marketing, choose the subscription form on the template list. If you want to build one from scratch, click the Blank Form.
Name and email address are two fields we need to keep simple and less intimidating for lead generation.
You can add other fields if you want. After doing the customization, click Save.
Now we got our form ready, and there's a shortcode to play with. It's time to publish your form.
Copy the shortcode, and place it anywhere on your website – sidebar, blog post, web pages, and footer.
Upon the next step, I'll show you the way to install FluentCRM. It's a brilliant WordPress email marketing plugin with drag and drop email builder and many powerful features.
Step 2 – Install FluentCRM
Go to Plugins > Add New from your WordPress dashboard.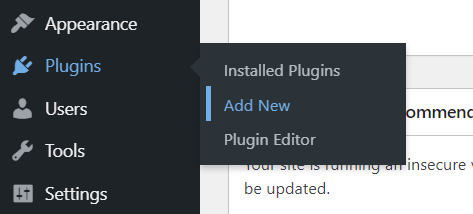 Now search for FluentCRM, and you can see it appears on the search result. Click the Install Now button, and it will be installed in a few seconds.

Click the Activate button, and we're done with the installation.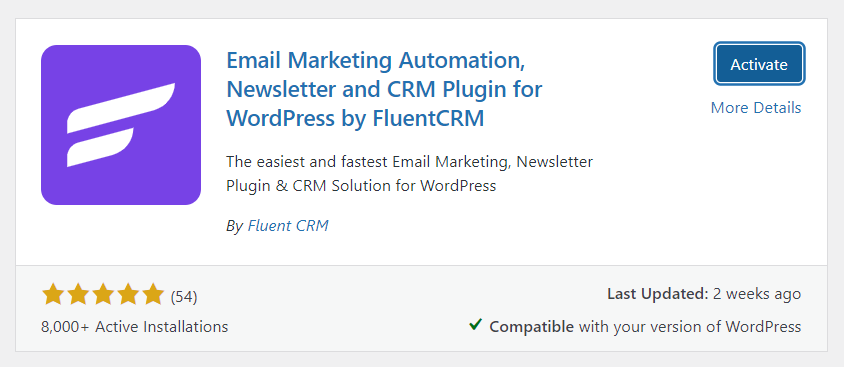 Next, we'll get into the product to do other settings.
Step 3 – Set up FluentCRM
Go to FluentCRM from your WordPress dashboard. And, you'll see the welcome screen for the initial setup. Let's go!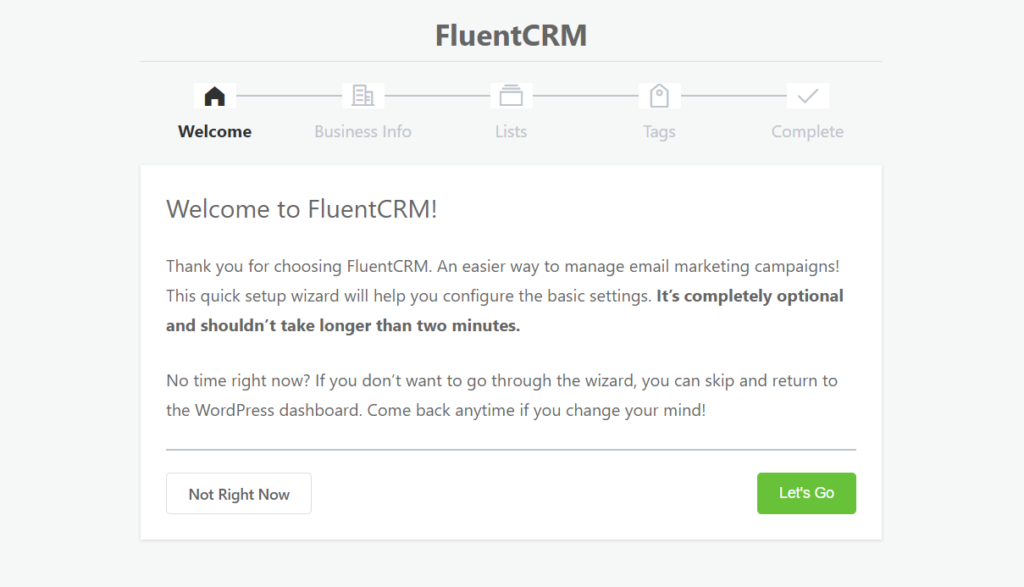 The first stage is providing your business info. So, add the name of your business, address, and logo.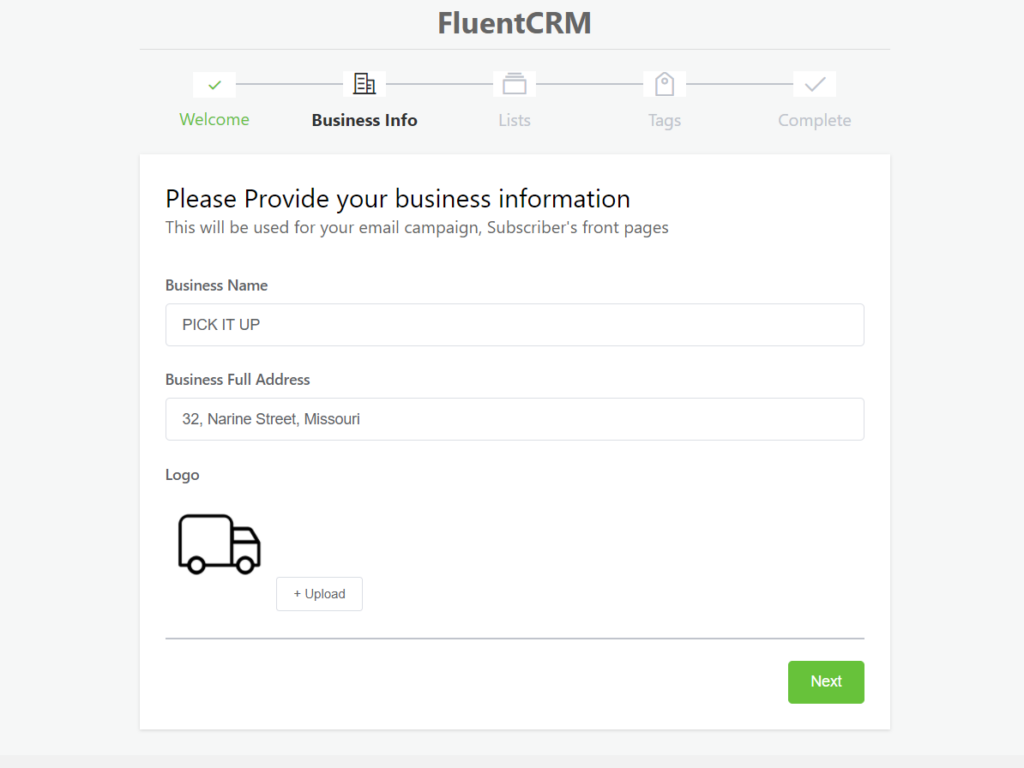 On Contact Lists, you can categorize your contacts based on your preferences.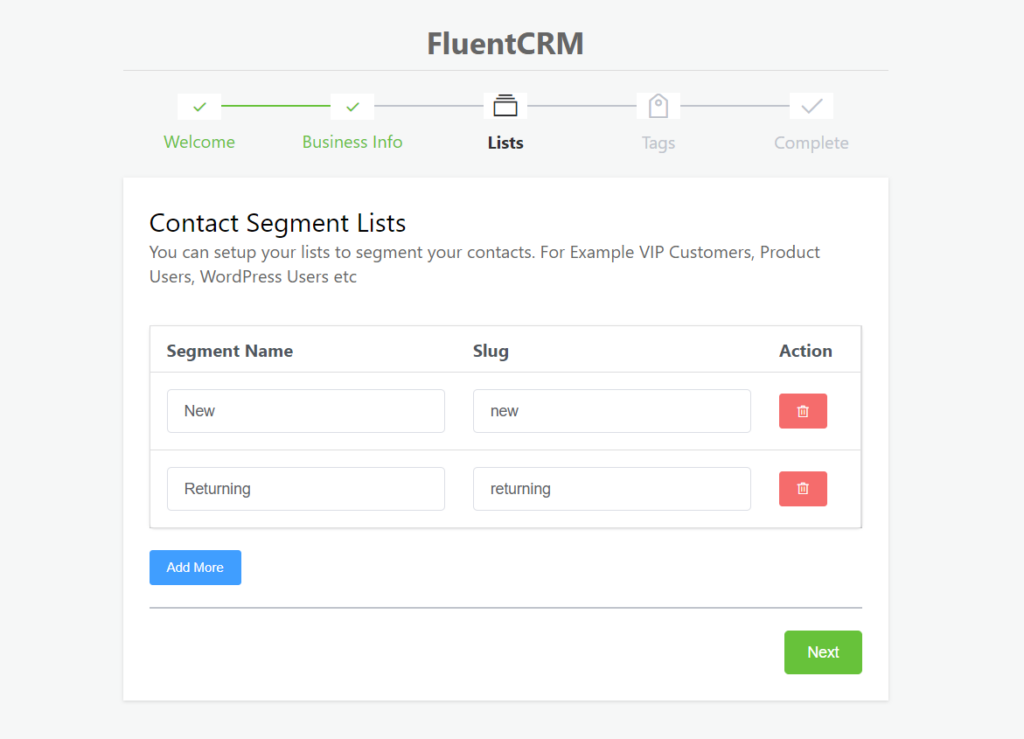 It's time to assign some tags to the contacts. By implementing tags the right way, you can filter your contacts easily. After adding tags, click Next.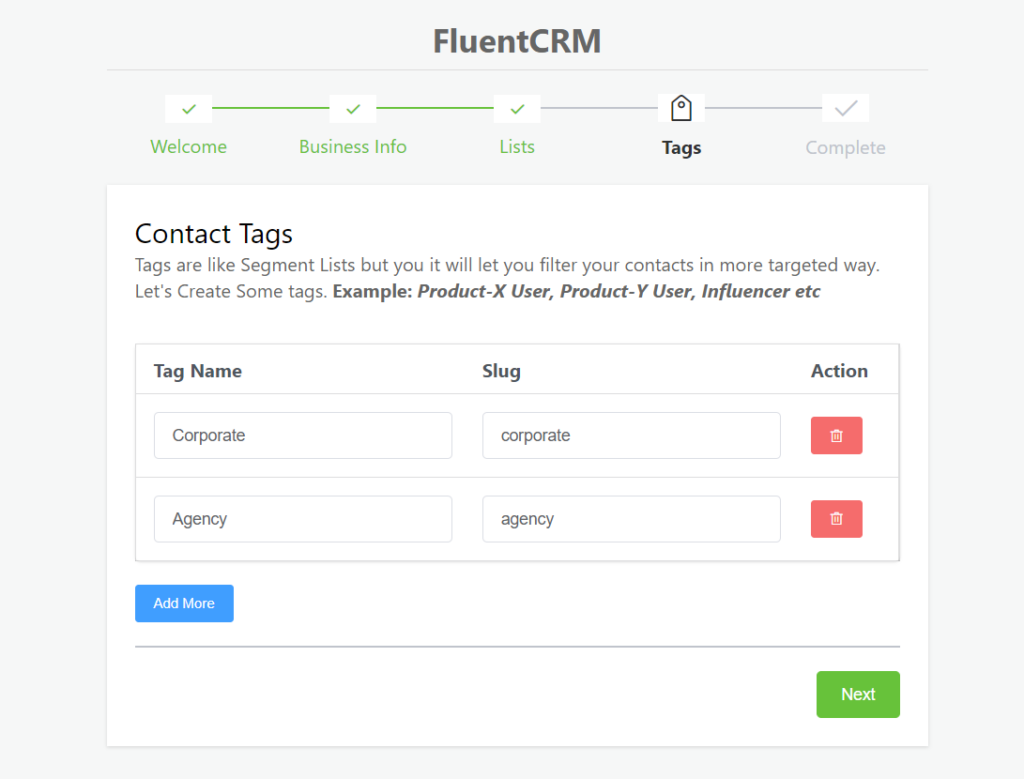 We're now on the final step. Here you can see a checkbox with Install Fluent Forms. If you haven't installed the plugin, I highly recommend you keep the checkbox ticked.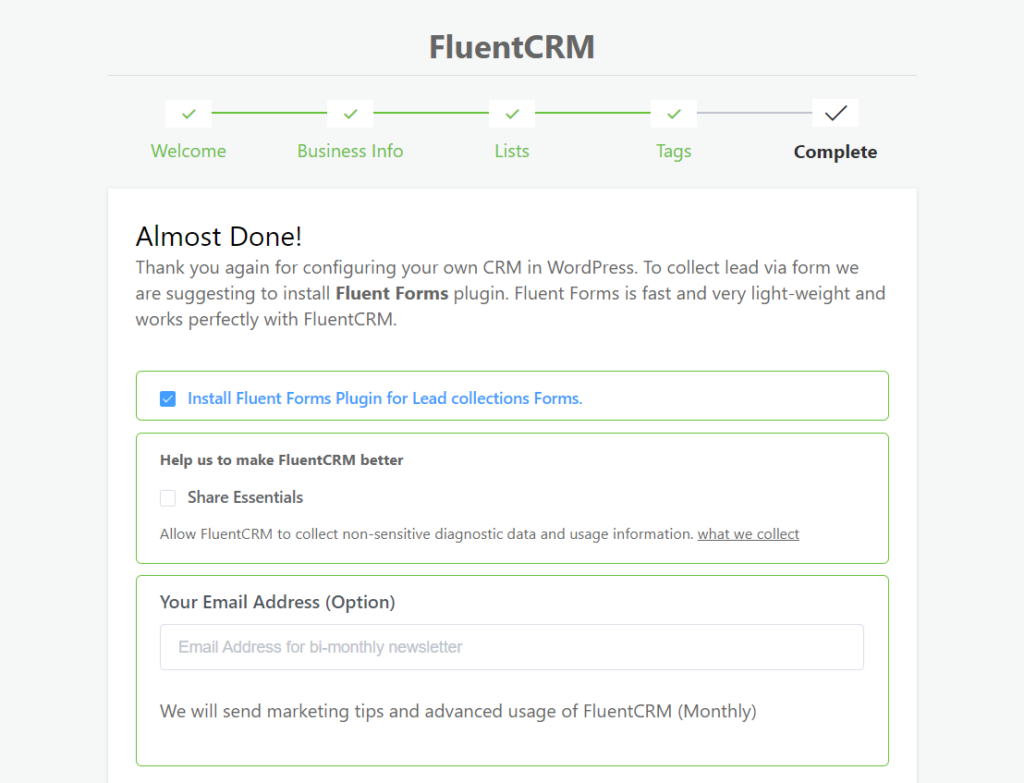 If you want to subscribe to the newsletter from FluentCRM, you can do it here. Click the Complete Installation button after getting everything done.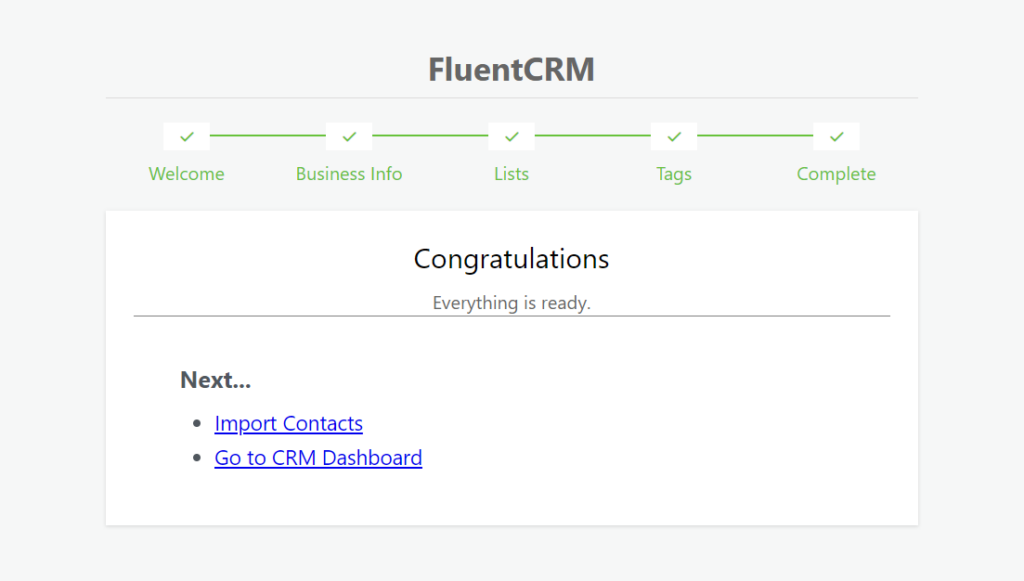 Already have some contacts? Click Import contacts. A window will appear like this. Click the Import button from the top and follow the steps.
Otherwise, go to the CRM dashboard. Here we are on our fresh and promising dashboard. We can see all our marketing activity here and control everything via settings.
Step 4 – Get SMTP installed correctly
Before going any further, we have to set up an email service, also known as SMTP. However, you can see a button called View Email Service Settings on your CRM dashboard. Click it, and it will take you to the respective place. From the bottom, click the Install FluentSMTP Plugin button. You'll see an instant success message on the top; otherwise, it will ask you to install manually.
Note: You can also install FluentSMTP from the plugin directory as you usually do with other plugins.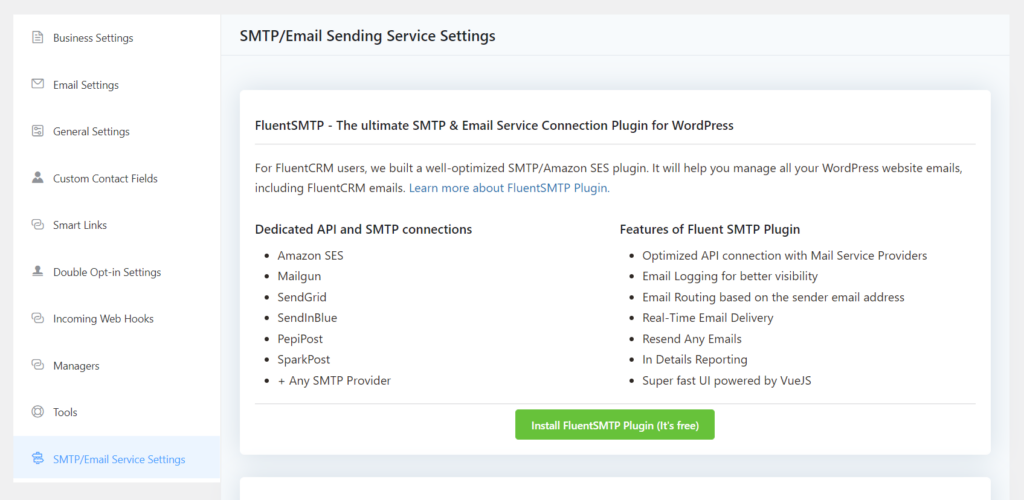 Now it's time to configure FluentSMTP. And, the most crucial part is connecting email service providers. Here's an important note. You can add as many as you want, even all of them, for your email sending. As we're trying to do email marketing for free, we'll look for tools that provide something without cost.

Check all of them you see inside FluentSMTP. SendGrid offers 100 emails per day, Sendinblue supports 300 emails per day, and Mailgun makes the game intense with 5000 emails per day for three months.
There's a big possibility of getting overwhelmed with the right SMTP. As our target is getting started with email marketing free, you can choose Google Workspace or Sendinblue. Although Mailgun offers 5k emails per month, you can't continue for free after three months.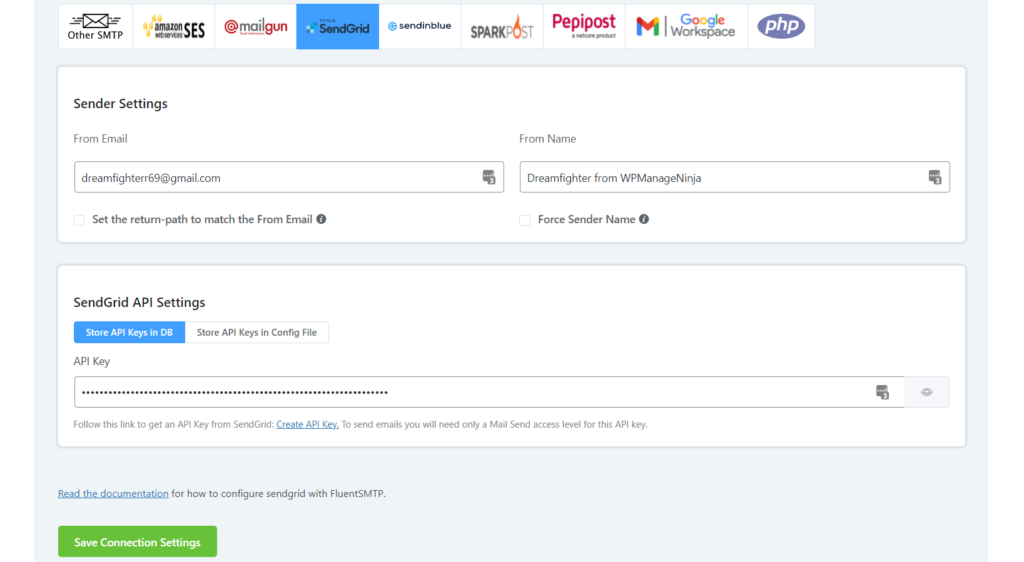 You may even go for Sendinblue to test out whether the system is working and you're getting the right traction. And you can switch later. And by the way, Sendinblue allows around 9000 emails per month.
| | | |
| --- | --- | --- |
| Email service | Free emails | Cost of pro |
| SendGrid | 100/day | Starts at $14.95/mo with 100,000 emails |
| Sendinblue | 300/day | $25/mo for 10,000 emails |
| Mailgun | 5,000/mo for 3 months | Starts at $35/mo with 50,000 emails |
| Amazon SES | 62,000/mo | $0.10 for every 1,000 emails |
| Google Workspace | 2000/day | Not sure |
| SparkPost | 100/day | $30/mo for 100,000 |
| Pepipost | N/A | $25/mo for 150,000 |
However, from the above table, we see that Amazon SES offers the largest amount of free emails. With Amazon SES free option, you can send 62,000 emails per month. Not just that, the cost is ridiculously low when you cross the free limit. Which is, you need to pay $1 for 10k. 
If you're a beginner, I think you should avoid Amazon SES, despite the lucrative features. It's because the platform requires some technical knowledge and multi-step verifications. I won't discourage you to check out what it requires before making a decision.
If you are looking for sending unlimited emails, get through the pricing of each and find out which one matches best.
That's all about email sending services. Don't get too crazy here. Check one or two, then pick out one to start your email marketing right away. As I mentioned, you can always shift to another tool.
Step 5 – Configure the basic FluentCRM settings
Let's check out the business settings first. Well, it will bring with it the information you have provided earlier. You can change it here or add new information if not provided previously.

The next tab is for Email Settings. Keep in mind that you have to give the name and email address the same as what you've provided on your sender settings.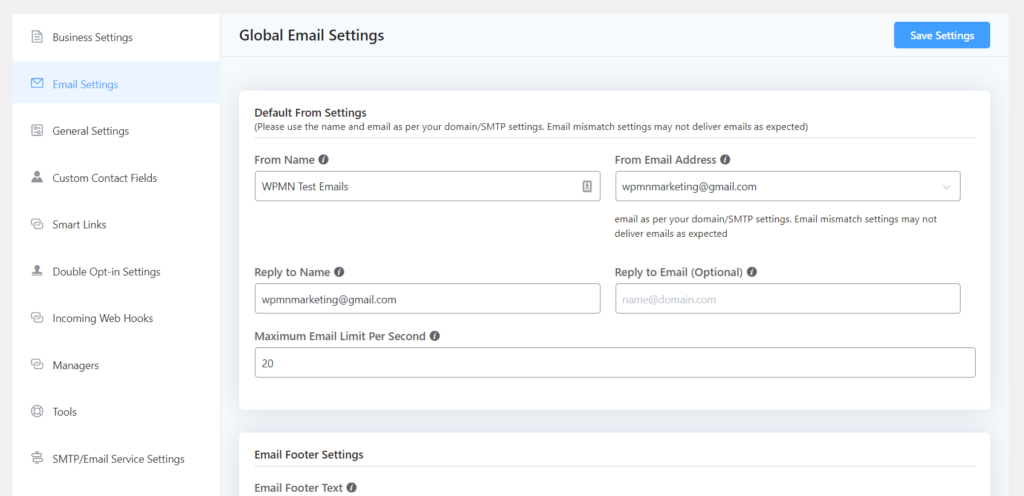 Why don't you customize the email footer settings from the bottom editor? If you think the prefilled text is okay, then leave it there.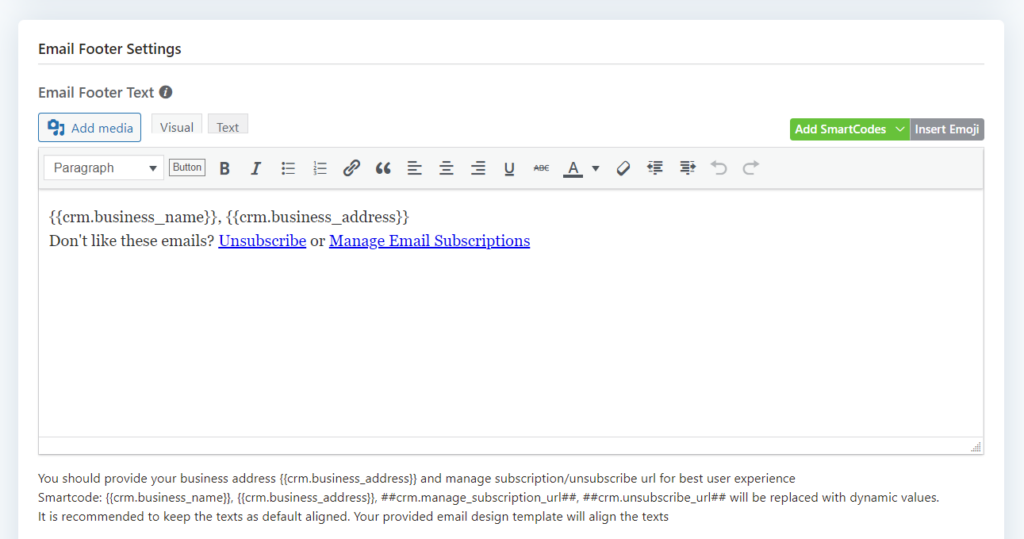 Step 6 – Connect forms to CRM
You have created the form and configured the CRM correctly. Now one question may come to your mind about how to connect this form to CRM so that when users subscribe to a form, they are added to the list.
We'll solve this puzzle very soon.
Go to the Settings of your form, and you'll see Settings and Integrations on the top of the dashboard. Jump into Marketing & CRM Integrations from the left panel.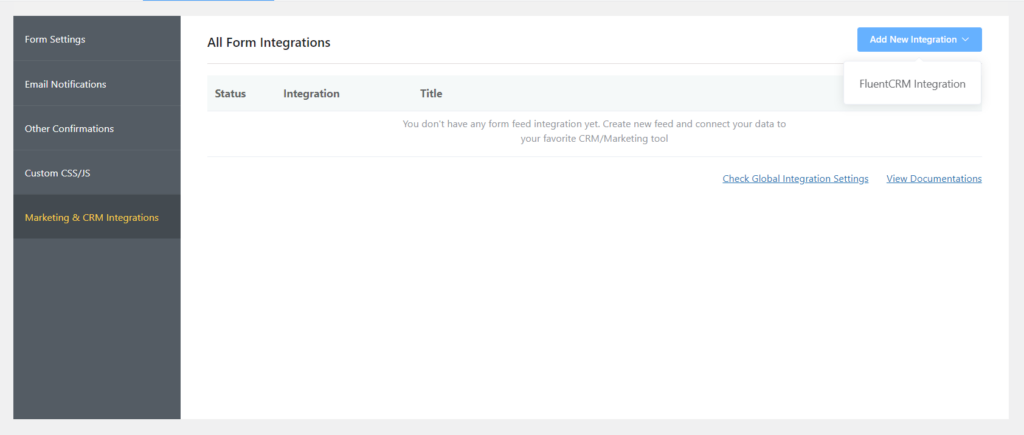 Look at the top-right where it says Add New Integration. If you hover over the blue button, you can see FluentCRM Integration and click on it. In case you don't see FluentCRM on the list, make sure you have switched on the toggle from Integration Modules of Fluent Forms.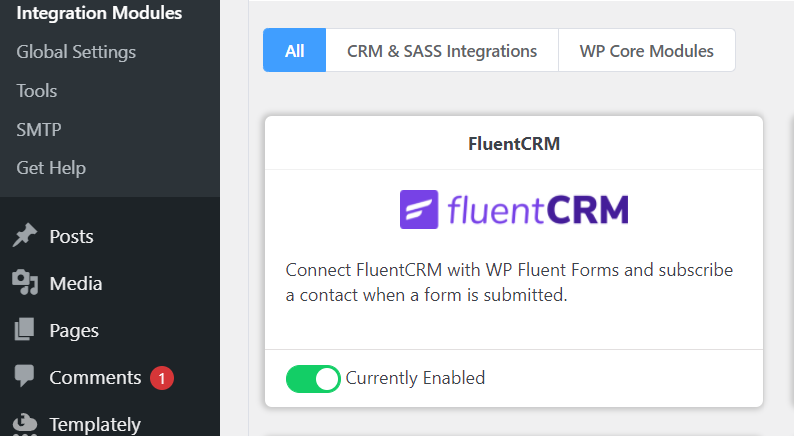 The first thing you'll do here is select the list you want to add the data coming through this form. I hope you've already created your list during the FluentCRM configuration. If you haven't, it's time to create a list.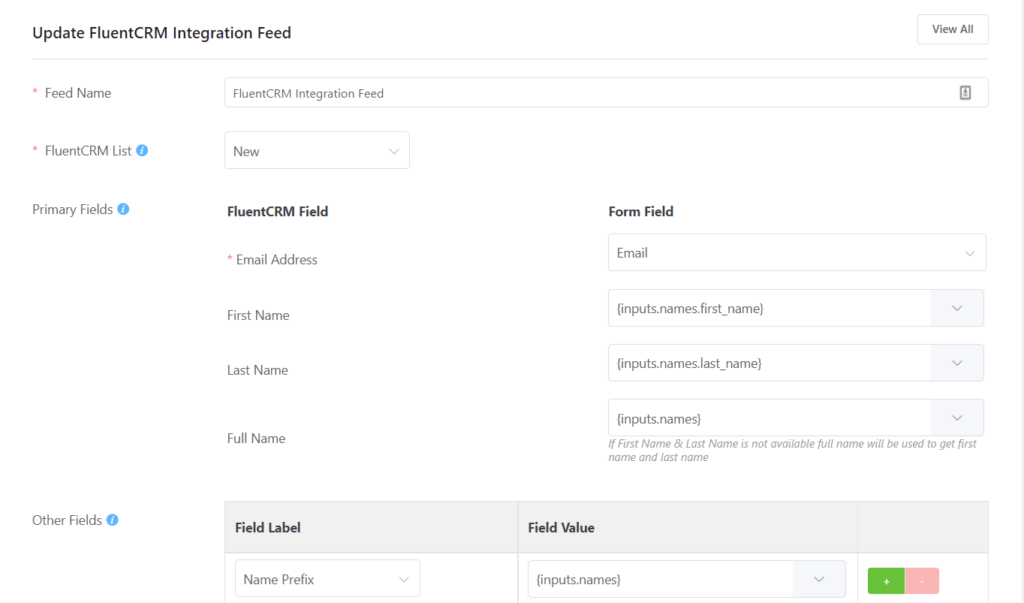 Mapping fields is the next step under Primary Fields. Click the dropdown attached below Form Field. You can see your form fields with Input Options. Pick the one that matches your forms.
Other fields will allow you to add additional fields besides the ones with this form.
Let's move on to the next part. What tags do you want to assign to this form? Contact Tags will let you do that. Select all your desired tags from the dropdown. Check out what comes on the next stage.
You can check the box next to Enable Dynamic Tag Selection. So, if any tag matches your condition, then you can assign some value as your will.
There are some other settings available here. You can select an option that will skip the contact if it's already existed in your list. Also, you can enable double optin for new contacts, and this feature will ensure the person trying to subscribe is a real human.
The last one is Status. If you enable it, you can see the contact status, such as "subscribed."
After completing filling out all details, click the button with Create FluentCRM Feed.
You'll see a success message on top-right.

We're done with connecting Fluent Forms and FluentCRM. It's time to test it out. Never skip this part. Always test after creating a new feed or integrating a new tool.
Step 7 – How to create and connect a form
Whenever you're on your WordPress dashboard, you can see a blue area on the top-right section that says Search Contacts. If you hover over it, you will have some options to do with your CRM.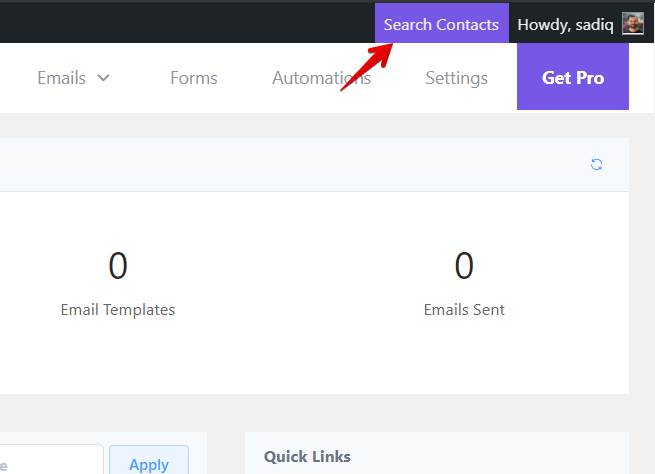 We want to create a form. Hover over that blue portion, and click Forms.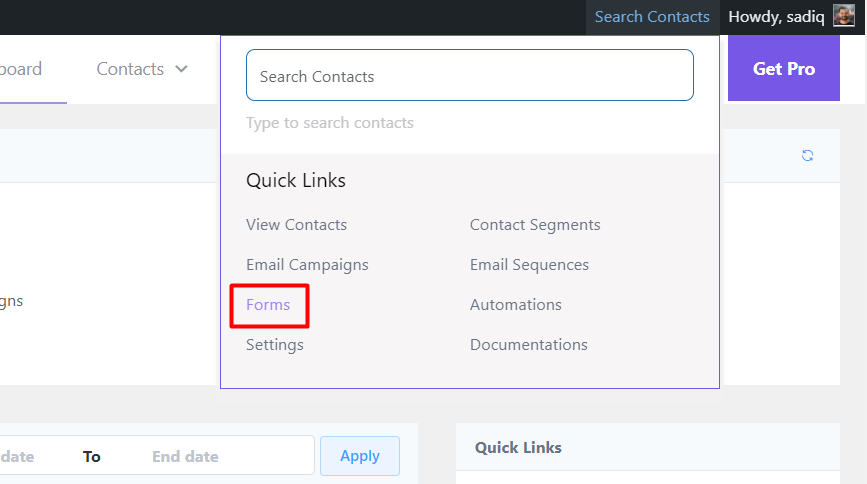 Now click Create a New Form button. It will bring you a pop-up with three form templates: Inline Opt-in, Simple Opt-in, and Subscription. Click any one of them, and it will create a form that can be customized later on Fluent Forms.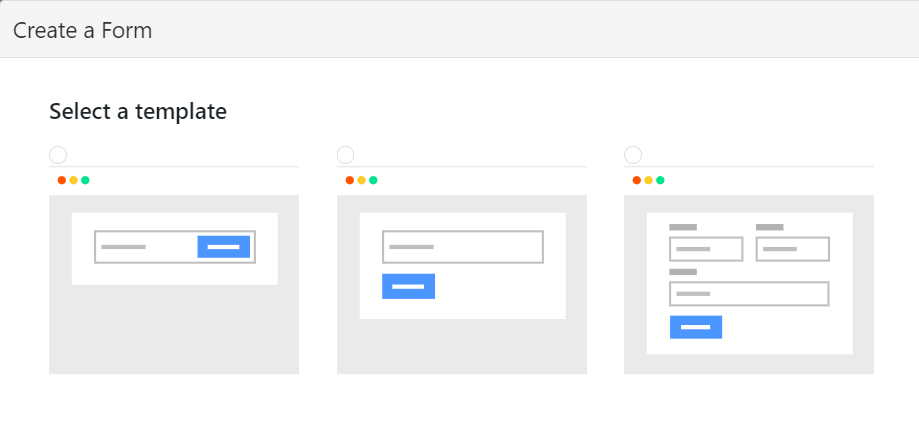 I've chosen the first one. You can see here what options it has.
Is email marketing in WordPress really possible without money?
Sure thing! Except for the email delivery service, I have nowhere talked about money. Our free products are so generous with features that anyone can head start their business.
Along with showing you how to start free, this guide has one other goal: hassle-free email marketing. Think about any email marketing service available in the market. You have to at least visit two platforms at the same time – email marketing tools and your website. Right?
With Fluent Email Marketing, you can create blog posts, customize your website, manage membership sites, and DO email marketing automation – all inside WordPress.
When you grow, you should be ready to pay back those services because the premium options will unleash more opportunities for growth and success.
For now, just begin.
Bottom line
Email marketing is going nowhere in the recent future. Now is the time to expand your marketing outlook and connect with more targeted customers. Fluent Email Marketing gives you the reason to love WordPress even more since you don't have to leave your website for sake of email marketing.
Let's have a look at what you can perform with this method of WordPress email marketing.
Create an email list
Send unlimited emails
Drag and drop editor
List segmentation
Create subscription forms
Deliver marketing emails
Unlimited contacts
Advanced analytics
Advanced segmentation
I hope you find this guide helpful. If you feel any confusion at any point or have any questions, let me know in the comment section.