Introducing Fluent Forms 4.1.0 – New Features and Improvements
Welcome back to another Fluent Forms release note. Since the last update, We got tons of positive feedback and based on that, we improved a lot of the newly added Conversational Form style and lots of new features and improvements. Let's dive into the new features and updates in this release.
New Payment Methods – Razorpay and Mollie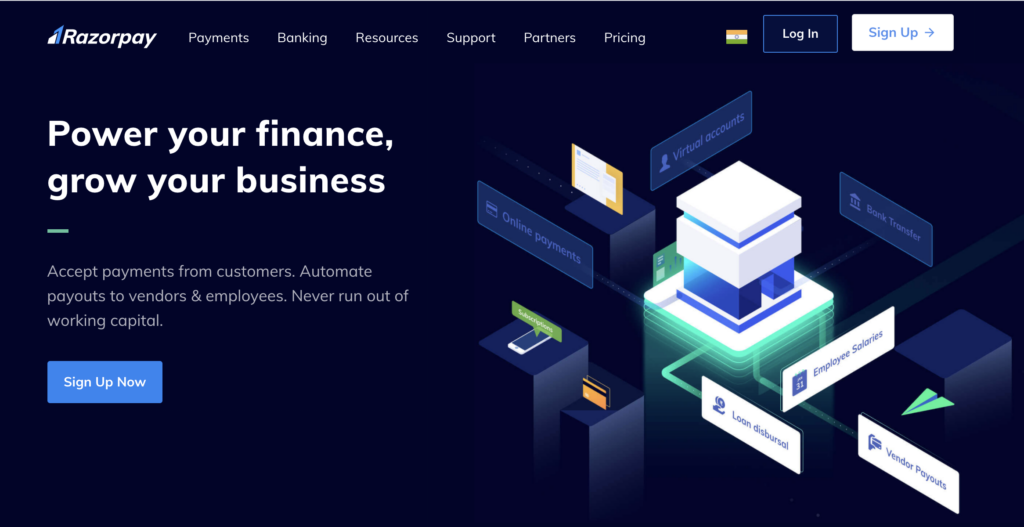 RazorPay is the most popular payment gateway for India and we have lots of customers from India who want to use Fluent Forms RazorPay to accept payments. With Fluent Forms integration, You can use any payment methods available in RazorPay just like you can do with Stripe and PayPal.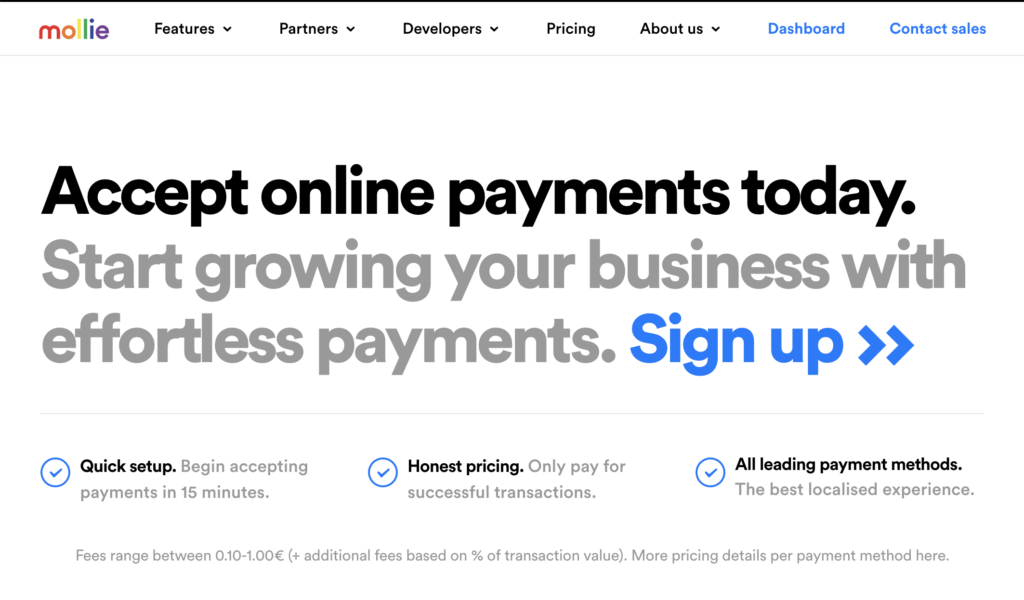 We also added Mollie Payment gateway which is very popular in Europe. As Fluent Forms is very popular in European WordPress community, We worked with few of our customers and added the integration with Mollie. With Mollie, You can accept any type of payments with a single click. With their optimised checkout page, your customers will get a native and secure experience. Please share your thoughts in the comment box at the end of this post.
Improvements on Conversational Forms
Conversational Forms is the most exciting feature in Fluent Forms and it's a unique feature that no other forms plugin offer this type of form. After the 4.0 release with Conversational Forms, We see lots of users who were using TypeForm, they are moving to Fluent Forms as Fluent Forms does not have any restrictions and it's self hosted.
After seeing so many excitement and positive feedback, We have improved a lot, I mean a lot! We built Conversational Forms with VueJS 2.0 and in this update, We have upgraded that to VueJS 3.0 which is faster and give us more API to work with. In conversational forms, we have improved the following things
Migration to VueJS v3 to V2
Disable Auto Form Submit Trigger For checkable items
Multi-Select Component improvements
Better Transition Animation
Ability to disable the scroll to the next question
Internal architectural improvements
Meta Box Plugin integration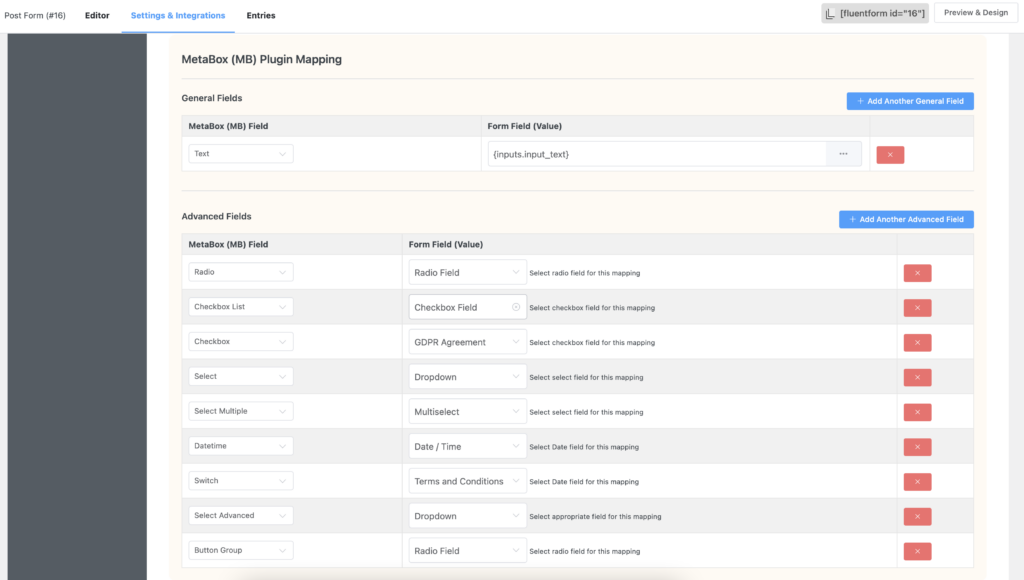 As you already know, Fluent Forms offer an in-depth integration with Post or any Custom post type. You can create a post or CPT from a form submission and you can map data from Fluent Forms Fields to Post object and meta. We have great integration with ACF and in this update, we have added a similar integration with Meta Box Plugin. We have used the internal API of Meta Box so it will be compatible with their other add-ons like a separate database system. We are super excited about this integration as lots of users are using the Meta Box plugin.
Sharable Landing Page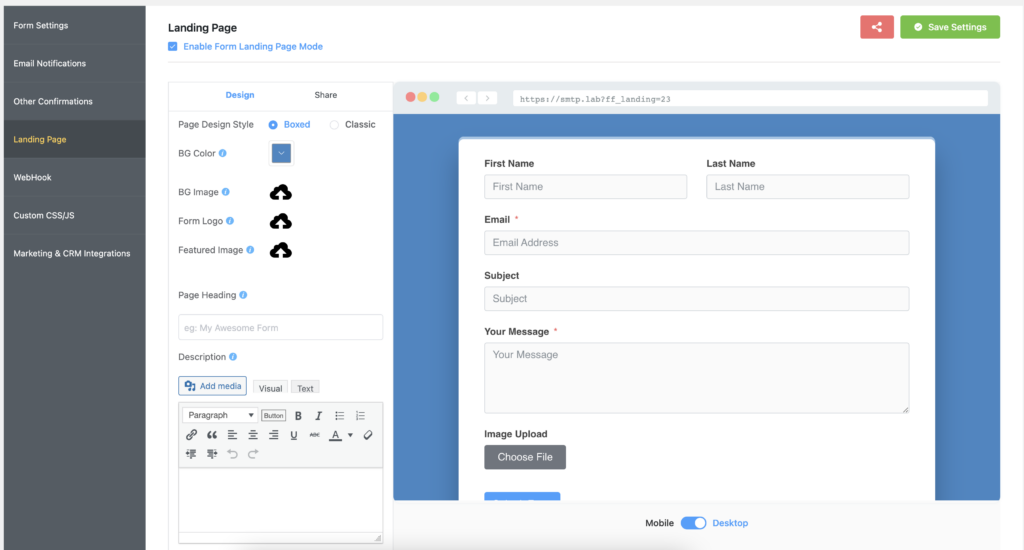 We have revamped the landing page feature. Now, You can do lots of customization for the Landing Page design and how it will look. We also added a classic Design Style so it will blend with your site design as well as it will create more focus on form.
But wait, We have bigger news on this. Now, You can embed your form anywhere you want, Even in another WordPress site or outside the WordPress world like WIX, Shopify, BlogSpot, Square Space, or in an HTML website.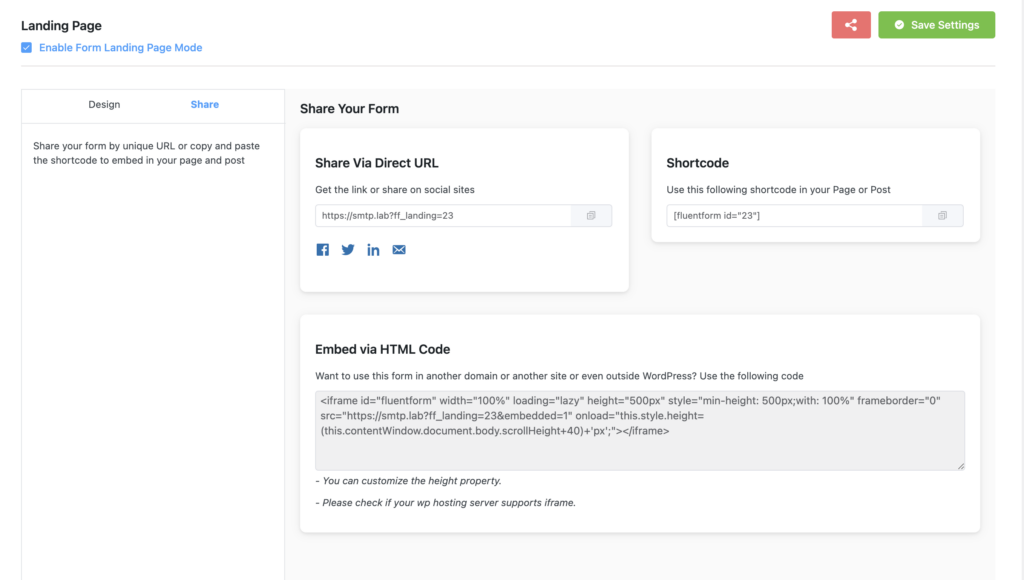 Introducing reCAPTCHA v3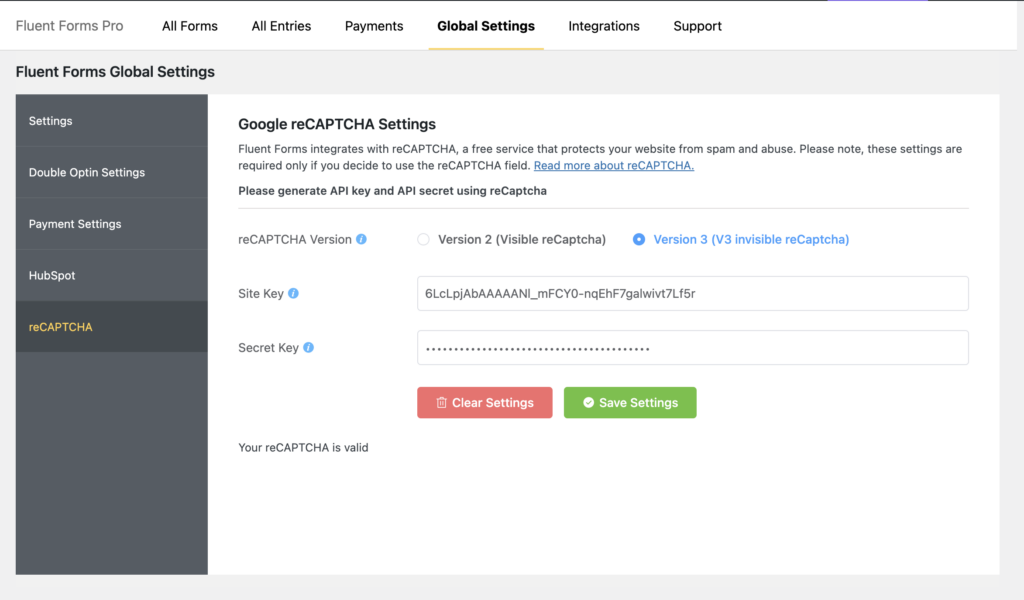 Our users were waiting for this features for a long time and finally, We delivered this. Now, You can choose if you want to use Visible ReCaptcha v2 or invisible ReCaptcha V3. With V3, It will give the same type spam protection like V3 but users don't have to solve the boring captcha puzzle.
Elementor Integration Widget Improvements
Fluent Forms work with all major page builders including Gutenberg, Oxygen, Elementor, Divi, ThriveThemes, etc. In this version, We have revisited the Elementor widget and upgraded the API classes to match with their latest API class and improved some styling issues.
Other Improvements
Added prefix and suffix to text, email, mask inputs
SendInBlue integration improvements
HubSpot integration improvements
File Attachment to Email bug fix
Other CRON related issues fixed
Custom RAW HTML Email Body for advanced or simple designs
One more thing!
Our latest product FluentCRM which a complete email marketing solution for WordPress is now powering 8,000+ businesses for their full email marketing solution. FluentCRM is a self-hosted email marketing solution that can replace your SAAS CRM like MailChimp, ActiveCampaign, Aweber, CampaignMonitor, etc. FluentCRM is integrated with WooCommerce, Your LMS Plugins (Lifter, LearnDash, Tutor) even your membership plugins. We are releasing a big update for FluentCRM with more awesome features and automation. Currently, We are running a special 40% discount for FluentCRM so purchase FluentCRM in this discount campaign.
What's next?
I am super excited about the overall development and user growth of Fluent Forms. We will continue adding new features and improve our existing features. We just crossed the 90,000+ active installation milestones.
We are committed to delivering high-quality products, maintainable code-base, and as well always keeping our products lighting-fast. Stay tuned for your latest updates.
By the way, we have a super active Facebook community where we discuss new upcoming features and our community actually shapes Fluent Forms. We are so proud to have a super active community. If you are not a member of the Facebook community please feel free to join.