Fluent Forms 5.1: FluentBooking & Notion Integration, Personality Quiz, Global Search, More Improvements & Fixes!
Shahjahan Jewel
. November 1, 2023
. 5 minutes
New month, a new update of Fluent Forms is here!
Over 300k+ businesses are using Fluent Forms, and we are trying our best to improve its functionality with every update. This update is one of the more updates we are planning for the few months left for this year and the next year.
In this update, we are releasing two new integrations. One is our long-planned Notion integration and much anticipated FluentBooking integration. There are some improvements and fixes we rolled out which you'll surely like!
FluentBooking Integration (Free)
We launched FluentBooking a few days ago. It was a smash hit among our users. We are currently running a limited-time Lifetime Deal, grab it while it's there.
While we launched FluentBooking, we released an integration with Fluent Forms. Now you can show a calendar field in your forms and take bookings.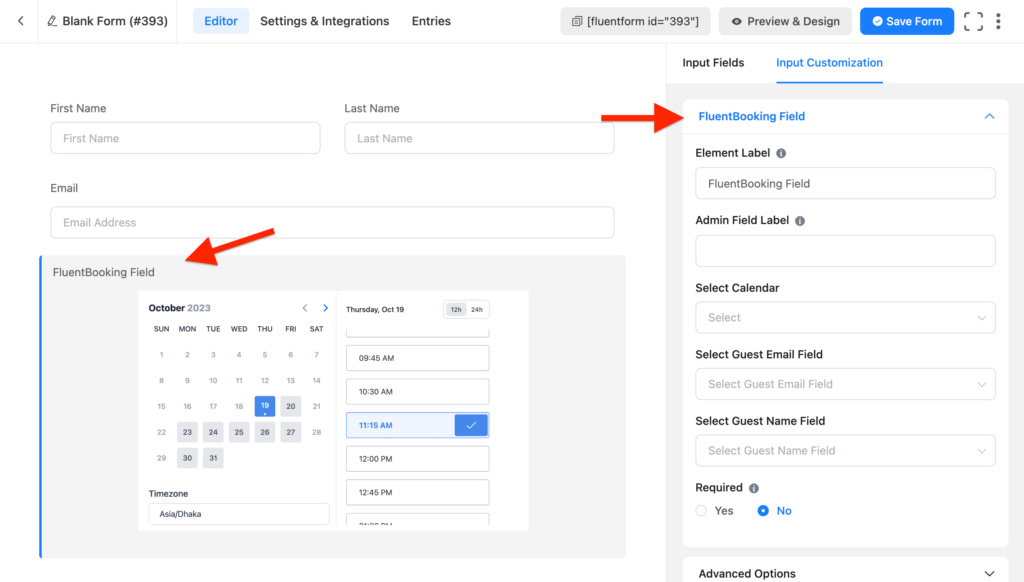 If you are using FluentBooking Pro along with Fluent Forms, this field will show up in your Fluent Forms fields. No need to enable any integration module, all you need is to make sure that you have FluentBooking installed and activated on your website.

50% Off Lifetime Deal
We have sold 85% of the earlybird LTD copies for FluentBooking and only a few copies are still up for grabs. So, if you haven't purchased a copy already, Hurry up!
Notion Integration (Pro)
The latest version of Fluent Forms integrates with Notion, one of the most popular productivity tools. This integration enables you to connect form submissions with a Notion database.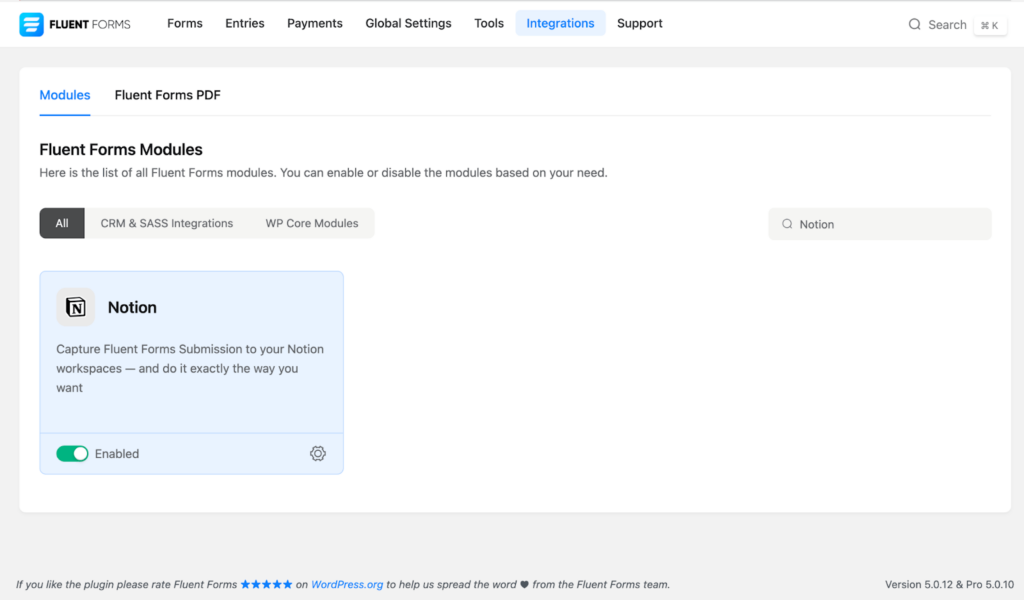 Suppose you have a Notion database that you want to be populated directly through form submissions. Just integrate Fluent Forms with Notion and map the form fields with the columns of the Notion database. It's that simple!
Personality Quiz (Pro)
Letting website visitors play fun quizzes is an effective lead-generation strategy. Keeping that in mind, we have extended the quiz feature of Fluent Forms even further by adding a personality quiz feature.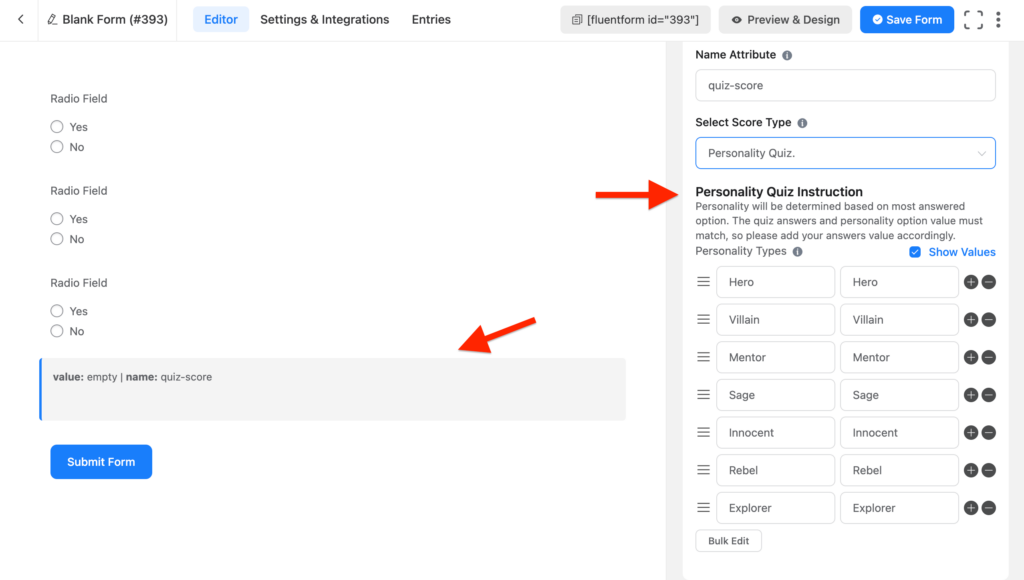 Now you can use this to build personality quizes based on values you want to attribute.
Global Search (Free)
Want to search for a certain form? Or a setting you want to access quickly? Now you can do this using "Global Search".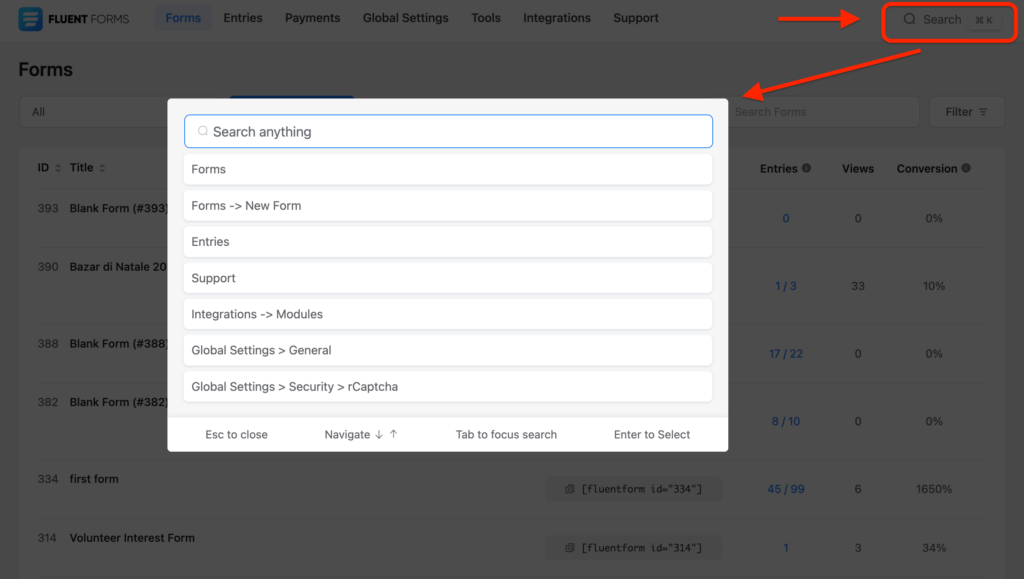 Use this search function to find any forms, settings, or Fluent Forms feature. Tell us how we can improve this in the next update, and comment on your suggestions!
Global Validation Messages (Free)
Global default messages are those messages you see when you add new fields. They are shown on fields, where you can also set custom messages.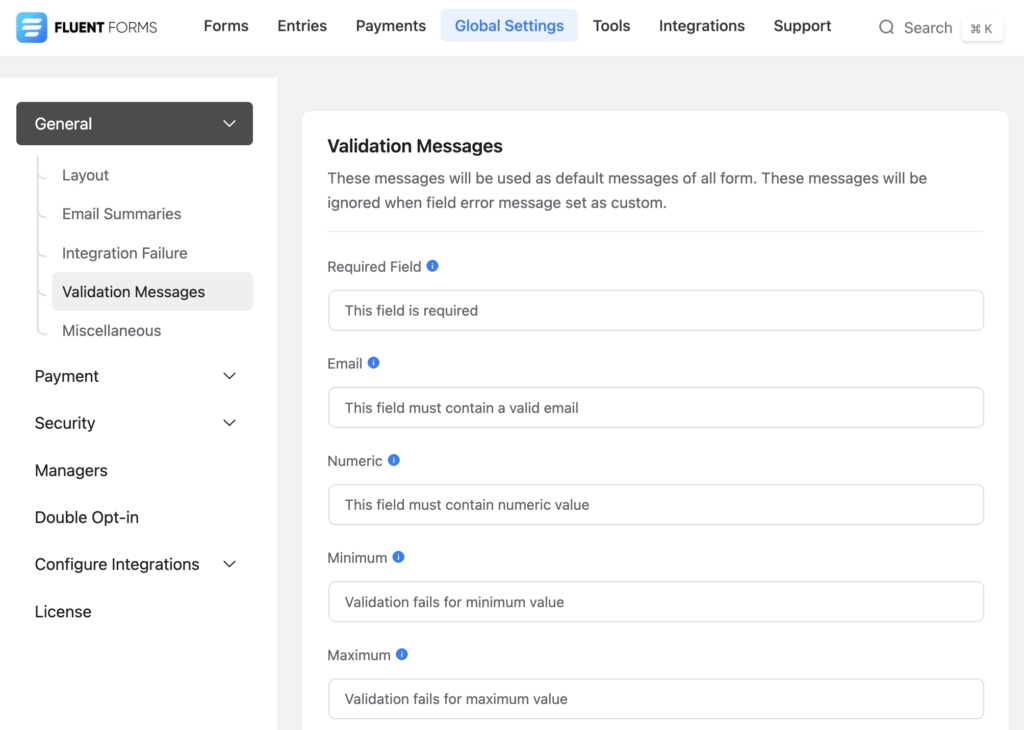 Now you can set your default messages from Fluent Forms "Global Settings".
Form submission restriction based on IP and Country (Pro), Keywords (Free)
There are three highly requested features we are rolling out on Fluent Forms. Many of you requested form submission restrictions based on some specific criteria.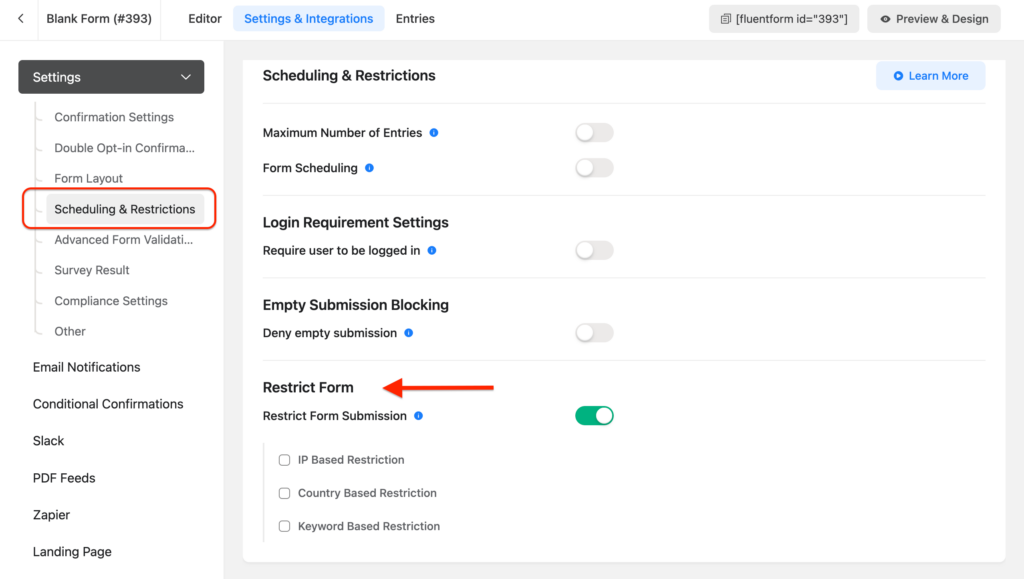 You can do this now. Fluent Forms pro users can restrict form submission based on IP and Country. If you are a free user, you can use the Keyword restriction feature without any cost. Form submission will be restricted when someone enters certain words you list on restriction.
Success and failure message option for coupon (Pro)
Running recurring coupons on your website? Need to customize the messages shown when coupons are successful or failed?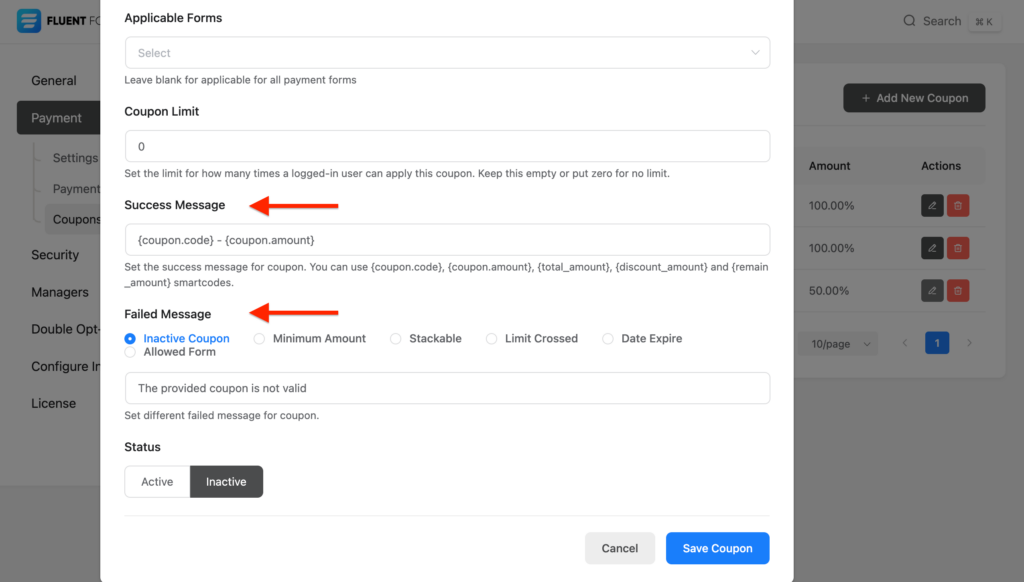 It's now possible for you to set your custom messages to show when a coupon is successful or failed. Use this to customize these messages to connect with your website tone.
Feature Improvements
Added WPForms and Gravity Forms migration support for conditional logic mapping applied to confirmation, confirmations message, and email notifications (Free)
Added a re-fetch button on form entries (Free)
Bug Fixes
Fixed URL cut-off on the Entries page
Fixed Conditional shortcode empty condition (Pro)
Fixed dynamic default value of single payment item
Fixed ACF checkbox and multi-select for user registration and update
Fixed ACF image gallery existing image on post-update
Fixed ACF image field with user-registration and update
Fixed unique value checking for pending payment
Fixed pagination in Forms and Entries pages
Fixed WPForms migrator notifications
Fixed Gravity Forms conditional logic on email notification
Fixed file/image on step form partial entry view
Fixed per step file/image name on form front-end
Updated country names in the country input field
Fixed attachment preview in email notification
Removed total views from exported forms
Fixed multiple numeric calculations in conversational forms
Fixed PHP 8+ quiz advanced scoring for the select field
Fixed CleverReach endpoint
Fixed displaying password in partial entries
Wrapping up
We wanted to give you some new integration in this update. We hope the latest FluentBooking, Notion integration will help you with your lead generation process. Please tell us how we can improve these integrations. As you see, there are lots of feature improvements and bug fixing going on. We want to continue this. Open a support ticket directly when you face any bugs. Our support team is ready to attend to your problems.
Join our Fluent Forms community to share your thoughts and suggestions or if you want to ask something instantly. If you have a minute, write a review for Fluent Forms. Your kind words are an energy boost for our team members. User reviews are our fuel to work harder.
Thank you! And Happy Halloween to all!
---
Shahjahan Jewel
Hello, this is Jewel, CEO & Head of Ideas at WPManageNinja. I am obsessed with WordPress since 2009. My aim is to be a user-centric developer first, and a serial entrepreneur second. You will find me discussing various tech issues and trying to come up with scalable solutions on different forums when I am not busy coding.
Still no repeater container…