Fluent Forms Year in Review 2020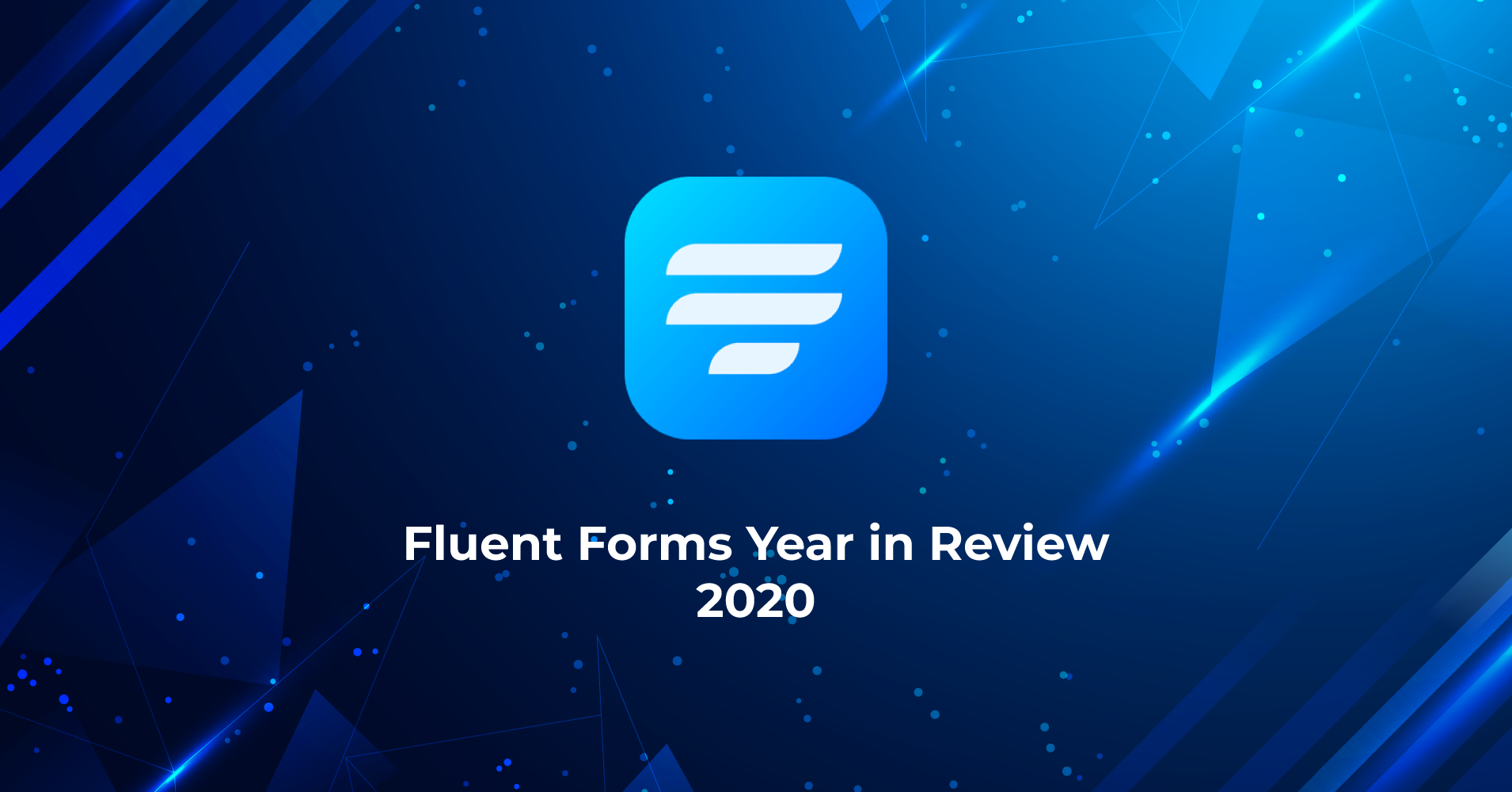 2020 was a year full of fear, transition, and challenges. We went home but continued working to deliver a smooth experience for our users.
The time might not be great for all, and life was truly uncertain. Our hardwork wasn't stopped because we care the people who put their trust on us.
And yes, our effort got paid off.
We crossed 50,000+ active installs and achieved 300,000+ downloads
Throughout the year, we've released total 18 updates along with 3 powerful add-ons. We're not going to share the details of all updates, but we'll cover the most significant ones.
User Registration, Trello, and Sendinblue
On February 10, Fluent Forms released a big update with ton of awesome goodies.
With User Registration, you can prepare a form to register users without depending on a separate plugin. This option also comes with a bunch of powerful settings to make the form most effective.
We also added new integrations as we promised. Trello is an awesome tool for productivity and Sendinblue is a popular CRM. Now both tools can are available to roll with Fluent Forms.
Other mentionable features are Chained Select field and adding Prefix and Suffix.
At the end of February, a new release comes with many useful features. Landing Page is a From day one, we were concious about spam protection, and we now have Akismet in our arsenal.
Stripe, PayPal, Drip, and Akismet
Another big update happened on March 31, where we brought the most awaited payment option. Users can pay with credit cards powered by Strip, or they can choose PayPal. You can now accept payment for your products or services. Many of our users are using this feature to collect donations.
Drip is an eCommerce CRM that enables you to build customer relationships and creating marketing automation. However, Drip is now available with Fluent Forms, and you can scale your business with more power.
Besides reCAPTCHA and Honeypot, Fluent Forms offers advanced spam protection with Akismet integration. Akismet is a popular anti-spam plugin made with love by Automattic, the creator of WordPress.
Payment Summary, PDF add-on, and Dynamic Input Values
April was another big month for Fluent Forms. Users can see the total amount of their order instantly with the dynamic payment summary. Now the cart will be updated dynamically and people can know the total amount before proceeding to the final checkout. Moreover, you can get email notifications with the uploaded image if you keep the image upload option with the form.
Previously Fluent Forms has file export support on various formats such as CSV, JSON, and excel. With this update deployed, now you can export entries as PDF. To activate this option, Fluent Forms built a PDF plugin that is free. The late April update also brings a dedicated field for payment summary.
Clean UI, Partial Entries, and Email Summary
Fluent Forms 3.6.0 brings some exciting changes to improve overall user experience. The main focus was on interface, and it delivered a clean UI.
Partial entries was another expected feature users have been waiting for. Fluent Forms kept its promises with this update and included this option so that you can track on users who left halfway.
That's not all. This version also offers weekly email summary which is a great feature for email marketing. Besides, advanced ACF fields were introduced for post creation feed.
Double Optin and BuddyBoss Integration
In November, we released an update that was mostly regarded as internal improvement. Our users wanted the double optin configuration which helps them protect spam. So, we listened and introduced that feature. BuddyBoss integration is another inclusion on the list.
Live Calculation and Security SALT
For deleting old entries, Fluent Forms presented a new option. On top of that, live calcualtion will help your users calculate instantly. By integrating SALT, Fluent Forms took security measure to a new level.
On the last update of the year, we have improved existing functionality. A dedicated field for Post/CPT was also included.
Conclusion
We believe, 2021 will be an amazing year for all of us. We wish all the best for each and every one. You can start right away by installing the free Fluent Forms, or you can jump into the pro version. It will be the right investment to tweak your business.