How to Create a Landing Page Easily in 2023
Prema Anjum
. April 1, 2020
. 11 minutes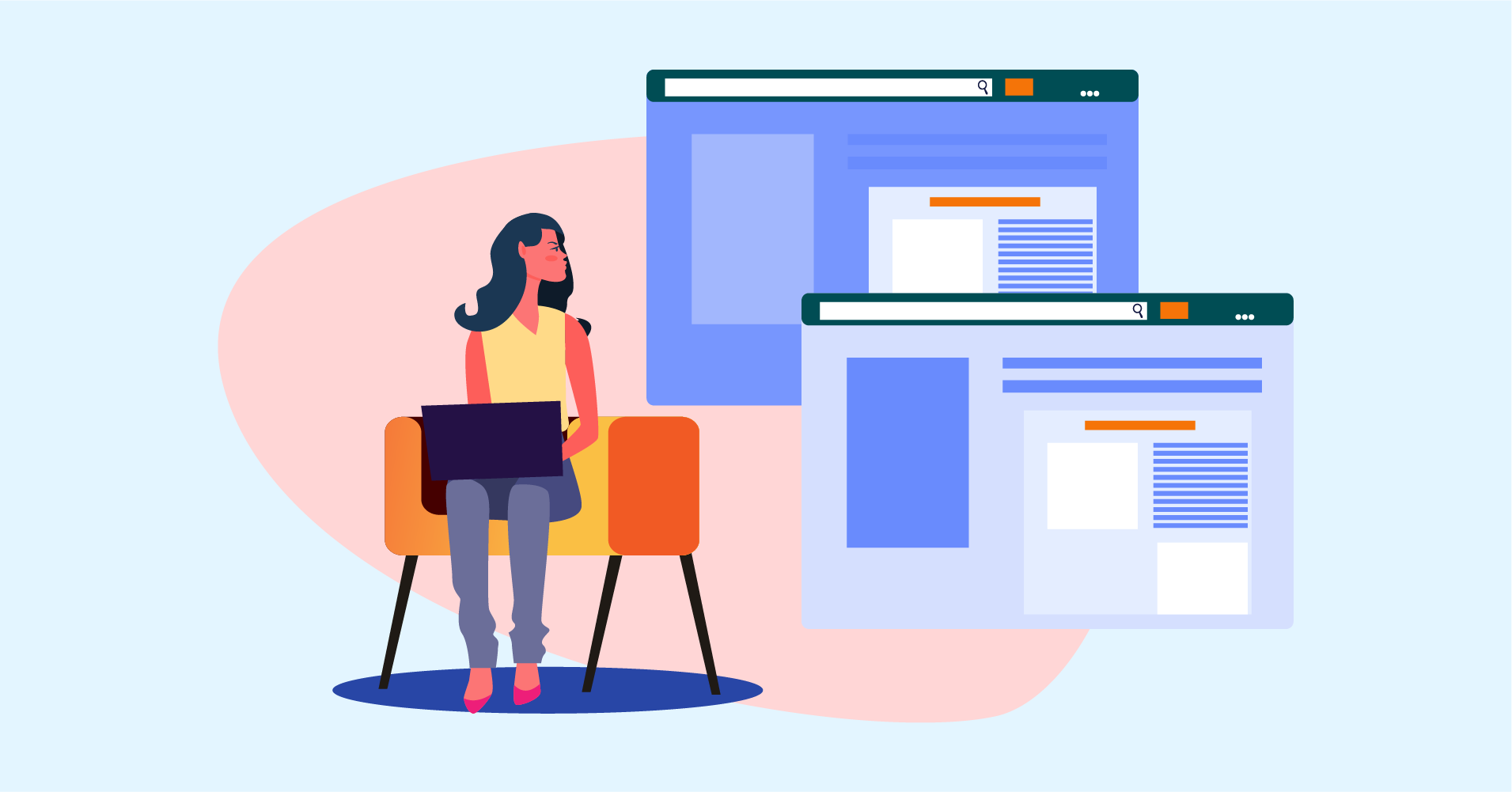 Are you looking for a method to create more email lists and subscribers? Nowadays, there are multiple channels of marketing, such as Facebook, Twitter, email marketing. Online marketers are taking different channels to advertise their products. Through their advertisements, they are also creating leads to their business. Now leads are generating through a funneled process of a landing page. Having an entire landing page on your website can double your leads and increase your email list. So, it is clear that create a landing page is important for your website.
A study found that 48% of marketers create a new landing for every new campaign to generate leads. Depending on the right landing page, you can convert your visitors into customers, and your conversion rate would also increase. The best part of the landing page is your visitors exactly can understand the action or actions with one specific goal.
Sometimes your customers are driving from your page because of a poor landing page. So, today we have listed ten easy ways to create a landing page template easily to convert your business. But first, let's know what is a landing page is and why you need a landing page.
Fluent Forms is the most beginner-friendly form builder. Download now and start crafting beautiful forms FREE!!!
What is a landing page, and why do you require to create a landing page?
A landing page is an exclusive page that we create on our blog or website to boost our lead magnet and convert visitors into subscribers. Landing pages are used in paid marketing, email, and social media campaigns. This tool inspires users to give their contact information as a change of the offer you are promoting. Focusing on a specific call to action button helps your landing page get more conversion.

Using a landing page for your website can be profitable for you because landing pages are great for creating lead generation. When visitors see a particular offer with some inspiring images and catchy words, they generally get attracted to the page and like to give their information for the offer. Landing pages are helping you to:
Helps to capture leads
When you are making your landing page much more informative, demonstrative about your product, decorate them with some excellent videos and images. Your visitors are surely going to like it, and chances of getting lead are also higher. Landing pages are allowing you to generate leads much more effectively by adding some pitched information to your ads. Within a shorter period, you can capture more leads with landing pages.
Helps you to create successful and structured advertising
Your time, money, and attempt to your advertising campaign are your investment in the business. No matter how much amount it was, you always deserve the best return of your efforts. Landing pages are the best way to put your investment for a long term period and get the best outcome of that campaign.
Helps to rank higher locally in google
Google is now not only focusing on keyword, but it is also moving forward to users' purpose and making it necessary for small businesses to focus on local landing pages. So, if you want to rank your website higher locally and generate some potential customers, creating a landing page with some local content is the best way. Design and develop your page to rank your website locally so that your people can find you and easily can understand your purpose with their goal.
Provide a more significant user experience
Every unique user is vital for your business. Landing pages are the best when it is about to attach with your users on a vast level. A correctly personalized landing page can create potential customers and helps to build a relationship with them effectively. Boost high converting reliability to your website; there is no other way than a landing page. If you customize your landing page for your users' needs, they would likely maintain the right customer and buyer relationship with you and your business.

Now, let's see how to create a landing page quickly.
Create a landing page template in just ten easy ways
Though creating a super-effective landing page that almost reads your visitors' mind is not that easy task. You have to do or make everything correctly to produce uncountable leads. But do not worry at all, we have listed ten easy steps for you to create a landing page template.
Know your purpose
In the first place, you need to know why you are going to build your fantastic landing page. Such as is it a survey form, sing in form, ebook provider, product order form, registration form, or contact form. A particular goal is important because it shortens the amount of choice you are given to your visitors and for a genuinely successful landing page.
Identify your target audience
Before making your landing page, you need to think about your target audience also. Target audience means specific characteristics of people for your business. Such as age, education, career, their priorities, favorite offers, etc. You need to study or research those first for a better outcome of your effort. Knowing your people will help you to provide service according to their needs.

For example, people living in cold-weather regions may have different needs than people who live in hot weather. So, you have to make your marketing plan according to your audience's various characteristics, and you need to know their pain points. Finally, if your product is providing value to them, your landing page also gets the highest conversion.
Start with a catchy headline
The first thing your visitors will see on your landing page is the headline. Your headline must hold your visitor's attention. Maintaining a catchy headline can capture your visitor's interest and fascination to learn more about the landing page. You might create a landing page template that is way stronger than others. But it wouldn't catch your buyers' attention without an attractive headline.

After all, your headline for the landing page should answer all the questions your visitor is looking for. Such as, what product you are providing, what your visitor will get in return by giving their details, why your service is unique, etc. And don't forget to make sure that your headline also needs to be short and to the point.
Choose the correct keywords
Focusing on keywords for higher ranking in google might seem a lengthy process, but for best results, it is crucial to maintain correct keywords. You have to select the right keywords so that the search engine could rank your page. Remember that long-tail keywords are more affected than short-tail keywords. And if you focus on specific terms, you are likely to get a more specific audience you were looking for. Select topics that are relevant to your page and product.

As an example, suppose you are a pizza chef in London, so instead of focusing on "pizza chef" and "London," you should select "London Pizza Chef in England."
Keep it simple and interesting
Always keep your landing page short and satisfying. If you make your people overloaded with choices, it will take time for them to make a decision. And when they find it time-consuming, they might leave your page. Don't ask your visitors to fill all the forms about your company or products. Focus on a specific topic to make some real potentials. Once they are your potential customers, you can send them information about other products. Always put essential features on the landing page. Excessive information might drive away your users' attention.

A Landing page focuses on getting visitors' attention in short sentences and paragraphs. It doesn't bore people by using technical words that are beyond people's understanding. Make your content in a way that is easy to read. Visitors might leave the page if they found it annoying and unpleasing. Focus on resolving the problem your visitors are looking for. Provide a message to your visitors that what they will get in return.
Add a clear call-to-action
Your call-to-action button pushes your users to take a specific action. A call-to-action button can be put anywhere on your landing page. Still, your users should recognize what you are trying to achieve by pushing them to press on that button. When people are coming to visit your landing page, they would either leave the page or will stay on the page.

Well, it depends on your call-to-action button that how much attention you are seeking with this button. Your landing page should have one purpose, and everything on your page centered on that purpose. You need to catch your visitor's attention quickly with a proper call-to-action button.
Add relevant images and videos
You can find or create so many random images. But in terms of creating a landing page template, don't use just random pictures on your page. Always use images that linked to your product or service or the specific campaign you are going to do with your landing page. The first impression still necessary; using the right images to the campaign can speed up the conversion rate of the page. Instead of using some familiar photos, use pictures relevant to your message. Also, remember to use images with high quality and distinctive.

People desire to watch your product or service in action. A study found that videos can improve the conversion rate by up to 80 percent. Always add explicit, short time-consuming, and simple videos. People are not interested in watching long term video content just for a single product or service.
Utilize your landing page to create a link
Your buyers want to sense that they linked to your company. They want you to be real and maintain a character. But sometimes, too much persona can also be unpleasant to your buyers. You need to maintain a balance. You can crack a joke with your reader, but too much fun might appear offensive to them. Make your landing page to build a relationship with your clients.
Connect your landing page with company ad
When you are creating your landing page template, make sure that your page is directing your visitors to the right place. Don't just randomly push them to your homepage. Because your users don't know what to do with that. So, when you are developing an ad, connect that with your specific landing page. Otherwise, the effort wasted if you didn't get enough conversion for the advertisement.
Provide social proofs
Imagine, you went to a shop with your friend to buy a body oil that she recommends you.
Though you went to the shop to purchase the product already still, you will ask your friend why the product is right, what benefits she gets after using the product. Like this story, everyone nowadays wants proof of everything. A study from 2018 showed that 91% of customers believe online reviews as well as personal advice.

Social proof to your product or service on the landing page can make a visitor get down to your funnel. You can add some previous positive feedbacks of your clients as a proof or some actual video and image content with a person of your product, etc.

What is the best way to create a landing page easily and free?
A Website is a significant way to get noticed by visitors for your business. Building your landing page in WordPress is even better to develop a specific offer for your business. When making a landing page on WordPress, you can focus on all your marketing attempt together. There are tons of plugins in WordPress, which will help you to make your landing page by focusing on a single action.

To make a landing page on WordPress, you don't need any coding knowledge. You just need to install the plugin and make your landing page on WordPress. A well-designed landing page is vital to get a conversion. WordPress helps you to create a high converting landing page with removing the distractions from your page. So, WordPress is the best way for you to create your top converting landing page on the website.
Final words
Landing pages are helping you to build up your email list and also creating leads for your business. So, always design and personalize your landing page in a way that would work. Write excellent content for the page and give your users limited options, so that they would get into your funnel.
As landing pages are essential, don't make them complicated. I hope this blog helped you to find the solution to create a landing page template easily.
---
Prema Anjum
Hello, This is Prema. I work as a digital marketer for Fluent Forms at WPManageNinja. When I am not playing with words, I go to explore nature.