How to Customize Thank You Page to Grow Your Business
Inqiat Ahsan Reza
. December 21, 2021
. 8 minutes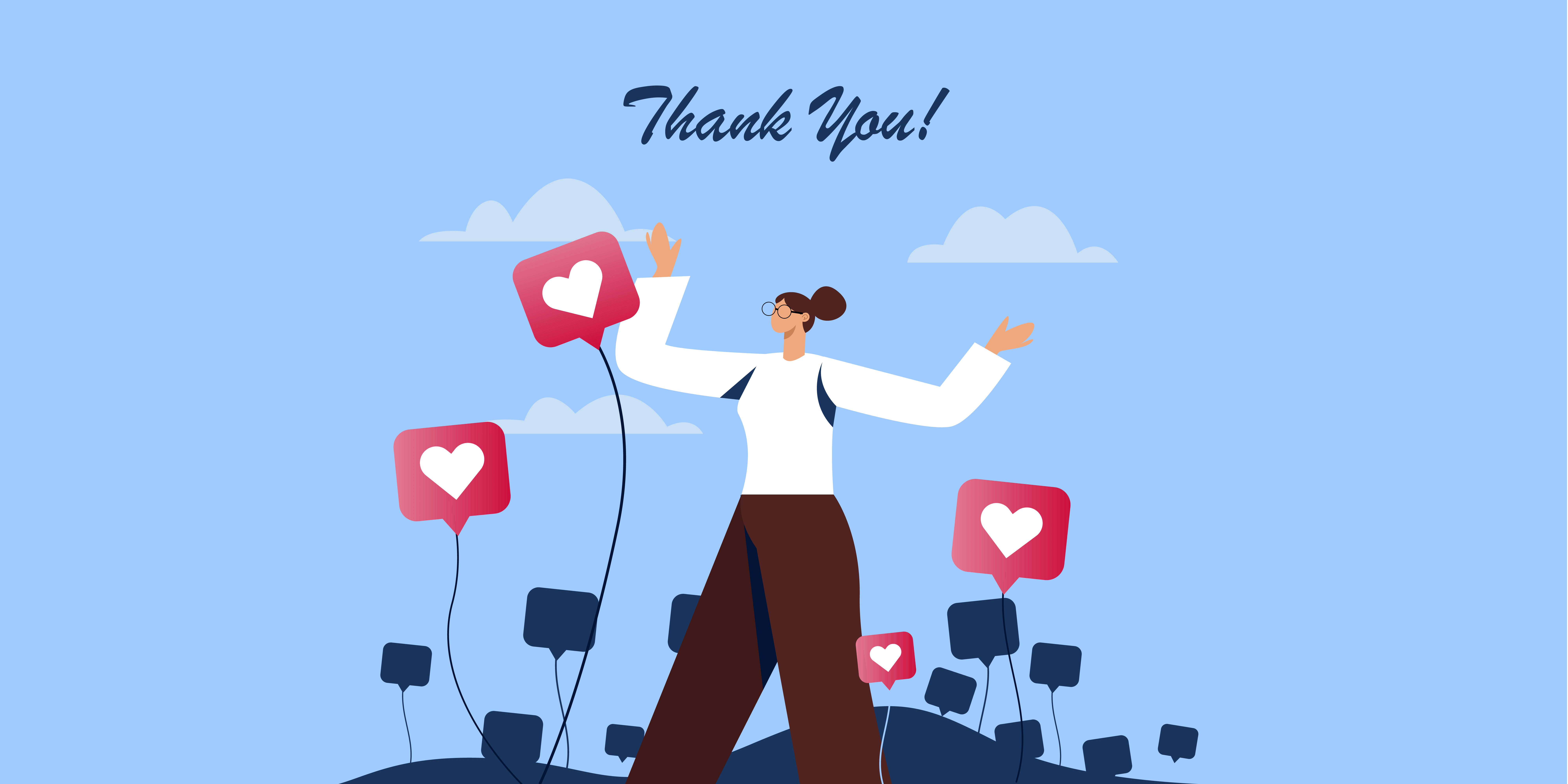 Thank you page is a page that appears right after a prospect or customer performs a desired action. Sometimes people overlook the importance of a thank you page in the conversion process. Actually, not every lead is ready to make purchasing decisions right away. And a thank you page plays a crucial role in nurturing leads toward the ultimate final purchase. In fact, nurtured leads make 47% larger purchases than those are not properly nurtured. Let's learn about how to customize thank you page to grow your business.
Fluent Forms is the most beginner-friendly form builder. Download now and start crafting beautiful forms FREE!!!
Why thank you page is important
Don't forget the importance of a thank you page; you need to keep in mind that leads aren't always fully prepared to make a purchase or sign up.
That's why a thank you page is so important as it feeds your prospects with valuable information and gradually encourages them to convert into loyal customers.
Here are some of the reasons why thank you pages are so important and have some valuable roles to play:
It's an easy and effective way to build a relationship with leads
What happened after your prospects submitted their information? Will they find an email in their inbox right away? Or will you preserve the information for the future?
Take Wistia, for example. They use the header "What happens next?" to keep their thank you page all about the next step for their thank you page. It's a viable move describing their next series of events, and the lead will complete a survey to further their Wistia Partner application process, get an email with the survey, and possibly get into the program.
They also put a video in the description to let the leads read or watch as they wish.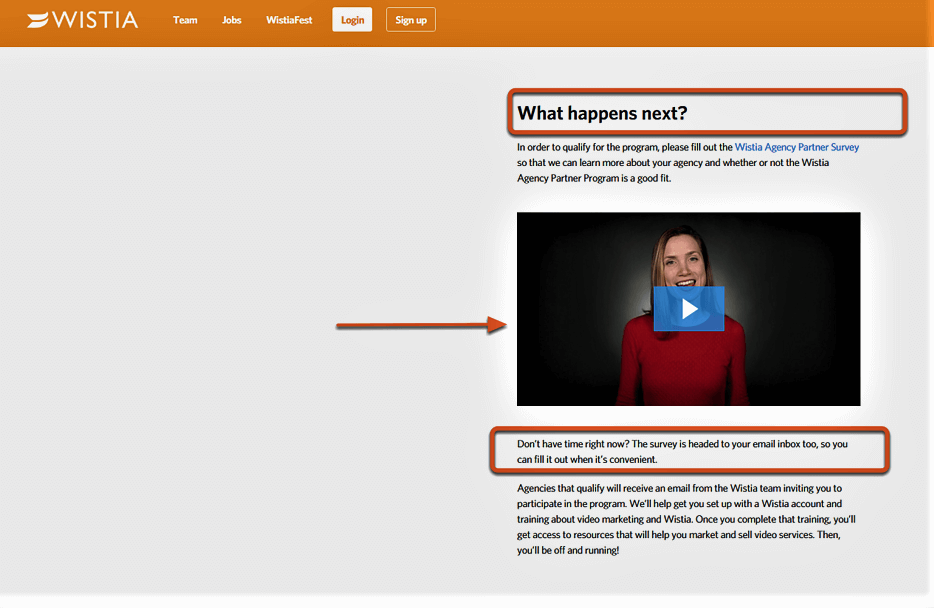 Moreover, the thank you page is the perfect place to showcase your social proof through testimonials and reviews. There's is an awesome plugin called WP Social Ninja that fetches social feeds, user reviews, and social chat widgets to your website. It's just like a social swiss knife inside your WordPress admin panel that allows your visitors to review and rate your products inside your website. To build trust with your leads, showcasing testimonials is closely tied to the thank you page's offer. But keep that in mind, don't overwhelm the lead with every piece of feedback you've received about your product/service.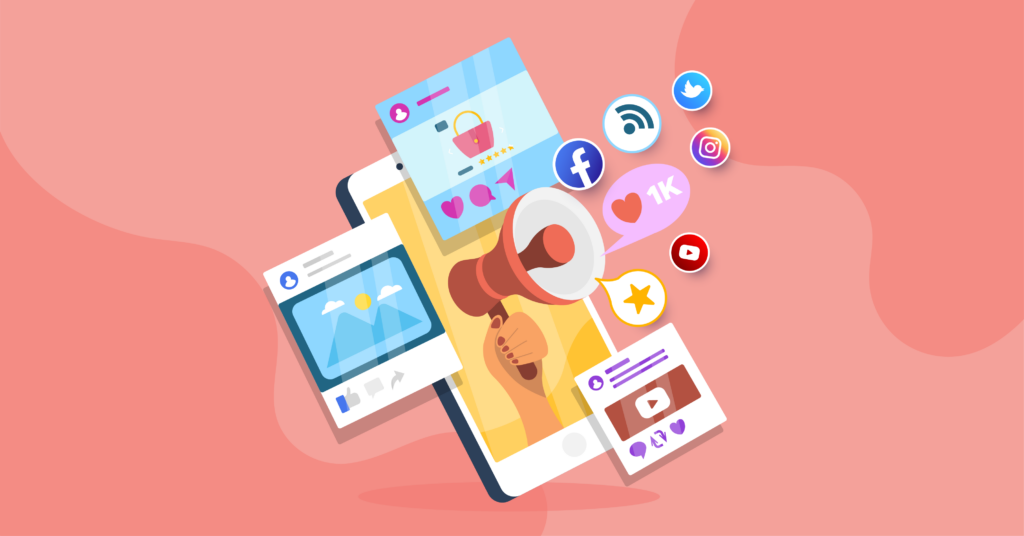 Just remember you're trying to build trust by maintaining consistency.
Use it as a word-of-mouth marketing platform
If you're running a new online business, you'll face some challenges onboarding. There is a scope to utilize your thank you page as word-of-mouth marketing. In fact, almost 74% (Ogilvy) of the people think this is one of the key influencers in the purchasing decision. That's why most businesses spend quite a bucks asking customers to refer them to their friends and family. 
Take Hubspot, for example. They utilize their thank you page ideally to get more referrals from their customers.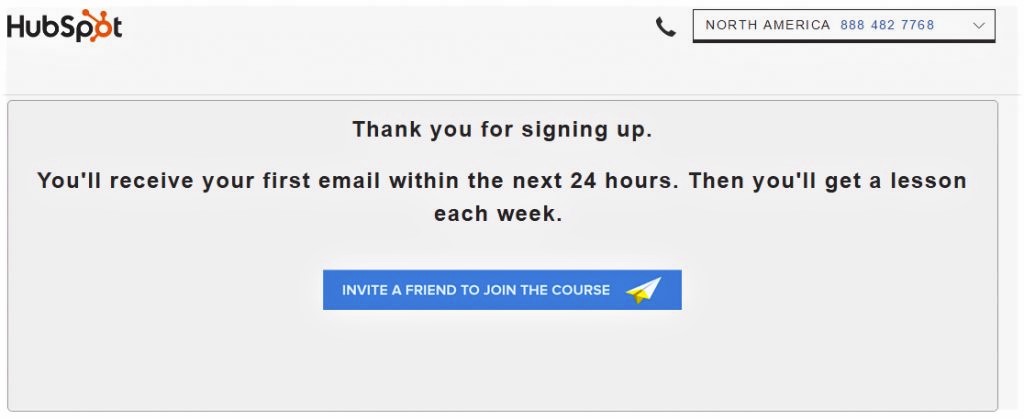 When customers are delighted with your products/services, they will be more than happy to refer them to their peers.
So, using thank you pages as a referral platform can be very fruitful to ramp up your revenue.
Increase ROI with your thank you page
Thank you page can play a crucial role in increasing ROI if used properly. You should think of it as a medium to show your prospects the next logical step. Thank you pages can be used for much more than just thanking the users for performing an action. You can add a great CTA button to increase its value. However, brainstorm before adding a CTA button to your thank you page right away. Give it a purpose and some attractive look, add lucrative offers, or offer something worth clicking. You should keep that in mind; a CTA button on the thank you page should be logical and completely divorced from the action they have just taken.
Amazon shows products bought by other users like you and directs you to the page if you like to purchase them. But make sure you don't overwhelm users with more than one CTA button. So, practice how to attract users with custom CTA buttons.
Cross-sell your other products or services
If you sell multiple products or services, a thank you page could be the best option for cross-selling. People argue about the best cross-selling option between the checkout and thank you pages. But we believe the thank you page is the better horse to bet on! Because when a customer lands on a thank you page after subscribing or making a purchase, they're at their full potential, and that's the perfect time to make your next move. Selling them your other product or luring them by offering coupons or something valid for a specific time certainly makes them think about the next purchase.
Bliss, with its clean thank you page design, provides a perfect case in this point here:
The page showcases the brand's top-selling products, luring customers to check them out and even consider buying them then and there.
Thank you pages are a basic tool to measure your conversions
You can also use the thank you page as your conversion measurement tool. Just have to add small snippets of code known as tags, pixels, or tracking codes to make it happen. This will give you insight into your campaigns and help you make better decisions accordingly.
So, you can see that thank you pages are much more than just thank you delivering pages!
Now enough chitchat, let's learn how to make a thank you page in WordPress.
Make a thank you page on WordPress
With Fluent Forms, making thank you pages is as easy as pie. After submitting a form
Fluent Forms has a default confirmation message that says –
"Thank you for your message. We will get in touch with you shortly." Fortunately, you can anytime customize this message according to your requirements. Here is how you can do that.
If you want to set up a customized submission confirmation message or thank you message with Fluent Forms, first of all, you need to go to the Settings & Integration tab from the top tab like the screenshot.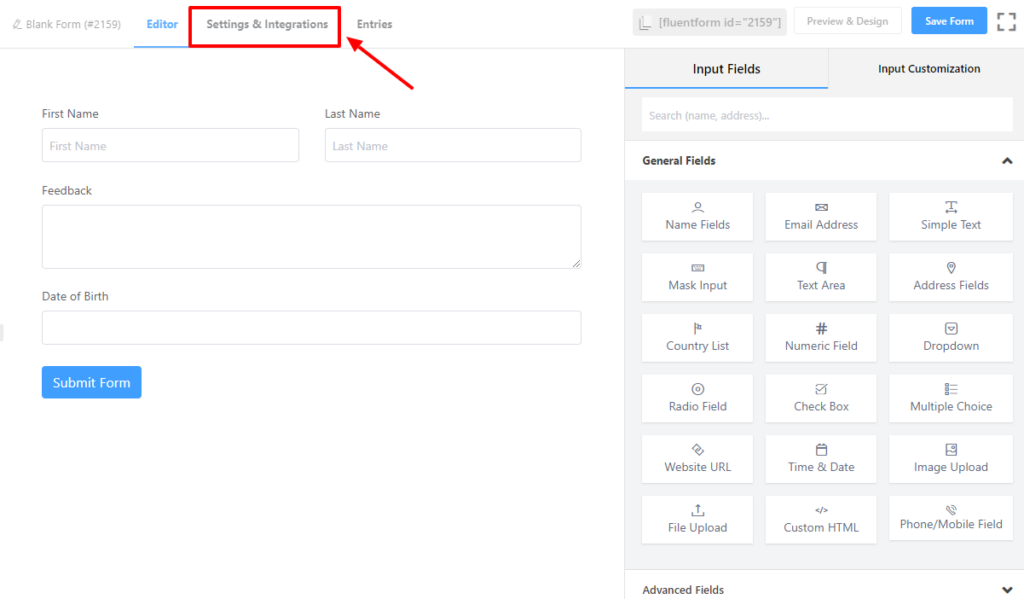 You can also go to Settings & Integrations from the dashboard, Fluent Forms> All Forms > Settings.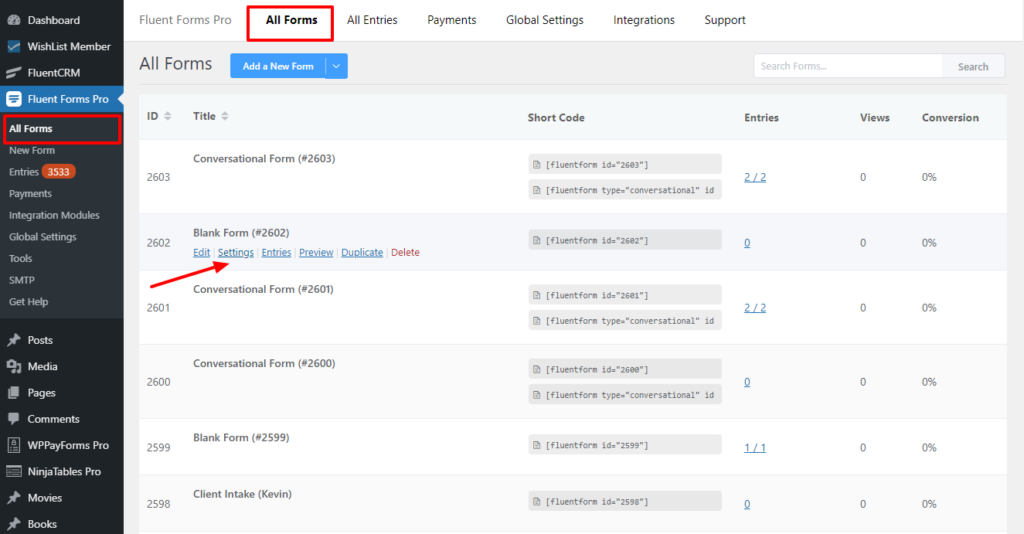 Three different options are available whenever someone has submitted a form.
a) Same Page
This option is selected by default. Same Page enables you to show the successful form thank you a message on the same page the form is positioned in.
Edit your confirmation message in the message as you like to show the field.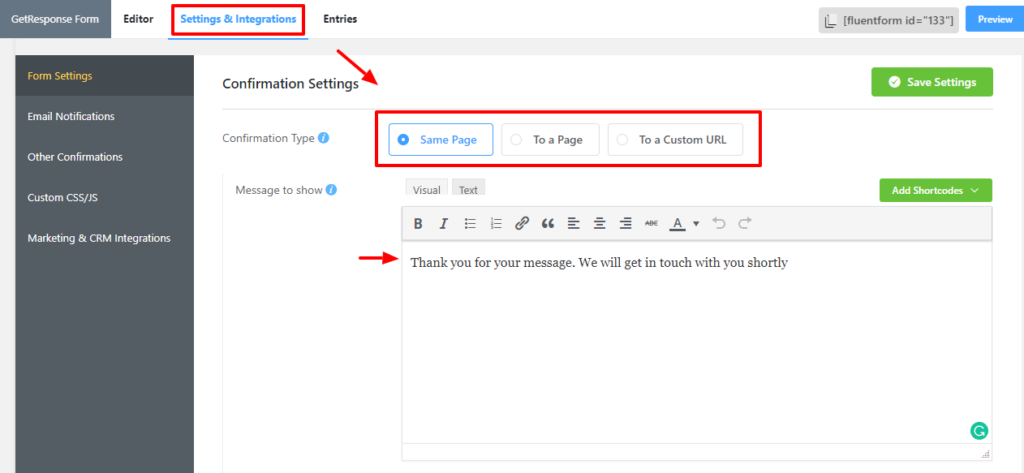 b) To a Page
It enables you to redirect your subscriber to a page of your own website; let it be a customized thank you page and follow the instructions as mentioned above.
In the To a Page option, you can select any page you want your subscribers to be redirected to using the drop-down menu named Select Page.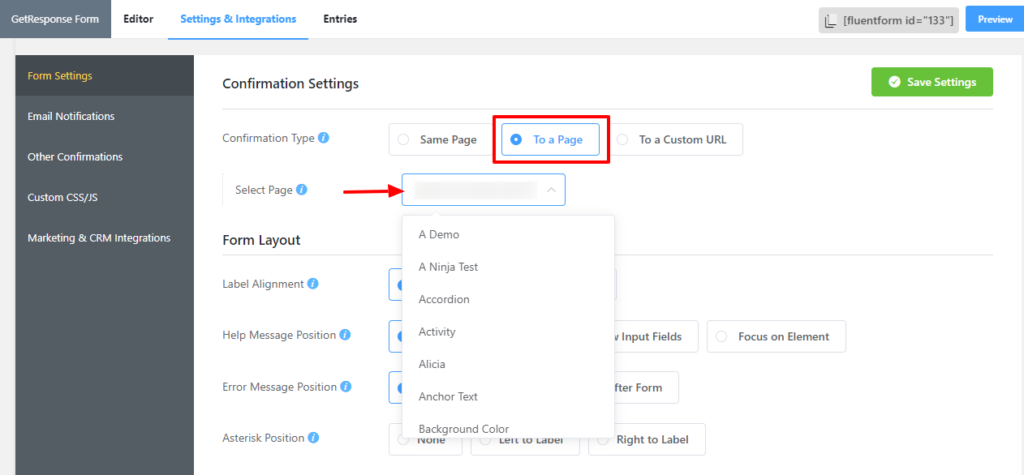 c) To a Custom URL
It redirects your subscriber to a page/website, not in your domain (it could be your other product's page).
Simply put the outbound URL you want your subscribers redirected to in the Custom URL field, which can also be a thank you page with a custom CTA button.
There is an option to use one of your fields to take URL input from the user, for example, the URL field.

So you can set from these three options as you want your subscriber or customers to go after submitting a form.
The information on the form can be passed through a query string in the URL, just like the page confirmation type. You can add merge tags to the editor screen by selecting the Redirect Query String checkbox. This editor also allows a Merge Tag Tool to make merging tags easier. For example, you can pass data in a URL like this exampleurl.com/?test=deom&test2=demo2.
Then save your customization by clicking on the Save Settings button on the top-right.
Final Comment
Now, that you know the importance of a thank you page and the best practices, make a page to get more leads and build trust among the subscribers. Don't overdo things, which can scare away people and are definitely not recommended in marketing strategy. 

Moreover, if you have any queries, comment below. Furthermore, our social media channels are rich in providing tutorials, news, and updates on Fluent Forms. Don't forget to visit.
---
Inqiat Ahsan Reza
He loves to play in the arena of WordPress and learn new things every day. Whenever he's not writing, he's playing billiard or spending quality time with his family.