Introducing Fluent Forms 4.0 (The Biggest Update Ever)
Shahjahan Jewel
. June 8, 2021
.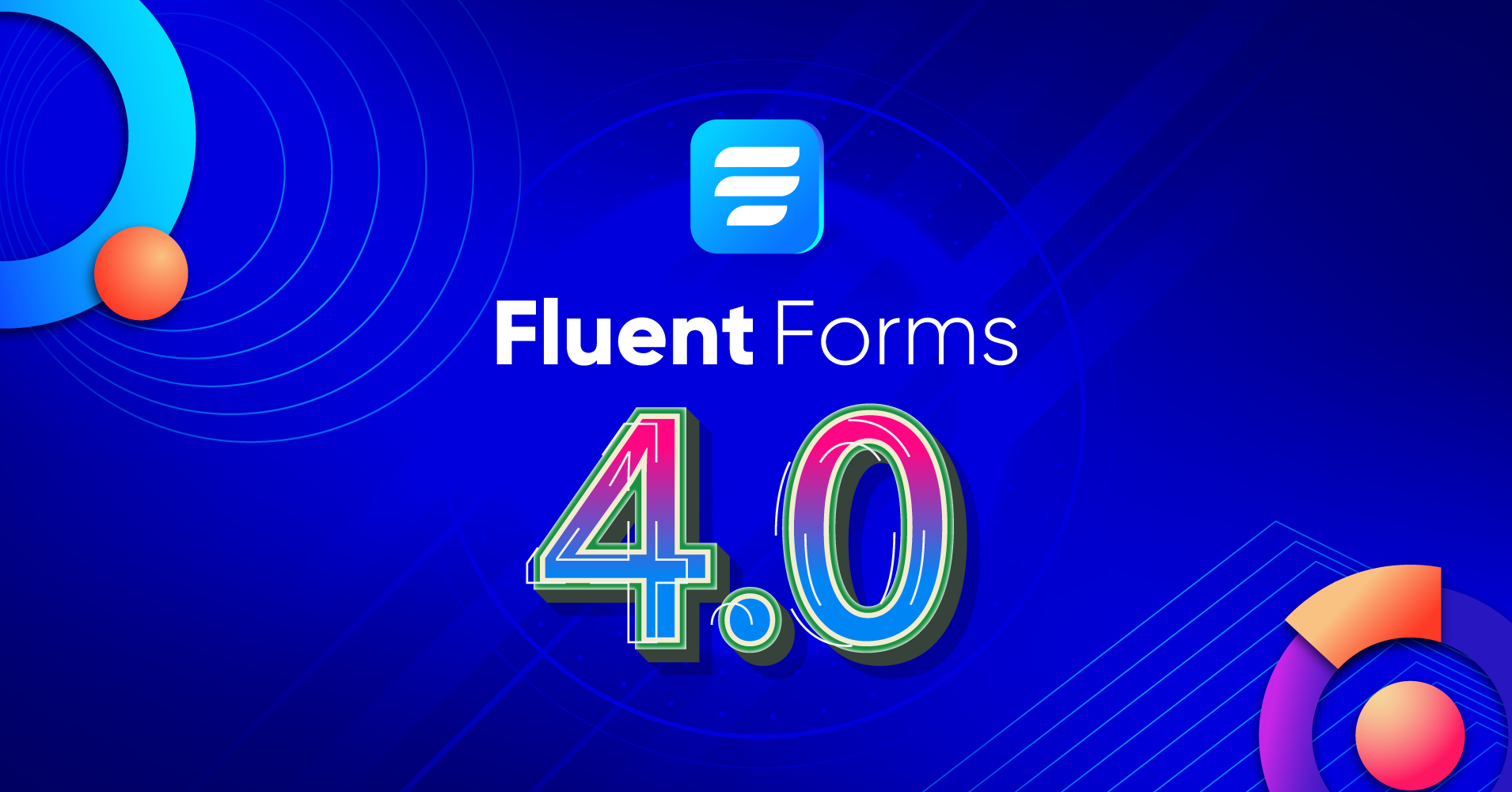 Welcome back to another Fluent Forms release note. This is where I am going to reveal the biggest feature update of Fluent Forms. For this release, our team was working for the last 4 months and finally, we just released version 4.0.
Let me start by thanking all of you for suggesting these beautiful features and waiting patiently. Your suggestions and trust mean a lot to us and we were working for the last 4 months to bring your suggested features into action. So without further ado, let's explore the features we've released in Fluent Forms 4.0!
Introducing Conversational Forms
Forms should be interactive which impress your users. Fullscreen forms are new trends on the web and there has no other Form builder in WordPress that offers this type of Conversational Forms. Conversational Forms are perfect for survey, customer feedback, customer onboarding and what's not.
We have reinvented the full form rendering engine and conversational forms will load faster as it does not load any other WordPress assets. It will give a better experience to your users. Want to try live please click here.
Customizing Form Layout
Building interactive forms is never been easier. You can build forms by just drag and drop the elements you want. You can also have full control of each input layout and customize how you want to show those inputs.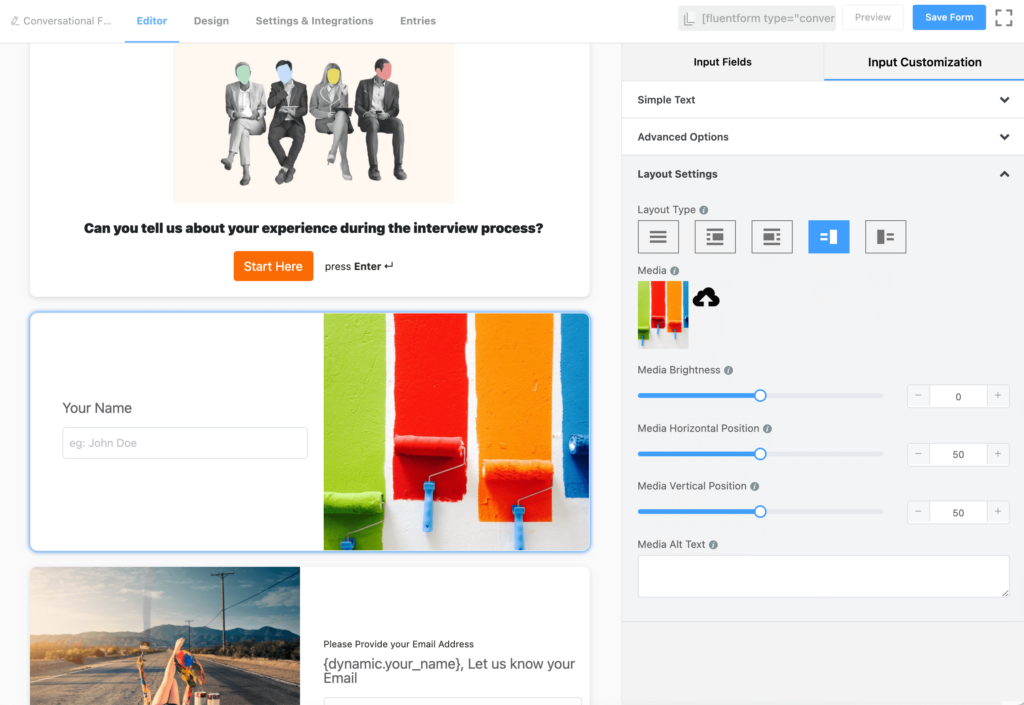 Overall Form Design
Customizing overall forms looks and feel is so easy in Fluent Forms. Like classic forms in Fluent Forms, We have added advanced design options for your conversational forms. You can set typography, button colors, question and answer colors as well as background details.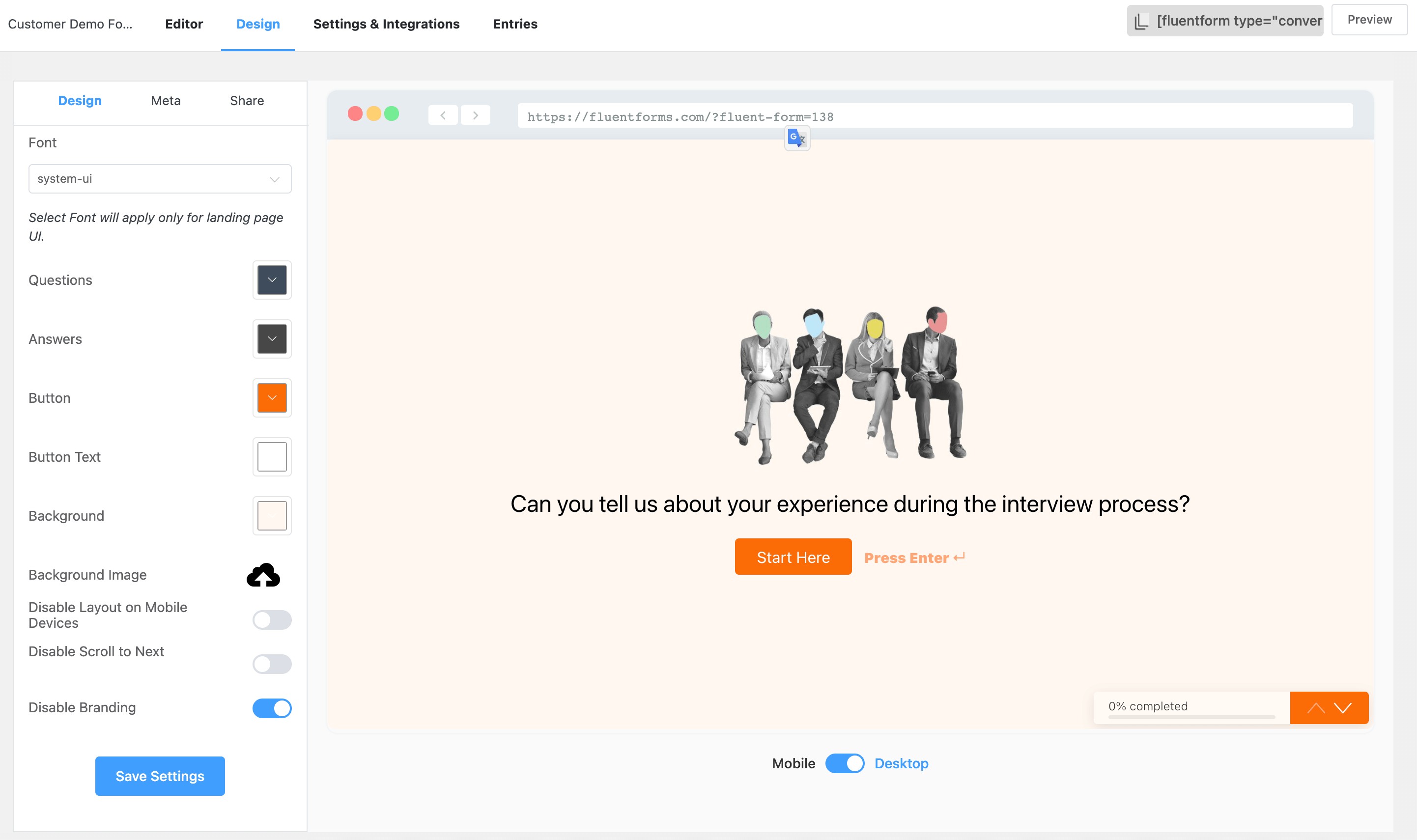 Social Sharing Meta for Landing Page
As you have made it easier for you to build landing pages for conversational forms, It's super easy customize the meta data for your social media sharing, like title, meta description, features image. You can also set pass-phrase for your forms so you can share only to the selected people you want.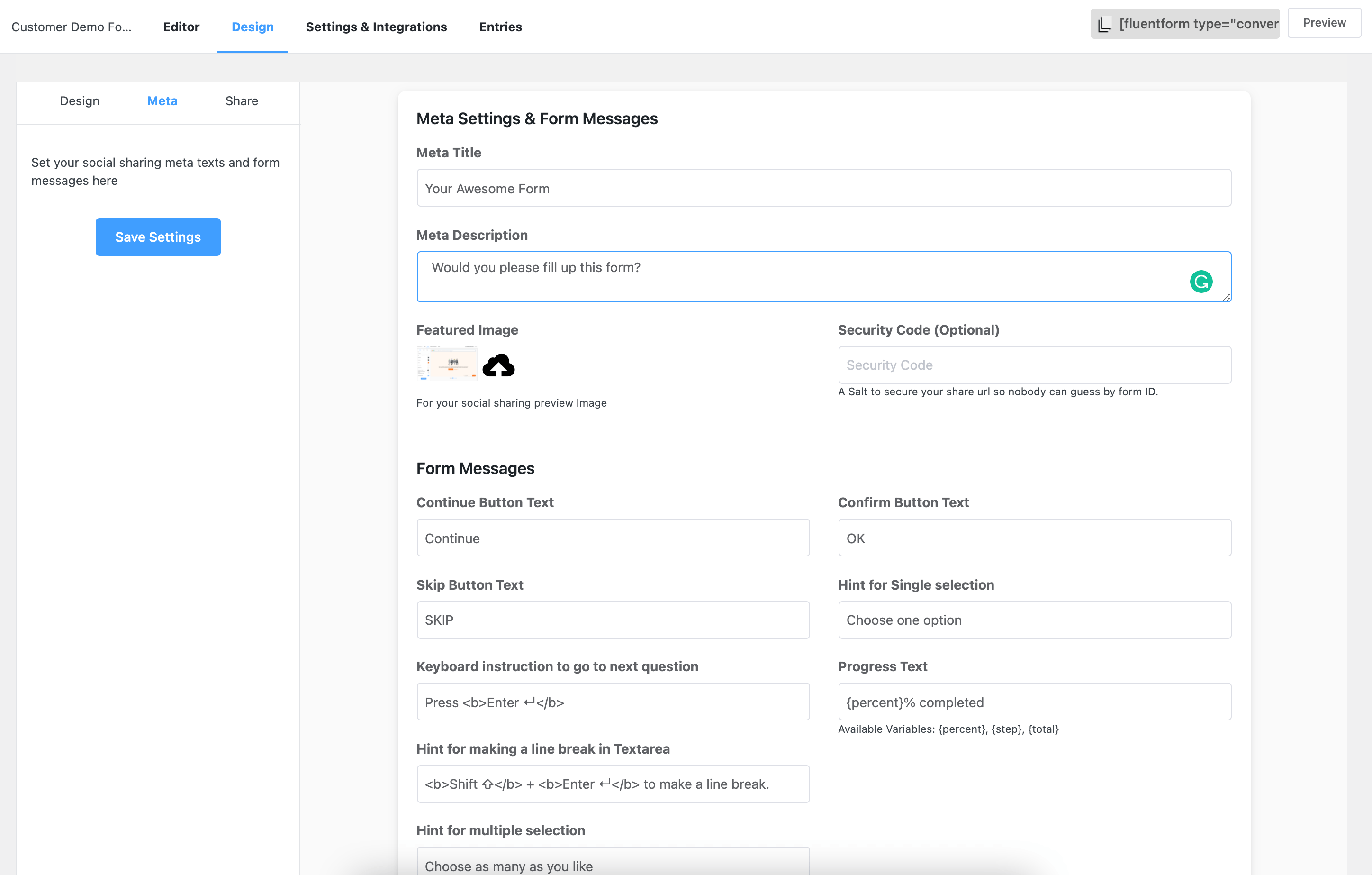 Form Sharing (Even in Another Site)
Form sharing to your audience is never been easier with Fluent Forms. You can just share the url to your users and they can submit the form easily and beautifully. Even you don't have to paste the shortcode.
If you want add the form in a normal WP page or post, You can easily do that by copy the shortcode and paste or even you can use Gutenberg Block to add your form.
In this version, We have added another exciting feature and that is, Now you can embed your form in another domain or even in any site with HTML code.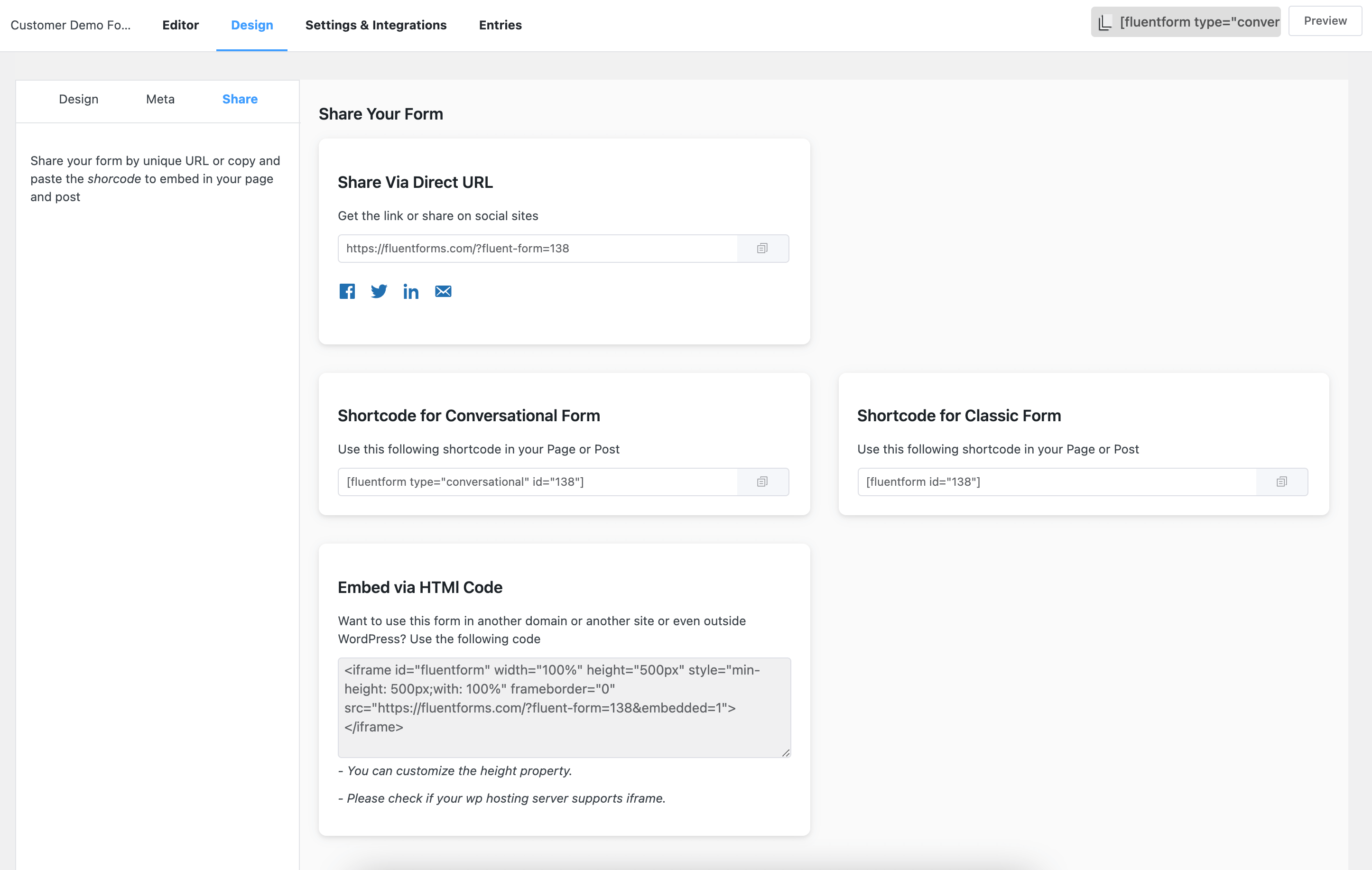 PHP API (New)
Lots of developers would love to interact with Fluent Forms forms, entries and different actions. In this version, We have added very easy to use PHP API to interact with Fluent Forms data. In the next few days, We will release proper documentations and API docs, actions and filters for you. Please take a look after few days in our documentation page.
Other Improvements
Along with the big update with Conversational Form, We have improved in lots of areas.
Payments Module Improvements
We have improved payments module feature like coupon, stripe integration, transaction edit etc. From this version, You can customize Stripe Payment Description and statement description. I just want to share about our upcoming plans for subscription payments for Fluent Forms. Our team already started working on it and hopefully, we will release the subscription payment feature in the next big update.
PHP 8.0 Support
In this version, We have refactored our PHP framework to support php 8.0 fully. Fluent Forms is now fully compatible with PHP 8.0 so if you want to use the latest version of PHP please do that without any issues with Fluent Forms.
Various Integration Improvements
Fluent Forms offer around 30+ integrations with different CRM, Marketing system, Google Sheets, Webhook etc. In this version, We have improved the API connections with various system and upgraded with their latest API version.
Custom Submit Button
FluentForms Pro had custom submit button element so you can show / hide form submit button based on other fields value. It's also important for building inline forms. In this version, We have made the custom submit button element available in free version. (Enjoy!)
UI & UX improvements
We have improved the UI of the editor, All forms screen and some other areas. For new user onboarding, We have added pre-build forms as default. So if you install Fluent Forms in your site then it will automatically add a contact form and a subscription for by default. Hope, This will help our new users to get started with Fluent Forms.
What's next?
I am super excited about this new version and I hope it will help thousands of users to build effective and high converting forms for their businesses. We will continue adding new features and improve our existing features. Currently, Fluent Forms is powering 80,000+ websites and our growth is very high. We are getting lots of well wishes from the community and we are excited about the future of Fluent Forms.
We are committed to delivering high-quality products, maintainable code-base, and as well always keeping our products lighting-fast. Stay tuned for your latest updates.
If you don't have Fluent Pro yet, Please check our Lifetime License deal:
---
Shahjahan Jewel
Hello, this is Jewel, CEO & Head of Ideas at WPManageNinja. I am obsessed with WordPress since 2009. My aim is to be a user-centric developer first, and a serial entrepreneur second. You will find me discussing various tech issues and trying to come up with scalable solutions on different forums when I am not busy coding.
Hello Aaron. So sorry to hear that? But have you tried our global styler? It's right there on the preview page. Allows quite a lot of styling options that require no code.

BEST form software in history.

Hi there,
Definitely the Gravity Forms killer. Thanks so much for this amazing release, can't wait to test it.
Keep up the good work. 🙂

Thank you so much! We hope you have a great time creating forms!