WordPress Emails Going to Spam? Easy Solutions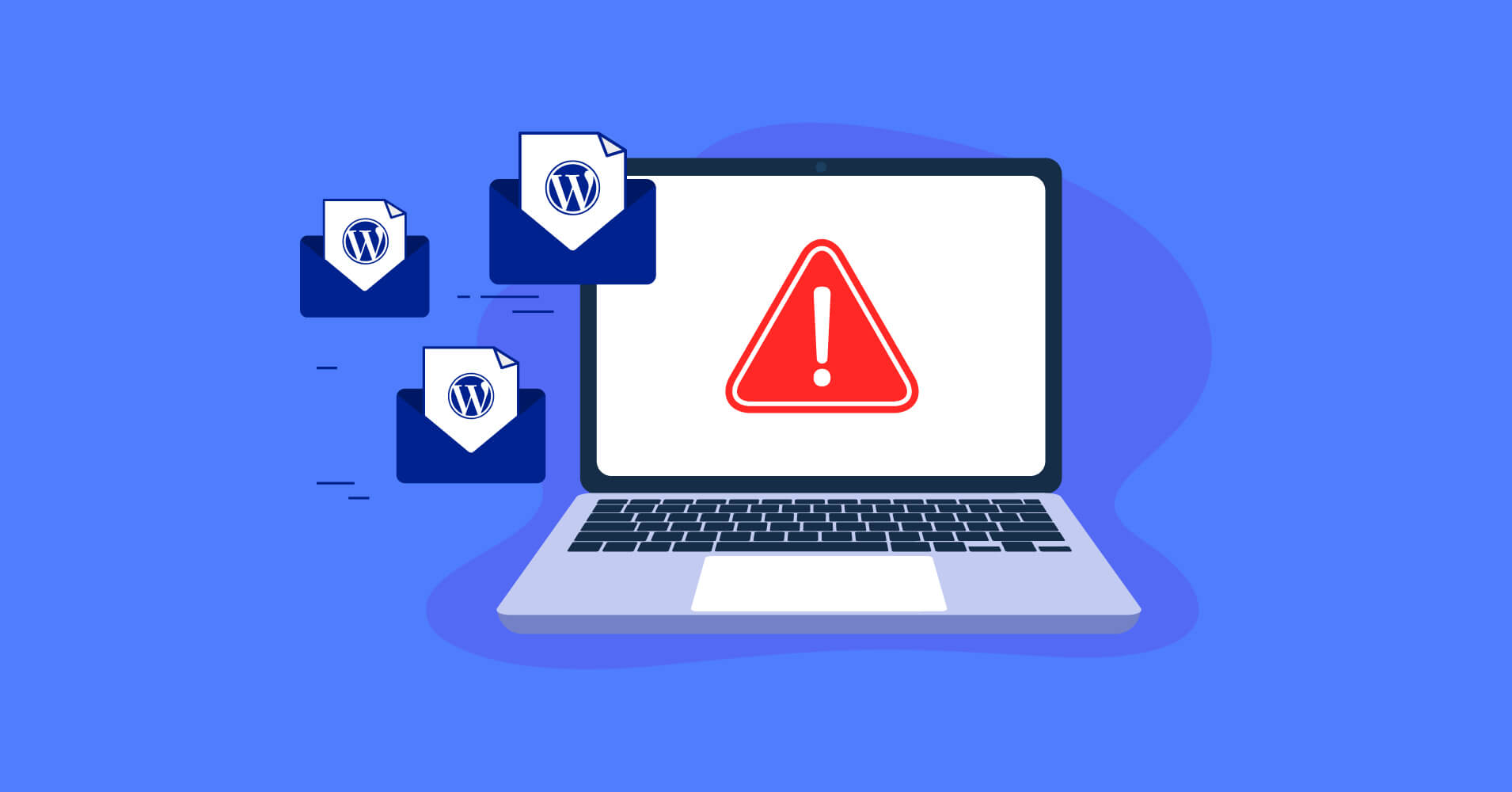 Every WordPress user has the same question in their mind, why are WordPress emails going to spam? And there's not only an answer but a simple solution to that. But first, you need to find out the root cause of your WordPress emails ending up in spam.
If you're running an online business and need to be notified whenever a lead submits a form, but you are not getting one. The worst can happen if your customers do not get their confirmation email after purchase.
Don't sweat it, we're going to show you why your WordPress emails are going to the spam folder and how to solve it in a simple way.
Let's find out the reasons first.
Fluent Forms is the most beginner-friendly form builder. Download now and start crafting beautiful forms FREE!!!
Why your WordPress emails are going to spam
There are a handful of reasons for WordPress emails going to the spam folder. We have mentioned the most common ones.
Your hosting server's IP is blacklisted
Suppose you are doing everything right, but still, your emails are ending up in the spam folder. This can happen very often if your server is blacklisted. This is a very common issue with shared hosting. Even if only one customer is blacklisted for spamming, all customers on the same server will face problems sending emails. Besides, some hosting sites don't support PHP emails.
There is a simple way to find out if your hosting server's IP is blacklisted or not.
Go to the MXToolbox blacklists checker and hit the Blacklist Check button to scan up to 100 blacklists at once. If you find your site on the blacklist, contact your host and ask them to move you to a non-blacklisted server.
WordPress uses wp_mail() PHP function
As we know, WordPress is mainly based on the PHP programming language. It sends email via the wp_mail() function by default. So whenever an email comes from WordPress, it packages the email by PHPMailer SMTP and sends it to your web host for the final processing.
But PHPMailer is not optimized for sending bulk emails from a shared server. Your web host may even be suspended for exceeding webmail limits. Therefore, you need to use PHPMailer with a third-party SMTP service provider to make your emailing smoother.
Large file attachments can be suspicious
Usually, every email has a spam score; wherever you include an image or attachments, it will increase the score. However, you can send emails with attachments in WordPress; the size of the attachments matters.
Furthermore, large emails or attachments can cause an email to fail or end up in spam, where an SMTP plugin can help you to lose important files.
Risky keywords in the content
Spam filters check for keywords to identify potential spam. If your email content has many of these words, the chances are high that your emails may be identified as spam.
Spam filters act hard on some keywords to identify potential spam. Try to use those words to a minimum in your emails. It is almost impossible to figure out all of the risky keywords that trigger spam filters, but here are some we recommend you use sparingly:
Prizes
Earn $
No cost
Make money
Gambling
Betting
Online biz opportunity
Special Offer
Get paid
Today Only
Words that are in ALL CAPS
We know some words are hard to avoid as promotional emails can't deal without them. We are just suggesting to use them sensibly, don't overflood your content with
– Over-sensationalizing
– Over-promising
– Strangely format words.

Email Spoofing
Email Spoofing is a get-around to trick the receivers into trusting them. Like, an attacker might create an email that looks like it comes from Stripe, which could lead to potential money stealing. That's why spoofing triggers the spam filter to avoid these kinds of emails.
But unfortunately, spoofing happens when email clients detect that the sender is masking their email address from the receiver. Contact Forms 7 users use its default configuration when sending emails most of the time, which makes these emails vulnerable to spam filters.
The default From address in Contact Form 7's Mail settings is [your-name] <[your-email]>. This essentially means that WordPress will attempt to deliver the email from the user's email address. While the email is being delivered from WordPress, attempting to deliver from the user's email address can cause "spoofing." As a result, the emails will get blocked by spam filters.
Fluent Forms is the most beginner-friendly form builder. Download now and start crafting beautiful forms FREE!!!
Simple ways to solve WordPress emails going to spam
It's all frustrating yet all-too-common for WordPress users facing email delivery issues. Fortunately, it's also easy to solve it within a few minutes.
Test email
Before trying anything else, you need to check out if your email is sending or not.
You can check it with a WordPress plugin named Check email, which provides an easy way to test whether your emails are sent from WordPress. Download and send a test email to any email address, and if it's successful, your WordPress is sending your email.
Use SMTP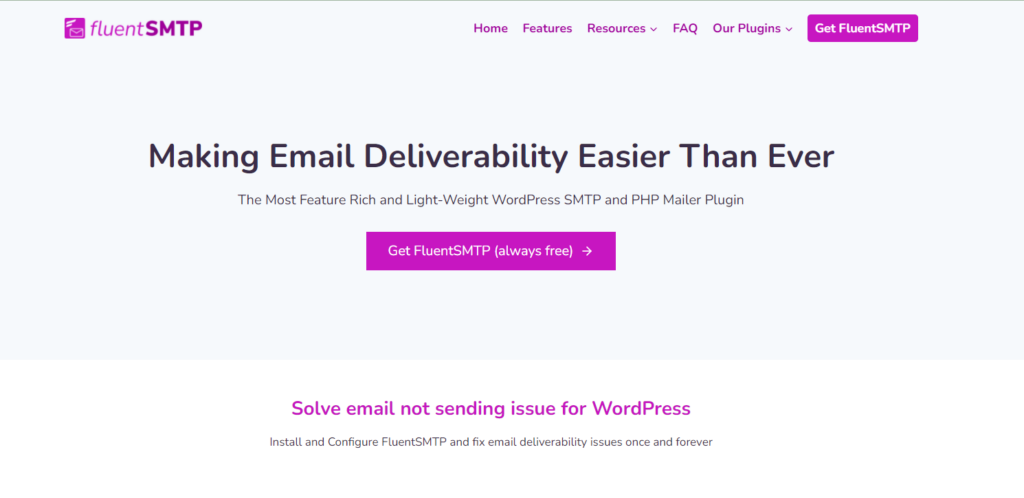 Using an SMTP plugin could be the simplest yet the best solution to this annoying email deliverability problem.
By the textbook definition, SMTP (the simple mail transfer protocol) is an internet standard communication protocol for electronic mail transmission.
SMTP plugin uses a robust SMTP mailer service which solves the WordPress email going to spam issue and increases overall email deliverability.
FluentSMTP is an entirely free, feature-rich, and lightweight SMTP plugin in the WordPress market. With FluentSMTP, you can set up multiple SMTP servers, keep track of every email sent from your WordPress site and view them all and get a detailed report, view email logs, resend emails, and so on. So we recommend downloading FluentSMTP for solving any WordPress email deliverability issue.
Once you've downloaded FluentSMTP, configure it with any email service you want to use. FluentSMTP supports SMTP configuration with Gmail, Google Workspace, Amazon SES, SendGrid, mailgun, sendinblue, Pepipost, SparkPost, and others.
Check out their documentation to find out how to set up FluentSMTP.
Some additional tips for emails going to spam
Here are some other issues to look out for –
Use the correct FROM address
The correct From address format for any site should be yourname@yourdomain.com. This means if your site's domain is www.fluentforms.com, your admin email address should be johndoe@fluentforms.com.
If you don't have one already, create a custom email address for your domain by following your hosting or email service provider's instruction. You can also check FluentSMTP's tutorial on creating a custom email address for your domain.
Keep your email list clean
Generally, mailing lists contain more than 5% of invalid addresses, which trigger spam filters. These include misspelled email addresses, like johndoe@gamil.com, and addresses that cease to exist, e.g., when someone leaves their job.
Review your email content
Ensure your "from" name is clear
Use your first name or your first name together with your company name. For example, you can send newsletters using the "from" name "John from Fluent Forms." This way, it's clear who and where the email is coming from.
Try to link only to authentic, reputable sites
Add a clear unsubscribe link/button in your footer
Final words
WordPress emails going to spam – is a common issue for WordPress users. In this article, we tried to give you a 360 look at the problem and fix it in no time. If you still experience any other WordPress email deliverability issues, please let us know in the comment section.
Also, you can give a read to WordPress revisions not showing if you're facing related issues.