Women in WordPress: Featuring Nidhi Jain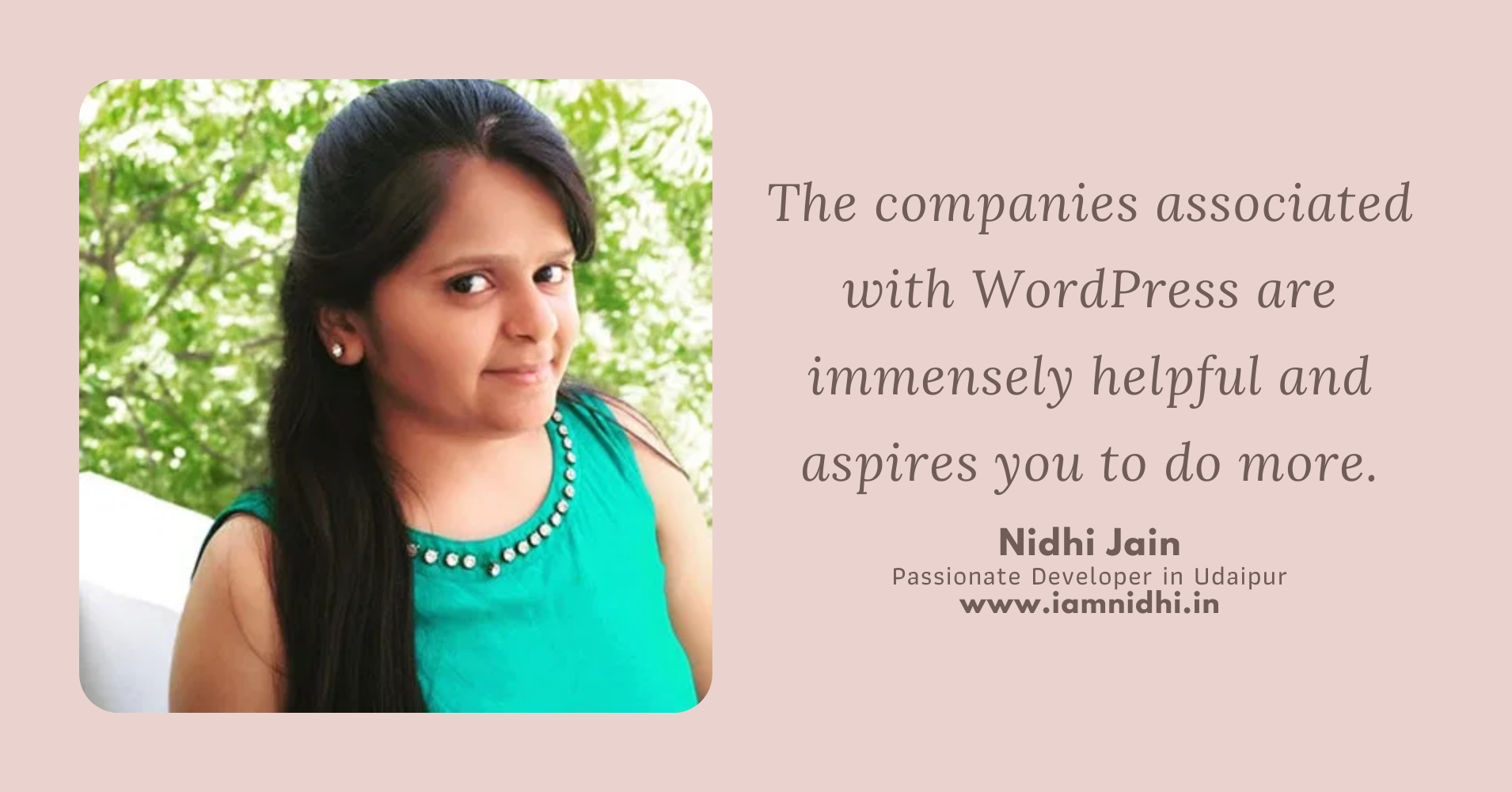 Over the recent years, the participation of women in WordPress has been very noticeable. Whether it's development, marketing, translating, contribution to the WordPress community, or any other aspect, women have been taking charge and leading with dedication.
In this Women's Month, we decided to feature some of these amazing women and hear their stories. Nidhi Jain is one of the most phenomenal women in WordPress that we reached out to, and here's her story.
Meet Nidhi Jain
Nidhi Jain is a WordPress developer who builds custom themes, plugins, and client sites. She has been working in the WordPress ecosystem for more than six years now.
Nidhi is a skilled developer who delivers pixel-perfect quality while managing time effectively. She even contributed significantly to the Hindi WordPress community, and her translations have been of great value to users all around.
Why did you opt for WordPress?
WordPress and its community inspired me so much. I got to meet so many people with so many skills and knowledge, and that got me working even harder. The aspect of contributing to something so big and people actually utilizing it for solving their problems is one of the great things that I like about WordPress and open source in general. That was the reason I started my career with WordPress.
In 2014 I started my career with theme development, and one thing that got my attention was that WordPress is available in many languages, so I thought we should make WordPress better for Hindi so it would be easier for people to use WordPress. That's why I started WordPress translations in Hindi. It was my first contribution to the WordPress community, and I was very excited that something I helped in will be used by others. After that, I continued to contribute to core, polyglots, themes & plugins development, Meta, WordCamp organizing, Speaking at WordCamps, etc. I have been enjoying working with the WordPress community ever since. Currently, I am working as a Technical Support Specialist at Awesome Motive.
Do you feel it is a more gender-neutral career choice?
Yes, a career in different aspects of WordPress has always been a gender-neutral choice. I have met several people in the community who have grown and explored different elements of WordPress, from marketing to development to management and administration levels.
They all had to say one thing about their career and growth: the community and the companies associated with WordPress are immensely helpful and aspire you to do more.
I think this is the reason why we have such a variety in the workforce, based on gender as well as in the background.
What is the one career lesson you'd want to share with everyone?
The biggest lesson I've learned in my career is that there is no shortcut to success. If you want to achieve something, then you'd really need to work hard and focus on your goals.
One more thing I want to mention is that do trust in your failure. If we fail in something, that doesn't mean we are a loser. We always learn from failure. That's the reason that I didn't give up on any single thing in my life. I've faced so many hard times in my life, but I always believed in "Karma" and did what I wanted to do, so I would say to all to think the same to achieve success in their life.
Would you want to say something to your fellow women in WordPress?
There are so many wonderful and amazing women working around WordPress. I want to tell them that if they are willing to explore, then please remove any hesitation from your mind and come up in front because this way, they will only be helping the community to grow along with their own selves.
Hesitation, self-doubt is something that I also faced in my life and still face now. There are a lot of questions that come up in our minds about whether we should do it or not, what would I do if I fail in this, what will be the impact of this in my future?
But even with all these questions, if you really want things to change, then you must get out of your bubble that constraints you and follow along the scary path ahead of you. Also, I would like to point out that women are stronger than they think and assume. This has always been the case and has been proved a thousand times, yet we hesitate and are afraid to take a step forward. Believe me, that step must be taken, and no one else is going to do that for you.
Other amazing women in WordPress
Key takeaways…
"In 2014, I started my career with theme development…After that, I continued to contribute to core, polyglots, themes & plugins development, Meta, WordCamp organizing, Speaking at WordCamps, etc."
"A career in different aspects of WordPress has always been a gender-neutral choice… The companies associated with WordPress are immensely helpful and aspires you to do more."
"The biggest lesson I've learned in my career is that there is no shortcut to success."
"Do trust in your failure. If we fail in something, that doesn't mean we are a loser. We always learn from failure. That's the reason that I didn't give up on any single thing in my life."
"I want to tell them (fellow women in WordPress) that if they are willing to explore, then please remove any hesitation from your mind and come up in front because this way they will only be helping the community to grow along with their own selves."
"Hesitation, self-doubt is something which I also faced in my life and still face now. There are a lot of questions that come up in our minds about whether we should do it or not, what would I do if I fail in this, what will be the impact of this in my future? But even with all these questions, if you really want the things to change, then you must get out of your bubble that constraints you and follow along the scary path ahead of you.
"I would like to point out that women are stronger than they think and assume. This has always been the case and has been proved a thousand times, yet we hesitate and are afraid to take a step forward. Believe me, that step must be taken, and no one else is going to do that for you."