WordPress Black Friday, Cyber Monday (BFCM) Deals- Secure Website Essentials at Super Discounts!
Ashik Elahi
. November 14, 2023
. 18 minutes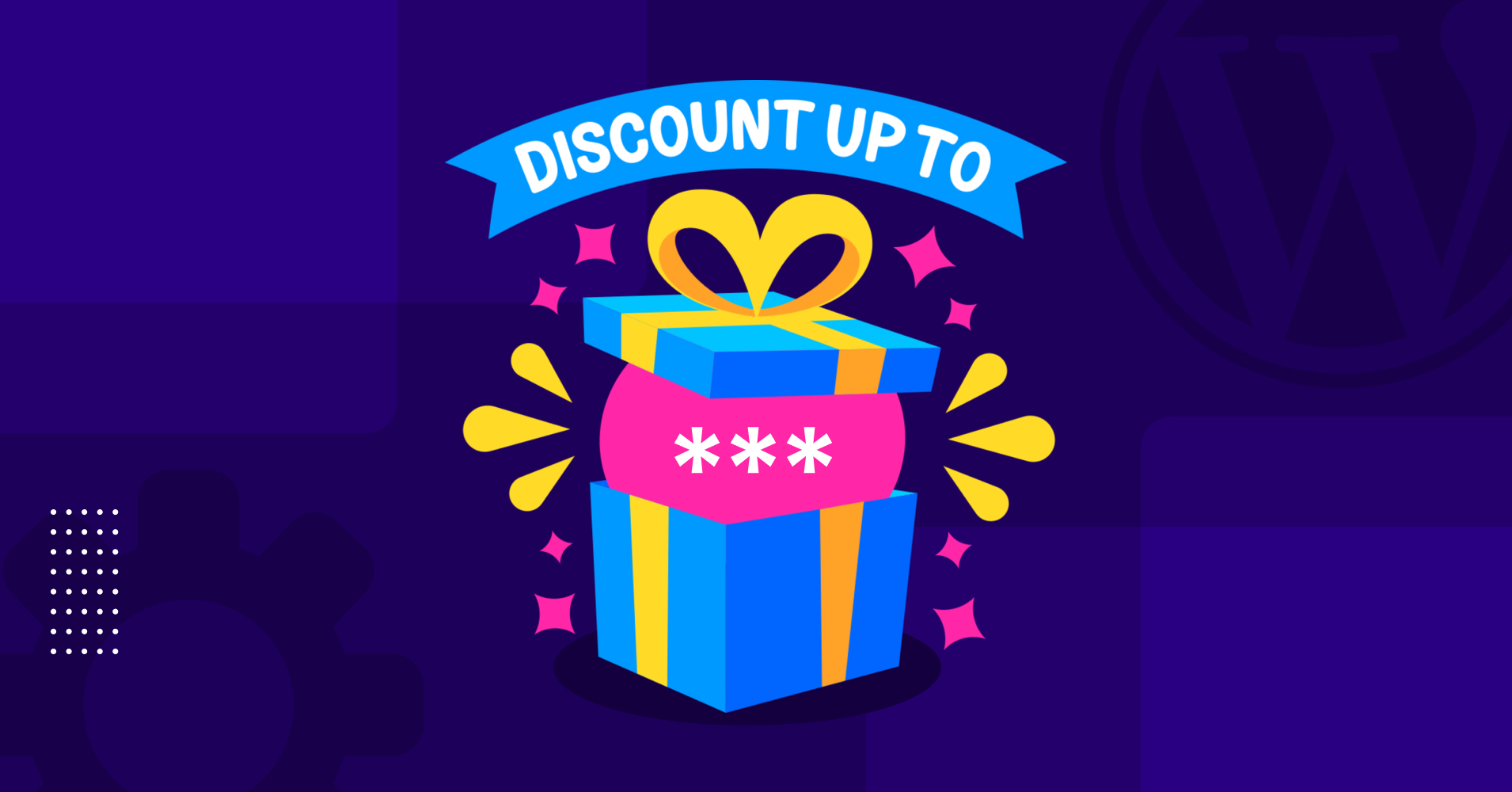 Starting a WordPress website for your business can often seem expensive. But what if you can build your website at nearly half the cost compared to any other time of the year?
Yes, you heard it right – this isn't a joke; it's a real opportunity.
Why?
Because the exciting time of Black Friday and Cyber Monday (BFCM) is on the horizon, and it's not just industries worldwide that are buzzing with excitement; the WordPress industry is also gearing up for a spectacular fest, and you can take a SMART move and SEIZE this opportunity!
Equip your online presence with top-tier tools and services without breaking the bank with WordPress Black Friday, Cyber Monday (BFCM) Deals.
Keep scrolling to discover everything you need to build and grow your business online from scratch– all at an incredibly discounted price.
This year's Black Friday will be on Friday, 25 November and Cyber Monday on Monday, 28 November. But, the vibe is ON! Keep your eyes open from November 15 to December 2.
Fluent Forms is the most beginner-friendly form builder. Download now and start crafting beautiful forms FREE!!!
Essentials For Building A WordPress Site From Scratch
Running a successful business on a WordPress website requires various tools and essentials to ensure functionality, security, and a great user experience.
here's an overview of each essential component for running a business on a WordPress website:
Web Hosting: A reliable web hosting service is the foundation of your WordPress site. It ensures your website is accessible to visitors at all times and it offers security features to protect your online presence.
Premium Theme: A premium theme gives your site a professional look and feel. Prominently, It reflects your brand's identity.
Website Page Builder: Page builders allow customization of your site, making it easy to design complex layouts without coding knowledge and letting you quickly adapt your site's design to your marketing needs.
Contact Form: A contact form is a simple yet effective way for potential customers to reach out to you. It's important for generating leads and providing excellent customer service, which is essential for any business.
Scheduling: Online scheduling tools automate the booking process for services or appointments, increasing efficiency and customer satisfaction.
Table Plugin: A table plugin helps you to display complex information in an organized manner, such as product specifications or pricing plans.
Online Payment Plugin: A payment plugin allows you to securely accept and process payments on your site.
CRM: Customer Relationship Management (CRM) tools help you track customer interactions, manage leads, and organize customer information.
Marketing Tools: Marketing tools can range from email marketing to social media integration. They help you connect with your audience, promote products or services, and analyze the effectiveness of your marketing efforts.
SEO Plugin: An SEO plugin helps optimize your website for search engines, increasing your online visibility.
Testing Platform: A testing platform allows you to test a new plugin or theme before installing it on your live site.
Customer Support: Offering solid customer support can set you apart from competitors and these days excellent customer support is the key to success in any business.
Each component is crucial in establishing and growing a successful business based on WordPress. Now, let's see top-tier tools and services you can consider buying for your business.
WordPress Black Friday, Cyber Monday (BFCM) Deals
The very first thing you need is a hosting service to start your website, so let's start our list with a hosting provider that is WordPress-friendly.
1. Hostinger
Hostinger is a web hosting provider widely popular for offering various hosting services at competitive prices. They serve a wide range of customers, from individuals to businesses, and provide shared hosting, cloud hosting, VPS hosting, and even hosting optimized specifically for WordPress.
Hostinger's services often come with features that attract both beginners and experienced users, such as user-friendly control panels, one-click installers for various applications, including WordPress, and free SSL certificates to enhance website security.
They also offer domain registration services so you can purchase and manage domain names through their platform.
Here's why you should start your online journey with Hostinger.
Get hosting, specially optimized for WordPress sites to empower small to medium-sized businesses.
Shared hosting options for beginners that ensure affordability.
Cloud Hosting, which is suitable for large or rapidly growing businesses.
Offers standard performance, supporting up to 100 websites with 100 GB SSD storage.
Ensures secure hosting with standard DDoS protection.
New and enhanced file manager
Automatic WHOIS Privacy Protection
Excellent customer support 24/7, and more.
Hostinger aims to provide an accessible and cost-effective solution for web hosting. And at this time of the year, buying hosting for your website is even more convenient and cheaper, cause the Black Friday deal is here! 
Now, you need a theme to give your website a stunning look. So, here you go–
2. Astra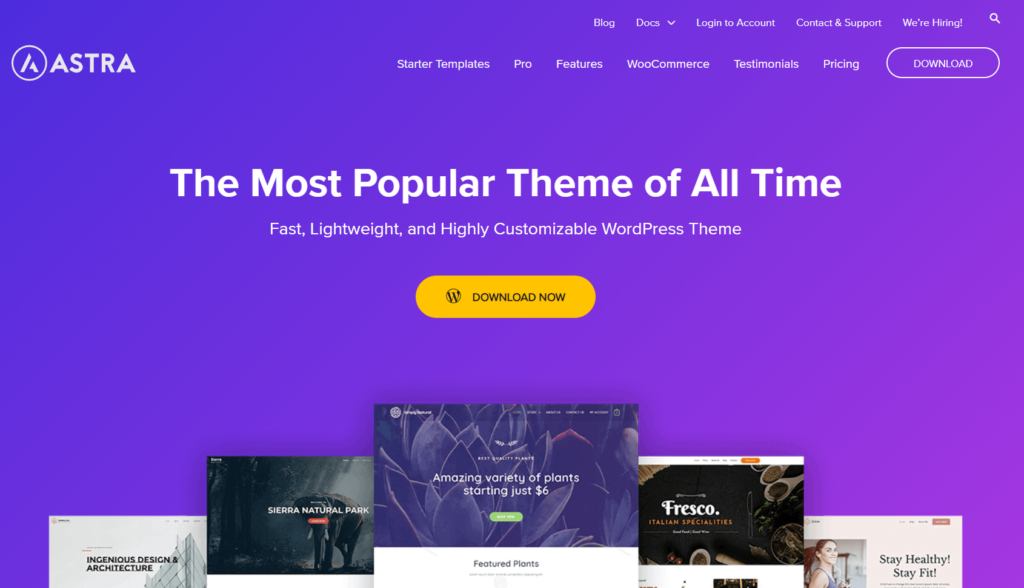 Astra is a renowned WordPress theme provider. Thanks to a dedicated team of experts, their themes are famous for exceptional speed and user-friendliness. Astra provides users with a wide range of both free and premium themes to choose from.
One of its standout features is its smooth integration with popular page builders, making website building easy. Astra also prioritizes the latest SEO best practices to ensure your website performs well in search engine results pages.
So, Astra establishes itself as a versatile and reliable choice for website development and that makes it a fantastic option to explore in this year's BFCM deal.
Here are the key reasons to consider Astra:
Astra is well-supported and regularly updated to meet changing needs.
Over a hundred professional-looking themes that suit nearly every industry.
It seamlessly integrates with popular page builders.
Excellent user experience, catering to both beginners and pros.
User-friendly interface makes it easy for anyone to learn and use.
Impressive loading speed as a WordPress theme.
Advanced Styling Options and more.
So, don't forget to check Astra's website for your dream theme at a discounted price!
You have secured a hosting and theme for your website, this time you need page builders that will help you create captivating webpages.
3. Essential Addons for Elementor
Essential Addons for Elementor is a powerful plugin that takes the capacities of the popular WordPress page builder, Elementor, to a whole new level.
When you add Essential Addons, you can access a diverse library of over 90 advanced elements and widgets that seamlessly integrate into your Elementor editor.
These elements contain various options, including interactive cards, content toggles, pricing tables, countdown timers, and more.
With these tools at your disposal, you can design visually stunning and feature-rich websites that cater to your specific needs.
Features that make it the best choice for this year's BFCM deals:
Completely flexible and customizable
Lightweight plugin with instant loading capabilities
Flexible elements control options
4000+ ready blocks and templates available
50+ free widgets
Extraordinary customer support 24/7, and more
keep an eye on their website to grab your deal!
Here's another essential tool you can use to create stunning pages using the popular Gutenberg editor.
4. Ultimate Blocks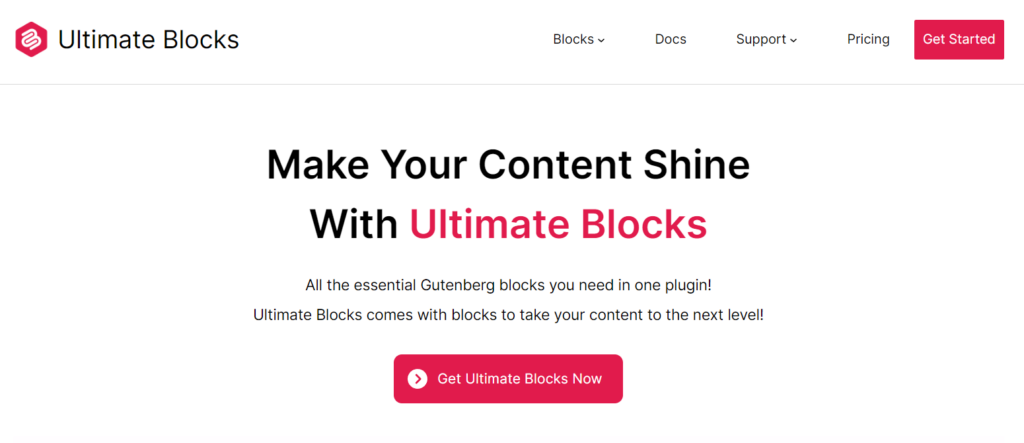 Ultimate Blocks is a plugin for Gutenberg, the WordPress block editor, that enhances its functionality by adding numerous extra blocks.
These blocks have been carefully crafted to simplify content creation, offering more than 18 blocks to give you greater flexibility when designing your posts and pages.
Here are some noteworthy blocks provided by the Ultimate Blocks plugin:
Search and filter your blocks for easy selection.
Schema Markup to enhance your product reviews.
Simplify the implementation of the HowTo schema
Generate a table of contents for improved navigation.
Organize your content into tabs for a more polished presentation.
Create visually appealing boxes.
Customize and style your lists.
Easily include social share buttons.
Display progress bars to keep track of completion.
Showcase your posts in a grid format.
Implement star ratings for various purposes.
Create interactive image sliders.
Don't forget to keep an eye on their website to seize the special discount!
And, here comes the single most important plugin for any business– a contact form builder plugin that will help you engage and collect your customer's information directly from your website and generate revenue!
5. Fluent Forms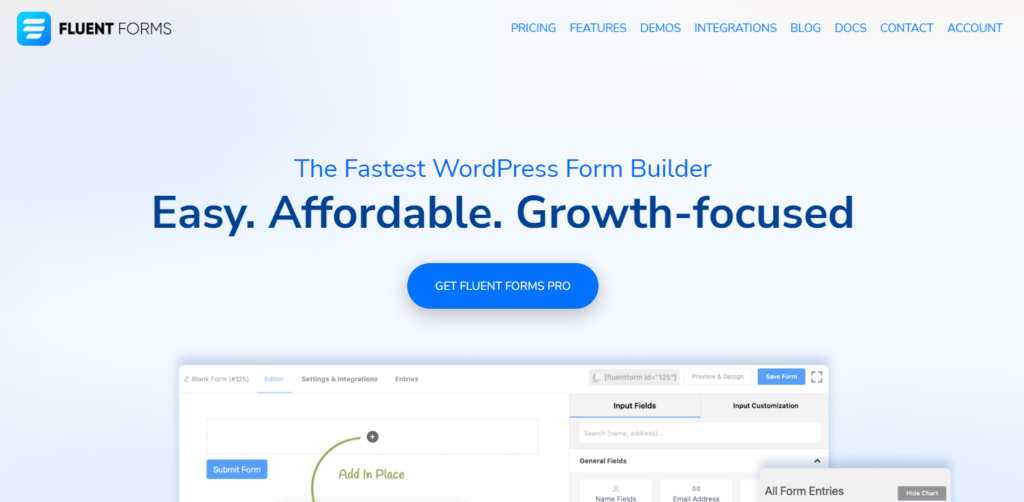 Expert says true business starts with lead generation! So, having a form builder is absolutely crucial for your business.
Form builders play a key role in helping you gather and handle essential customers' data, which in turn significantly contributes to your business growth.
To give you a kickstart in your venture, Fluent Forms brings a user-friendly form builder plugin designed with simplicity in mind, making it especially suitable for beginners. It offers a wide range of effective and time-saving features.
With Fluent Forms, you can effortlessly create customized forms tailored to your specific needs.
Here are the primary reasons you should seize the opportunity and take advantage of the BFCM discount to start with Fluent Forms:
Lightweight form plugin.
User-friendly interface.
Pre-built templates for convenience.
Schedule forms to appear exactly when you need them.
Integration with over 50 third-party services.
Utilize conditional logic
Create multi-step and conversational forms.
Send email/SMS notifications.
Excellent customer support.
Fluent Forms streamlines the process of building and managing forms. With BFCM dals just around the corner, don't miss your exclusive discount on the Fluent Forms website. Keep an eye out!
Suppose, you are doing a business that requires users to set up an appointment to get the service. In that case, you need a booking plugin that can effectively manage your event and calendar! And here's a solution you can grab at a discounted price.
6. FluentBooking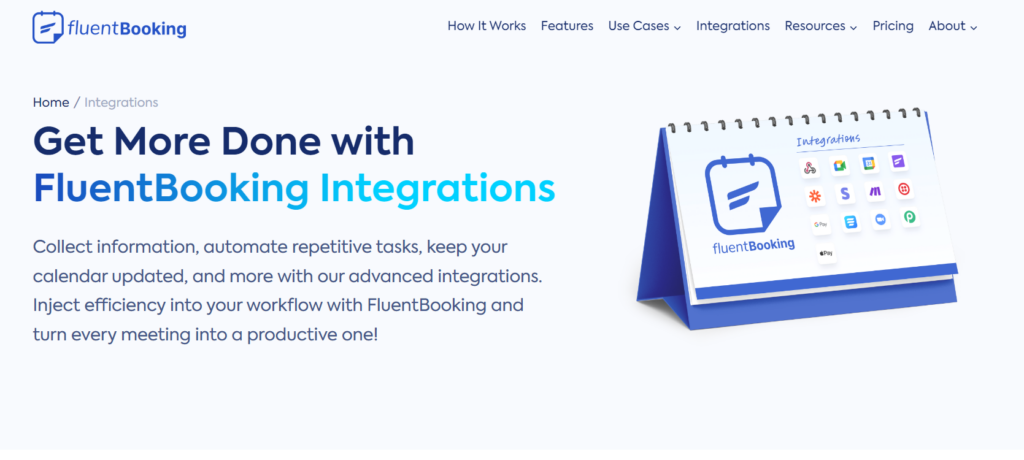 FluentBooking is a fantastic WordPress booking plugin developed to simplify event and calendar management. It's not just fast and user-friendly, it also integrates with other plugins effortlessly so that you can avoid any unnecessary complexities.
With FluentBooking, you have the flexibility to tailor date formats and time zones. Setting up recurring events is easy, and it facilitates displaying your calendar on your website so your users can effortlessly book appointments.
Moreover, you can sync with your Google Calendar and seamlessly integrate with popular WordPress plugins like Fluent Forms or FluentCRM to enhance functionality and give users a smooth experience.
Let's see why this is a super plugin you must have for your business and seize the discount without any hesitation.
15+ Numerous Integrations including Google Calendar, Zoom, Fluent Forms, Stripe, FluentCRM, Zapier, Twillio, and more
Super easy user interface.
Multiple meeting types
Unlimited hosts and calendars
Availability management
Customizable meeting duration
Booking pages
Phone Call Meeting option
Custom meeting link provision
Analytics and Insights
Automated notifications and reminders
Customization and Flexibility, and many more!
Don't miss out on giving your business a SMART move with an intelligent booking plugin at a discounted price.
So, you have almost everything to get your business running online, but do you have the most crucial tool that takes care of your customers?
If you don't have yet, here's the solution you can seize at a super-discounted price.
7. FluentCRM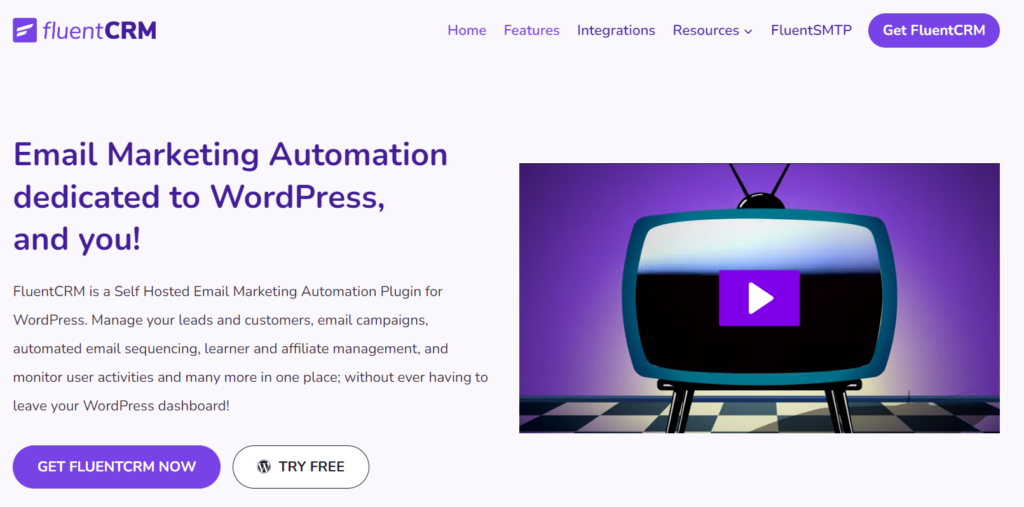 FluentCRM is the quickest and easiest plugin solution to operate your email marketing, newsletter, and CRM requirements.
This versatile tool simplifies the process of growing your email lists, organizing and segmenting contacts, nurturing customer relationships, crafting effective marketing funnels, and whatnot!
Moreover, FluentCRM provides a comprehensive view of your business by presenting charts, graphs, and widgets directly on your dashboard. This feature enables you to clearly understand your marketing and CRM data, ultimately facilitating informed decision-making.
Here's a sneak peek at what this tool brings to your business website.
Plan and execute email campaigns at your convenience.
Gain valuable performance data for your campaigns.
Automate your marketing workflow for efficiency.
Continuously track the performance of your campaigns.
Enhance your emails with visuals to engage your audience effectively.
Capture leads using integrated subscription forms.
Access in-depth analytics to measure the effectiveness of your efforts.
Don't forget to visit FluentCRM's website for your BFCM discount.
Now you want to display your products or services on your website, not just show them, you want them to be appealing!
Is that even possible? Yes, Ninja Tables makes your thought possible!
8. Ninja Tables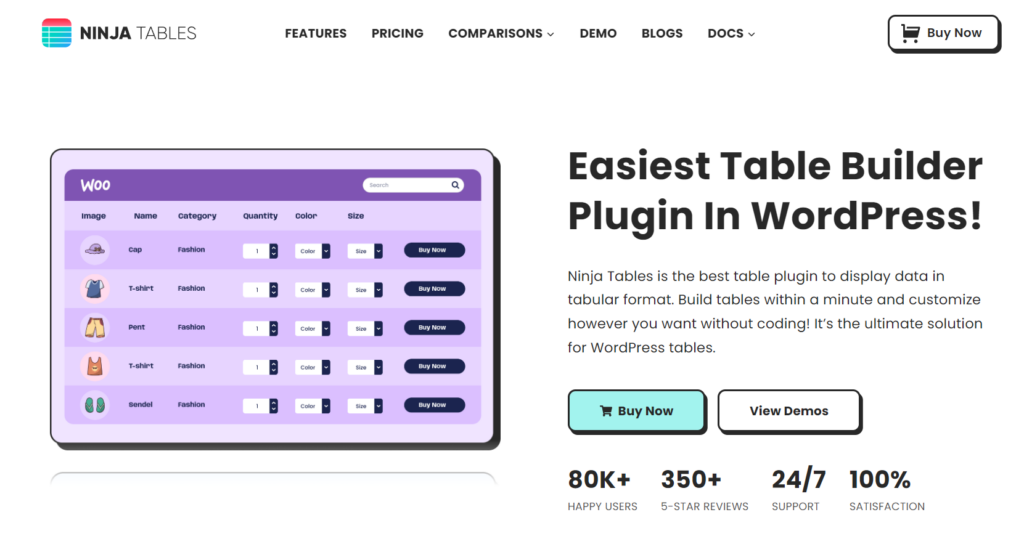 Data and information can be far more appealing when presented neatly. Lengthy paragraphs filled with text, numbers, and links might appear messy and monotonous. However, arranging them in a tabular format can give your website a clean and refreshing look.
Additionally, tables have the advantage of housing a larger volume of data while allowing for stylish customization.
This is where Ninja Tables truly glows as the top table plugin! This plugin is unbeatable at showcasing large datasets in a customized and filterable data table, all while maintaining the sleek look of your website.
Here's why you should take advantage of the BFCM discount and start using Ninja Tables:
Present data in a more visually engaging format.
Utilize the easy drag-and-drop table builder.
Show large data without any limitations.
Seamlessly add different types of media to your tables.
Create the appearance and style of your tables as you like.
Effortlessly connect with other services and platforms.
Enable users to find and organize data easily.
Keep everything well-organized in one place.
Ninja Tables alters the way you present data on your website. So, be sure to visit Ninja Tables' website to secure your exclusive BFCM discount.
You are all set to sell your product or services, but are ready to accept payment worldwide securely? Grab your all-in-one payment solution at half of the cost!
9. Paymattic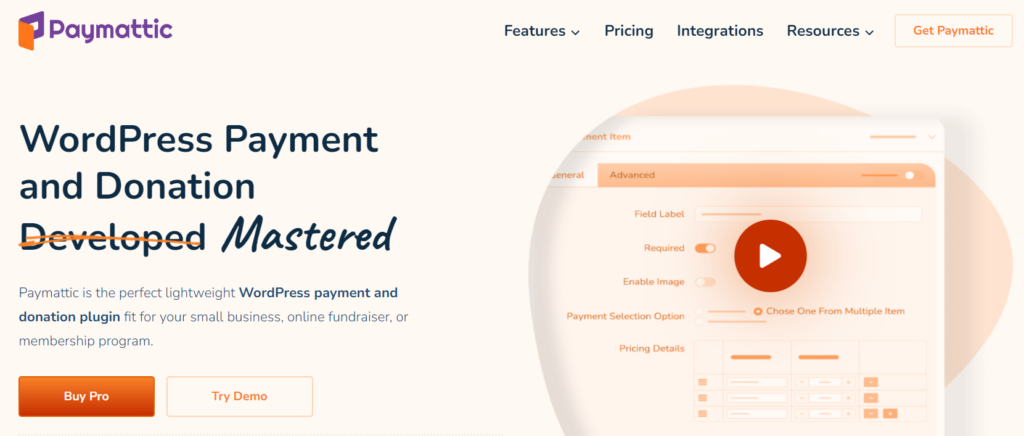 Paymattic is a handy and versatile WordPress payment plugin that helps businesses accept payment worldwide, hassle-free.
You'll find a variety of widely recognized payment gateways at your disposal, including Stripe, PayPal, Square, Razorpay, Billplz, Mollie, Payrexx, Paystack, and SSLCOMMERZ.
What's more, this plugin seamlessly facilitates offline payments through traditional banking methods. This flexibility allows you to accept donations in multiple currencies, thanks to the versatile payment methods it offers.
Here are some more compelling reasons to grab the discount and get started with Paymattic:
Easily create payment forms to handle various payment-related tasks.
Paymattic accepts donations online worldwide.
Accept subscription payments and recurring donations.
11 payment gateways are available.
14 integrations to streamline your workflow.
Pre-built templates that you can simply click and drag.
Advanced reporting with graphs to present timely data.
User-friendly interface that seamlessly blends with your WordPress website.
Don't miss out on Paymattic's fantastic BFCM deal in '23. Check out their offer.
Now, if you want to boost your sales organically, then there's no better solution than using a powerful SEO plugin to enhance your brand's visibility on search engines' result pages and spike your sales!
10. Rank Math
Rank Math SEO is a robust WordPress plugin designed to improve your overall SEO performance, regardless of your level of expertise.
Rank Math, often called the "Swiss army knife of WordPress SEO," offers everything you need to optimize your content for targeted keywords and provides numerous features to supercharge your SEO efforts.
It's user-friendly and offers many powerful features in the free version, especially for on-page SEO, making it a plugin worth considering.
Here are some key reasons to consider Rank Math:
Create an XML sitemap for your website.
Easily connect to Google Search Console and other SEO tools.
Enhance your site's visibility in local business search results.
Automatically insert SEO-friendly links to relevant internal pages.
Automatically include required meta tags for AMP pages.
Easily manage and set up 301 and 302 redirects.
Keep track of URLs where users and search engines encounter 404 errors.
Streamline content optimization for focus keywords.
Manually edit SEO titles and descriptions for each post or page
Make sure your website performs great on search engines' result pages with Rank Math, obviously at a discounted price! Check out their website to secure your copy.
You are running a business, but you are not utilizing social media, this just can't happen. Manage your social handles with a robust social media marketing plugin.
11. WP Social Ninja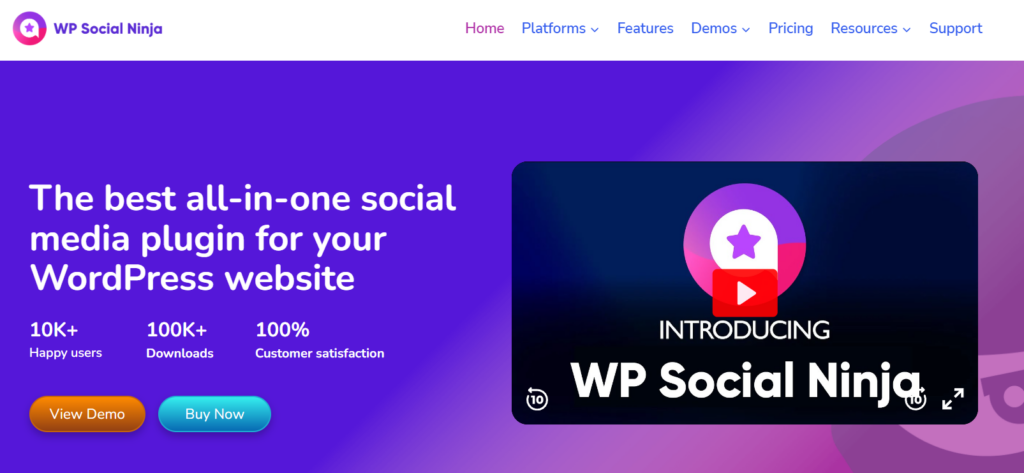 WP Social Ninja is an all-in-one social media marketing plugin specially crafted for WordPress websites.
This plugin serves as a centralized hub for managing multiple accounts across popular platforms like Facebook, Twitter, and Instagram, all from a single unified dashboard.
Its impressive feature set encompasses 4+ visually appealing social feeds, 10+ social reviews, and 15+ chat widgets, all designed to enhance user engagement and drive conversations.
Moreover, WP Social Ninja seamlessly integrates with more than 30 platforms and offers a range of excellent features like testimonials, shoppable Instagram feeds, and more.
Here are some compelling reasons to take advantage of the BFCM discount and streamline your work with WP Social Ninja:
Compatibility with 30+ Widgets.
Notification Pop-ups.
Testimonials.
WooCommerce review integration.
Shoppable Instagram Feeds.
Facebook Events and Album feed.
Dynamic Styling options.
Extensive Customization flexibility.
SEO-Centric Design.
Fully responsive, and more.
WP Social Ninja not only enhances your website's visibility but also contributes to the overall growth of your brand. Don't miss their exclusive WordPress Black Friday, and Cyber Monday (BFCM) Deals.
Before you go live with anything on your WordPress website, you should check it out to ensure that everything works perfectly, and here's an integral tool to help you do this critical task effortlessly.
12. InstaWP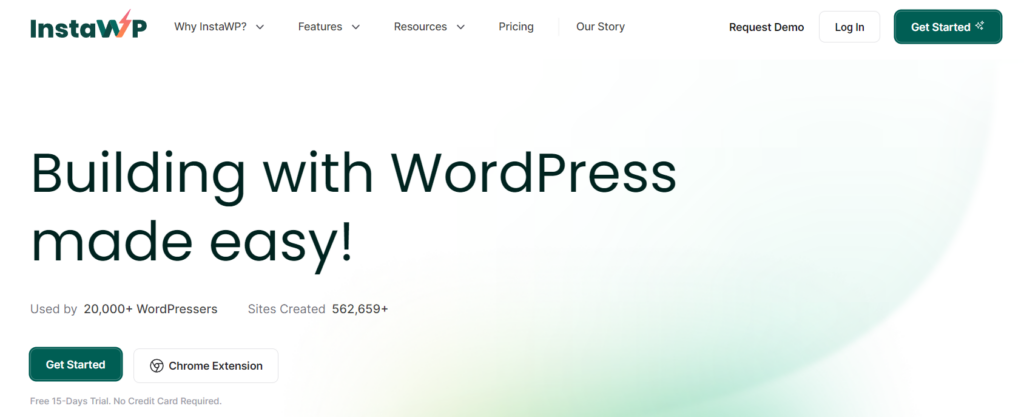 InstaWP is a service that offers a quick and easy way to create temporary, disposable WordPress sites.
With InstaWP, you can launch a new WordPress site in seconds without going through the typical installation and setup process. This can greatly speed up the development workflow, as it allows for immediate testing of themes, plugins, and custom code.
Moreover, you can connect your existing WordPress sites anywhere on the internet to your InstaWP. After connecting your site, you can create 1-click staging websites from within the WP admin panel.
Let's take a look at the factors you should consider and grab InstaWP at a discounted price:
Create full, custom, or quick staging websites in your InstaWP dashboard
Auto-login to your Connected sites from InstaWP
2-way sync
Check the status of actions performed during 2-way sync
Connect/disconnect your WordPress live site
Get information about your site's health.
Do everything related to Remote Management securely
Utilize dozens of InstaWP features by connecting your site.
Grab your BFCM discount on their website.
We are at the end of our list, but there's one more thing we can never overlook when it comes to business success. Which is excellent customer support!
So, empower your business with the perfect customer support solution, obviously at a discounted price!
13. Fluent Support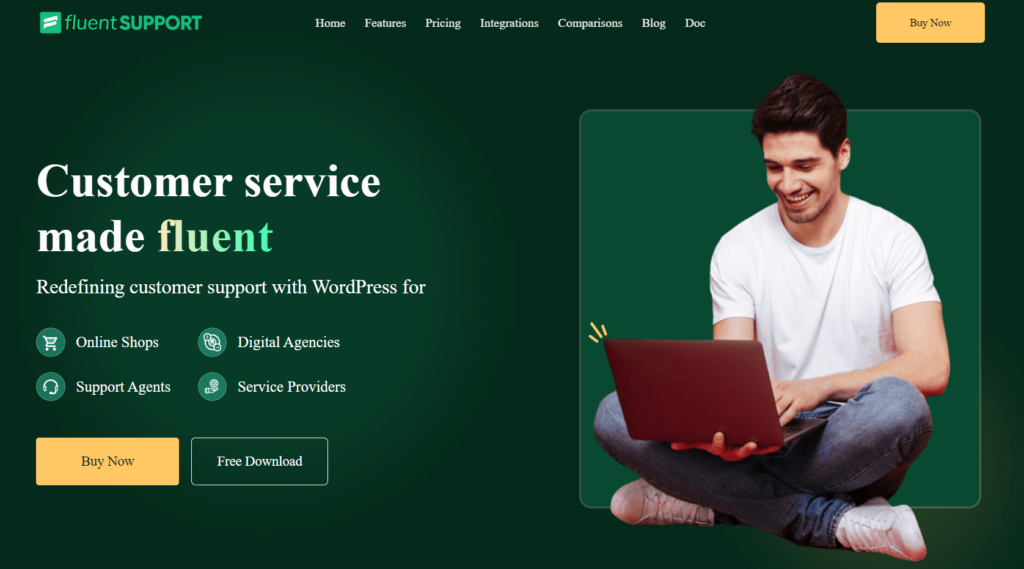 Fluent Support is a WordPress helpdesk and customer support ticketing plugin that caters to essential customer service while offering unique features not commonly found in other WordPress helpdesk plugins.
One of its standout features is the dedicated support portal, which empowers users to create and track the status of their support inquiries, simplifying the customer support experience.
With Fluent Support, you can centralize all customer support tickets into a secure, unified dashboard within your WordPress. This streamlines the process for your team to deliver efficient customer support.
However, what truly sets Fluent Support apart is its exceptional customer support department. The dedicated team responds promptly and provides efficient assistance all the time.
Here are the reasons why you should seize the BFCM discount and get started with Fluent Support:
Execute automated workflows like tagging customers from specific pages or domains.
It supports subdomains, expanding its functionality.
Collaborate on tickets by adding team members in CC or BCC within email.
Resume ticket responses right where you left off.
Easily attach maximum-sized files from cloud storage platforms.
Maintain private notes about customers for consistent and informed communication.
No limitations on the number of tickets, agents, or products.
Outstanding customer support is available 24/7.
Don't blink, or you might miss it! Secure your exclusive BFCM discount.
Done! You are good to go live with your WordPress website…
Wrapping Up
Black Friday and Cyber Monday offer an unmatched opportunity to access the best resources at a fraction of the cost.
Whether you're laying the foundation with reliable hosting, enhancing your site with a premium theme, or engaging with customers through a robust CRM, these deals are your chance to make smart choices that pay off.
Take advantage of this year's WordPress Black Friday, Cyber Monday (BFCM) Deals to not only save money but also to set your website up for success.
Lastly, just remember that the right tools are not an expense; they're a catalyst for growth and success. Don't let this moment pass. Grab the deals, and take a leap forward to a flourishing online presence.
---
Ashik Elahi
Ashik Elahi is a seasoned Digital Marketer with a passion for Content Marketing. He believes in the power of storytelling and crafting valuable content that resonates with readers.