6 WordPress Data Visualization Plugins for 2023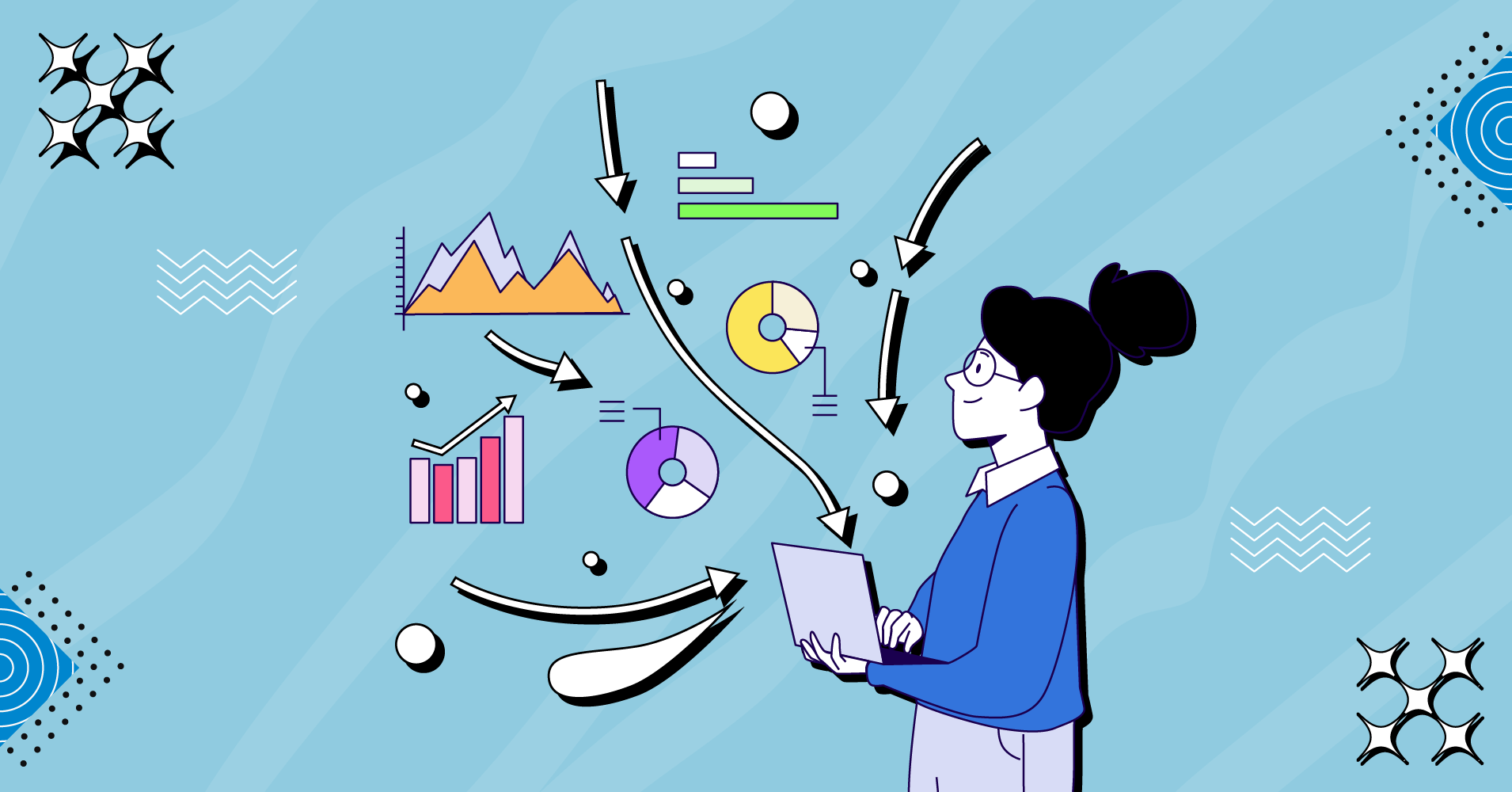 There's no way to use a data visualization plugin when presenting data in a beautiful and user-friendly way. And nowadays, customers want more than just plain tables and numbers. Yes, we are talking about graphs, infographics, tables, charts, and you name it.
There are many WordPress data visualization plugins available in the community. And if you're looking for the best ones to visualize data on your website, then look no further! First, let's discuss why data visualization plugins are important for your website.
Fluent Forms is the most beginner-friendly form builder. Download now and start crafting beautiful forms FREE!!!
Why do you need a data visualization plugin for your website?
If you have a website, data is always helpful. It's the key to consolidating your claim. But if you display your data through non-stop writing, it's monotonous. Even if you present your data in tables, it doesn't always work. Besides, if you don't know how to present your data, it can be harmful to your site too. This is where you need a data visualization plugin. Let's see some more benefits of using data visualization tools.
Data visualization is an amazing way to show information and facts on a website.
You can connect with people and meet their expectations of understanding your business through graphs, pictures, diagrams, maps, and other formats.
People can make better business decisions.
Identify the connection between actions and results.
Accurate analysis of customer sentiment.
Get insight into hidden figures and deeper trends.
Now that we know the necessity of using a data visualization plugin on your website let's move on to our main part!
Best WordPress data visualization plugins for your website
Here we've listed the 6 best WordPress data visualization plugins from hundreds of options.
Fluent Forms
Fluent Forms is one of the most powerful yet lightweight form builders in the WordPress community in recent years. It has a fantastic drag-and-drop facility that made it popular among its users. People love this tool for its user-friendly nature, features, and functionalities. Some core features of the plugin are:
70+ ready templates
Conversational forms
60+ input fields
Payment options
40+ third-party integrations
Quiz module
Spam protection
Email notification
PDF add-on
Moreover, Fluent Forms has an amazing global styler feature that makes forms colorful and beautiful. Even so, it has a signature add-on that lets people collect signatures online. Data visualization is one of the incredible features of the plugin.
If you want to see data of your form's submission, Fluent Forms has the best way for it. For example, you've made a form for ongoing Christmas deal submission on your website, and you want to see how many people have submitted the form for their deals and who they are. To do so, go to Fluent Forms' dashboard directly, select the form you've added to your deal listing page, and click on the Entries button of the respective form.
Here is the first view of the data.
Now, if you click on the View Visual Report button from the top right corner, you'll get a detailed view of the overall data.
It depends on you how you want to see the report, either in a pie mode or in a graphical view. There is a separate section for each question and their answers. Besides, you can filter the data by read or unread options too. More so, you can see the device name and browser details here. Even so, you can download the report to better understand the data. To know more about Fluent Forms visual report data, check out our documentation or article on the website.
Price
Fluent Forms asks for a very few amount compared to its features and other products in the market. It has annual and lifetime packages for its users, and the price range starts from $51 and ends at $799.
Ninja Tables
Ninja Tables is the best table plugin to show data in tabular format. It's the ultimate solution for WordPress tables. You can build tables within a minute and modify them without any coding. These tables are simple yet stunning. Some main features of the plugin are:
Pricing tables
Unlimited data tables
Employee tables
Comparison tables
Amazon affiliate product table
League points table
Amazon product comparison table
WooCommerce product tables
Charts
Moreover, the plugin support drag and drop feature, pre-built templates, stackable table, import/export, Google Sheet integration, etc. It's a perfect solution for your eCommerce or WooCommerce store. Here's an example of a table that is made with Ninja Tables.
Price
Ninja Tables offers very affordable pricing for its users. It also has both annual and lifetime licenses for its people. And the pricing range starts from $49 and ends at $599. Both annual and lifetime packages are included here.
Visualizer
Visualizer is a plugin for tables and charts in WordPress by Themeisle. It's a powerful, easy-to-create, manage, and interactive plugin in the WordPress ecosystem. You can create fully customizable, responsive charts and tables for your online shop and edit them directly on your posts. The main functionalities of the tool are:
15 chart types
Synchronize your data automatically
Customizable permissions of charts
Flexible
Email support
WPML support for translating charts
On-page data editor
Excel-like editor
Furthermore, the plugin supports Google Visualization API that helps to add animated and responsive graphs, charts, and tables that keep up with cross-browser compatibility and are perfectly set on mobile devices.
Price
Visualizer comes in three different packages for the convenience ot its users. It has personal, developer, and agency plans, costing $129, $259, and $529, respectively.
Analytify
Analytify is the Google analytics dashboard plugin for WordPress. It makes analytics simple for WordPress users. With the plugin, you can show your data analytics in an attractive and useful manner. Besides, it's very easy to use and doesn't require any coding experience to use the tool. Some key features of Analytify are:
Social media stats
Realtime stats
Universal tracking
Enhanced eCommerce tracking
Page level analytics
Custom post types
Front end reporting
Stats that make sense
Moreover, the best part about Analytify is that when you're logged into the admin panel, it lets you view the statistics for bounce rate, users, views, average time, etc., on the page. Besides, it's a multilingual plugin available in Turkish, French, Hungarian, Dutch, German, etc. languages.
Price
Analytify comes in three different packages. They're pro, conversion, and developer. They cost $99, $199, and $499, respectively.
TablePress
TablePress is a popular WordPress table plugin. The tool allows you to create and manage beautiful tables for your website easily. Using a block in the block editor; it also lets you embed the tables into pages, posts, or other site areas. It supports,
Table management and editing
Styling with CSS code
Unlimited tables
Row grouping
Column filter dropdowns
Forum support
You'll also get additional features like pagination, sorting, and filtering to make it easy for site visitors to understand the table data. Besides, the tables can export and import to CSV, HTML, Excel, JSON files, etc. Moreover, through TablePress, you can give priority email support to your customers.
Price
It has both free and pro packages. Pro bundles are available at $79 and $189 yearly.
Infographic Maker
With Infographic Maker, you can make impressive listicles smoothly, and quickly. It's the first free infographic plugin in WordPress. You can easily create dynamic, HTML & responsive infographics or elegant text & image links with the embedded HTML5 charts and graphs feature of iList. The plugin covers,
Infographics
Multi-page listicles
Visual editor
Compare lists
More so, Infographic Maker also lets you make charts. For example, line charts, bar charts, polar area charts, pie charts, radar charts, etc., and embed or share on your Twitter account. It also gives access to all modern browsers, and polyfills provide support for IE7/8.
Price
Infographic Maker gives three different pro bundles. They are Personal, Master, and Ultimate, costing $24, $75, and $150, respectively.
Select your one wisely
Here we tried to give you an easy glimpse of six WordPress visualization plugins. If you still have any confusion about which one to go for, you can select,
Fluent Forms, as it's one of the best form builders and all-in-solution for your WordPress website.
Ninja Tables, as it's an amazing, and high-rated data table plugin in WordPress.
TablePress, for its prominent features and services over the years.
Wrapping up
That's an easy and quick list of WordPress data visualization plugins. Hopefully, you've found this article helpful for you. You can check out our blogs to get many more useful listicles like this and follow us on Facebook, Twitter, Instagram, and YouTube to explore us and our product features and functionalities.