WP Social Ninja Review – The All-in-one Plugin for Social Feeds, Reviews, and Chats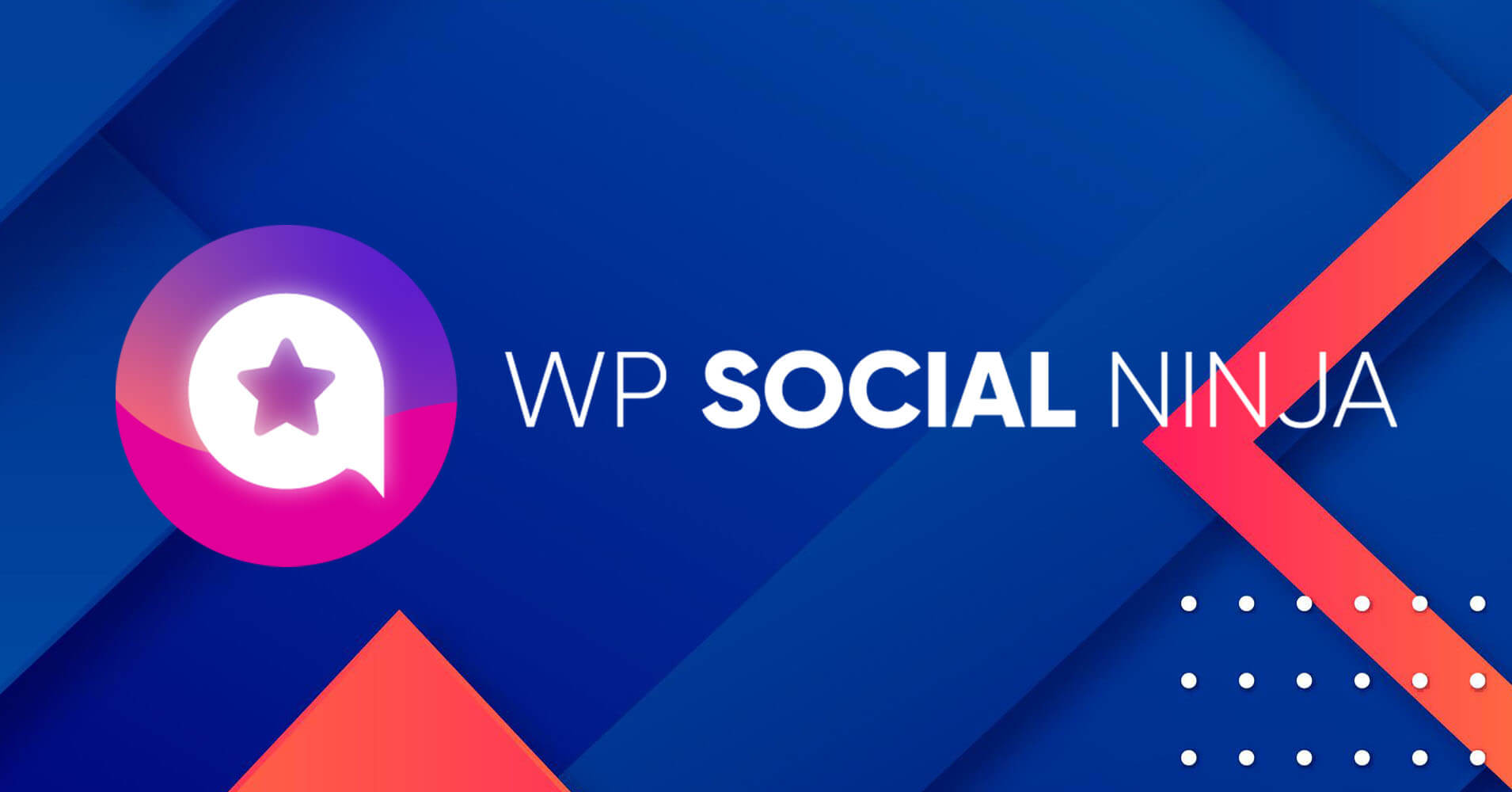 Imagine you have a YouTube channel and a website. Your site's visitors don't interact with your videos, and your channel's subscribers don't know about your website.
How about combining all of them in one single place?
Of course, you can leave your site's link under your YouTube videos, or tell users you have a channel with your blog posts and website footer. Think about a more efficient way. People come to your website and watch your YouTube videos and subscribe to your channel right from the website.
That's what I'm revealing today — the most efficient way to connect users from different channels. With this new game-changing tool in the market, you can explore countless potentials regarding user engagement and increased sales.
Without further ado, let's begin.
Presenting WP Social Ninja – the last tool you need for better user engagement
Yeah, that's right
People don't think such tools exist, usually in the WordPress space. Some people know, but they're afraid to try anything new, and they have valid reasons behind it.
Before WP Social Ninja, some tools were there to cover single platforms. You can use a plugin for displaying Instagram feeds or Facebook reviews, but separately. If you wanted multiple platforms together, you had to install several plugins.
That's where Social Ninja changes the game. There was no such tool that covers dozens of platforms in one single pack. This is revolutionary! WPSN wants you to bring all your social presence to your business website and show your future customers how popular your brand is.
WPSN won't leave you just after letting you connect socials. It will let you decide where to place them (with shortcodes) and how to organize them (with templates and settings).
Why don't people like these kinds of tools?
First of all, they're expensive (example: Smash Balloon).
With Smash Balloon, you need to pay $49/yr (that's the basic price for one site) to use Instagram feed. If you want to use YouTube, that's another $49/yr. So if you want to use all of their four plugins, you need to subscribe differently. Here comes my next two points: limited options and multiple installs.
I've taken Smash Balloon as an example. But the constraints exist with other tools of the same genre. Elfsight, SlickRemix, Taggbox, Walls.io, EmbedSocial — you name it!
Facebook, Twitter, Instagram, and YouTube – these are four platforms you can get access to with Smash Balloon. To get rid of this limitation, Social Ninja offers other platforms, such as Yelp, Amazon, Booking.com, Tripadvisor, and many more.
The next thing is you need to install multiple plugins for various platforms with other plugins. For instance, Smash Balloon has only four platforms, but you need to install four different plugins to use all of them.
However, there's one positive aspect though. People may not need all platforms at once. One may require only YouTube feeds, while another needs the Instagram feed. At that point, it's alright to pick out the platforms that are needed. But, when you know you can use a rich pack of social platforms with a very affordable price tag, will you go for that 'one price, one tool'?
There comes the most crucial issue – speed optimization. After Core Web Vitals by Google, people get extra-cautious to use another plugin that causes performance issues. Multiple plugins installed means your performance is under threat. And multiple inefficiently-coded plugins mean you're on the verge of both security threat and performance downgrade.
Rest assured, WP Social Ninja is one fast-loading tool that has little impact on your website's speed. We've already built the fastest WordPress form builder.
Why do you need a tool like WP Social Ninja?
People trust you when others recommend your product or service. That's pure human psychology. Today's immense social platforms make it easy to gain trust and then spread a good vibe.
But having a presence on various channels means one thing, but seeing all your activities together means another.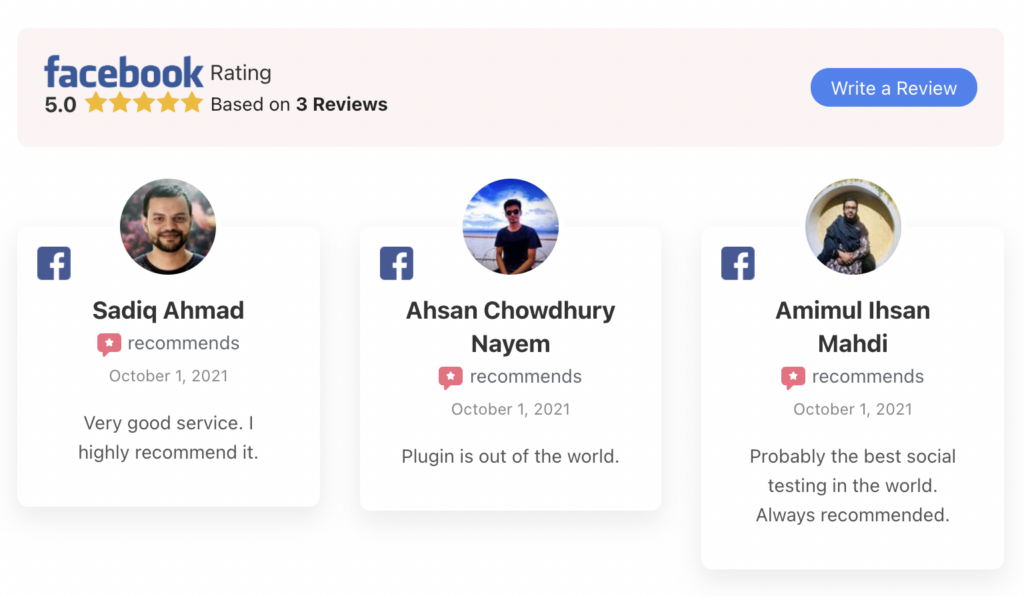 It was like a dream until WP Social Ninja came. Now a tool like this will help achieve your goal in one snap. Within minutes, you can pull your social feeds and reviews to your website.
Maybe users know you from Instagram, but they were uninformed about your website. When they see the familiar brand, the acceptance rate will go higher.
Let's see other benefits of this social media tool.
The benefits of WP Social Ninja
WPManageNinja products already have a reputation for efficiency and fast performance. The legacy continues with WP Social Ninja's optimized coding standard. It doesn't slow down your website, thanks to API-first development and efficient coding practices.
Easy to mess around. You don't need to be a coding ninja to use this plugin and enjoy all the extraordinary features. The dashboard is clean and self-explanatory so that anybody can get started without any tutorial watched before.
It works with any page builder that includes Elementor, Divi, Beaver, or Gutenberg. Since you can utilize shortcodes, you can place them anywhere and generate a beautiful page.
This type of plugin is expensive, but you can't find all platforms in one tool. Considering this notion, WP Social Ninja is affordable for anyone who is looking for a cost-effective solution. It's not what you've spent. It's what you've got for that money.
With this social media plugin, you have countless opportunities to promote your business. Adding social feeds is an excellent way to show the public interaction on your website. Furthermore, visitors can talk to you via WhatsApp, Messenger, Telegram, and other messaging platforms.
Reviews encourage people to buy products. Usually, you show the reviews that you add yourself. Now you have the option to add public reviews on your sales page. Now the new customers are able to know how was the experience of past buyers.
Features in a nutshell or reasons to grab it now
WP Social Ninja comes with tons of goodies to choose this plugin to promote your business and double your engagement. Let's have a look at what amazing features it could offer.
Social feeds for YouTube, Twitter, Instagram, and more
Reviews from dozens of platforms
Instant communication with chat widgets
Integration with Fluent Forms
Various templates available to display feeds
Customize template according to your needs
Each item has separate settings
Add your own reviews if you don't have socials
People can interact with posts as they do on the native platforms
And that's just the tip of the iceberg.
Free vs pro – what's the difference?
WP Social Ninja comes in two different packs – free and pro. I want to tell you the difference between the two versions. If you're not ready to purchase the premium option right now, I strongly recommend checking out the free version. After that, you may find out whether the pro is needed and if you want to upgrade.
| Features | WP Social Ninja | WP Social Ninja Pro |
| --- | --- | --- |
| Social Feeds | 3 | 4 (Facebook is coming) |
| Social Reviews | 2 | 9 |
| Chat Widgets | 1 | 14 |
| Price | Free | Starts from $79 |
Let me tell you now about the key features in detail. With WPSN, you can do three things primarily: displaying social feeds, showing social reviews, and adding social chats. I'm going to describe what they mean how they work.
Download the free version on wp.org
Display social feeds on your website
What does it mean? Let's say you have a YouTube channel. Now you can display your videos on your website, and people don't need to go to YouTube to watch your videos. Not only can they watch videos, but they can subscribe to your channels from your website.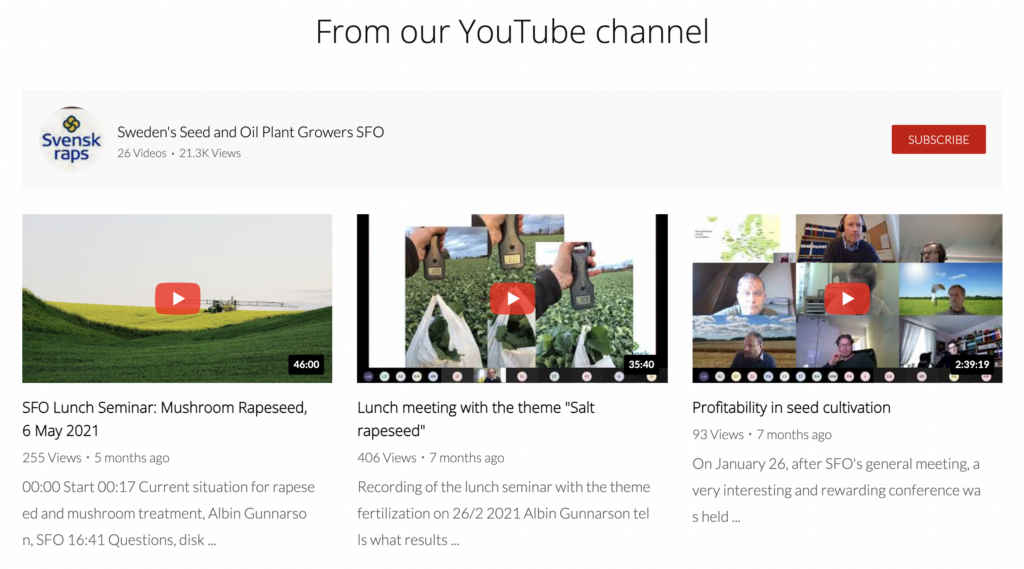 A similar goes to Instagram. With Social Ninja, you can add Instagram feeds to your website. Previously, you needed a separate plugin to do that. But now, you can show Insta posts along with other social feeds right by using just one tool. People can see posts, react, and comment on Insta posts without going into Instagram.
WP Social Ninja has three social feeds right now, that includes YouTube, Instagram, and Twitter. Facebook is on our scheduled tasks, and it will be here soon.
Give users to trust you by showing social reviews
The next significant thing is pulling social reviews to your WordPress website. WP Social Ninja currently offers nine social platforms to show your reviews from.
Facebook
Google My Business
Amazon
Yelp
Booking.com
Tripadvisor
Airbnb
AliExpress
You can choose between templates to decide how to display reviews on your web page. There are multiple settings available for each template. Adjust with your needs and the site's appearance. Save the template and copy the shortcode to place it on your desired web page.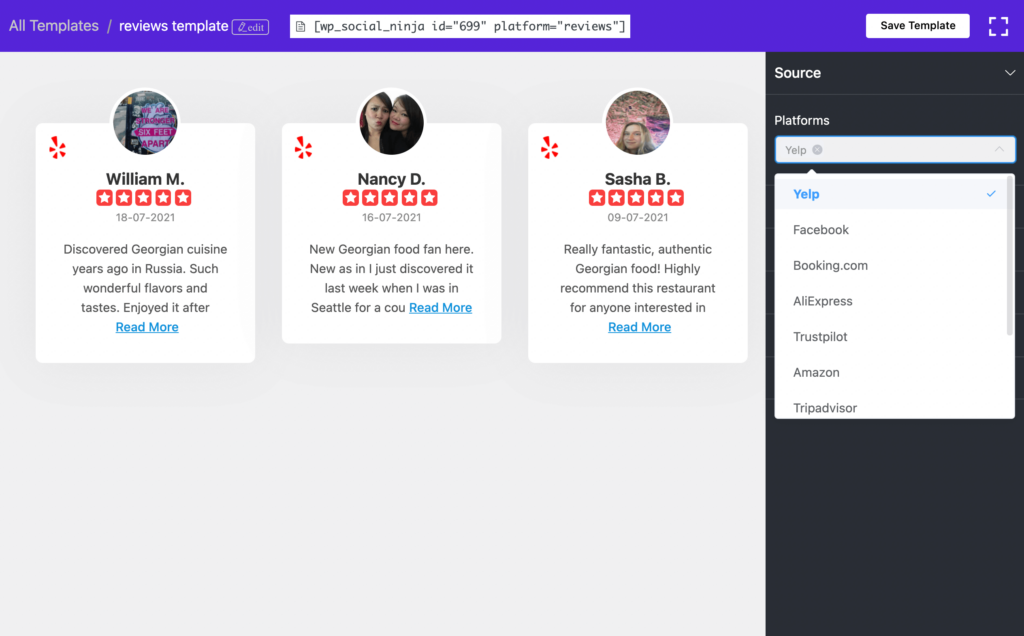 Based on your industry, you can choose what reviews to show, which reviews can help your customers decide. Booking.com, Airbnb, and Tripadvisor will be some great choices if you're involved in the travel industry. Similarly, Facebook and Google My Business are fantastic platforms for local businesses.
Talk to your customers right when they need you
You can talk directly talk to your customers using various messaging platforms. WP Social Ninja comes with 14 chat widgets that include Messenger, WhatsApp, Telegram, Slack, Skype, and more.
Many widgets mean limitless opportunities. You know which channel is comfortable for you and which one is fit for your business. In your case, Telegram may be the most convenient tool for communication. Or, you may want to allow people to talk to you directly for business queries. There you have all the options. Pick the right one and chat.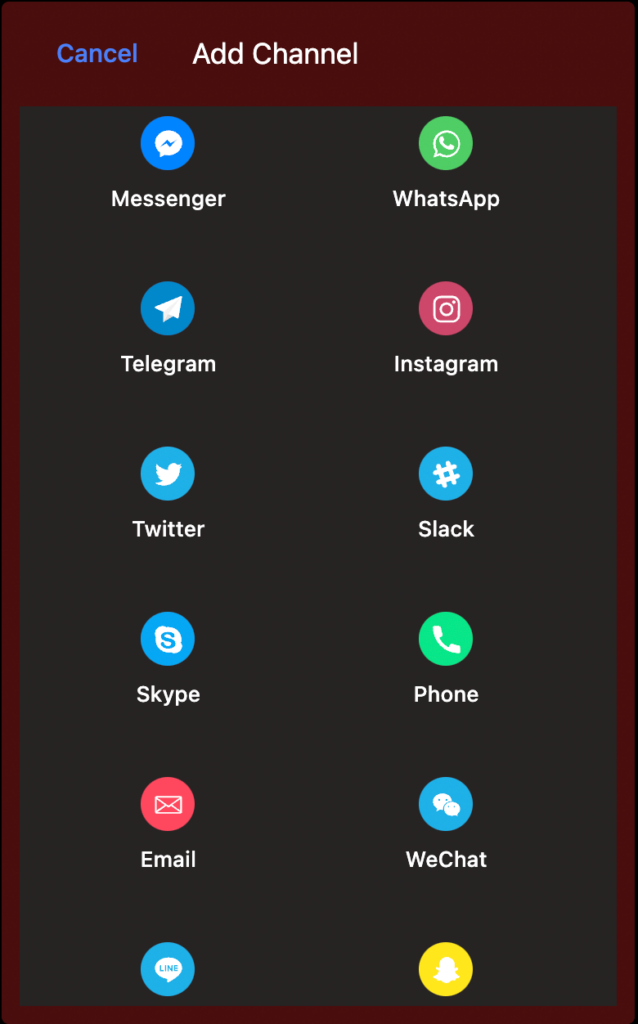 In chat widget settings, you can customize a lot of things from the welcome message to the profile picture. There are multiple templates to handle support, feedback, and sales. Explore other features and see amazing things like the chat button, chat bubble button, chat screen styling, and widget priority.
How can I show reviews when I don't have social reviews?
This might be a critical question one asks. You may have social channels but no reviews to display. Or, something different – you don't have a social appearance.
In that case, does WP Social Ninja have any meaning for you?
The answer is 'yes.' You can add your own reviews with Fluent Forms. Since Fluent Forms integrates with WP Social Ninja, you can easily allow people to write a review and exhibit them on your website.
Now that you want to know about the process, please read our tutorial on this topic.
Pricing: tell me if it costs an arm and a leg?
First of all, to earn WP Social Ninja's similar benefits, you have to use multiple plugins. Spending for one tool cuts a lot of expense, for sure.
Does it cost too much? Of course, not. If you look into SmashBalloon pricing, they charge separately for each platform. That means you have to buy Facebook or Twitter, or Instagram individually.
Anyway, you need to pay $79 for a single-site license, $249 for 25 domains $399 for the unlimited license. All prices are annual.
The key takeaways
Social signals are a significant part of any business. Your future customers will be convinced fast when you can what your current users say about your business.
You can gain 2x total engagement because you're letting visitors interact with your social channels.
You can stay closer with your customers because it's easier to respond instantly with chat widgets offered by WP Social Ninja.
If you don't have social reviews to show, you can allow people to add reviews using Fluent Forms and WP Social Ninja.
Finally, WP Social Ninja is an inexpensive plugin considering all the features it has and the way it doesn't cause any harm to your website's performance.