Fluent Forms Basics vs Other Freemium Plugins: Choose The Best One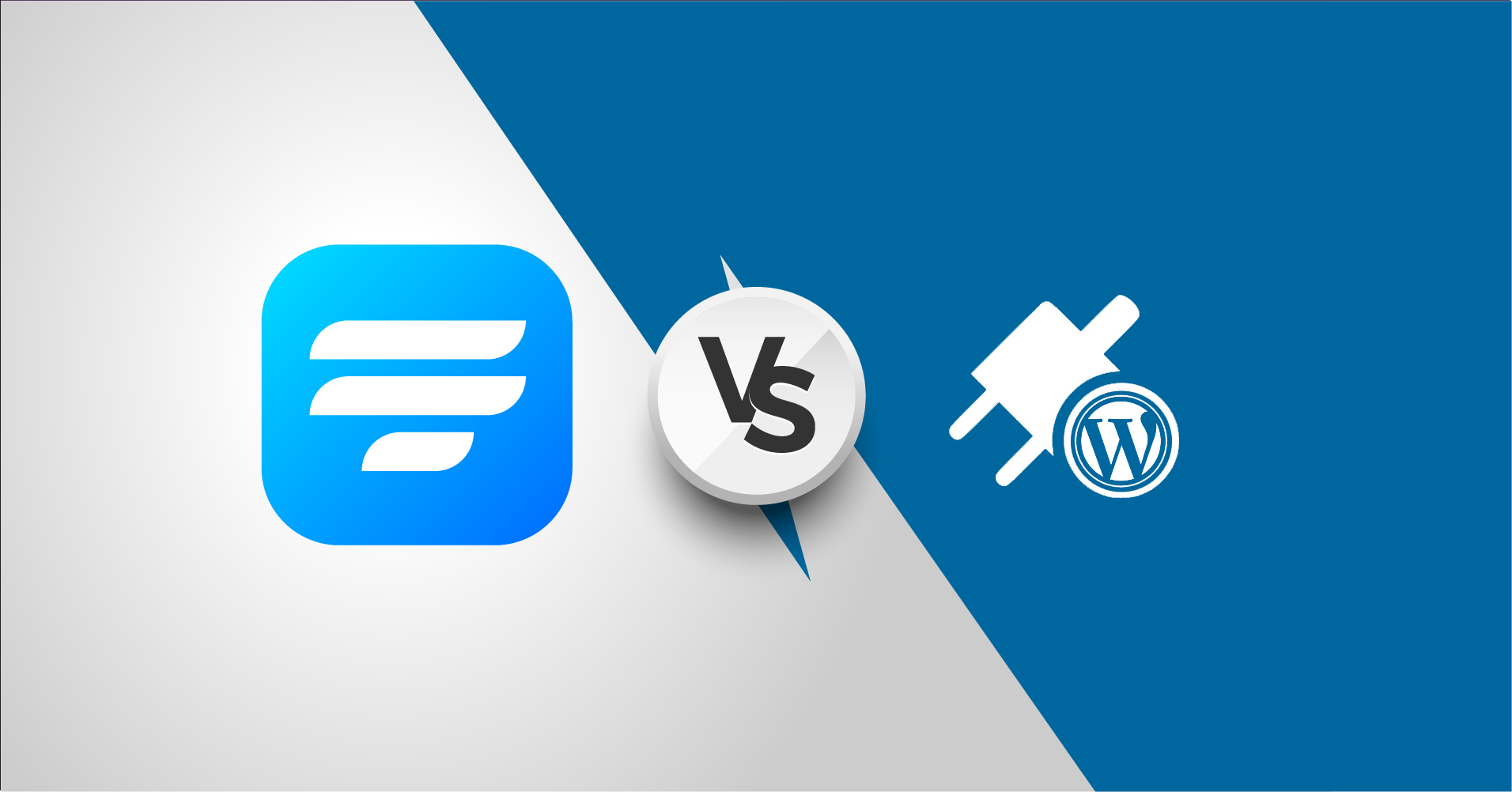 Looking for the best freemium contact form plugin for your online business?
If you are an online business owner, you already know that you need to collect messages from your clients and turn your visitors into leads. Now definitely you are searching for an online form builder plugin that offers the best value at the cheapest cost.
While looking for the cheapest option, you might wonder why you wouldn't be looking for a plugin that comes free of cost? Well, there are tons of free WordPress form plugins out there that won't cost you a dime. But the problem is, you can not depend on them for advanced functionalities. On top of that, it can not be expected from the developers to update the free plugins regularly and come up with new features. Lack of motivation on the developers' side is pretty common when there is no penny to earn.

But then comes the freemium business model to solve both these problems. It enables users to get their hands on the plugins free of cost. If needed, they can upgrade to the premium version whenever they want to, and activate all the advanced features. This is exactly what inspires the developers to come up with new features and improve the core plugin regularly as it would help them earn as more users are likely to upgrade to the premium version if it offers some useful and necessary functionalities.
Well, you might also be aware that there are hundreds of freemium contact form plugins available in the WordPress plugin directory. But you don't need to try them all. We wrote this comparison blog Fluent Forms basics vs other freemium plugins to help you in selecting the best form builder plugin for your website. You will see a detailed comparison of WP Forms Lite, Ninja Forms, Everest Forms, Formidable Forms, Contact Forms 7, Form Maker by 10Web, and Caldera Forms with Fluent Forms.
Sometimes you might find us biased as we are the developer of a plugin from the list. But we promise that we will try to be honest to the best of our knowledge.
Now, let's dive into each.
Fluent Forms is the most beginner-friendly form builder. Download now and start crafting beautiful forms FREE!!!
Fluent Forms
Fluent Forms is an intuitive and easy-to-use form builder plugin that is gaining popularity fast in the WordPress community. You can build any type of contact forms on your website with Fluent Forms smoothly. The plugin is rich in many more unique additional features. Critical features of Fluent Forms free version are:
Features
70+ pre-built templates
50+ input fields
Drag and drop form editor
Multi-column layout
Custom CSS and JS
Email notification
reCAPTCHA
Conditional logic
Conversational forms
You can enable honeypot security, and place help and error messages, in the settings panel. Furthermore, Fluent Forms Mailchimp module allows you to create a Mailchimp newsletter signup form in WordPress. You can even enable real-time notifications for each new submission with Slack.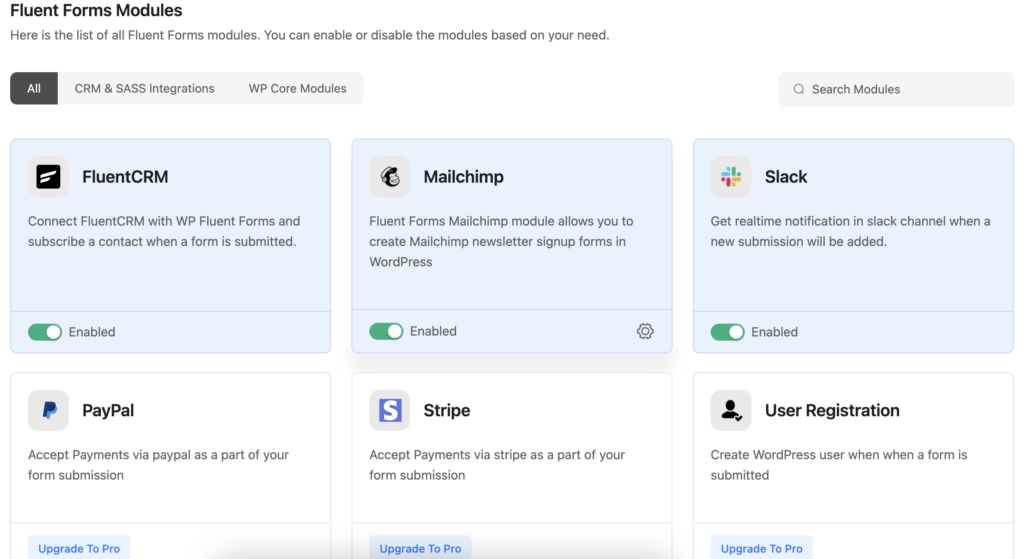 Moreover, the support team behind Fluent Forms is always available to answer any question from you or to solve any problem that you are facing. In most of the freemium plugins, support is reserved for only premium users; but that's not the case for Fluent Forms. Even with the other plugins that provide support facilities on their freemium version, the paid version is their top priority. But Fluent Forms is not biased to its clients. They like to treat their clients equally, and client satisfaction is their top priority.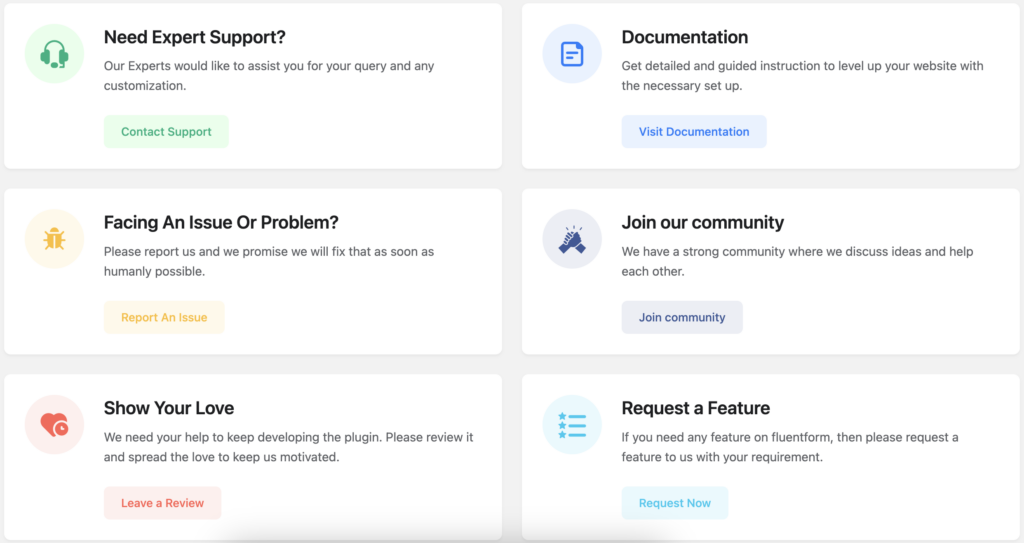 Fluent Forms is updating its core plugin and pro addon every month. They are coming up with new integrations and addons every time so that their users can make a hassle-free form with a single form builder plugin.

To create a form with Fluent Forms, navigate to Fluent Forms> Add new. Choose your template or customize your form figure easily with WP Fluent Forms Basic form.
Pricing
In comparison to other freemium plugins in the market, Fluent Forms is the most cost-effective one. The free version comes with a whole bunch of features (conditional logic, Mailchimp integration, Slack notifications, etc.) that the other plugins reserve for their premium version.
But if you want to add more advanced options and multiple site licenses, then you can buy the tool at $129 and $799 yearly for five site licenses and lifetime unlimited license, respectively. At a $59 yearly package, you will get a single site license with advanced payment and email integrations. For more pricing options, visit the Fluent Forms product page.
Our opinion
Fluent Forms is an excellent form builder plugin with a worthwhile pricing strategy. The free version is also rich in features compared to the other tools in the WordPress directory. Its pre-built templates, input fields, and the number of available advanced fields give it a head start against its counterparts. Despite being the new kid on the block, Fluent Forms is gaining popularity among people really fast.
WP Forms Lite
WP Forms Lite is quite nitty-gritty in nature. The plugin is quite popular among the users for its functionalities. Still, almost all of its features are locked in the paid version.

However, Making a form with WP Forms is very simple and easy. It comes with a drag-and-drop facility that makes it easier for people to make a form quickly. Some important features in the free version are:
Features
8 form fields
4 pre-built templates
Drag and drop
Integrated with constant contact
CSS control
AJAX form submission
Honeypot
The lite version of WP Forms lets you set on-page confirmations and email notifications. But you can place only one email notification unless you upgrade to pro.
To create a form, go to Forms> Add New and create the form using one of the pre-built templates. For new users, these templates can be of great help. But sometimes a limited number of these figures might be deemed insufficient for you. So, if you want to get more beautifully designed pre-built templates and an unlimited number of form submissions, you have to buy the pro version of the plugin.
Besides, features like conditional logic, multi-page forms, and advanced fields are also bolted in the paid version. More so, popular addons such as Mailchimp, Aweber, Campaign Monitor, and Constant Contact are also restricted to the WP Forms Pro.
Pricing
The basic plan costs $79 and comes with an unlimited number of forms. Payment gateways unlock in the plus version at $199. If you want integrations with popular addons, then you need to buy WP Forms pro at $399. The elite version of the plugin is available at $599 yearly.
Our Opinion
In spite of being an easy-to-use form builder, WP Forms Lite is restraining the most basic features. On the contrary, WP Fluent Forms' free version is consolidated with some really advanced features such as conditional logic, email notifications, form scheduling/restrictions, and marketing and team collaboration integrations such as Mailchimp and Slack.
Ninja Forms
Ninja Forms is another heavyweight freemium contact form plugin available in the WordPress plugin directory. It comes with a powerful drag and drop feature that enables the plugin to create any complex and beautiful forms. The plugin also provides pre-built templates and customizable fields to add anything while you are creating a form. 
However, features in the free version are limited. If you want base plugins' functionality, then you have to buy the premium addons. Critical elements that you can avail with the free plugin are:
Features
Drag and drop form builder
30+ field types
Customizable field templates
Unlimited forms
Unlimited submissions
In addition, Ninja Forms free version also contains sending unlimited emails to users and also prevents spam. This is the most developer-friendly form in WordPress.
To create a form with Ninja Forms, navigate to Forms> Add New. You can start creating forms with a template, but you won't be able to use all the templates unless you buy the addons. Moreover, Ninja Forms is allowing you to configure the settings under emails and action, email notification, on-page success or failure messages, and display settings.

You can add a form to a page by clicking Ninja Forms widgets and selecting the form you want to pop up. Though support tickets are available for all types of users, paid users will get priority support for this form builder plugin.
The downside of this plugin is, Ninja Forms is a really costly tool when you need more than two add-ons. The starter premium version will cost you $29-$129 every year. On top of that, you will have to pay $20 to $50 for each additional feature you use. Conversely, on the other plugins, these functions are either available in the free version or come packed together in the pro version. Similarly, if you want more layout and styles, Mailchimp, Aweber, campaign monitor, Ema, and Constant Contact, you need to pay $99 yearly.
Pricing
For 40+ addons, you can purchase the plugin at $129. If you want to use all CRM integrations, including Salesforce and Zoho, Insightly, and more, then you need to pay $499 per year. The $499 package is a good deal if you intend to deploy the plugin on an unlimited number of websites and your pocket is deep enough to afford a plugin that will cost you $499 every year.
Our opinion
Ninja Forms is a versatile tool, but it is quite expensive when you want to add extra addons for your business purpose. You can get the same paid features of Ninja Forms in other tools at a lower price.
Everest Forms
Everest Forms provides an easy way to create any kind of contact form. Its beginner-friendly nature lets people make multiple columns within a click. The form is one of the lightweight and extendable freemium form builder plugins. Additionally, Everest Forms is specialized in keeping usability and simplicity. Some main features of this plugin are:
Features
Drag and drop builder
Unlimited forms
Multiple column support
Shortcode
Email notification
Anti-spam honeypot
Though Everest Forms also comes with pre-built templates, the number is limited to only two- the blank one, and the one with just the name and email fields.
For creating a form with Everest Forms, go to the dashboard and click Forms> Add new. Once your form is made, you will see the fields available for the free version. In the general section, you can use all the fields with drag-and-drop options. But in the advanced section, only two fields are available among twelve different areas. Even so, payment and survey fields are disabled in the free version of the form builder plugin. 

Furthermore, you have to call for the paid version if you want to integrate with style customizer, Mailchimp, PDF form submission, Geolocation, Paypal Standard, etc. in your form. Even, you'll have to pay at least an amount of $49 for basic 3rd-party integrations in your forms. But WP Fluent Forms is giving you that facility in the freemium option.
Pricing
You will get 26 form fields, file uploads, image uploads, and conditional logic, etc. if you pay $69 per year for a single site. For five site license approval, you need to buy the plus version for $1299. Additional add ons like Stripe, Zapier, and so on are available on professional and agency versions at $159 and $249, respectively.
Our opinion
Although Everest Forms is a beginner-friendly form builder plugin, its free version is not that helpful to users. Furthermore, the plugin is not giving valuable add ons to its customers, whereas WP Fluent Forms Pro is coming up with new third-party integrations every month.
Formidable Forms
Formidable Forms is one of the fastest form builder plugins in the WordPress directory, right behind WP Fluent Forms. It is focused on solving the problems in your online business communication. Especially, the plugin is capable of building any sort of complex form. Key features of Formidable Forms free version are:
Features
Drag and drop
Pre-designed form templates
Email notification
Custom HTML
Conditional logic
AJAX-based
Formidable Forms is rich in features, but most of the functions can be found in paid versions of the plugin. Even form entries are also restricted in the free version.
If you want to make a form with Formidable Forms, go to the dashboard panel of your site, select Formidable Forms and click Forms> add new. Select your form template and create a form. Instantly, you will see different types of fields to add on your form by drag and drop options.
In the general part, all fields are available for use. But then, when you move your eyes into the advanced section, you would notice that all the form fields are disabled. You can't add any page break, tags, or sections on your form. Even more, you can't upload any vital files to your form as well.
Though the form builder is letting you send emails through their system, you can't use any advanced integrations like Mailchimp, ActiveCampaign, Constant Contact, Mailpoet, etc. for email marketing. Furthermore, the plugin has reserved all the CRM integrations for the paid version.
Pricing
The basic version costs $149 and comes with an unlimited number of forms and entries. The business model price is $299 yearly and rich in integrations. For elite support and advanced integrations, you have to spend $599 from your bank account every year.
Our opinion
Instead of being a feature-rich and fastest form builder plugin, Formidable Forms' most of the features are sealed in its paid version. Even when you are trying to move into the paid version, pricing for each model is also higher than WP Fluent Forms.
Contact Form 7
Let's make it clear that Contact Form 7 is not a freemium plugin. That means they don't have any premium plan for this plugin. Still, we would like to compare it with WP Fluent Forms free version because most of the free form builder plugins were built based on this form builder.
Contact Form 7 is the oldest free form builder in the WordPress community. It is the most lightweight tool to create necessary forms. When comparing Contact Form 7 with other form builders in the market, it is easily noticeable that not many changes have been done to the tool. Yet, it is popular among people because of its legacy. Some attributes of the plugin are:
Features
Easily create multiple contact forms
Customize form fields
Simple markup to change mail content
CAPTCHA for spam protection
Third-party integrations
When you are creating a form with Contact Form 7, you need a bit of HTML knowledge. And you also need to add specialized tags to a text to appear them on the form.
To make a form with Contact Form 7, select contact>Add new from the sidebar. Unfortunately, the interface is not beginner-friendly like other form builder plugins in the market. You can not even preview the forms before publishing.
You can customize the message fields for each form. By default, the first message is set up to send an email to the site administrator, and you can also add a second message to email the form submitter.
Contact Form 7 has a limited number of input fields like text, name, date, checkboxes, drop-downs, file uploads, and reCAPTCHA, etc. More so, if you want to add more addons, you need to buy additional plugins. Sad to say, these plugins are not supported by Contact Form 7. Again, if you want to integrate with Mailchimp, Salesforce, or WooCommerce using this plugin, you will have to buy tools developed by third-party developers.
The significant advantage of the plugin is that it's free. You can donate to the team if you want to support the founder.
Pricing
As Contact Form 7 is a free form builder from the beginning, they don't have any pricing policy for the plugin.
Our opinion
Though Contact Form 7 is a free form builder, it is still hard to use and lacks modern features. And it won't add much value to your business.
Form Maker by 10Web
Form Maker by 10Web is the outstanding drag and drops plugin for building any complex form in just a few clicks. This tool is enough to save your time and effort. You can design your form by keeping a match to your website with Form Maker by 10Web. Building a lengthy and advanced form is also easy with this tool. Some key features of the plugin are:
Features
Drag and drop
43 different form of field types
5 pre-built templates
Spam protection
Conditional logic
Multi-page forms
Additionally, you can select your form types in need of what type of form you want to pop up on your website. Form makers' free version also empowers you to make your payment through PayPal and Stripe. Along with saving the IP address and database of users, you can also set GDPR compliance to your checkbox.
To create a form with Form Maker by 10Web, click Form Maker> Add New or choose one from the templates. Despite being a leading drag and drop plugin, Form Makers' free version lacks on building enough pre-built templates. They only provide five pre-made figures for users. WP Fluent Forms' free version is rich in pre-designed templates criteria. Even, you have to add many extensions for essential tasks like PDF integration, Dropbox integration, Mailchimp integration, etc.
Pricing
Six months of updates and support for one site license will cost you $45 for the basic version. When you need to move on to the one-year updates and support, there are two types of categories. One is standard, and another one is advanced. The standard version will cost you $70 with three domains support, and advanced one will cost you $90 with thirty domains support.
Our Opinion
In terms of time frame, Form Makers' basic version is expensive than WP Fluent Forms basic one. With six months of updates and support, $45 seems a bit much because users are getting more with WP Fluent Forms Pro in one-year-only at $49.
Caldera Forms
Caldera Forms is a powerful tool that creates responsive forms with a drag and drops editor. This form builder gives many user-friendly addons for developers. Caldera Forms is rich in designing reactive forms to collect robust data and relevant information from your visitors. Main features of Calders Forms are:
Features
Smart user interface
Drag and drop
Conditional logic
File upload
Pre-built templates
Honeypot anti-spam
AJAX submission
To create a form with Caldera Form, click Caldera Forms> New Form. A pop up will appear with six pre-built templates. You can select any one or design your customizable form with the new form option.
In spite of having permission to send emails to your users, you can't integrate with advance integrations with its free model. The payment option is also disabled in the basic tool of the form builder.
Pricing
Caldera Forms is giving unlimited licenses for any of its paid tools. They have a yearly policy of payments that costs $99, $199 and $499.
Our opinion
If we compared the free tool of Caldera Form with WP Fluent Forms free one, then it is noticeable that WP Fluent Forms is better than Caldera Forms. On the other hand, the paid version of Caldera Forms is better if we think from the perspective of license. But when we compare the overall situation, like what integrations or facilities are included in the packages, then WP Fluent Forms again prove itself better.
Why people love Fluent Forms
People love WP Fluent Forms because of its beginner-friendly interface, blazing-fast performance, super-efficient support; and most importantly- a user-centric development approach. You can have a look at the public roadmap Fluent Forms development team opened for the users and how interactive it is Other reasons for the plugin's popularity are:
Create forms within a short time: WP Fluent Forms lets you generate forms in minutes. You don't have to do any donkey works to create a form with this form builder. You can easily select your fields, options, and smoothly enclose your form. In a hurry? Just choose the form you are looking for from the wide range of pre-built form templates and deploy it on the page!
Easy to use: The tool is very friendly to its users. Any beginner can easily create a form with this form builder and this is 100% responsive to any devices.
All the available features: Before creating WP Fluent Forms, the developers spent hundreds of nights researching the components and features that are needed to build a proper website form. That is why they know what tools are essential for generating one. They have brought all the elements in one place for users.
Build the forms more comfortable for users: Fluent Forms don't bother its users just by adding random information to the form. They let you add selective fields for crucial information you need with their conditional logic, step form feature, and multi-column layout.
Final verdict
Now, you decide which freemium form builder plugin seems the most resourceful to you. After all, you need a tool that would meet all the requirements for your website. Sometimes you might select the cheapest one because your budget is tight. Sometimes you won't mind paying more considering the flexibility and functionalities you will get in return. Hopefully, this scrutiny will help you choose a suitable form builder plugin. If you want to compare more, you can go for our 15 best WordPress plugins article.
Apart from this, if you need our suggestion, we would advise you to go for Fluent Forms. This plugin will never disappoint you with its functionalities and support. To say the least, this feature-rich plugin can make a significant positive impact on your online business.