Fluent Forms vs HappyForms: Which One Is Right for You?
You might want to collect information about your potential clients, take orders from your customers or even sign up users on your website. WordPress form builder plugins are there to help you with that.
Form builder plugins allow you to create online forms in minutes without any coding knowledge. There are many WordPress form builder plugins out there with tons of features and diverse functionalities. So it is natural for you to get overwhelmed when looking around for the best one that perfectly satisfies your needs.
Sit back and read through this article as we compare Fluent Forms vs HappyForms head-to-head and find out which one is right for you. Both of them have the capability to get the form-building job done. But which one of them stands out? The moment you reach the end of this article, you will have a perfect understanding to pick the best form builder plugin.
Fluent Forms is the most beginner-friendly form builder. Download now and start crafting beautiful forms FREE!!!
What makes a form builder plugin 'best'?
Some basic features come with almost all the form builder plugins. But to be considered the best form builder plugin, we recommend you to take into account the following properties –
Ease of use
Pre-built form templates
Layout feature
Input fields
Conversational forms
Conditional logic
Third-party integration
Calculated fields
Quiz module
Pricing and licensing
As we advance, we compare Happy Forms and Fluent Forms for each of these features. But before jumping into the in-depth comparison, let's first get a quick introduction to both form builder plugins.
Fluent Forms
Fluent Forms is a lightweight WordPress form builder plugin with an excellent user experience that is easy to use. It has got loads of amazing features to fulfill your needs. You can create anything from basic forms to more advanced forms with Fluent Forms. Also, it is the fastest form builder plugin in the market.
It allows you to make conversational forms, so your customers no longer need to get bored filling up lengthy forms. As a result, you experience an increase in your conversion rate.
Fluent Forms releases updates every now and then. These updates come with new features packed, which enable a user to go beyond previous capabilities. This form builder plugin is now trusted by more than 200K+ websites and counting. Although the free version of Fluent Forms is able to meet most of your regular wants, the Pro version breaks the limit of capabilities. The most notable features of Fluent Forms are the following –
Dozens of pre-built form templates for quick form building
Ready-to-use input fields for greater user experience
Multi-column form layout for ultimate freedom
Drag and drop form builder for ease of use
Conversational forms for interactive forms
Conditional logic for better control over the forms
Calculated fields for measuring numbers based on inputs
Visual data reporting for a quick overview
40+ native integrations for additional functionality
HappyForms
The Theme Foundry was making themes for WordPress. But customer feedback from their theme business and identifying what their users wanted led them to create HappyForms. Even if it is a relatively newer plugin, it is comparable to any form builder plugin currently existing in the market. 
HappyForms has a simple user interface that blends well with the default WordPress customizer. When it comes to saving your form from being spammed, HappyForms has built-in Honeypot and ReCaptcha spam protection. Below are the key features of HappyForms –
Drag-and-drop form builder
Gutenberg friendly
Display multiple forms on the same page
Create mobile responsive forms
One-click HoneyPot spam prevention
GDPR compliant
Create unlimited forms
Supports live preview of forms
Fluent Forms vs HappyForms: a head-to-head comparison
Although both HappyForms and Fluent Forms are amazing WordPress form-builder plugins, they have some noticeable differences. Now let's get straight into comparing these two plugins.
Ease of use
Fluent Forms is among the most user-friendly form builders in the industry right now. You will not find the interface complicated even if you use it for the first time. Its interface is more like What You See Is What You Get (WYSIWYG). You get the live preview of the form in the middle of your screen. On the right, you get all the input fields and various customization options.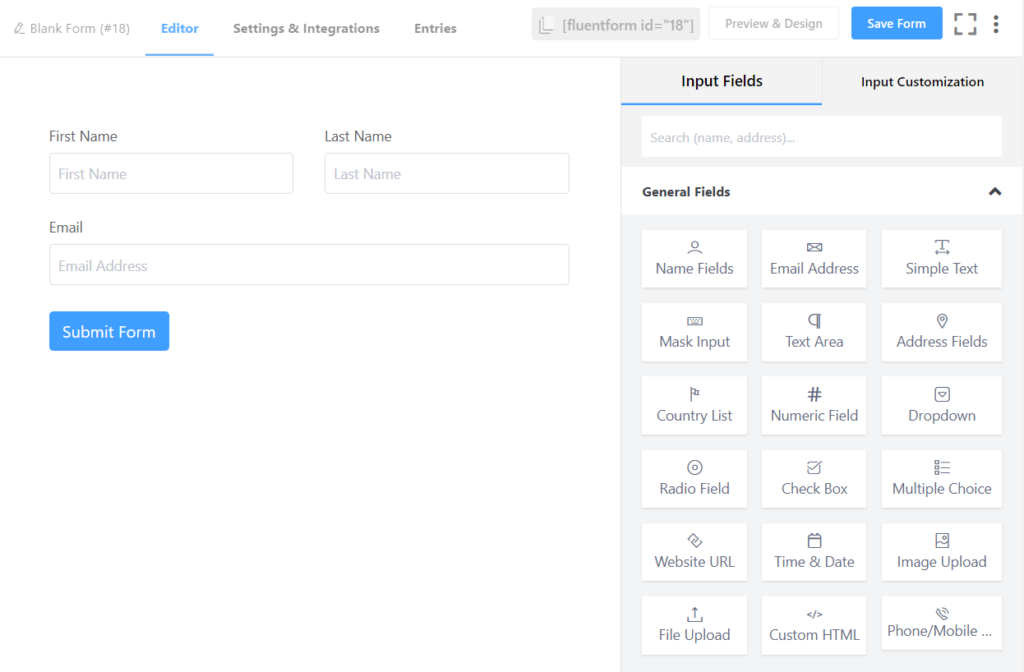 Adding fields to your forms is super-easy with Fluent Forms. All you need to do is click on the desired field or drag and drop the required field wherever you want to place it. When you click on an added field, you are presented with many customization options. Fluent Forms gives you a simple and easy-to-use user interface along with a smooth user experience.
The user interface of HappyForms blends so well with the WordPress dashboard. On the left side of your screen, you get the tools to build your form, and the live preview is on the right. You have to click on the desired input type to add a field. There is no way you can add input fields by drag-and-drop.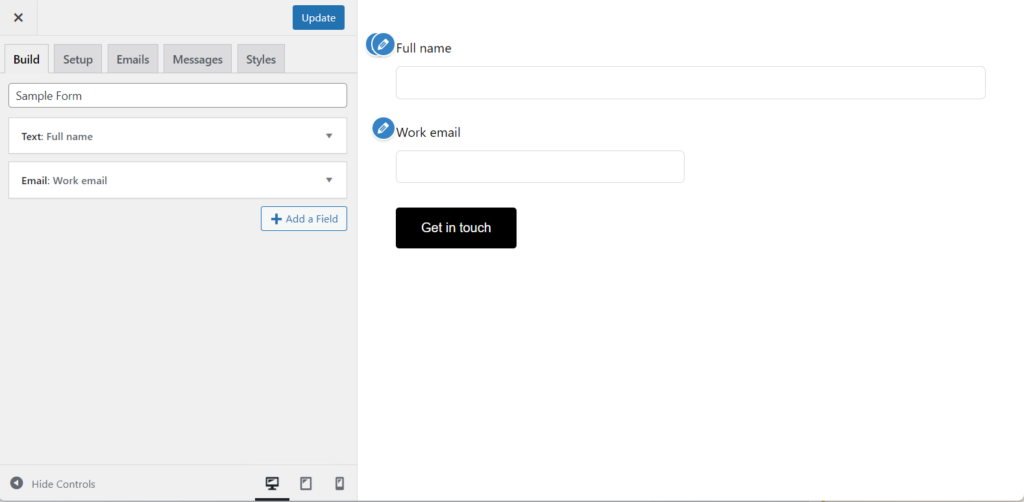 The fields are not instantly usable as they are in Fluent Forms. You have to add labels and placeholders and change other settings before publishing the form.
Winner: In terms of both ease of use and user interface, Fluent Forms beats HappyForms by a significant margin.
Pre-built form templates
With Fluent Forms, you get 60+ pre-built form templates. Fluent Forms have basic form templates as well as industry-focused templates to meet the needs of different websites, such as – marketing, product, education, non-profit, IT and many more.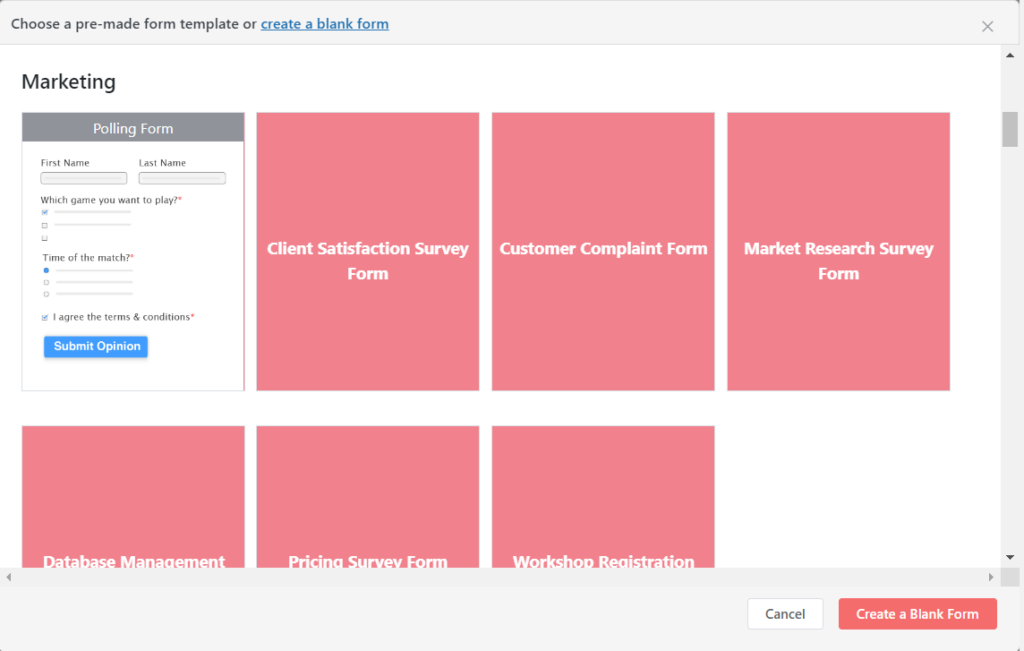 You select any of the templates that match your needs, and you are good to go. You can also use a template by tweaking it and aligning the form with your requirements. This will save you a lot of time.
HappyForms does not come with any pre-built form templates. That means you have to create any form for your WordPress website from scratch.
Winner: Do I even have to say this? Clearly, Fluent Forms it is!
Layout feature
Fluent Forms offers you multi-column layout features. You can create forms containing anywhere between one to six columns. The container option gives you the flexibility to play with the form layout.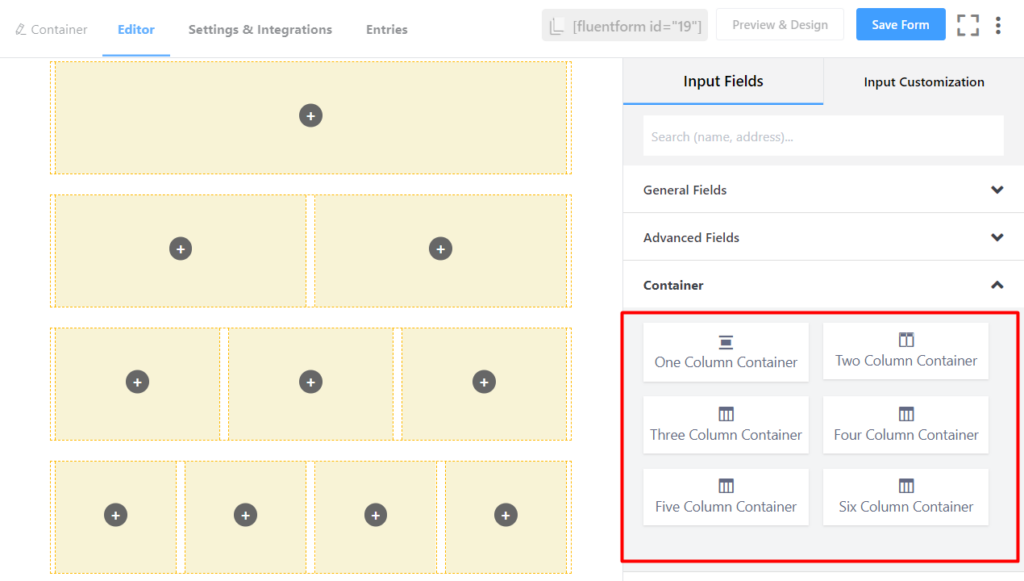 You can simply drag and drop any input field inside the column containers. Yes, it is that easy.
In HappyForms, you have limited flexibility when working with different layouts. You have to manually select the width of every individual field to make room for other fields.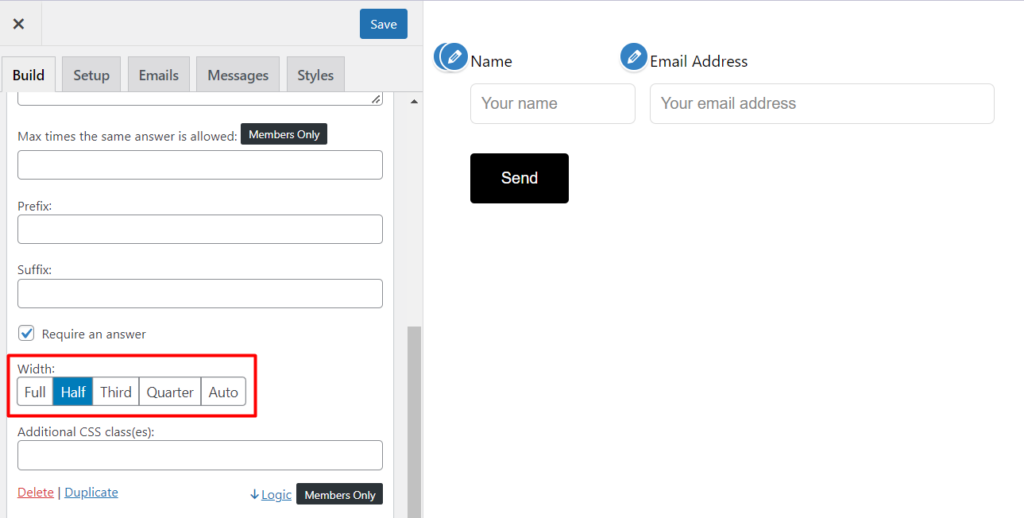 It should be mentioned that you can not add more than four fields side-by-side.
Winner: Fluent Forms stands out in this case with more flexibility working with layouts.
Input fields
Fluent Forms has more than 40+ input fields to choose from. You will get most of the input fields in the free version. You can buy the pro version of Fluent Forms for more advanced capability.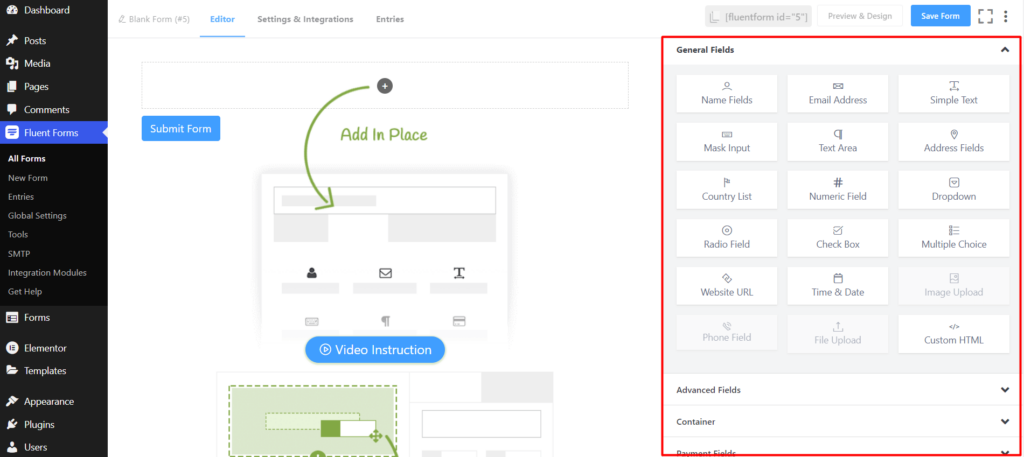 Moreover, the input fields are ready to use, which means that all input fields are carefully built, and when you add them to your form, they are perfect for serving your particular purpose.
On the other hand, you get only 20+ input fields in HappyForms. Only 7 of them are available for you in the free version. Some of the necessary input fields that you might want to get on the free version are available for premium members only.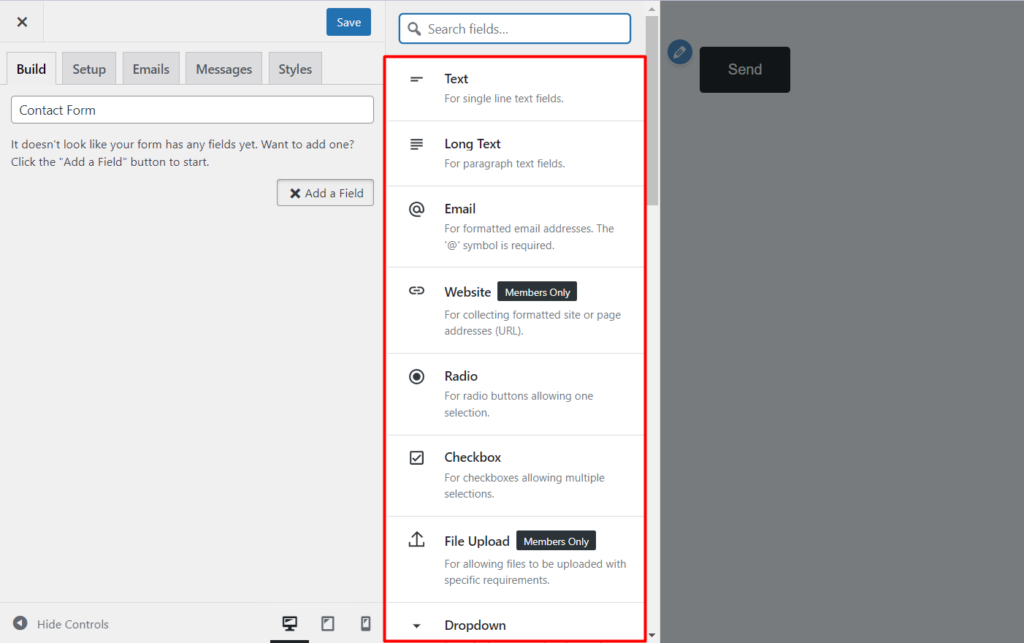 Winner: Fluent Forms beats HappyForms by a considerable margin in terms of input fields.
Conversational forms
Fluent Forms has this fantastic feature called conversational forms. Sometimes forms can be a bit lengthy and might result in an increased number of form abandonment. But in conversational forms, your customers will not get bored filling up the form as conversational forms feel less like a form and more like a conversation. So you don't have to think about form abandonment anymore.
Unfortunately, if you opt to use HappyForms, you will have to miss creating conversational forms.
Winner: HappyForms is not even comparable with Fluent Forms when talking about conversational forms.
Conditional logic
Conditional logic is a feature that you can use to show or hide certain input fields based on some pre-defined rules. In Fluent Forms, you get this feature in the free version.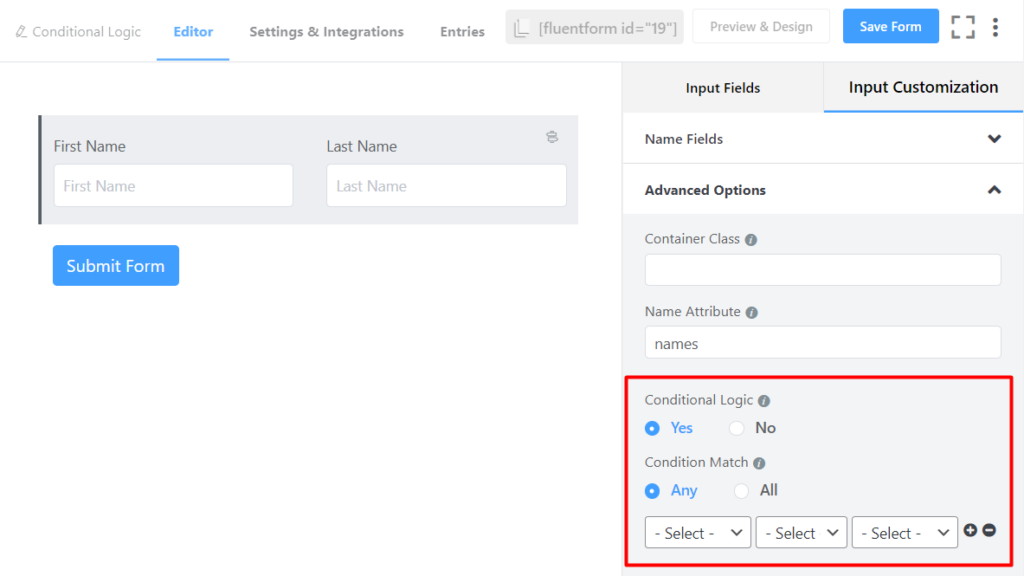 On the contrary, you have to purchase HappyForms to use the same feature.
Winner: You tell me who the winner is.
Third-party integration
With third-party integration, you can make Fluent Forms more powerful. Fluent Forms support 45+ native third-party integrations. With Zapier, you will get additional 4000+ other integrations.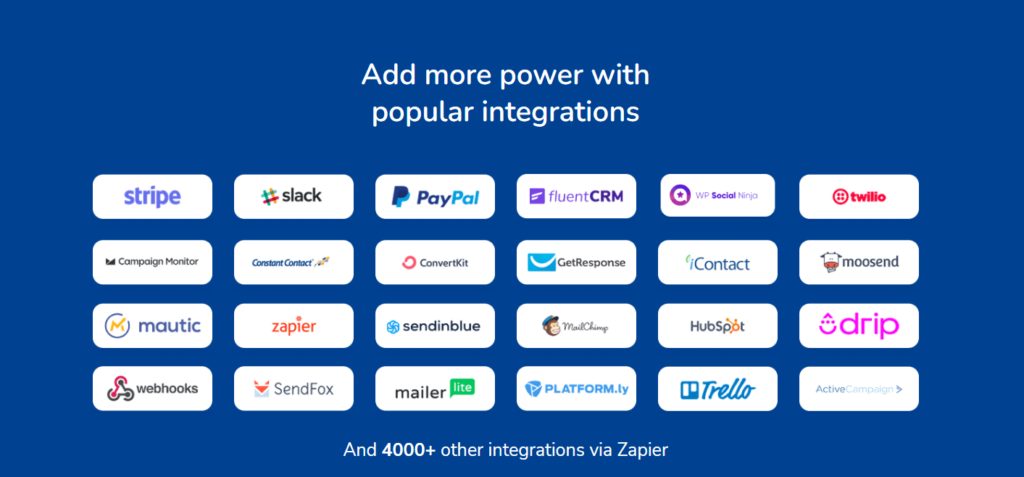 HappyForms has only 17 native integrations.
Winner: Fluent Forms has more third-party integrations than HappyForms. So Fluent Forms is the winner again.
Calculated fields
Fluent Forms has a feature called calculated fields which can be used to calculate numbers submitted through numeric fields. It comes in handy when you want to show some numeric calculation as output to your customers based on the values they provide through the form.
HappyForms has no such feature like that.
Winner: Fluent Forms, it is!
Quiz module
With customers' needs in mind, Fluent Forms brings a quiz module. Using the quiz module, you can create quizzes and show scores with grades, points, fractions, or percentages.
HappyForms does not have any quiz modules.
Winner: Undoubtedly, Fluent Forms outshines HappyForms in this feature too.
Pricing and licensing
Fluent Forms gives you six different pricing options to choose from.
| Plans | Single Site License (Single Domain License) | Agency License (5 Domains License) | Unlimited License (Unlimited Domains License) |
| --- | --- | --- | --- |
| Annual Plan | $59 | $129 | $199 |
| Lifetime Plan | $299 | $499 | $899 |
HappyForms has no lifetime subscription plan. It only gives you three annual plans to pick from.
| Plans | Startup (for 1 website) | Hustler (for up to 3 websites) | Bigwig (for up to unlimited websites) |
| --- | --- | --- | --- |
| Annual Plan | $54 | $114 | $284 |
Winner: Fluent Forms is the best value for money, with loads of features and excellent functionalities at an affordable price compared to HappyForms.
Final verdict
Considering all the features of both Fluent Forms and HappyForms, the verdict is crystal-clear. Fluent Forms beats HappyForms in every aspect, be it user experience, features, functionality, or pricing.
Fluent Forms have more features to meet the needs of anyone from beginner to advanced users. It offers some brilliant and unique features like conversational forms, calculated fields, quiz modules, etc. Besides, you get almost all the features you might regularly need on the free version of Fluent Forms.
On the other side of the coin, HappForms have limited features and functionalities compared to Fluent Forms. It lacks many features that Fluent Forms already have. The free version of HappyForms offers you very limited features to play with. Also, it is pricier compared to Fluent Forms when it comes to unlimited domains license.
We can conclude by saying that Fluent Forms is the ultimate go-to option when it comes to WordPress form-builder plugins.