Fluent Support Review – The Ultimate Support Ticket Plugin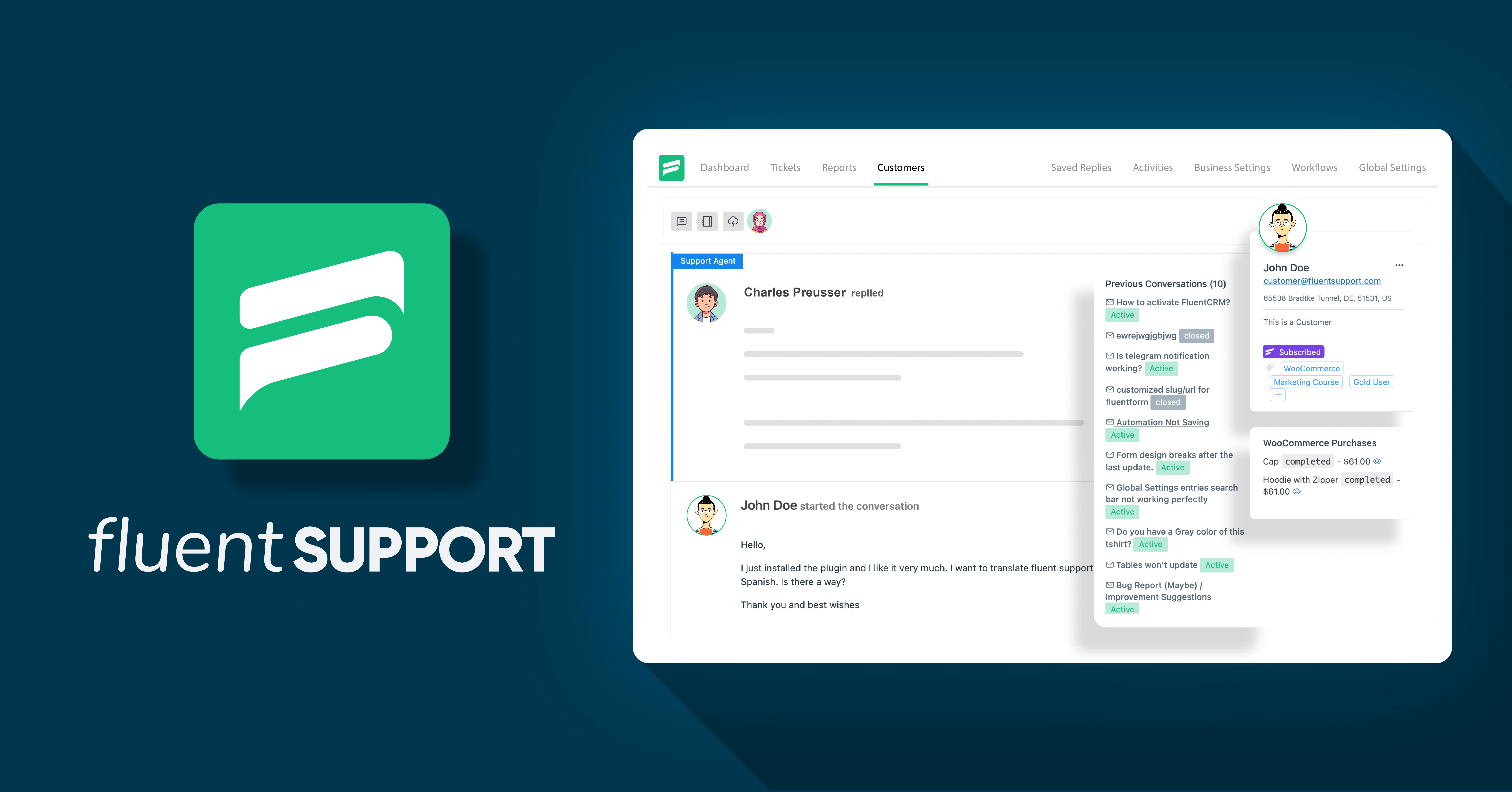 Messy workflows, disorganized ticket systems, disheveled reports – this makes for a nightmare, not a customer support system. Not anymore!
For months our dear customers have urged for a support ticket management plugin that will actually feel their horror and heal their troubles. Well, the waiting is over. As promised, we introduce Fluent Support, the ultimate WordPress support plugin tailored by the users.
Presenting Fluent Support – the only WordPress help desk plugin you need for better support ticket management
Yes, we get it. Managing support tickets for a business can be a whole new level of hassle. But you can forget about all that.
We present to you Fluent Support. The only plugin you need and the only plugin you'll ever want once you see all the fantastic features it has to offer. As they claim, Fluent Support really does make customer service fast, fun, and fluent.
But, wait a minute. How would you know Fluent Support is for you? Do you have online shops, digital agencies, or do you provide any type of service or sell any product via a website? Are you an entrepreneur, support agent, service provider? If you answered yes, to any one of these, then congratulations! Fluent Support is for you. Check out the Fluent Support Lifetime Deal now!
Fluent Support lifetime deal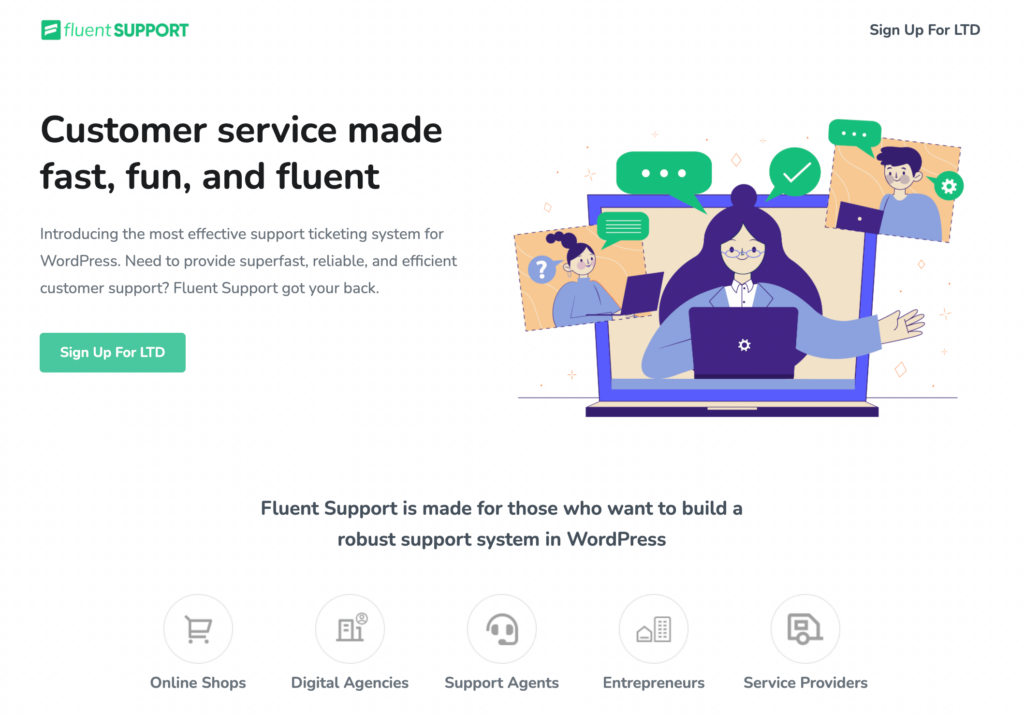 Now, we don't like to brag. But if we are being very honest, we do maintain a level of brilliance in all of our products. But you already knew that. All the WPManageNinja products uphold a level of sophistication while being beginner-friendly at the same time.
Moreover, WPManageNinja is pledged to grow and evolve each step of the way with every customer feedback. So it would be rather foolish to pass on the Fluent Support lifetime deal. This support plugin has already been tested internally within our team, and also beta-tested by trusted users and well-wishers. Hence, it has already seen evaluations and modifications. And it will only grow with time. So hop on while you can. Grab the lifetime deal while it lasts. Or else, it will be too late when you finally make up your mind. The lifetime licenses are here for only a few weeks.
Is Fluent Support for me?
The efficiency of your support team may make or break your business. This is no exaggeration. So you will need a robust tool by your side that will keep your business aloft.
So whether you need product-based support, users' details, automate replies, or track team performance – Fluent Support is your tool. This WordPress support plugin provides all the features you need in an efficient helpdesk system.
It is fast, organized, and even allows users to open tickets via email or forms. And with the detailed history of your users, you will also have all the insight you need to answer a ticket. It seems to us that you should give it a go yourself.
Fluent Support review : the benefits of using the best WordPress support ticket plugin
We are already convinced Fluent Support is the only thing you need to put your customer service woes to sleep. But if you need some more assurance before you grab that Fluent Support Lifetime Deal, here are some of the reasons you should give it a try.
Neat dashboard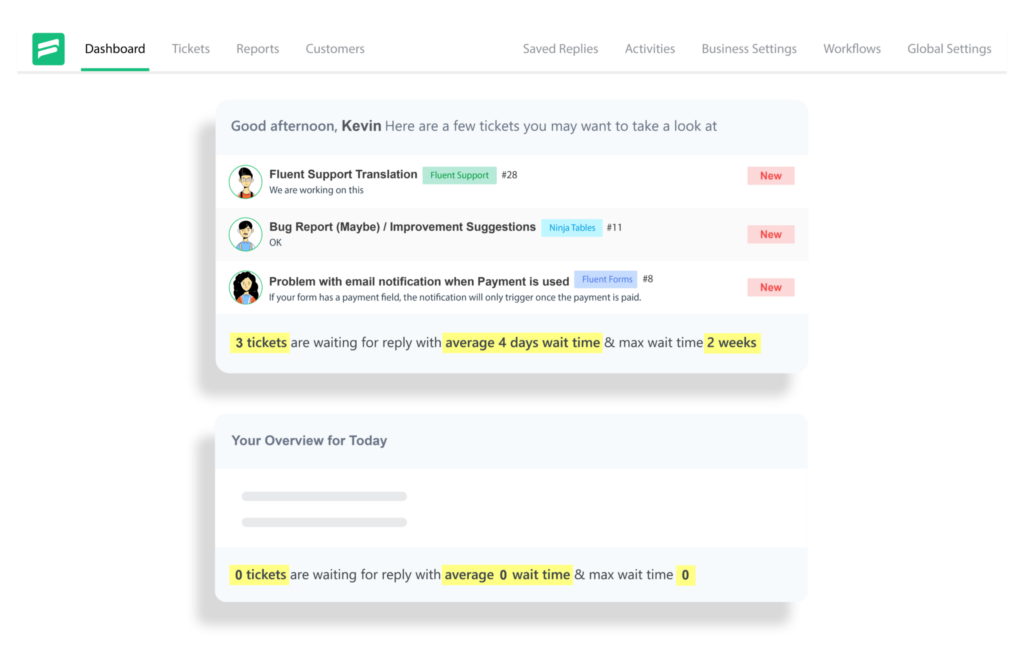 Your one-stop dashboard where you can get a bird's eye view on all active and closed tickets. The dashboard will promptly notify you about all pending tickets, with both the average wait time and also the maximum waiting period.
What's more! You can also get a complete overview of all relevant details like new tickets, active tickets, closed tickets, responses, interactions, unassigned tickets, etc. And there's a fantastic navbar with easy shortcuts so you can quickly switch between tabs.
Organized tickets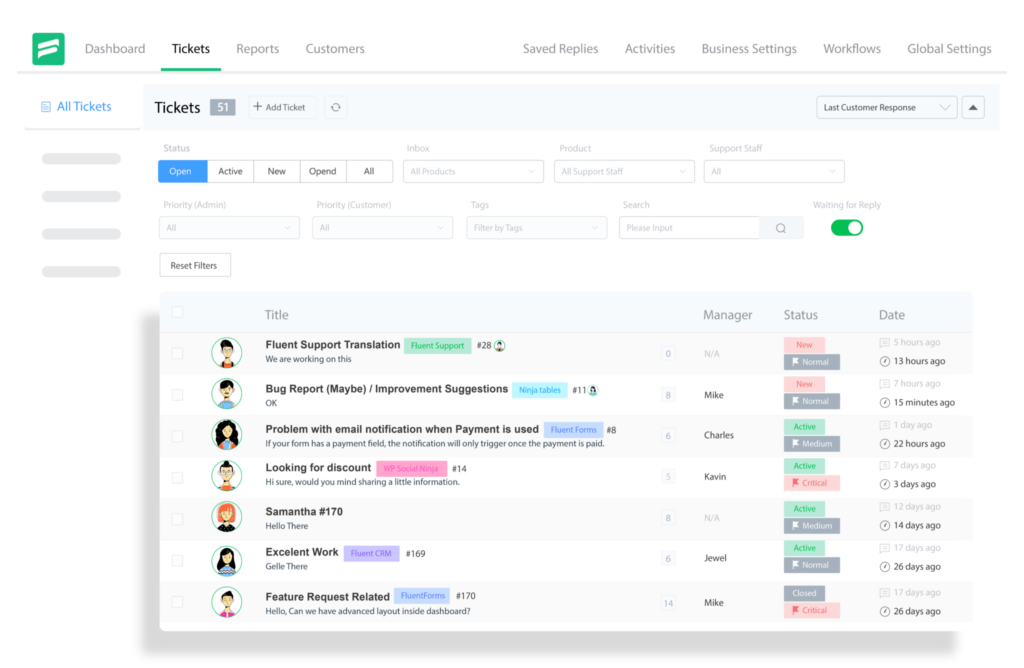 What's a robust WordPress support plugin without organized tickets, right? Well, Fluent Support got that covered. The tickets are arranged smartly in three separate tabs to view All Tickets, Your Tickets, and Unassigned tickets. You can also add tickets manually here.
To order them even further, you can filter them based on a variety of matrices like status, product, priority, tags, etc. And you can also sort the viewing details of these tickets to Ticket ID, Product ID, Last Agent Response, etc. Click on an individual ticket to view all the intricate details that you may need, like whether they are enrolled in any LearnDash courses or are a WishList member.
Smooth workflows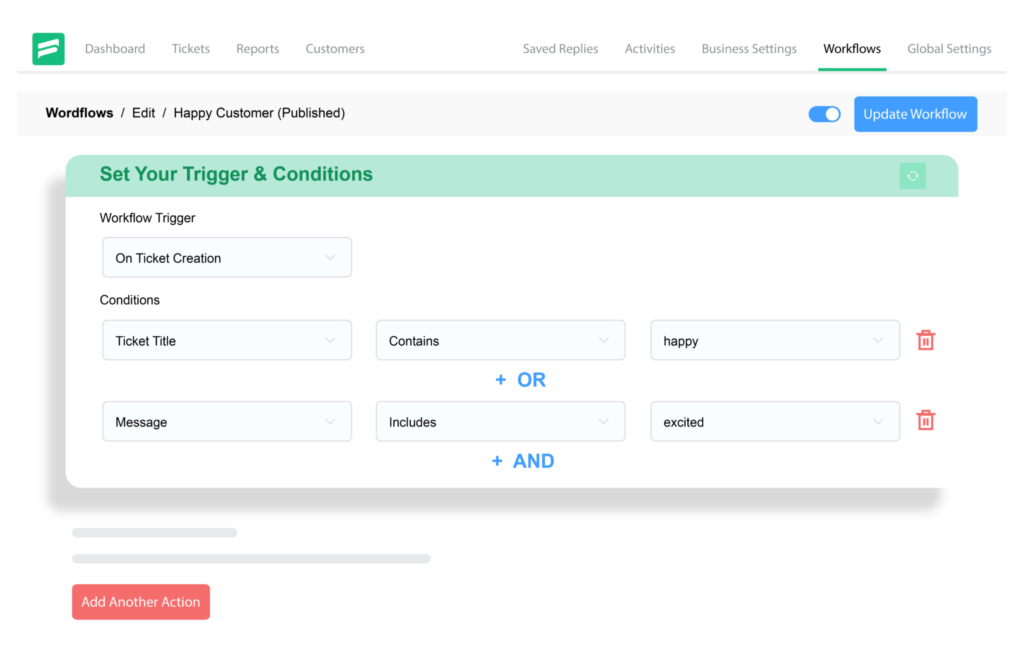 If you are familiar with FluentCRM, then you know Fluent Support is also no stranger to smooth workflows. Here too, you will have a clear overview of all active workflows. Click on any of them to view or edit.
You can also Add New Workflows, just set the name and type. There's a manual type for sending replies, adding tags, or assigning team members. And when you want to automatically run predefined actions based on selected keywords or triggers, there's an automatic type.
Dynamic activities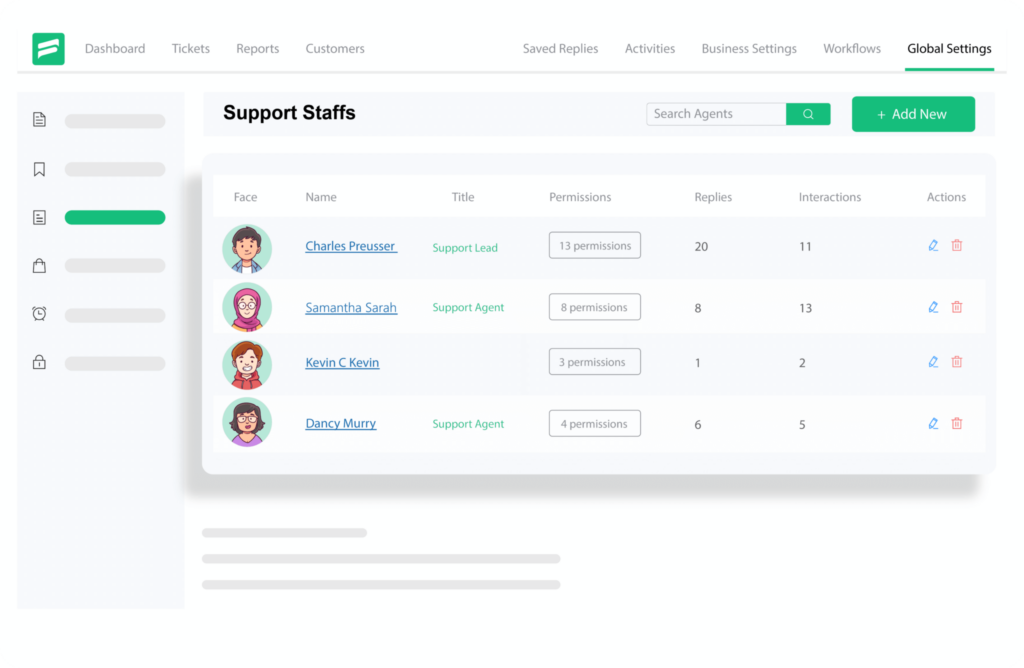 What can be a bigger hassle than managing support tickets? Managing the team. Tickets pile up, come rain or shine, and everyone needs their answer yesterday. We get it.
Thus, it is crucial to have an organized team that knows the drill and a system that keeps everyone updated. The Overall Activities will view each team member's activities – if they created a ticket, whether someone added any response or notes, or if someone reopened any ticket. Not only does this keep the team informed, but you also know who to knock if you should come across any particular issue.
Powerful settings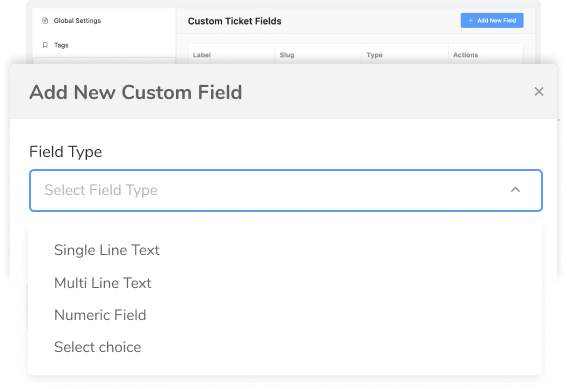 Global settings is where the magic is at. Assign ticket tags, set custom fields, define products, coordinate support staff, manage licenses, disable public ticket interaction, accept file types, or configure portal pages.
If you want to manage integrations, you can do it here as well. Enable FluentCRM integration so you can quickly add contacts to your email list and assign tags. As for notifications, there are currently three available mediums – Telegram, Slack, and Discord.
Swift reports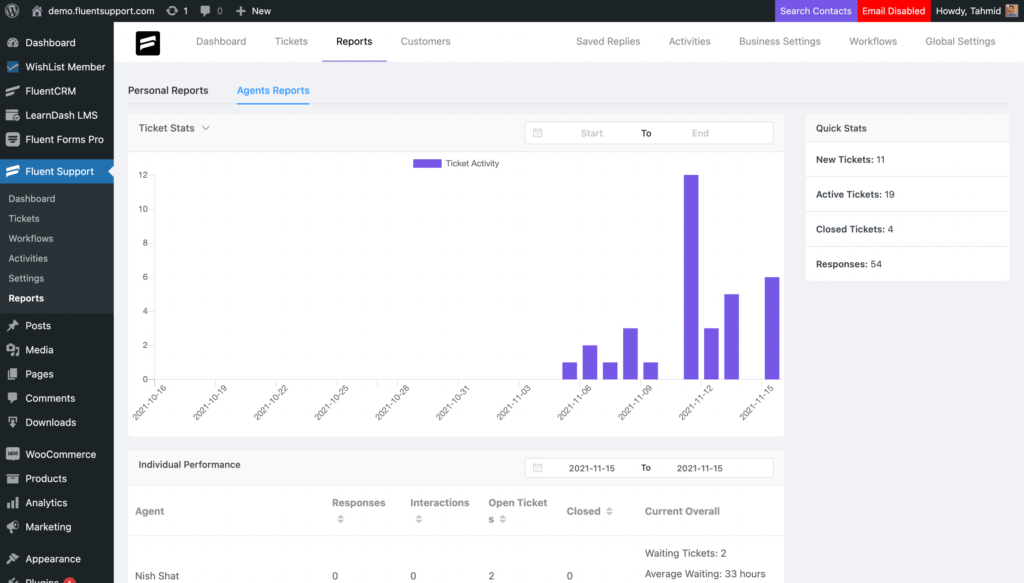 And if you are more of a graph kind of person, then we have just the thing for you. In the Reports section, you will have all the available data appear as a graph. There is a tab for personal reports and a separate one for agents reports.
There are individual graphs for ticket stats, resolved stats, response stats. You can see all the data appear on a neat graph for your selected period. Moreover, a summary of these will also be displayed at the bottom. How convenient is that?
The ultimate WordPress support plugin: Fluent Support
Fluent Support features, in a nutshell, or as we'd like to call, reasons to grab the Fluent Support Lifetime Deal. We know you are already in love with Fluent Support. But before you run to the checkout page, here is a quick recap on the ultimate WordPress help desk plugin.
Unlimited support agents
Unlimited tickets
Customize email notification
Product-based agents
Custom fields
Advanced filtering
Reply via Slack and Telegram
Create a ticket with an email
Workflow automation
Reply templates
Guest ticket without login
Sorting tickets
Bulk ticket reply
On-the-go response
Priority management
See activity logs
Performance report
Internal notes