Google Form Ideas for Friends to Make Your Friends Feel Loved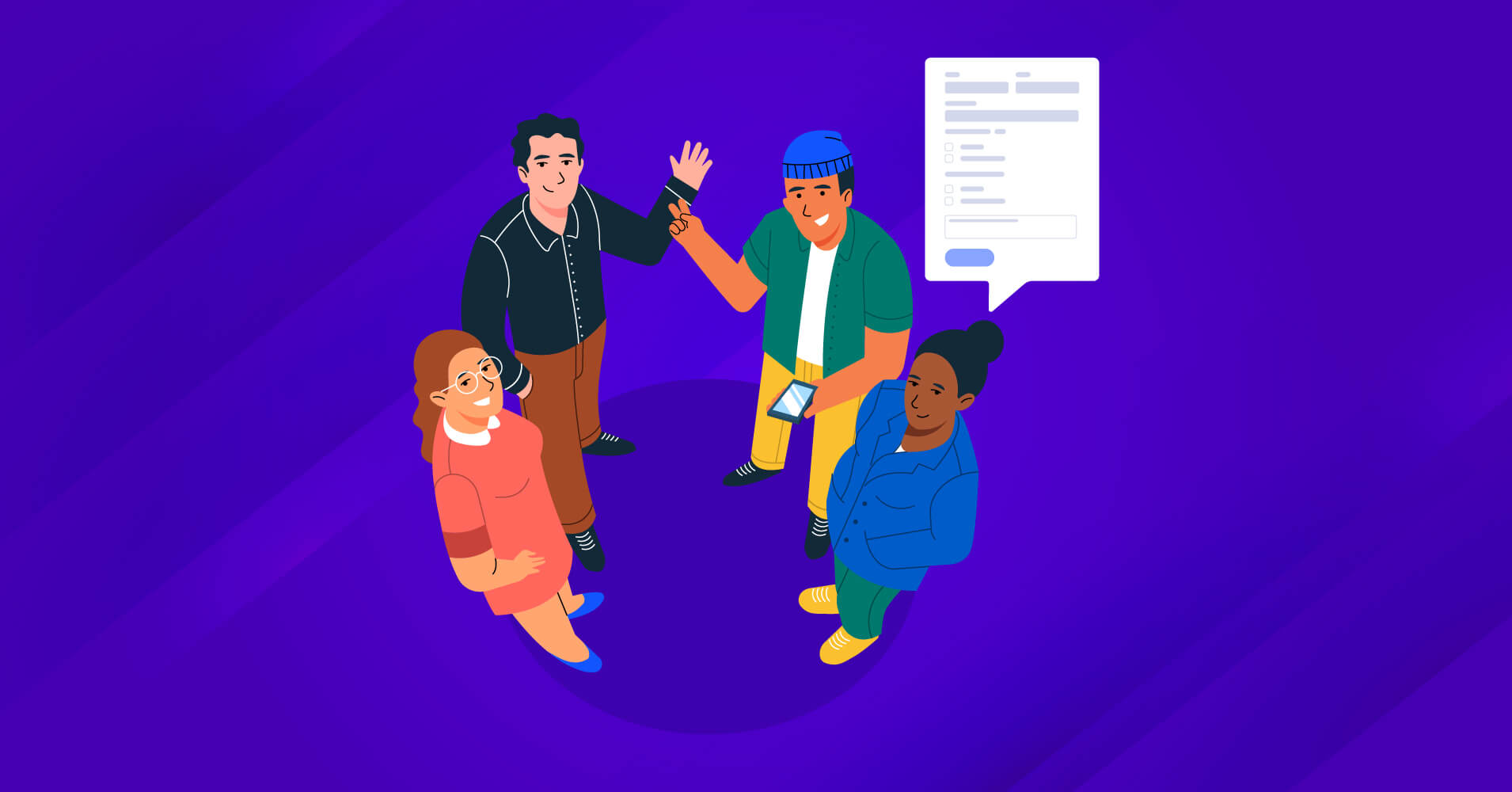 No matter how comfortable you are with your friends, there are times when you want to dig a little deeper into your friends' thoughts. For example, if they know you properly, value your choices, and remember your likes or dislikes. There was a time when people could test their friends by playing fun quizzes.
Knowing your friend's favorite color, birthdate, and favorite person's name mattered at that time. But hey, this still matters today. So, how do you ask, or what do you ask? Well, today, we are going to help you with this. We will show some Google form ideas for friends that can be used on your WordPress website and collect information from your friends without any hassle. So, dive in!
Fluent Forms is the most beginner-friendly form builder. Download now and start crafting beautiful forms FREE!!!
What is Google Forms?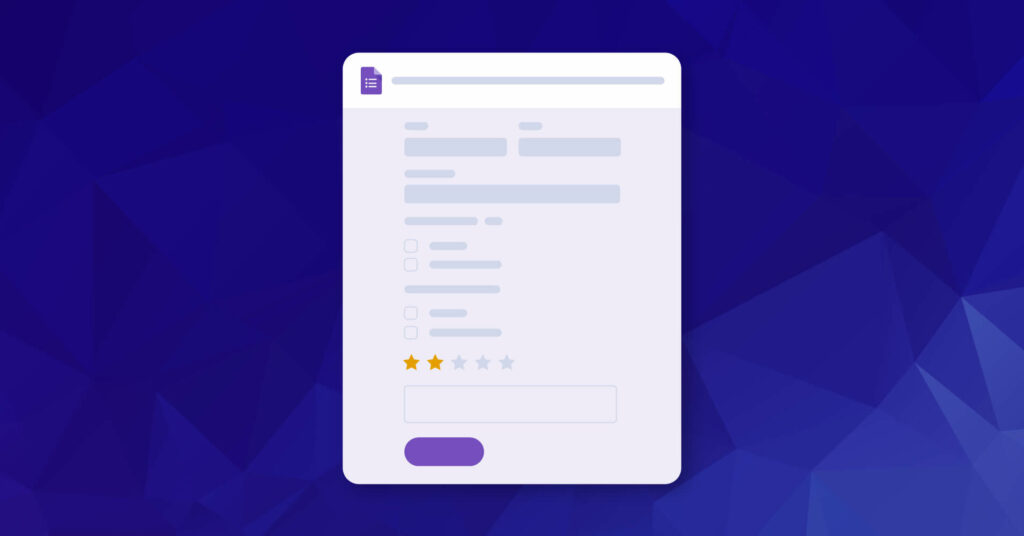 Google Forms is a free online tool that lets you design some amazing surveys and quizzes for your google based websites. It includes Google Docs, Google Sheets, Google Slides, and more. The tool can be used for different applications, from pop-up quizzes to RSVPs. You have to create a Google account to make a Google form. Besides, you can adjust the settings as you need.
How to create a form with Google Forms?
Whether you want to test your friends or employees of your company, just create a quiz form for them by any form builder. Let's see how to craft a contact form with Google forms.
To get started with Google forms, go to docs.google.com. Choose the blank form option or any template in the form templates section.
For our convenience, we are going for the blank form option. After that, give a title, add a description, and include questions. Click on the (+) icon from the right-side top corner to add more fields.
To add different fields, click on the form field area, and tap on the down arrow icon on the top right corner of the field.
When done with adding fields, go to the settings option to change or customize the form's layout.
If you want to convert your form into a quiz, go to the top of the settings option, and activate the Make this a quiz button. Here, select Release Grades to set the time of publication of the form and save. At last, click on the Send button from the top right corner of the page to generate the URL link or email option. Then you can send the URL link by email or paste it to your website.
See the results in the responses section. You can see the missed questions, correct answers, and results in this section.
That's it! Don't worry about the form fields saving option. It will automatically be updated.
Now, as you want to create some fun quizzes for your friends, let's get some fun question ideas first.
Fun Google Forms ideas for friends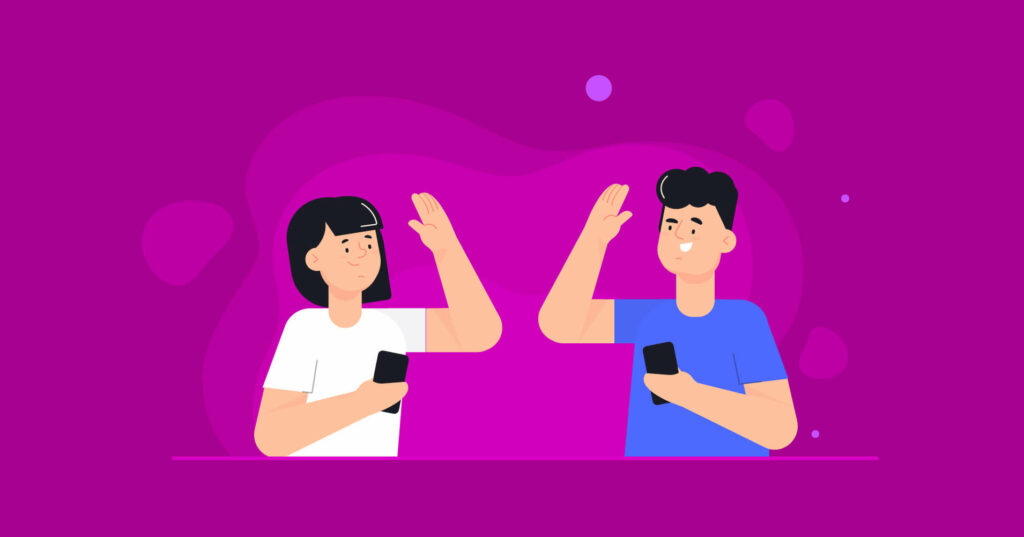 When a survey is about friends, it's fun. Let's see some question ideas for your friendship quiz to know how well your friends be friends with you.
New stories: Analyze ongoing events. Include questions with sensational headlines about the new story. At last, identify if the questions are true or false.
Reading response: Follow a famous noble or short story that can catch your friends' minds. Design your form based on the character or statement of the story.
Brainstorming: Help them to boost their thinking capability. Make a form with puzzles and problems that can test your friends' intelligence.
Spelling bee: Organize a competition program to help them identify and improve misspelled words.
Riddles: Design forms by generating riddles. Use famous quotes, photos, or achievements to give clues to their identity.
Historical time: You can use some important events quizzes for your forms with history buffs. Moreover, you can ask specific questions about a particular day or event you guys have enjoyed together.
Trivia game: Arrange some games for your get-together party to entertain your friends. Choose teammates with unique areas of knowledge. Split team members to create questions on the specific categories based on their expertise.
Music knowledge: Make a quiz on music to identify their knowledge, and taste in music. Analyze them to match each other's tastes.
Many more ideas can help you make quizzes for your friends. You can use any topic that matches you and your friends. Some other areas are related to:
Favorite questions
Fact questions
Which do you prefer questions
Relationship questions
Have you ever…..questions
Personal information
Now, let's create some survey questions with Google Forms
Design friendship survey questions with Google Forms
It's not easy to know who is your best friend or know everything about your friend. So some questions can help for specific events. Here are some Google form ideas for friends to make each event memorable.
Know your friends
Whenever arranging a get-together party, make a contact form with Google Forms by asking some spectacular questions like what is their favorite color, what food they love, which city they want to visit, etc., to know your friends more closely. So, let's get started.
Go to your Google Forms panel, and click on the blank form or quiz for friends option. For our convenience, we are choosing the blank form one as before. Then we give a title to the form. Let's set the name for this one as "Expose yourself". Then we added some fields with multiple choice fields and multiple options. Here is the preview for now.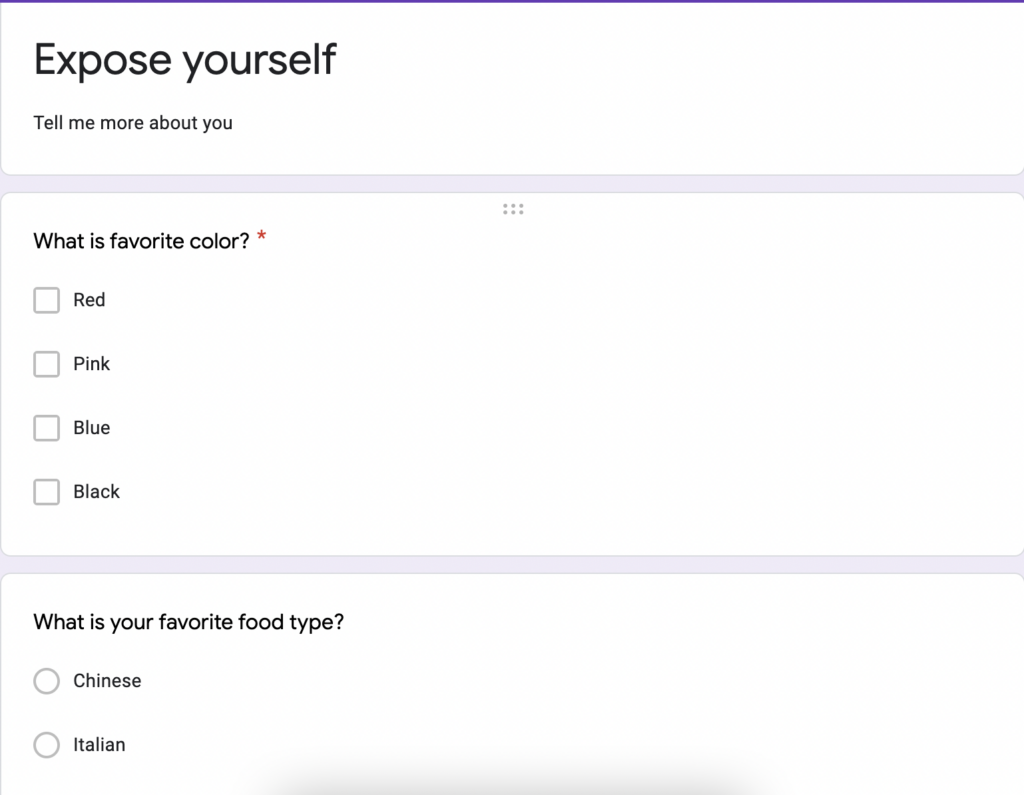 Now, from the settings panel, we have turned on the Make this a quiz button to automatically provide feedback to visitors and selected a theme to change the default color of the form.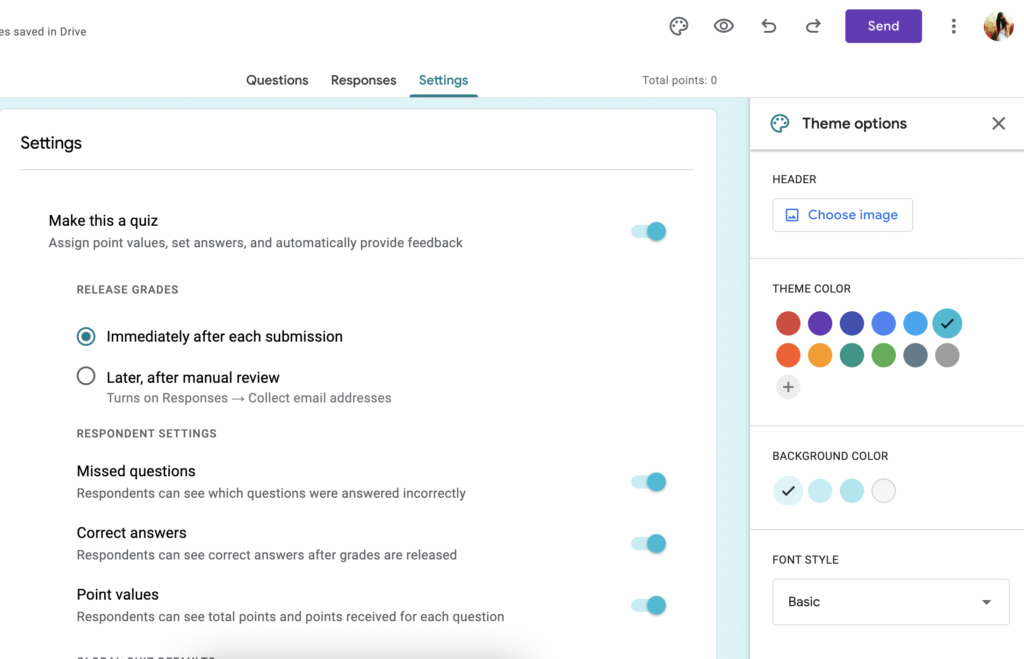 Finally, let's see the final look at the form from the preview section.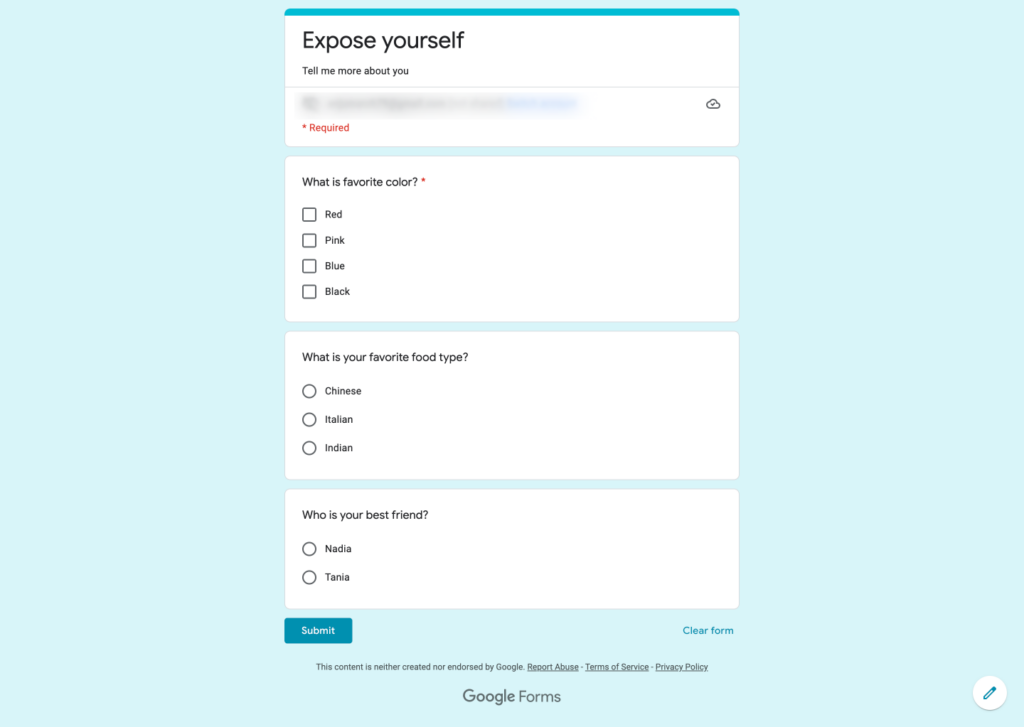 Easy peasy! Isn't it?
Now, let's see some more examples of forms with Google Forms.
Best friend quiz
If you want to find out how much your friends know about you. Try out this google form for friends. This form includes asking for all the information about you. Set a passing score for this quiz, and whoever reaches or crosses the settled scoreline will win. Let's take a glimpse of the quiz pattern.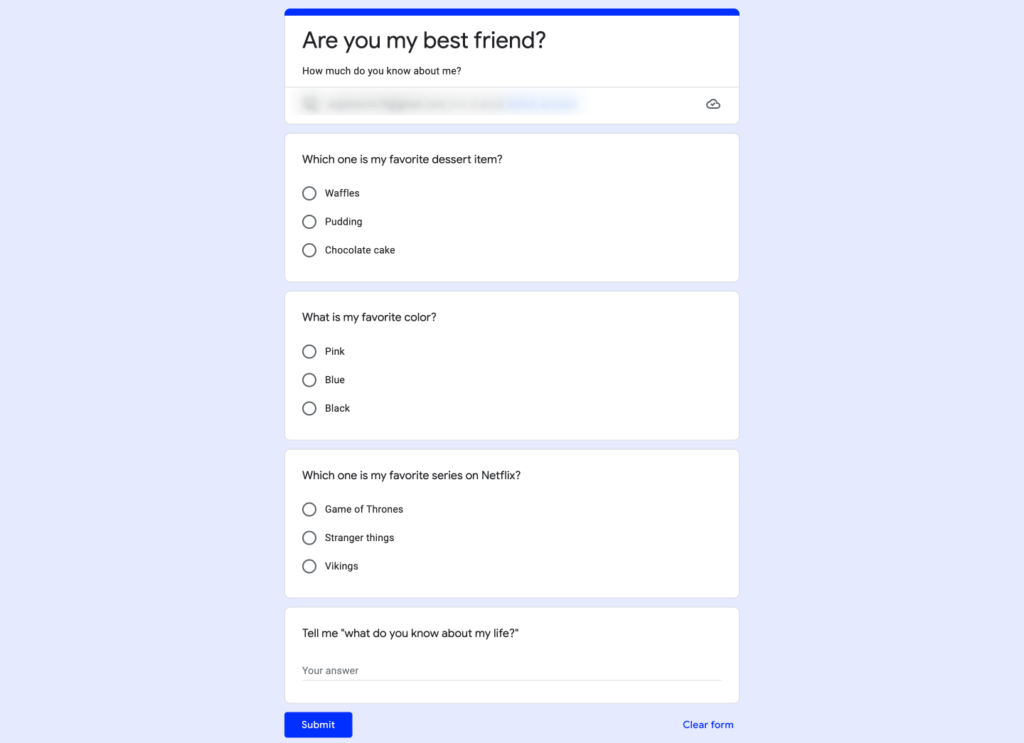 Here, we have used some multiple question fields and a paragraph field to design the pattern, and changed the theme color to make it more beautiful.
For sports events (cricket, football, hockey)
Suppose you are planning a sports tournament with your friends. In that case, collecting information about them individually would be a hassle. To make it simple, just create a form with Google Forms. Let's see how to make one.
Again go to your Google account dashboard. Then move on to the Google Forms interface. Select the fields as your form's requirements, and customize them by editing the name and options. Here is our Google form for friends for sports events.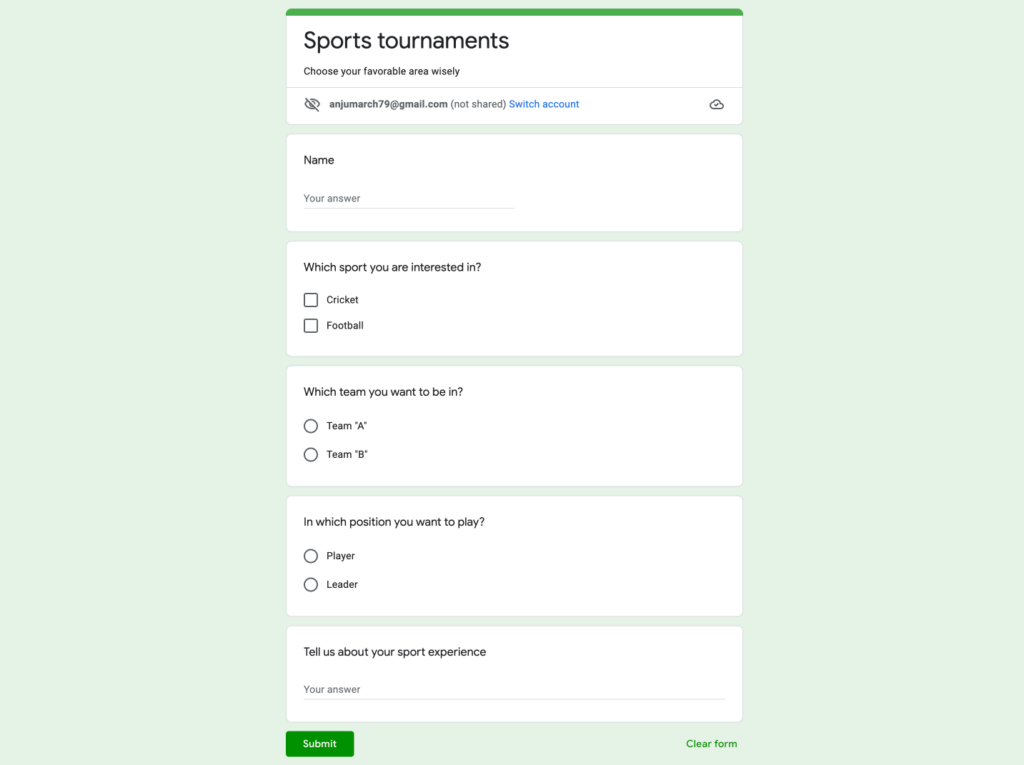 We have simply added some generic fields, such as Multiple choice, short answer, etc., in this form and edited the field names directly from the form area. In another way, you might want to design a quiz on sports to identify your friends' knowledge of world sports. Let's see how Google Forms can help you on that too.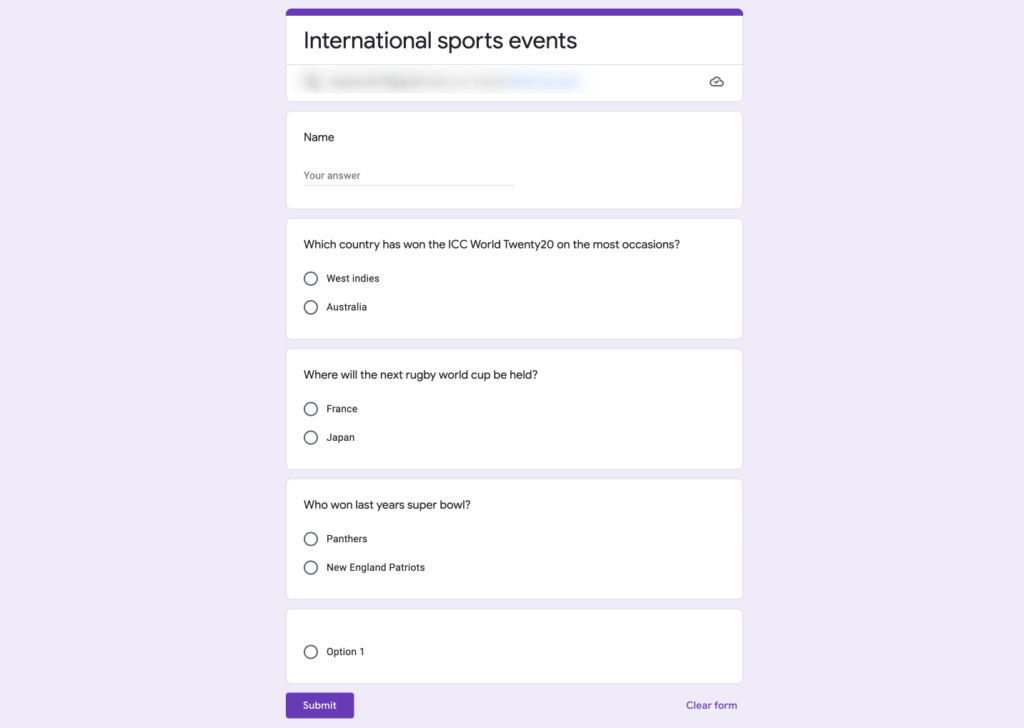 Again, we have used a short answer field, some multiple-choice fields, and a long paragraph field for this form template.
For cultural events (fashion shows)
Suppose you and your friends are arranging or participating in a fashion show. So you need to gather some information about the program. How would you do that? Let's see a form demo.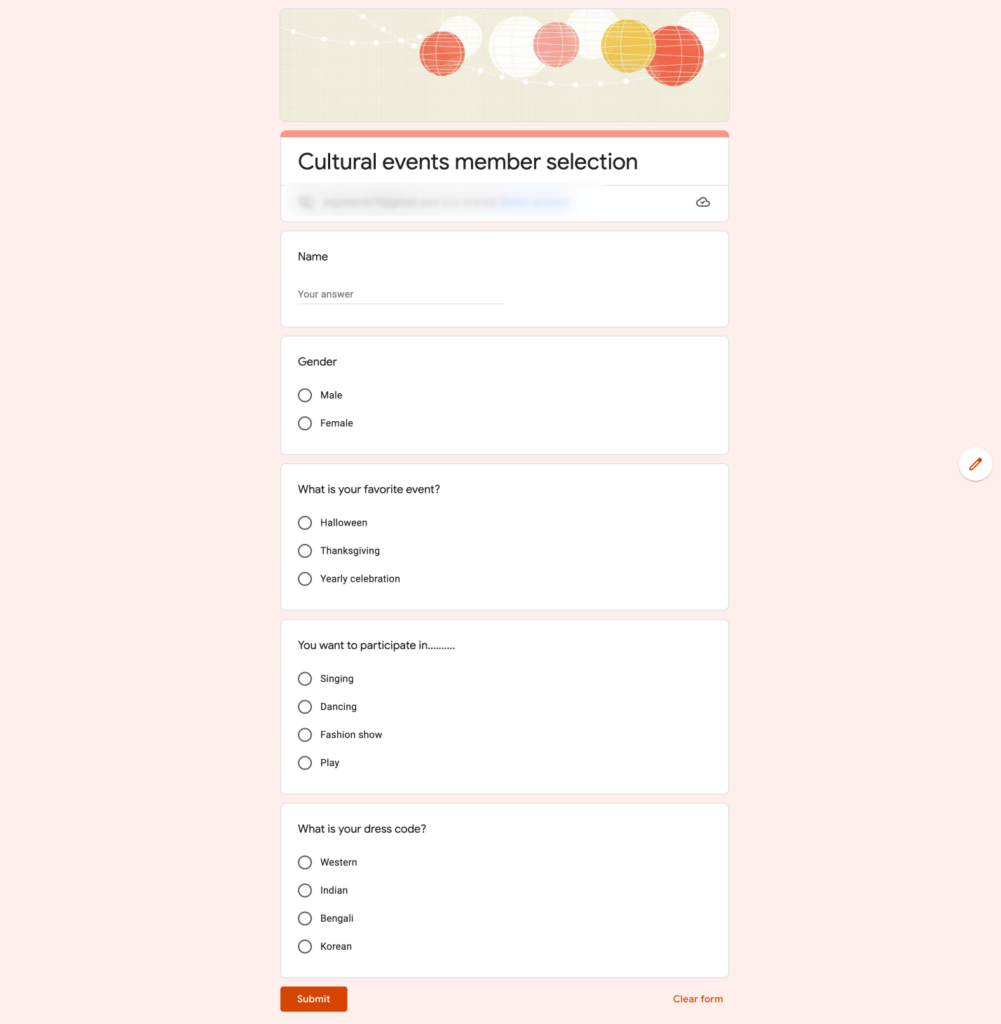 You can select themes or upload images from the Theme Options to give your Google Form a more varied look.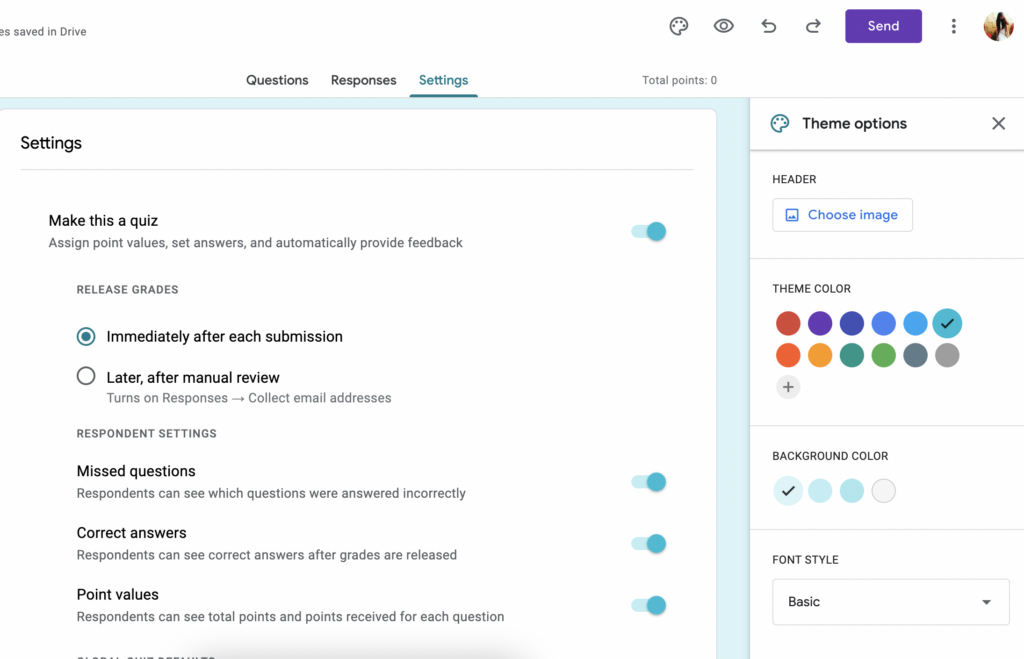 That's it! Finally, copy the link to the quiz from the Send button, and share it with your friends.
Now, let's see an example of a perfect friends quiz.
"Friends" trivia quiz
Most of us have seen the famous "Friends" series on Netflix. Right? Today, we have created a quiz based on that series to give you a perfect google form idea for friends. Let's check out.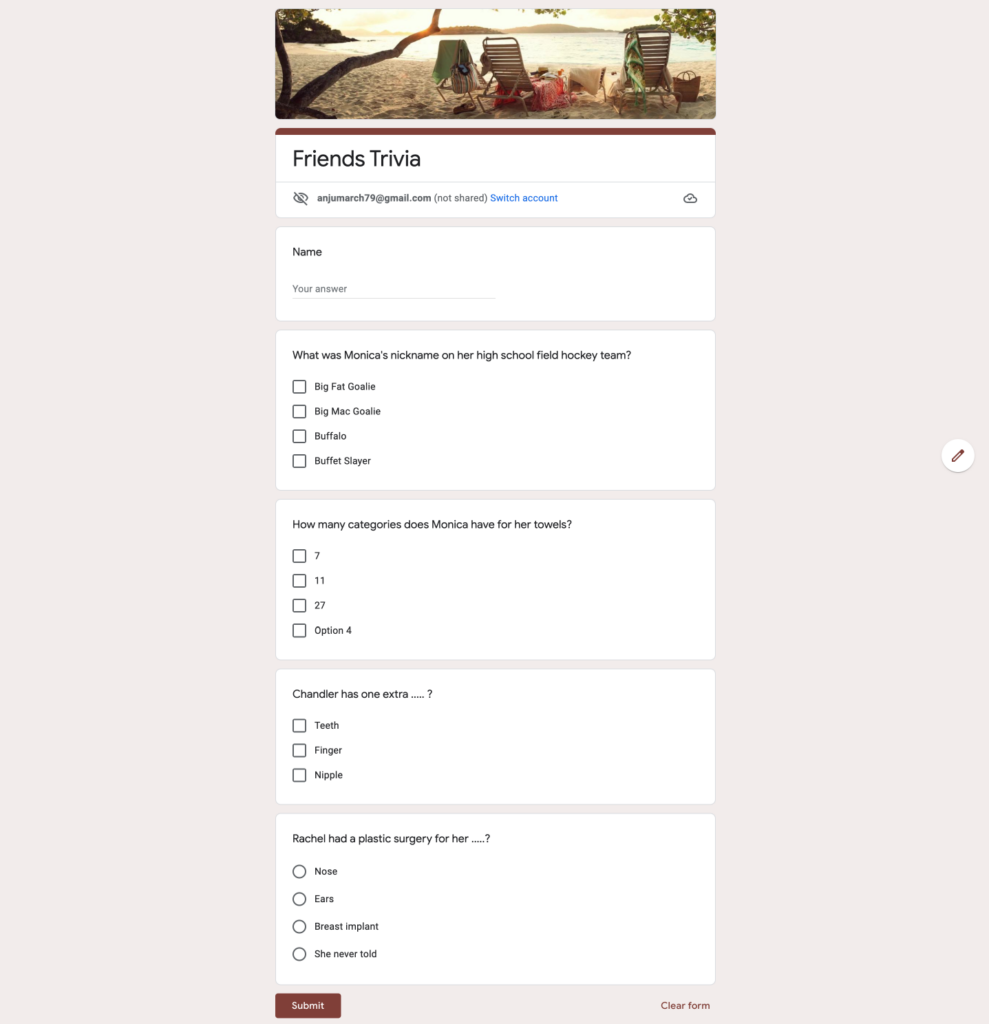 We have used the simple text and checkbox input fields from the general fields. You can also add questions using the checkbox field like the below form.
Fun game! Isn't it? So, why not try the trivia today? Let us know what's your score?!
Give other options a try
Undoubtedly, Google Forms offers many powerful features and functionalities to help you design amazing quizzes. But it doesn't provide other advanced functionalities that are handy on many tools in the market. Fluent Forms is one of them and even the best one in the current repository.
Fluent Forms does everything that Google Forms offers. But it has many more advanced features, including radio field, net promoter score field, rating input field, range slider field, quiz score field, quiz module field, etc., specially designed for quiz forms. Besides, Fluent Forms offers 70+ pre-built templates to make your form building experience super easy, containers to show your forms in a more organized way, global styler feature to give your form an advanced and beautiful look, opt-in form option to get more leads, third-party integrations to connect with other apps are a very few names from the big storage.
Want to explore more about Fluent Forms? Buy our pro plans
What else?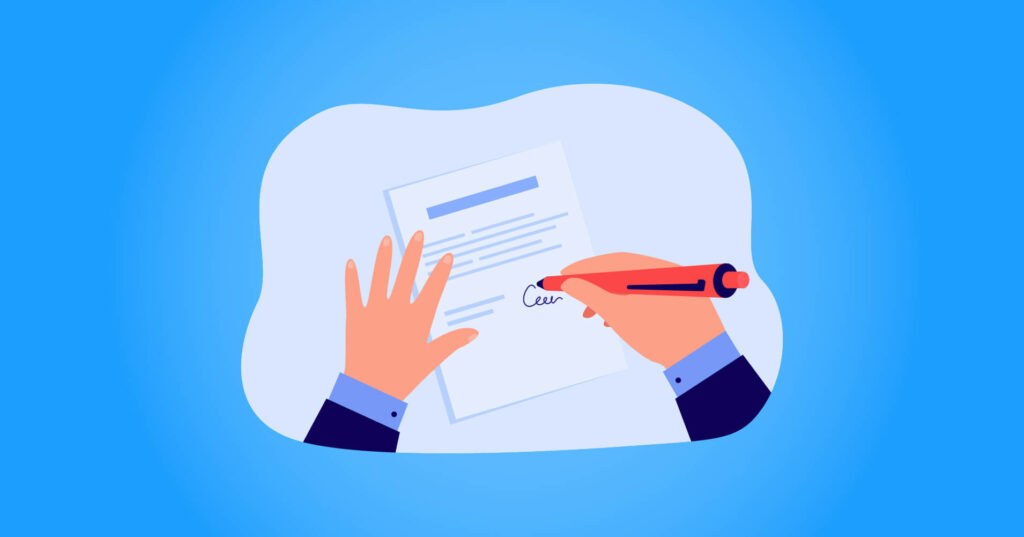 It's important to take notes of your friend's love language to get their full potential. We hope this article helped you to get some google form ideas for friends.
Check out our articles for more tutorials like this. Follow us on Facebook, Twitter, YouTube, and Instagram to get daily updates on us.