How to Increase Subscriptions in WordPress Sites with iContact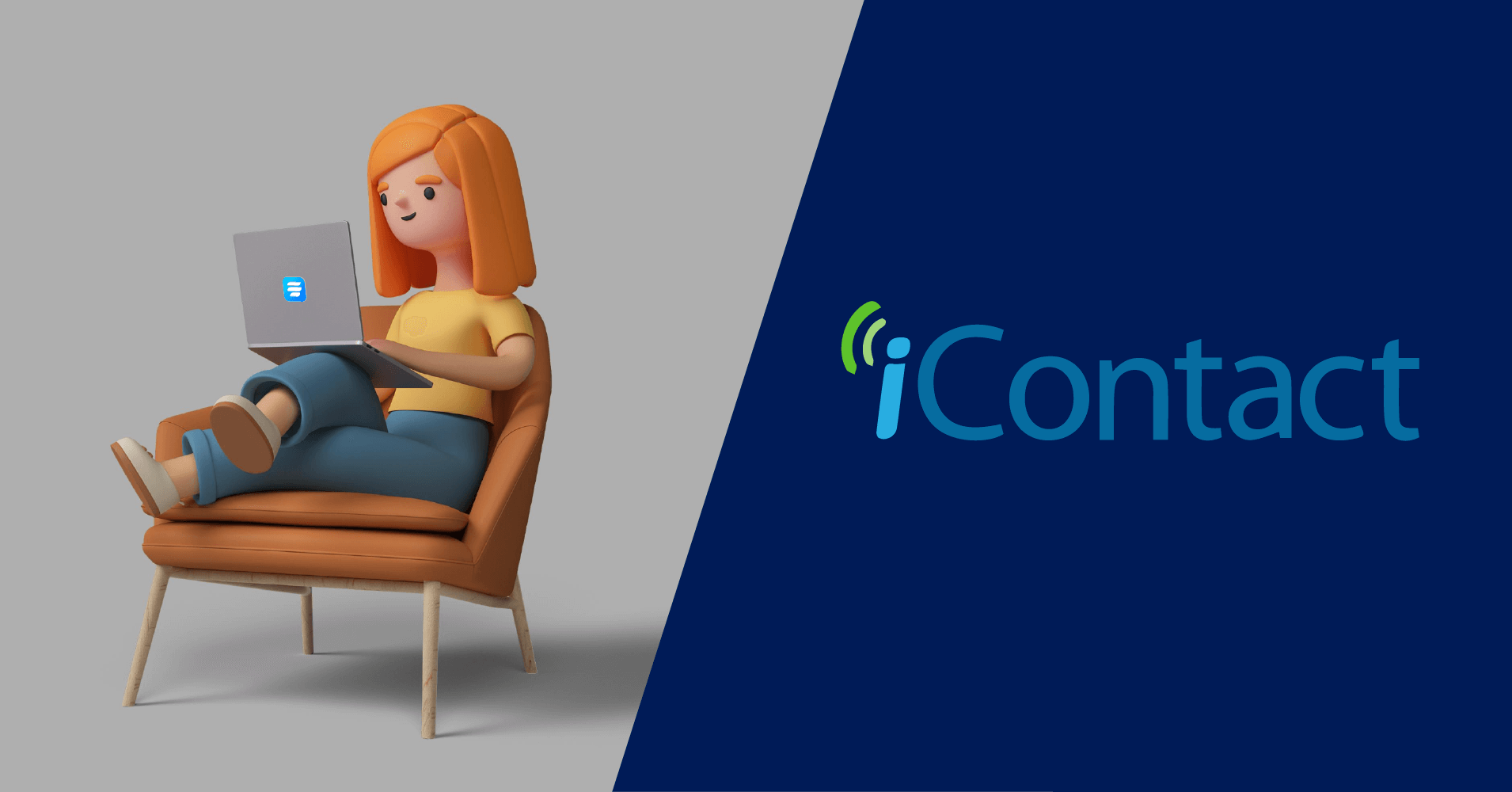 Email marketing allows you to create a fluid and undisrupted buyer's journey. It gives the opportunity to speak directly to your leads and build relationships to convert them into customers. Importance of email marketing can't be summed up in a mere few words. Did you know according to The Radicati Group, more than half of the world's population uses email, and the number is expected to increase up to more than 4.3 billion by 2023? This single data can tell you how potential email marketing can be.
To gather emails and increase subscriptions in WordPress sites, you need to choose the best solution for you. It's not easy to find the right one as there are a plethora of options available out there. Today we choose iContact and Fluent Forms, and together they can be a full-flagged email marketing solution for you. After this 5 minutes read, you'll know how to increase subscriptions in WordPress sites with iContact. Before that, let's learn a bit about the plugins.
Want to scale up your online business? Start creating beautiful forms free with Fluent Forms!!!
What is iContact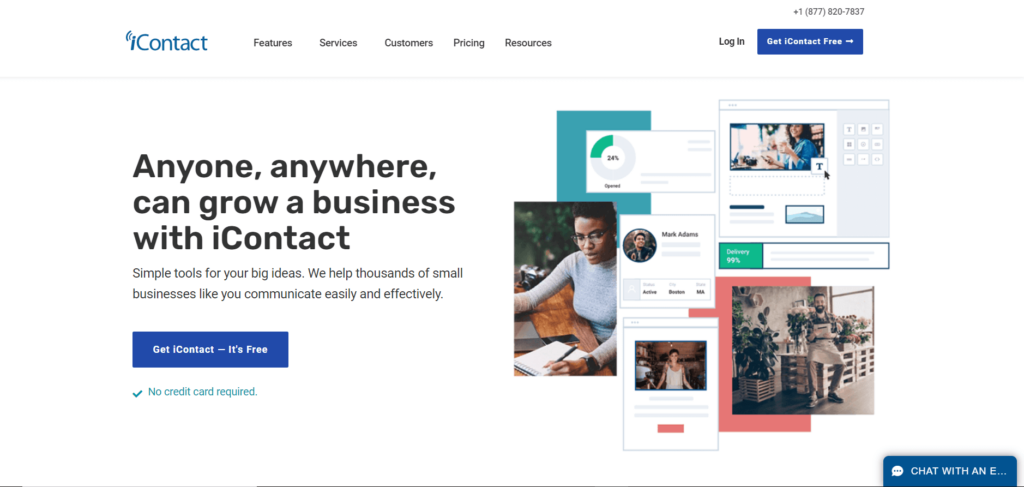 iContact is an email marketing tool packed with some amazing features that come at a reasonable price. If you're looking for a less shiny and more functional one, this is a good choice for you. iContact is simple and easy to use. You can design beautiful emails, personalize your messages and automate communications without any complexity. It also has features like basic segmentation capabilities, a landing page builder, contact management functionalities, A/B split testing, and so on.
The form builder that comes with iContact is too basic. Yes, you can customize the fields, buttons, background, etc., but it's not full of functionalities. If you want to increase subscriptions to your WordPress site, you need to level up your game. Integrating Fluent Forms with iContact would be a great start.
What is Fluent Forms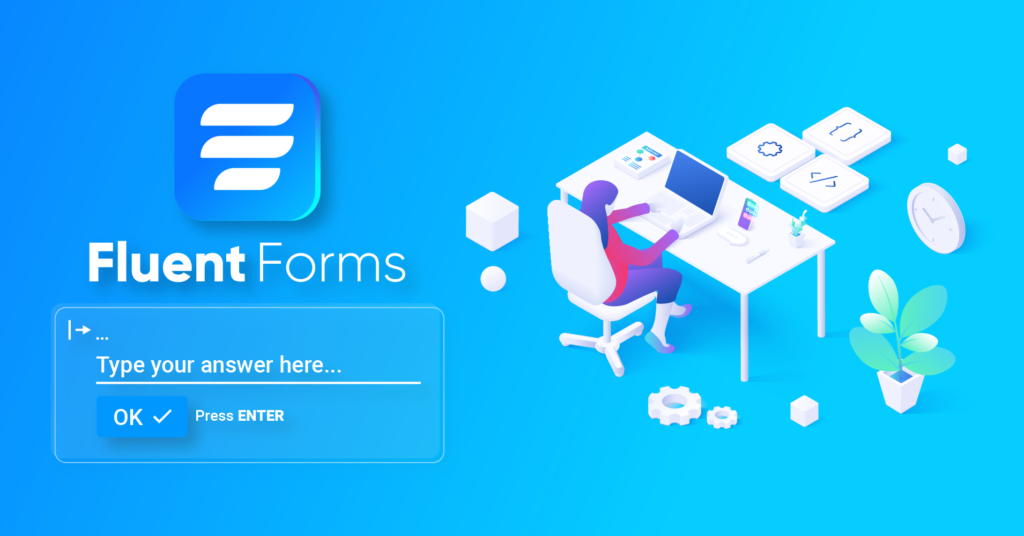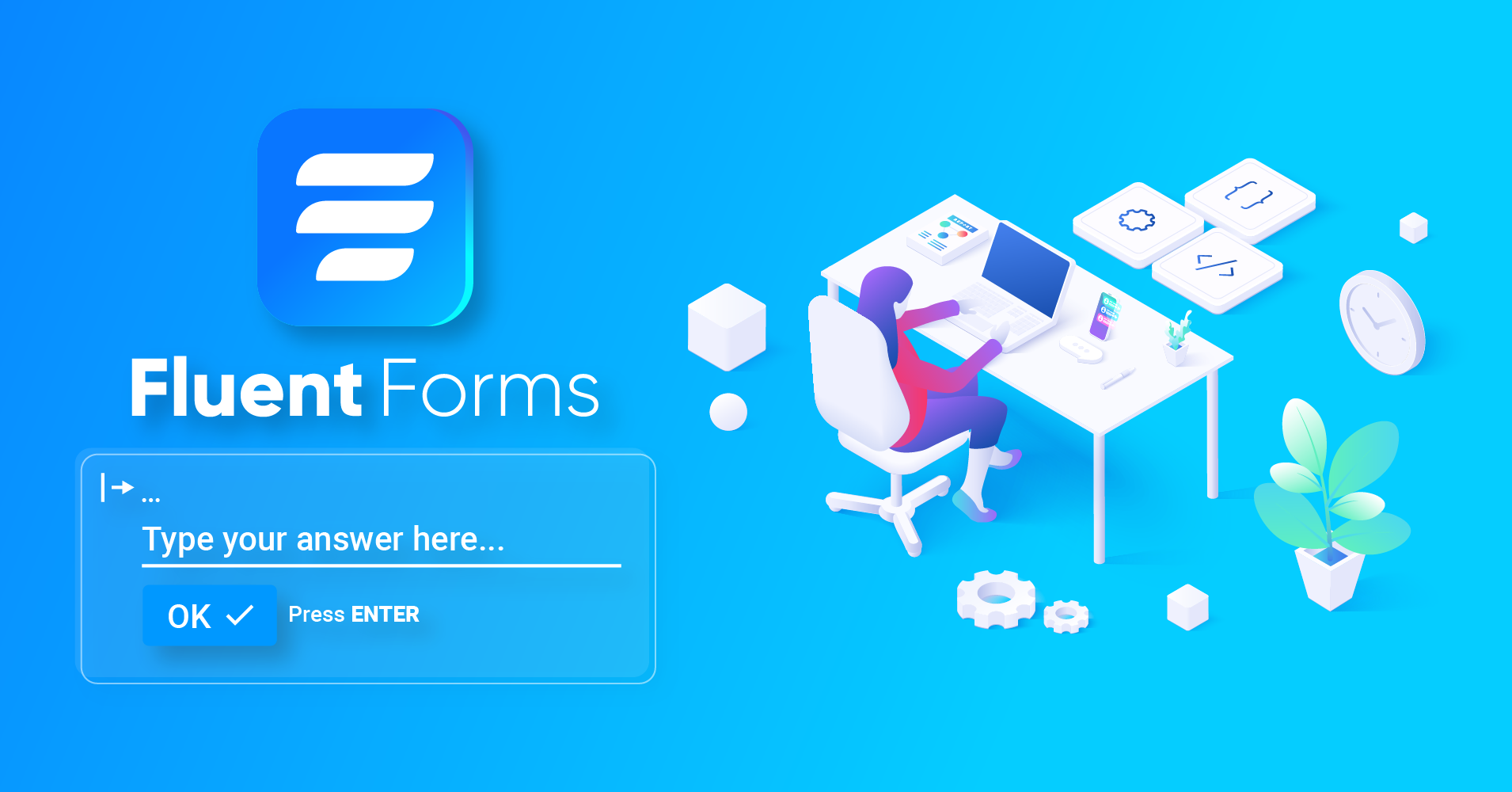 Fluent Forms is a simple and the most lightweight form builder tool in the market. It has a pretty straightforward and intuitive user interface, and it's easy-to-use yet capable of building beautiful forms. No coding is required at all; simple drag-and-drop makes it hassle-free for users. The plugin comes with 35+ third-party integrations, 70+ pre-built templates, and 45+ input fields for users.
If you want to give your forms some dynamic extent to it, feel free to use Custom CSS/JS, design some eye-catching buttons, add photos/icons to make your form more graphic. Fluent Forms also has a free version which comes with some fantastic features. If you compare Fluent Forms basic with other freemium plugins, you'll know why it's the best option for you.
The sooner you get the benefits of integrating a form builder with an email marketing software, the better your business gets. However, netting every lead and converting them into loyal advocates needs patience. The strategy makes it work. Without any delay, let's take the first step by integrating iContact with Fluent Forms and increase subscriptions in your WordPress site.
Steps to integrate iContact with Fluent Forms to increase subscriptions in WordPress sites
Activate the iContact Module
Get the iContact Application Key, Account Email Address, API Password & Client Folder ID
Use all the information with the iContact Module
Create or use an existing Form with Fluent Forms
Configure the integrations feed and Map the input fields
To integrate iContact to Fluent Forms, go to the WordPress admin panel. From there, go to the Modules dashboard from the Fluent Forms Pro menu.
Now scroll to iContact and enable it.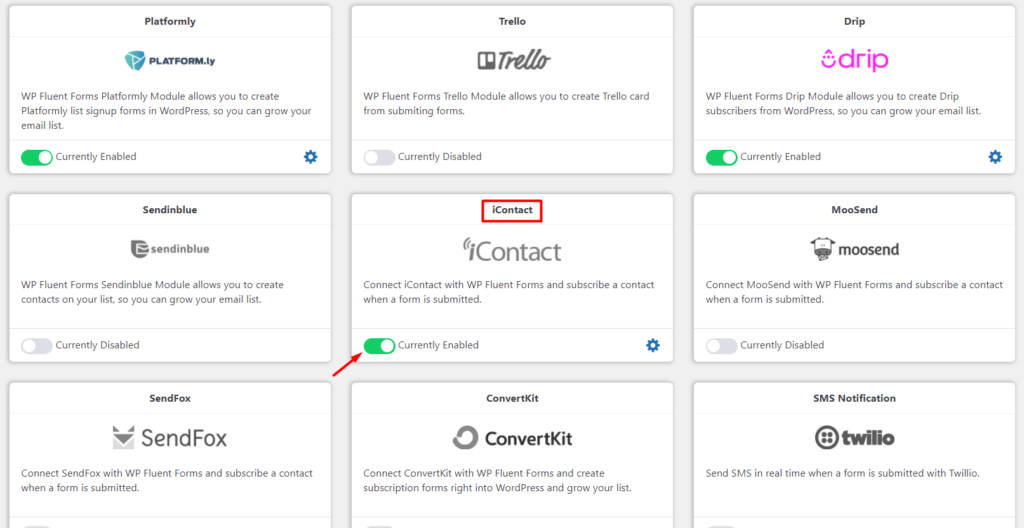 Click on the Global Settings from the top and select iContact from the left sidebar. Now fill in the Application Key, Account Email Address, API Password, and Client Folder ID one after another. No need to worry; you'll find them in your iContact account.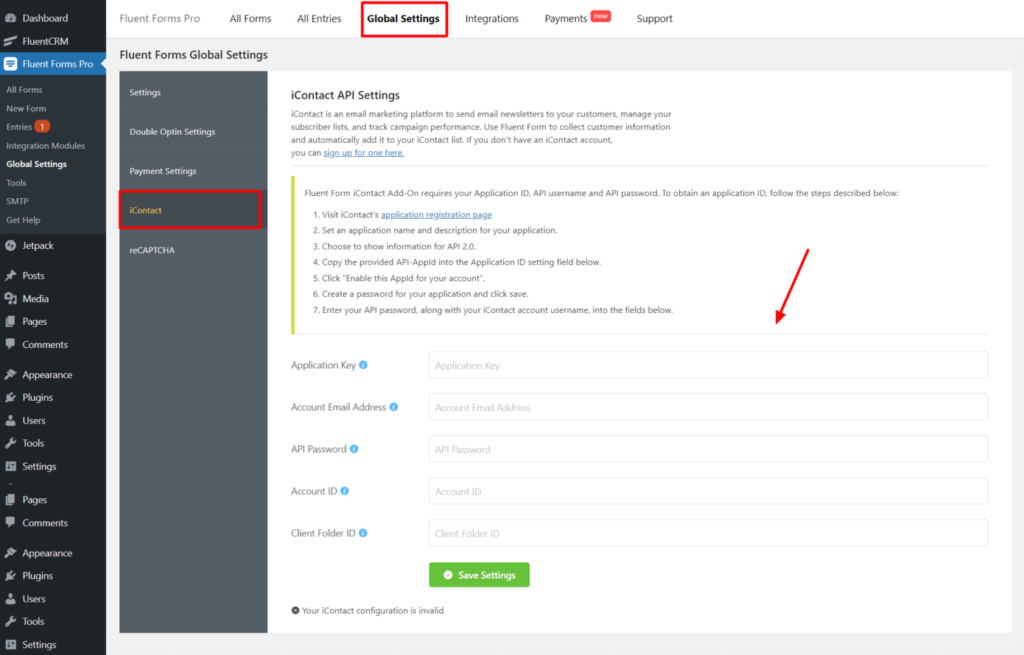 And if you don't have an iContact account, you can sign up for free in no time. Click on the Get iContact Free button from the top right corner and fill up the name, email address, company name, phone number, and password accordingly. Hit the Sign Up button, and you'll get a confirmation email. Go to the inbox, click on the link to confirm it, and refresh. Voila! You've successfully created your iContact account.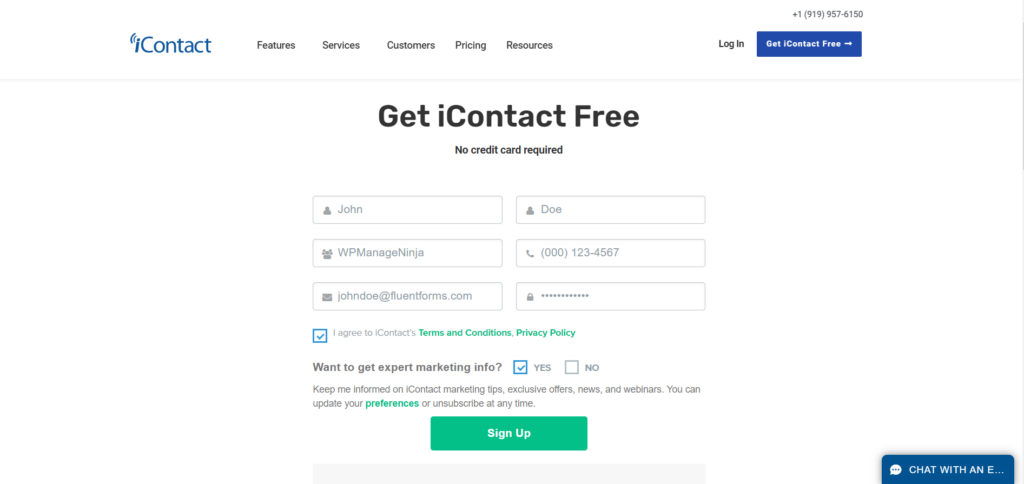 There are precise instructions given on the iContact global integration page you can easily follow. Now head to your iContact profile and go to the Settings and Billing section. After that, click on iContact Integrations and select Custom API Integration.
Now you need to register with iContact to create a program with iContact API. Quickly name the Application, provide a brief description, and then click on the Create Application button. Then create a password and save it in a safe file for future use.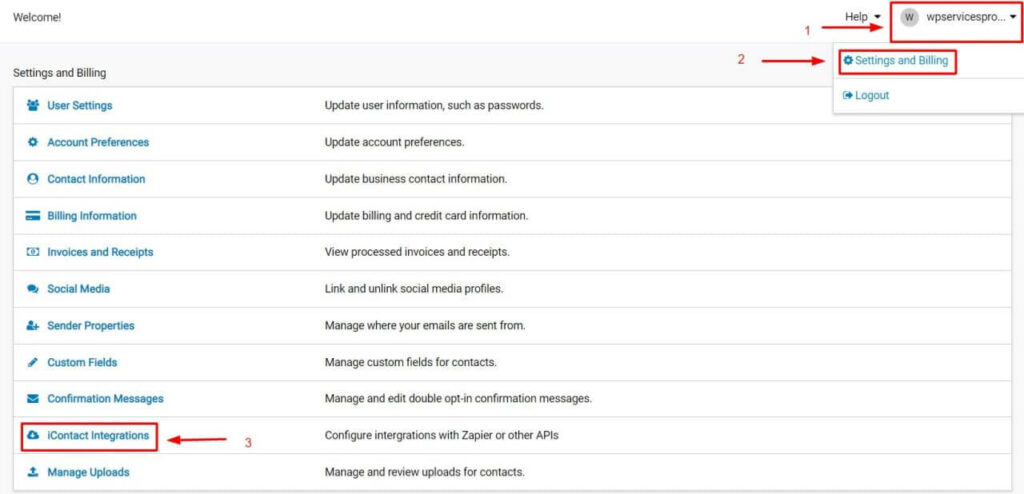 Copy your Application ID, the email address you used to sign up for iContact, and don't forget the Application password. Paste them on the WP Fluent Forms dashboard and Save the configuration.
From Fluent Forms Pro, go to All Forms and select any form or create a new one to integrate with iContact. Head over to the Marketing & CRM Integrations tab, and from the upper right corner, just hover over "Add New Integration" and select the integration you want, for example, iContact.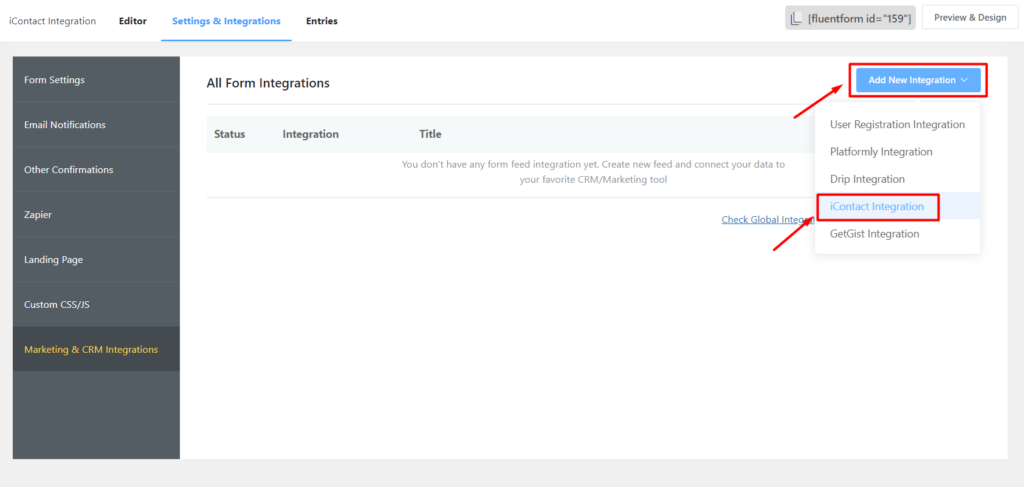 Configure the iContact feed settings accordingly. Name the Feed, select the iContact list the data is to be fed in from the Dropdown list. Correlate the iContact Fields with the form's input fields (e.g., Email Address with Email, First Name with names [First Name], Last Name with names [Last Name], etc.)

You can set Conditional Logic if needed. Conditional Logic can be set just like the regular ones.
Now click on the Create iContact Feed to finalize your settings.
Wrapping up
As you read the article you're on the right track to increase subscriptions in WordPress with iContact. Integrating iContact with Fluent Forms can give you a lift up to grow your business effectively. To level up your game, you can follow these 11 amazing email list-building strategies. Don't stress yourself out. Just keep calm and grow your business with MailerLite email marketing tool.
Don't forget to follow us over social media, and feel free to reach out to us if you have any queries.