Multi-step Form vs Single-step Form: Which is the Best?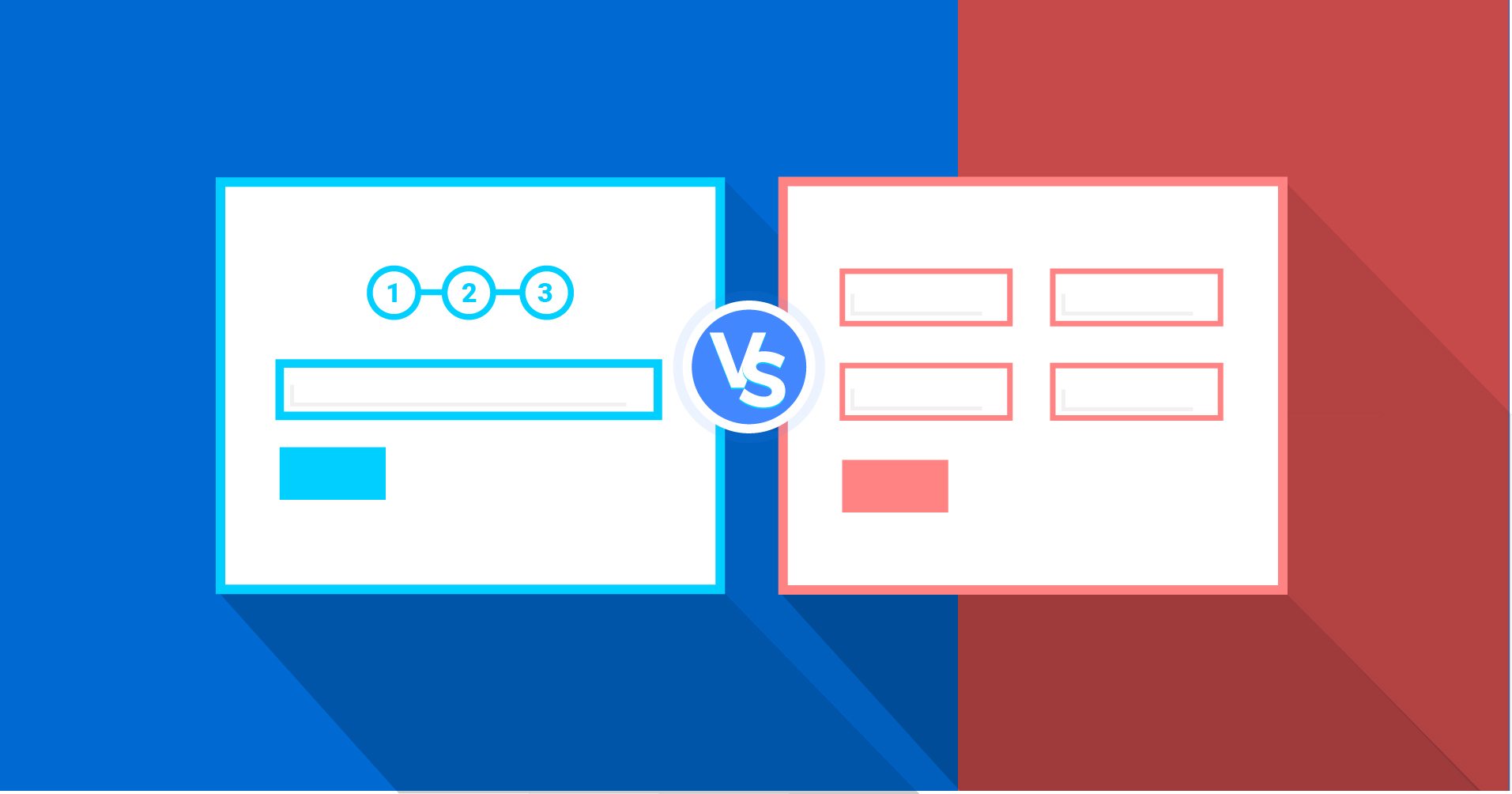 There are many reasons you should have a web form on your site. We can give you 17 reasons for contact forms alone. Using Fluent Forms you can create several useful web forms with just a click. There are 70+ prebuilt form templates ready to use.
Webforms are innate tools that help websites grow. Using the right forms can work wonders in increasing the conversion rate of your site. But one question keeps circling back. What form is the best?
A single-step form brings everything to the table all at once. On the other hand, a multi-step form that breaks the information down into moderate portions. So before coming to a conclusion on the multi-step form vs single-step form debate, let's learn the basics first.
Multi-step form vs single-step form
If it wasn't clear enough already, online forms vary from one to the other depending on many factors. What may work magic for one company may not work just as well for another. You will need to test before deploying. And also check the form design, length, and fields, etc. to make sure your form can grab the customer's attention.
Fluent Forms is the most beginner-friendly form builder. Download now and start crafting beautiful forms FREE!!!
Single-step forms
Single-step forms are the most regularly seen online forms on the internet. They serve simple purposes like gaining subscriptions or feedback etc. Single-page forms are the go-to web form for taking in necessary information like name, email address, etc. These web forms cut out all the unnecessary details and focus on the key elements. Like you won't be asking for a social security number if all you need is for the user to subscribe to your newsletter. Anything more than the name and email field is sure to bore the user and make them leave.
If you are creating single-step forms with Fluent Forms, you will have some prebuilt forms at your disposal such as –
Contact Form
Subscription Form
Support Form
You can see in these forms, no additional fields appear, and they are kept very simple for the user. You can use them directly or customize them according to your needs.
Merits of single-step forms
Single-step forms are mainly designed for quick action. They are helpful when you only need one type of information. Say, you only need the educational background of a person; what they are currently doing is none of your concern. Single-step forms will help you in this scenario.
Single-page forms lay everything out on the front. The users don't have to go halfway through the form only to discover an input field that asks them to provide a piece of information that they are not comfortable sharing. They can have a quick overview before filling out the form. With straightforward step forms, the users know what they are getting into. This doesn't frustrate them or waste their time.
Single-page forms are great to guide subscribers to a specific action. With only a few input fields on the page, you can efficiently converge the users' focus to a tempting Call-To-Action button. You can also make the step form more attractive by using animation. These forms are also easier to animate due to the simplicity of their nature.
At first glance, it may seem like interaction is restricted and that you may not be able to get a lot of valuable data because of the limited number of fields. But you can get around this. You can obtain contact details without the form being too daunting and later on catch up with them via emails.
Demerits of single-step forms
Single-step forms can get overwhelming if they contain too many fields. A research conducted by Neil Patel shows that having only three form fields induces a 25% growth in the conversion rate while 3-5 fields induce 20%.
Single-step forms don't work well if they are too long. With these forms, all the information comes to the user all at once. This overpowers the user, and they may lose focus on the essentials.
When to use single-step forms
Single-step forms are a great option if all you need is some necessary information. For quick actions like lead generation and opt-ins, these forms work the best. They catch the users' attention and keep it long enough to execute the task. Short forms don't frustrate the user. The shorter the form, the higher the conversion. But be cautious about not leaving any vital data out as well.
To best reap the benefits, a single-step form should –
Focus on the essentials
Create enticing Call-To-Action
Not overwhelm the users with excess fields
Multi-step forms
Many a time, you will need to obtain intricate details from your users. Say, you are running an online marketplace. You will then need precise information on what a customer has purchased, their credit card details, shipping address, etc. These are all sensitive information, and a user may feel reluctant about sharing them. You will need to build a connection with your customers before asking about their data. A personalized multi-step form can go a long way in establishing this connection.
Merits of multi-step forms
A well-designed multi-step form will ensure a better user experience by breaking the form into appropriate sections. When a long-form is presented to a user, all they see is a lot of writing, and this intimidates them. By breaking all of this into smaller segments, the customer gets exposed to the process step-by-step. This gives them a sense of comfort and makes the form more understandable to them. A large amount of information can be easily organized into categories and presented to the user effectively.
This splitting not only makes the user more comfortable but benefits you as well. Processing this information gets easier by reviewing based on categories. And as astonishing as it may sound, researchers have shown time, and again that multi-step forms result in more conversions than single-step forms. These also include the users that left the form midway and came back later to complete it. This is because multi-page forms build up a relationship with the users. The further the users proceed into the form, the more committed they get. This makes it hard for them to turn back midway.
Also, with all the extra space on each page, you can experiment with different visual elements like photos, videos, etc.
Demerits of multi-step forms
As great as multi-page forms may look, they have their shortcomings. If a form requires dozens of field entries, they can quickly become complicated as well. This betrays the purpose of the splitting and frustrates your potential leads. And if your users find it too time-consuming, they are sure to skip it altogether.
These long forms don't work well if the progress isn't clearly stated somewhere. Users need to stay updated with their development. Otherwise, they may be towards the end of the form but skip it anyway because they got irritated. A progress bar here will let them know how much further they have to go.
When to use multi-step forms
If you need to take in a sophisticated number of data, multi-step forms are your go-to online forms. Procedures like a checkout process, booking a movie premiere ticket gets more relaxed with this. Or, if you need to take in sensitive information, you can build up a relationship with your customer first with the multi-step form and then ask for it. When they have invested their efforts well into the form, they are less likely to leave it.
You can even make it simpler by using single-field forms if you want the feel of single-page forms. This lets users fill one field at a time and keeps the form humble. You can also optimize the form by deploying conditional logic. Input fields will appear based on the answers in a previous field. This keeps the form soothing and straightforward.
If you are using an efficient form builder plugin like Fluent Forms, then you already know how easy it is to create a multi-step form. It can get a little complex with other plugins, but with Fluent Forms, you can simply click on the Form Step input field, and you're done.
You can also populate dynamic input values in a multi-step form using Fluent Forms.
Multi-step form vs single-step form: Last words
By now, you should have a basic overview of the step forms. You might be wondering why we didn't address yet, multi-step form vs single-step form – which is the best. This is because there is no best. Any form can help you boost conversions if used correctly. Different forms serve different purposes, and even that, they vary website-to-website.
Before deploying a form, you should make a conscious decision that works well for both your brand and customer base. You can do this by A/B testing or feedback of the users' experience.
In the final analysis, multi-step form vs single-step form? You have to be the judge of that. We have done our best to give you a basic concept of all things related.
So why don't you go ahead and grab a Fluent Forms pro license and see for yourself? With a pro license of your choice in your hand, you can use all the best features and integrations however you like it. There are no limitations in terms of features and integration among the licenses.
So give it a go and tell us in the comments how it went. Follow us on social media for more news and updates.