Automate Sales Workflows with Pipedrive Integration in WordPress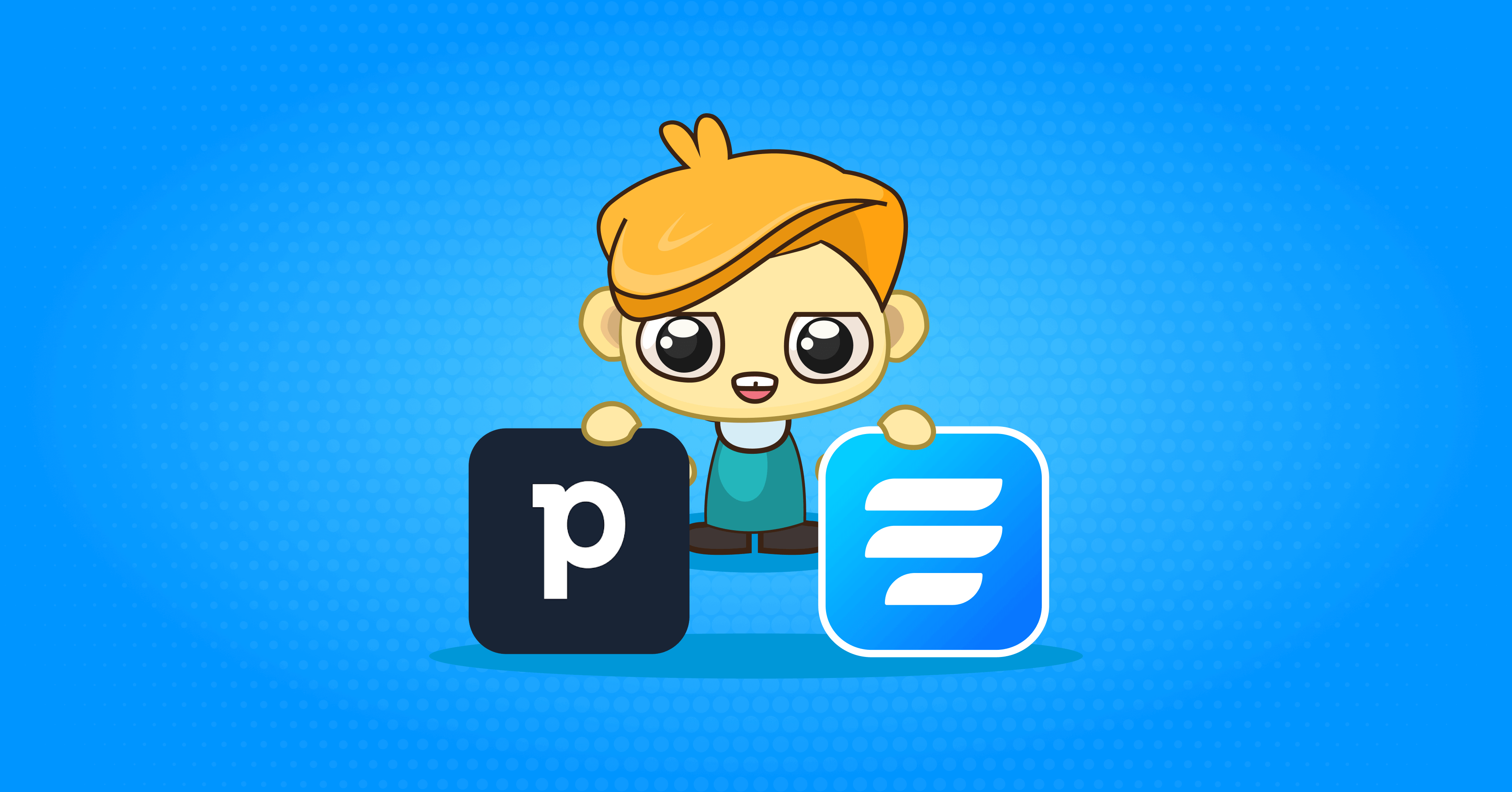 Can you instantly think of a business that does not need CRM tools? It's hard to find any, right? CRM tools are made to effectively store customer information and manage relationships with customers. Pipedrive is a great choice when it comes to ease of use and affordability compared to its competitors. Pipedrive integration in WordPress can help you automate workflows of your sales team.
To extract the best out of a CRM tool, you need to find a way to seamlessly collect data in the first place. And to help you out in this regard, we present Fluent Forms – the best form-builder plugin on the market.
In this article, we will show you how to connect Fluent Forms with Pipedrive. Let's get started.
Fluent Forms is the most beginner-friendly form builder. Download now and start crafting beautiful forms FREE!!!
Overview of Fluent Forms
Fluent Forms is an easy-to-use form builder for WordPress that provides a wonderful user experience and functionality. It has a bunch of amazing features to suit your needs in the best possible way. This drag-and-drop form builder plugin is currently powering more than 200K+ WordPress sites.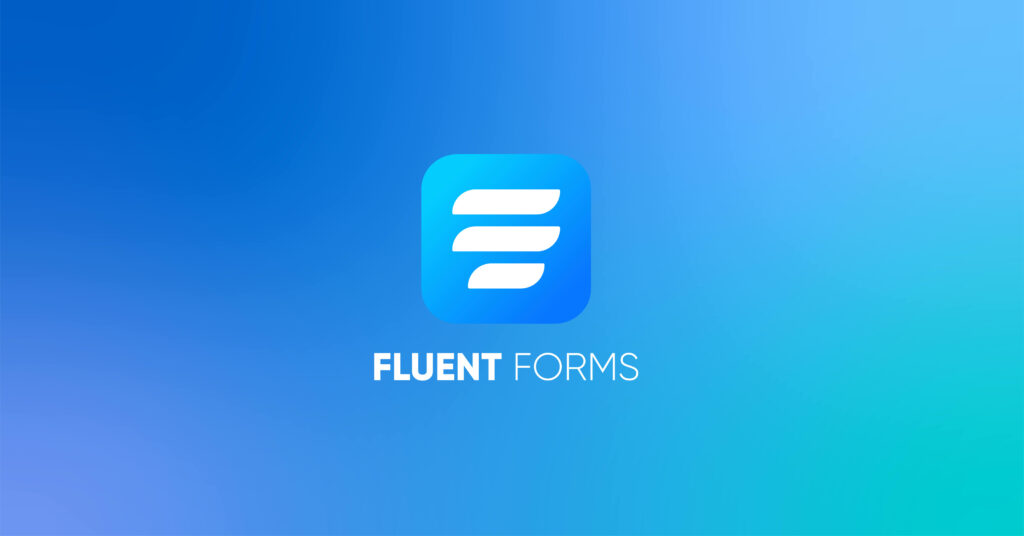 The key features of Fluent Forms are –
Drag and drop form builder for ease-of-use
Dozens of pre-built form templates for quick form building
Conversational forms for interactive forms
Conditional logic for better control over the forms
Multi-column form layout for ultimate freedom
40+ native integrations for additional functionality
Calculated fields for measuring numbers based on inputs
Visual data report
Overview of Pipedrive
Pipedrive is a cloud-based customer relationship management (CRM) tool for teams focusing on sales. Its minimal yet effective design places the highest priority on usability. Pipedrive's dependable and adaptable CRM solution allows your team to spend more time selling and less time filling.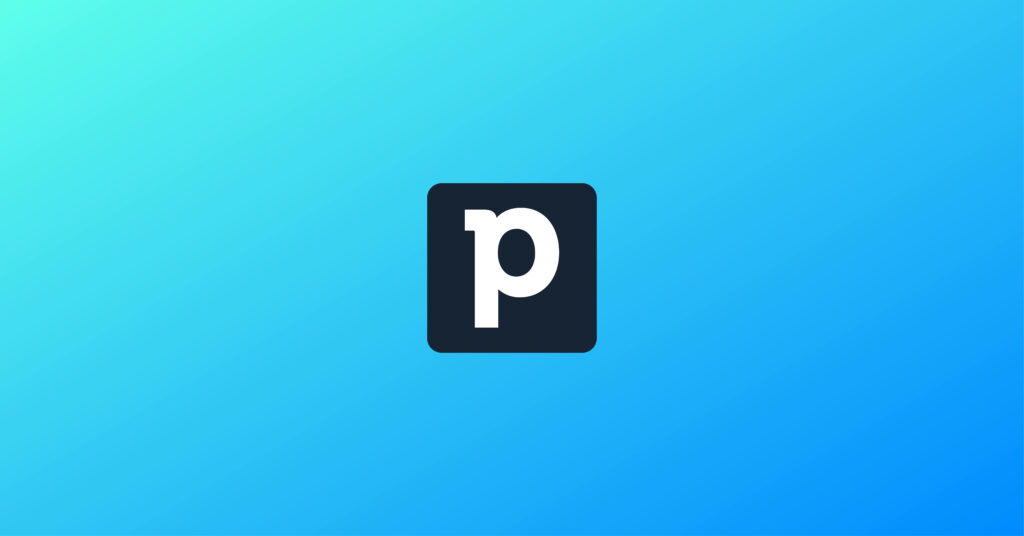 This powerful CRM tool offers the following capabilities:
Tools for automating workflow
Personalized messaging
Third-party integrations
Leads management
A simple dashboard
Analytics and reporting
Outstanding customer support
AI-powered sales assistant
Pipedrive is easier to set up and use and also more affordable than its competitors like HubSpot and Salesforce. On top of all these, you can fully optimize your workflow thanks to an entire marketplace of integrations.
Fluent Forms as an alternative of Pipedrive's built-in web forms
With Pipedrive's built-in web forms feature, you can design personalized forms for your website that capture visitor information and move them through the funnel from leads to customers.
While the Pipedrive web forms functionality is easy to set up and use, it is not the most accessible. Thankfully, Fluent Forms can be a great choice in this regard. Fluent Forms offers the ultimate flexibility and freedom when it comes to form-building.
You can pick from dozens of pre-built form templates, and you are good to go. Alternatively, you can create a form from scratch with complete customization and crazy functionality.
Pipedrive integration in WordPress allows you to sync new leads into your sales pipeline instantly. 
How to set up Pipedrive integration in WordPress  
To integrate Pipedrive with Fluent Forms in WordPress, follow the steps below: 
Step 1: Activate the Pipedrive module
Hover over Fluent Forms Pro from the WordPress dashboard sidebar and click on Integration Modules. Search for Pipedrive and turn on the Pipedrive module.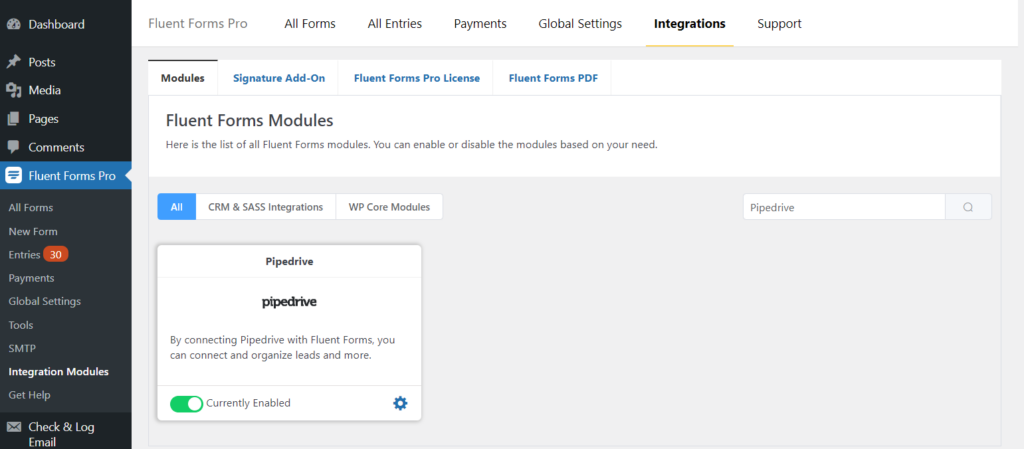 Step 2: Get your Pipedrive API token
Again, click on Fluent Forms Pro and choose Global Settings. You can access Pipedrive API Settings from the left panel by clicking on Pipedrive. You will be asked for the Pipedrive API Token here.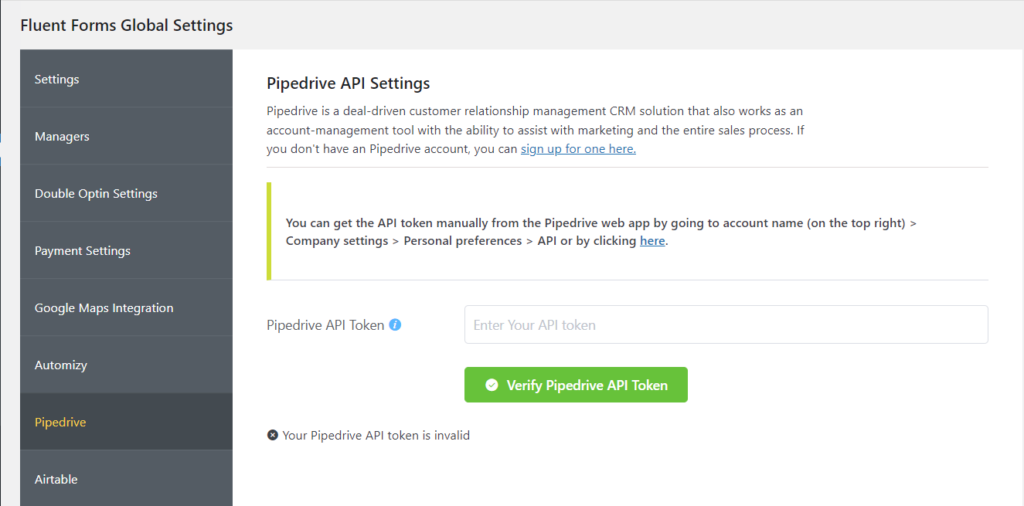 You can sign up if you do not have a Pipedrive account.
Then log in to your Pipedrive account, click on the account name on the top right corner of the window, and go to Company settings > Personal preferences > API.

Copy the API token to use this in the next step.
Step 3: Use the Pipedrive API token with the Pipedrive module
Paste the API token in the Pipedrive API Settings under the Global Settings tab in Fluent Forms Pro. Don't forget to click on Verify Pipedrive API Token button.
Once your Pipedrive API Token is verified, you will see a message like the screenshot below.

Step 4: Create a form with Fluent Forms
Now go to the particular form's Settings & Integrations tab for which you want the entries listed in Pipedrive. Or you can create a new form from scratch. Creating forms is a no-brainer with Fluent Forms.
Step 5: Setup the integrations feed and map the input fields
Now click on Marketing & CRM Integrations from the left panel. Then click on Add New Integration and select Pipedrive Integration from the dropdown menu.

Name the feed and select the Pipedrive Service from the dropdown. Then configure the fields and map them to the Pipedrive list's corresponding rows.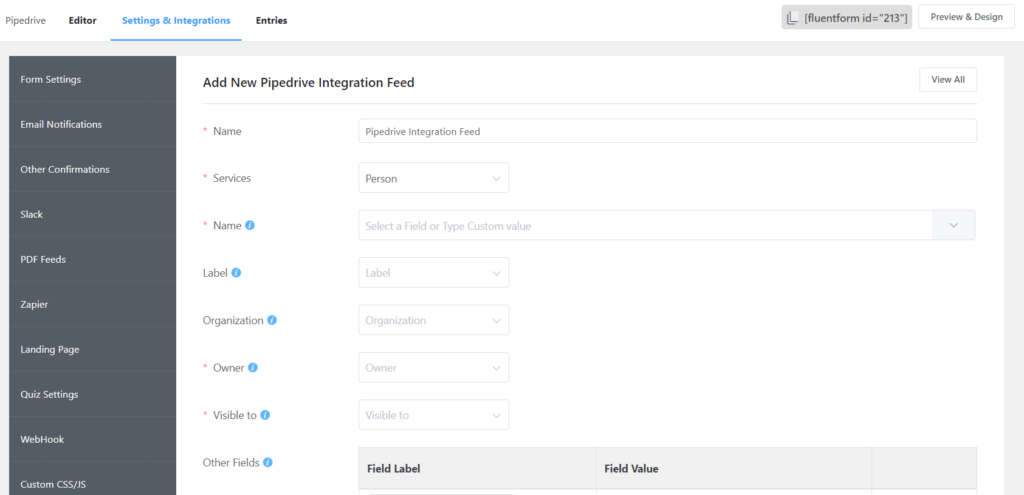 You can enable Conditional Logic if necessary. Lastly, click on Create Pipedrive Feed when you are done with configuring the Pipedrive Feed.
Conclusion
When the best form-builder plugin, Fluent Forms, is integrated with an amazing CRM tool Pipedrive, your business workflows become effortless and more efficient. Try this tutorial to connect Fluent Forms with Pipedrive and automate your sales workflows.
If you have any confusion or queries, comment down below. Stay tuned with Fluent Forms to get more tutorials like this.