Managing Virtual Teams Just Got Easier: 20 Software That Can Help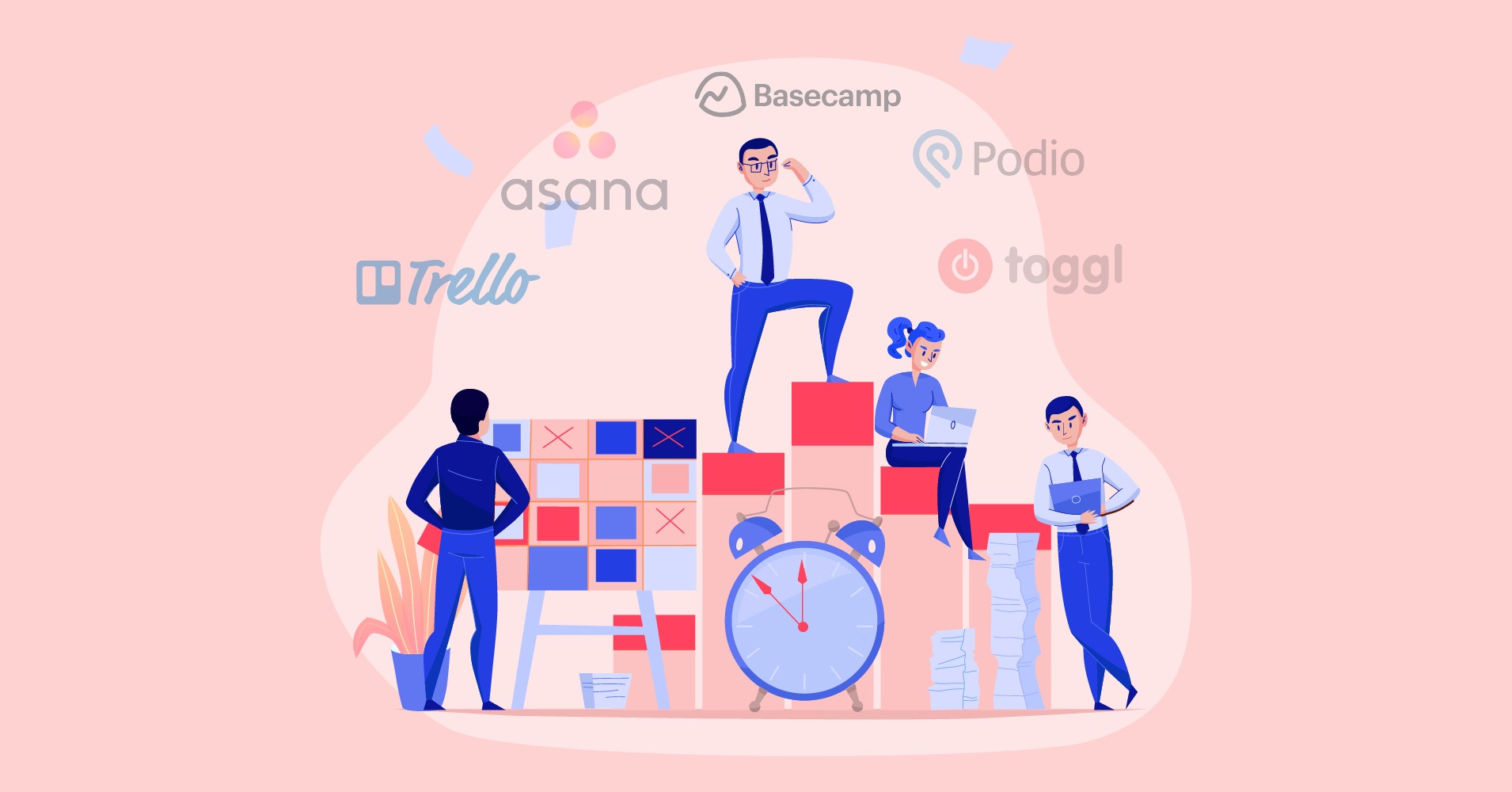 Virtual offices are quickly gaining popularity. Especially now, in the wake of COVID 19, work from home facilities has become quite urgent. But remote team management is not without its own challenges. With virtual offices, employees often feel scattered and information, seemingly lost. It is also often difficult to finish a project on time.
However, a lot of the leading virtual teams across the globe have found harmony in working from home. Many prominent brands have even been run their entire company remotely for quite a while.
Virtual offices need to keep an array of remote team management software at their disposal to keep the workflow going. These tools make onboarding remote employees less distressing.
Keeping the new work from home jobs in mind, we have put together a software list that can help offices manage a remote team. The tools range from task management apps to team collaboration software, to even cloud storage providers. We have also categorized them respectively to make the article more comprehensible.
Task management
One of the most grueling virtual team management challenges is proper task management. With teams working from home online, directions often get lost, and organizations fall behind. For onboarding remote employees and keeping eyes on the goal, leading virtual teams use various task managing tools. We have listed some of the best task management apps that can help you get your team on track amid the COVID 19 crisis.
Adding comments, uploading attachments, creating checklists – everything you need in a task managing tool, Trello will provide. Trello offers a Kanban board so you can organize your project and assign tasks with ease. You will be able to open detailed cards for your tasks.
You can make them more functional by adding attachments, checklists, and even labeling them. This makes tasks less confusing. Moreover, this project can be as big or as small as you want. There's no limitation on team members, so you can add as many people as you wish. It's also relatively more comfortable to have a full view of the project and its progress.
Besides, Trello comes with a robust notification system. It doesn't matter where you are, what platform you're working from – you'll be able to get notifications in real-time. The task management apps are available across iPhone, iPad, Android phones, tablets, watches, and Kindle Fire tablets. Besides, Trello works at any screen size on the web.
Besides, Trello is often integrated with many other services which makes it easier to use. All these features ensure working from home productivity and keep you ahead.
Fluent Forms provides Trello integration so users can effortlessly add cards straight from their form entries.
It is a fantastic task management software for managing a remote team. Meistertask provides a beautiful and customizable environment for every team's individual needs. So, it is widely popular among companies globally for organizing and managing tasks.
It has Kanban-style project boards that allow remote teams to create and ensure a smooth workflow. This software is straightforward to use. So teams don't have to waste precious hours getting acquainted with complicated tools. Moreover, Meistertask does not clutter the interface with many lavish tools but provides a customized offer with essential features.
With the Kanban-style boards, it is very easy to manage tasks while keeping an eye on the project's overall progress. Besides, you can also stay notified of the team's performance with the help of statistics and reports.
This task managing tool is web-based. So, work from home teams can adjust to it accordingly. There's no trouble with downloading an app or manual updates. However, if you do feel comfortable with mobile apps, the apps are available on Android and iOS. And it's full of offline functionality as well.
One of the most amazing remote team management tools is Asana. With this software, you can easily organize projects and manage priorities. Planning and setting up structures as befitting the team is effortless, and supervising priorities and deadlines are easy. 
With the task managing tool Asana, teams working from home can easily follow projects and tasks through every stage and share details. Asana lets you create visual project plans. This makes creating tasks and following them through more effective.
Moreover, you'll be able to pinpoint risks and eliminate hindrances, even if the plans change. This is very helpful for managing virtual teams. The clear visual keeps the team informed, and everyone can know about other members' tasks at any given time.
If you are looking for a one-stop solution for project management, sales CRM, time tracking, resource scheduling, client billing, finance, etc. to solve the challenges of work from home jobs, then Workamajig is your answer. This software makes managing remote employees effortless.
With Workamijig, you will be able to forecast your pipeline and accurately track agency health and revenue. All the while, managing multiple teams and projects across numerous offices. This is especially handy when you have people working from across many locations.
Workamajig comes with high visibility that helps team managers keep the team organized. The ability to manage a project with all the supporting details, schedule, etc. makes it one of the best remote team management tools.
Moreover, should the users face any difficulties, support is just a phone call away. This software provides free and unlimited email, phone, and chat support during business hours.
To effectively solve the challenges of managing remote employees, Basecamp is trusted globally. This tool helps you stay organized, and the whole team can work together. With this tool, you will be able to see where everything is and have a clear idea of what the employees are working on.
This remote team management software works wonders to improve the workflow. Everything is transparent, so you can see what work needs to be done and when it needs to be done.
Moreover, the team dynamics are explicit. Hence, there's less confusion regarding responsibilities and deadlines. Basecamp helps to increase work from home productivity and enhance collaboration. Hence people remember what their duties are, and it's easier to track progress without the constant nagging for updates.
Furthermore, Basecamp is available on the web, iOS, and Android. Hence it is beneficial across various platforms.
If you are looking for best team management practices to keep the team organized, we have a few words to say.
Time management
Keeping up with the schedule can often prove challenging in working from home jobs. This is why, globally, remote teams resort to various time management tools to keep their productivity and focus aligned. Listed below are some of the best time management tools.
In case you are looking for a systematic way to manage a remote team, Paymo is your answer. This incredible time management tool will make managing tasks, creating time schedules, tracking work time, and even billing clients effortlessly. All of this can be done from a single platform.
This intuitive app has a Kanban module to organize tasks and other activities. You will be able to use tasks, task lists, due dates, milestones, etc. to track progress and even switch to advanced tasks with filters for more details. Besides, scheduling and monitoring activity in real-time makes adjustments easier.
Once you start the stopwatch, it will record the time spent on projects and tasks. You won't have to start and stop the timer every time. And afterward, you can view the timesheet and even add and edit entries, if needed.
Paymo is flexible in terms of accessibility. This makes it an excellent choice for teams working from home. You can measure time from your desktop and from mobile devices using mobile apps for iOS and Android. Moreover, you even have options for multi-language invoices, and the integrations add more functionality to the software.
An easy solution to remote time management is the Harvest software. It includes practical and intuitive timers that work, no matter where your team is working from. Although it might seem we have all the time in the world, it really is a finite resource. And Harvest forces you to treat it like that.
With this time management tool, one can start and stop timers as they proceed through their to-do list. Or, simply enter all of it in a timesheet in one go. You'll also be able to track time to specific clients, projects, and tasks, etc. And by adding notes, you can start from where you left off, without any confusion.
Harvest is very flexible to use, and thus, very useful too. There's the Mac app for your desktop and the Chrome extension to track time from your browser. And in case you need easy-to-carry solutions, there are mobile apps too.
Furthermore, it comes with handy integrations like Trello, Basecamp, Asana, GitHub, etc. This increased functionality is great for working from home jobs, and you don't have to leave the comfort of the apps that you are accustomed to.
While physical locations may not worry you as much, different time zones can result in a lot of confusion and hassle for remote team management. You'll have to remember which time zone each member/client is from before communicating. There's also a high risk of missing or arriving late for a conference, and you might end up emailing in unreasonable hours. Then there's an issue with daylight savings as well.
A dedicated software is needed to keep things in check and the whole team on the same page. Every Time Zone is one such software. It lets you customize the time zones you need and share events straight from your timeline. These shared events will then be tailored to the receiver.
You can view your team by time zones, and an intuitive color-coding will help you pick a good time to reach out to an individual employee. Moreover, when you need to conduct a meeting, you can simply choose the members you need, and Every Time Zone will suggest workable times that work the best for all.
This software comes especially handy for support teams, freelancers, etc. It works like magic when you know what time it is where your clients are from.
One of the most straightforward time tracking software that you can use for your remote team management is Toggl. With a single click, you can start a new entry time, or continue from where you left off.
Both the Toggl Button extension and the Toggl Desktop apps are diligent in their nature. So if you forget to track your time, they will remind you. Similarly, they will notify you if there's idle time. You can decide what to do with that. Additionally, if you find starting a timer and ending it every time you do something troublesome, you can manually put entries at the end of the day or week.
For more clarity, Toggl lets you turn your calendar events into time entries. You can also filter your time tracking data only to show the information you need. If you need the reports, you can export them into Excel, CSV, or PDF.
Mobile apps for Android, iOS are available, and there's always the desktop app too. This provides ample flexibility for work from home jobs. However, that's not all. There's also the Toggl Button extension that lets you keep a tab on all your favorite apps, and the 100+ apps integrations increase the functionality even further.
One of the best remote team management tools is TimeCamp. From time tracking to task management to invoicing, it has all grounds covered for working from home online. With TimeCamp, you can really increase your workflow and improve profitability.
This software will let your off-site team track location via GPS, so you can always stay informed regarding the whereabouts of your team. It also records and assigns time to particular tasks automatically.
Distributing work and tracking the progress is straightforward, which makes billing time smooth. And keeping up with your team's attendance, efficiency, and performance is very easy as well. TimeCamp keeps you informed about when your team starts and finishes their job and all their work leaves.
The web app includes a full feature set for desktop and mobile apps for Android and iOS are available too. These synchronize well with each other, so tracking time and projects is seamless. Moreover, it comes with 114 integrations like Trello, Asana, etc. What's more? You'll be able to build your own integrations with their public API.
Cloud storage and security
An essential part of successful team collaboration in the workplace is the smooth flow of resources. But with employees working from different zones, sharing files becomes troublesome. And needless to say, risky too. This is why, to manage a remote team more productively, organizations use different cloud storage providers and security tools. The following are some of the best tools that can help you in this regard.
An essential tool for onboarding remote employees is Dropbox. This makes it easier to organize the team's files, tune out distractions, etc. Consequently, keeping the working from home productivity in check.
Dropbox is an effortless way to create, store, and share cloud content. Whether the files are from Google Docs, Google Sheets, Google Slides, Microsoft Office, etc. you can all have them alongside traditional files.
You can even have Trello boards next to your Powerpoints. This makes it easier to access files. It doesn't matter where you are working from, your desktop, mobile device, web browser, etc. You'll be able to access your team's work all the same.
Although a cloud storage provider, Dropbox is not limited to storing and sharing files only. For successful virtual teams, you need flowing communication. And with Dropbox, you can do that too. The tool lets you connect with Slack and Zoom to keep the files and conversations in the same place.
Whether you need to manage a remote team or simply store and access data for personal use, Google Drive has something for everyone. The Drive is a smart solution to store, share, and collaborate on files and folders from almost all available platforms.
Additionally, Google Drive makes cloud-based collaboration even more potent with seamless integrations with Google Docs, Google Sheets, and Google Slides, and other cloud-native apps. They sync in real-time, and your files are stored in the Google cloud storage. So you can access your data from anywhere, anytime.
Moreover, there's no need to migrate from your known tools. Google Drive complements existing technology and makes collaboration easy without needing to convert file formats. With this, you can edit and store over 100 additional file types like PDF, CAD files, etc.
What makes Google Drive stand out is Google's powerful AI. Robust search capabilities are embedded in Drive, which offers unparalleled speed and performance. It predicts what you are looking for and presents relevant content, saving precious time. You even get 15 GB of cloud storage free.
For managing virtual teams, it is immensely important to have an eye out for data security. To ensure data safety for the files shared with the remote team members working from various locations is vital.
This is where 1Password can be a life savior. It is a secured and trusted software that is also rapidly scalable. 1Password incorporates powerful security tools that can identify gaps in security, enforce policies, and help you defend against data breaches.
1Password will help you get more organized and control access to your data with fine-grained vault permissions. You can further create an audit trail to track all the actions and changes that occur. There's even an option to remove sensitive data remotely from your employees' devices when they are traveling.
There's powerful analytics in place that will give you a peek into how your business is implementing the tool. You can then decide who can create, access, edit information, and also enforce multi-factor authentication if the need arises. It's great if you want to ensure working from home productivity.
When you are looking for ways to manage remote developers, GitHub can be your answer. It doesn't matter whether you are using the open-source software or the business one, you'll be able to host and review codes nonetheless.
Moreover, you can use this development platform to manage projects and build software. GitHub is an established name among developers all over the world for its security and administrative features built for dev teams.
Working through problems, moving ideas forward, managing your dev team, learning from each other, etc. becomes smooth with this tool. And you'll find apps suitable for your needs in the GitHub Marketplace. These apps make collaboration even more flawless.
GitHub really focuses on the user experience. This is why they have all grounds covered, from flexible hosting to granular access controls to provide better security. To add to that, they also allow protected branches, signed commits, status checks, etc. so you can maintain a higher standard.
One of the best remote team management tools is Dashlane. It is suitable for successful virtual teams or personal use. This tool provides a balance between tech convenience and privacy. Making working from home online more secure.
Remembering login information for the countless accounts on the internet is a tedious task. Not to mention, time-consuming too. Often a lot of important tasks are put on hold because one forgot their password for an account. Dashlane simplifies the online experience.
This software will autofill all your passwords, payments, and personal details, etc. Once you save passwords and logins, it will remember and use them across the web. And there are no restrictions to the number of passwords saved so that you can access them anytime, anywhere.
Dashlane syncs data on every device. Hence, it is flexible in use. Moreover, you won't have to keep searching for card numbers for every checkout. You can do all this without having to worry about security. Dashlane itself won't see the information you choose to store, but simply provide it when necessary.
Team collaboration
Managing virtual teams has its own challenges. And one of the most prominent being consistent team collaboration. Employees may work from different locations, and often, messages get lost by communicating virtually, which is why for successful team collaboration in the workplace teams resort to different tools. Mentioned below are some of the most prominent team collaboration software that will keep the working from home productivity flowing.
When it comes to quick team collaboration and a comfortable interface, Slack is a trusted name for leading virtual teams. This software eases remote team management challenges by making day-to-day topics easy to discuss. You can use this software to scale your brand and still connect with work from home teams.
This is essentially a platform that brings all your communication and tools in one place. With a shared view of progress and purpose, it gets increasingly straightforward to keep the whole team and external partners on the same page.
Conversations quickly get overwhelming, and it gets harder to find a topic you are looking for. Slack solves this issue with dedicated spaces called channels and a searchable archive. It makes following conversations and finding information simple. This is why a lot of efficient WordPress plugins come with Slack integrations.
It is so elementary that Fluent Forms includes Slack integration even on the free version so all users can benefit from it.
Whether you run a small team or a big one, your channels will mirror your company, making collaboration easy. Dedicated channels enable you to spend less time on useless clutter and make faster decisions. This is why companies all over the world choose Slack for managing virtual teams.
Video team building is an integral part of remote team collaboration. You must get your hands on the best team management tools out there for leading virtual teams. And Google Meet can help you in this regard.
It maintains Google's secure-by-design infrastructure, built-in protection, and global network. This ensures data security and privacy. Safety is a vital part of video conferencing, and Meet encrypts video meetings in transit and puts an array of default-on anti-abuse in place to warrant security.
Moreover, it is fully integrated with G Suite, which makes joining meetings straight from a Calendar convenient. This way, all the crucial event details lie in front of you, and you can address all the agendas skillfully.
Google Meet grants safe and hassle-free video conferencing abilities to all its users. Even if they do not have the app, plugins, or even a stable internet connection, users can connect with a link, straight from the browser, or using the dial-in phone number.
Recently, Zoom has taken the world of video team building by storm. Due to COVID 19, there has been a major paradigm shift, and there's been an exponential rise in work from home jobs. Since its conception, it has focused on customers' needs and spent time and effort in delivering the best user experience possible. And their customer-driven ideology has paid off.
This video conferencing and real-time collaboration software presents seamless content sharing and real-time messaging, which makes managing virtual teams a breeze. It has gained popularity for its easy-to-use interface and smooth video-calling experience. 
In addition, the meetings sync with your calendar system. There's an option for multiple meeting participants to share their screens concurrently. And the HD video and audio make this virtual experience an interactive one.
Moreover, you can even record your meetings for future use locally or in the cloud. To make sessions more interactive, there are polls and Q&A. Participants can also virtually raise hands if they have questions or something to add to the conversation.
This is intuitive and easy-to-use remote team management software. With this software, one can keep track of the team's sprints and quarterly goals. Jell provides real-time and historic views to allow a better insight into team performance, and you can use it to eliminate any roadblock that you may face.
This software cuts out the unnecessary clutter of meetings and emails and helps you focus on the workflow. You can use it to conduct daily standups to keep the pace of your remote teams. Additionally, you can also schedule weekly check-ins so you can review your tasks and collect metrics.
Jell presents a convenient way to collect and share information that everyone needs in one place. Moreover, for keeping the team aligned and focused, Jell can be used to share OKRs among everyone. And linking daily activities to long-term goals ensures productive workflow.
Besides, Jell's Slack integration keeps the natural workflow going. You don't have to put Slack on hold for standups. With Slack integration, everyone stays in sync and informed about the development.
Onboarding remote employees has its own challenges- one of the most common being video team building. With employees working from different locations, team presence is often lost. Which usually results in a lack of productivity.
With PukkaTeam, these issues can be solved, and productivity increased. PukkaTeam allows for real-time presence, automated selfies, one-click video calls, etc. This helps to recreate an office environment and encourage team collaboration with ease. Even by working from home online, employees can stay connected easily.
PukkaTeam periodically takes a snapshot, and its intuitive face recognition can tell who is and is not at their desk. This makes collaborating easier, just like in a physical office. Moreover, there's a status option that informs others of your availability. Ad for improved team collaboration, there's also a Slack chat integration.
This video team-building app works from your browser, and a desktop app is available for all major platforms. This paves the way for real team presence and remote interviewing, and you can effortlessly create your virtual office.
Some last words
Remote work can be taxing. In the beginning, the collaboration will be hard and frustrating. It may even result in some costly errors. But with the right team management tools at hand, it can get very straightforward. And in time, you might also prefer to work remotely than in a physical office.
Task managing tools are very efficient, and they are continually evolving. These software bring in more clarity to a project, giving everyone the content they need, whenever they need it. It doesn't matter whether a remote employee is working from one mile away or from a different country as long as they have the technological support to maintain the quality of work.
We made this list keeping COVID 19 and work from home jobs in mind. But if you're looking for tools for a more generalized purpose, then these best team management software can help.
And if you find it hard to decide on a tool, you can conduct a software survey where your employees can give feedback. You can head to Fluent Forms for more demo forms because a simple contact form can go a long way in remote team management as well.