Webflow vs WordPress – Which Is the Best Fit for Your Website in 2023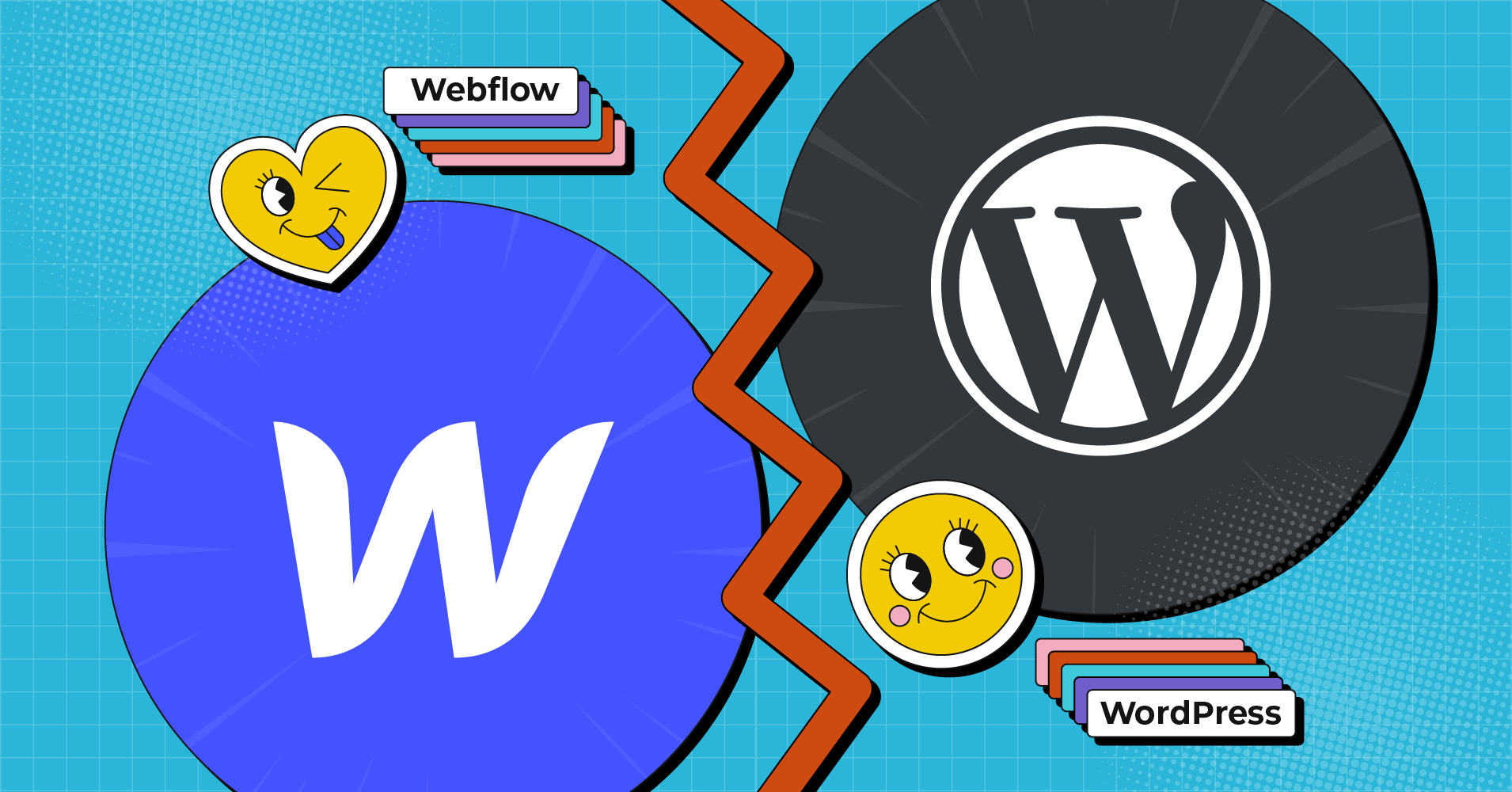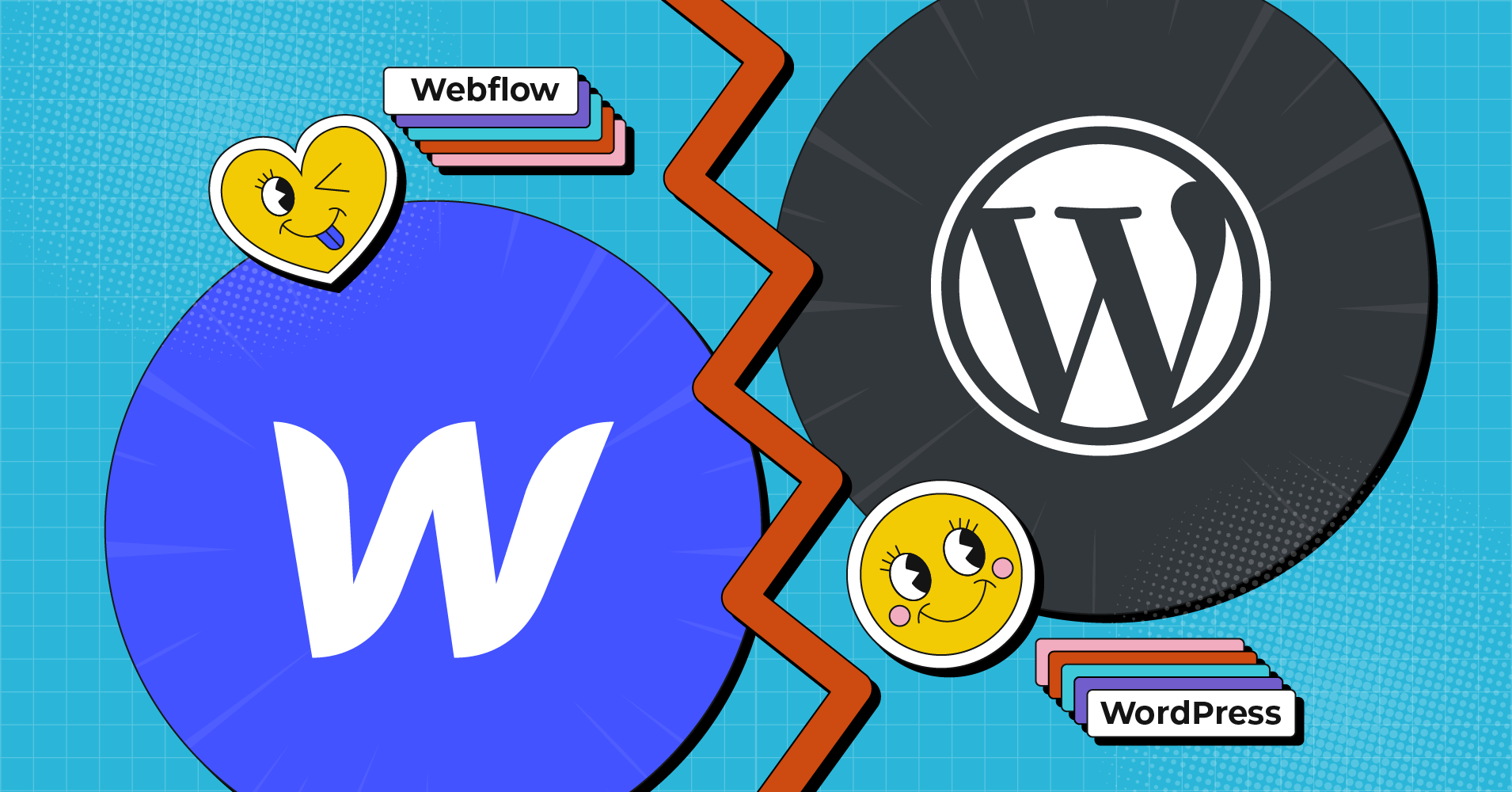 Do you want to build a website for yourself or your business? One of the primary decisions you gotta make before jumping into the actual process is which website-building platform is right for you. Webflow and WordPress appear to be among the best platforms that let you build websites for various purposes.
Both of these website-building platforms follow different methods for creating a website. So one should learn about the different features they offer to make informed decisions when picking Webflow or WordPress.
The main difference between Webflow and WordPress is that WordPress is an open-source content management system that requires installation on your hosting server, whereas Webflow is a SaaS application that takes care of all the nitty-gritty details for you.
This article will take a closer look at Webflow vs WordPress and help you decide which one is more suitable for you in 2023. Let's begin.
Fluent Forms is the most beginner-friendly form builder. Download now and start crafting beautiful forms FREE!!!
An overview of Webflow
Webflow came into the market in 2013. But it has gained popularity thanks to its visual editing functionality that makes website building simpler. It is a no-code platform that lets users develop a website using a visual, drag-and-drop editor.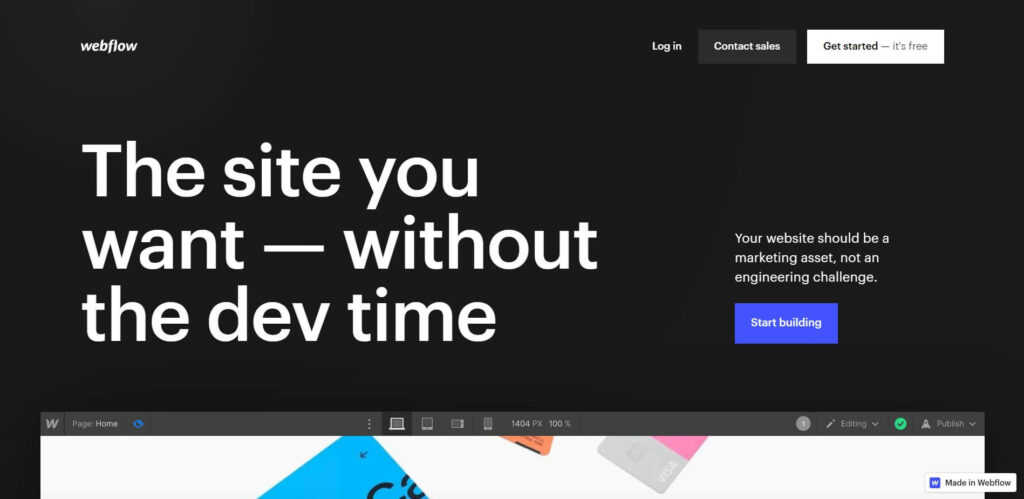 One can easily build responsive websites with so many customization options using Webflow. The major difference that makes Webflow stand out among other similar platforms is its capability to generate clean HTML, CSS and JavaScript code for your website. If you want, you can make changes in the code or even export the code to host your website somewhere else.
Webflow lets users create, build and launch responsive websites without coding. Some of its notable features include:
A drag-and-drop page builder for easy website creation
Collection of pre-made templates
Content management system
Ecommerce functionality
Free SSL certificate
The ability to quickly update global color swatches throughout the site
The option to export the website's code for download
Built-in code editor for adding custom code if required
Visual building of animations and interactions
Integrations with marketing tools, forms and more
An overview of WordPress
WordPress was first released in 2003 and is by far the most popular content management system with a market share of 63.6%.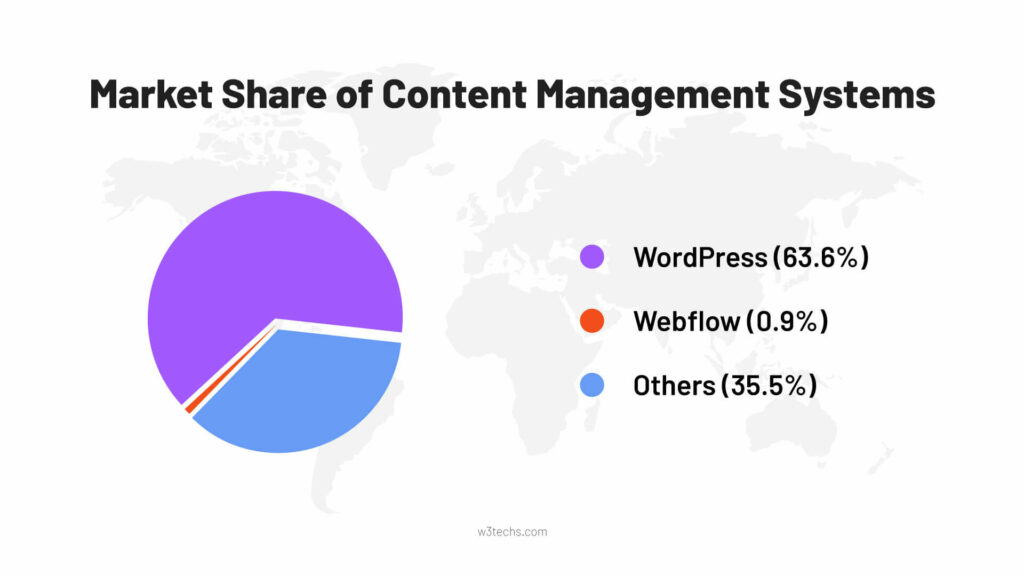 It is a free and open-source website-building platform with a large community of users who contribute to its development and support.
Some of the key features of WordPress include:
Flexibility of creating any type of website
Thousands of plugins to get your work done
Huge collection of customizable themes to design attractive websites
Free-to-use and open-source platform
SEO friendliness
CMS with ease-of-use
Easy to update
Strong community support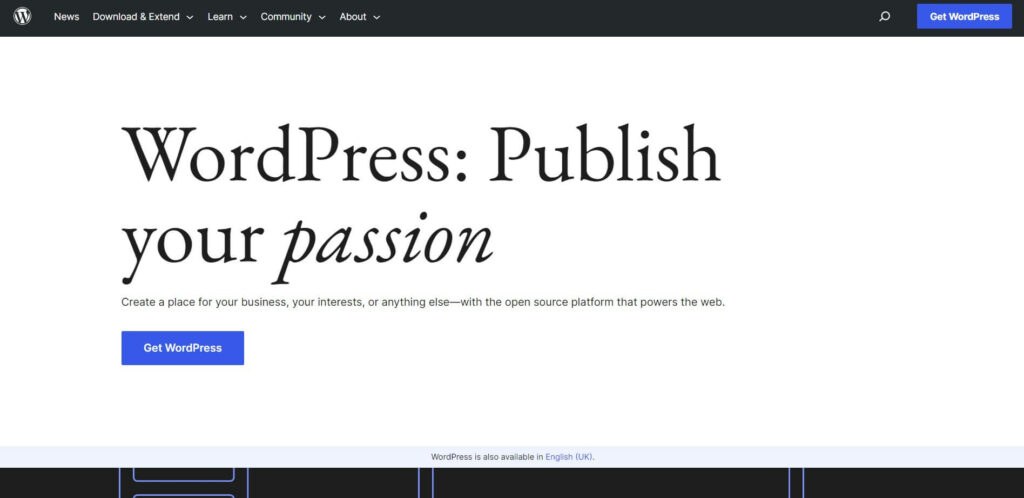 If you want to add extra functionalities to your website, there is a vast collection of WordPress plugins and themes available for that. You can achieve almost anything using these plugins. The freedom of customization is virtually endless with WordPress.
Comparing Webflow vs WordPress
Comparing two website-building platforms is not straightforward. One should take into consideration several factors for a head-to-head comparison of Webflow vs WordPress. We have selected the following features on which we will compare these two platforms:
Ease of use
SEO friendliness
Themes and templates
Plugins and extensions
Integrations with third-party services
Ecommerce functionality
Security
Support
Pricing
Now let's dive in and explore the distinctions between Webflow and WordPress.
Ease of use
Let's begin the discussion about ease of use with the installation stage.
WordPress is widely known for its quick and easy installation process, taking as little as five minutes to complete. You can proceed to a one-click installation at your hosting provider. But this method is often 'imperfect' as sometimes you might not get the latest version of WordPress.
The best way is to opt for the manual installation method in which case you need some preliminary knowledge about WordPress.
On the other hand, Webflow is a web-based tool that does not require installation, it is ready for immediate use once you create an account.
Once the platforms are installed, let's see how easier they are to use and navigate. The WordPress admin interface has the merit of being clear and not too overloaded. Navigation to different menus is immediately available from the left side column, to allow you to make adjustments whenever you need.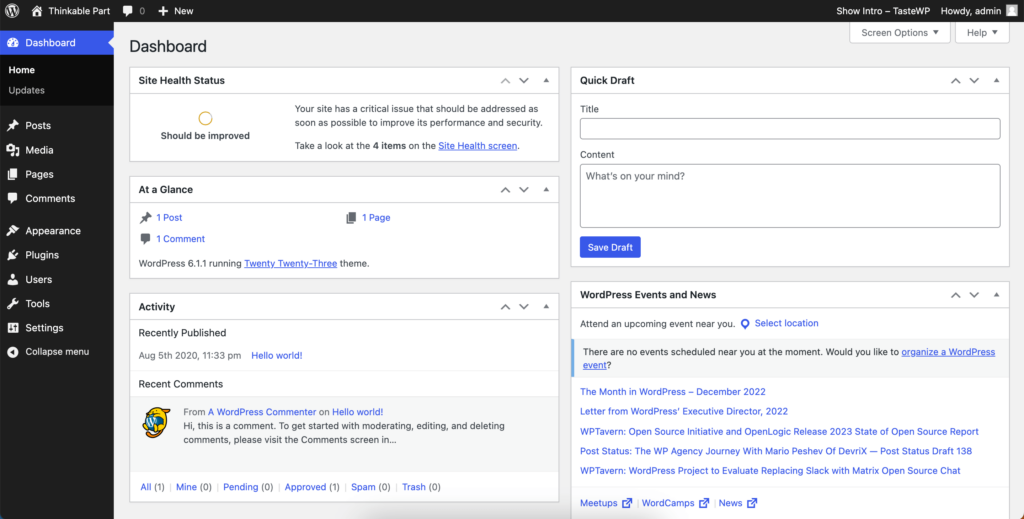 WordPress comes with a native block-based content editor called Gutenberg for designing pages and posts on your website.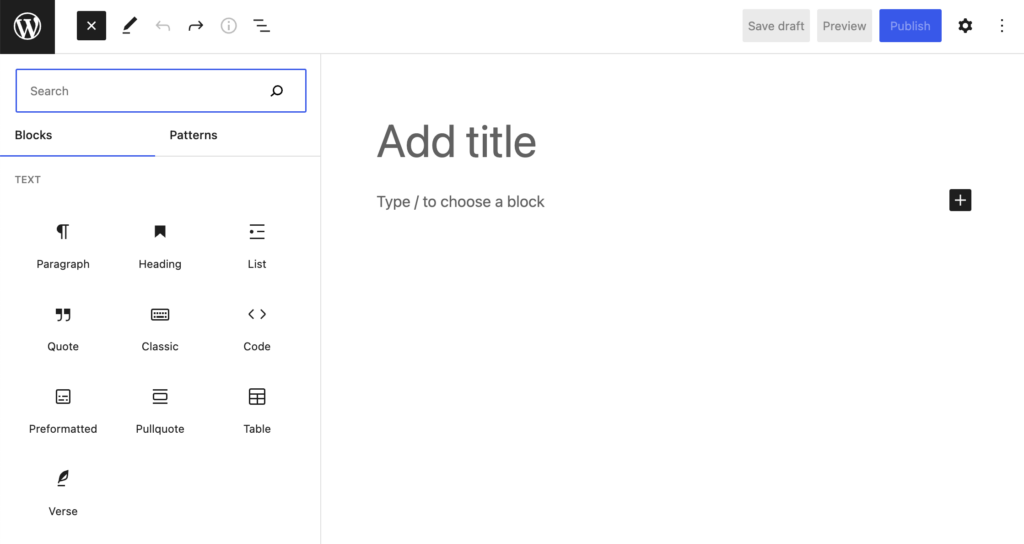 When it comes to the interface of Webflow, it may seem overwhelming to understand when you are using it for the first time. It is designed in a way that web designers and developers find it easier to work with.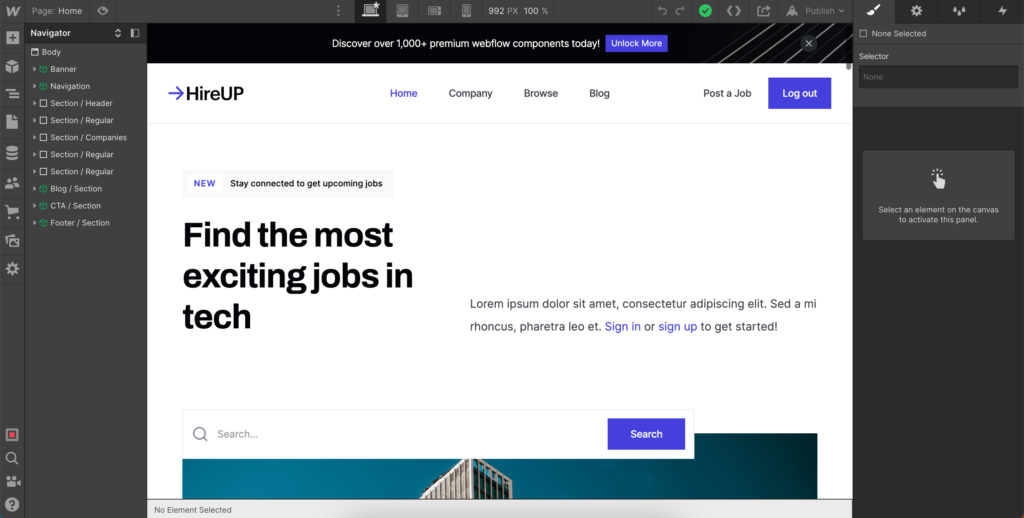 You will find a vast array of customization options and settings in Webflow. The interface has a lot of buttons scattered throughout the page, and when clicked, they open additional sub-menus with more settings.
And there are even more options related to each section. To become comfortable with using all the features and nuances of Webflow, some prior knowledge is required. If you are a web designer or developer, you are likely to feel comfortable and at ease using it.
Winner: It is easier to install Webflow compared to WordPress. But if you consider overall ease of use, WordPress comes out ahead.
SEO friendliness
No matter what makes you build a website, SEO is always one of your major priorities. Therefore, while choosing the right platform to build a website, you should consider which one is more SEO-friendly.
Webflow doesn't require any external plugins for SEO. With Webflow, you can edit important SEO tags, such as title and meta-description within the pages. In addition to this, Webflow generates the sitemap automatically and writes clean code for better website performance. You have complete control over your heading tags when using Webflow.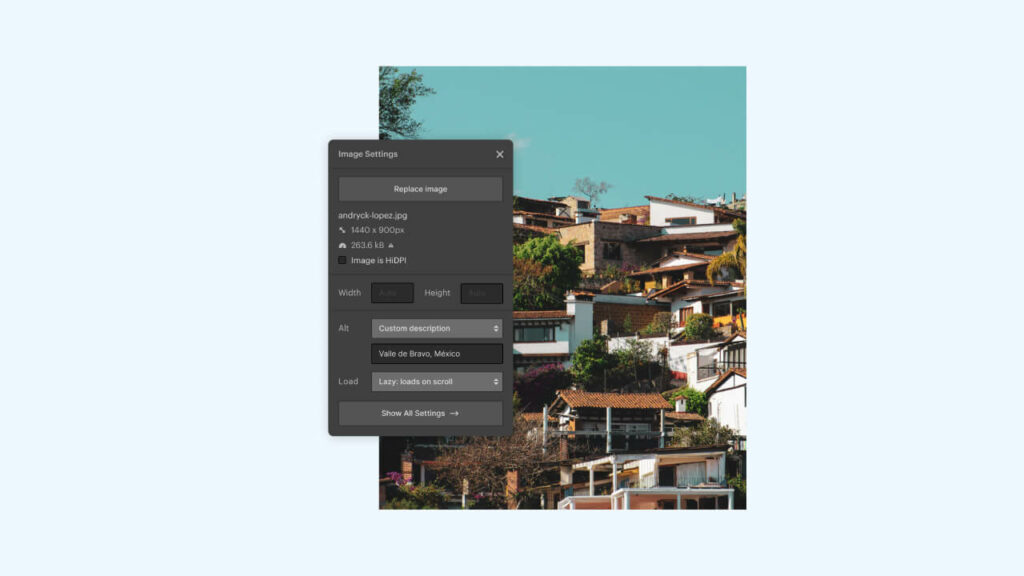 On the flip side, WordPress is optimized for SEO by default. WordPress takes advantage of plugins like Yoast SEO and Rank Math to improve your search rankings by optimizing your content for targeted keywords, adding metadata for search engine crawlers, and more. WordPress gives you control over your permalinks which is an important element for SEO.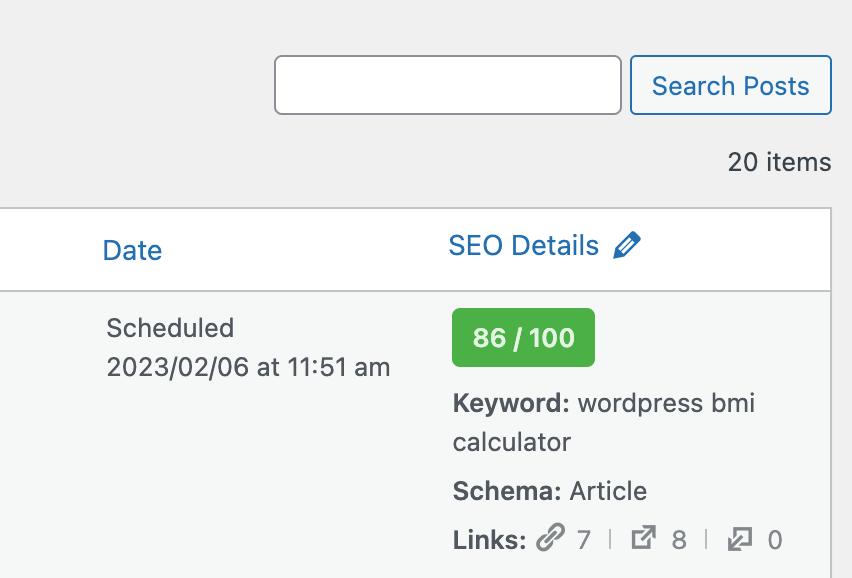 Winner: Webflow has an automatic advantage for SEO over WordPress as it does not require third-party plugins for essential on-page SEO adjustments. However, if you take plugins into account, WordPress offers a wider range of options and greater control.
Themes and templates
WordPress offers a wide variety of themes and templates for defining the look and feel of your website. Upon installation, a built-in theme is automatically activated, providing you with the ability to customize the appearance and style of your website's content. There are more than 10,000 free themes on the official WordPress directory. Some of these themes provide a freemium version which means that you can purchase a Pro version to get even more features and customizations. It gets even better with many online marketplaces that offer WordPress themes.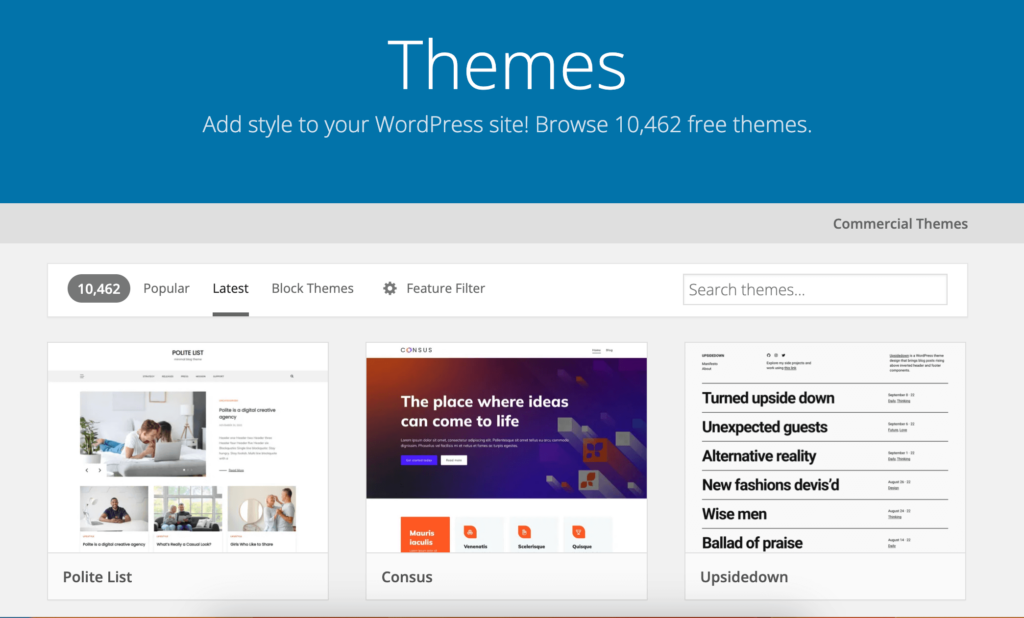 Unlike WordPress, Webflow does the job based on templates, not on themes. Webflow offers more than 1500 templates that cater to different categories: Multi Layout, UI Kit, Blog, Agency, Portfolio, etc. Some of these templates are free, while others are paid. But the templates are almost limited to the ones on the official website of Webflow.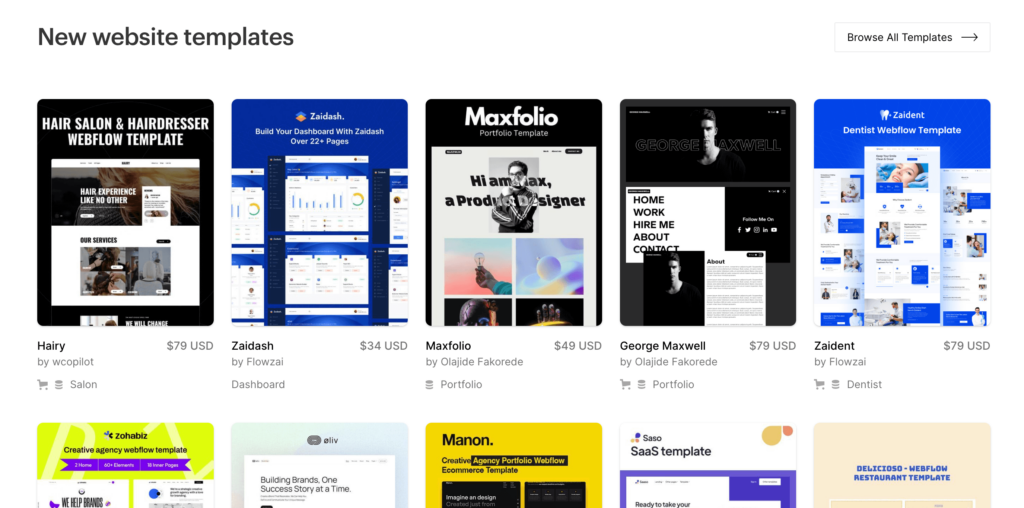 Winner: If you want ultimate freedom in terms of customizing the look and feel of your website, WordPress is the way to go.
Plugins and extensions
Though both WordPress and Webflow have everything you need to make a website, sometimes you might want to add functionalities to your site that go beyond the basic capabilities of the platforms. This is when words like "plugins" or "extensions" come into the scenario. WordPress has a huge collection of plugins that you can use to add extra functionalities to your site. How huge? The official WordPress directory stores more than 60,000 free plugins that help you achieve almost anything you want. There are also thousands of premium plugins available in other marketplaces.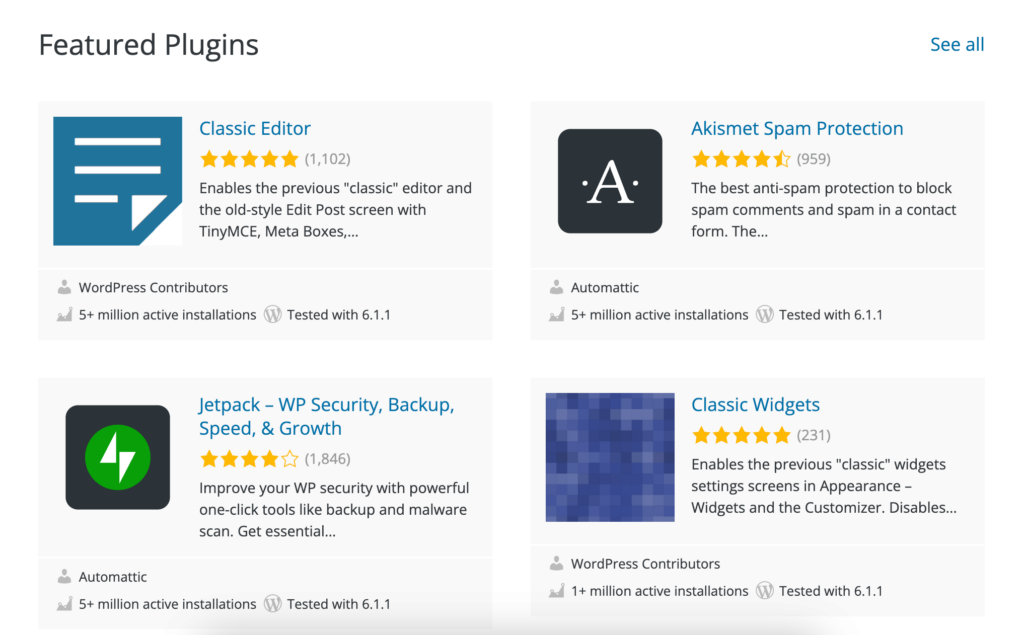 But WordPress is heavily dependent on these plugins in the sense that the core functionality of this platform is very limited.
Webflow doesn't have official plugins as WordPress does, so you can't easily add extra features to your site. But you can still add things to your site by using code from other services. For example, you can add live chat by using a code snippet from a chat service. Or you can make a membership site by using Memberstack. But these added features may feel like a workaround, whereas WordPress plugins are simpler to use.
Webflow doesn't offer plugins like WordPress does, which means you can't add extra functionalities that work directly in the Webflow interface. However, you can extend Webflow's capabilities by integrating code snippets from other tools. But, this might feel like a workaround compared to the fully integrated solutions offered by WordPress plugins.
Winner: WordPress wins big with 60,000+ plugins to add extra functionalities to your site with ease. Webflow, on the other hand, lacks these plugins but still offers ways to extend site capabilities with code snippet integrations – though it may not be as seamless as WordPress's fully native solution.
Ecommerce
Well, both WordPress and Webflow are capable of creating an ecommerce store.
You can easily build an online store in WordPress using a plugin like WooCommerce. Showcasing your products, taking orders, managing your customers and accepting payment – everything can be done by utilizing the right plugin(s).
However, Webflow has ecommerce functionalities built into it as a core feature. To use ecommerce with Webflow, simply turn on the ecommerce extension and connect your shipping services. That's it! Your website is ready to showcase your products.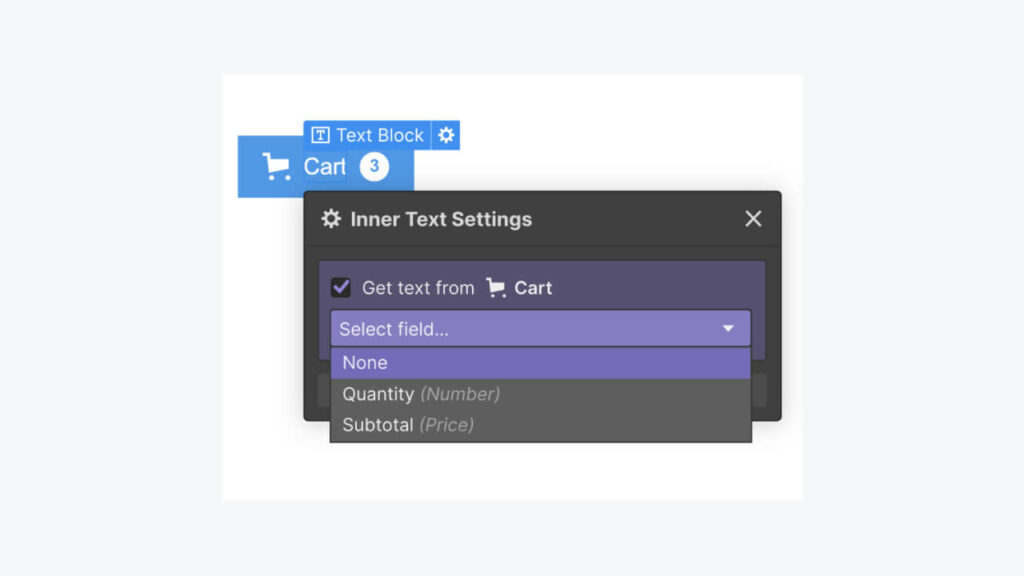 In comparison to WordPress, Webflow has fewer options for payment processors. And you might need to pay a fee to Webflow for payment processing based on which plan you choose.
Winner: As far as ecommerce is concerned, WordPress wins with more options for payment processors and its cost-effectiveness. Webflow's ecommerce features are built-in, but limited in comparison to WordPress.
Security
Some may argue that WordPress is the most hacked CMS in the world. However, this can largely be attributed to its tremendous popularity, holding over 60% of the market share.
Let's get it straight. WordPress is secure. But it can become vulnerable for a variety of reasons, such as –
If third-party themes and plugins are not coded well
If the setup is not done properly
If the user does not keep the software updated.
Nevertheless, with proper care and maintenance, the security of a WordPress website can be effectively maintained. Whenever a plugin or a theme needs to be updated, you will get notifications on the WordPress dashboard. Updating the WordPress tools on a regular basis is a security measure that a website owner needs to take.
You can also take advantage of some plugins to strengthen the security of your WordPress site as there are a lot of them available.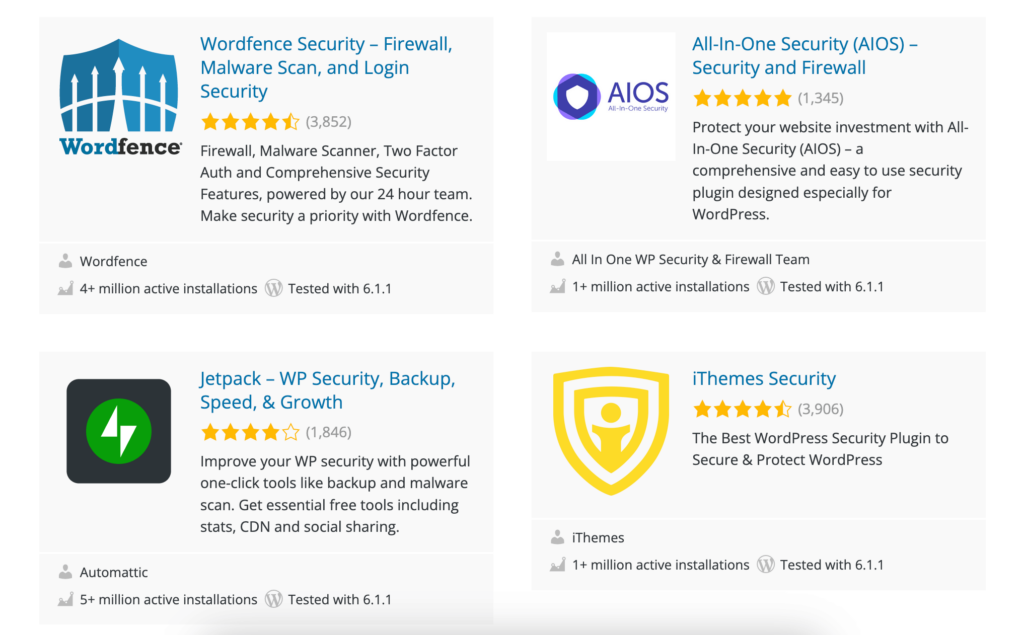 When it comes to security, Webflow has got you covered. It automatically gives your site an SSL certificate, which basically means your connection to the site is secure.
You also don't have to worry about updates. Webflow takes care of it all for you. How cool is that! But why is Webflow a safer option than WordPress in terms of security? I can mention three reasons!
Firstly, it doesn't use third-party plugins, so that's one less thing to worry about. Secondly, it's not yet as popular as WordPress, so it's less tempting for hackers. And last but not least, Webflow's HTML code is hosted on a CDN, so there's no backend to hack into. The only way to get into your Webflow site is to hack into your Webflow account.
And on top of all, Webflow backs up your site automatically allowing you to restore it at any time.
Winner: So, who wins in the security battle? Webflow provides better security care compared to WordPress, as it takes care of everything automatically. However, WordPress requires the user to handle security themselves. Both are secure, but Webflow is a more hands-off option.
Support
When comparing Webflow and WordPress, it's important to consider which provides a better support system. Sometimes, you may get stuck with any of them. But who do you turn to when you need help?
That's where a solid support system comes in handy. There is no direct user support in WordPress, mainly due to its open-source nature. Fear not though, because the WordPress community is huge and always eager to lend a hand.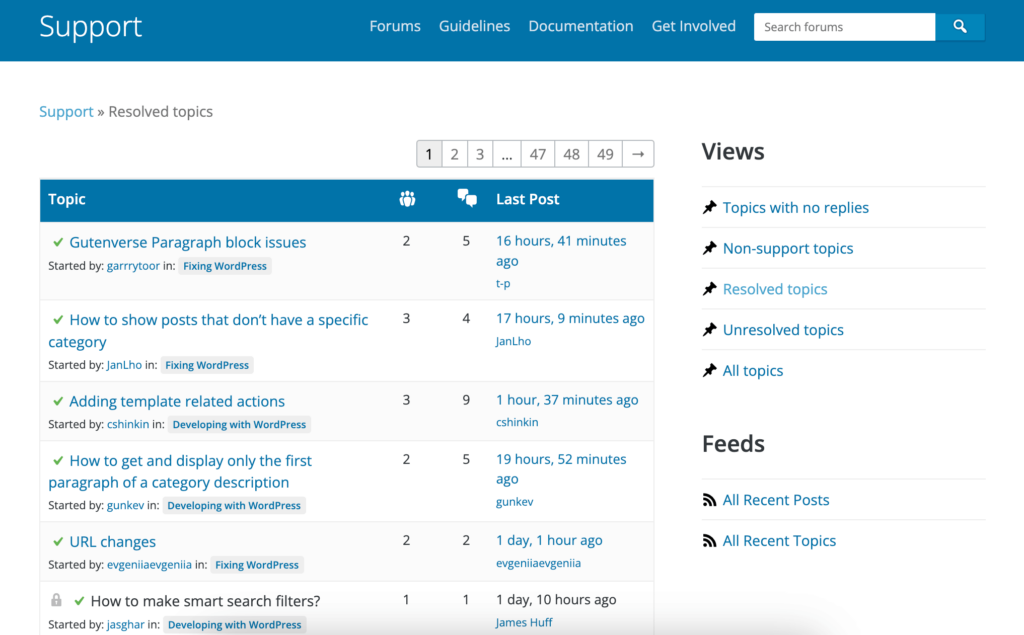 If you've got a question about WordPress, chances are it's already been answered on various forums. In the case of themes or premium plugins, most of the time the providers of these WordPress tools have their own support system to help you out.
So what does the support look like with Webflow? The big difference from WordPress is that Webflow has a dedicated support team for its users. However, the level of support depends on the plan you choose.
Webflow offers plenty of resources for learning and improvement, like Webflow University, with free video courses for all skill levels on various subjects like SEO, web design, CSS, ecommerce, dynamic content, hosting, and more. There is also a Webflow blog, a sizable community and a public forum where you can get your queries answered.
Winner: When it comes to support, WordPress has the upper hand with its massive community. You can easily find answers to your questions through various channels like forums, Facebook groups, YouTube videos or ask for premium support for a theme or plugin.
Pricing
WordPress is free! You can download it without incurring any cost. But, there's a catch – you'll still need to pay for a domain name and hosting to get your site online. And if you want to add some extra features, you may have to spend some extra bucks for premium plugins and themes.
Webflow also has a free version. But, honestly speaking, that can only help you in learning Webflow. There are some serious limitations in the free plan.
You have two possibilities for getting started with Webflow. The first one is to choose a Site Plan. Currently they offer four Site Plans to choose from. The more expensive the Site Plan, the more freedom you enjoy.
The second one is to opt for a Workspace plan. There are three different plans for Workspaces to cater teams of different sizes.
Winner: WordPress is a cost-effective solution compared to Webflow. You have better control over your wallet in the case of WordPress as there are so many options to choose from.
Webflow vs WordPress – who wins the battle?
Wondering which CMS to choose for your website? It all comes down to your needs, skills, and ultimate website goals.
If you're a CSS-savvy web designer, Webflow might just be the perfect fit for you. But don't worry, even beginners can thrive with Webflow. With no coding required and easy installation, you can sit back and let Webflow handle all the techy stuff like maintenance and security.
But if you're looking for a bit more control, WordPress should be your go-to option. With a user-friendly interface and a shorter learning curve, you'll feel right at home in no time. Plus, with WordPress, you can do it all with almost no limitations.
So, are you Team WordPress or Team Webflow? Let us know in the comment section below and follow our social media channels for more content like this.