Ghost Vs WordPress: A Comprehensive Guide To Choose The Best
Ashik Elahi
. July 5, 2023
.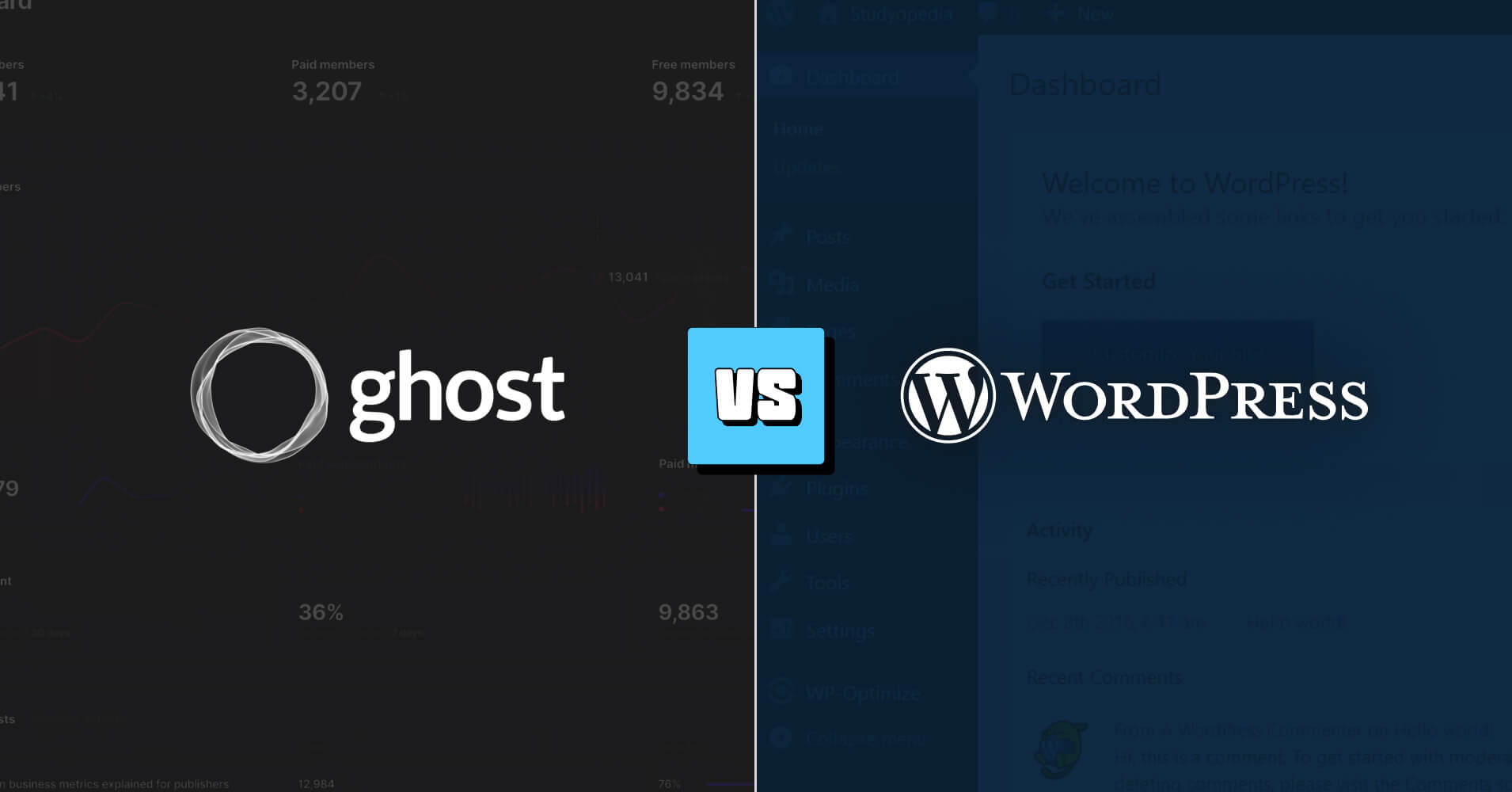 In the arena of content management systems, Ghost and WordPress are set to engage in a thrilling clash.
Ghost, with its sleek, fast, and compact appearance, challenges the seasoned veteran WordPress. With Ghost's magnetic interface, recent TRENDS, and WordPress's unparalleled flexibility, the contest intensifies.
From user experience to design and search engine optimization (SEO) domination to monetization mastery, we will examine every aspect of Ghost & WordPress in this mega guide. In this epic duel, we will help you to choose the best content management system software to serve your purpose properly.
And an obvious question, who will emerge victorious? The electrifying showdown between Ghost vs WordPress holds the answer in the end!
So, first thing first, let's set a common ground that lays the foundation for this battle of the content management titans, and then choose your ultimate champion!
Fluent Forms is the most beginner-friendly form builder. Download now and start crafting beautiful forms FREE!!!
Ghost Vs WordPress: The basis of consideration
While comparing, creating a neutral ground for both platforms is crucial. Let's take a quick look at the factors we're gonna focus on in the battle of Ghost vs WordPress.
Quick Overview – A quick intro to WordPress and Ghost CMS
Hosting – Web hosting consideration of Ghost and WordPress
Platform expenses – How much these CMS would cost you to get started?
User experience – How easy are these platforms to learn for beginners?
Design flexibility – What are the main design and customization options available?
E-commerce options – Do these CMS allow selling things from your blog?
SEO perspective – Will you be able to optimize your website for search engines and get traffic?
Monetization – Can you monetize your website through these platforms?
Integrations & add-ons– Can you enable more functionality with add-ons and third-party tools?
Support System – Would you get help quickly and easily when needed?
Now we have the ground to witness the great battle of Ghost vs WordPress.
A quick overview: Ghost vs WordPress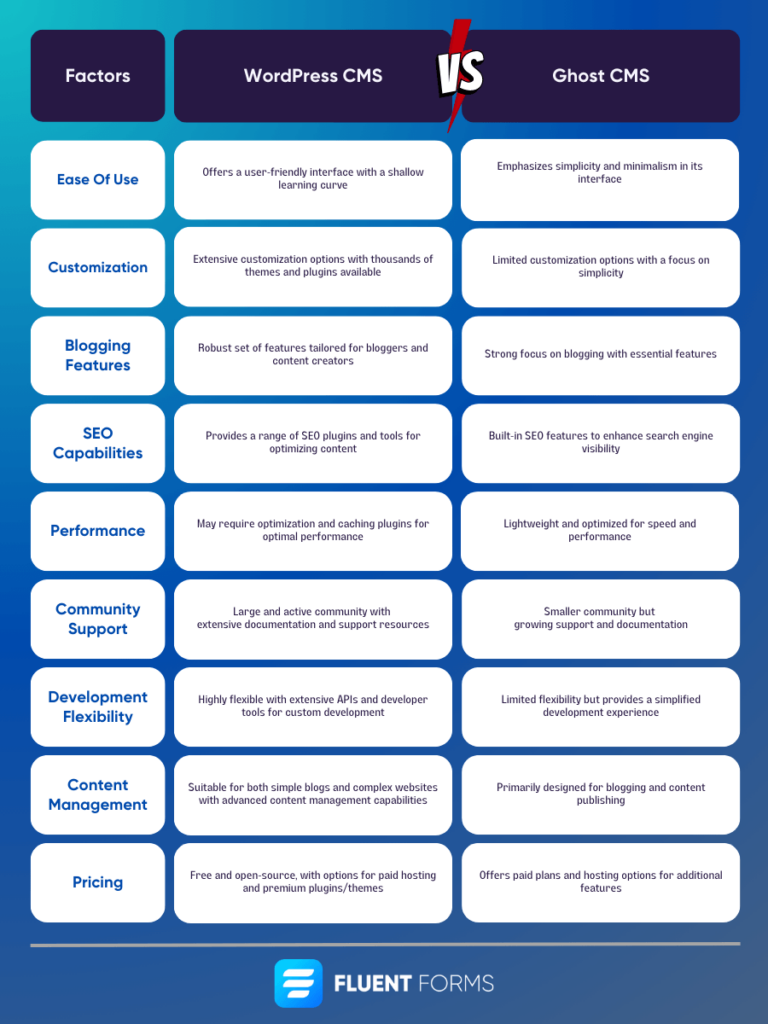 Despite having a lot of advanced factors to discuss, it's important not to overlook WHO Vs WHO going head-to-head.
Let's get to know our players on the field!
What is Ghost CMS
Ghost is a Content Management System that emerged in 2013 with a clear intent of developing a streamlined publishing platform for publishers, and journalists.
Over the years Ghost secures 3 million installations with 10K active monthly users.
What makes Ghost a good WordPress alternative CMS is that it's a clean and minimal platform with a fast loading speed. Anyone can get started with Ghost effortlessly.
Ghost is an open-source CMS that offers both a hosted platform and the option to install and self-host. In this article, we will focus on the more popular hosting options of Ghost as the self-hosting is very complex to set up.
What is WordPress CMS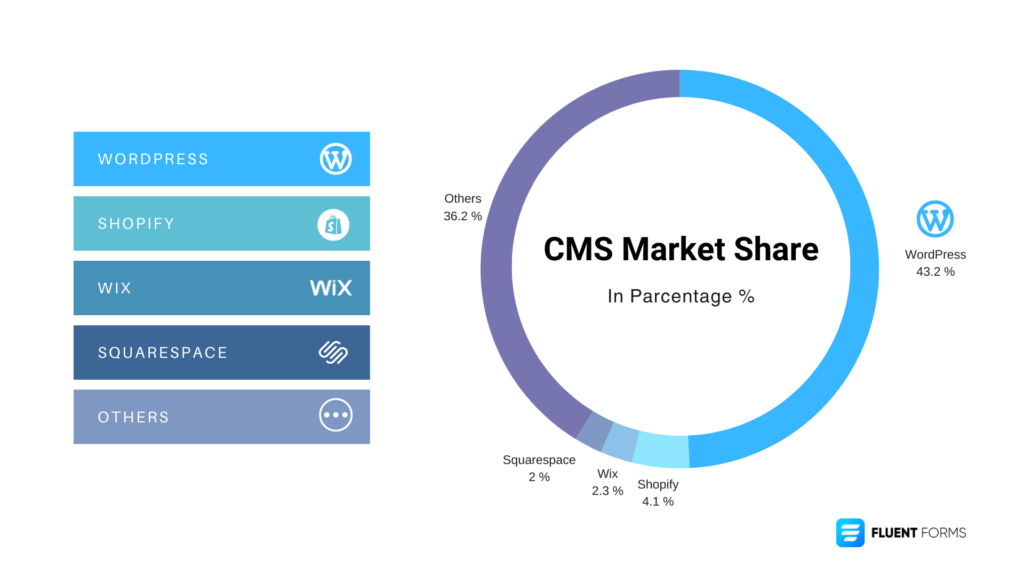 Launched in 2003, WordPress earned the biggest name in the industry. As of now, WordPress powers almost half of the websites on the web (43.2%)!
WordPress is a highly recommended CMS to create any kind of website or blog. No matter how complex a website you want to create, you can build it with WordPress.
To get started with WordPress, you just need a domain name and web hosting. There are numerous hosting companies that offer the easiest installation and setup in no time.
Let's get into our advanced discussion–
Hosting: Ghost hosting vs WordPress hosting
You might be expecting this section to induce a price comparison. But, as both of the platforms offer free and open-source, that would result in a TIE!
So, in this case, let's take a quick overview of the factors associated with web hosting services.
Ghost hosting
Finding a provider for Ghost hosting can sometimes feel like searching for a tiny needle in a haystack.
Well, maybe it's not that difficult, but even the biggest web host providers may not always offer options for hosting Ghost, and there's a logical explanation behind this limitation.
Certainly, it's really a complex process if you want to self-host. You would need to customize your server using Node.js and NodeSource, meaning you need some coding knowledge. And if you don't know what these are (Node.js, NodeSource), then self-hosting Ghost isn't just for you.
So, what's your option?
In this case, you need to use more expensive options and go with Ghost Pro. But as a specialized hosting for Ghost, it will cost you THREE times higher than usual.
WordPress hosting
In one word, WordPress hosting is easy-peasy. For every web-hosting provider worldwide, WordPress is the first priority by any means.
Almost every hosting company has servers set up that can run WordPress, and even some have dedicated servers to maximize its performance.
WordPress supports both a private and shared web hosting environment. Moreover, it's amazing to mention that WordPress hosting will cost you less than a cup of coffee for a month-long service. Impressive, isn't it?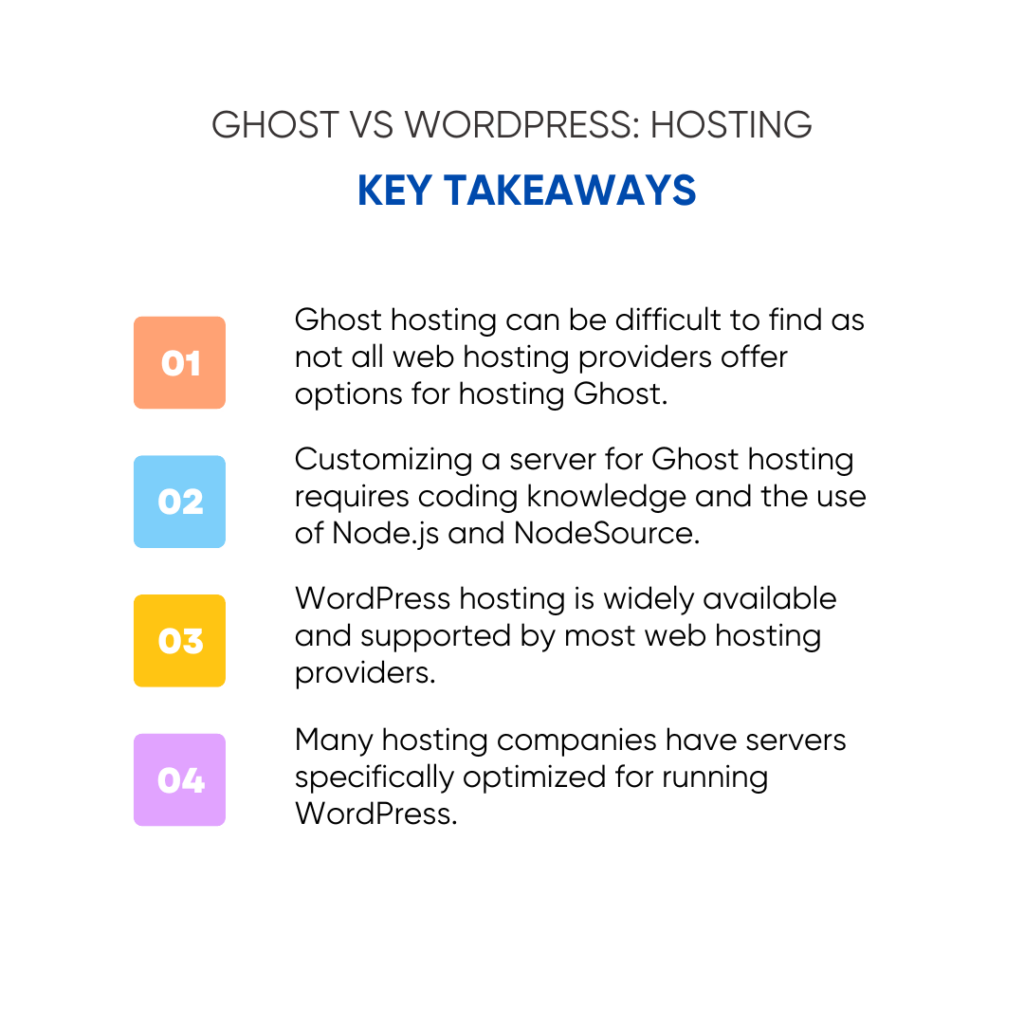 Expense: WordPress vs Ghost
For most users, the overall expense of developing a website or blog will be the sole pain point in considering whether it's WordPress or Ghost.
It's no surprise that maximum users will want to keep the expense of building a website as low as possible.
Let's see who's gonna satisfy your need here.
Ghost Costs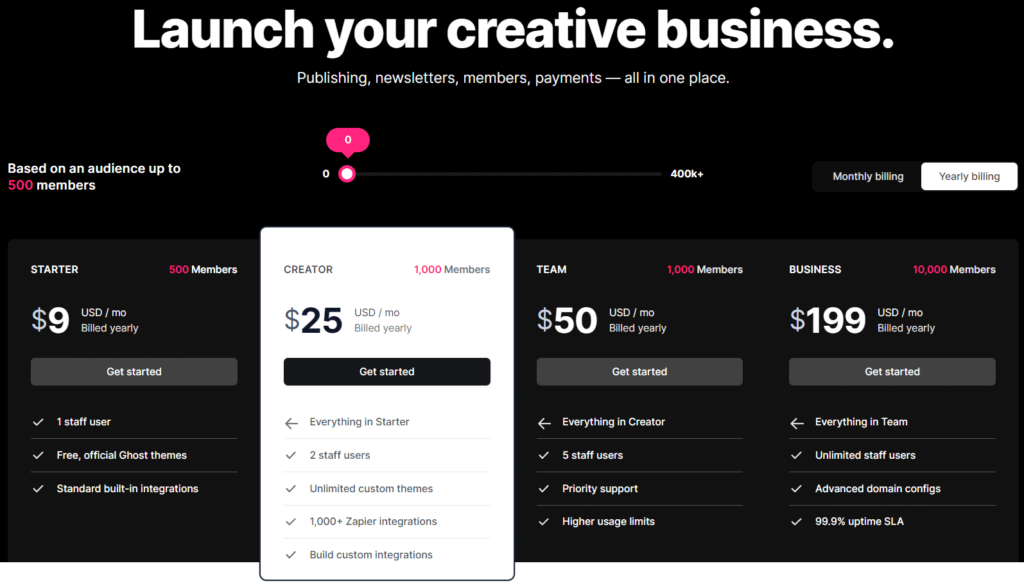 Ghost's pricing strategy is a bit different, it requires payment upon your audience size. As of today, the cheapest plan you can have is the "Starter" plan for $9 per month when paid annually.
This $9-dollar package supports only ONE user, and up to 500 members. This package also includes access to the official Ghost themes for developing your blog site. Additionally, it offers a free domain name and hosting when you sign up.
In case you want to add more users and get access to custom themes and integrations, then the "Creator" plan at $25 is more suitable for you. There are higher packages also available for bigger teams who need support for more than 5 users.
This is important to clarify that Ghost suggests "MEMBERS" as people who can sign up for your newsletter or buy subscriptions. If you have more than 500 members, it will multiply the cost of any package.
For instance, you started with the "Creator" plan at $25 with up to 1K members. Now you've 5K members, then you've to pay $65.
WordPress Costs
WordPress CMS is free and open source. To get started with WordPress, all you need to do is buy a Domain name and hosting to live your website on the internet.
The cost of a domain name varies from provider to provider. But it's safe to say usually it costs between $5 to 20$ per annum.
The most amazing thing about WordPress is that this is a goldmine of 59K free plugins and 9K themes that you can utilize to kickstart your online presence. This is the sole reason why people love to use WordPress as it cuts down the expense in the long run.
If you want to start operating your WordPress site with premium plugins, themes, or any third-party services/software, then this will slightly increase your expense of using this platform.
But a noteworthy thing about WordPress is that you can create your blog with free themes and plugins right from the very beginning.
There's a popular term among the WordPress community called "Freemium", which refers to a premium version with a free version with slightly less functionality.
So, you are always welcome to use a free version of a plugin or theme to get started and once your website's growing you can begin to invest in the premium.
Moreover, if you pick WordPress as your CMS then you've complete control over your website. You can modify/customize, and add as many USERS as you want with no extra fees.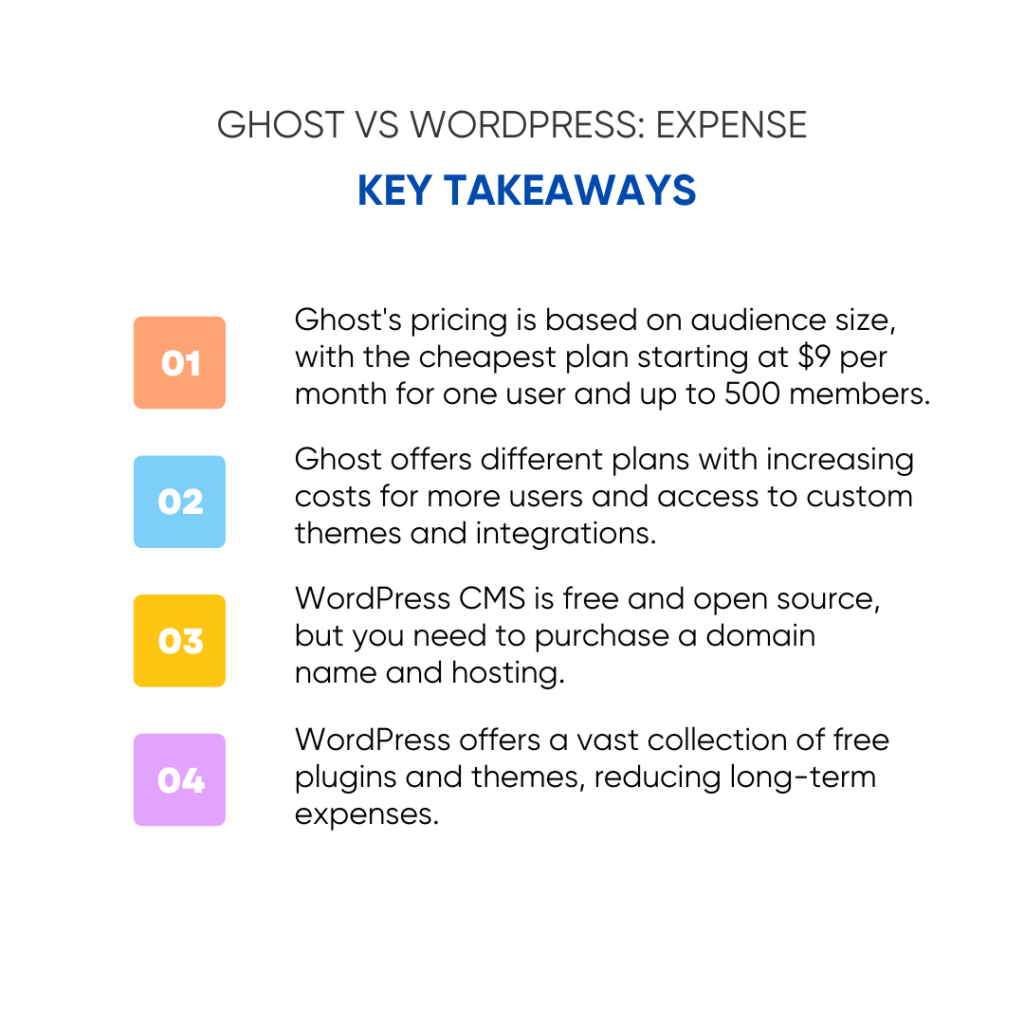 User Experience: WordPress or Ghost
In most cases, users starting a website or a blog aren't well-versed in programming or coding. So, they need an easygoing platform to get started hassle-free.
Let's see what WordPress and Ghost offer in this context.
Ghost Accessibility
The sole intent of Ghost is blogging and sharing your content effortlessly. Ghost's interface is crafted to be beginner-friendly, especially for those new to this platform. With everything perfectly color-coded, navigating through Ghost becomes a breeze.
The most notable fact that sets Ghost apart is its instant access to your page and posts. As you're logged in, you can see all of your content without even a Click around; all just a glance away. Ghost did a great job of understanding your focus on your content.
To be honest, if you're familiar with WordPress editor somehow, then you will find Ghost editor almost identical. Unlink WordPress, Ghost's editor is kinda free of features that ensure a clean editing experience. However, know that if you want to add some FANCY features you will find it tricky, often impossible in Ghost.
Ghost is a trade-off, but it excels in its simplicity and straightforwardness.
WordPress Accessibility
As you already know, WordPress is the largest CMS globally. WordPress powers almost half of the world's websites. Why is telling you this again important?
Because gaining such dominance in this competitive market can only be acquired if the platform is easily accessible to the users. And WordPress absolutely nailed it.
The interface is simple and easily understandable, and things are exactly where you would expect them to be.
While there are numerous editors you can use, WordPress's own Gutenberg editor is something that you can use to prepare your content with perfection. If you are completely new to this, you may find it overwhelming initially as there are lots of options at your fingertips. However, mastering it is just a matter of a few days of practice.
If you keep using WordPress for maybe one week or two, you'll be able to take control of the WordPress editor and do lots of excellent stuff. You won't feel a lack of functionality using WordPress.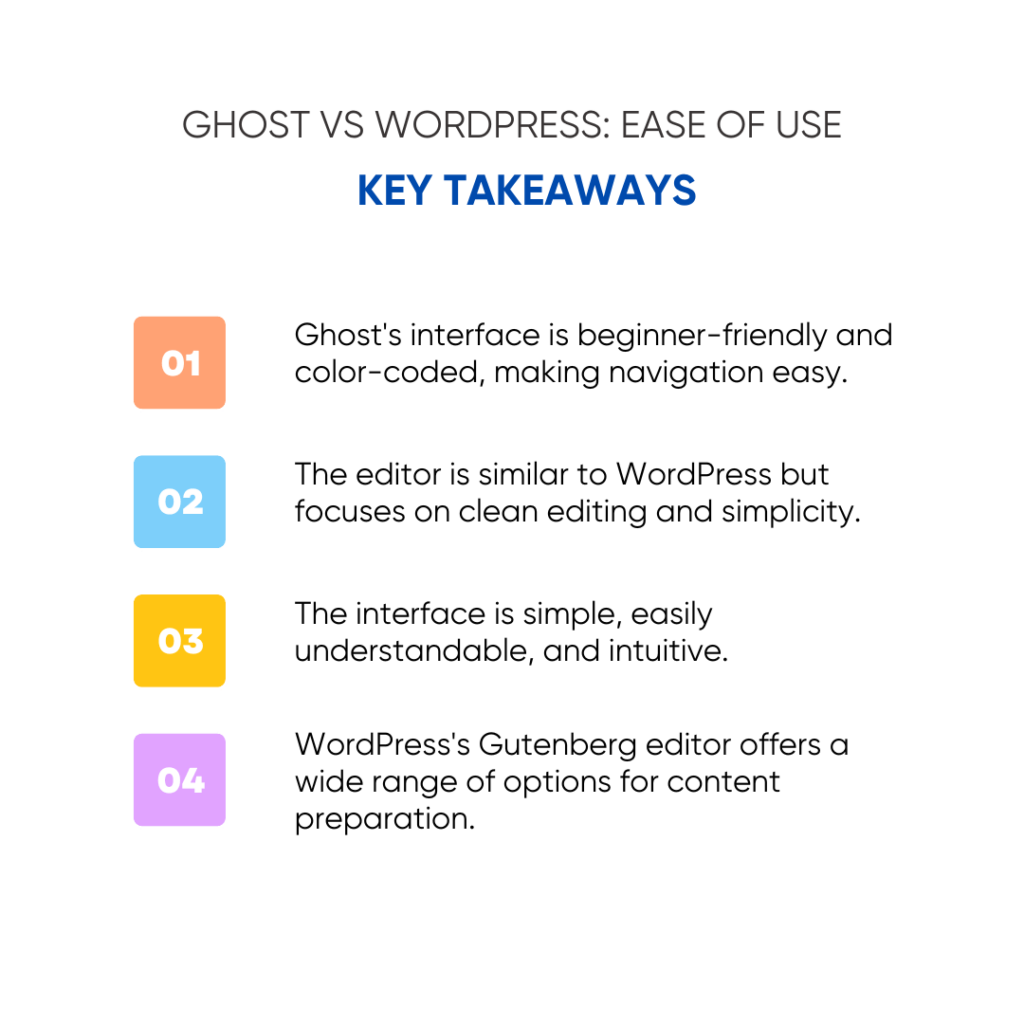 Design: Ghost CMS vs WordPress
To begin, you want a simple and easy way to create a blog with a professional yet interactive design.
Let's see WordPress and Ghost's design handle, customizations, and the whole website-building process.
Ghost Design and Templates
In terms of design and customization options, Ghost is way behind compared to WordPress. Honestly, not even close.
While Ghost offers a theme repository like WordPress, the section of free themes is too small, with just over 20 options available.
If you have a fair budget, you can always start with a premium theme. However, the options are limited; around 100 options to choose from.
The theme customization options are available in the settings panel. You can customize various elements such as the color scheme, fonts, and site logo, allowing you to personalize your website to a certain extent.
You'll also find options to set up your website navigation menus, email opt-in templates, and many more. It operates as a centralized location to handle different aspects of your website's functionality.
If you're looking for a fully customized design, Ghost provides a built-in option to hire theme developers. So, you can collaborate with experts to create a design that aligns flawlessly with your long-term plan.
WordPress — Design and Templates
As we already discussed in this article, WordPress offers a huge collection of free themes that enable you to create and personalize your blog/website. These themes are often feature-rich and optimized for different devices right from the start.
WordPress gives freedom to choose any theme that fits your need, giving your blog a professional and interesting look. Another good thing is that you are never limited to a single design, you can switch themes anytime hassle-free.
Customizing your theme is way easy with WordPress, you can use a built-in WordPress theme customizer. Also, some themes provide their own control panel for further customization.
There is another excellent feature of WordPress; the separation of design and content. This means that when you switch to a new theme, your valuable content remains as it was. This not only ensures a consistent design but also makes it super-easy to switch themes without losing any of your valuable content.
Want more flexibility?
The term "Flexibility" goes better with WordPress. You can combine a theme with a page builder plugin like Elementor. This combination allows you to create custom pages and landing pages effortlessly.
The page builders often come with expertly-designed templates that can be fully customized using a drag-and-drop builder.
With this approach, you can effortlessly build stunning coming soon pages, sales pages, landing pages, and more without knowing a single code.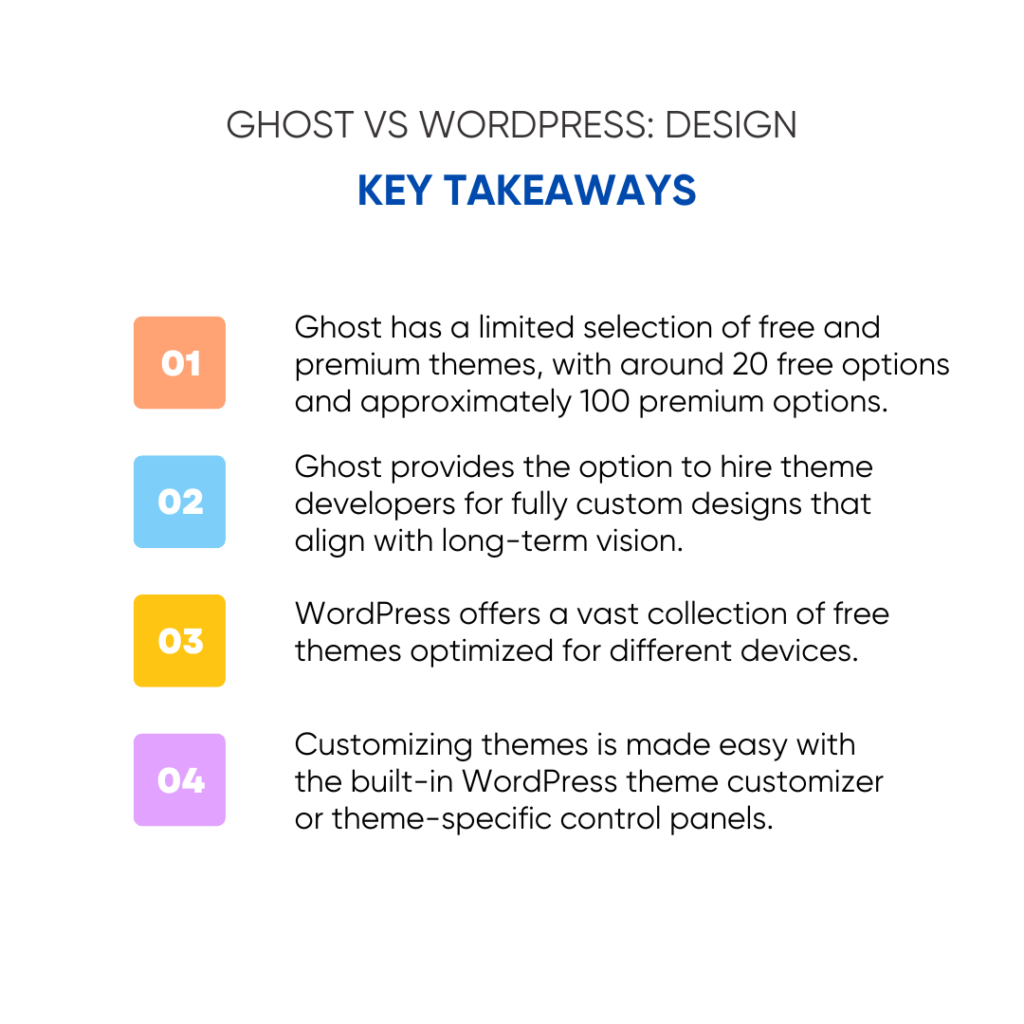 E-commerce: Ghost vs WordPress
Having E-commerce options on your site allows you to sell things online. You can sell subscriptions, products, courses, and many more. So, this is crucial to have it.
Let's check what WordPress and Ghost got for us in this domain.
Ghost E-commerce
Ghost takes a unique move to E-commerce. Unlike typical online stores, Ghost doesn't focus on creating a full-fledged store. Rater offers the option to sell memberships that allow access to your content.
When you write a post on Ghost, you have the control to choose who can access your content. It can be open to the public, restricted to members, or specifically for paid members only.
In essence, Ghost permits you to place your content behind a paywall, making it exclusive for your premium subscribers. This CMS seamlessly integrates this functionality, making it effortless to manage members and create paid newsletters.
WordPress E-commerce
Certainly, for E-commerce, WordPress is unbeatable. To give your WordPress site E-commerce functionality, you can use a free WooCommerce plugin. WooCommerce plugin is incredibly popular and trusted by millions of small or big online business owners worldwide.
With the WooCommerce plugin, you can sell various types of digital or physical products effortlessly.
WooCommerce comes with a built-in collection of add-ons and plugins that enhances and expands the functionality of your online store. There are lots of WooCommerce themes available for you to establish a visually enhanced online shop.
The possibilities for your E-commerce site are virtually endless with WooCommerce. You can sell online courses, paid newsletters, digital and physical products, create content paywalls, and more.
The best thing about WordPress is that you don't need to limit yourself to only one option. There are lots of WooCommerce alternatives you can use to fit your business needs. Some popular alternatives are; BigCommerce, Ecwid, Salesforce, Magento, etc.
Moreover, you have the flexibility to select from a variety of widely used payment gateways like PayPal, Stripe, Square, and many others to make it convenient for your customers to complete purchases.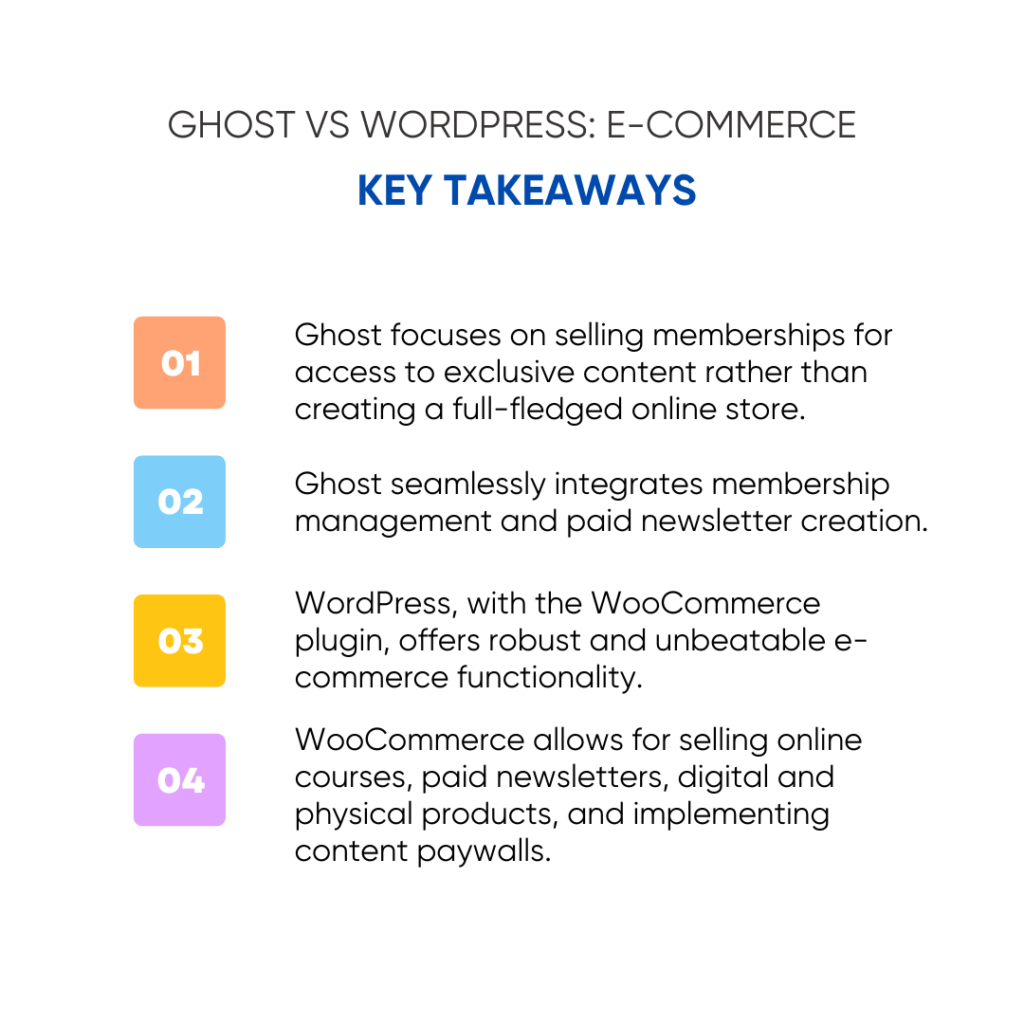 Search Engine Optimization: Best blogging platform for SEO
Who doesn't want to rank high on search engines and generate more website traffic? For this purpose, you need to use the best blogging platform for SEO.
Let's see which platform is offering better for SEO, WordPress or Ghost.
Ghost — SEO
Ghost offers a few features to optimize your posts and pages for search engines. You can control your URLs, permalinks, page titles, and meta descriptions.
The platform offers built-in settings to automatically generate a sitemap for your site, canonical tags to your posts, and integrate with Google Search Console seamlessly.
Moreover, this CMS provides a convenient feature to add multiple authors to your post bylines. This is particularly helpful for multi-author blogs that allow you to showcase each author's contributions.
However, it is essential to note that since a significant portion of your website content will be protected and accessible only to members, it won't be indexed, and ranked on search engines. To get visible in search results, you will need to publish additional content that's free and open to the public.
Enjoying this article?
We regularly publish helpful content on our blog. Subscribe to get them delivered straight to your inbox.
We won't spam you. You can unsubscribe whenever you want.
WordPress — SEO
If you want to do the best SEO for your content, then there is nothing like WordPress. This CMS is a search engine-friendly platform that boosts your website traffic and rankings.
There are all kinds of built-in settings for you to optimize your website and improve your organic growth.
For example, you can easily change your permalink settings to create search-engine-optimized URLs, create categories to organize your content, add tags, edit your image alt text, and more advanced settings!
To supercharge your SEO effort, you have the option to utilize WordPress SEO plugins and tools beyond the default settings.
For example, a plugin like Yoast, and Rank Math can be a game changer in this domain. It allows you to fully optimize your site, even if you don't know complex SEO terms or don't have the resources to hire an SEO expert.
With the plugins mentioned above, you can also gain control over how your site appears on Social platforms. You can set a connection with Google Search Console that enables better visibility and performance tracking.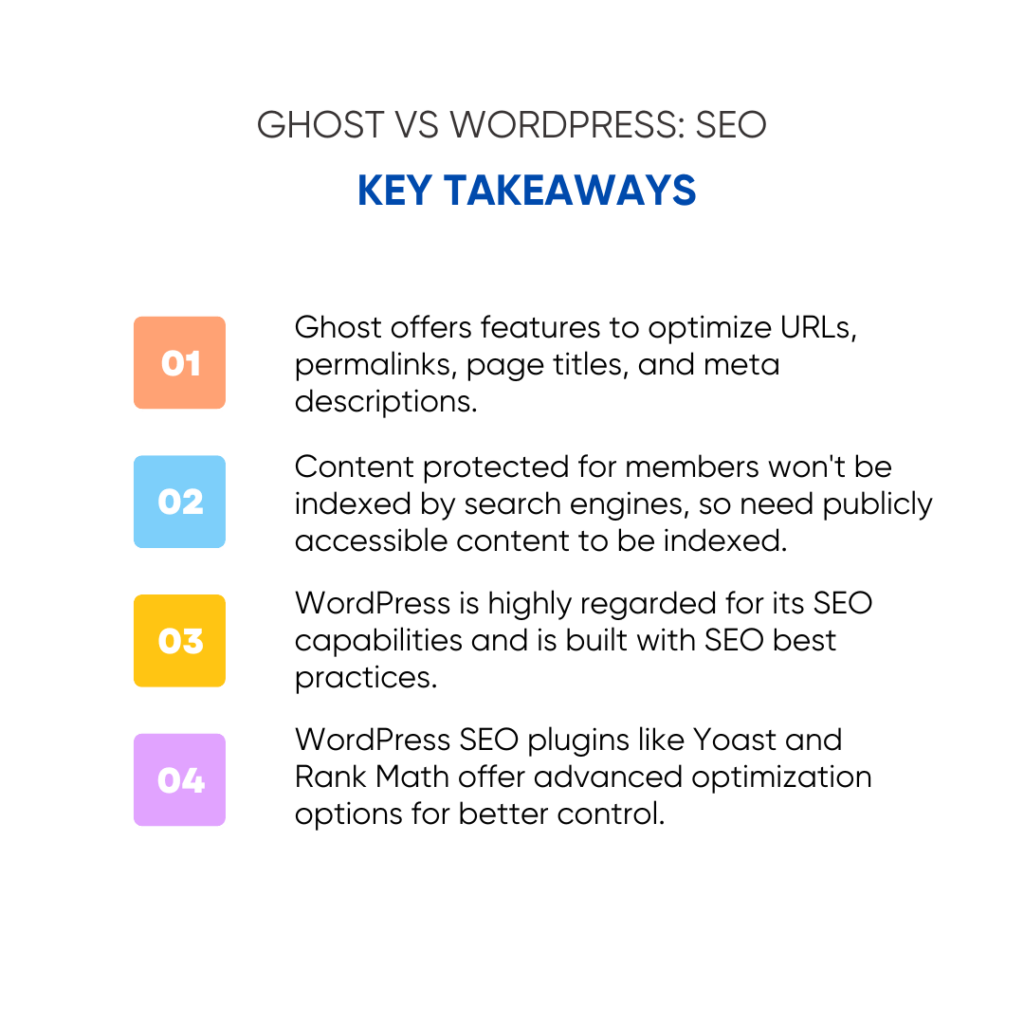 Monetization: The best blogging platform for making money
Creating a website is a part of critical business decisions in most cases. So. it's kinda obvious to care about the monetization options available on the platform. Each CMS has a various set of tools, but no doubt there is a clear winner in the battle of Ghost vs WordPress.
Let's explore what would be the best blogging platform for making money.
Ghost Monetization
Ghost might upset you in terms of monetization as it doesn't offer many options compared to other platforms. It doesn't have a built-in storefront feature as its main focus is on blogging.
However, this good thing is that Ghost supports all the typical blogs to make money. A unique feature is the built-in ability to create a membership site. You can limit access to certain content and make it exclusive for premium members.
Additionally, you can monetize your blog through Ads and Affiliate links like any other website.
If you want to set up an online store in Ghost, you would need to buy Shopify integration. Yes, Shopify is a good platform, but it comes with setup costs and higher transaction fees compared to using WooCommerce, for instance.
WordPress Monetization
WordPress offers endless opportunities for monetizing your website in different ways. You can run ads, become an affiliate, create a membership site, set up an online shop, accept donations, and many more options you can imagine.
The open secret of this versatility lies in WordPress's extensive plugin selection. With the right plugins, you can supercharge your E-commerce venture. And the must-have one is WooCommerce which dominates the E-commerce landscape as a whole.
By leveraging WooCommerce, you can effortlessly set up a full-fledged online store without spending a single PENNY! Whether your shop is small or large, the setup process is entirely FREE.
With WordPress, there are tons of earning potentials, and you can truly monetize your website in any way you desire.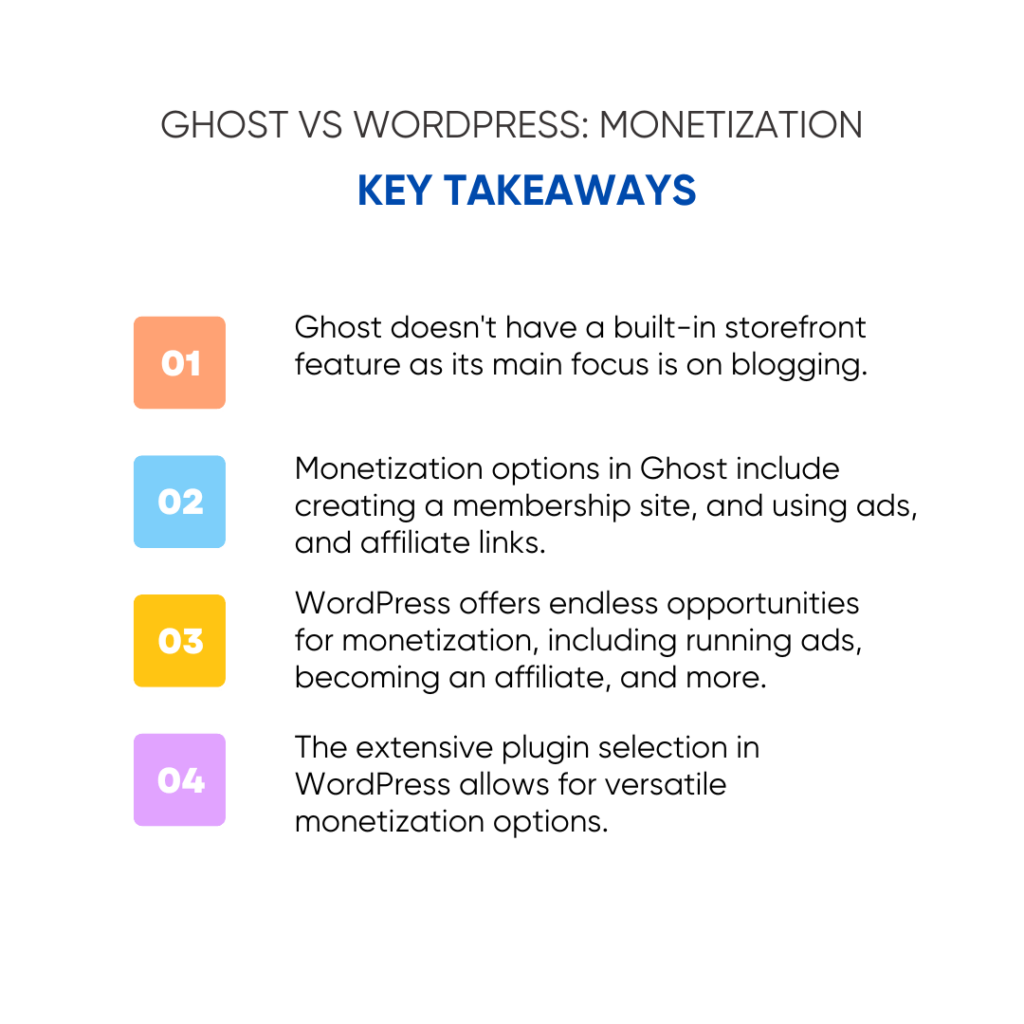 Integrations and Add-ons: Ghost vs WordPress
Certainly, no CMS has everything you need on demand. That's where addons and integrations come into play to give you more functionality and sync your site with 3rd party services.
Let's look at what Ghost and WordPress are doing in this area.
Ghost — Addons and Integrations
Ghost doesn't allow any additional add-ons to get more functionality to your website. All the features are built-in right into the platform.
Don't get too upset. They do have various built-in integrations to link your website with third parties such as Google Analytics, Zaiper, and more.
There are detailed guidelines on how you can integrate them into your blog.
WordPress — Addons and Integrations
WordPress plugins are exactly like your mobile apps that can unlock the full potential of your WordPress site.
Adding new functionality is as simple as installing and activating a plugin.
As we already discussed, the WordPress repository offers a staggering selection of over 59,000 free plugins, and thousands more premium plugins available. And there are also alternative marketplaces where you can find more WordPress plugins and themes. Such as CodeCanyon, Codester, Sell My App, and many more.
With these plugins, you can customize your site with almost any function you would want. Whether it's adding contact forms, setting up Google Analytics tracking, showcasing social feeds, and much more.
Here is more, WordPress seamlessly integrates with tons of popular tools and services that can help you grow your blog/site. This includes widely used email marketing services, market research tools, CRM software, and everything you would look out for.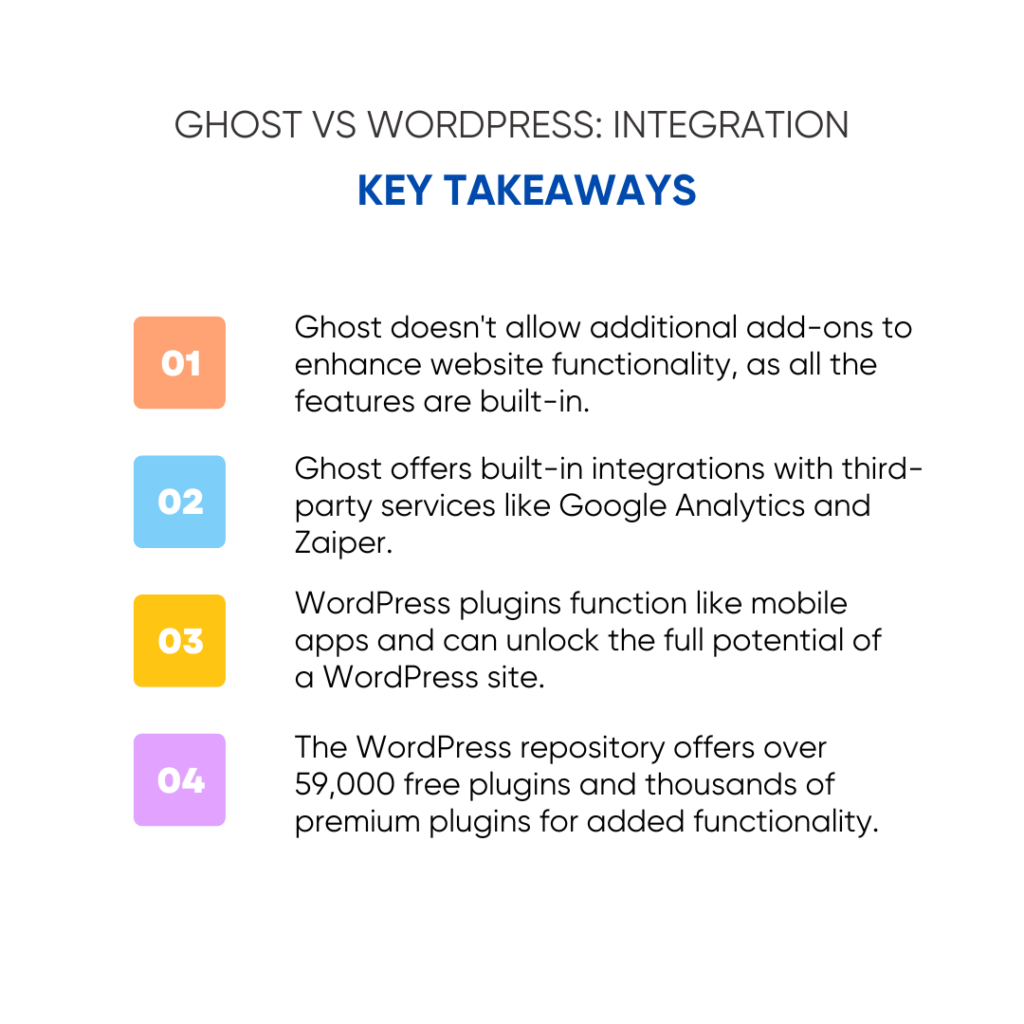 Support system: WordPress vs Ghost
Who doesn't need support, at least at the initial stage? Whether it's a question, adding a new feature, or maybe troubleshooting your site for an error, you hope to have a smooth support system.
Let's explore how WordPress and Ghost support their users.
Ghost — Support
Ghost has an active online support center that provides various detailed instructions to assist you in resolving any issue with their platform.
You can find easy-going tutorials on various topics such as website editing, content publishing, membership management, social media linking, and many more.
In addition to the customer support center, you can contact their support team via email for direct assistance. Ghost also well-maintains a resource section where you can access helpful articles on developing, growing, and maximizing the profitability of your website.
WordPress — Support
The most amazing fact about WordPress is that you can get almost anything for free, so of the support. There's a lot of supportive community available to help you out and also you can get access to WordPress's official support forum, tutorials, and other helpful resources.
The WordPress themes and plugins developer companies have their own dedicated support system on WordPress.org or their respective websites.
Usually, if you have any WordPress-related questions/confusion, a simple Google search can solve your issue.
In case you need more assistance for something you find a bit complex, then you can always hire a WordPress Developer. Due to WordPress's boundless popularity, there are thousands of skilled developers available worldwide, so hiring someone skilled is really affordable.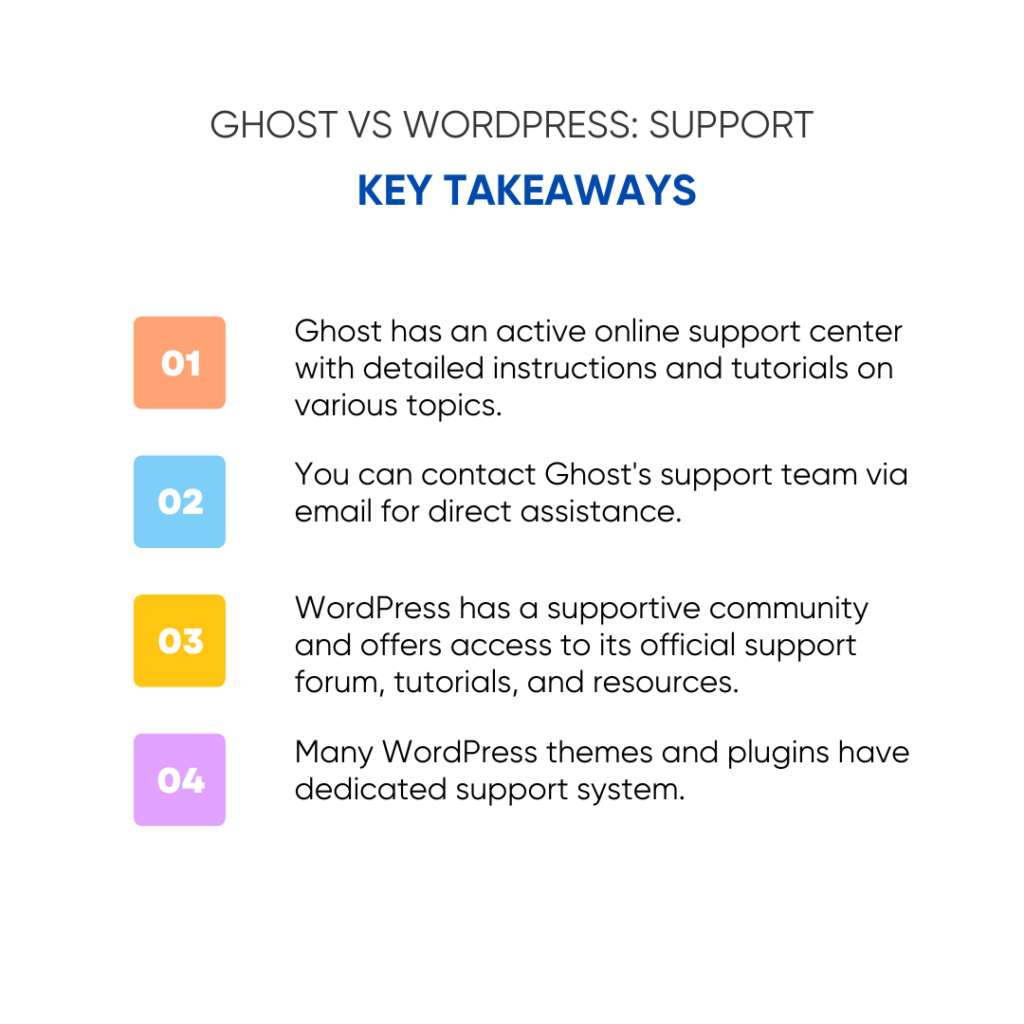 We've done exploring the factors in finding the best content management system software for your website.
Now in the next part, we'll see some website examples that are made of WordPress or Ghost.
Keep on rolling.
5 Ghost website examples
Want to see some real Ghost website examples to better understand how it would look on your site?
Here are some websites that are entirely based on Ghost CMS.
1. Gusto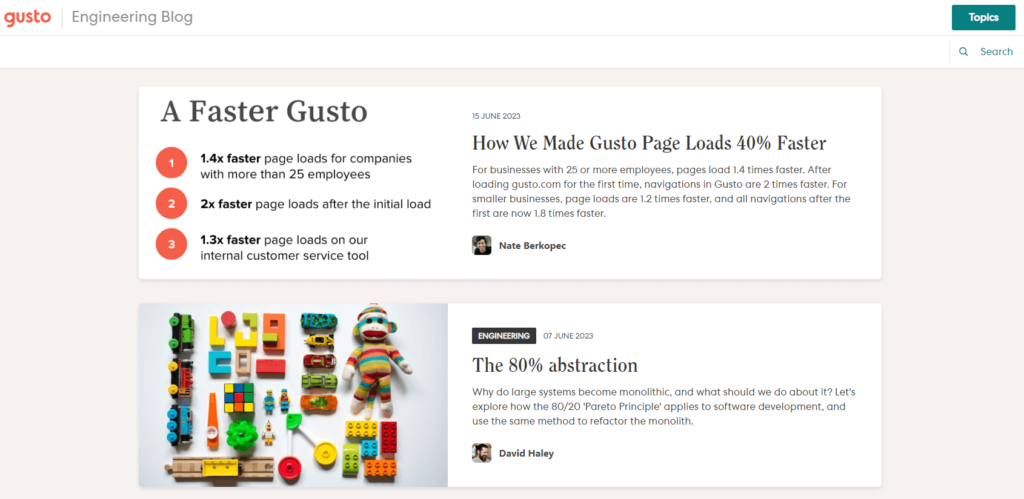 Gusto is an HR and payroll Saas (Software as a Service) provider. Gusto's engineering blog/website has been using Ghost CMS. It provides articles about engineering and growth.
2. Quillette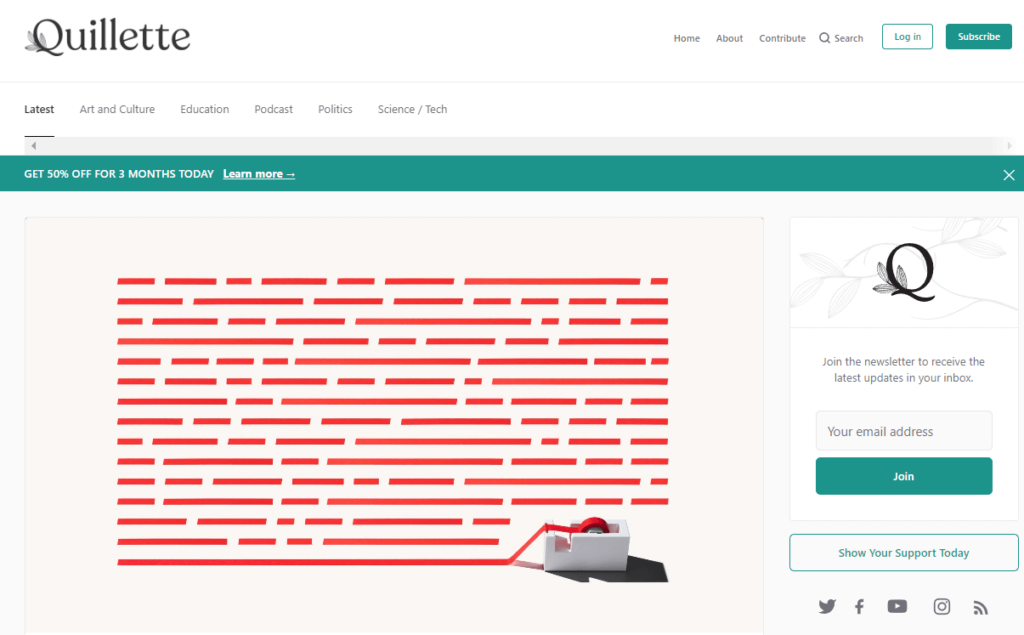 Quillette operates from Australia. It self-hosts and runs its website/blog on the Ghost platform.
3. Yeezy Mafia

Yeezy Mafia is an E-commerce website powered by Ghost. Though Ghost is not recommended for building e-commerce websites, still they did it.
4. Spread Privacy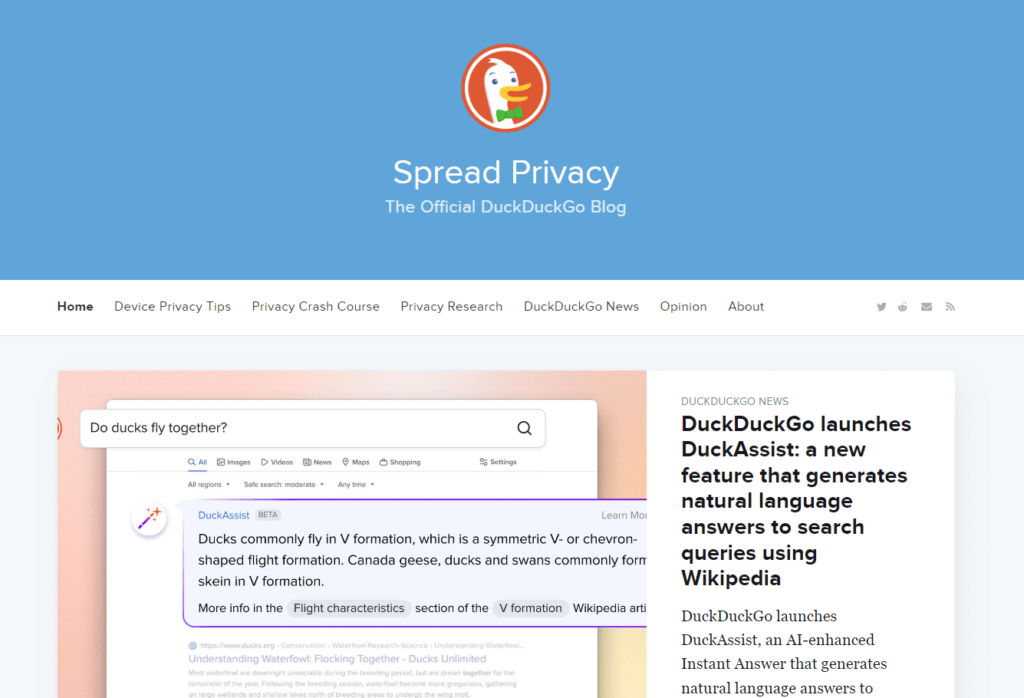 The Spread Privacy is the official blog of DuckDuckGo. This blog is soothing to the eyes and made of Ghost CMS.
5. Betterweb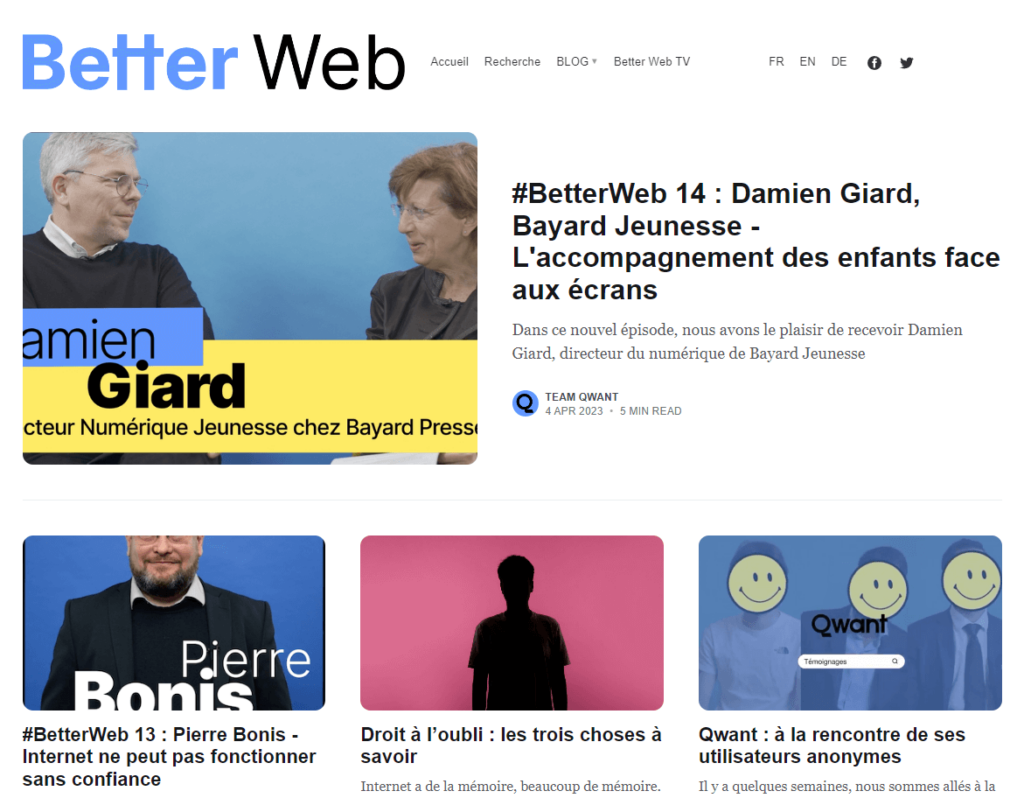 The Betterweb is running on Ghost CMS. The blog comes in 3 languages and is a definitive example of Ghost's multi-language support.
Done with Ghost website examples? Now here are 5 ghost blog examples.
5 Ghost blog examples
Wanna see some Ghost blog examples? Here you go.
1. Clubhouse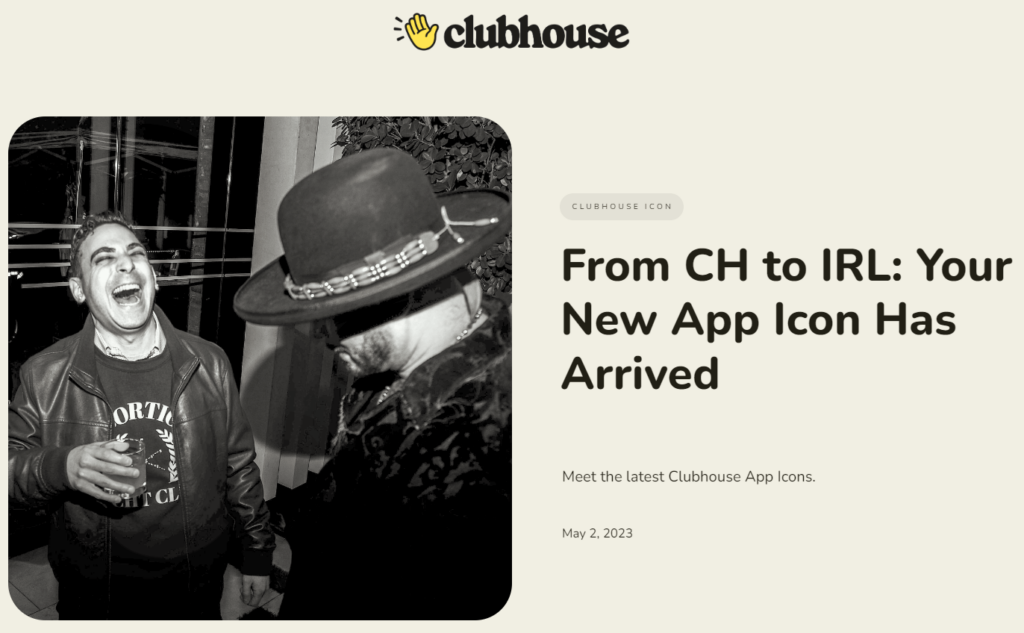 If you are an iPhone user have already heard about Clubhouse. The iOS app gained reviews and attention using Ghost CMS for its blog.
2. Pics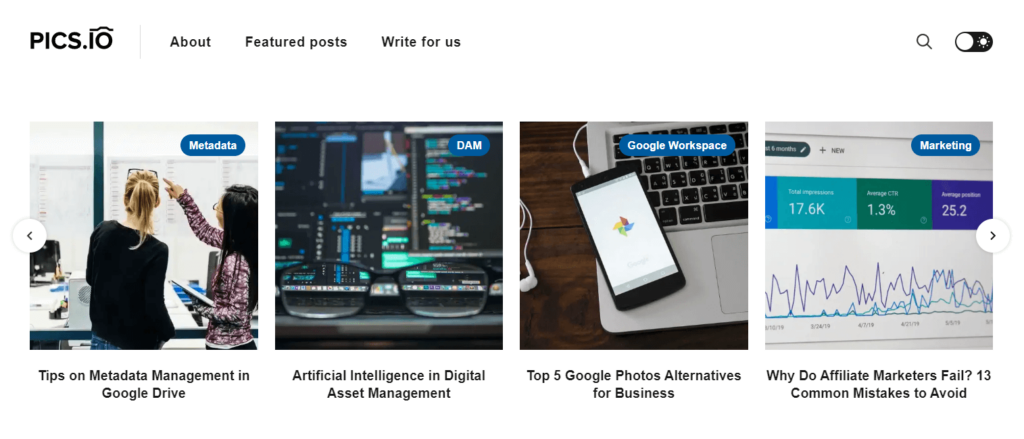 Pics.io aspires to develop a one-stop digital assets hub. They chose Ghost as their CMS for powering their blog.
3. Cloudflare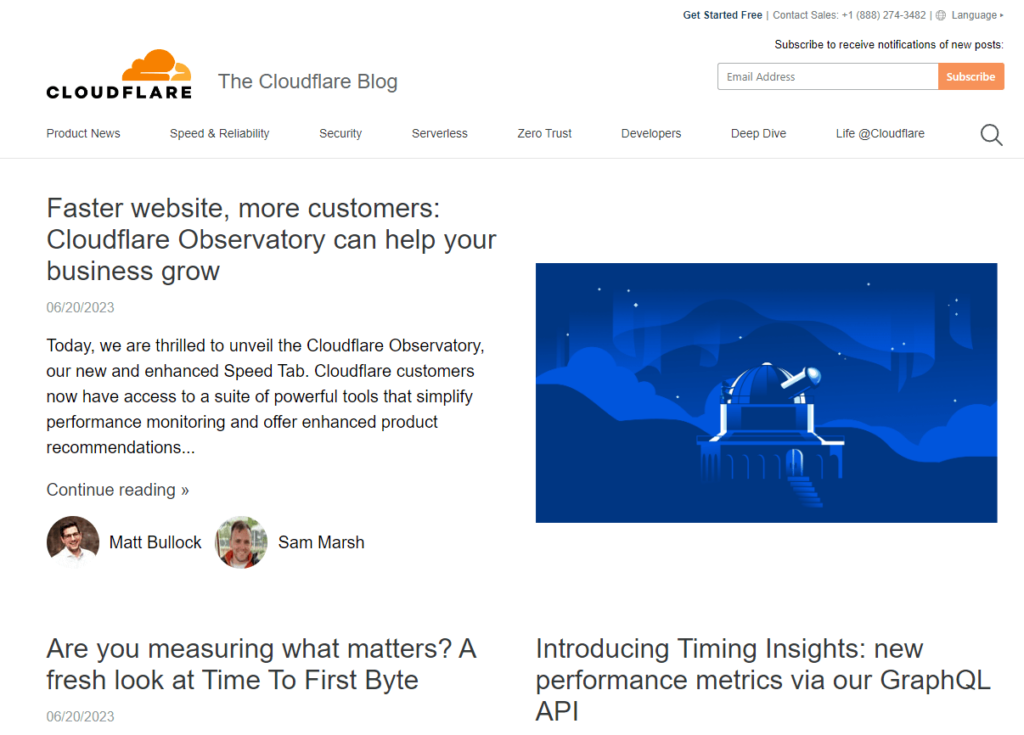 You must have heard about Cloudflare which powers many websites and delivers assets at super speeds. They picked Ghost CMS to run their blog.
4. Guideline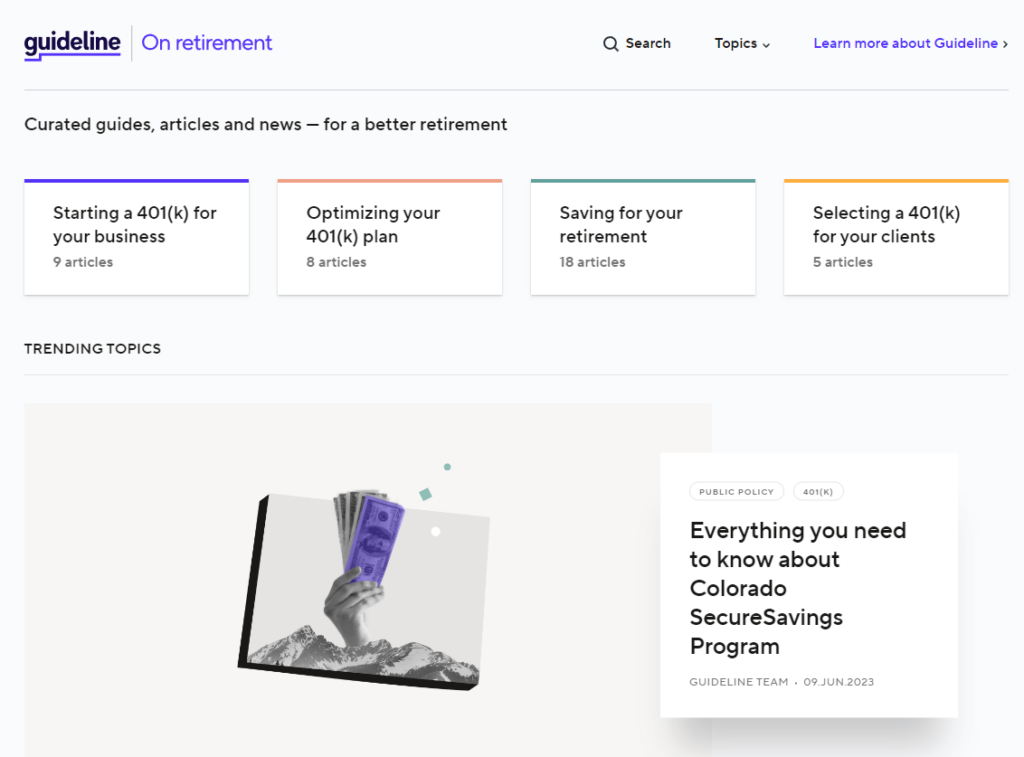 Guideline's intent is to provide everyone with a secure retirement, and their Blog is also built on Ghost.
5. Getaround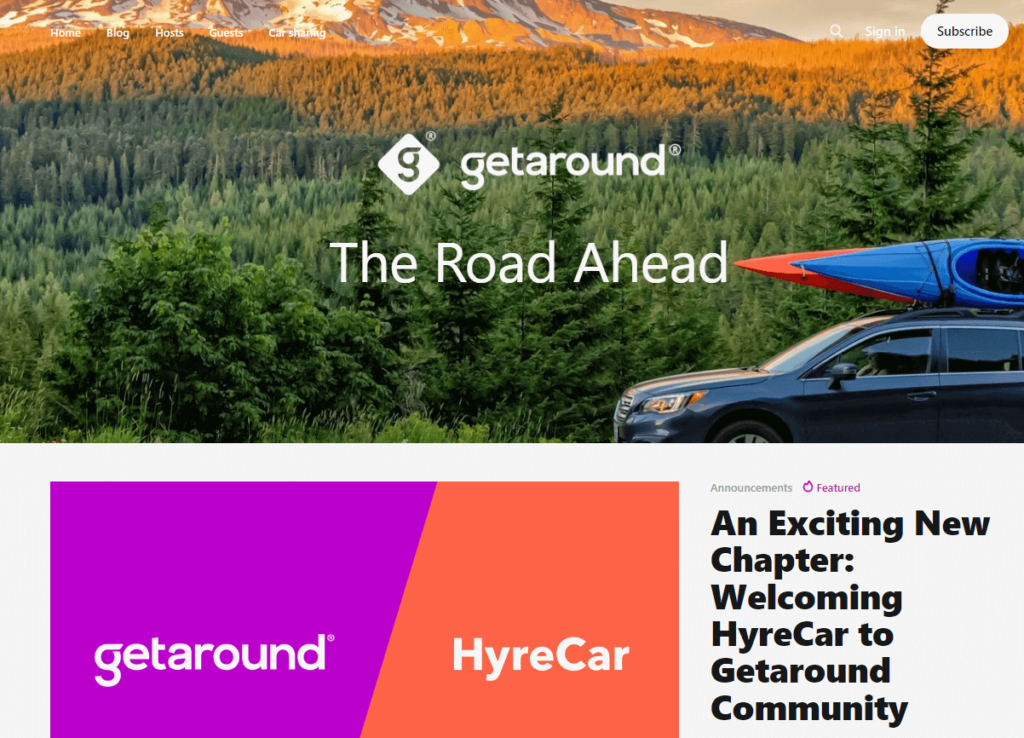 Getaround is a new concept, an alternative to Uber – Getaroun's blog is also hosted with the Ghost platform.
Now, let's move on to the WordPress website examples.
5 WordPress website examples
Here are 5 simple WordPress website examples. Skim through and see who is using WordPress CMS worldwide.
1. The Obama Foundation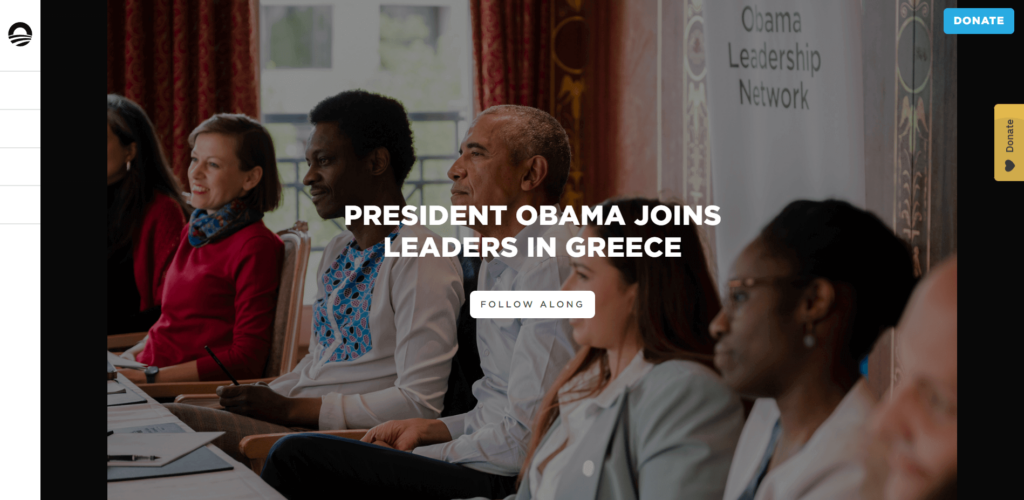 The Obama Foundation is all about inspiring, empowering, and connecting people to change their world. And WordPress ensures the foundation's online presence.
2. Angry Birds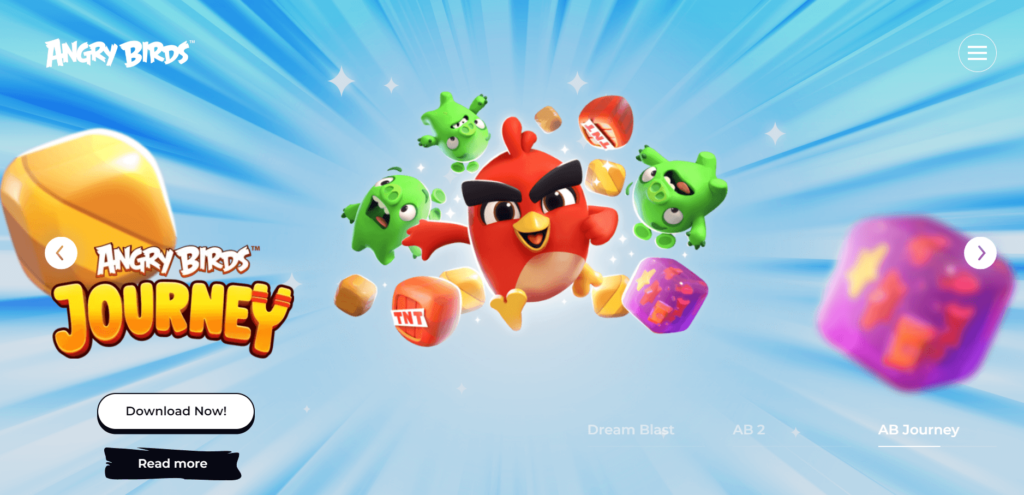 Movie or game, I am sure you know Angry Birds very well! Don't you? And their entertainment business runs on WordPress.
3. American Scraps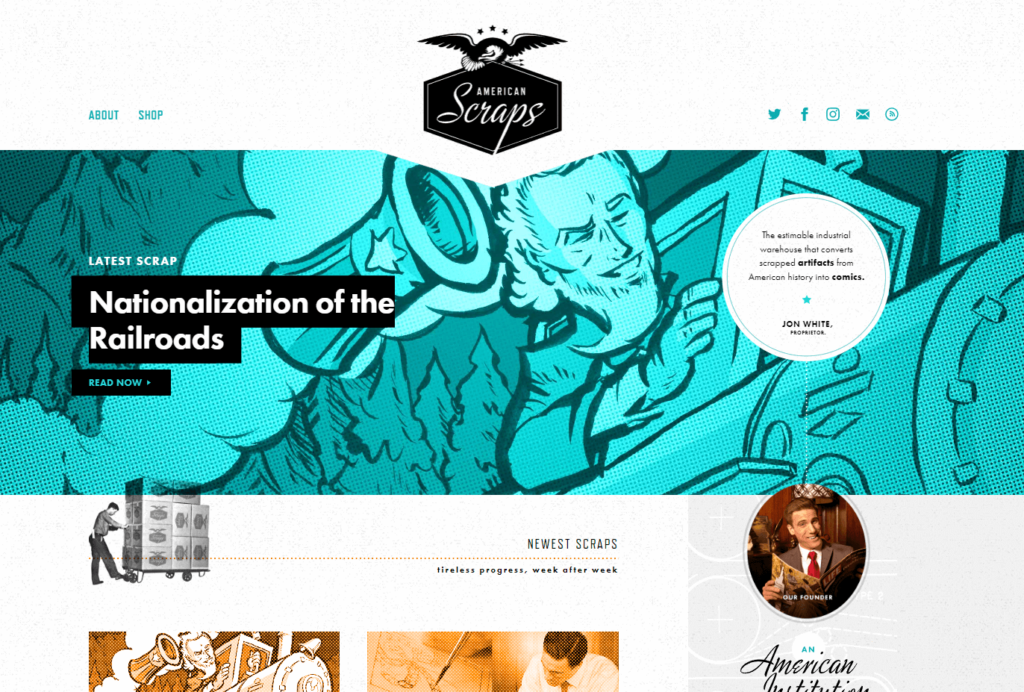 American Scraps turns scrapped artifacts from American history into comics. It's an amazing website built with WordPress.
4. Method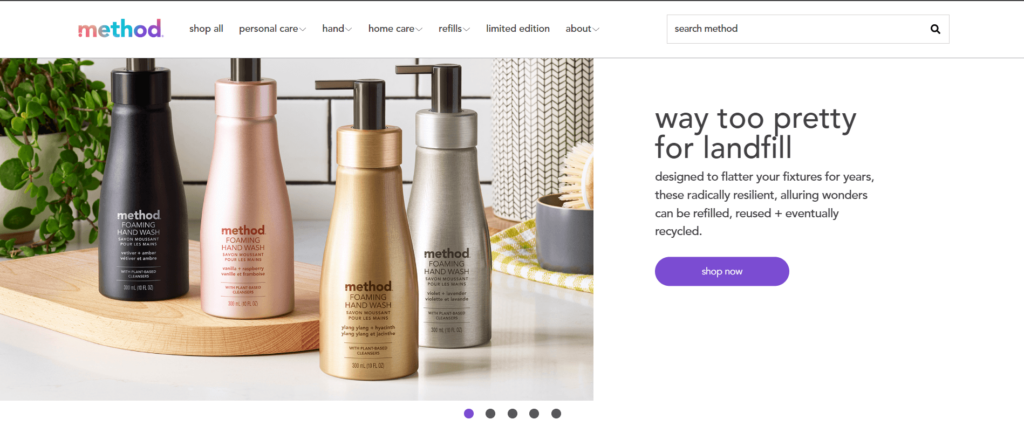 Method manufactures environment-friendly cleaning products. Their website has a mega menu bar on top, colorful backgrounds, and stunning animations. And all done with WordPress.
5. Houston Zoo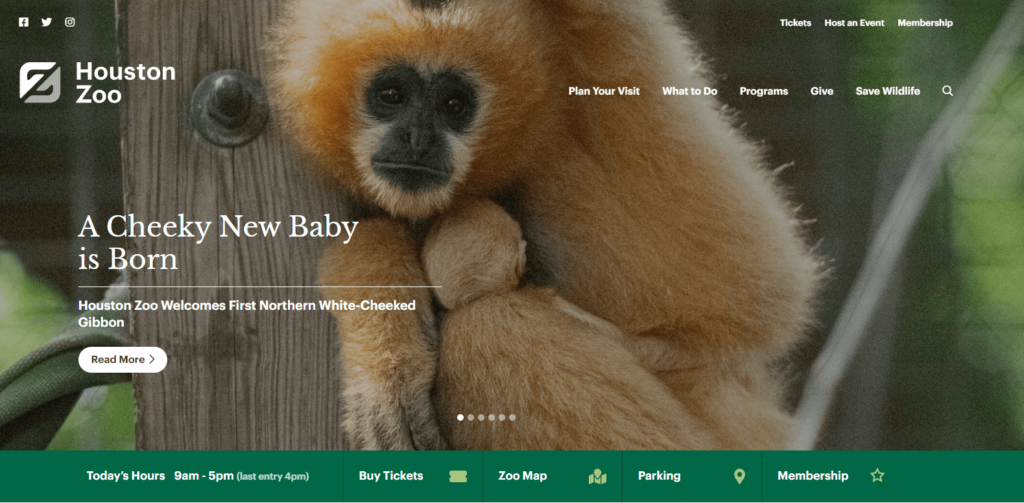 As the name suggests Houston Zoo is the official site of Houston City's zoo. The purpose of the site is to connect communities with animals, inspiring action to save wildlife. And WordPress helps them do it.
We're done with WordPress website examples. Now, here you go with blog examples.
5 WordPress blog examples
Here are 5 WordPress blog examples you might find helpful.
1. Harvard University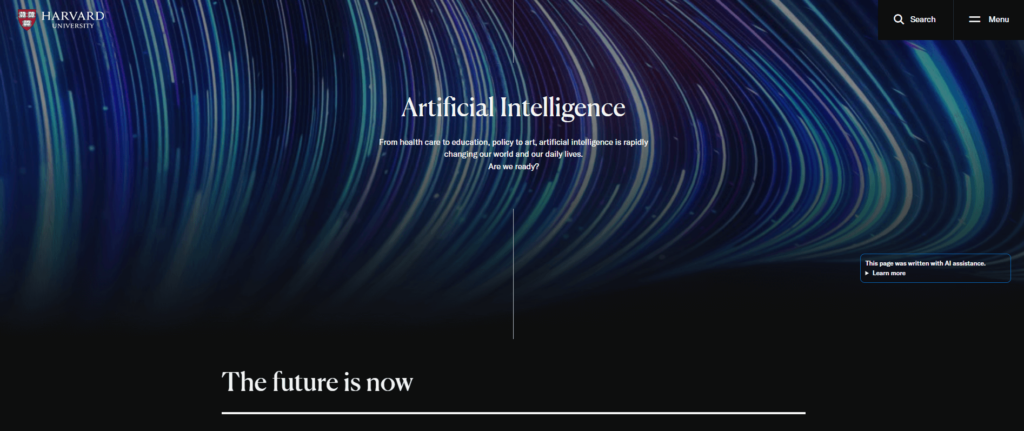 Who doesn't hear about the glory of Harvard University? This top-ranked university's publishing sector is being managed by WordPress.
2. Microsoft Windows blog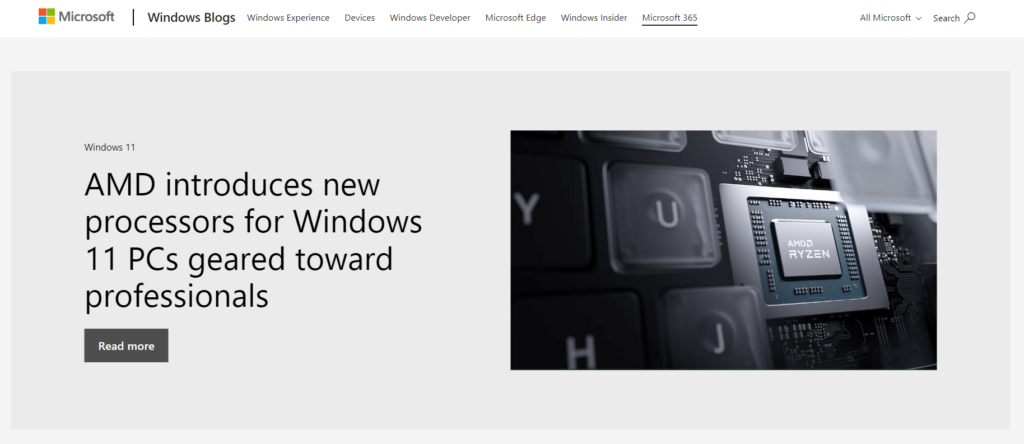 Another giant here on the list. Microsoft's Windows blog is also powered by WordPress.
3. Fluent Forms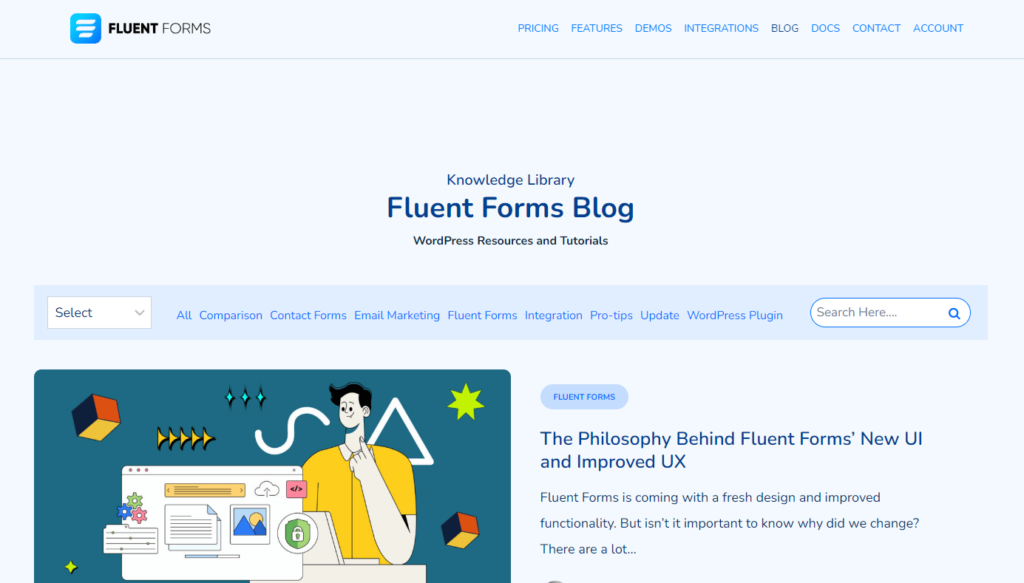 Fluent Forms is the world's most lightweight and user-centric form builder plugin. And Fluent Forms solely rely on WordPress for its publishing activities.
4. Disney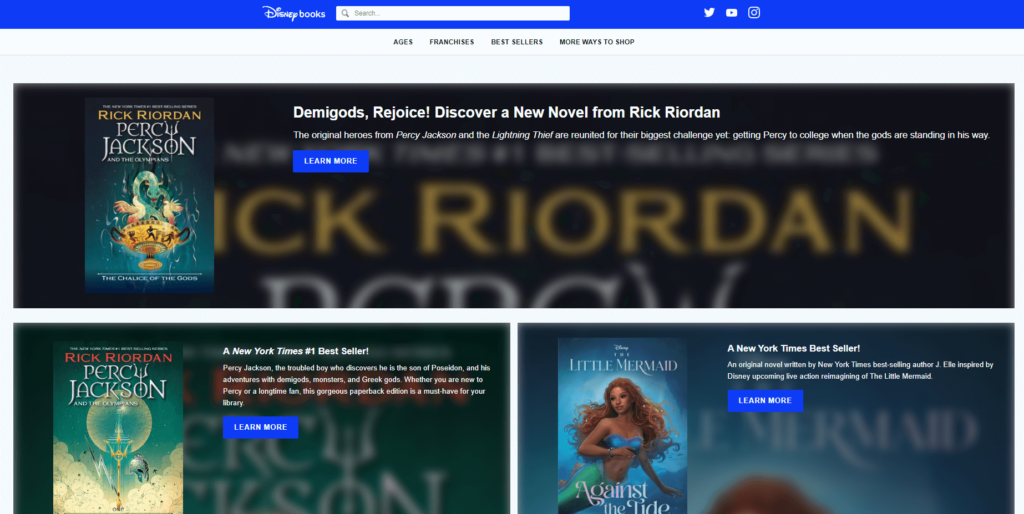 Oh! Loving Disney on the list too. Disney's popular books section is also operated using the WordPress platform.
5. GoDaddy

GoDaddy is a web host company and is widely popular. Their insightful blogs about domain, hosting, servers, and many more are also maintained by WordPress CMS.
Unveiling the winner: Ghost vs WordPress
After an extensive comparison between Ghost vs WordPress, it is pretty clear that WordPress emerges victorious in the battle of CMS titans.
Here are some quick points why WordPress outperforms Ghost:
Market Dominance: WordPress powers almost half of the websites on the internet worldwide, making it the most widely used CMS.
Accessibility: WordPress provides a user-centric interface and reflexive navigation, making it easy for absolute beginners. And the Gutenberg editor offers more extensive functionality for content creation than the Ghost editor.
Design Flexibility: With a vast collection of free and premium resources, WordPress offers limitless design and customization options. Its separation of design and content makes it effortless in switching themes without losing any valuable content.
E-commerce Functionality: WordPress's WooCommerce plugin lets you build powerful online shops with support for various product types and payment methods.
Search Engine Optimization (SEO): WordPress is highly optimized for search engines, with built-in features and plugins like Yoast and Rank Math that enhance website rankings and traffic.
Expansive Plugin Ecosystem: WordPress brags a massive collection of free and premium plugins, enabling users to extend functionality to their websites.
Cost-Effectiveness: it's pretty obvious that In the long run, WordPress costs less than any other CMS available in the market.
Strong Community: In terms of community support and engagement, there is nothing like WordPress at all.
Considering these factors, it is evident that WordPress is superior in all aspects. Thus, WordPress CMS emerges as the winner in this epic showdown against Ghost.
Don't you agree? Leave us your opinion below!
---
Ashik Elahi
Ashik Elahi is a seasoned Digital Marketer with a passion for Content Marketing. He believes in the power of storytelling and crafting valuable content that resonates with readers.