What's New in Fluent Forms 4.3.5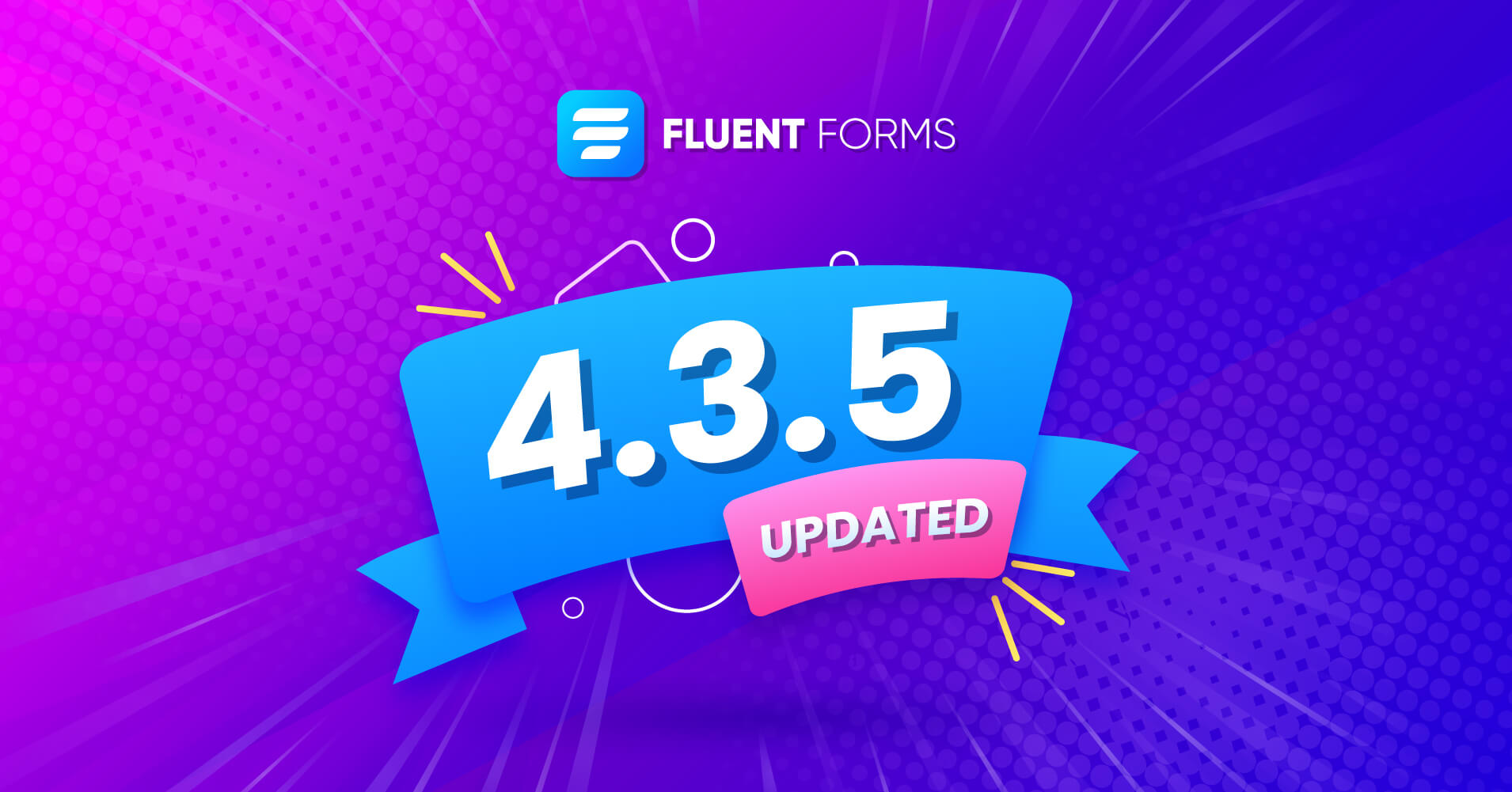 Hi there! A warm welcome to Fluent Forms' latest update. This is the 4th update of the year, and so much to catch on. Don't sweat it, in this article, we'll briefly go through all the main features and updates.
So what are you waiting for? Hop on and have the smoothest ride to the WordPress form builder world!
Fluent Forms native widget for Oxygen Builder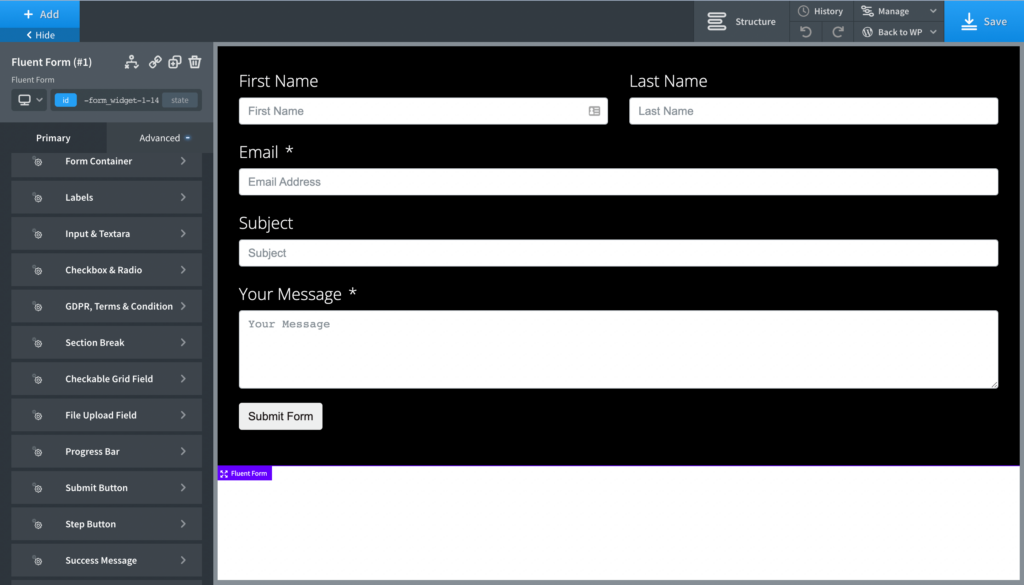 Great news for Oxygen users! Now you can style Fluent Forms inside Oxygen Page Builder and customize the design in your way. Select the form you want to improve and then go through various Oxygen settings. Background color, font size, padding, margin, border, and shadow are the tip of the iceberg. There's a lot more to explore. More to make your form look stunning.
Quiz module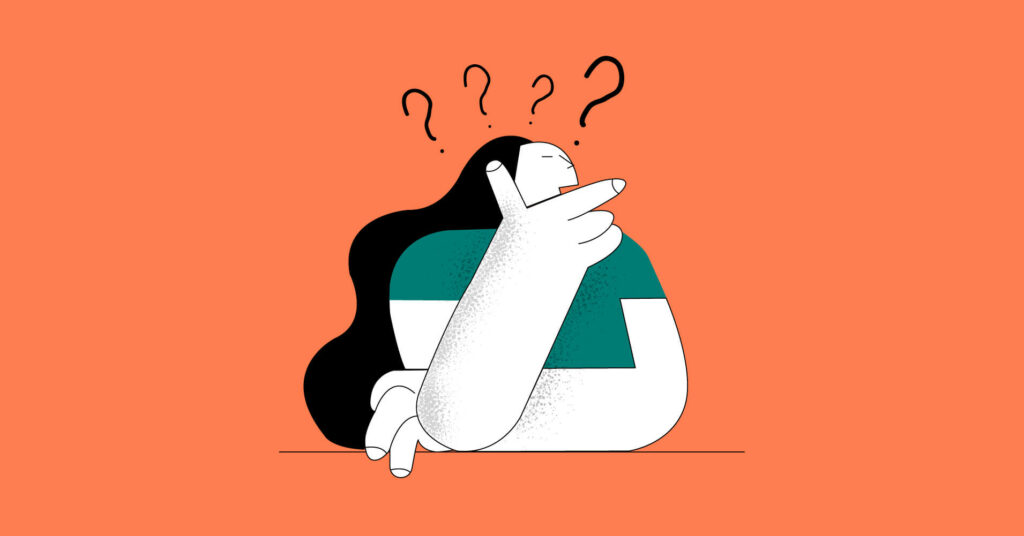 People's been asking us to add this feature to the sack so that they can build questionnaires, and quizzes, take exams and grade them accordingly. This is really amazing to the users as it reduces so much work. It makes the whole online exams so easy and fun that anyone can make a quiz form and make the most of it with Fluent Forms.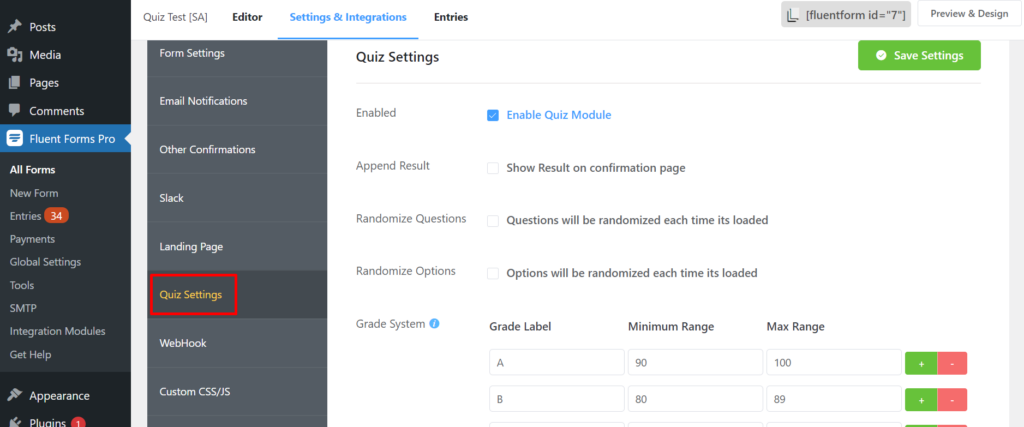 You need to enable the quiz module and add quiz fields to your forms like the radio button field, checkbox field, multiple-choice field, etc. Then go to the Quiz Settings to set up your quiz form. You can set the right answers and assign scores to the questions. Also, set grades to evaluate the answers. To avail this feature, you need to upgrade to pro.
CLI support
Another brilliant leap for Fluent Forms: programmatically manage licenses and forms. By using commands, you can do things faster with Fluent Forms. For example, you can see your form stats: total submissions, unread entries, etc.
Not only that, you can manage your license via command, such as activating or deactivating the license and checking the license status. The CLI support is basic right now, but it is a great start, and we will be improving it gradually.

Did you ever think of a CRM that utilizes familiar chatting platforms? Yes, amoCRM helps you to increase your conversion rate with instant messages!
amoCRM is a web-hosted CRM aimed to assist all sizes of companies. This is a lead and sales management app that allows you to track and analyze the leads from a to z. It also minimizes the managing work and automates most of the monotonous tasks to smoothen your sales funnel.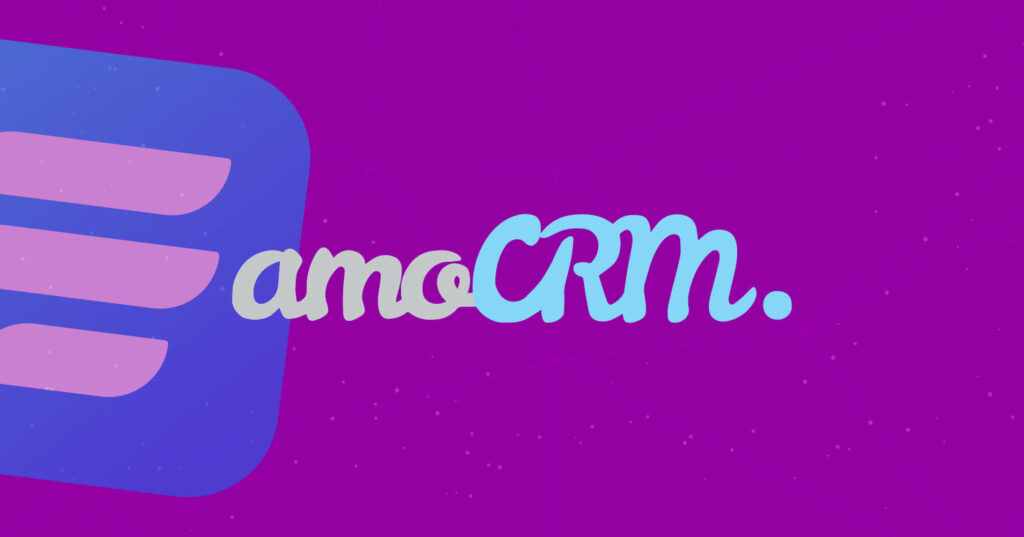 Wondering which messenger apps amoCRM connects with? The most popular ones are – Facebook Messenger, Instagram, Skype, WeChat, Telegram, etc. No matter your target – for better engagement and a futuristic approach, amoCRM will give you the option to deal with your leads in a better way!
Add your CRM with Fluent Forms and get the whole package in one system. Doing it is as simple as drinking your coffee. Just like any other integrations, you need to go to the Integration Modules and toggle on amoCRM.
Next, you need to connect the amoCRM API to Fluent Forms from the Global Settings. Then go to the Settings from All Forms to connect amoCRM to your form—Select Marketing & CRM Integrations from the left sidebar. Hover over the Add New Integration, and you will see amoCRM integration from the drop-down menu.
Now hover over Fluent Forms Pro and go to the Global Settings as shown in the image below.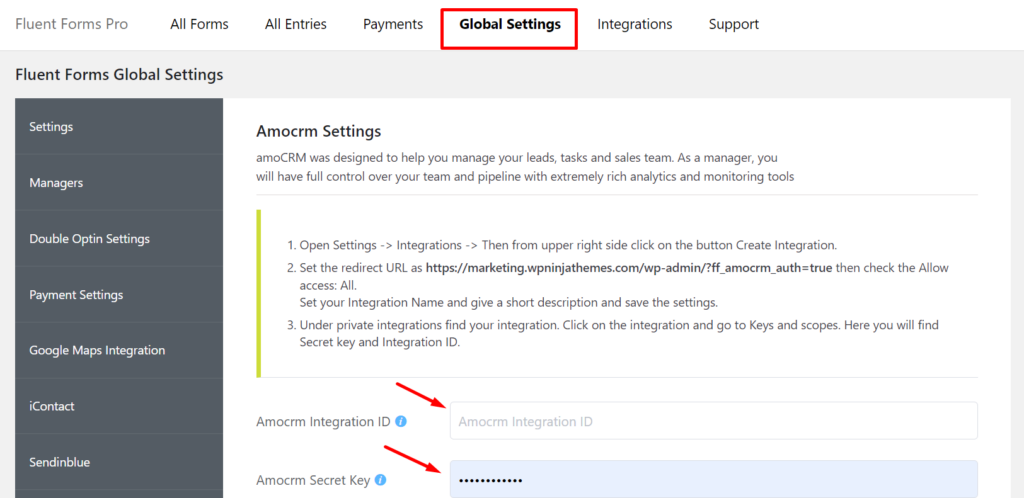 Another CRM that comes along with this update is OnePageCRM. This is a web-based, action-focused app that helps you to notch up your upward sales curve. OnePageCRM combines a proven sales methodology with the elements of GTD (Getting Things Done) and Unique Next Action sale tricks. OnePageCRM keeps the product agile and effective with a range of functions from contact management to sales reporting, ensuring to leave no prospects behind and nothing to slip out of your hands.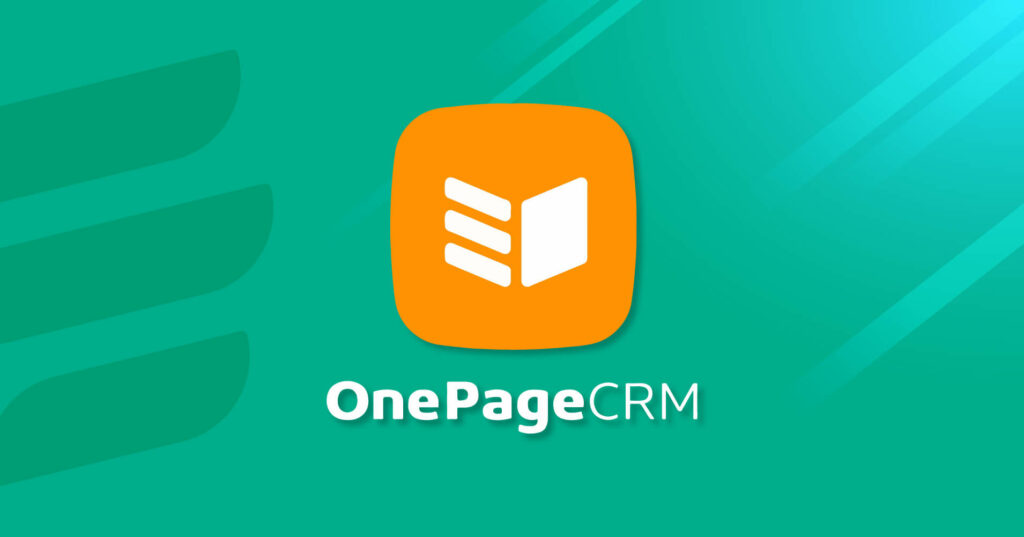 In this update, you can directly integrate this amazing OnePageCRM with Fluent Forms to get your conversion curve to spike up!
The process is similar to any other CRM integration with Fluent Forms. You can read our doc if you want to learn in detail.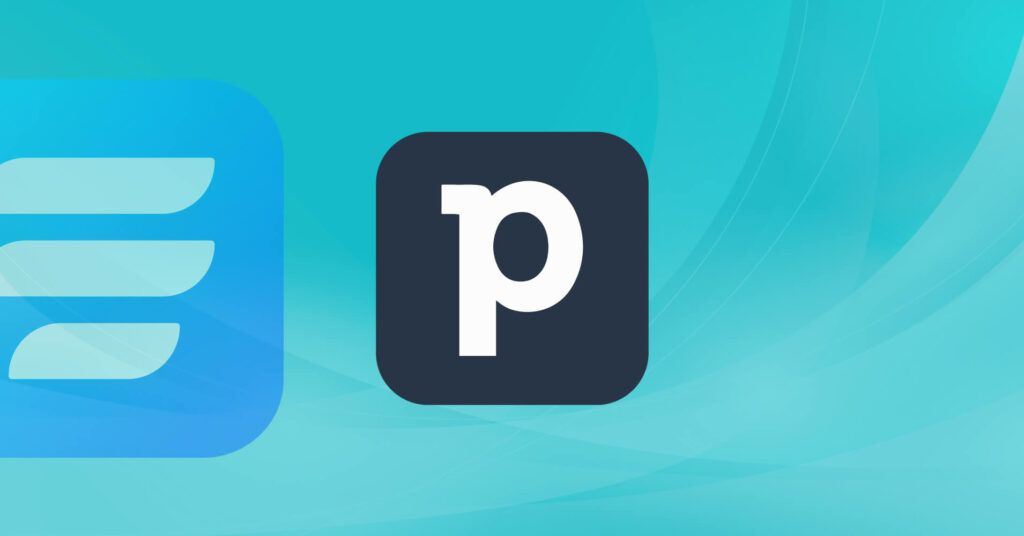 Finding the best CRM tool for your business can be overwhelming sometimes. As there are too many fishes in the sea, and while it's tempting to make a hasty decision, you first need to research what's out there and what are the offerings. Pipedrive is one of the easy-to-use CRM tools in the market and they claim to help you sell 28% more.
Now Fluent Forms is offering native integration to this amazing Sales CRM Software. Fluent Forms and a CRM are always match made in heaven for your boost in the conversion rates. Integrating Pipedrive is as easy as the other ones too.
More updates and improvements
Now for the other fun stuff. Remember, Fluent Forms never disappoints. With every update, you get a lot more flexibility, functionalities, and a chunk of bugs removed!
1. Smart search is available in chained select now.
2. Forms can be rendered via a function call within the theme.
3. Sometimes, the admin wants to save the form submission file to the media library for further use. And that's why we are giving you this opportunity to store and utilize the files at their best.
4. We have improved Zoho CRM integrations in this version. Now you'll get phone number and other data center support for Zoho CRM inside Fluent Forms.
5. Another great feature is email notification support for failed integrations so that you can fix the issue whenever needed.
6. Fluent Forms has MailerLite integration where you can add subscribers to your MailerLite list. Now we're also offering resubscribe option from Fluent Forms.
Take a breath, there are still a bunch of small updates and bugs fixed in this update –
Help message/tooltip positioning fixed
Subscription field support for conditional logic
"Paid" string translation is not applying to all places issue fixed
The payment entries table style issue got fixed in this update too
The dynamic default value in payment
Fixed automatic payment method selection bug
Added digit validation rule for a numeric field
The deactivated form will be blurred to be distinguished
Payment item 0 submit issue fixed
Mail notification when API call failed
IP and landing URL Mautic
Wrapping up
We are thrilled to bring more updates and more smiles to our users' faces.
The Fluent Forms team always prioritizes the user experience and keeps the promises we make.
As our family is getting bigger, we are more focused than ever, delivering high-quality products, a maintainable codebase, and always keeping our products lighting-fast.
Stay tuned for the latest updates.
Moreover, if you have any queries, comment below. Furthermore, our social media channels are rich in tutorials, news, and updates on Fluent Forms. Don't forget to visit. You can also join our Facebook community group if you want.