Best WordPress CRM Plugins in 2023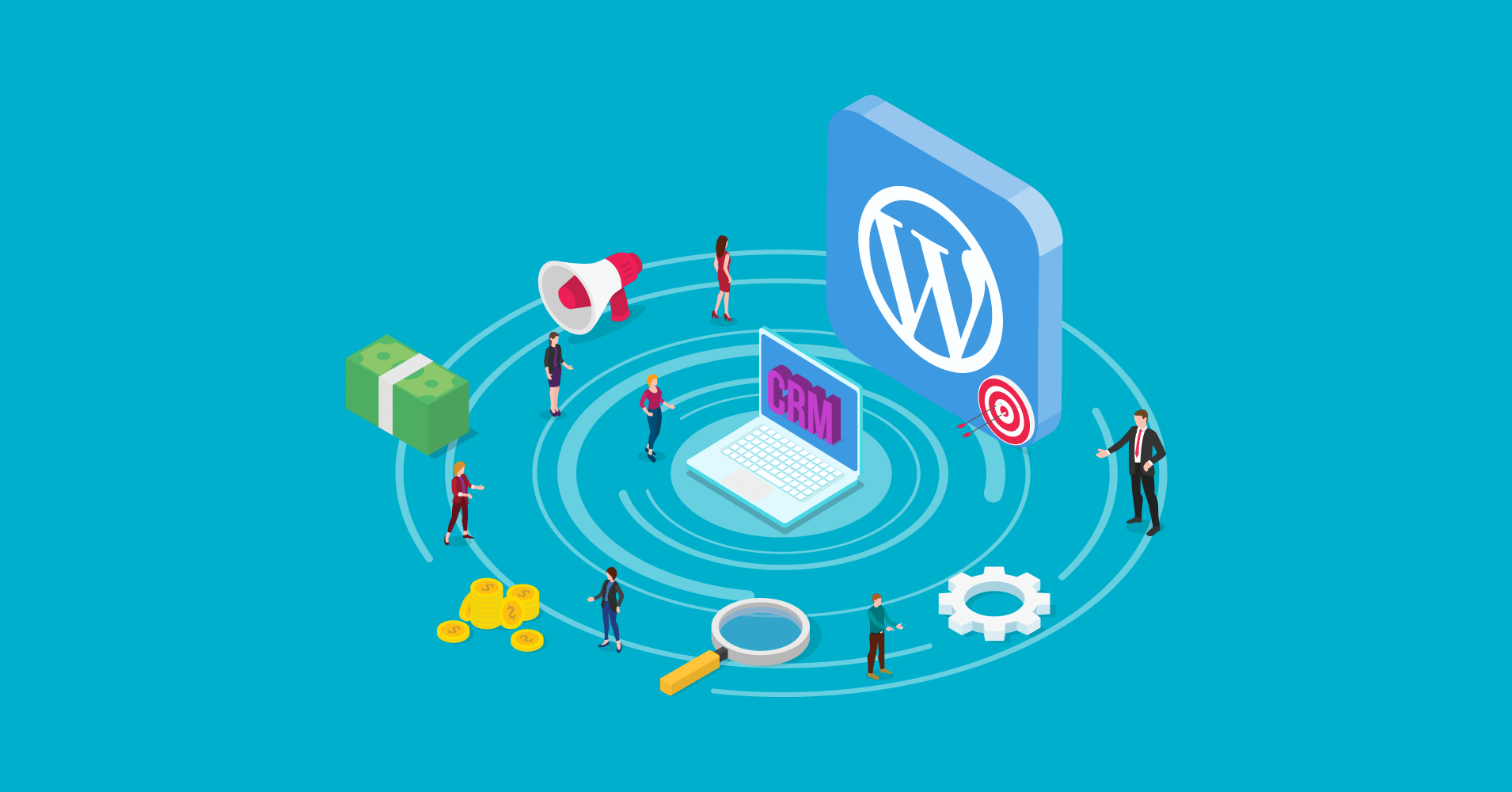 If you want a profitable online business, you must establish a smooth relationship with your customers.
Customer Relationship Management (CRM) systems are very powerful tools that help you understand your customers throughout their entire customer lifecycle.
You can collect users' data and analyze them to reveal the pain points and hidden opportunities. WordPress CRM plugins can be the most commanding product in your business.
WordPress CRM software plays a very important role in your business growth; you must know the CRM system inside out.
There are tons of plugins in the market. But which is the best fit for your business? In this article, we will learn about the best WordPress CRM plugins, their features, and pricing to help you choose the perfect one for you.
Fluent Forms is the most beginner-friendly form builder. Download now and start crafting beautiful forms FREE!!!
What is a CRM software
CRM is a tool for managing your company's interactions and relationships with customers and potential customers. The goal is very simple: help companies stay connected with the customers, streamline processes, and ultimately grow your business.
A CRM solution helps you focus on sorting all aspects of customer relationships into a database and making it easily accessible.
These tools are incredibly useful in increasing sales, building customer relationships, and providing amazing customer services. Your customers get more personalized, more attentive, and highly efficient service.
How to choose the best WordPress CRM plugin
WordPress CRM plugin is one of the mandatory tools that every company needs. Some may need a simple solution; others may want advanced features and integrations. There are a handful of good CRM plugins out there to choose from. We will point out the must-have features a CRM should have to help you choose the right one.
Your CRM should have the complete lead capture system with a form builder in it. This also should be easy to use as you and your team will be using CRM software for several hours every day. A clean and straightforward interface is always recommended for CRM not to complicate things.
Cloud base and mobile-friendliness are the next things you should look out for in a good CRM. Cloud base CRM makes it pretty simple to integrate with other platforms, access from anywhere, and analyze your data from any device.
A good reporting module is a crying need for CRM software, as it's not only a data book for storing your customers' information. Charts and printable reports always help to get the inside story better.
Look for all in one email marketing solution as trying different tools can be time and money-consuming. From email scheduling to newsletter solutions, running automation to tracking performance if all can be found in one place, getting these in one tool could be a real gem.
Make sure your CRM has multiple databases for storing and using according to your targeted audience.
When you manage customer relationships, you need to integrate other platforms and services to make the most out of it. Usually, CRMs come with multiple integrations, but all of them may not come in handy for your business.
Always make sure your CRM has the integrations you are looking for.
Tagging, different filtering, and search options for easily locating the customers and groups you need. You can easily make customized funnels for different groups to make the conversion path easier for them.
Make a feature list you want in your CRM to grow your business. This will help you to get a clear idea about what you want in your CRM and what not.
Best WordPress CRM plugins to grow your business in 2022
To help you choose, we weed through all the options available, here are the best WordPress CRM plugins in 2022 worth looking into.
HubSpot WordPress CRM (Free) – One of the best CRM tools in the market
Salesflare – Powerful CRM to scale up your business
FluentCRM – The best self-hosted CRM and email marketing solution
UpiCRM (Free) – The best free WordPress CRM
JetPack – A complete WordPress CRM package
WP ERP – One of the best CRM solutions
HubSpot CRM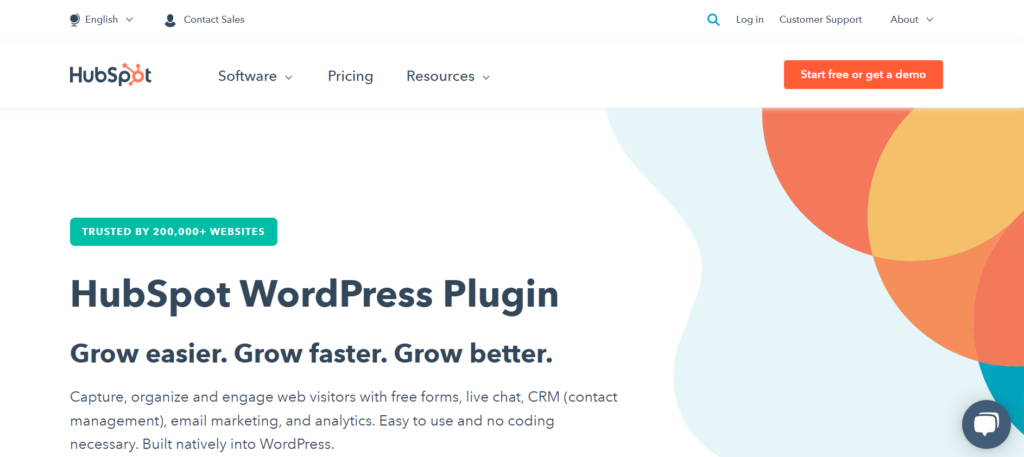 HubSpot CRM allows you to track, organize, and nurture leads and customers easily. This plugin is not only a CRM but also a complete package. You can create forms, run live chat, send automated emails, analyze the growth, and so on. 
You do not need to go back and forth between CRM and CMS to test campaigns, track growth. With HubSpot WordPress CRM, you can view all your analytics and stuff inside your WordPress dashboard.
Furthermore, this plugin integrates with a bunch of WordPress popular plugins like Fluent Forms, Gravity Forms, WooCommerce, Paypal, Stripe, Zapier, etc. 
It's an excellent free tool for businesses that are looking to handle their customer relationships on a budget but with plenty of space and additional features for scaling up their business.
Price: The best part is you don't have to spend a dime to use HubSpot CRM. Yes, it's totally free.
FluentCRM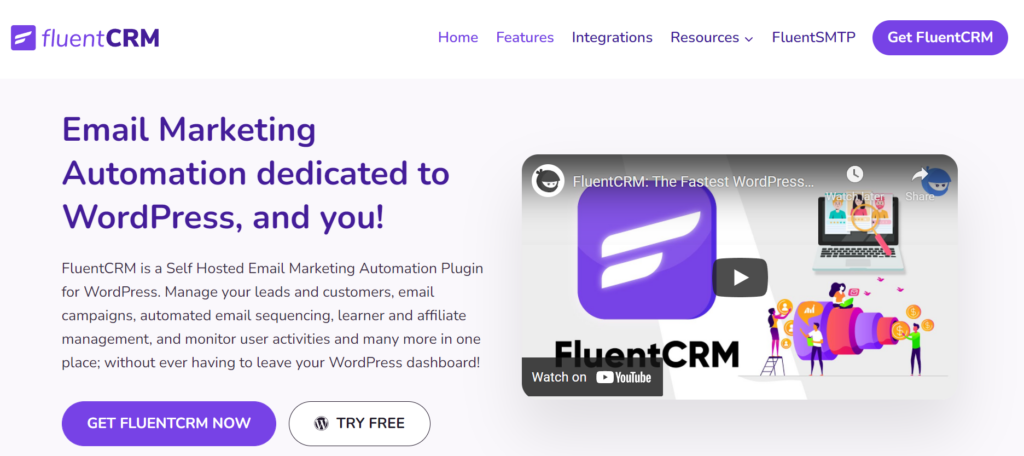 FluentCRM is one of the most feature-rich CRM and Email Marketing solutions. You can quickly run automated email campaigns, segment contacts for personalized content, manage your customer relationships, build funnels, and boost your conversion rates.
FluentCRM includes a user-friendly email builder for your WordPress dashboard to compose an email. You can compose an email from scratch, create reusable email templates, and can optimize with the help of A/B testing. FluentCRM also allows you to enroll contacts manually or set trigger events to create contacts.
This WordPress CRM also comes with many important integrations like WooCommerce, AffiliateWP, LearnDash, Fluent Forms, BuddyBoss, Fluent Support, MemberPress, and then some. However, FluentCRM is a self-hosted CRM – you will be responsible for storing all data generated in this plugin.
Price: FluentCRM is priced at $129 per year for a single-site license, $249 per year for a five-site license, or $499 per year for a 50-site license. They have a free version that can be the best WordPress CRM for small businesses. 
Salesflare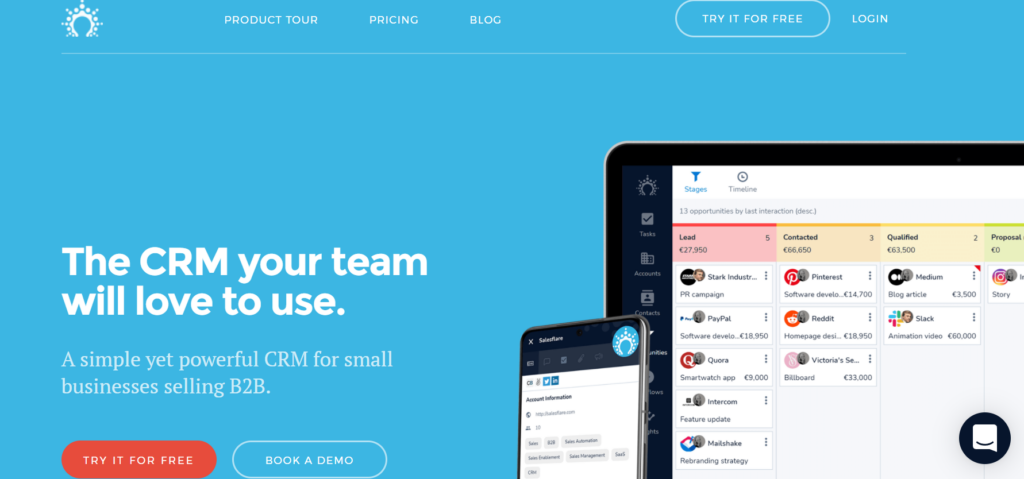 A good CRM goal should be less work and more sales. Salesflare is a powerful CRM tool that helps you to store your customer data as you interact with them. You should not spend most of your time gathering customer information. You can automate these tasks with Salesflare and keep an organized set of folders for each customer on your roster. As Salesflare integrates with WordPress, follow-ups become easy once you base your customer off click rates, tracking their activities on your website, and email opens right from your WordPress dashboard. 
Over 100,000 businesses have used it to refine their sales pipeline with features like sales forecasting, email marketing automation, opportunity management, and a mobile app that lets you access your dashboard so you can work on the go.
The simplicity of Salesflare integrates with tools like Mailchimp, Quickbooks, Slack, Drip, Basecamp, and more. 
Be aware, Salesforce is a robust CRM with plenty of features and integrations. So while it might not always be the best choice for smaller businesses on a budget, it's equipped to handle all your lead management needs at scale.
Price: Salesflare offers a free trial. Their plan starts at $29 per month per user.
UpiCRM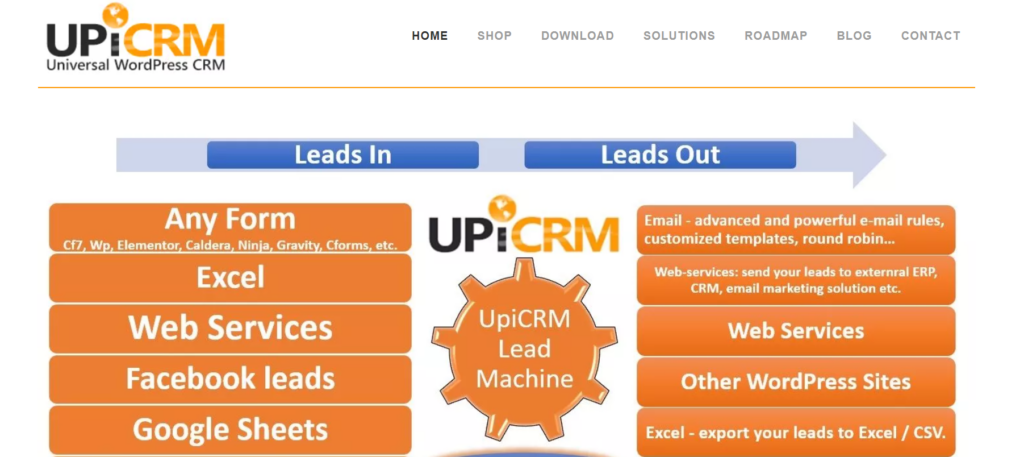 UpiCRM is another one geared for ultimate lead management. It's a free, easy solution for your WordPress website to handle your customer and grow your business according to your plan. It's lightweight but comes with integrated intelligence, which helps you to improve your marketing and conversion rate. This allows you to delegate leads to team members and keep track of tasks for each deal. Additionally, UpiCRM aggregates all leads from form tools into a single repository. You can import leads from many sources like Facebook and Google Sheets.
Price: UpiCRM is a free plugin.
Jetpack WordPress CRM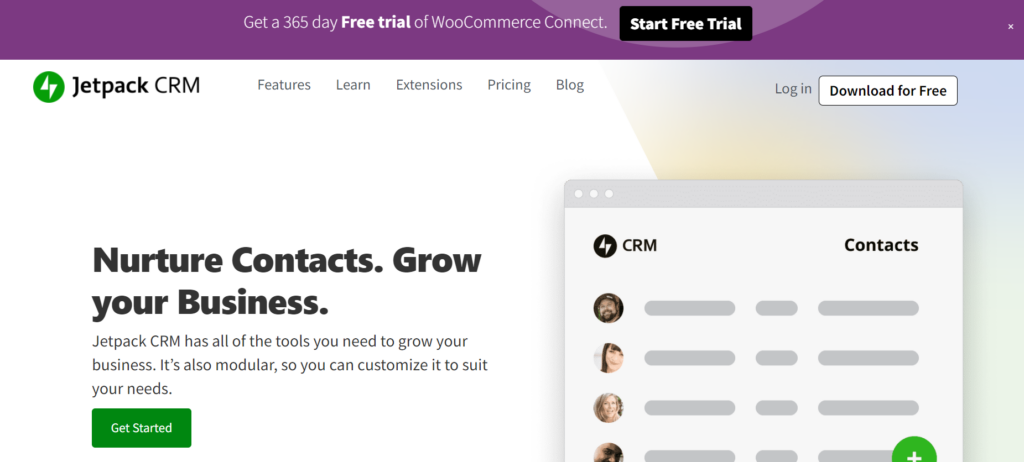 If you are a WordPress user, you must have heard the name Jetpack. It's a suite for optimization, security, and analytics. Now also offers a CRM system with many important integrations to your WordPress admin area. It works fine for small to medium business owners and gives them enough flexibility to manage customer relationships, analyze & customize metrics, and handle quotes, transactions, and invoices. 
Price: Jetpack has a free WordPress CRM. Plans go for $11, $17, and $30 per month, billed annually. There are also add-ons.
WP ERP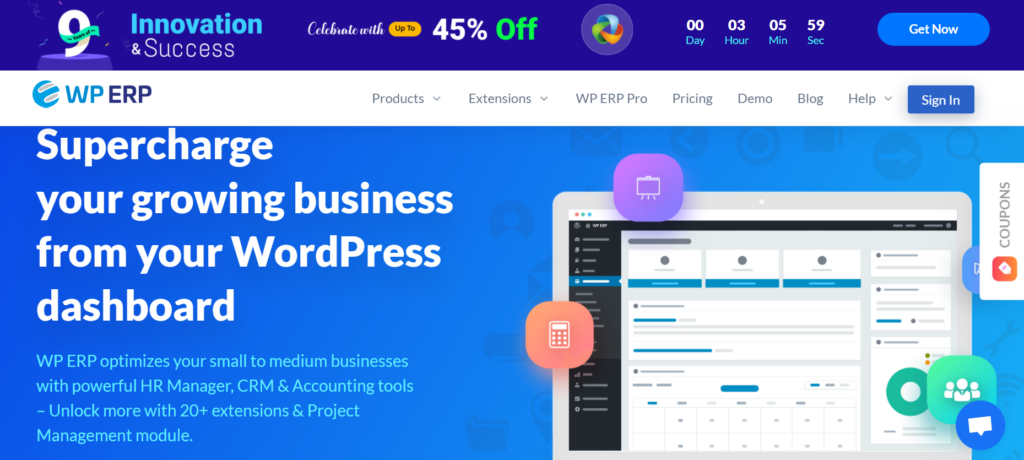 WP ERP covers a lot of ground to make your WordPress site a full-flagged business tool. It's an all-in-one package, you get HR management features along with the CRM tool. From capturing leads to making a smooth path for conversion. You also get the usuals like activity logs, scheduling tools, etc.
Moreover, you can automatically sync contacts from other tools like MailChimp, Zendesk, Gravity Forms, etc. Finally, WP ERP has many tools for accounting, like quotes, balance sheets, and invoicing.
Price: WP ERP Pro starts at $9.99 per month billed annually for one user. There are many monthly add-ons you can get on top of that. WP ERP core CRM is free.
The WP ERP plugin is a suite of business management tools that includes HR management software, accounting software, and CRM.
Get started with a CRM
It's essential to have a WordPress CRM plugin to build a customer base on your site. However, a good CRM makes the difference between frustrated visitors and satisfied customers. That's why CRM solutions are there to make a seamless workflow.
It's important for you to choose the right CRM plugin for your business to capture key leads, discover actionable insights, provide service accordingly, and take initiatives to drive long-term growth.
There are enough WordPress CRM plugins in the market, but we've only covered a tiny portion. Hopefully, this write-up will help you make your decision, and let us know which customer management system you use in the comment below.