How to Create Payment Forms with Calculations in WordPress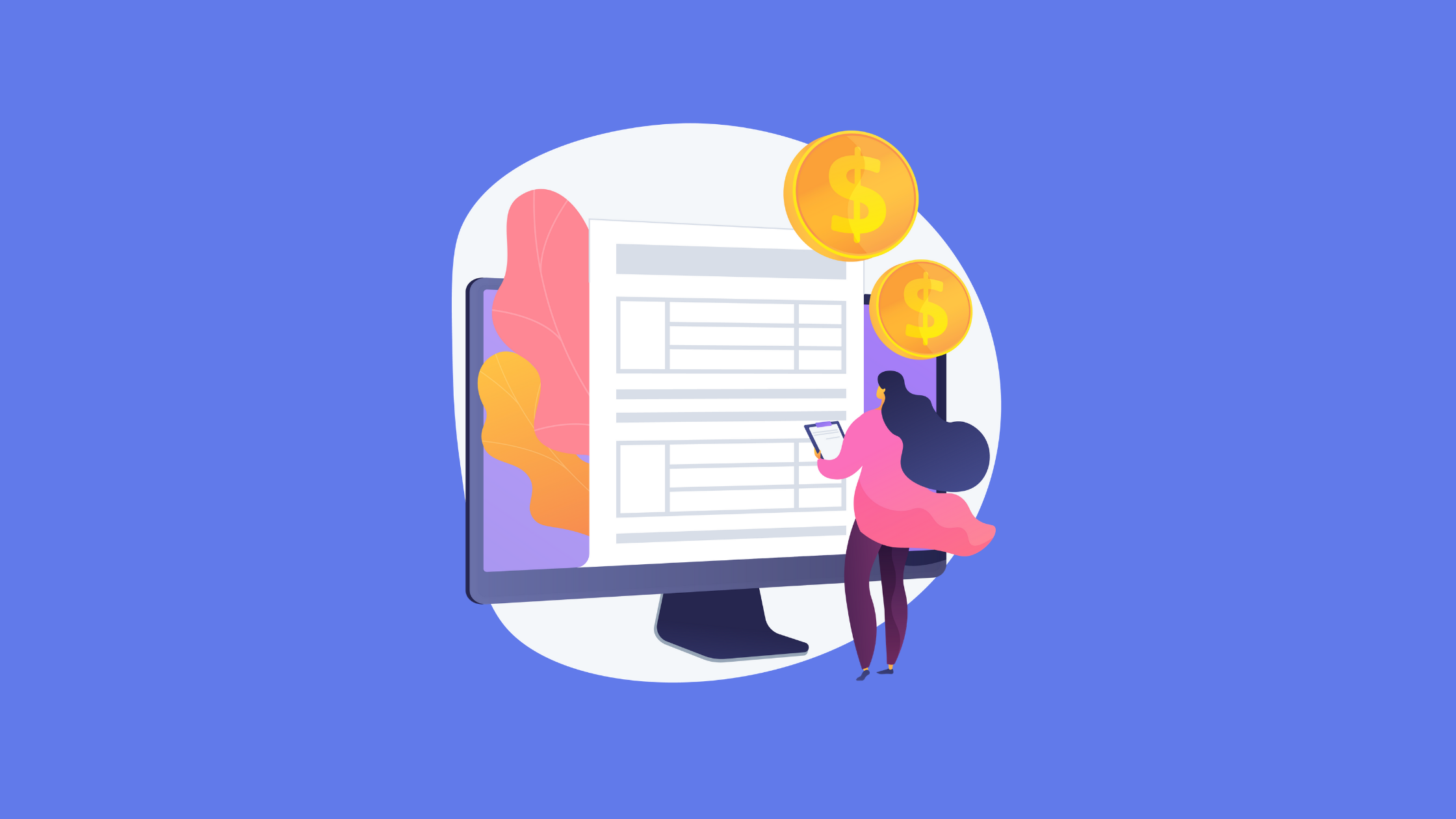 The monetary transaction is a tricky little thing. It is a simple necessity that can quickly become a hassle. But don't you worry. There's a simple trick that can ease all your worries. What's the trick? Payment form calculation.
Let's say you run a Harry Potter theme shop, and you have a few items up for grabs. Someone may pick one, while another may decide to buy multiple. A payment form calculation will operate on these numbers and give your customers a summary of their purchase, making transactions easygoing for all parties involved.
WordPress form builder Fluent Forms
An efficient form builder can set many things straight for your business. Webforms can be used for many purposes, from lead generation to event registration to even payment collection.
If you are in need of a payment form that can perform fast calculations, then you're in luck. Because Fluent Forms can help you do all that and more. With Fluent Forms' 45+ input fields, 35+ integrations, form restriction, accessible task management boards, form scheduling, etc., you can quickly make the best out of your payment form.
Moreover, after enabling the calculations feature, your form can smartly execute mathematical operations and make transactions smooth. This paves the way for a straightforward user experience.
How to install Fluent Forms
Let's begin by installing Fluent Forms. Visit the Fluent Forms website to select a premium version. Since payments gateways are a premium feature, you will need to use a Pro license to use calculation on your WordPress forms. All the price plans include the same features and functionalities so all you have to do is select the plan that fits your need in terms of domain usage and duration and download it. 
Head back to your WordPress website, and locate Plugins on the sidebar. Click on the Add New button to Upload the Fluent Forms Pro zip file. Then hit Install. There you go. It's that easy.
How to enable payment form calculation
Now that you have successfully installed Fluent Forms Pro, it's time to create the payment form. After you create the form, you can easily enable the payment form calculation to add or subtract values swiftly. So before further ado, let's go!
Step 1: Create a form
First and foremost, you'll need to create a form. To do that, go to the Fluent Forms dashboard, and click on the Add a New Form button. A popup will appear containing all the prebuilt form templates that the form builder offers. If you are using the free version, you'll get 60+ templates. But for a premium license, that number will expand to 70+.
We chose a blank form because we want to build the form from scratch.
Step 2: Structure your form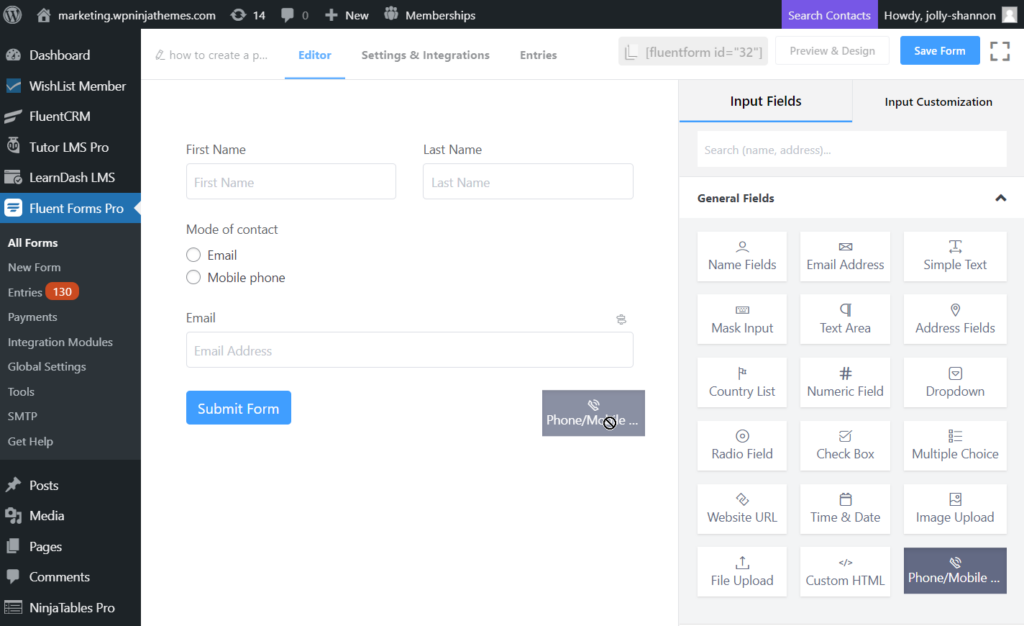 Now let's focus on our fields. We are aiming to build a simple payment field, and for that, we'll need to know the name and contact information of the person placing the order, along with the specification of their order.
So let's begin by dragging the Name Field and dropping it on the form. Then we will add a dropdown field to ask them how the customers will like to be contacted. We'll give them two options – email address and cell phone.
After this, we will drag both an Email Address field and a Mobile Number field. To simplify the form, we will employ conditional logic in such a way that the email address field appears if someone chooses to contact via email and the phone number field if someone selects the cell phone.
Step 3: Add payment fields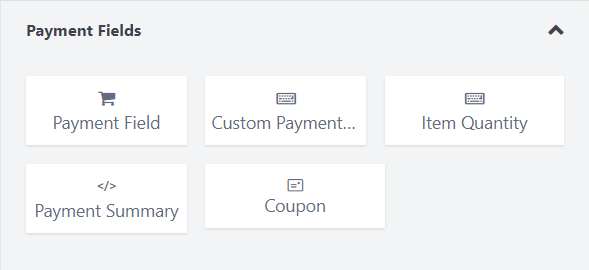 At this point, let's fix our order. Drag a Payment Field. Compose the element label and set the items. Suppose your Harry Potter theme shop will use this form, and the items you offer include a complete Harry Potter box set, house scarves, and custom wands. Set these products as the checkbox label on your payment items and their respective prices on the checkbox values.
Payment fields are premium features so make sure you have a Fluent Forms Pro license.
Step 4: Enable calculation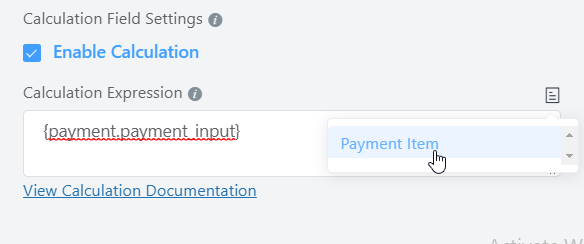 Next, drag a Custom Payment Amount, rename the element label and open the Advanced Options. Scroll down below, and enable calculation. Click on the menu icon and choose the field you need.
We have selected the "Select products" field, and the parameter chosen will perform basic addition on all the selected products. However, you can apply any mathematical operation here.
Step 5: Have an organized database
Your form is complete. However, without a clean process to organize all the form entries, your job is still incomplete. Fluent Forms already offers organized form entry management. But you can make it smoother with the Trello integration.
Trello is a neat software that helps you arrange all your businesses on methodical boards. With Fluent Forms' Trello integration, you can automatically add your form entries to designated boards. Create multiple lists depending on the number of products bought, and form entries will automatically be added to these lists, helping you keep track of your orders easily.
Payment form calculation in a nutshell
Payment form calculation is a feature that helps to calculate the values of different products or services and provide a sum total of all selected items. This is an effortless solution to avoid mistakes during a transaction. Payment form calculation keeps you ahead and makes things simpler.
But don't believe us just yet. Create a form and see if this is all you expected. Money-back guaranteed if it's not—no hard feelings.