Trello Integration for WordPress to Stay in The Loop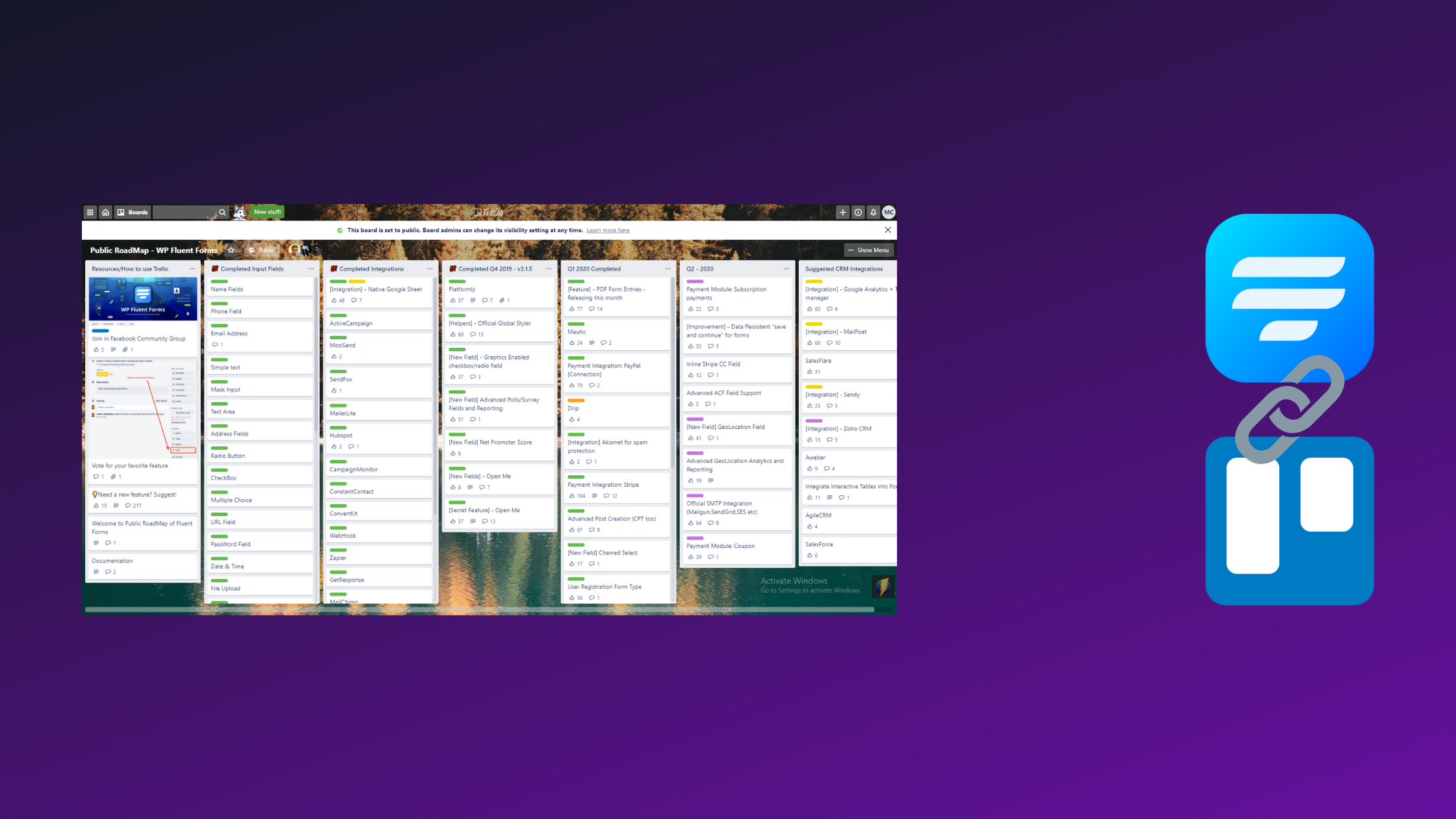 Email marketing is a vital step to scale your business. And there are many email marketing practices that you should follow or stay away from to make the experience more smooth.
However, before sending out the emails, you will first need a well-organized system to collect and store these emails. Trello works excellent in this regard. You can collect emails using a newsletter, and after connecting the form with your Trello board, all the data you collected will be stored accordingly.
Trello integration is very effective and saves you the trouble of going through heaps of data alone. But first, what is Trello?
Get Fluent Forms Pro now!
Trello is, first and foremost, a team management software. It offers a robust Kanban board, rich with comments, attachments, checklists, etc. It leads to less confusion and easy regulation. All these make it a straightforward option for contact management.
You can easily use Trello to manage all your leads and contacts using Kanban boards. Deploy a contact form, and your entries will be automatically added to designated lists. As a bonus, you can also have a board, specifically to communicate with your clients, like Fluent Forms.
Here Fluent Forms put out all the future plans, and the voters can upvote the choices they like best and also suggest new features that they would like to see.
Step 1: Subscription form
Your email campaign cannot start without a useful email list. And subscription forms can help you there.
By following these easy steps, you can create a webform using the WordPress plugin, Fluent Forms.
First, head over to the All Forms option and click on the Add a New Form button from there. You will see an array of prebuilt form templates in front of you. Select the Newsletter form, and you're set.
This template should contain all the form fields necessary for your task at hand, but if you want to customize further, go on ahead. Please choose from the 45+ input fields and style it however you like it.
Bonus points, it's always wise to stay updated with GDPR compliance practices.
Step 2: Enable Trello integration
Now that your subscription form is ready, it's time to move on to the next step. You have to connect your newsletter to your Trello account.
You can do that by going to the Fluent Forms' Integration Modules tab from the dashboard. You can check all your available integrations from here. Scroll to Trello, and activate it. This will enable integration.
For the next step, you need to go to the Global Settings of Fluent Forms. Here, you need to provide your API Key for Trello, which you will get from your Trello account.
So, log in to your Trello account and go to settings. Go to the menu and click on Integrations & API. Then, click on API.
To create a Trello account, click here!
If you don't have an API key already, you need to generate one. To do that, click on the Generate API Key. Now copy the key and paste it on the Trello API Key field on Fluent Forms.
Step 3: Create a Trello feed
Now that your form is ready and your Trello integration is enabled, it's time to set up your Trello feed. Go to the Settings & Integrations of the form, and from the sidebar, select Marketing & CRM Integrations.
There's a blue Add New Integrations button on the top-right corner. Now click on Trello.
Then, click on the Create Feed button. You can configure your Trello boards and cards and configure some more.
Step 4: Email notification
This is an extra step that will make email collection a little bit extra smooth. By enabling this, you can keep up to date with your campaign. You will be promptly notified every time someone fills out a form. You can also configure it to forward emails to other members of your team.
Head to the Settings & Integrations of your form and from the sidebar, go to Email Notifications. From the top right corner, select Add Notification. Next, name your notification and define the routing address.
You can configure additional details here and also apply conditional logic if needed. Moreover, from the advance panel, set important details like BCC and CC. Hit the Save Notification button, and you are good to go.
Step 5: Embed form
Now that you have created a newsletter, activated Trello, created a Trello feed, and even configured email settings, there's one last thing to do. Embed the form in a relevant post or page. Research what works best for you and then embed the newsletter on a post, page, or as sidebar widgets.
In order to do that, you\ll have to go to the post or page you want to embed the form to. Then, from the dashboard, click Posts » Add New. Go to the section where you want to showcase your form and click on the '+' icon. From the dropdown menu, select the Fluent Forms logo. After doing this, a modal box will be attached. Next, select your newsletter.
And there you go! Your Trello feed is ready to go. Every time someone fills out a form, their data will be automatically added to a designated Trello card. Since we are talking about successful email collections, you should also keep updated with ways to keep unsubscribe rates low.