8 Most Popular WordPress Quiz Maker Plugins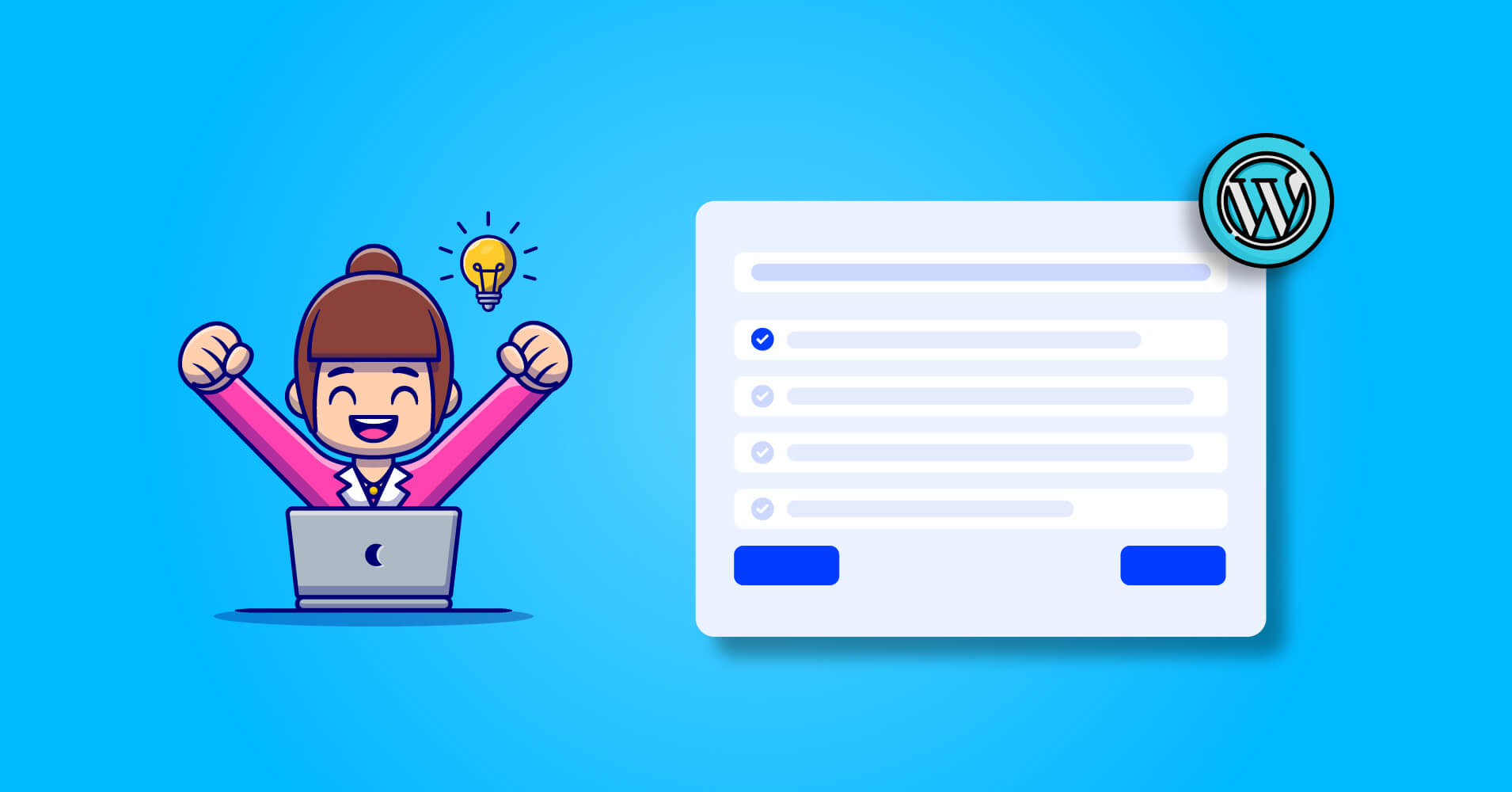 If you're looking for the best WordPress quiz maker plugins, you've come to the right place. I'll share some of the best contenders on this list. However, interactive content has a massive impact on the digital landscape, and you should adopt it to your business.
For WordPress users, I have big news for you. You can easily create your quizzes in WordPress without being an expert. The quiz plugins will help you build quizzes with many ready-to-deploy features. Start reading and let me know in the comment which is your favorite.
Fluent Forms is the most beginner-friendly form builder. Download now and start crafting beautiful forms FREE!!!
Things to look for in a quiz plugin
Number of features: Creating quizzes requires some particular functionalities. When you choose a quiz plugin make sure it has all that. For example, your questions may require different types of fields. So you need to check if you selected the right tool that has those fields as well as other necessary options.
Extended functionality: It's okay if your quiz builder is built for making quizzes only. But what if you need payment options activated with your form? Or you want to build other kinds of forms beyond quizzes.
Docs & support: It only takes a few minutes to check out the documentation of your chosen tool. Do you find the docs easy to understand?
Different quiz types: Quizzes have a vast variation. Can your quiz builder help you make different types of quizzes? The popular quiz types are trivia quizzes, true/false quiz, personality tests, this or that, and product recommendations.
Not hard to manage: The best quiz builder is made for all. Anyone can create their optimal quiz without facing any complications. If you find a free version, try it out. If not, start with the free trial and then decide whether to buy the plugin.
Integrations: The more integrations a plugin has, the more targets you can achieve. It's important to see the number of integrations a plugin holds. Especially, email marketing tools are highly sought-out because you can take your users further.
Advanced: Some plugins may be done in basic settings while others reward you with advanced features and functionalities. Conditional logic, conditional email confirmation, or scheduling and restricting quizzes may fall into the list of advanced features.
Best WordPress quiz maker plugins
Let's get into the details of the WordPress quiz builders list. Check out all the tools listed here, and see which one's best for your business.
Fluent Forms
Fluent Forms is a brilliant plugin for creating quizzes in a brilliant way. You'll get everything inside this to build quizzes. First, create a form and take the necessary fields. In quizzes, radio and checkboxes are kinds of mandatory parts, don't you think? However, Fluent Forms has other fields to use in quiz forms alongside the mentioned fields. That includes Dropdown, Multiselect, Date, Slider, and Numeric.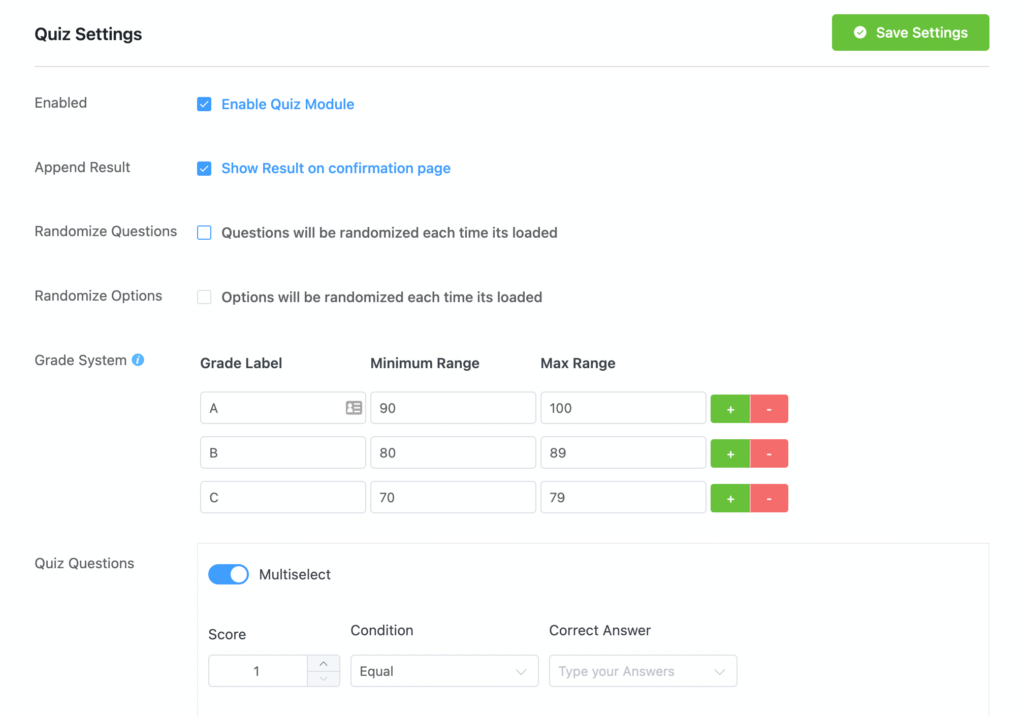 Once you've built your quiz, you should decide how to display the result. There are many options to choose from: correct total, correct percentage, correct answer count, letter grade, or correct fraction. Not only can you show the result on the submission page, but you can send the result via email, as well. To do that, you must add the shortcode to your email.
More engagingly, you can embed the quiz on your blog and other pages. Similarly, the result can be shown on a separate page. This is a pro feature, so you have to buy any premium packages.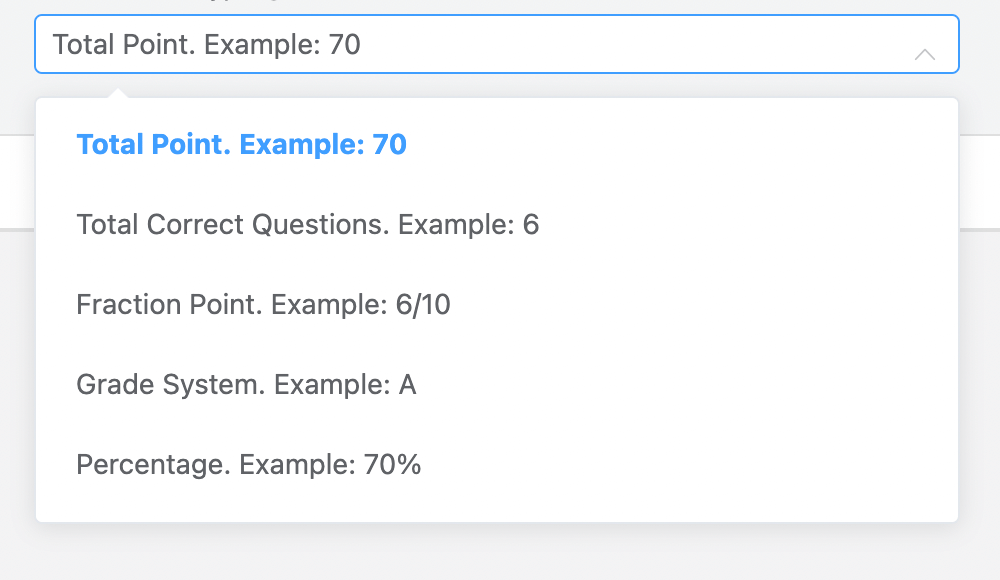 Fluent Forms is a feature-rich WordPress form plugin. Therefore, you can utilize other benefits this tool offers. Some fields are dedicated to quiz building, while a lot of advanced form settings are available to improve your form-building experience.
Want to add payments to collect from your users? Fluent Forms has native integrations with PayPal, Stripe, Razorpay, Mollie, and Paystack. As an email marketing tool user, you might want to connect it with Fluent Forms. Here comes the rest of the wonder since you'll get a ton of it inside this powerful form builder. Since the quiz module is available only with the pro version, you need to buy a premium license of Fluent Forms to start building quizzes.
Mentionable features
Radio and checkboxes
Dropdown and multi-select
Time and date field
Slider option
Numeric field
Quiz score field
Conditional logic
Reporting and analysis
Export and import entries
Landing page feature
Multiple payment integrations
Many email marketing tools
Weekly email summary
Form scheduling and restrictions
reCAPTCHA & hCaptcha
Save and continue
Improve design with default styler
Custom CSS available
Quiz and Survey Master
This is a popular quiz plugin dedicated to building quizzes. It has both free and premium versions. Certificates and Leaderboards are the only two free add-ons, and all the other add-ons are premium.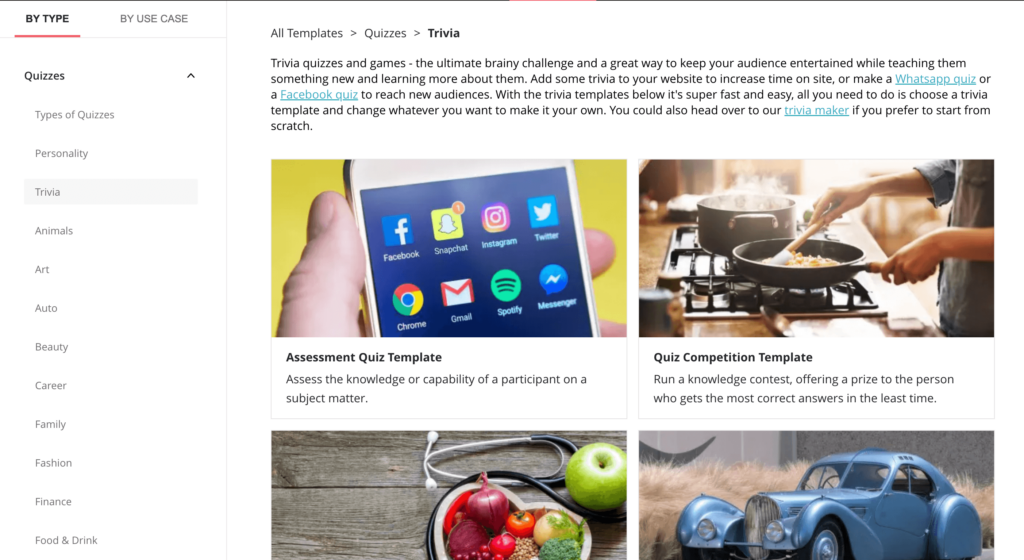 For reporting, you can use their built-in analytics tools and generate different types of charts, such as bars or pies. They also integrated with some popular email marketing tools. That includes Mailchimp, AWeber, ConvertKit, and Campaign Monitor.
To improve the user's journey, you need to optimize funnels. Quiz and Survey Master allows you to work with Google Analytics Tracking and URL parameters. By customizing these with your CRM, you can easily keep an eye on your users.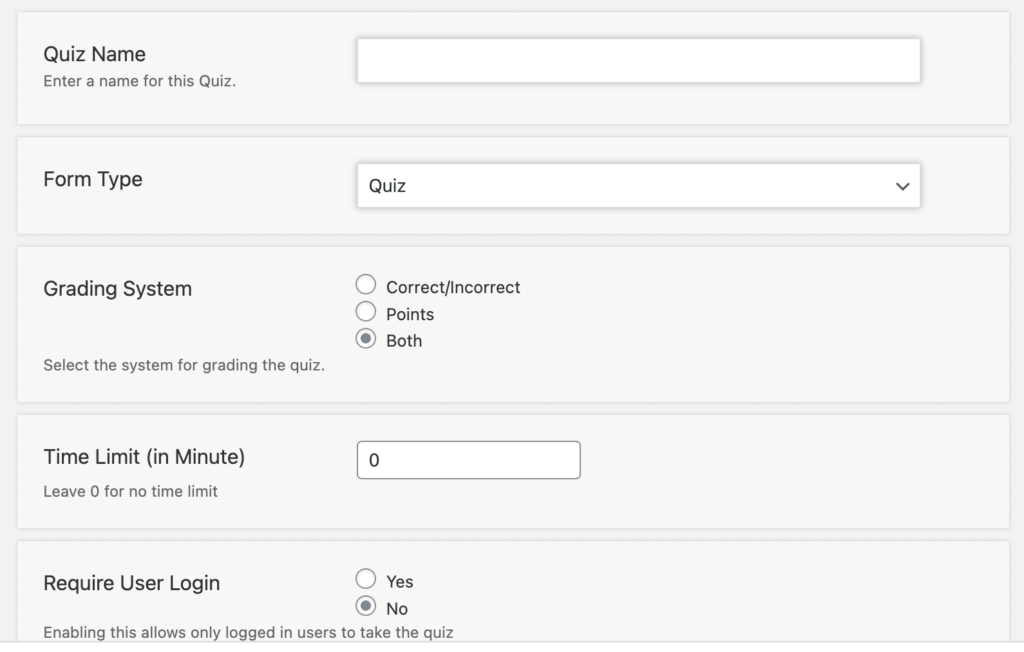 Besides connecting Google Sheets to see results, you can also export the result in CSV and analyze it further. Quiz and Survey Master has four themes available, and you can choose the one right for your needs.
Mentionable features
Reporting and Analysis
Export and Import
Google Analytics Tracking
URL Parameters
Landing Page
Paypal and Stripe Integration
Conditional Logic
Mailchimp, Mailpoet, Get Response, ConvertKit
Summary Emails
Extra Shortcodes
User Dashboard
Daily Limit
Advanced Leaderboard
reCaptcha
Simple Popup
Zapier Integration
Advanced Timer
Export Results
Google Sheet Connector
Save and Resume
Pricing: The yearly membership starts at $129/year. They have three different options and lifetime membership.
Quiz Maker
Quiz Maker is another WordPress quiz plugin that has some great features for building quizzes with ease. To make questions, you can select one of these options: radio, checkbox, dropdown, text, short text, number, and date.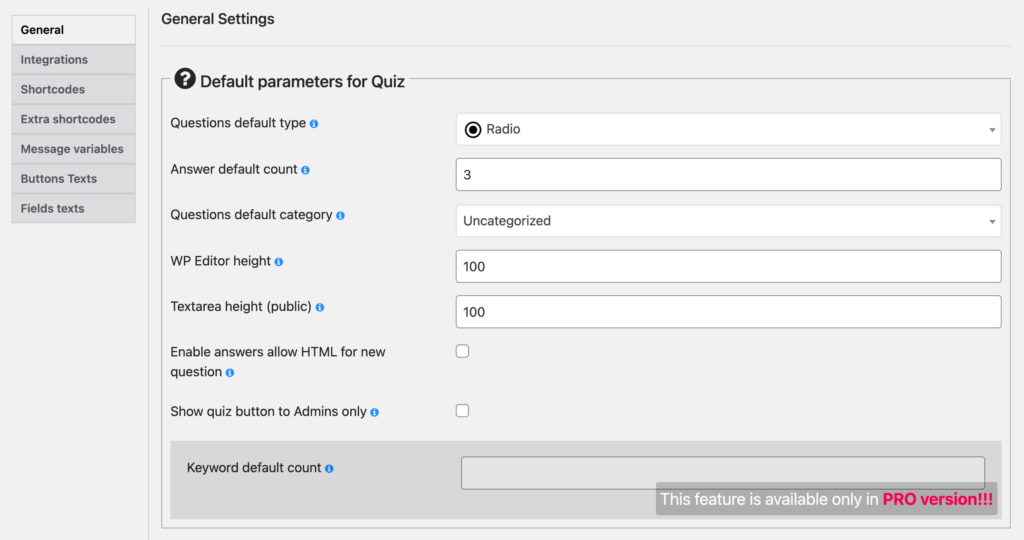 By customizing this plugin the right way, you can make various types of quizzes. From the available features, it's possible to build viral quiz, trivia quiz, personality test, assessment quiz, multiple-choice quiz, IQ test, true or false quiz, Buzzfeed quiz, yes or no quiz, and so on.
With the user roles permissions, you can decide who has access as an admin to see the submitted answers. Also, show WooCommerce products based on the score. This is possible because of the WooCommerce integration.

As I have started with integration, I need to mention that Quiz Maker has connections with many third-party applications. PayPal, Campaign Monitor, Mailchimp, Slack, Zapier, ActiveCampaign, GetResponse, and a few more tools are on the list of integrated tools.
There are three versions available for Quiz Maker Pro. With the free package, you'll miss out on most of the features. For example, image answers, Zapier and Slack integrations, shortcodes, leaderboards, and many other features are not included in the free version.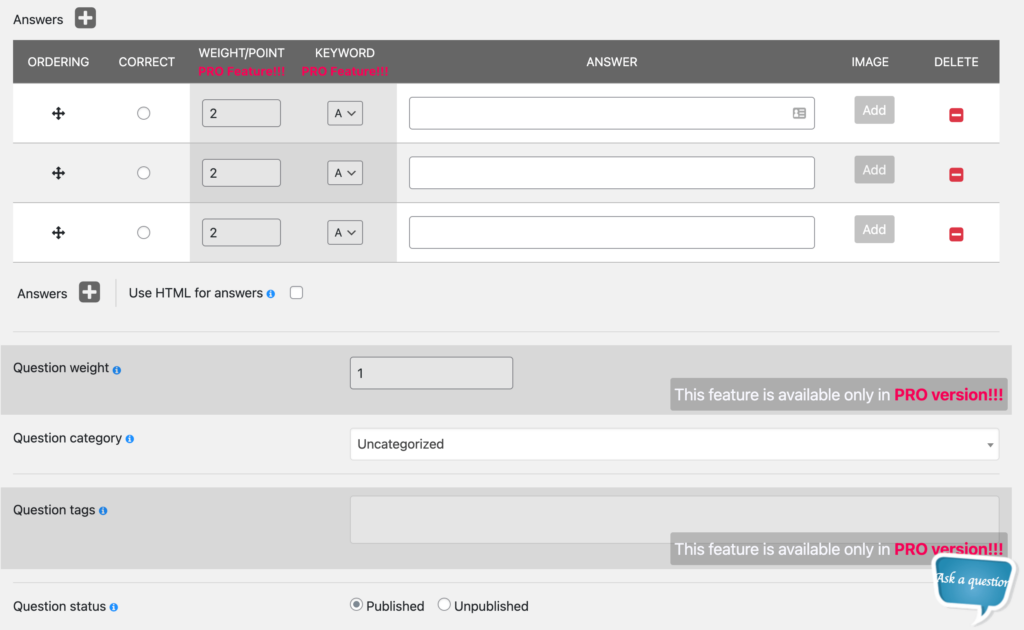 Mentionable features
Randomize questions and answers
Mailchimp integration
Export and import questions
WooCommerce integration
Email configuration
Schedule quiz
Zapier integration
Export results to CSV
User page shortcode
User location
Password protected quiz
Question and answer weight/points
User roles permissions
Image answers
Pricing: Quiz Maker Pro has two pricing options with one time payment of $49 or $129.
HD Quiz
If you're looking for a free WordPress quiz maker, here comes a brilliant choice. HD Quiz has some mentionable features such as unlimited quizzes and questions, social sharing, text/image based multiple choice, Gutenberg quiz block, and more.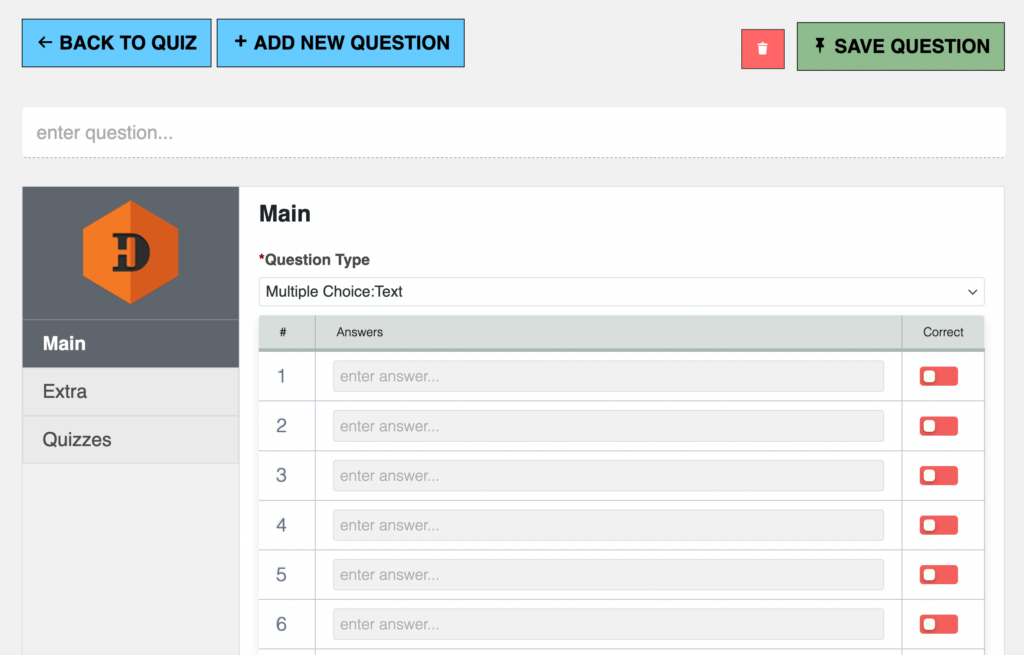 The responsive design allows you to show quizzes nicely on mobile devices. Additionally, the animated GIF support can make your quizzes more interactive. And there's a timer option where you can set a timer per quiz or answer. You can set 40 minutes for the total quiz or 5 minutes for each question.
HD Quiz also offers pagination, basic translation features, and positioning of the result that may be below or above the question. To save and view quiz results on a separate page, HD Quiz has another addon. This addon creates a new table for each successful quiz submission with the name of the completed quiz, the date and time of completion, passed of failed information, and the score.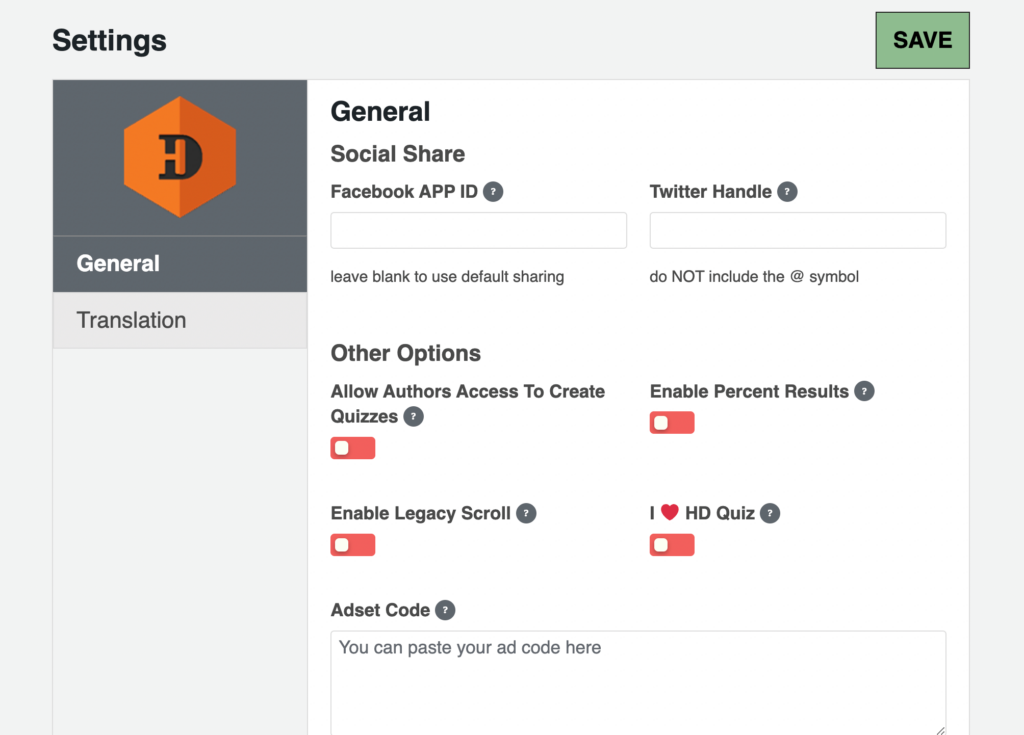 You can easily place a quiz across your site since HD Quiz uses shortcodes. All you have to do is place the quiz shortcode wherever you want to display the quiz! More settings are available with advanced features to add custom text, pagination, and a featured image. Each question may have up to ten (10) answers, and you need to define which is the correct answer.
Mentionable features
Social sharing on Twitter or Facebook
Add featured image or tooltip with each question
Custom Gutenberg block
Text/image based multiple choice
Pagination to show the length of the quiz
Set timer to per quiz or per question
Animated GIF support
Randomize question/answer order
Show results on above or below quiz
Hide the questions after completion
Pricing: HD Quiz is a free quiz plugin with no paid option.
Quiz Cat – WordPress Quiz Plugin
Quiz Cat is a WordPress quiz maker plugin that helps you create quizzes in WordPress and share them across social media. Not only that, Quiz Cat can boost your way of getting leads and email subscribers, as well. Without being tech-savvy, you can create viral quizzes at ease.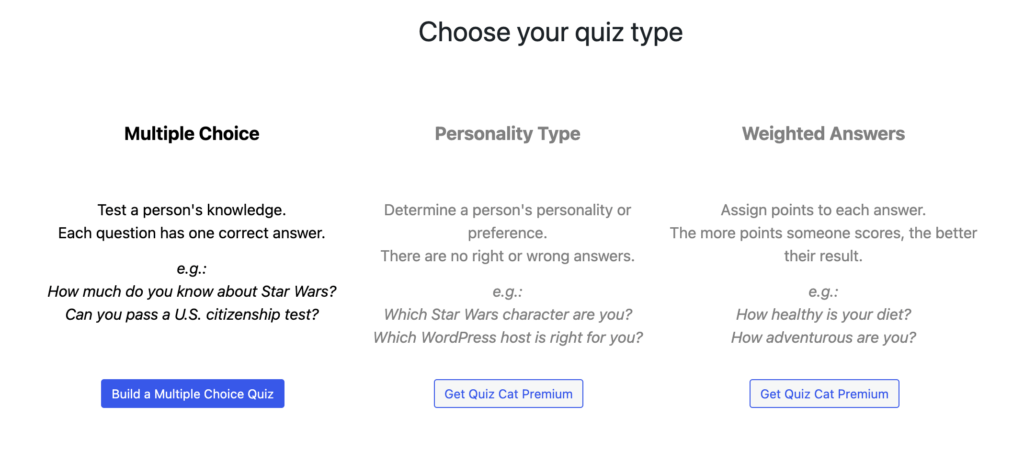 Social sharing is a notable part of Quiz Cat so that you can spread your existence across the whole social landscape. Each quiz contains built-in buttons to allow your visitors to share their results on social media. People can choose where they want to share from Facebook, Twitter, Pinterest, and email.
As I mentioned, Quiz Cat can help you increase leads to grow your list by adding an email field for users to get the result. Or, you can tell people to subscribe before submitting their quiz.
Take your marketing to the next level by automatically processing all data your quiz collects. You can send quiz results or new email addresses to your email provider as tags, merge fields, or other advanced options.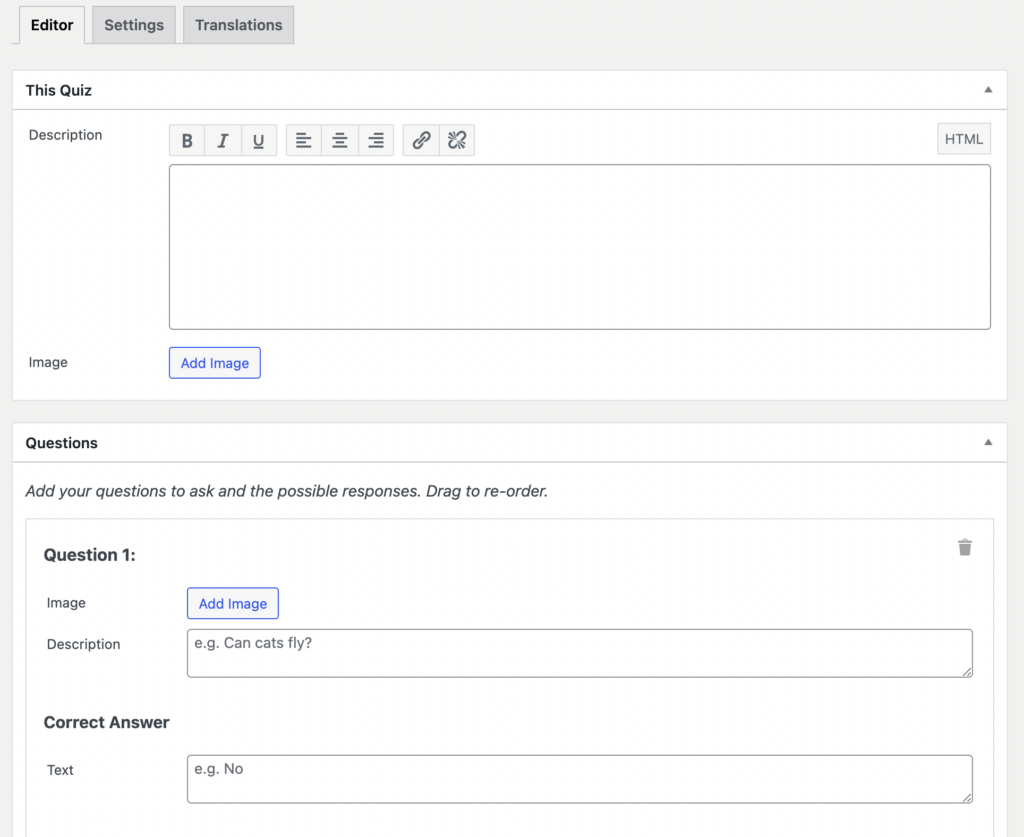 Quiz Cat integrates seamlessly with most email marketing service providers and connects to over 500+ commonly used web apps through Zapier.
Marketing is not a single-channel job. You need to get out across multiple platforms. The integration list of Quiz Cat has some powerful email marketing tools like Mailchimp, GetResponse, and Active Campaign. Finally, with Zapier, you can get more apps connected to promote your business.
Mentionable features
Collect leads with quiz submission
Personality tests
Randomize quiz questions
Weighted quizzes
Trivia quizzes
Mailchimp, ConvertKit, and more email marketing tools
Zapier integration
Enable/disable answer explanations
Lead segmentation opportunity
Redirect users after quiz completion
Option to restart the quiz
Quiz analytics and insights
Export quiz response via spreadsheet
Social sharing buttons
Facebook Pixel integration
Pricing: Quiz Cat pricing starts at $49 with a one year update.
Poll, Survey & Quiz Maker Plugin by Opinion Stage
Opinion Stage is a SaaS-based tool that has options for creating polls, surveys, and quizzes. To use it inside WordPress, you need to install their WordPress plugin and share your work with users.
The best part I like about the Opinion Stage is that they offer many quiz templates. All you have to do is select the template and edit it with your questions and answers.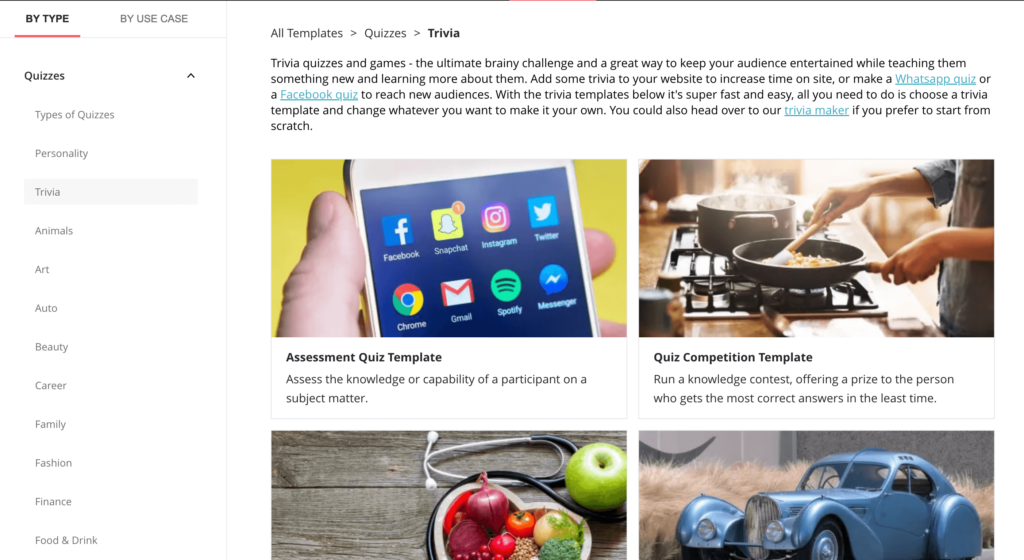 With Opinion Stage, you can make different types of quizzes. Use a personality quiz or trivia quiz to generate personality tests, lead quizzes, true/false quizzes, scored quizzes, multiple choice quizzes, and more. Each quiz has different formats, various question types, and advanced features.
On top of standard text and single or multiple image layouts, you can add videos to all quizzes. That's one thing I like to mention. Although it's easier to use a template, you can create a quiz from scratch if you want.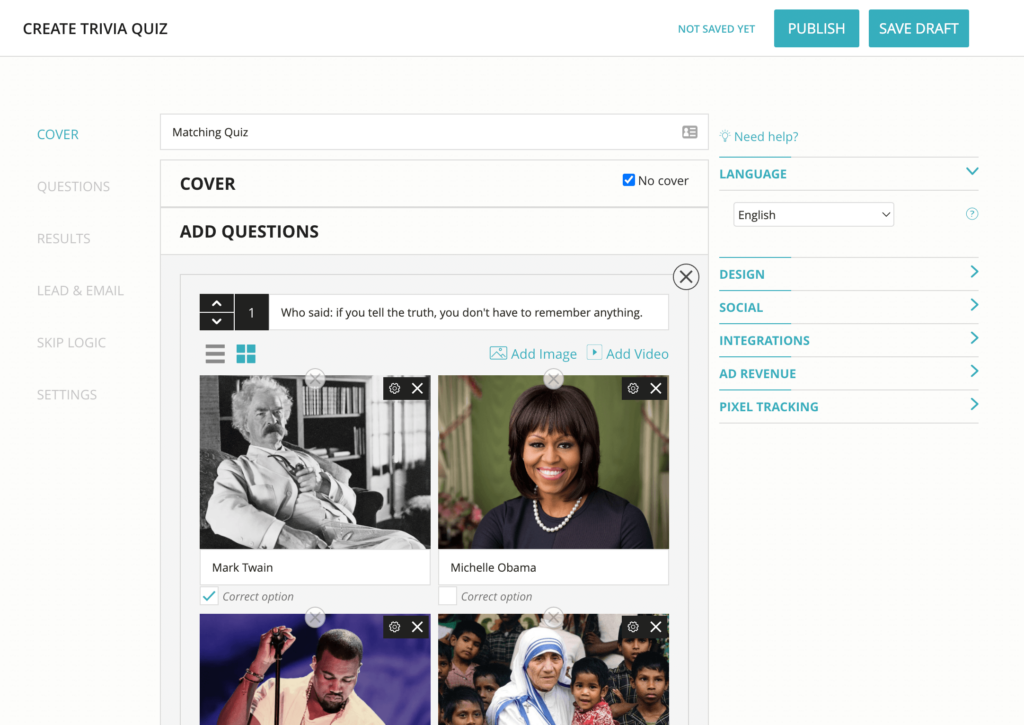 Using custom CSS or changing theme and color, you can optimize the look and feel of your quiz. There is more to explore. Skip logic is a unique feature that lets you redirect participants to the questions based on their responses to a previous question.
Mentionable features
Create any type of quiz
Ready quiz templates
Customize theme, color, fonts
Set skip logic to send different questions
Sharing with social buttons
GDPR-compliant
Detailed analytics and reporting
Native integrations with Mailchimp, Hubspot, and more
Functional with Javascript, iframe, and placement
Pricing: Opinion Stage has a free version to use. Their pricing starts from $19/month with a free 7-day trial option.
Thrive Quiz Builder
Thrive Quiz Builder is a comprehensive WordPress quiz plugin to build quizzes that convert. Yes, Thrive built this tool in a way that anyone can make engaging quizzes with advanced features and complex logic.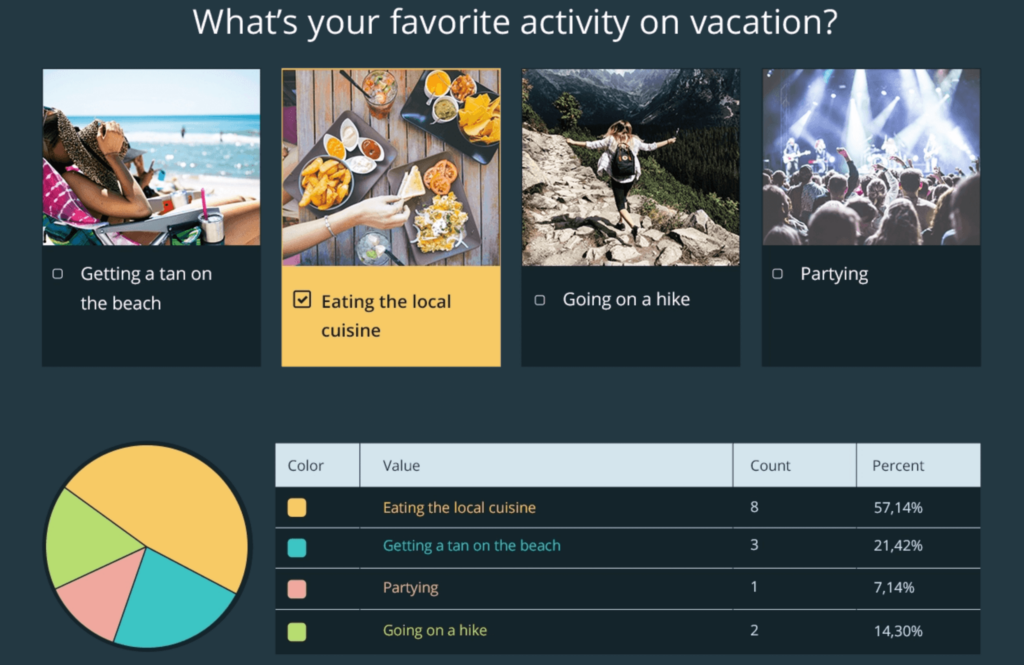 Well, complex logic is the feature that lets you branch your quizzes where users will get questions based on their previous answers. Moving forward, building email lists also got focused with Thrive Quiz Builder.
Thrive Quiz Builder has four different quiz types:
Number: Show the result as a number. e.g., "You got 10 points!"
Percentage: Visitors will see a percentage score. e.g., "You got 60% right!"
Personality: Display the result as a category you've set earlier. e.g., "You're Chandler!"
Right/Wrong: Visitors will get the result based on the number of correct answers they made. e.g., "You got 12/15 right answers."
Then there's Survey. The participants won't receive a result based on the questions. Instead, they will see the same content on the result page.
Thrive Quiz Builder contains four quiz templates:
Build From Scratch – No pre-built settings. Build quizzes from scratch the way you like.
List Building: Users can see the result only if they sign up for your email list.
Social Shares: A social share badge is available on the result page so that users can share their achievements with friends.
Gain Customer Insights: The survey quiz lets you collect more information about your customers, and you can make a better business decision. When you want to learn more about your customers and segment them, this type of quiz is helpful.
And there are three question types.
Multiple Choice with Buttons
Multiple Choice with Images
Open Ended Questions
I think you can understand what the question types mean, so I'm not going to explain them. You can either create questions with one of these types or shuffle them to create the quiz as you need.
How about the design? Among all the plugins mentioned on this list, I think Thrive Quiz Builder has the best design. Users won't get overwhelmed since there's the setup wizard to lead people to the first step.
Mentionable features
Branching quizzes based on the previous answer
Text or image questions
Troubleshooter alerts you if anything goes wrong
Built-in badge creator
Stats and analytics
Different quiz types (number, percentage, etc.)
Four quiz templates
A/B testing
Quiz configuration with the setup wizard
Price: Thrive Quiz Builder is a completely premium tool, meaning it has no free version. The quiz builder comes with Thrive Suite membership for $299/yearly or $99/quarterly. With the membership, you can access other plugins, including Thrive Architect, Thrive Leads, and Thrive Theme Builder.
WP Quiz
WP Quiz has some fantastic features to develop different types of quizzes, such as trivia and personality quizzes. Moreover, you can apply a flip effect to your quizzes that turn the questions into animated cards. Participants see the effect whenever they complete a question.

For the perfection seekers, WP Quiz offers the customization tools to change animation effects and progress bar colors. Also, you can modify font colors, background colors, and more.
WP Quiz has many incredible features and enable/disable quiz types is a great one. Disable the quiz types that you no longer need. Furthermore, you can place your quiz anywhere on your website with the shortcode support.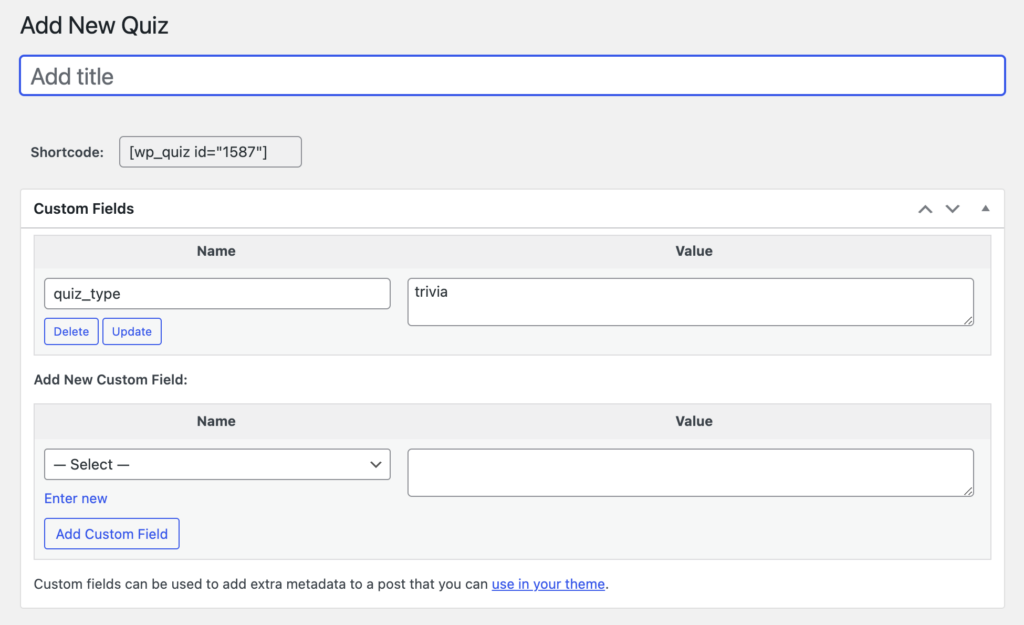 No need to provide the same questions each time a page is reloaded or a new user lands on the quiz page. Use randomized questions and make your questions appear in changing order. Similar to the randomized questions, you can also add random answers to make your quiz more interesting.
Mentionable features
Trivia and personality quiz type
Flip quiz effect for animated visuals
Add image or video to quizzes
Option for including image credit
Customizing progress bar colors, font, and background colors
Changing animation effects
Demo data to play with the settings
One click demo import
Single or multi-page layout
Traditional and modern Skin
Option to restart questions
Email marketing tools integration
Show ads between questions
Social share buttons
Auto scroll to next question
Change font color
Change background color
Change progress bar color
6 animation effects
Shortcode support
Facebook Open Graph support
Pricing: The pro version is available for $57/year alongside the free version.
Wrap up
I hope you got the right WordPress quiz maker plugin by now for your business. You should try quizzes to understand your existing customers, find out what your prospects need, and entertain users.
After the long discussion, I can say the best quiz plugin for wordpress is Fluent Forms. Yeah, I know there are some down points compared to the dedicated quiz builder plugins. But with Fluent Forms, you can avail of many other amazing features. You have to count a significant amount with only the quiz function, whereas Fluent Forms will save your bank and give you more rewards.