Learn How to Design an Advanced Contact Form In a Better Way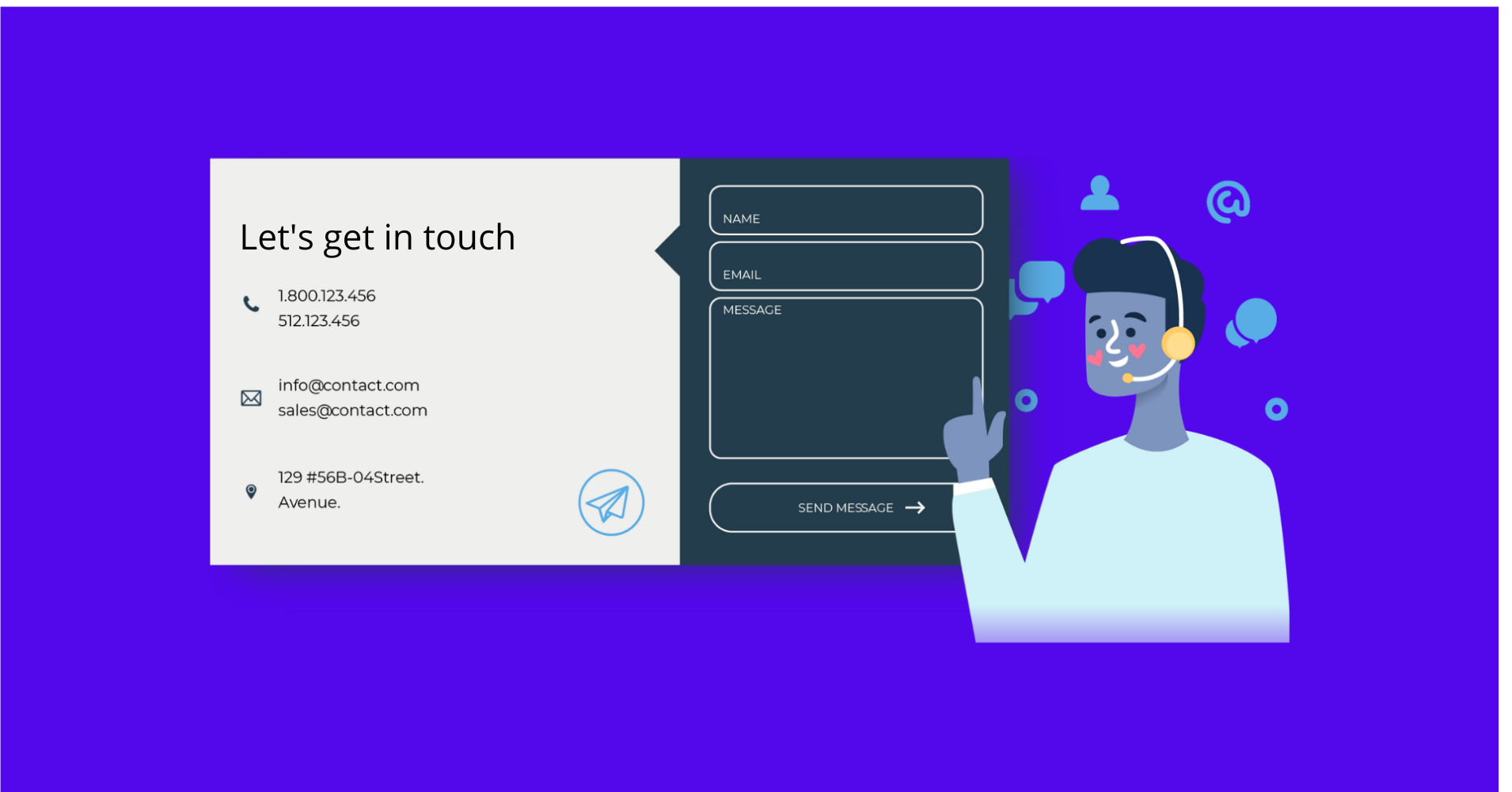 Are you looking to add an advanced contact form to your website? But not sure which tool to use or know how to make one? WordPress is offering a tremendous number of form builders to WordPress lovers. But the problem is the variety of options. Selecting a specific one for a particular purpose is a difficult task. Especially when it is about advanced activities, the scenario is even more haphazard.
But you don't need to worry at all. Today in this article, we will discuss creating an advanced contact form on your website with the fantastic form builder Fluent Forms. Why did we choose this particular plugin? Well, you will get the answer to that with the post thoroughly.
Fluent Forms is the most beginner-friendly form builder. Download now and start crafting beautiful forms FREE!!!
What is an advanced contact form?
Advanced contact forms offer you forms with unique, complex, and numerous features or form fields, such as Section Break, Net Promoter Score, GDPR Agreement, Rating, Form Step, Signature field, Range Slider Field, Checkable Grid, Action Hook, Custom Submit Button, and many more. The use of advanced forms helps you to work more effectively by saving your time and assets.
So, which is the best-advanced contact form plugin? The answer depends on your needs and use cases. Today, we choose Fluent Forms to elaborate on the process of making an advanced contact form. Why? Well, the article will explain that very well.
Why Fluent Forms?
Contact forms took a significant place in the WordPress plugin directory. Consequently, the number of form-building tools is so big that it's obvious to get overwhelmed. In this vague situation, Fluent Forms stood out because of its unique features. The way Fluent Forms helps its users is by adding value to the WordPress industry.
For example, the tool provides some advanced features in its free version, whereas the other plugins in the market are asking to pay for some basic features. In other words, Fluent Forms is taking very little from its users in comparison with its high-end facilities. You don't have to take our word for it; do basic research on the market, and you will come up with the same result.
And for making advanced contact forms on your website, there is no better option than Fluent Forms. The drag-and-drop facility and smooth interface of the tool made it very easy to make any form within a couple of minutes. Besides, the customization facility of Fluent Forms is also very high than other plugins in the market. More so, it's offering 18+ advanced fields to ensure the highest quality of your contact forms.
Some key features of Fluent Forms are –
Fluent Forms is a drag-and-drop form builder plugin that gives a smooth user experience
It has dozens of useful pre-built form templates for quick form building
Conversational forms make Fluent Forms stand out
You can use conditional logic for more control over your forms
With Fluent Forms, you can use 45+ native integrations for additional functionality
It gives you the ultimate freedom of using a multi-column form layout
Fluent Forms has calculated fields for measuring numbers based on inputs
The payment feature lets you accept payments from your clients in a seamless way
Let Fluent Forms create an advanced contact form for your website
Fluent Forms is ready with the following features to design your ordinary form to make it extraordinary.
Ensure security
Designing a beautiful form is not enough, protecting it from unsolicited emails is just as important. Fluent Forms handles these types of cases very smartly with its intelligent features of ensuring security.
Honeypot
Honeypot detects and prevents bots from taking any action to ensure your website's advanced security or contact forms. In Fluent Forms, Honeypot works as an invisible field. Humans can't see the field, but bots see the hidden part as a usual form field. Consequently, they (bots) fill everything in the forms, and Honeypots detects the submissions as spam, therefore, your contact form is protected.
reCAPTCHA
reCAPTCHA poses a test that is easy for a human to figure out but hard for bots. So, it ensures a user is a human, not a computer-automated program. Google introduces the service, and it's very easy to use. Fluent Forms has reCAPTCHA. All you have to do is to integrate it into your forms.
hCapctha
hCaptcha lets you enable Captcha security on your contact forms that can only understand by human users. It establishes some settings or structures that cannot be solved by bots or spam.
Akismet
Akismet is a popular plugin of Automattic. It is a renowned solution for spam protection. Moreover Fluent Forms is more dynamic with Akismet integration with its other anti-spam functionalities. You can select either the free or pro version of the tool to integrate the feature. It is also a painless job to connect Fluent Forms with Akismet.
Prevent Blank Submission
Prevent blank submission feature of Fluent Forms will not permit users to submit an empty form. In that way, your database will be clean from the overloaded blank form submissions. Besides, if you enable this feature, spam generators can't manipulate your data by submitting overflowing forms that are empty. The process may look simple, but it's not.
Reject Particular Submission
This option provides a little more accuracy than the previous option. By enabling this function, you can select specific words to add to a blacklist. If a text area consists of those words, the form won't accept the submission. More so, you can also specify certain domains or TDLs.
Increase customer engagement
Thoroughly communicating with users is every business owner's dream. Keeping this matter in mind, Fluent Forms' developers built it full of customer-focused features. The more you will be using the tool, the better you can realize how it accelerates your venture.
User registration
Fluent Forms provides a brilliant way for leveraging the default WordPress function, and user registration is one of them. You don't need another user registration plugin for collecting new users and giving them the login option. You will set up a form, and when users submit it, they will be automatically registered as a member. It was one of the most asked features from our users, and undoubtedly this function is a time saver.
Landing Page
This is a convenient option to organize a page and add some additional information to enhance the page with essential elements. However, it has some primary customizing options, and you can also design them with custom CSS. We have a detailed article on how to create a beautiful advanced contact form with custom CSS.
Advanced Post Creation
The advanced post-creation feature of Fluent Forms allows users to submit a post via simple form submission. A dynamic way for creating posts by users. When you arrange a post submission form, users will get the same settings as an "Add New" post on the WordPress dashboard. They need to edit them and write the post on the classic editor. They can also add a featured image if they want. The amazing fact about this feature is, users will get a ready-to-publish post without any user registration. Moreover, they can choose the category and tags from the taxonomy portion as well.
GDPR Agreement
We all are aware of the GDPR (General Data Protection Regulation) term. It's a law followed by the European Union, and the goal is to protect the data of EU citizens. When someone wants to collect any information about people, they have to get their consent first. Correspondingly, you have to erase the collected data if they wish. The agreement also provides more control to the users over the information they share anywhere on the internet. Fluent Forms offers the GDPR agreement option on your contact form so that users feel safer about giving their personal information.
Net Promoter Score

Net Promoter Score is a scale for measuring customer satisfaction with a specific product or service. The scale varies from 0 to 10, and the numbers indicate the level of satisfaction for each user. The default text for dislike is "Not at all likely" and "Extremely likely" for. Anyway, you can update the texts with your own words too. We have detailed documentation on adding Net Promoter Score in any advanced contact form with Fluent Forms.
Survey and Polls
Fluent Forms lets you create surveys and polls for your website very quickly. They provide the best ways to identify customers' needs, such as what they want, how they want it, etc. Sometimes the results of the surveys may be different from your expectations. We have detailed documentation on how to add polls and surveys to your website with Fluent Forms.
Modal/Popup/Lightbox
Popups are the best way to collect emails for the newsletter signup. You can get some exciting options to add popups and lightboxes to your website with Fluent Forms. The inbuilt features of the popup help your form to appear while users visit your page. Follow the documentation on how to make an advanced contact form via popup. This guide will also show you how to make a popup by using custom CSS.
Smart functions for developers
Developers frequently use the following features. With these applied resources of Fluent Forms, you can tweak your advanced contact form to a new limit.
Shortcode
Shortcodes need just one line to embed a block of codes or an element. It is the easiest way of converting multiple lines into a single line. Fluent Forms presents you with this facility for adding content to your website. Not only that, but Fluent Forms also produces shortcodes for each advanced contact form so that you can use the code anywhere on the website.
Action hook
Action hook is a useful technique for developers to make the advanced contact form more useful. They can set their functions and add them to the form with the feature. Therefore, you will get something that was not added to the form before. To add an action hook with Fluent Forms, you need to select the form field from the advanced options and edit your code on the edit option. You can customize the field as you want, like other fields too.
Chained select field
The chained select field is an advanced field to connect one column to another. The fields are interconnected with each other. If you don't choose a parent field, you will not get any information from that box. To make it work, you have to make a CSV file first and then transfer it to Fluent Forms. Suppose you run a store for selling apple products. If any user selects the phone function, then all the models and designs of apple mobile will appear on the screen.
Conditional features
You can customize your advanced contact form as you need with the conditional features of Fluent Forms. You can make your forms equipped with extra features or keep them clutter-free with the tool. The benefits of using conditional fields are very high with this plugin.
Conditional logic
The conditional logic field is dependent on other parameters. If the user triggers a particular action, then the field will start working. For example, if someone selects the country field, then the countries' list will open in the form. Consequently, users won't get overwhelmed with the options unnecessarily, and the form will also look cleaner.
Conditional confirmation message
When people submit a form online, they receive a confirmation message. These messages can be customized with Fluent Forms, but there's a lot more you can do with the confirmation. By setting up conditions on your advanced contact form's confirmation messages, you can redirect users to the different pages of your website. There are various options to set the links. For instance, you can apply your conditions to some essential words on the confirmation message.
Conditional email notification
Now you can send custom email notifications to your users based on this setting. You can set many options like first email, email text, and many other attributes with this advanced feature of Fluent Forms. By adding email addresses to BCC fields, you can send emails to multiple people. You can even set specific keywords to be included or excluded.
Restrictions and scheduling
Both the scheduling and restrictions are great features for controlling your form. You can determine how your forms should act under different circumstances by setting bars on your forms.
Form restrictions
With this functionality, you can restrict the number of your form entries. If you set the maximum number of entries to the form, you can limit it by the total entries per day, per week, and more.
Form scheduling
Form scheduling is another exciting advanced feature of Fluent Forms. It will let you set a specific time for your form to go live. Besides, you can also add an ending time for form submission to avoid unnecessary submissions.
Marketing integrations
Digital marketers always look for different tools to use with other platforms. Fluent Forms understood this need of marketers very well and came up with amazing marketing integrations for its users.
We all know that email marketing took the bigger slice of the digital marketing pie. To meet the purpose, Fluent Forms is integrated with famous Mailchimp, GetResponse, Campaign Monitor, and some uprising tools like iContact, MailerLite, ConstantContact, and ActiveCampaign. Besides, there is MooSend, ConvertKit, and Gist for email marketing automation. You will also get Zapier, PlatFormly, and Sendinblue for marketing automation with this plugin.
Some prominent project management tools like Trello and Slack are also integrated with Fluent Forms for communication. You can even send SMS notifications to your users with the Twilio integration. Finally, HubSpot is also integrated with Fluent Forms to run your marketing seamlessly.
Payment integrations
The growth of online forms evolved from contact forms into advanced contact forms. For example, you can also collect payments through an advanced contact form with some innovative integrations like Stripe and PayPal. Fluent Forms is also not different from this.
Stripe
No doubt, Stripe is famous for its seamless processing system and integrity. Fluent Forms lets you collect payment with Stripe without any extra trouble. Nothing is complicated with this. All you need to do is open a Stripe account and integrate it with Fluent Forms. Yet, you can go through our documentation to know more about the process.
PayPal
Big companies use PayPal for their enormous online payments. Fluent Forms is integrated with PayPal to make the process comfortable. PayPal is easy to get started with. Users don't need to go to their PayPal account to make payments. Fluent Forms will do that for you. All you have to do is just set your forms after connecting with PayPal. You can follow our documentation for further help.
Others
Fluent Forms offers many more unique features for creating an advanced contact form. In this post, we have tried to cover the main functions. You can find out the rest of them by using the plugin. Let's see a few here.
Checkable Grid
When you enable the checkbox grid on your form, users can select their desired item from the list. They can even select multiple items from different rows and columns. Suppose you have three columns: chocolate, vanilla, strawberry, and three rows as cake, ice cream, and waffles. Your clients may choose chocolate cake, vanilla ice cream, and strawberry waffles.
Range Slider

A range slider is a fantastic solution for rating a particular topic. Users will give their opinion from a pre-instructed range of numbers. Then you can calculate the result from the collected information. Set the value in three options: default, minimum, and maximum. Users can move the slide backward or forward as they want.
Signature

Now you can collect signatures digitally with Fluent Forms. Adding this field to your advanced contact form will let your users sign in with their mouse, touchscreens, and touchpads. You won't need any extra tools or add-ons to complete the process. Whenever a user will submit the form with their signature, it will be saved as an image to the database. For further information, you can look at our article about adding and customizing the signature field with Fluent Forms.
Long and short of it
Fluent Forms offers endless possibilities to its users. You can rely on the tool as a complete solution for your website. Making an advanced contact form with the plugin is a matter of two or three minutes.
We are constantly developing Fluent Forms, and our support team is always ready to provide quick solutions to their queries. Last but not least, Fluent Forms' pricing is winning people's hearts since it's undeniably the best deal in the market right now.