Create an NPS Survey Form in WordPress in 4 Steps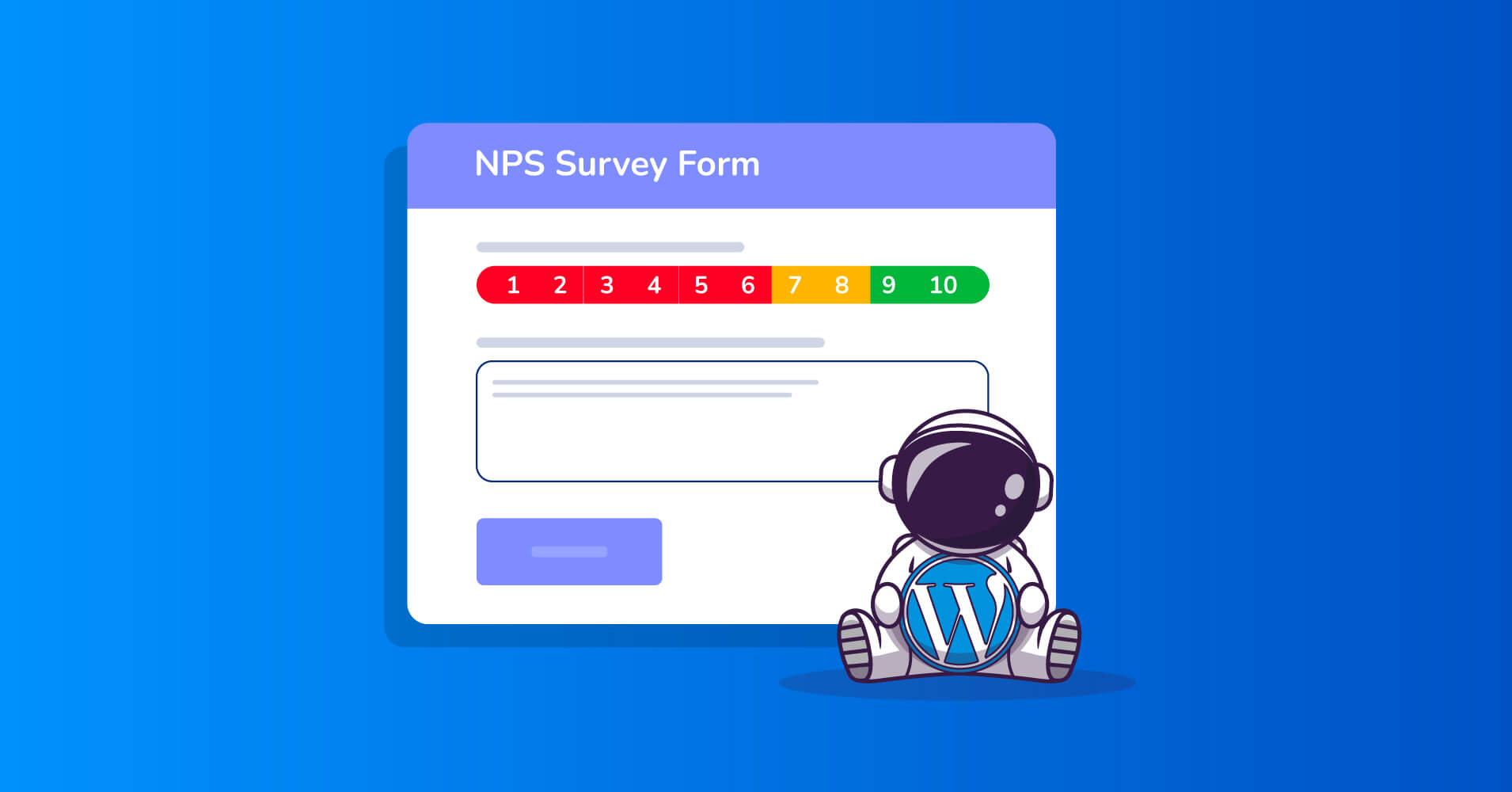 How many times did you ask someone from your friends and family for their recommendation when making a purchase decision? In case you are wondering, 88% of consumers rated recommendations from friends and family as having the highest degree of confidence in a product or service. 
If you are a business owner, recommendations from present customers are incredibly valuable to your prospects, and you should take customer loyalty and satisfaction very seriously. This is why measuring customer loyalty and satisfaction is crucial to your business, which brings us to the topic of this article – NPS survey form.
This article will discuss everything you need to know about a widely used measurement of customer loyalty and satisfaction called Net Promoter Score (NPS). We will also show you a step-by-step tutorial on how to create an NPS survey form for your business and give you some insights into some of the best practices of Net Promoter Score.
Fluent Forms is the most beginner-friendly form builder. Download now and start crafting beautiful forms FREE!!!
What is a Net Promoter Score?
First created by Bain and Company in 2003, Net Promoter Score, sometimes referred to as NPS, measures how loyal consumers are to a business and is used in customer experience programs. It is considered the gold standard of customer experience metrics.
Customers are asked one question: "On a scale from 0 to 10, how likely are you to recommend this product/company to a friend or colleague?" Other NPS survey questions ask customers the main reasons for the score and seek suggestions for further improvement. Based on customers' responses, businesses use the Net Promoter Score to improve their service, customer support, delivery, etc., and maintain higher customer loyalty.
NPS is an excellent tool for forecasting business growth. When your company's Net Promoter Score is higher than the industry average, it means that you have a healthy connection with your customers. These loyal customers are more likely to serve you as brand promoters by fueling word-of-mouth and eventually producing a positive growth cycle for your business.
How to calculate NPS for your business?
Businesses measure NPS scores using a single-question survey and expressed by a number ranging from -100 to +100. The higher the NPS score, the better it is for a business. Customers are asked to rate their likelihood of recommending the brand/product to their friends or family members on a scale of 0 to 10.
Customers are classified into one of three groups based on their responses:
Detractors: Customers who respond with a score of 0 to 6. They are unsatisfied with the product/service and probably will discourage others from staying away from a business.
Passives: Customers who respond with a score of 7 or 8. Although they do not actively recommend a brand, they are unlikely to damage it with negative reviews.
Promoters: Customers who respond with a score of 9 or 10. They are considered to be loyal and enthusiastic about a brand.
Once you have categorized the responses into these three categories, calculating the Net Promoter Score is straightforward. All you have to do is to subtract the percentage of Detractors from the percentage of Promoters.
So the formula is:
Net Promoter Score = Percentage of Promoters − Percentage of Detractors
For example, if 15% of your customers are Detractors, 35% are Passives, and 50% are Promoters, your NPS score would be 50−15 = 35.
Now you must be thinking about how you can create an NPS survey form for your business. A survey plugin is all you need to create an NPS survey form. There are multiple options in the market when it comes to survey plugins. We have decided to use Fluent Forms as our survey plugin. Wondering what Fluent Form is? Let's get introduced to it.
Fluent Forms – best WordPress plugin to conduct NPS survey
Fluent Forms is the fastest and the most lightweight WordPress form plugin that provides a wonderful user experience with great functionalities. It has got so many amazing features to suit your needs.
Some key features of Fluent Forms are worth mentioning –
Drag and drop form builder for ease-of-use 
Conversational forms for interactive forms 
Dozens of pre-built form templates for effortless form building 
Conditional logic for greater control over the forms 
Multi-column resizable form layout 
45+ native integrations for additional functionality 
Calculated fields for measuring numbers based on customer inputs 
Visual data report 
Multiple payment solutions for accepting payments from customers etc. 
Net Promoter Score is only available in the Pro version of Fluent Forms. So you have to upgrade to access this functionality along with countless other features.
How to create your own NPS survey form?
Now that we have the right NPS survey tool let's create one. Follow the steps below to create an NPS survey form for your business.
Step 1: Install Fluent Forms
The first step to creating a Net Promoter Score survey is to install Fluent Forms. The process is similar to installing any other WordPress plugins. Go to the Plugins section of the WordPress admin dashboard and click on Add New. Now, search for Fluent Forms. Then install and activate it.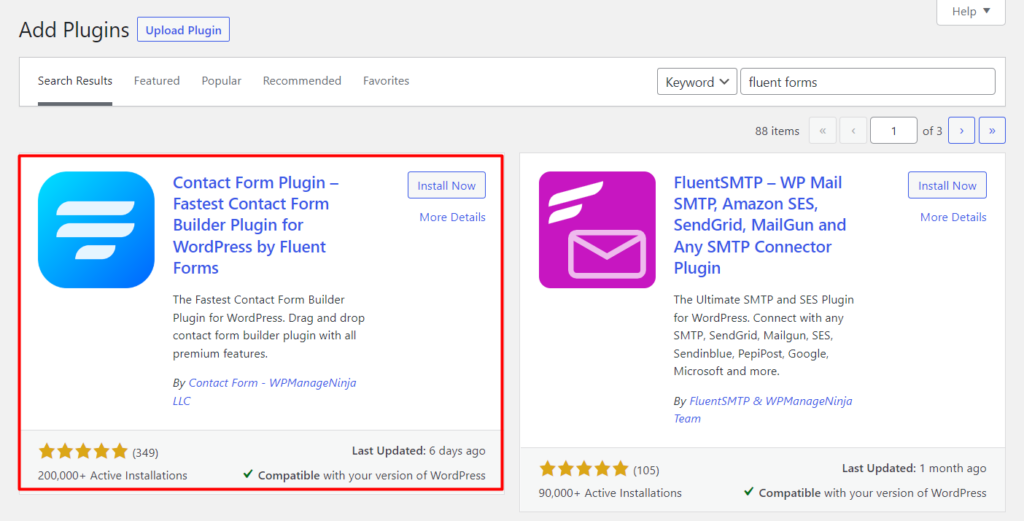 Once you have installed the free version, upgrade Fluent Forms to the Pro version and activate it with the license key. 
Step 2: Add input fields to your NPS survey
Next, hover over Fluent Forms Pro on your WordPress dashboard and click on New Form > Create Form to start building the survey form.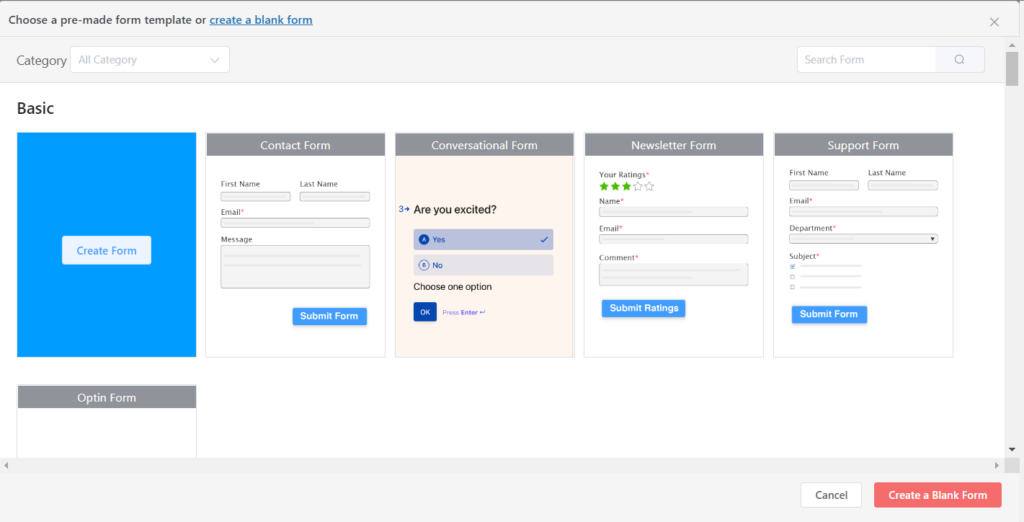 You will be landed on the form editor window of Fluent Forms.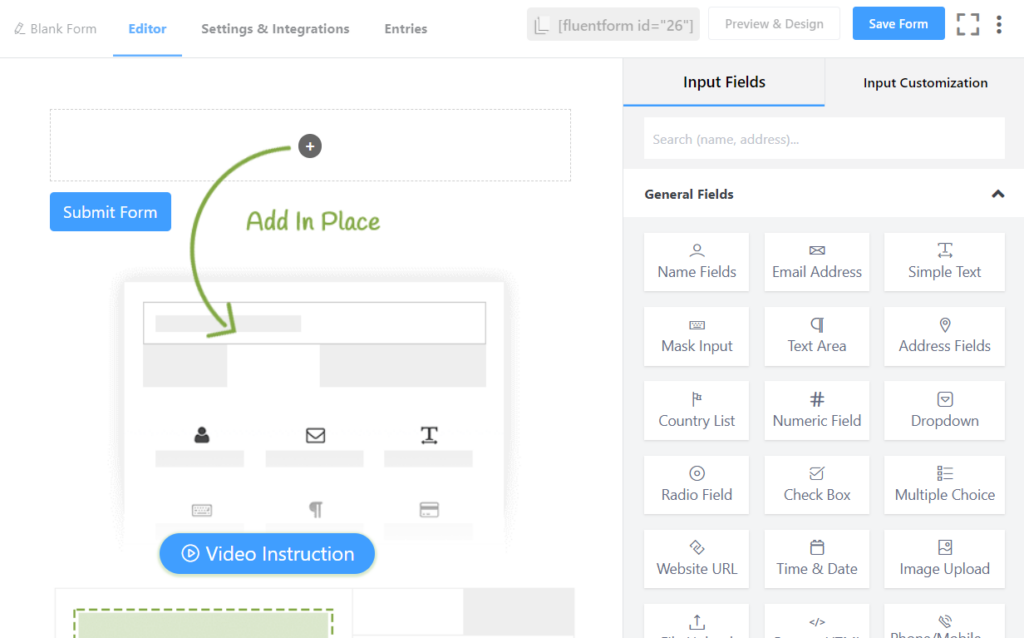 Before adding the input fields, let's rename the form to "NPS Survey."
In our NPS survey, we want to add the following fields:
Name
Gender
Net Promoter Score question
Reason for the score
Suggestions for improving the experience
Permission to follow up with the customer
Email address
Adding fields in Fluent Forms and customizing them is a no-brainer. Just click on the desired field or drag and drop it on the form editor to add a field to your survey form.
Click on the Name Fields to add it to the NPS survey form. Click on the added field to get the Input Customization options.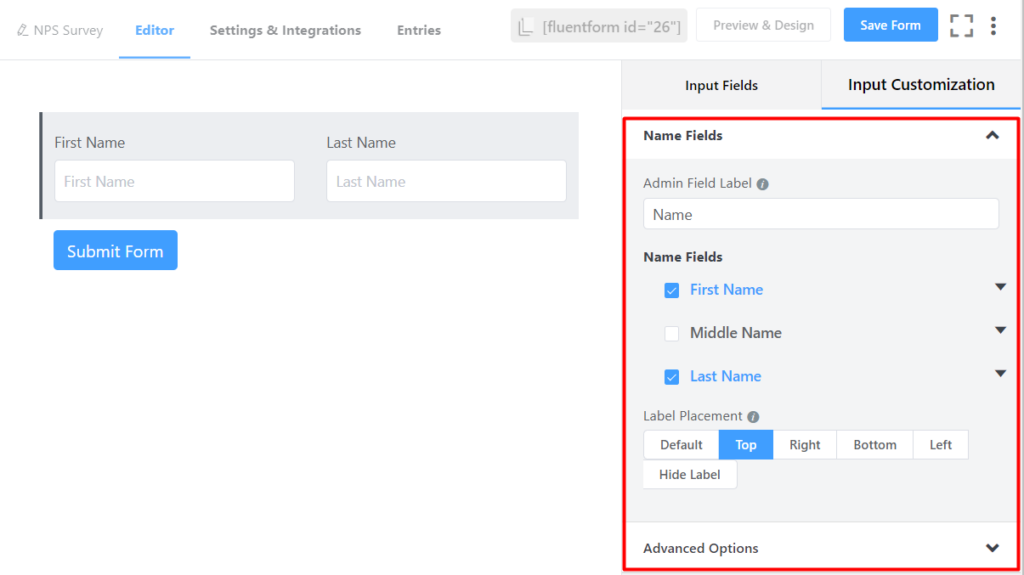 We want our survey forms to look minimalistic. So, instead of including First Name and Last Name separately, we would like to have a single input field for the customer's name. To do that –
Uncheck the box beside Last Name to hide it from the survey
Get various customization options by clicking on the down arrow beside the First Name
Change the Label and Placeholder to Your Name
You can make it a Required field if you want
Next, add a Radio Field for Gender. Customize the field by clicking on it –
Change the Element Label to Gender
Edit the Options to include Male and Female. You can add or delete any option by clicking on the plus (+) or minus (-) sign.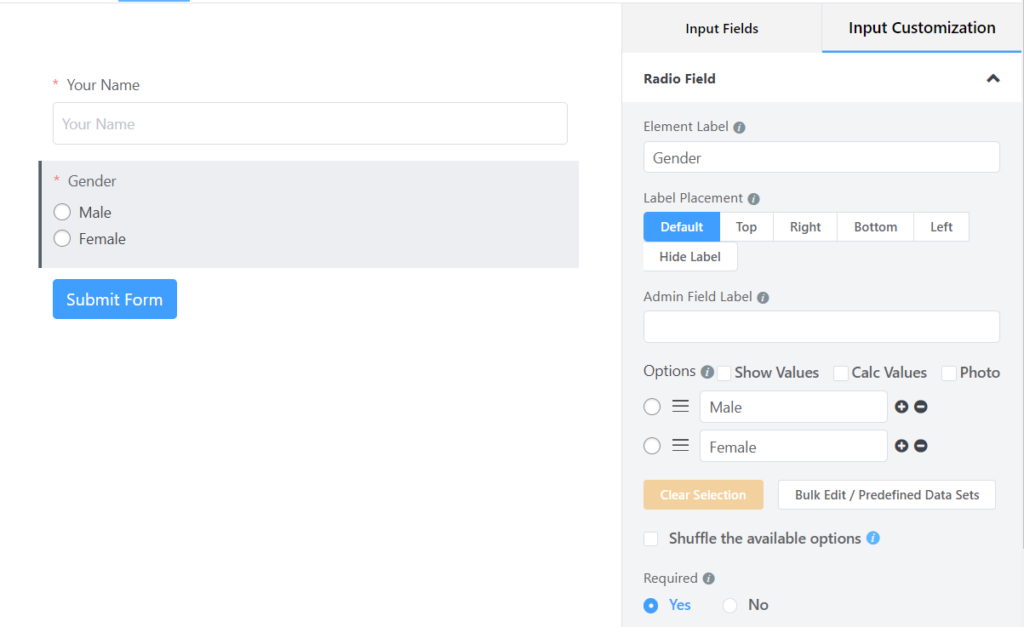 Now we will add the Net Promoter Score field.
Change the Element Label to the main NPS survey question. You can also change the Promoter Start Text and Promoter End Text according to your needs.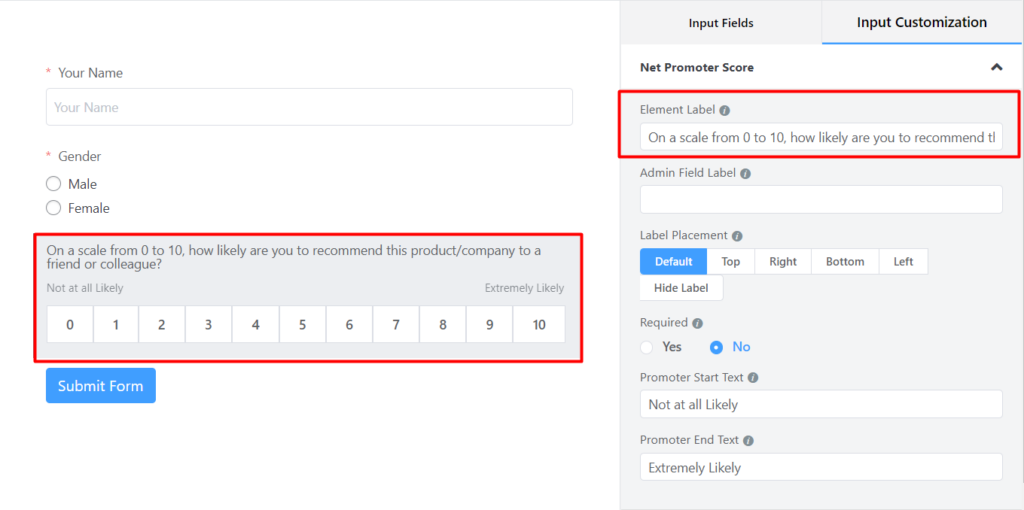 Insert the Text Area input field into the survey form to let respondents write the reason for the score and give suggestions for making the experience better. Write the questions in the Element Label. You can increase or decrease the area of the placeholder by changing the number of Rows and Columns.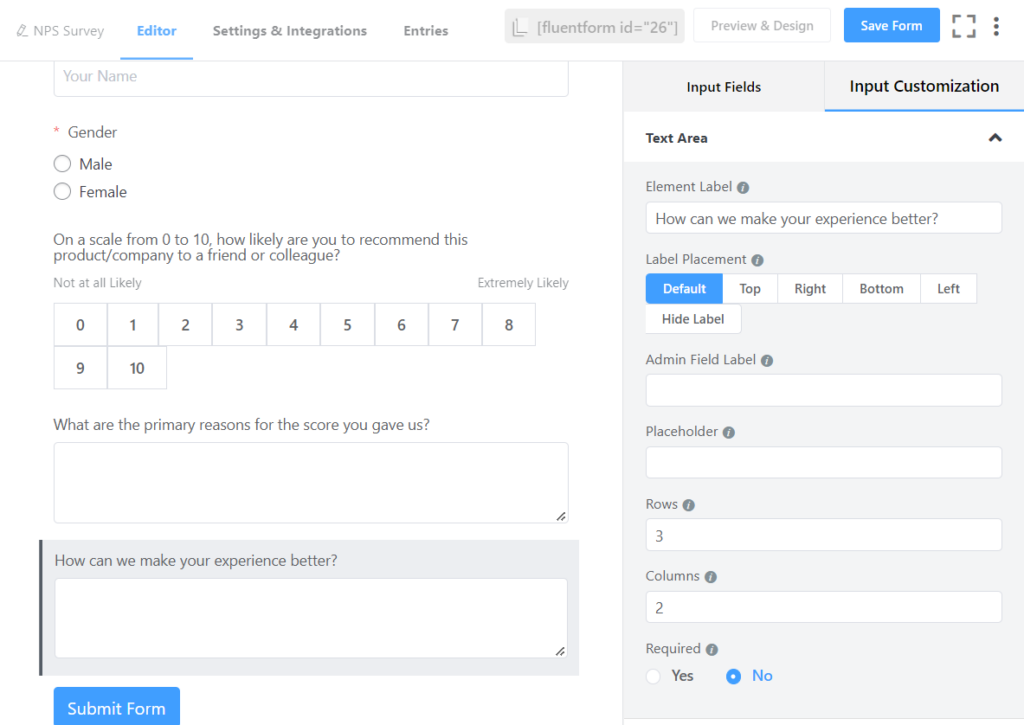 For the last question, you may ask your customer for their permission to follow up on their responses. Add a Radio Field with two options: Yes and No.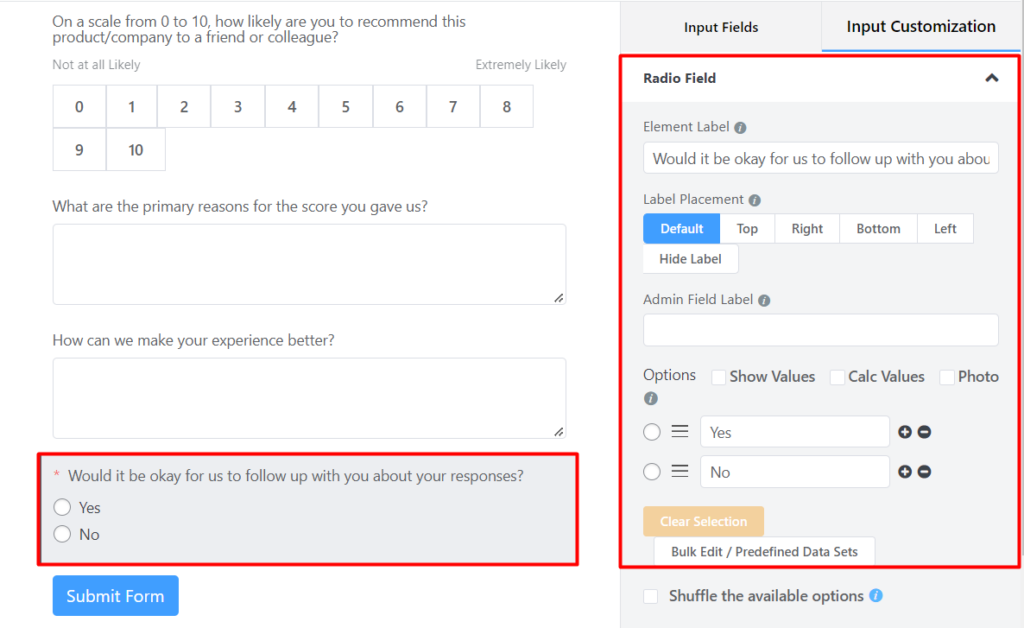 If they respond positively to this question, you will need their email address to follow up regarding this survey. In this case, you can use Fluent Forms' Conditional Logic feature.
Add an Email Address input field, enable Conditional Logic from the Advanced Options, select the question for which you want to set the condition, choose the condition as equal, and select Yes.

You can make this email address a mandatory input field if you want.
There you have it! Your NPS survey form is ready to be published on your business website.
Step 3: Configure your form's settings
Before publishing the Net Promoter Score survey on your website, let's quickly get to know the different form settings that you can configure. From the Settings & Integrations tab, you can do the following –
Change the confirmation message that is shown when a user submits the forms
Change the form layout
Schedule the form to be displayed on specific dates and times
Restrict form entries to a certain number
Enable advance form validation to prevent form submissions based on rules
Also, you can Enable Form Landing Page Mode to design a dedicated landing page for your survey form. This gives your users a distraction-free experience of filling up the NPS survey.
Step 4: Publish the NPS survey on your website
You can publish your form in three ways.
First, you can use the Gutenberg block editor to choose the survey form you have just created. Click Add New under Pages in the WordPress dashboard's left sidebar. Give the page a title. In the block editor's blank area, click the plus (+) sign or insert a forward slash (/). Then, in the search box, enter Fluent Forms and choose the NPS Survey form.
Fluent Forms' Shortcode feature is a second option that you can use to show your form. The shortcode is found at the top of the window that displays the form editor.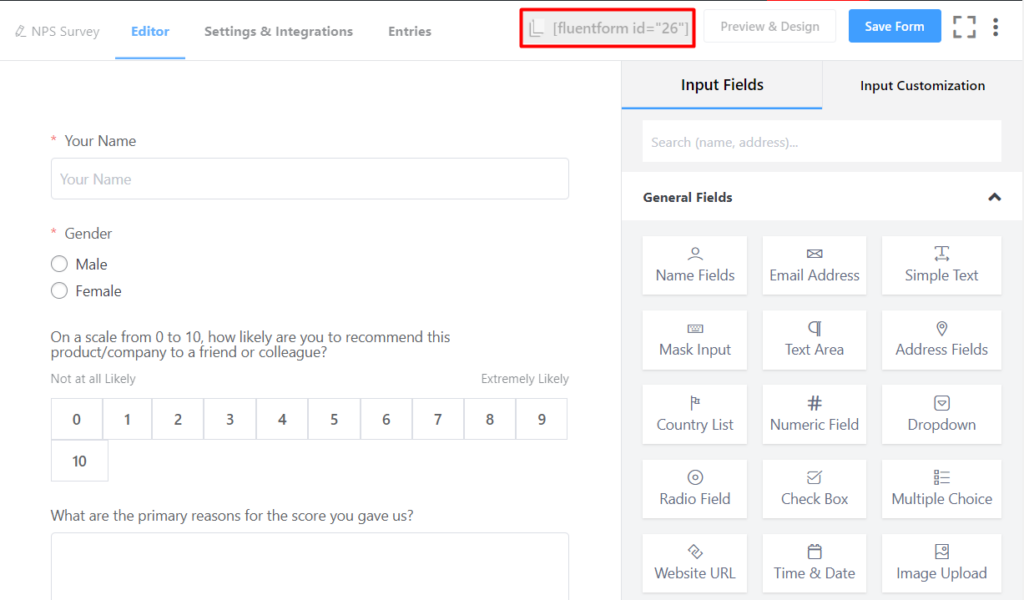 Click on the shortcode to copy it and then paste it using a shortcode block anywhere you want to display the form on your website.

The third approach, which is the most impressive one, is to publish your form on a dedicated landing page. To do this, go to Settings & Integrations > Landing Page. Check the box to Enable Form Landing Page Mode. The landing page is fully customizable to match your brand identity.
NPS survey best practices
Relationship vs. transactional survey
Relationship surveys ask customers about their overall experience with a company and how happy they are with it, whereas transactional surveys look into how a customer feels at a certain point along the customer journey.
You should start your NPS program with a relationship survey to understand brand perception and customer loyalty. Then, you can conduct transactional surveys investigating customer experience touchpoints that relationship surveys revealed to be most crucial.
Number of questions an NPS survey should have
Keeping the survey questionnaire short is one of the most crucial best practices when it comes to NPS surveys. Long NPS surveys lead to poor response rates and inaccurate answers.
It's best to ask no more than six questions in an NPS survey.
The 'why' question
Knowing how your brand is performing can help you only so much in the growth of your brand. So it is also important to know the reason behind such performance. The best way to do this is to:
Ask your customers to list the key factors that contributed to the score.
Instead of asking clients to provide answers independently, present them with a predefined list of reasons.
Aesthetics of the NPS survey
Making an NPS survey that looks good is equally important as asking the right questions. Because poorly designed surveys can result in a low response rate. Be mindful of the survey's layout, colors, font face, and font size. They should be aligned with the brand identity, and at the same time, you should take into account your audience while selecting these elements.
Subject lines for survey invites
Subject lines act as the decider of whether your customers will open the email or not. So the subject line of your survey invitation email should be clear, brief, and friendly. Here we provided some examples that you can use while sending out survey invites to your customers:
We'd love to hear from you
Would you recommend us?
How did we do?
We'd like your feedback
How was your experience?
Try to personalize the subject line by including customers' names.
Conclusion
In this article, we tried to give you a good understanding of how a Net Promoter Score can help you grow your business. We also demonstrated how to create an NPS survey in WordPress and advised some of the best practices for NPS surveys.
Follow us for more articles like this, and let us know how you plan to grow your business using Net Promoter Score.
Net Promoter, Net Promoter System, Net Promoter Score, NPS, and the NPS-related emoticons are registered trademarks of Bain & Company, Inc., Fred Reichheld, and Satmetrix Systems, Inc.